There are so many interesting things to do in Malacca, Malaysia! And, we made the decision to visit this beautiful UNESCO World Heritage Listed town… which is about 150km South East of Kuala Lumpur.
Now, you may also see this town with a spelling of "Melaka". So, which is the correct spelling? Technically they are both right. Yet, the spelling as "Malacca," is the Anglicized version of the town's name.
Technicalities aside, in 2008, Melaka in combination with George Town… was given the prestigious UNESCO World Heritage status. And, that's primarily because it could demonstrate centuries of exemplary trading and cultural relations… between the West and East via the Straits of Malacca. Thus, when exploring Malacca… we did find that it had a different atmosphere and environment than in KL.
So, we invite you to join us as we highlight 25 interesting things to do in Malacca, Malaysia.
25 Things To Do In Malacca, Malaysia…
Cheng Hoon Teng Temple
When exploring Melaka, you'll notice that there are many temples. Yet, one that is significant in this town is the Cheng Hoon Teng Temple. And, that's because this Chinese temple is said to be the oldest functioning temple in Malaysia… dating back to the mid-1600's.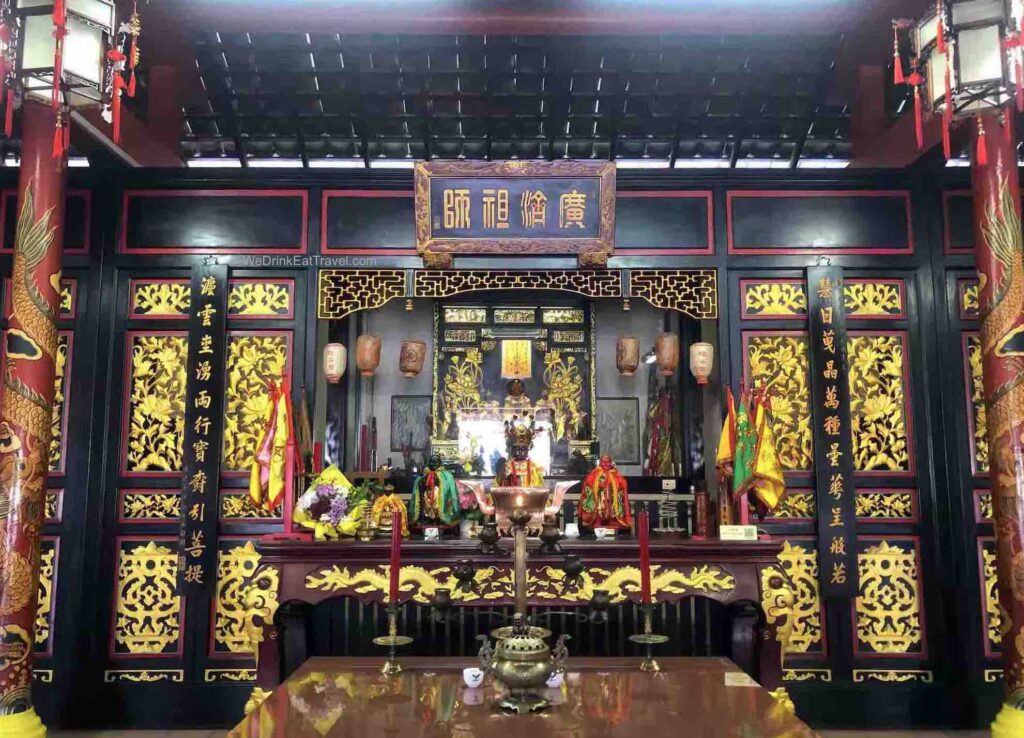 Bukit Cina (Chinese Hill)
Bukit Cina is a hillside area in Melaka… which is home to several of the town's important landmarks. And, it's only about 1.5km from the central area of town… thus, is easy to get to even on foot.
Bukit Cina houses one of the biggest Chinese graveyards outside of China… covering over a whopping 250,000 m2, and over 12,000 graves.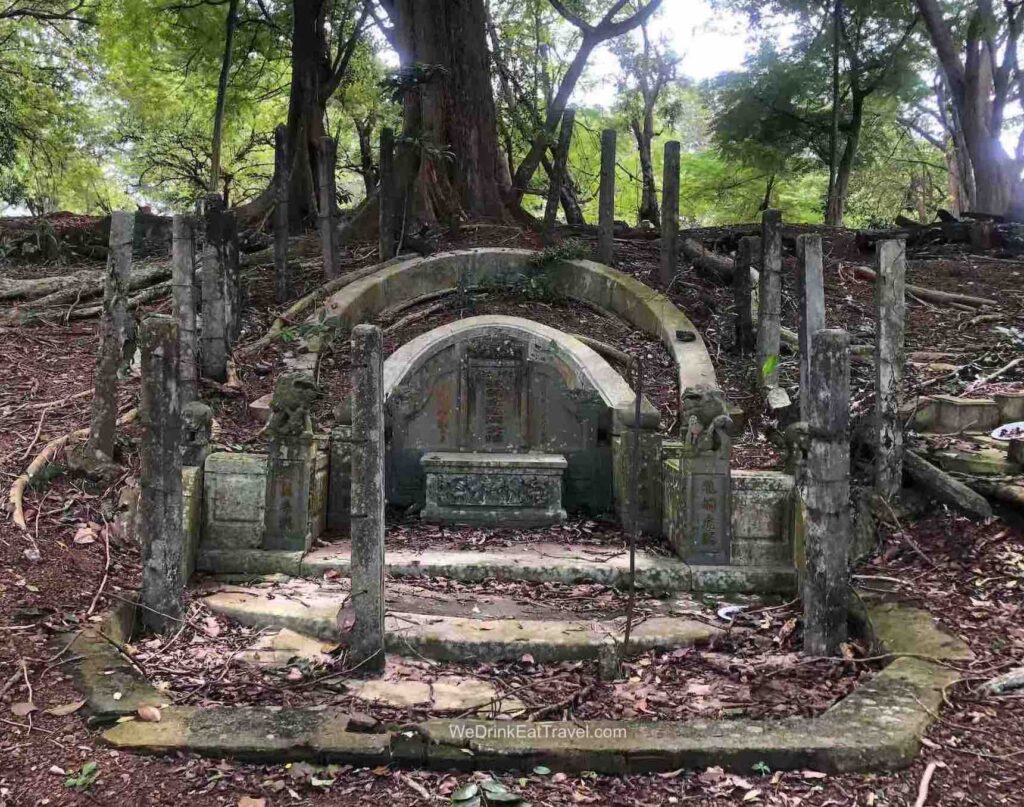 Now, we did walk up and around the hill. And, having seen previous photos of the area… it was a contrast to what we saw. Unfortunately, in several areas, it did look unloved and not tended to well.
Even so, when climbing up the stairs to the top you can witness different views over Malacca. Plus, there's the Eng Choon Communal Ritual Tomb. Then, near the base of the hill, there are miniature crafts of sites in Melaka.
So, when you're at Bukit Cina, there are other landmarks to see as well, and these include…
Poh San Teng Temple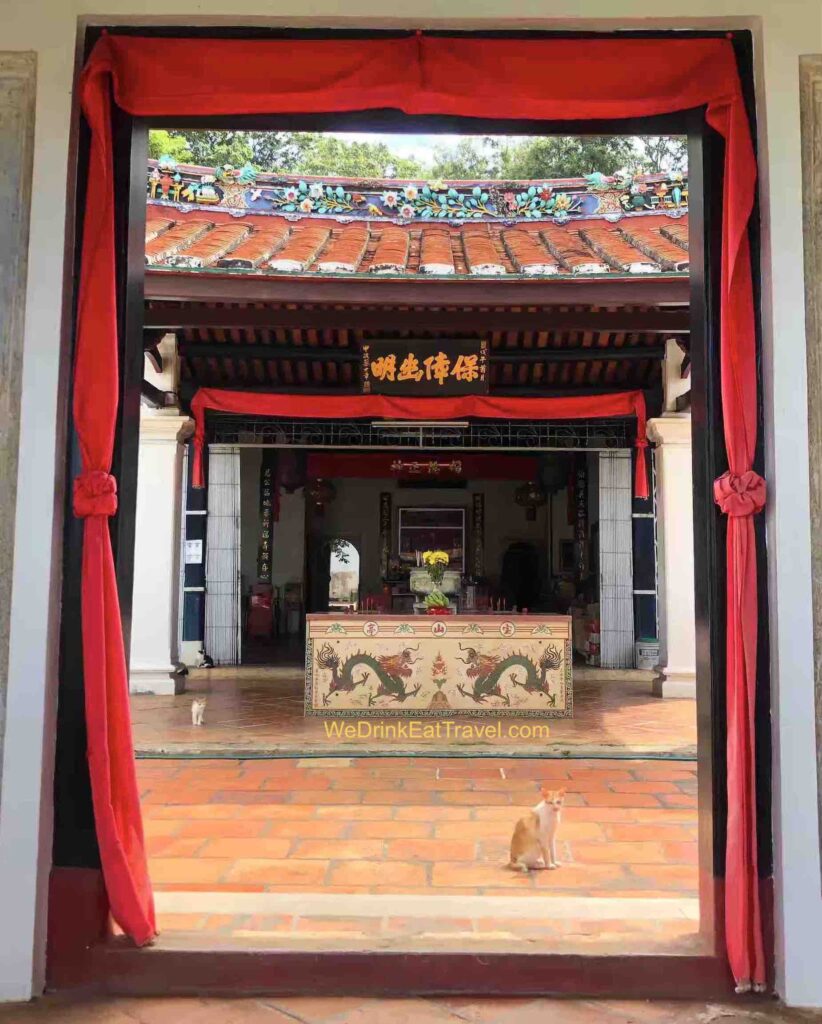 This Chinese temple is at the base of Chinese Hill. And, it was built under the order of Kapitan Chua Su Cheong in the late 1700's. Thus, it would be a key place where people could worship the many Chinese who passed on… seeking fortune from trading endeavours in Melaka.
When you're exploring the temple, inside the rear is a display outlining the history. Plus, there are several laidback kitty cats roaming the temple.
Next to this temple is another significant landmark…
The Sultan's Well
In an area next to the Poh San Teng Temple is the King's Well… also known as Hang Li Po Well. And, while it may not look like anything magnificent… the history surrounding this well is interesting.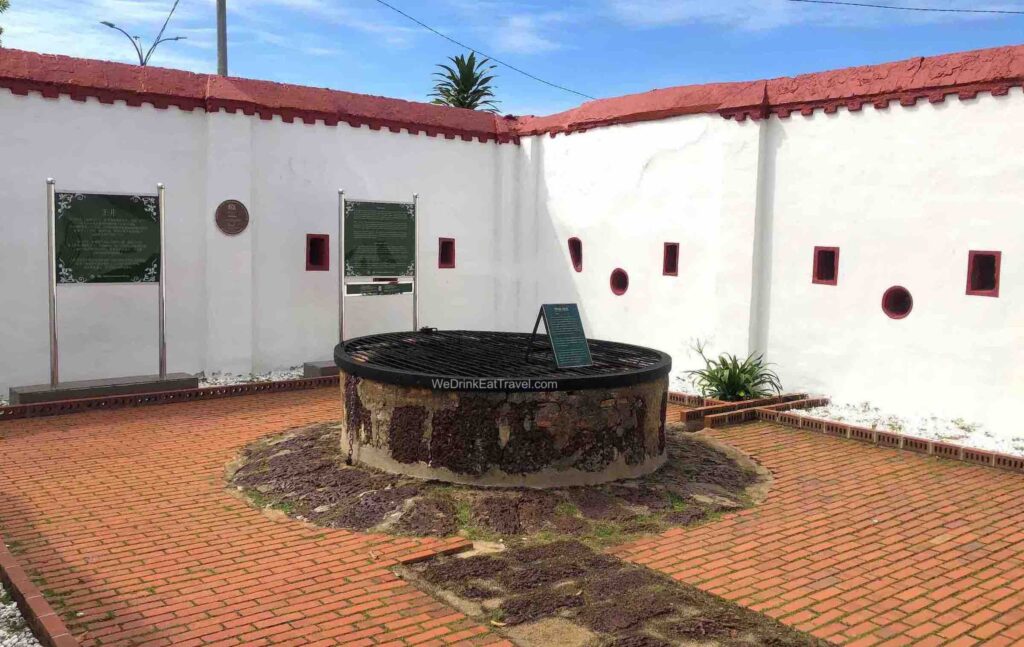 It's said that Sultan Mansur Syah built this well for his Chinese wife, Hang Li Po. And, throughout the time that they had it… the well was always full of water, even during severe droughts.
Yet, in the 16th and 17th centuries, different factions would poison the water in the well. And, it wasn't until the earlier part of the 17th century… that the Dutch would realize the importance of the well. Thus, they built the wall around it.
Melaka Warrior Monument
Nearby the Sultan's Well is this monument…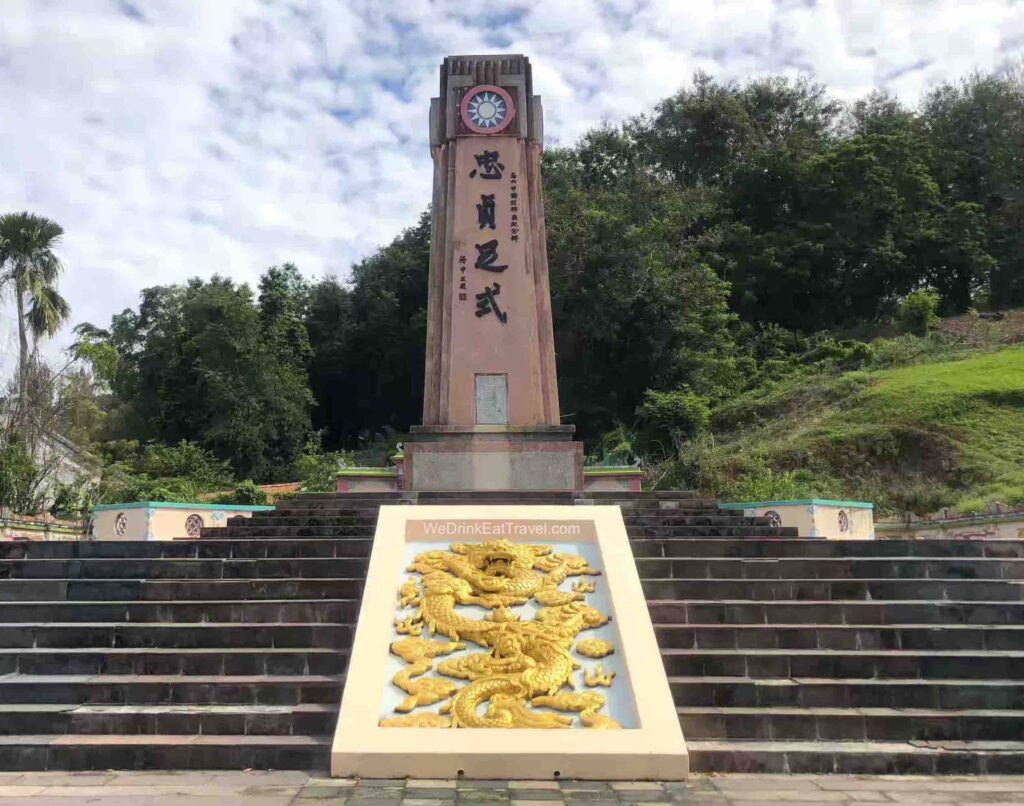 The Melaka Warrior Monument was built to honor the the thousands of Chinese… who lost their lives in the 1940's, for opposing the Japanese occupation. It's said that the death of these Chinese people were horrific and brutal. Thus, their bravery is recognized through this memorial.
Eat To Your Heart's Content
One of the great things in Melaka, is that there is so much tasty food to try. From Western to local cuisine, there's something for everyone. And, it's so cheap to eat some of the food here.
For example, a bowl of this delicious dumpling soup noodles was only 6 MYR. That's about 1.40 Euros / USD $ 1.50 / GBP 1.20)… astonishingly cheap!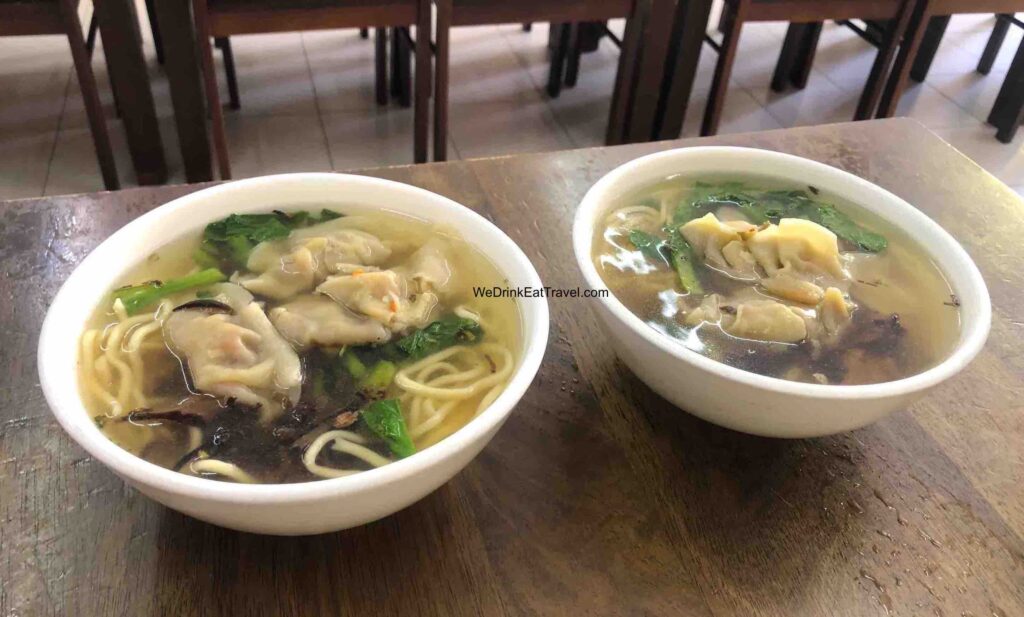 Dutch Square
One of the most popular things to do in Melaka, is to take a trip to see Dutch Square.
It's often times also known as Red Square… and that's because the buildings within are painted red.
For almost 200 years from the mid 1600's… Malacca was under the rule of foreign powers. And, one of the most prominent as the name suggest, were by the Dutch.
Now, within Dutch Square are these amazing landmarks…
Stadthuys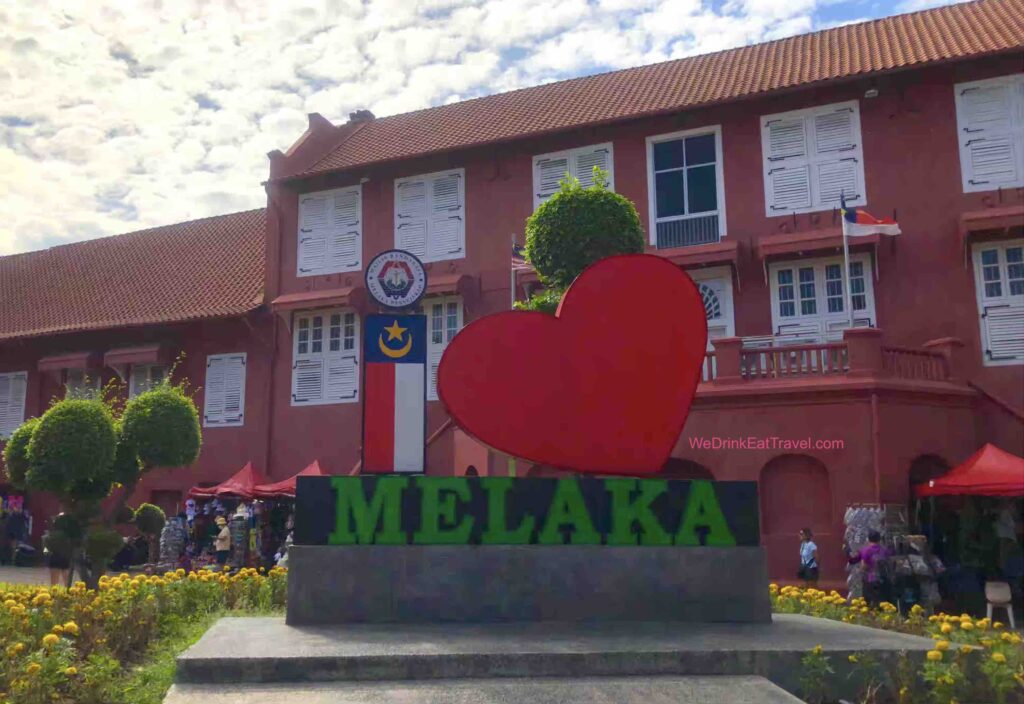 Built in the mid 1600's, this was the former office of the Dutch Governor and his Deputy. Yet, over time it became a school, where free education was given. And, nowadays it houses the History and Ethnographic Museum.
This building is said to be one of the oldest standing Dutch buildings in Asia… with the historical colonial architecture.
Christ Church Melaka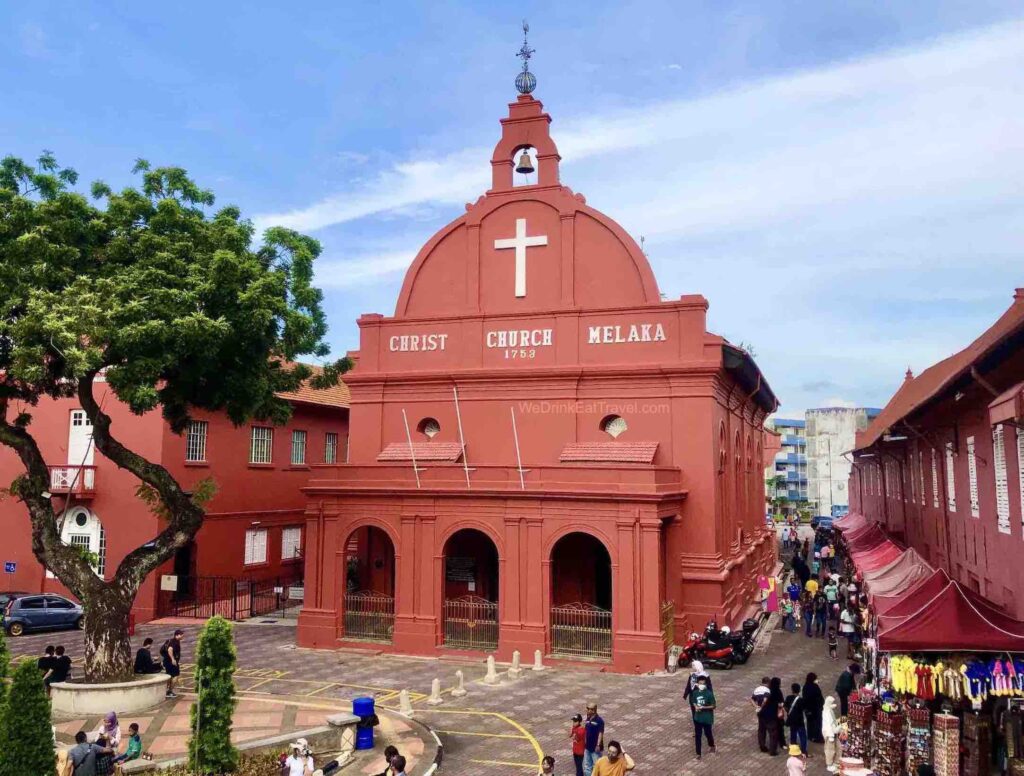 This quaint Anglican Church in Dutch Square… is said to be the oldest functioning protestant churches in Malaysia. Originally built in the mid-1700's, this church was white. Yet, in the early 1900's it was re-painted in the red color that you see today… while still retaining the Dutch colonial architectural style.
Queen Victoria's Fountain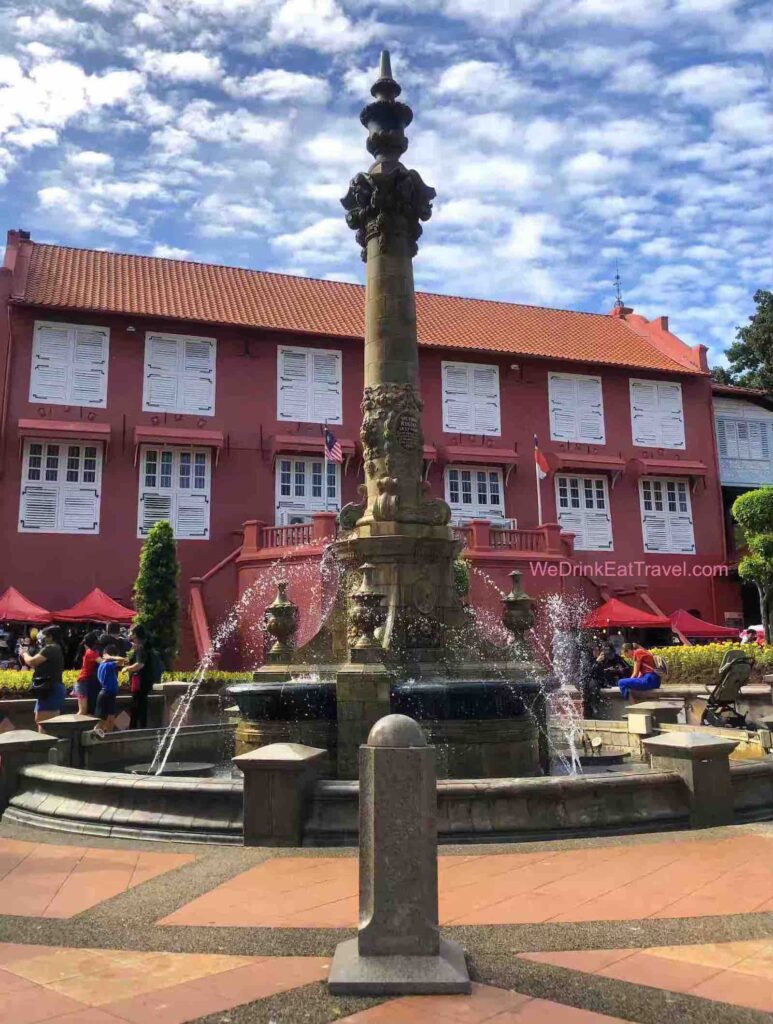 This pretty fountain forming a centrepiece in the Red Square was built in 1901… in commemoration of the Diamond Jubilee for Queen Victoria. It is one of the oldest and functioning British fountains in the whole of Malaysia.
Melaka Clock Tower
Another of the landmarks in Dutch Square with the same red coloring… is the Melaka Clock Tower. It's also known as Tan Beng Swee Clock Tower.
And, it's said that it symbolizes the love of family… of which the Chinese Philanthropist Tan Beng Swee, had a desire to build in Melaka. So, his son had the 15m high clock tower built in the 1880's. And, it's said this clock has never stopped working since its inception.
Check Out the Elaborate Trishaws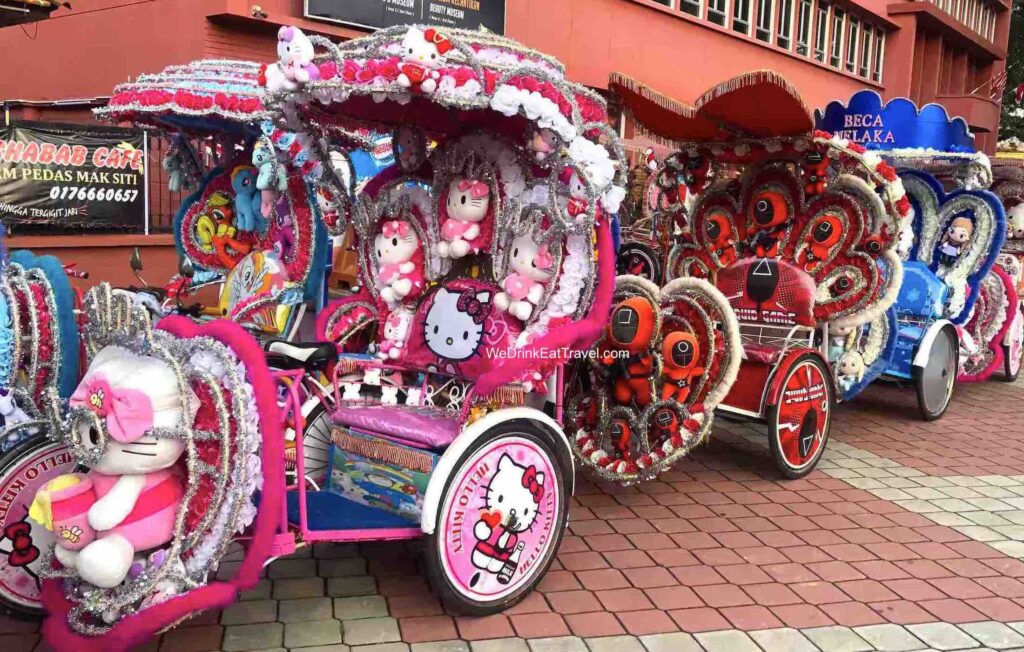 Now, while you're in the Dutch Square area and surrounds… you'll do a double take as you see these trishaws with mind blowing decorations. All of them have theming which of course, attracts the children.
You'll need to pay for a ride on the trishaw. And, foreigners will pay more than locals. We don't recommend you ride one unless you enjoy listening to LOUD music. Even so, you'll know when the trishaws are approaching… as the music will be BLARING!
This is one of the top things to do in Malacca…
See Melaka at Night Time
We recommend that if you have time, spend more than a day trip to Malacca. And, if you can, plan it so that you're there over a weekend… as it is more vibrant with lots more nightlife activities.
Not only will you notice the town is filled with lots of tourists and locals… be careful of the many trishaws that will roam around the streets. As night time is extremely busy with them hooning round!
Make sure you stop along the Tan Kim Seng Bridge at night time. And, that's because the trees are lit with a rainbow of bright and beautiful colors. It truly does look magical.
One of the top things to do in Malacca is this…
St Paul's Hill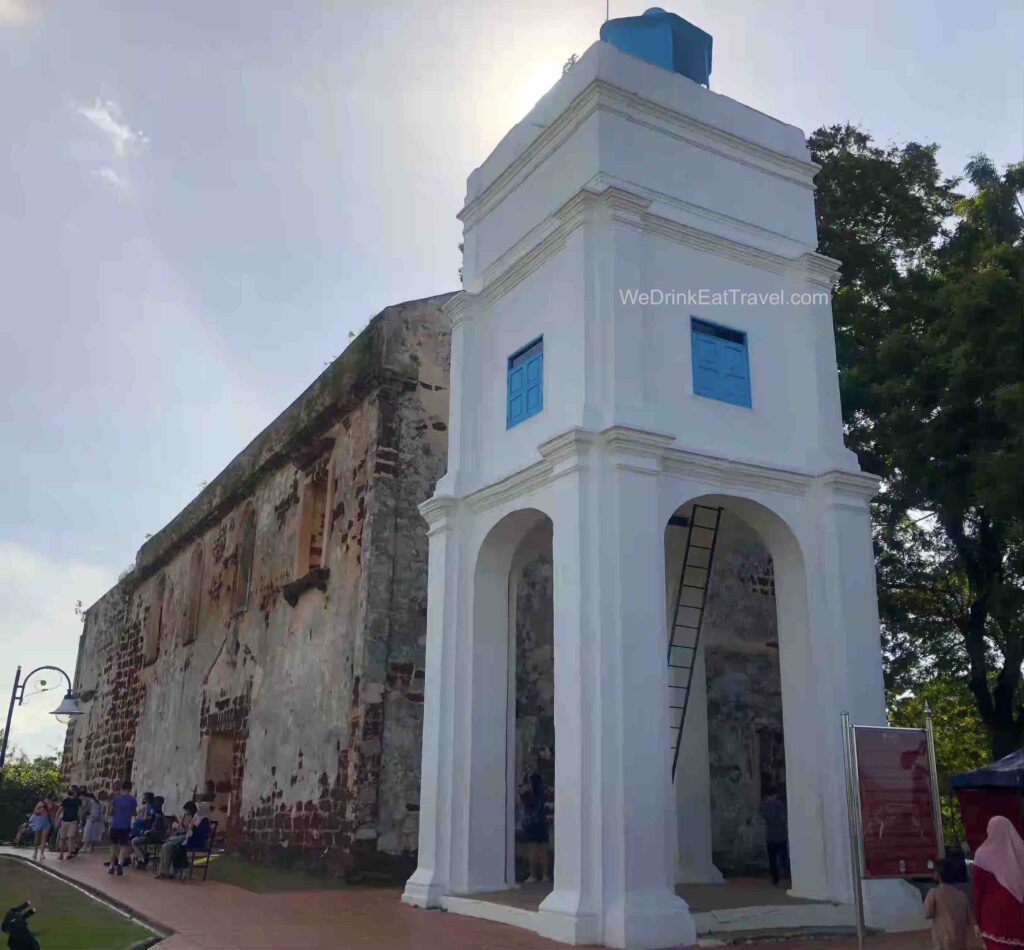 Sitting atop St Paul's Hill, is the oldest church building in Malaysia built in 1521. The Church of Saint Paul was said to have been built by Portugese nobleman, Duarte Coelho… to thank the Virgin Mary for saving him from death, in the South China Sea.
And, other additions to the original church include the prominent St Francis of Xavier statue… as well as the bell tower. Now, one key thing you'll note when wandering through the church is… there's no roof for the most part of it.
While walking up St Paul's Hill… make sure you stop to check out the wonderful views of Malacca too.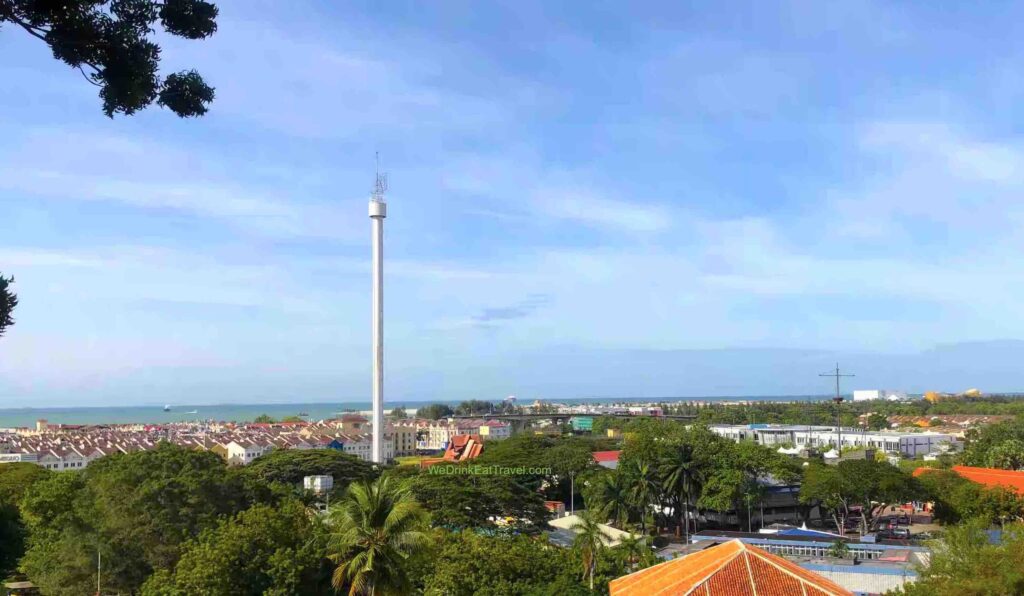 A Famosa
The Portuguese ruled Melaka for some time since the early 1500's. And, one of the many remaining structures is the A Famosa Fortress ruins. Now, you may be thinking that fortresses are normally large. And, this fortress was much bigger than what you see today.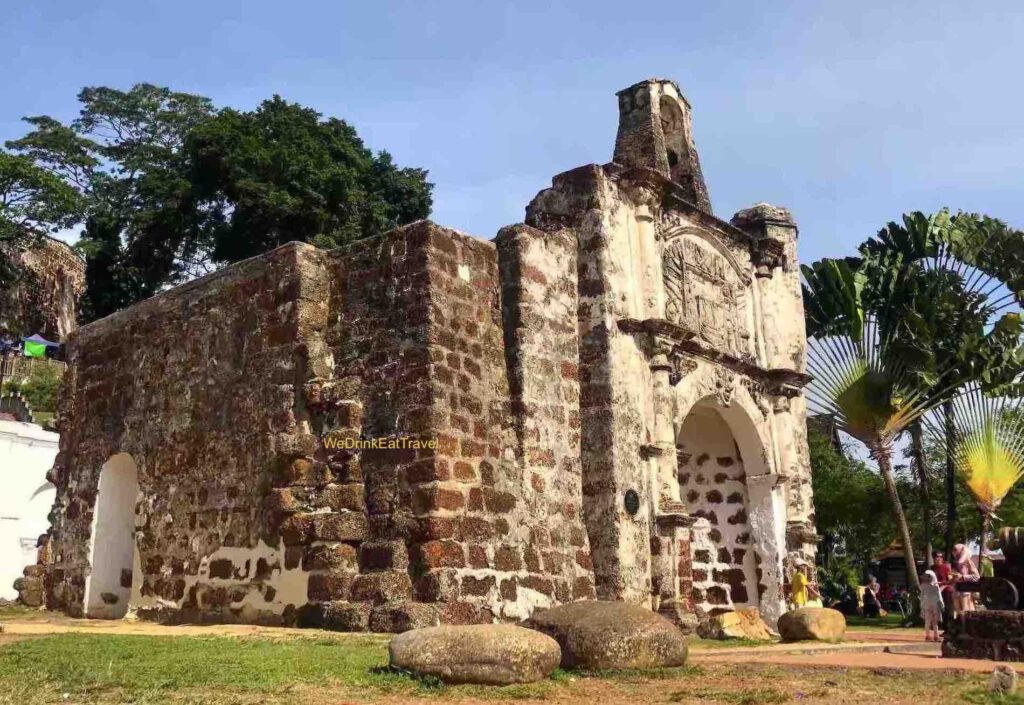 Yet, as a result of battles the fort was severely damaged… with the British said to have seen much of its destruction in the early 1800's. Even so, the magnificent structure that remains today, is historically significant.
Nearby A Famosa fort is this landmark…
Proclamation of Independence Memorial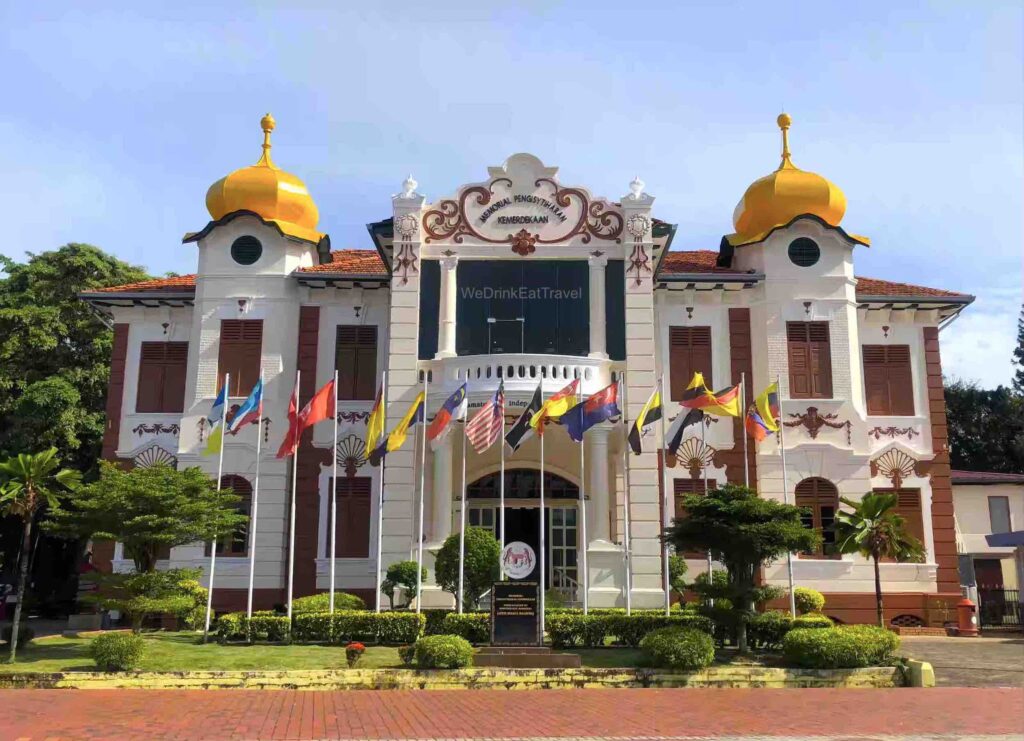 When looking at it, you wouldn't think it was a memorial… and maybe a key royal or government building instead. Yet, this building was formerly the Malacca Club… which was established in the late 1800's, by the British Colonials for social activities.
Over time, the government had taken control of it, thankfully to restore it. Then, converting it into a museum with historical exhibits. At the time we were there it wasn't open. Yet, it sure does look grand on the outside… especially with its striking gold domes.
Taman Bunga Merdeka (Coronation Park)
When exploring Malacca… we found that there wasn't a lot of beautiful green spaces places to chill out in. So, if you're wanting to hang out in some greenery, then head on over to Coronation Park.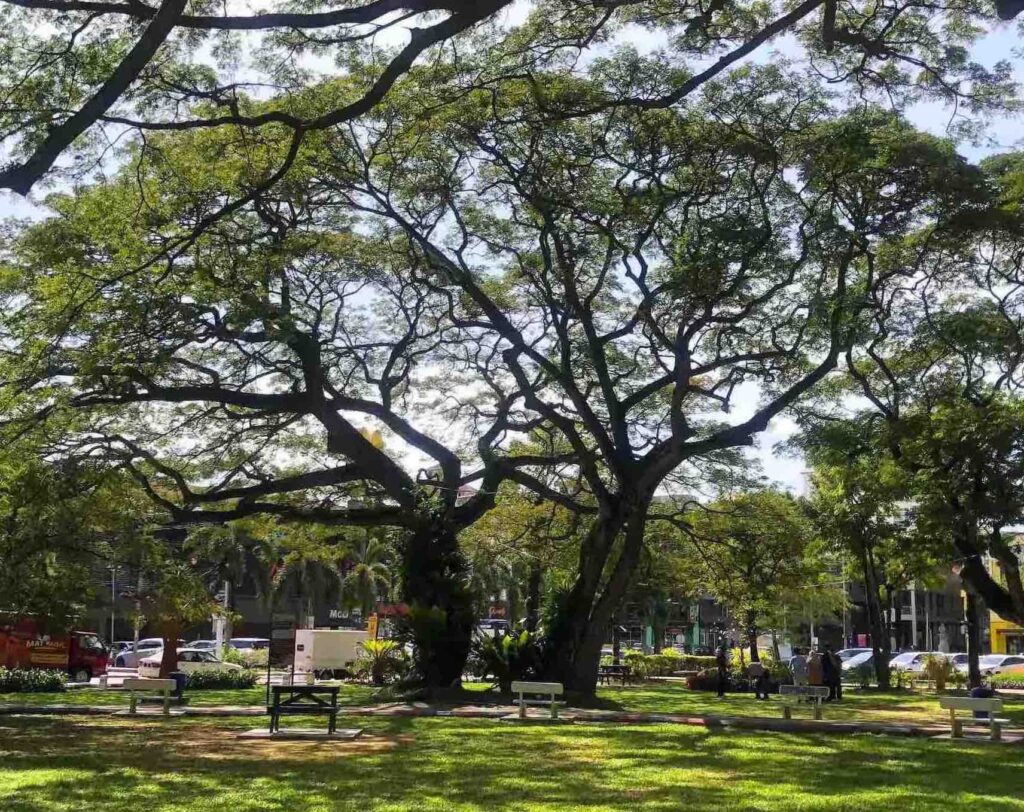 It was given this name to commemorate Queen Elizabeth II… taking the throne in June of 1953.
These manicured gardens have some seats where you can relax. Plus, while you're chilling out, you may also catch a glimpse of some models of different forms of transport… including bulls and carts! These are from the Melaka Historical Vehicle Park adjoining it.
Melaka Street Art
One of the best things to do in Melaka, is see the stunning street art. And, one of the areas that we recommend… is along the riverfront where many of the bars are.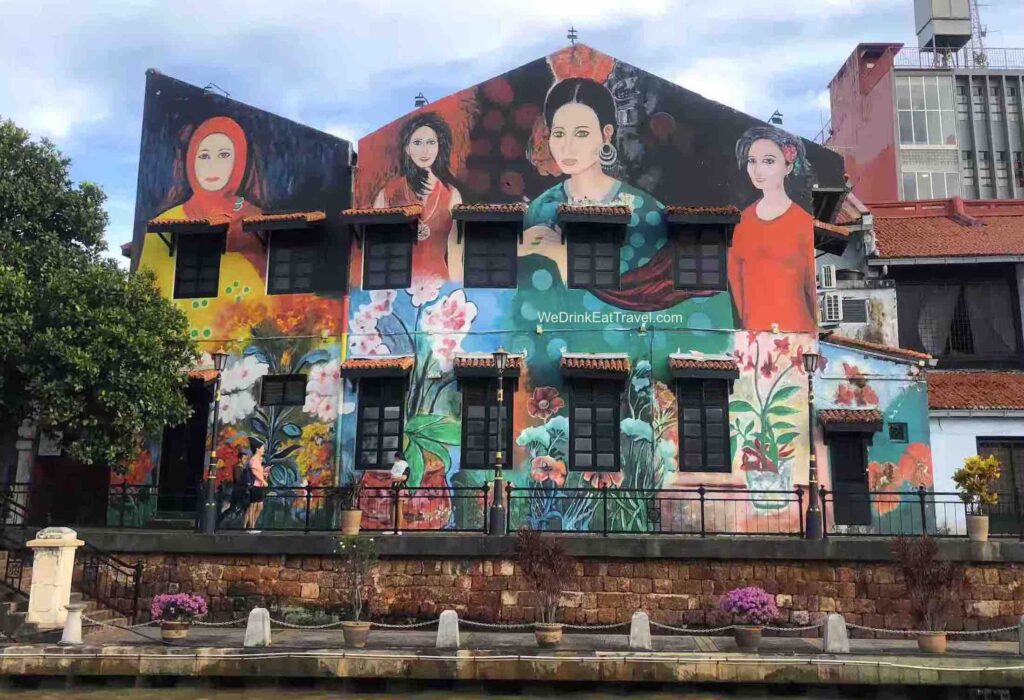 Plus, if you head down Jalan Tukang Besi, a side street off the Malacca River… you'll also see some bright and colorful artworks.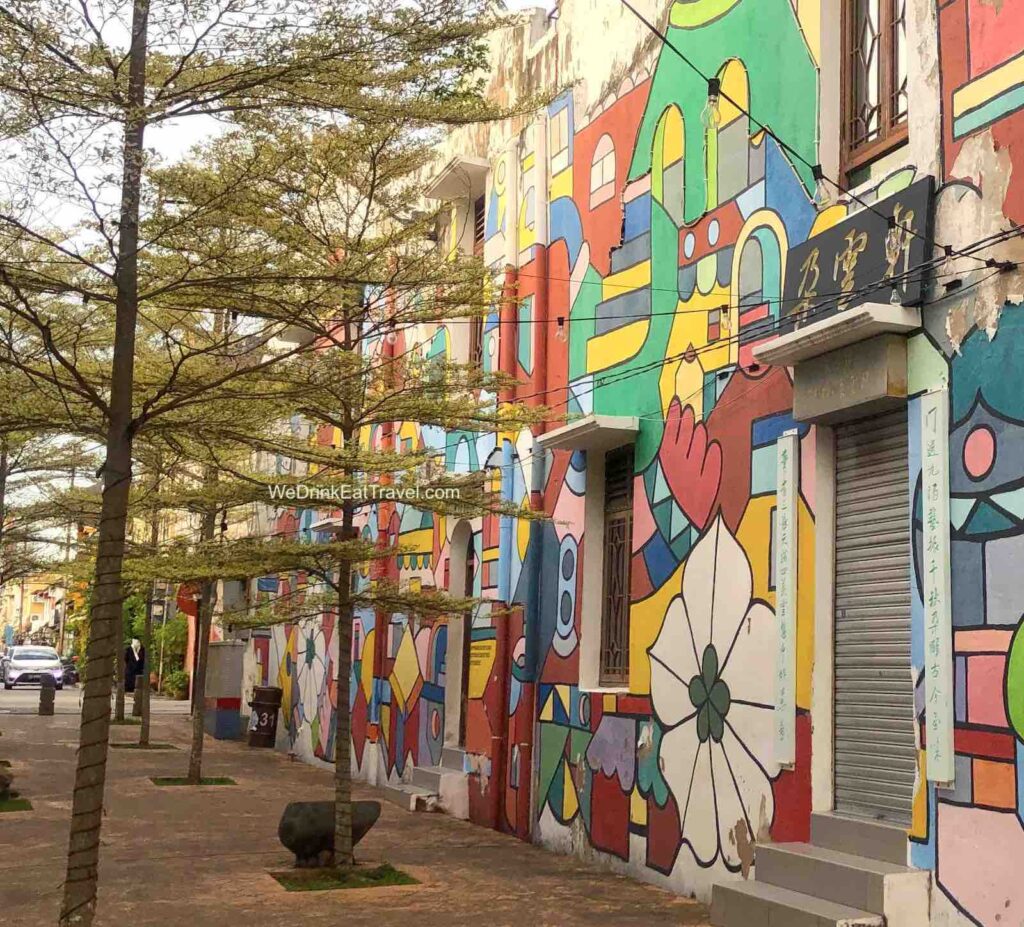 Bastion Middleburg
Nearby the riverfront is a fortress type structure that looks like this…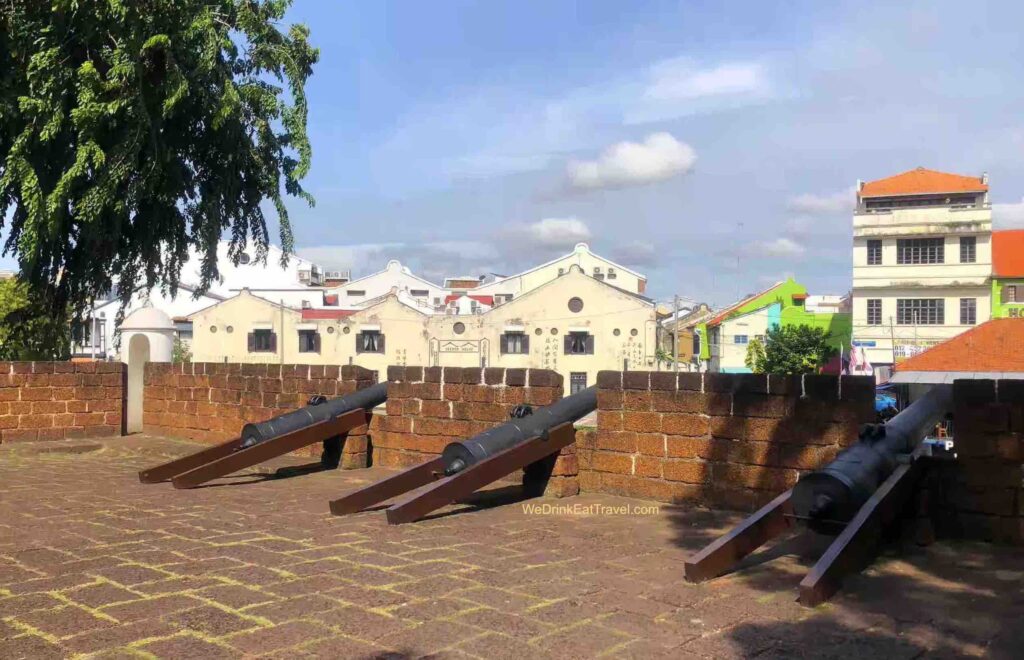 And, this 17th century structure is where the remains of the Middleburg Bastion was that was an addition by the Dutch… after taking over the original fortification from the Portuguese. When you head up to the Bastion, there are reconstructions of canons too.
Yet, if you're lucky enough, when you take the stairs up to the Bastion… you'll see some amazing artwork from a local artist.
Kampung Kling Mosque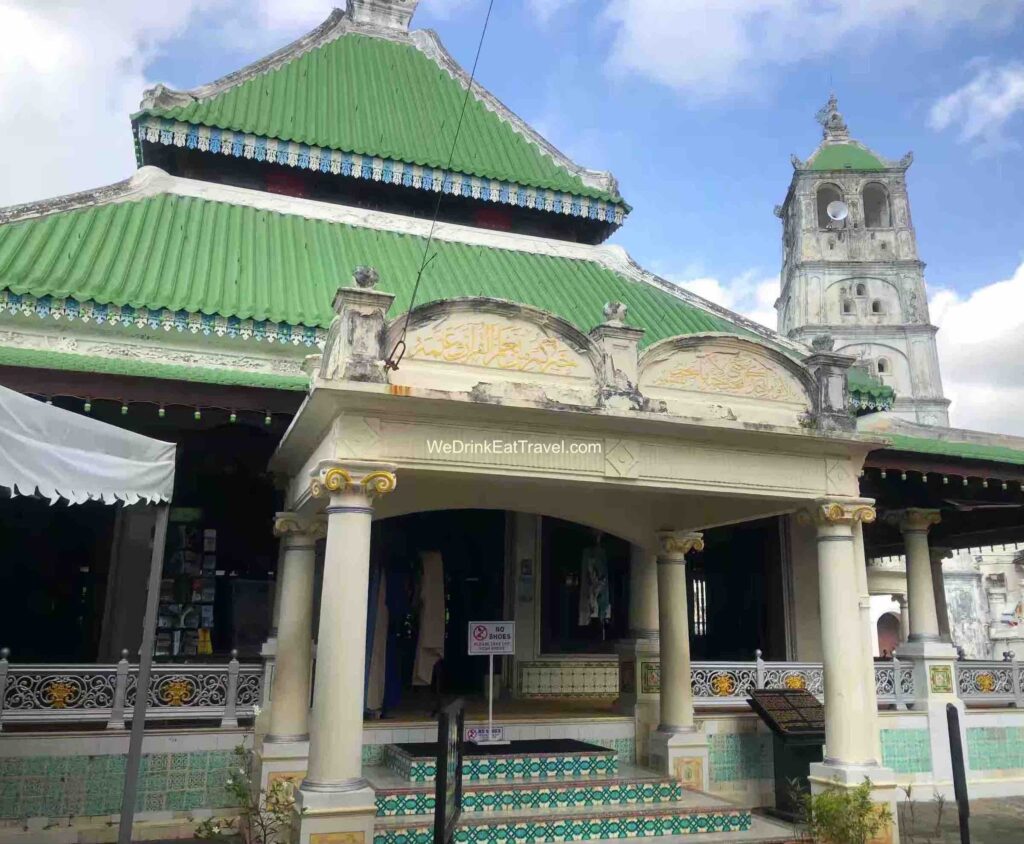 This mosque built in the mid-1700's… surely is different from many others that we've seen due its architectural style. It combines designs and materials from several different cultures.
For example, the original building structure was done by Indian Muslims with wood. Then, it includes Portuguese style tiles, a Victorian chandelier, Corinthian columns… as well as Chinese design carvings, to name a few.
If you don't mind going through an abandoned development, then put this on your list of things to do in Malacca…
Melaka Straits Mosque
To get to this Mosque, you'll need to go through an abandoned off-shore development area… by the name of Melaka Gateway. From what we saw, some of it did have potential to be magnificent and luxurious.
Yet, when we were going to the Mosqye by foot, it was like a ghost town. We hardly saw anyone except for some cars passing by.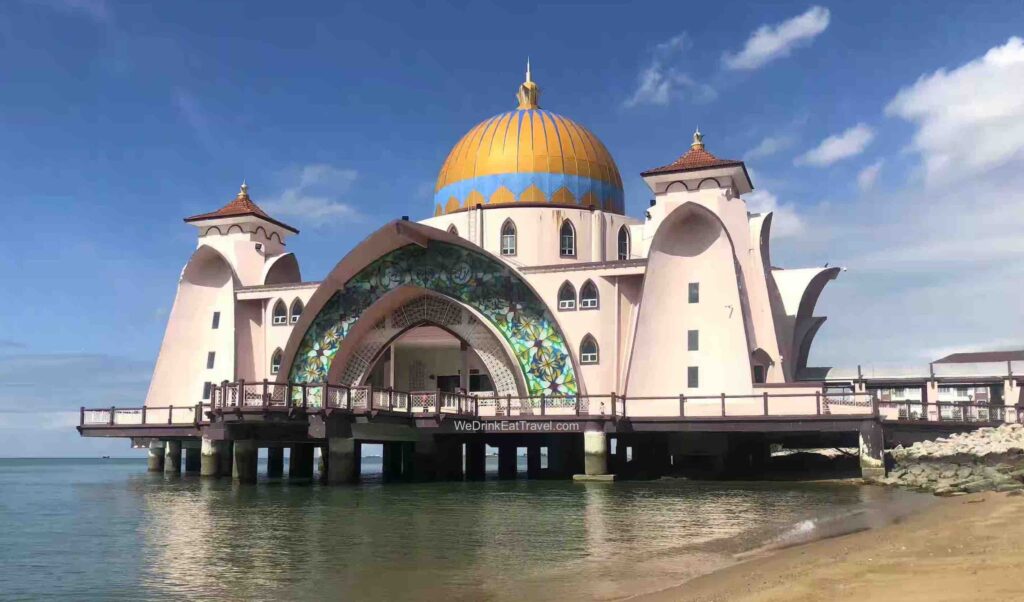 The Malacca Straits Mosque is also known as the floating mosque… as it appears to be floating on water when the water level is higher. It's said that to build the mosque, 10 million Malaysian Ringgit was spent!
On a sunny day, the man-made beach area around the mosque looks brilliant… with the contrast against the bright blue sky, and glistening golden sand.
Jonker Walk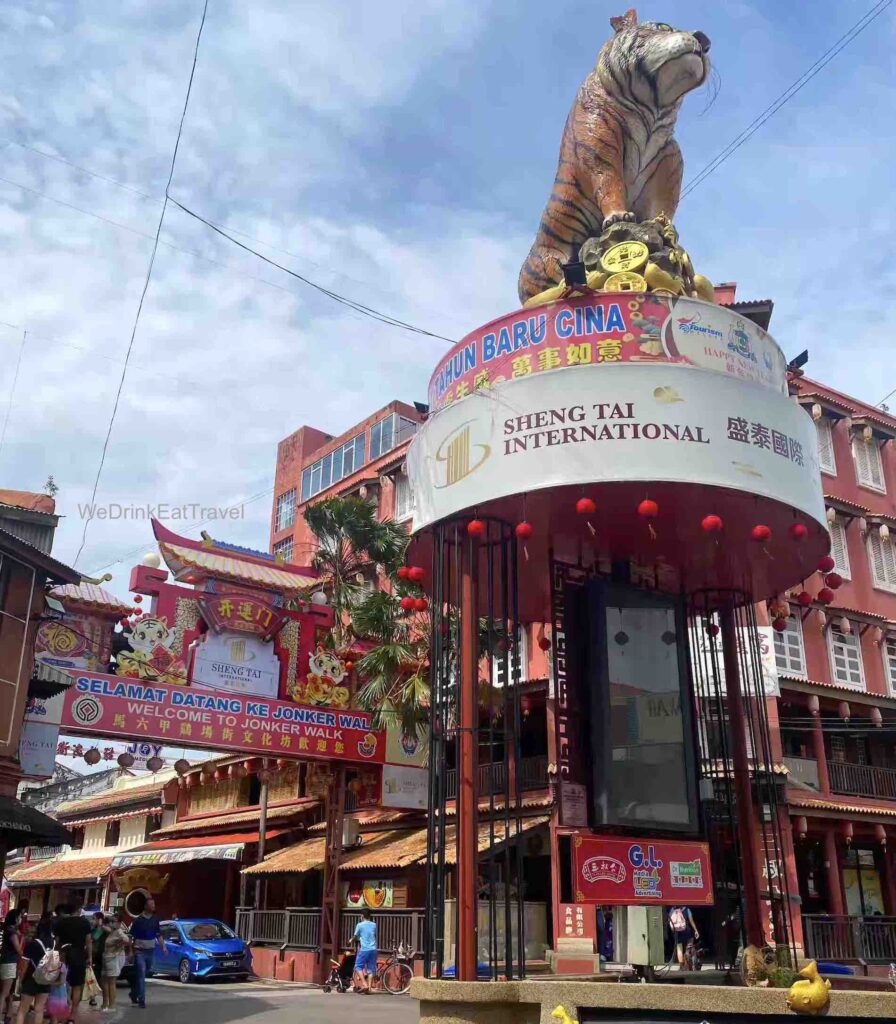 One of the most popular streets in Melaka is Jonker Walk, also known as Jonker Street. This is the main thoroughfare going through Malacca's Chinatown area. And here, there are heaps of cafes, restaurants and shops… selling souvenirs, antiques, right through to clothes.
Yet, what you should do is experience Jonker Walk at night time…
Jonker Street Night Market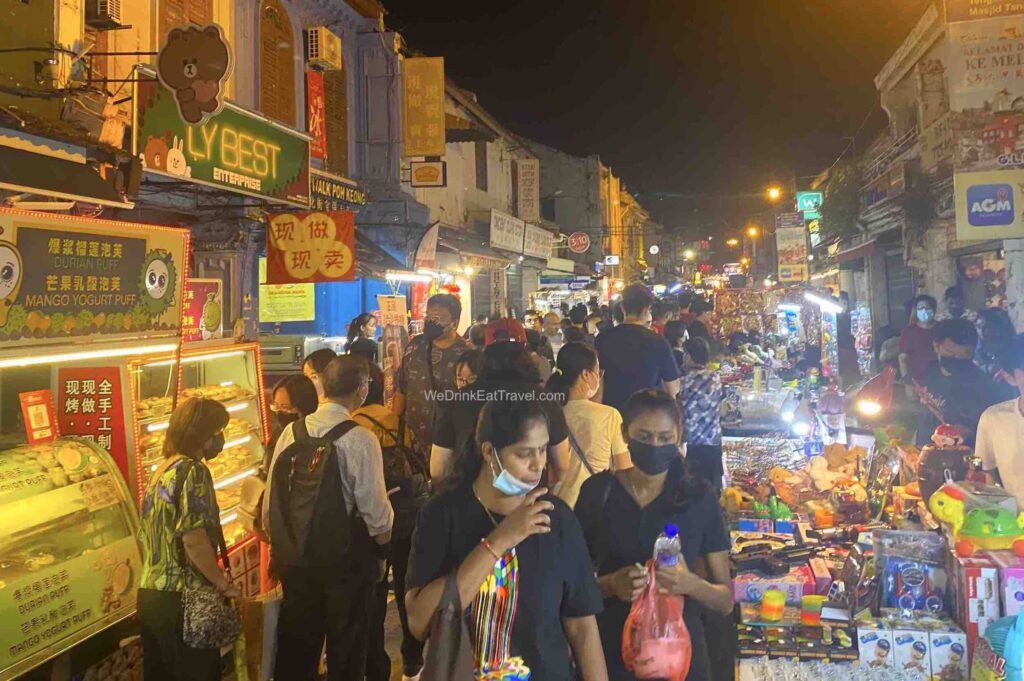 If you're after a vibrant atmosphere on Friday, Saturday and Sunday nights… make your way to the Jonker Street Night Market. When it gets really busy, you'll have to patient to walk through the street… as tourists will be cramming to see the many stalls on offer, and try the street food.
Now, this is something we highly recommend you do in Malacca…
Watch the World Go By on the Malacca Riverfront
Make sure you stroll along the Melaka Riverfront… and stop by at one of the many bars along there. We spent several late afternoons and evenings there… watching people take selfies in front of the Wall Art, and by the river.
Plus, there were many boats that would pass by… with lots of kids waving and smiling, as they flew past us.
The drink prices don't vary that much between the bars along the riverfront. Yet, to give you an idea of beer prices… you can get 660ml bottles of beer around 22 MYR each (about 4.80 Euros / USD $5.20 / GBP 4.20).
Or, if you're after the smaller bottles of beer at 325ml… that can cost around 13 MYR each (about 2.85 Euros / USD $3.10 / GBP 2.50). Thus, not as cheap as many other parts of South East Asia.
Christ the Redeemer Statue at the Portuguese Settlement
Now, this was a difficult one to decide if we should put in the blog of things to do. So, we did some research on the area, where it did sound interesting… as it's a home for the community of Kristang people. And, this is a mix of Portuguese and Malay people… deriving from the time of the Portuguese rule.
While historically this Portuguese Settlement is significant… there isn't much to see around the area. Even so, one of the most defining attractions is the Christ the Redeemer Statue. Yet, it wasn't all roses though, with controversy surrounding this statue.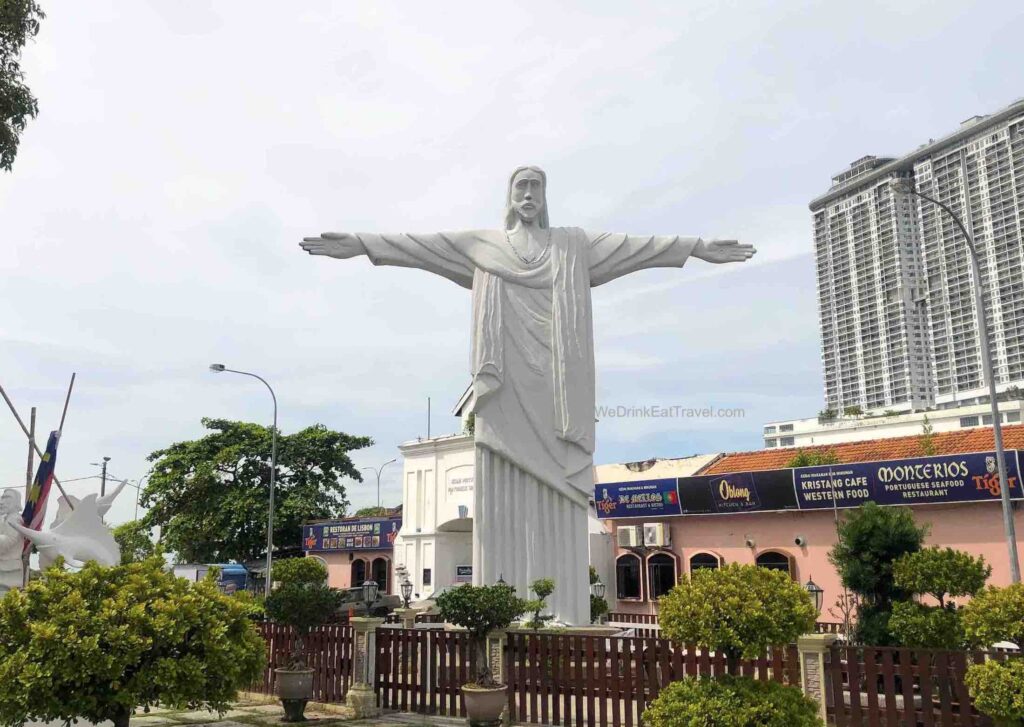 Erecting an 8m high statue is one thing. Yet, making it and without getting approval from the council was another matter… especially considering Malaysia is a Muslim dominant country.
Yet, in the end, Christ the Redeemer Statue remains today. And, is an important landmark for the Portuguese, particularly around Christmas.
So, there you have it, 23 interesting things to do in Malacca. And, there's plenty more! As we said earlier, if you can… do more than a day trip here. With lots of places to visit in Malacca, as well as many yummy foods to eat… one day won't do it justice!
Thus, plan your itinerary wisely and have an awesome time!
Watch Our Amazing YouTube Video On Malacca, Malaysia…
You Might Be Interested In This Too…
Here Are 12 Interesting Things To Do In Putrajaya Malaysia
Review Of The Ibis Styles Kuala Lumpur Fraser Business Park
See One Of The Most Amazing Temples In Malaysia – Batu Caves KL
21 Interesting and Top Things To Do In Brno
Our Qantas Flight From Melbourne To Singapore Was Actually Astonishing
Is Dubrovnik Worth Visiting? Fascinating Facts You Need To Know
What You Need To Know About The Bangkok Canal Boat On Saen Saep
Turkish Airlines Review – You Need To See Our Astonishing Experience
27 Of The Best Things To Do In Bucharest
10 Free Things To Do In Hue Vietnam
25 Of The Best Things To Do In Kotor Montenegro
30 Awesome Free Things To Do In Prague, Czech Republic