If you haven't been to Montenegro, then you need to put it on your places to visit. The landscapes are so scenic, and if you enjoy walking or hiking… then you'd be mad to not go to Montenegro.
So, we have been to Montenegro before, yet for a short period for personal reasons. And, the place that we went to was Montenegro's capital, Podgorica. It's an interesting capital city. And, if you haven't been to Podgorica… then we recommend you check out our travel blog post about it HERE.
Now, in complete contrast to Podgorica is the town of Tivat… which is on the South Western coast of Montenegro. We spent a leisurely 2 weeks there. And, to help fellow travelers… we put some information together about 16 things to do in Tivat, Montenegro.
So, for those of you who've been to Tivat… you're most likely thinking that 2 weeks is a long time to spend there! Yet, as slow travelers that suited us just fine… rather than rushing around feeling forced to do things.
Yet, what to do in Tivat… when you need a break from the "glitz and glamor" of Porto Montenegro? Or, you want a change of scenery from the Tivat beaches?
Well, one of the things we highly recommend is to get in touch with nature… and go hiking in the mountains. We found out that there are several hiking trails in Tivat Montenegro. Yet, for one of the most breathtaking views you'll get in Tivat, here's a hike you should do…
Tivat Hiking Up To Crkva Sveti Vid
Now, so you know, we didn't know about this Tivat hiking trail to Church Sveti Vid. Yet, thanks to some help from the locals as we were hiking… we're glad we found it! So, read on as we'll share our experiences hiking up to the quaint old Church Sveti Vid… and seeing some surprising views.
We did this hike in March, starting from Tivat Porto Montenegro. So, for us, the route that we took was along the waterfront… going past the Naval Heritage Collection Museum.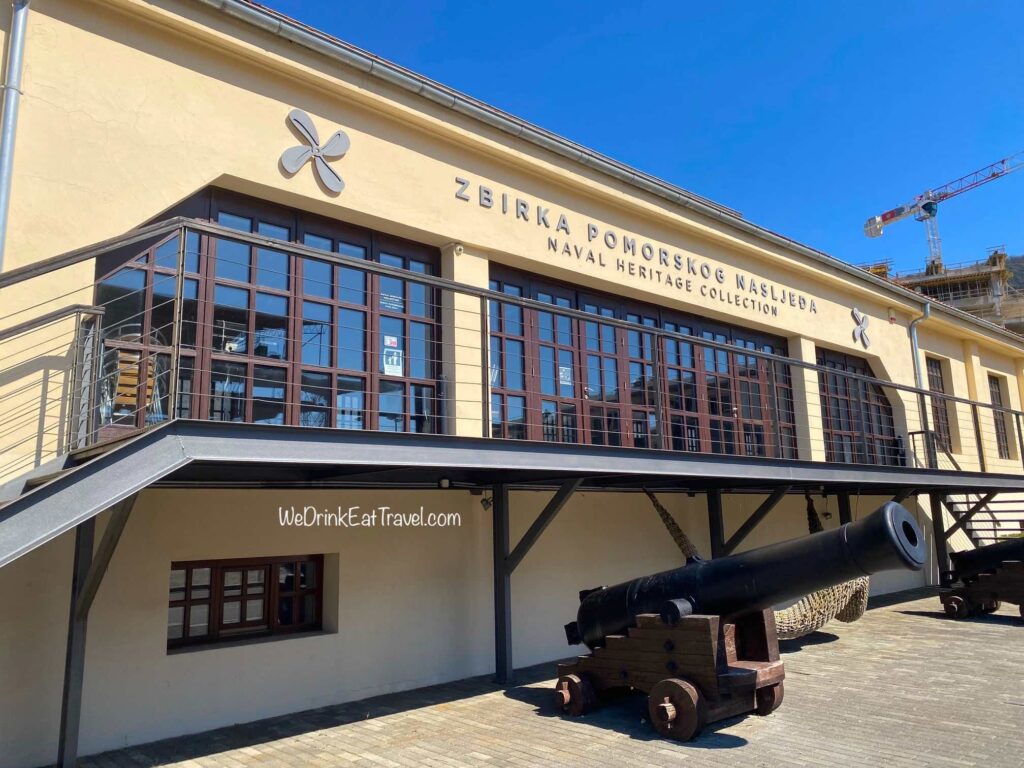 Then, we made a right turn down Nikole Tesle Street.
Then, we made a left turn down the main road of Jadranska Magistrala. Oh, and so you're aware, we were walking on a Sunday morning. And, if you didn't know… many of the supermarkets and shops do NOT open on Sundays in Montenegro.
Yet, there was a bakery open by the name of, Pekara Seljanovo. And, here's where we got some food to energize us for our hike. Yes, it did include getting some bureks, which cost 1.60 Euros each (about USD $1.75). They were OK, but nowhere near as good as the bureks at Buregdzinica AS. Yet, if you're stuck on a Sunday morning, then head on over to this bakery.
After getting supplies, we kept walking along the main road of Jadranska Magistrala… until we got to The Manor apartment building. And, this apartment block is on the corner of Jadranska Magistrala and Gornjolastovska Street.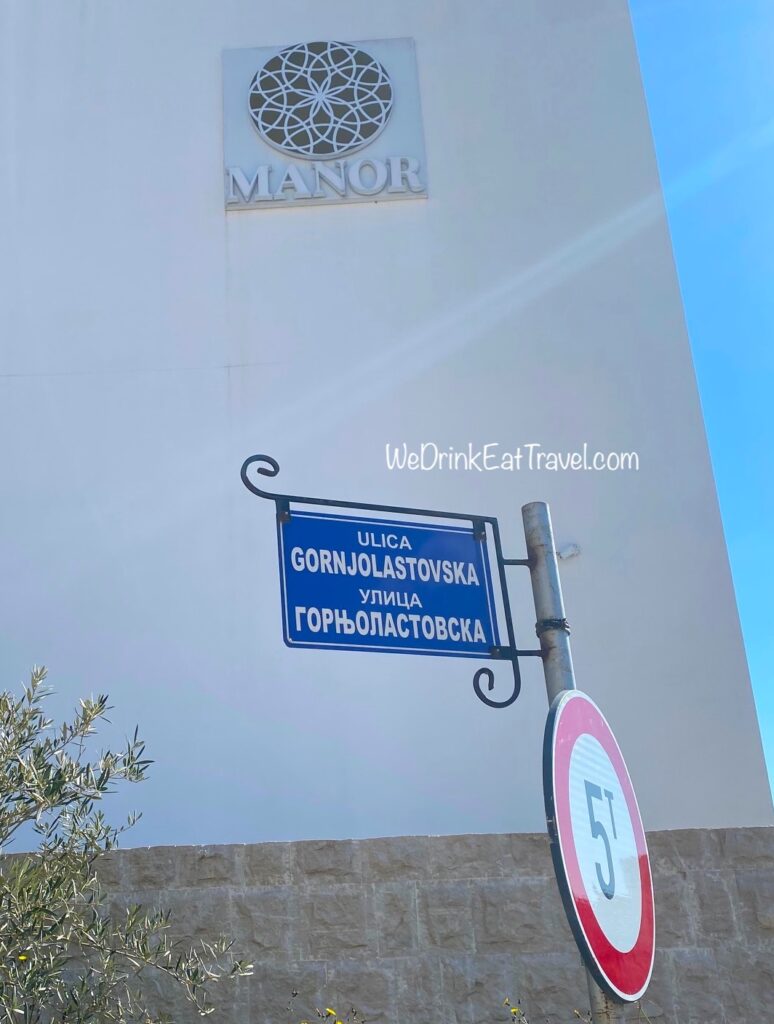 From there, you simply keep following the main road to Gornja Lastva…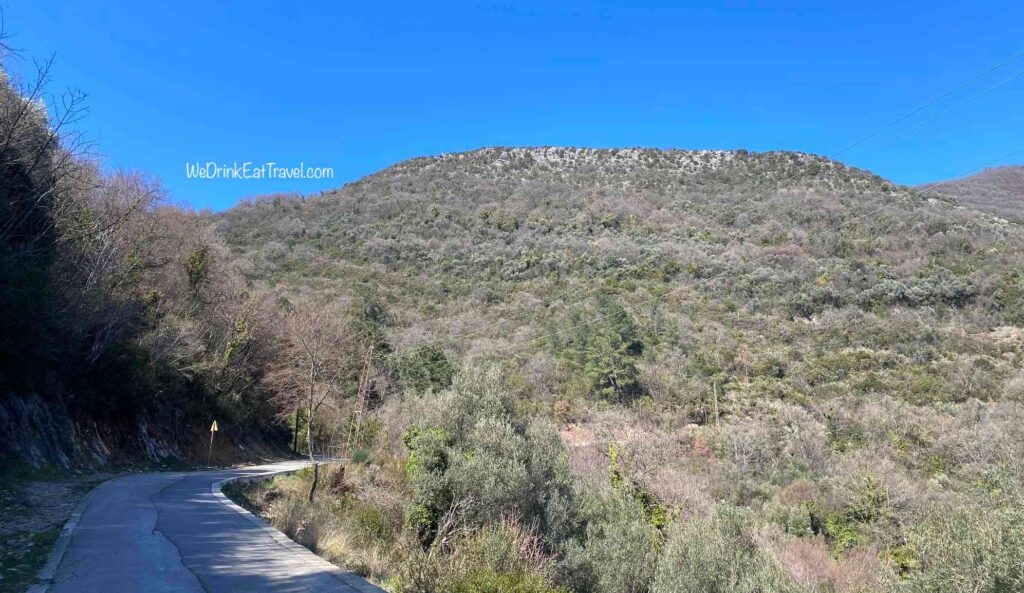 Yes, you'll be walking on the road for most part. So, be mindful of traffic! When we went there was hardly any cars or buses… yet, in the peak periods it may be different.
So, we kept walking up the road and admiring the views along the way…
You'll eventually see a sign on the side of the road for the tiny town of, Gornja Lastva. We found out that it's a partly abandoned town. Yet, when we were walking through, there was a family working on renovating a house. Well, it didn't look like they were going to bulldoze it down, anyway!
And, like many parts of Montenegro… you'll most likely come across some kitty cats along the way…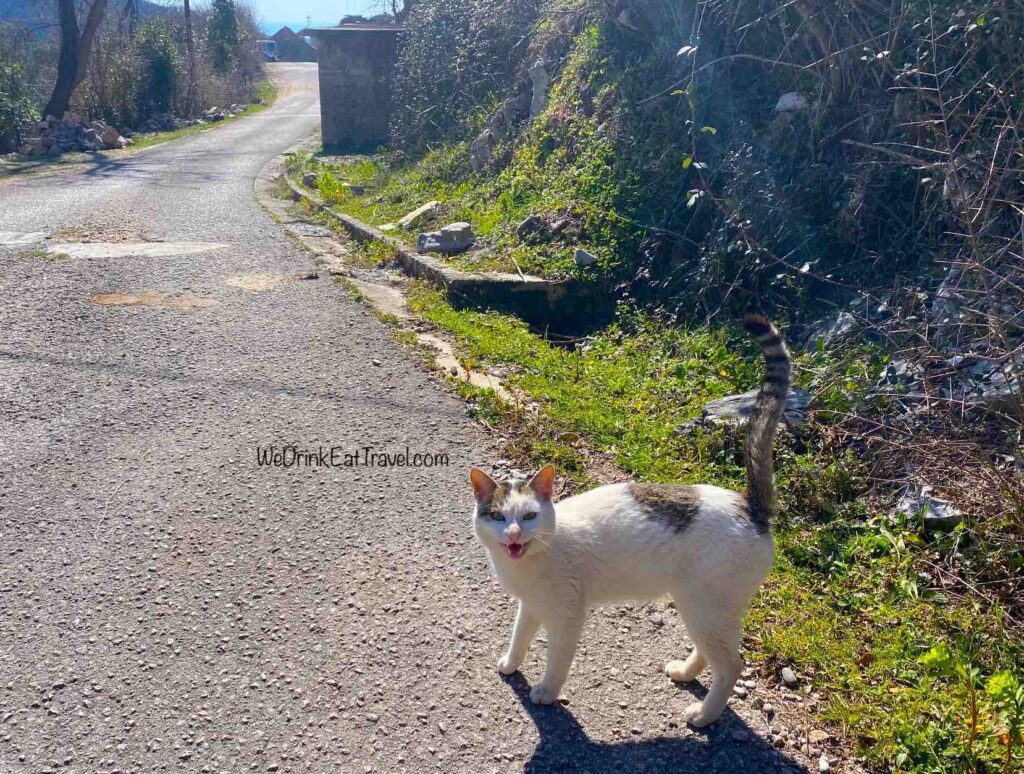 We're On A Road To Somewhere…
Now, once you get to this concrete slab with these painted signs… you'll see that there are different hikes you can choose from.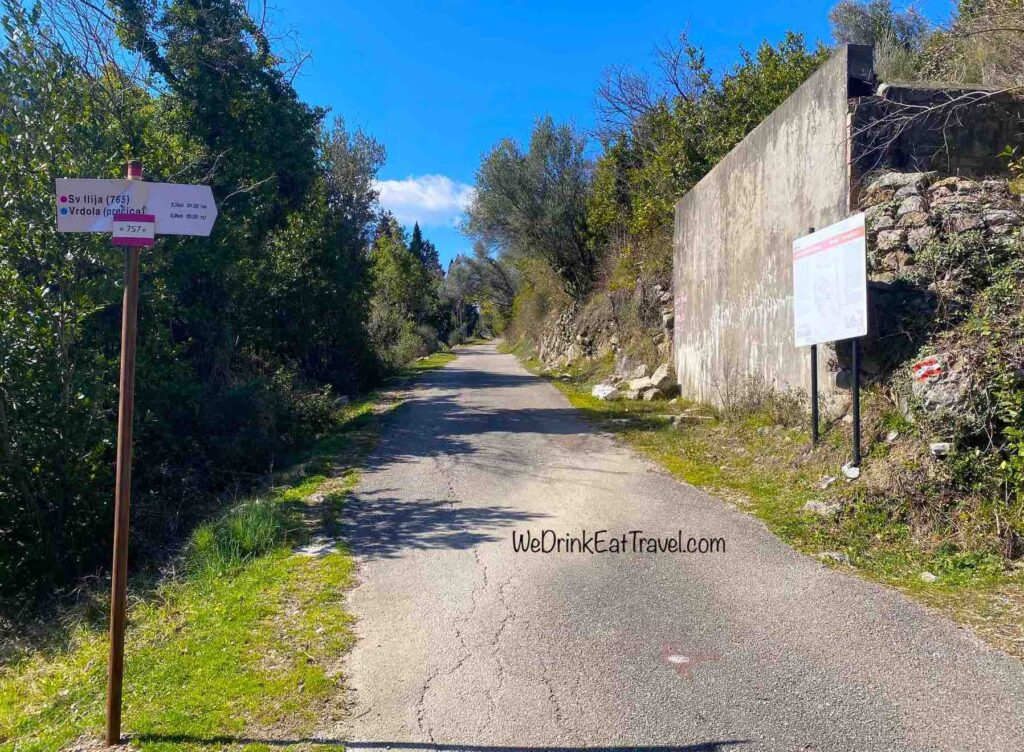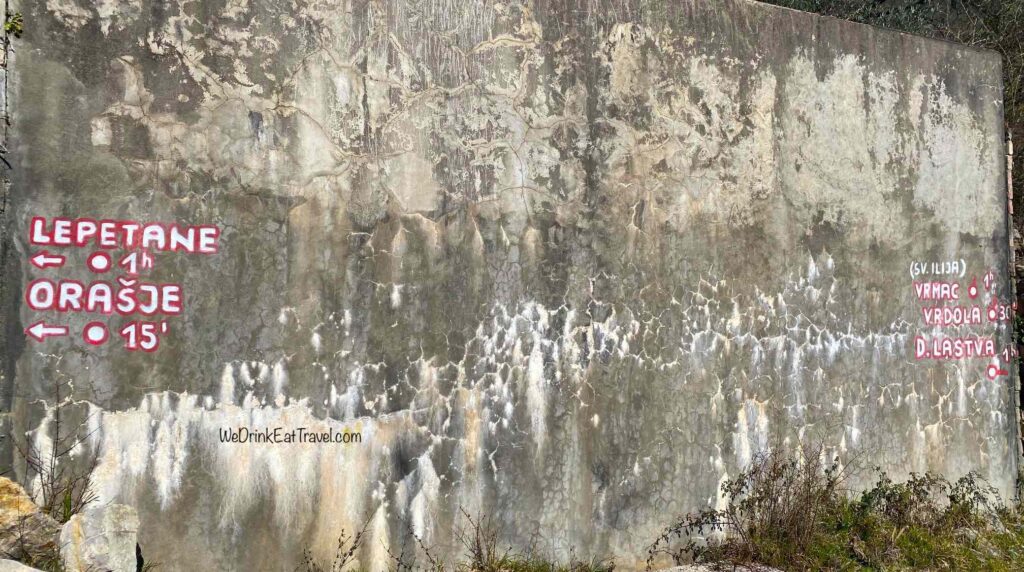 So, we chose the route for Orašje. And, after a little while the road turns from a smooth asphalt, to a more rocky road…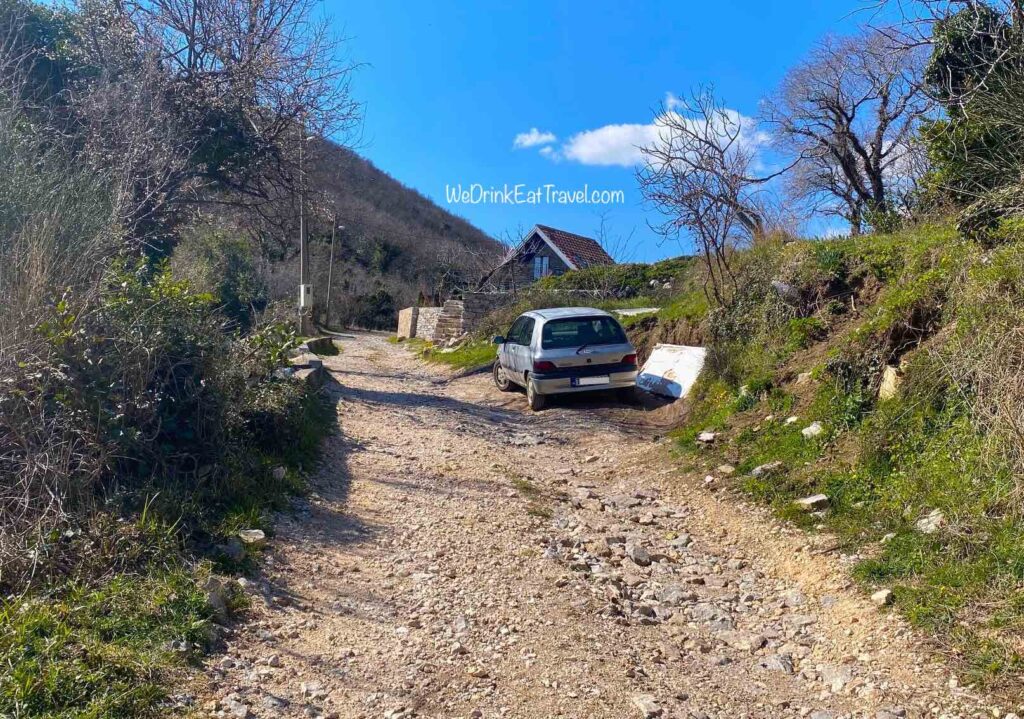 Continue walking along this road until you see this house on the corner…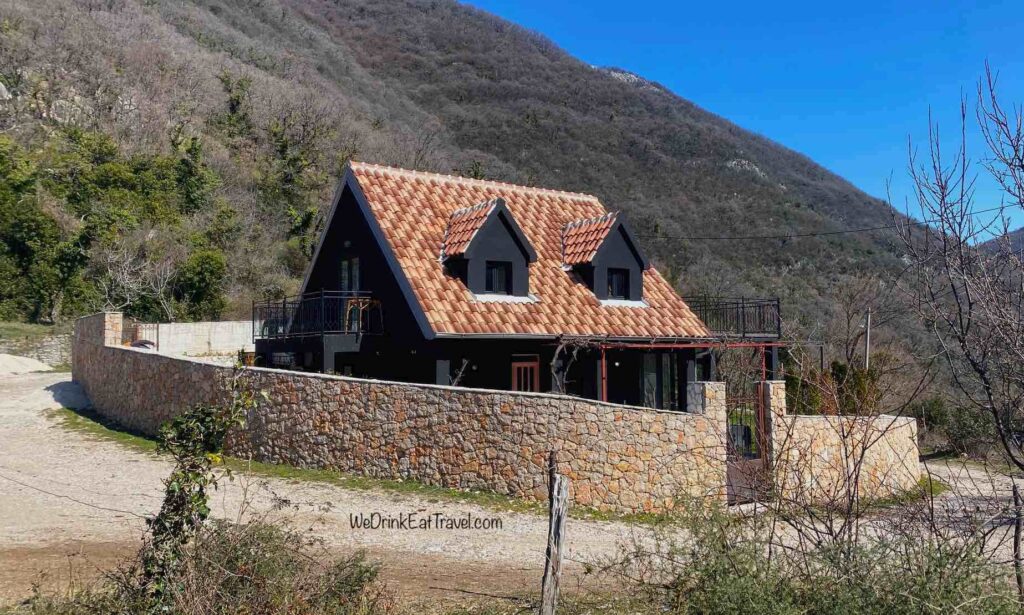 Then, you'll also see a range of signs for many different paths, which did confuse us!
Thankfully, there was a local lady who although couldn't speak English… helped us with which way to go to the top. She kept pointing in the direction we should go… until she was sure we were going the right way.
And, thank goodness for this kind lady… as we would've missed some incredible views that you'll see soon.
So, you need to take this path, and veer to the left. The trail to the Church Sveti Vid is rocky and narrow. And, as we were walking up this path… it felt like we were going up via a goat trail for the last leg up the mountain! You don't need hiking boots, although it would be more comfy.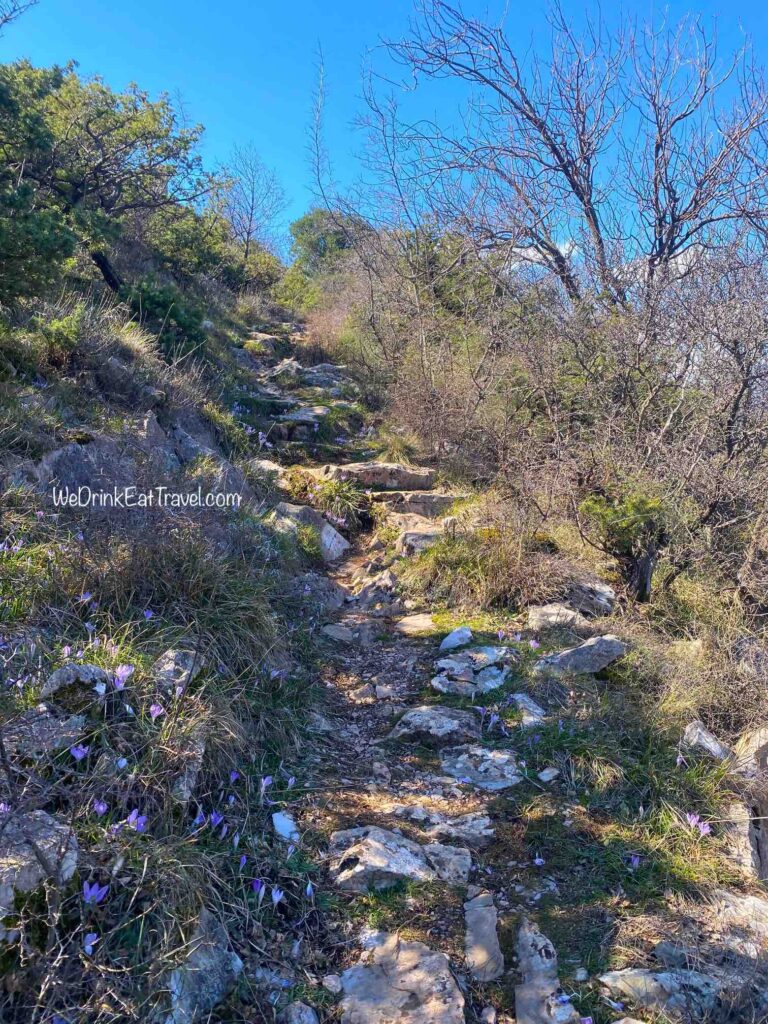 Also, for us, we found that this was one of the easier hikes that we've done. And, that's partly because the incline up the mountain is gradual.
Now, once you get to the top of the mountain, you'll see the quaint Crkva Sveti Vid…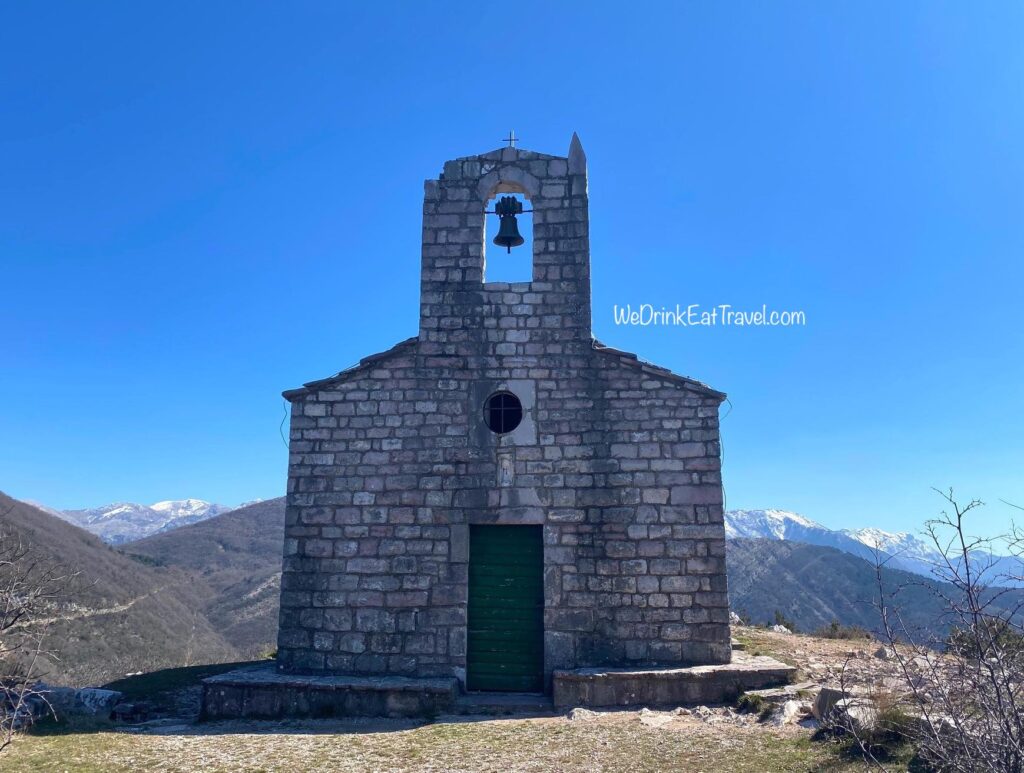 Yet, once you go past the church you'll see absolutely incredible views. And, before you look at our photos… we have to say that our pics don't do the view ANY justice whatsoever!
Breathtaking Views of Tivat Montenegro and Beyond
All up, it took us about 1.5 hours, including stopping to take photos along the way. We got to the top at midday, and we weren't power hiking up to the mountain. Yet, everyone's fitness levels and need for breaks differ. So, make sure you plan well. Also, take note that there's not much shade along this Tivat hiking trail. So, prepare yourself accordingly.
When we got to the top, there was only 1 other couple there. And, in the end we did stay there for a little while having lunch. And, why wouldn't you with amazing views like these…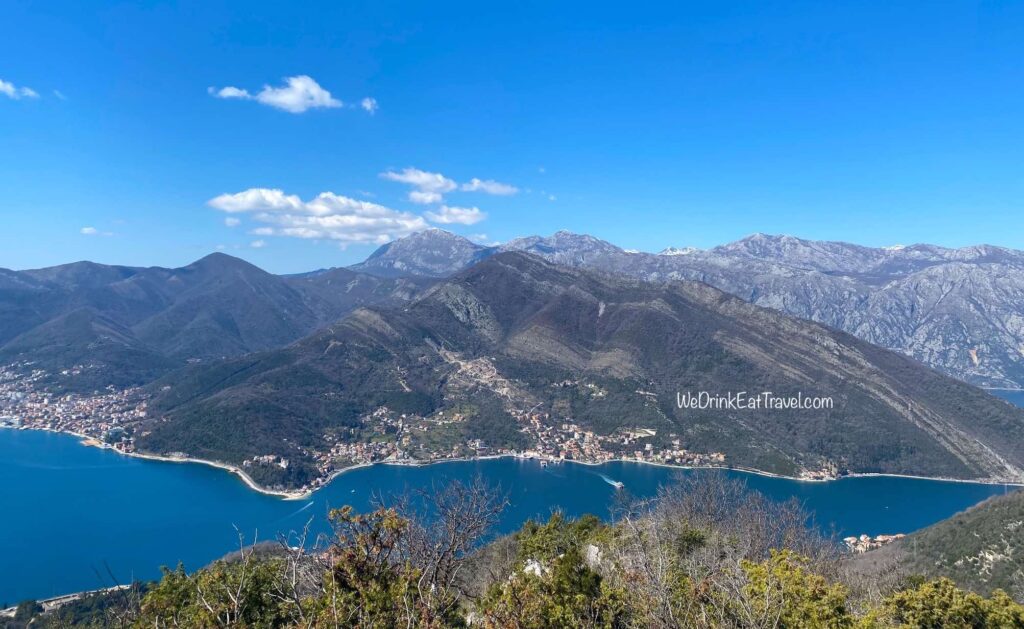 The surrounding was also peaceful and enjoyable. And, we have to admit, that it was surprising for us… as we weren't expecting to see incredible landscapes like we did. So, even though we didn't have a concrete plan of exactly where to hike to… we had in mind a general direction. Thanks to the local lady, we witnessed incredible views.
And, with many Tivat hiking trails to choose from, you can experience these amazing views… as well as other beautiful landscapes in Montenegro.
Happy Hiking!
For more activities and ideas, check these out!
Like This? Share it and comment on it!
Note: All of our reviews and comments are our opinions and no-one else's. Even if we receive complimentary goods or services we share our opinions honestly.
You Might Be Interested In This Too…
How To Get FREE Accommodation While Travelling
13 Interesting Places To See In Podgorica Today
Here Are 7 Remarkable Things To Do In Berat Albania
7 Free Things To Do In Bangkok
10 Places To Visit In Gozo Malta For Breathtaking Views
7 Top Reasons Why You Should Visit Bansko Bulgaria
Check Out 16 Things To Do In Tivat Montenegro
10 Picturesque Churches To See In Vienna Austria
How To Make Your Time In Tirana Albania Fun And Memorable
Shop Until You Drop In Ratchada, Near Thailand Cultural Center MRT
10 Popular Drinks & Food In Skopje To Make You Happy
Spotlight On Albanian Drinks And The Best Bars In Tirana
10 Awesome & Surprising Things To Do In Skopje Now