We've been traveling around Europe, and many Balkan countries for a couple of years straight now. And, we're loving it. The different cultures, sites and experiences we've had have been amazing… and some "interesting" ones too!
Yet, eating and drinking is a big part of our travels. From fine dining to street food, through to tasting the freshest produce at farmers markets… we've had some of the most scrumptious food and drinks.
And, not only is filling our bellies and tantalizing our tastebuds important… so are the people we meet along the way. So, when we were in Tivat Montenegro… we were fortunate enough to have yummy food from some memorable owners.
So, in this short but sweet travel blog post… we have to share with you where to eat in Tivat for the best fast food. And, when we were in Tivat… going to this place was an almost daily event! Now, the place to visit for your fast food needs is…
Buregdzinica "AS"
You can find this Tivat fast food place in the centre of town. It's on a side street off the main road of Palih Boraca street. Keep an eye out for La Tua Casa Caffe Pizzeria… as it's around the corner from there. This is what the outside of Buregdzinica AS looks like…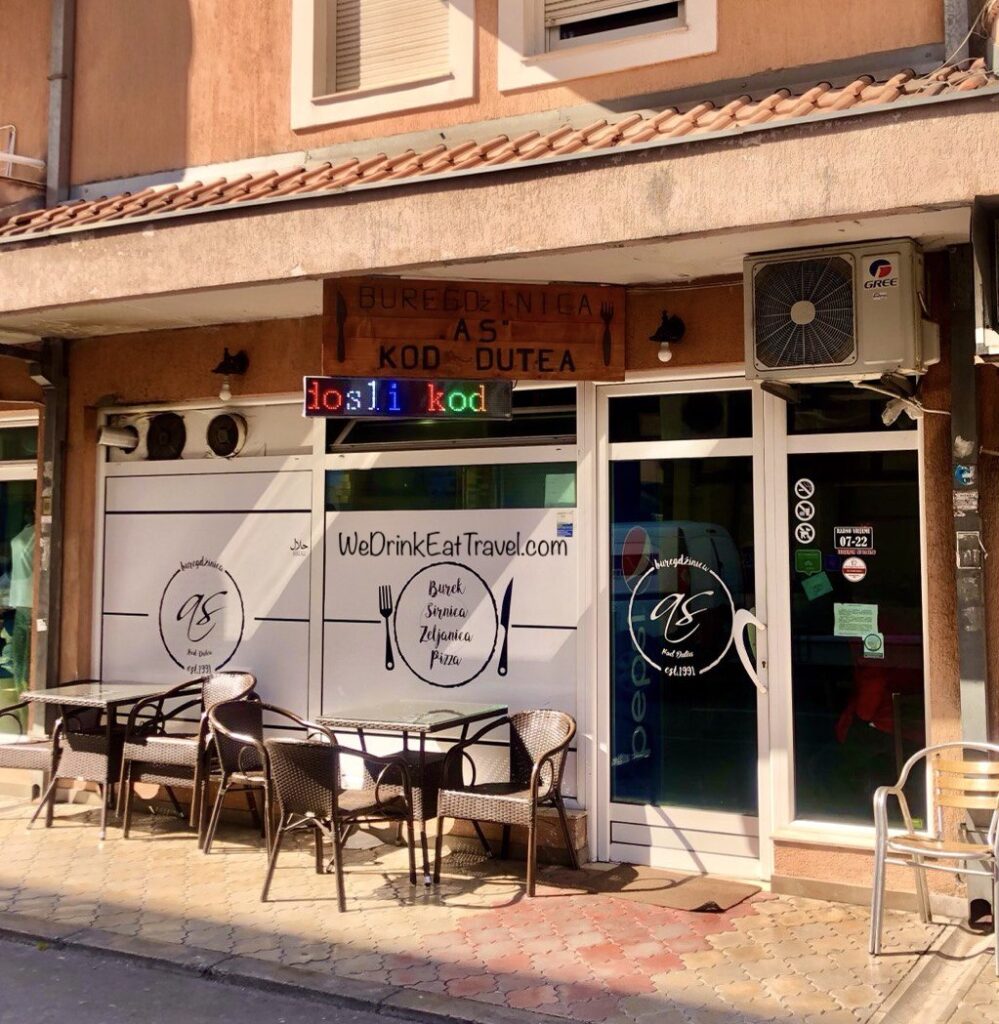 Now, this place is an institution. There are always people having a feed there, mainly locals. They are famous for their delicious bureks. And, so much that even the locals would tell us to go there for bureks.
It was funny, because one day we found a bakery that was open on Sunday… SURPRISING for Montenegro! And, most people were buying loaves of bread. Yet, we were wanting some bureks. Then, a young gentleman said to us, "You should go to the place in town for bureks."
And, we did tell him that we went there every day. Except as it was a Sunday, Buregdzinica AS wasn't open. So REMEMBER, they are open every day except Sunday.
Cheap and Cheerful Tivat Fast Food
At Buregdzinica AS, not only do they make bureks, they also make pizzas… as well as sell the obligatory yogurt and other drinks. The great thing is, they make different types of bureks… meat, greens and cheese, potato, or just cheese. So, if you get bored of eating one type, you can choose another!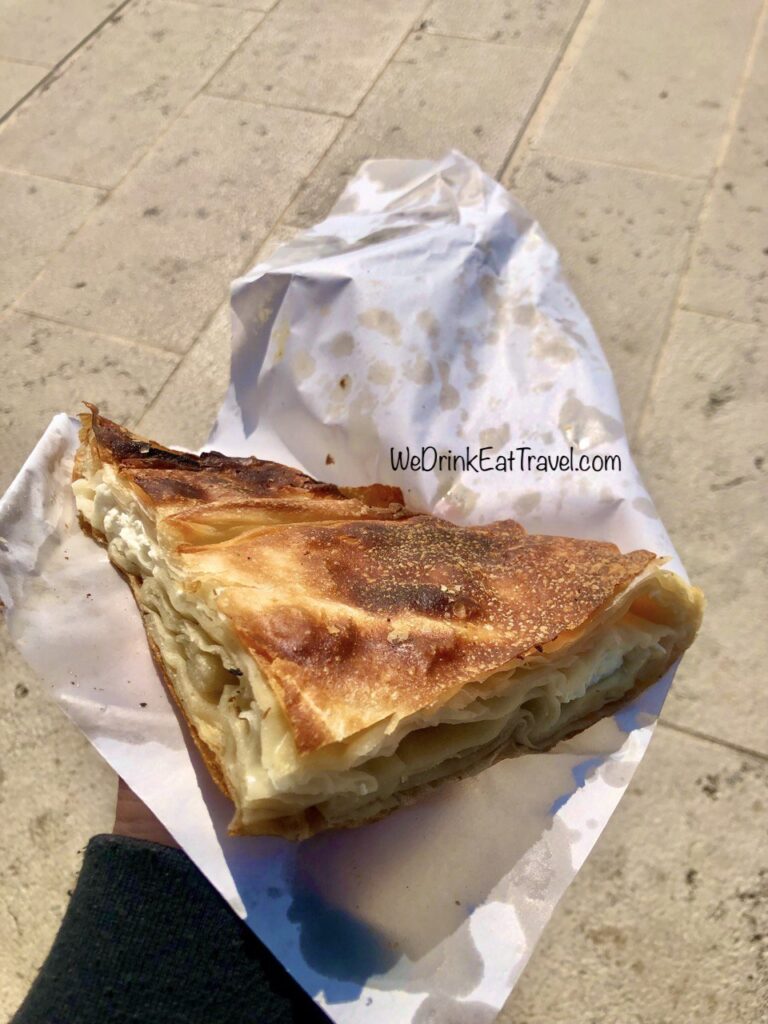 Not only are they yummy, they are cheap. And, at only 1.50 Euros for one burek, they're affordable for any budget. Plus, Paul is such a gutso… and would sometimes get more than one for breakfast!
For some cheap and cheerful travel ideas CLICK HERE
And, as you can see from the previous photo, there are some tables and chair outside the front. Plus, there are a few tables and chairs inside too.
Yet, what we did was get our bureks for take-away and devour them… while looking at the beautiful views along the Tivat waterfront.
In our 2 weeks or so in Tivat, we were there every day except for Sundays. And, the couple who own it and make the goods from scratch… are absolutely wonderful.
The "Mama" would always greet us with a smile. She couldn't speak a word of English, yet we could speak a little Montenegrin. Although, her husband did speak a bit of English… so could translate when we had no idea what she was saying to us!
Her husband was constantly making bureks. And, he has a lot of skills, especially to get the burek pastry so thin!
So, there you have it… our recommendation of where to eat in Tivat Montenegro for the best fast food.
Not only will you get cheap and yummy bureks… you'll also get service with a smile from a couple of lovely owners.
For some amazing gastronomic experiences, check these out!
ENJOY!
Like This? Share it and comment on it!
Note: All of our reviews and comments are our opinions and no-one else's. Even if we receive complimentary goods or services we share our opinions honestly.
You Might Be Interested In This Too…
How To Get FREE Accommodation While Travelling
Ultimate Tivat Hiking Trail For The Most Breathtaking Views
Check Out 16 Things To Do In Tivat Montenegro
13 Interesting Places To See In Podgorica Today
Here Are 7 Remarkable Things To Do In Berat Albania
7 Free Things To Do In Bangkok
10 Places To Visit In Gozo Malta For Breathtaking Views
7 Top Reasons Why You Should Visit Bansko Bulgaria
Check Out 16 Things To Do In Tivat Montenegro
10 Picturesque Churches To See In Vienna Austria
How To Make Your Time In Tirana Albania Fun And Memorable
Shop Until You Drop In Ratchada, Near Thailand Cultural Center MRT
10 Popular Drinks & Food In Skopje To Make You Happy
Spotlight On Albanian Drinks And The Best Bars In Tirana
10 Awesome & Surprising Things To Do In Skopje Now