After exploring Croatia for about 2.5 months, our last destination there was Dubrovnik. And, very close by is the country of Montenegro. So, on this occasion it was an easy decision to make, as to where to go next. And, about 1.5 hours away from Dubrovnik, is the town of Tivat.
We did hear and read many differing stories about Tivat… including that it was glamorous and high end. So, we did have some expectations of how it would be. And, once we got there it was surprising for us. You'll need to read on the find out what we mean!
We were in the center of Tivat for about 2 weeks, at the start of Spring. So, discover our experiences and we share 16 things to do in Tivat, Montenegro.
Porto Montenegro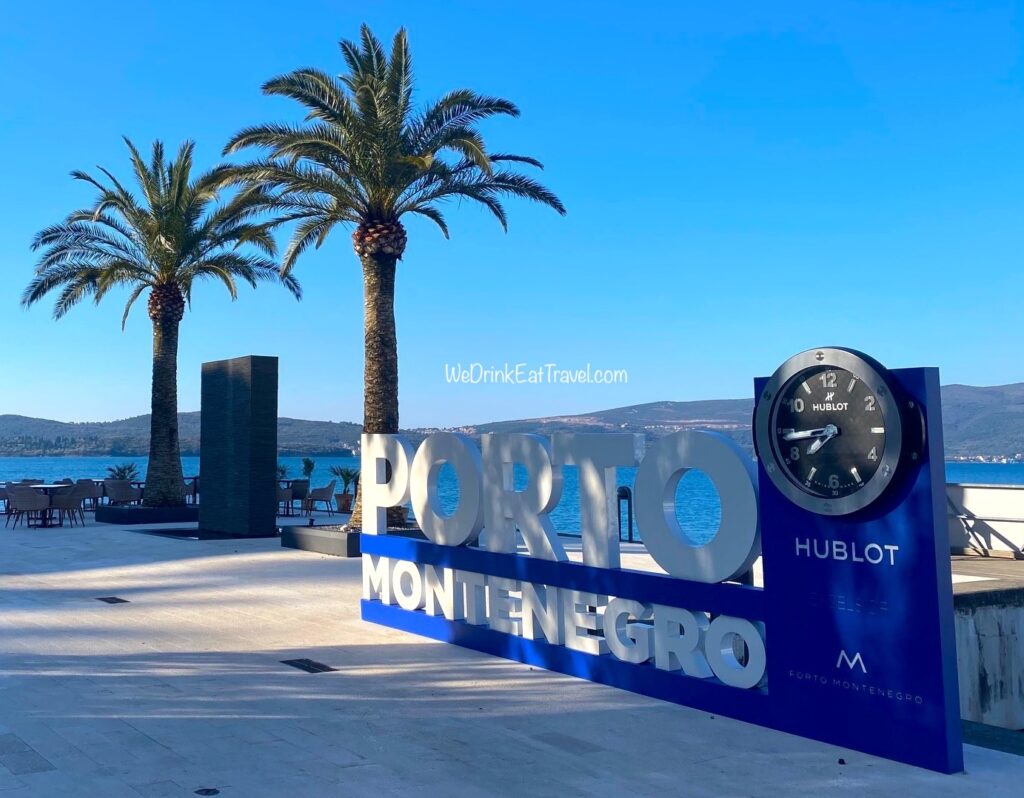 Before we got to Tivat, we were told that if we want luxury and style… then to head to Porto Montenegro. Now, having been in Croatia where there are amazing places with old-world charm… we were expecting it to be different. And, yes, it certainly was.
Porto Montenegro is a small area in the town of Tivat. And, after having been there for 2 weeks, it sure is different to the rest of Tivat! It's like a completely different city. Yet, when in Porto Montenegro, there are some different things to see and do. So, keep reading to find out…
Check Out the Yachts
Now, when you're in Porto Montenegro Tivat… you'd be walking around with your eyes closed if you didn't see the many yachts there. So, if gawking at yachts is your thing, you'll be happy!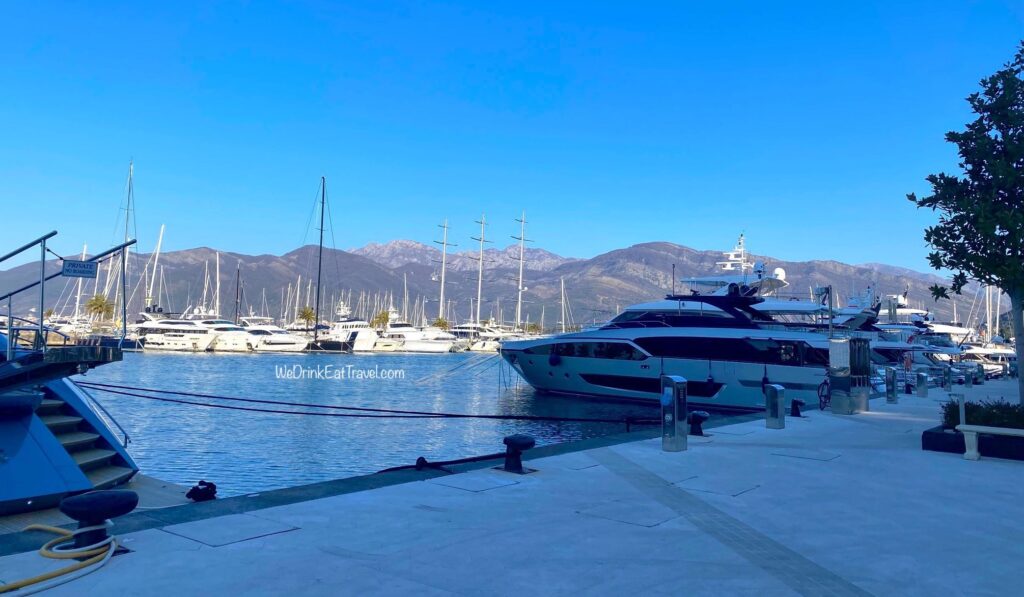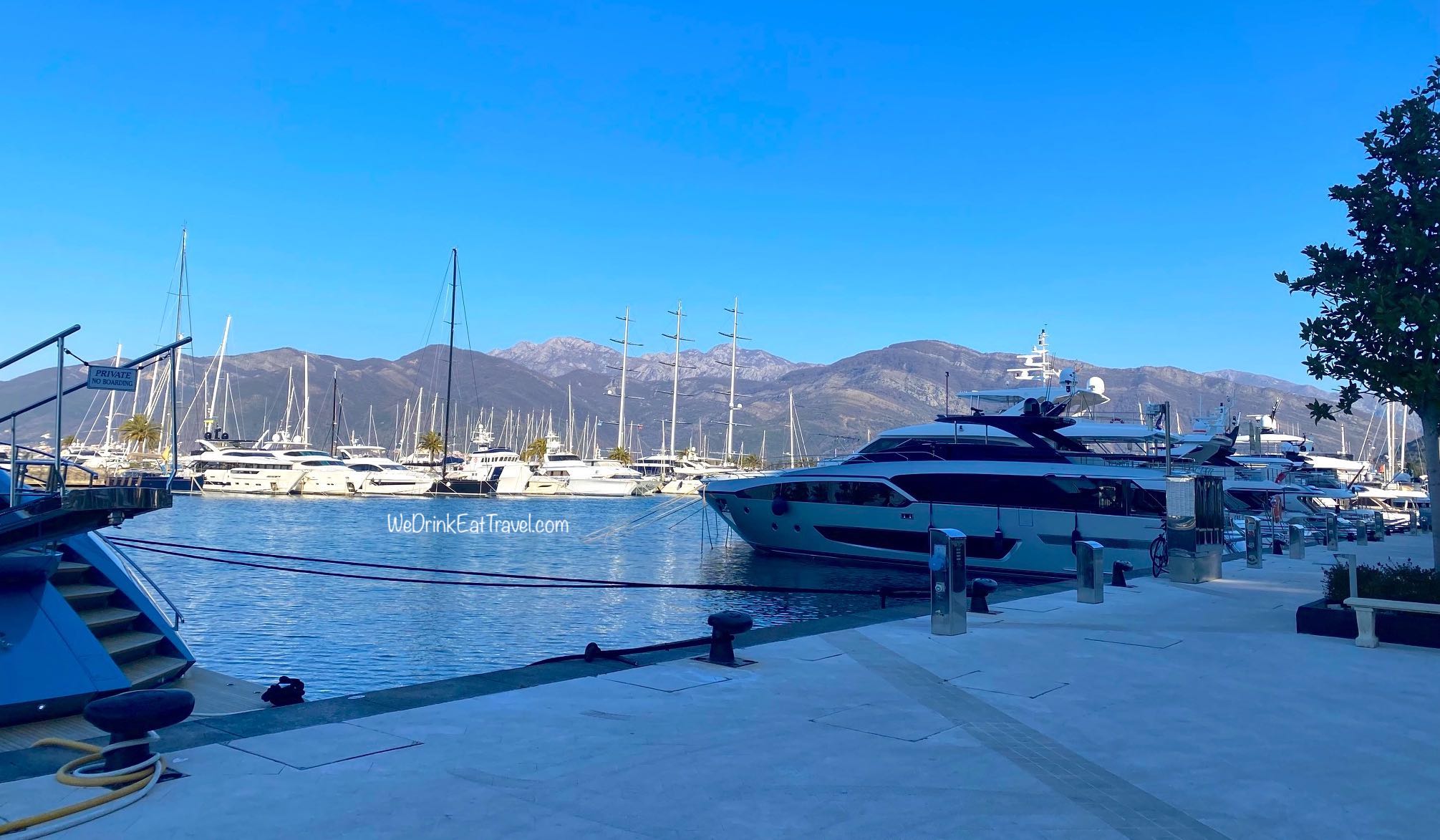 High End Shopping
When strolling around Porto Montenegro, if you're wanting to spend your hard earned cash… there are many upscale stores to shop for clothes, shoes and accessories. Brands including Max Mara, Heidi Klein are awaiting for you to splurge. There are also some high end galleries that you can check out too.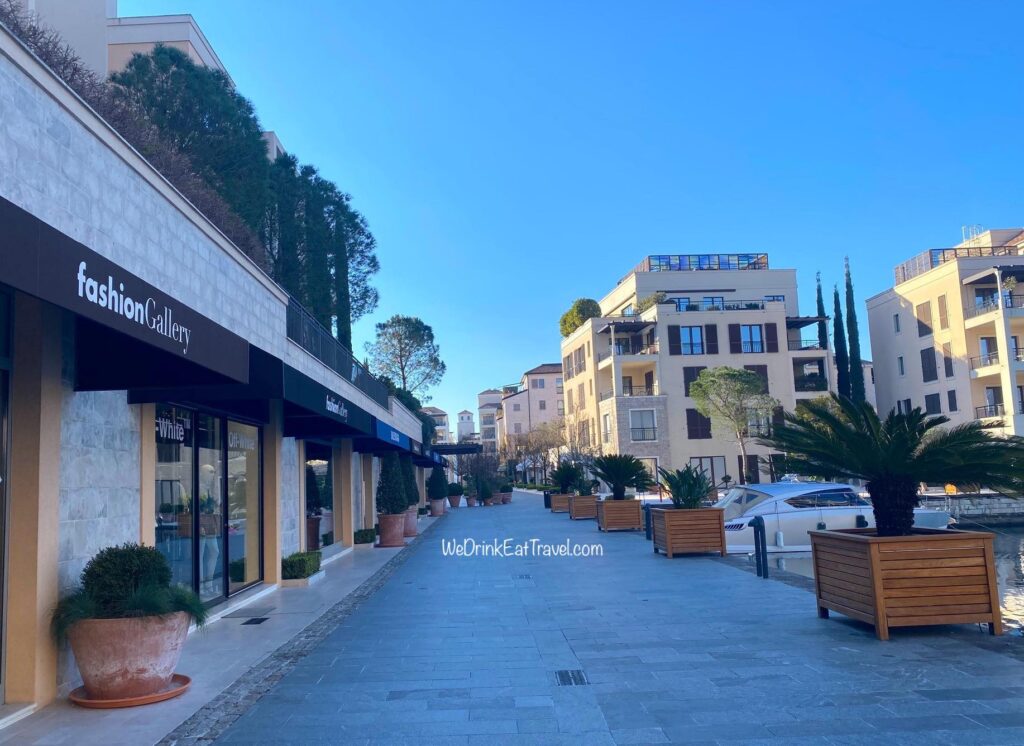 Eat and Drink on the Waterfront
When you need to rest your feet and put down your shopping bags for a break… head to one of the many restaurants and cafes in Porto Montenegro. And, why not head to the waterfront for some incredible views, while you're indulging in food and drinks…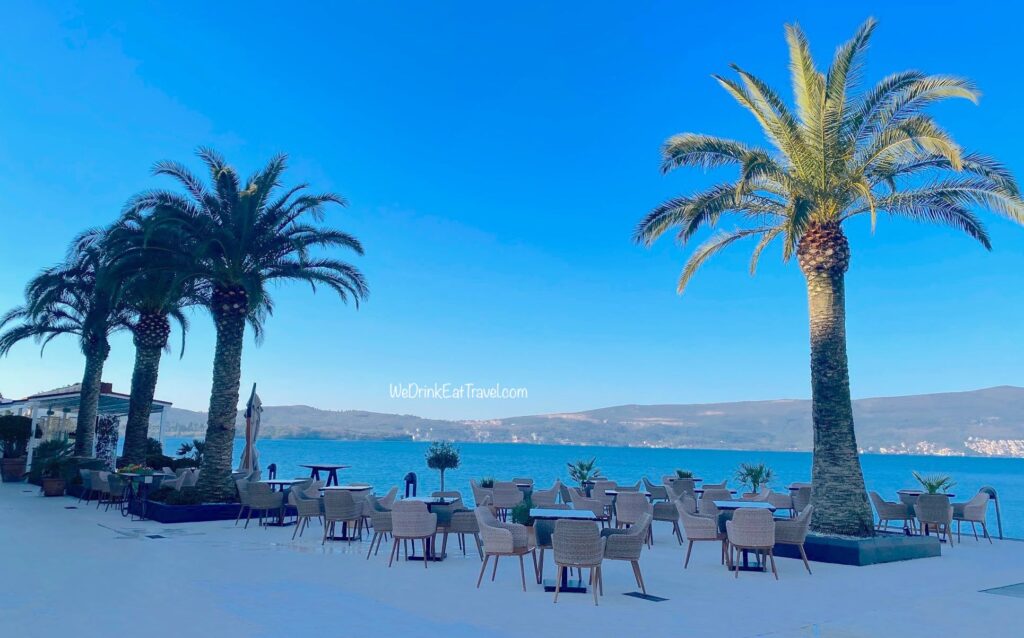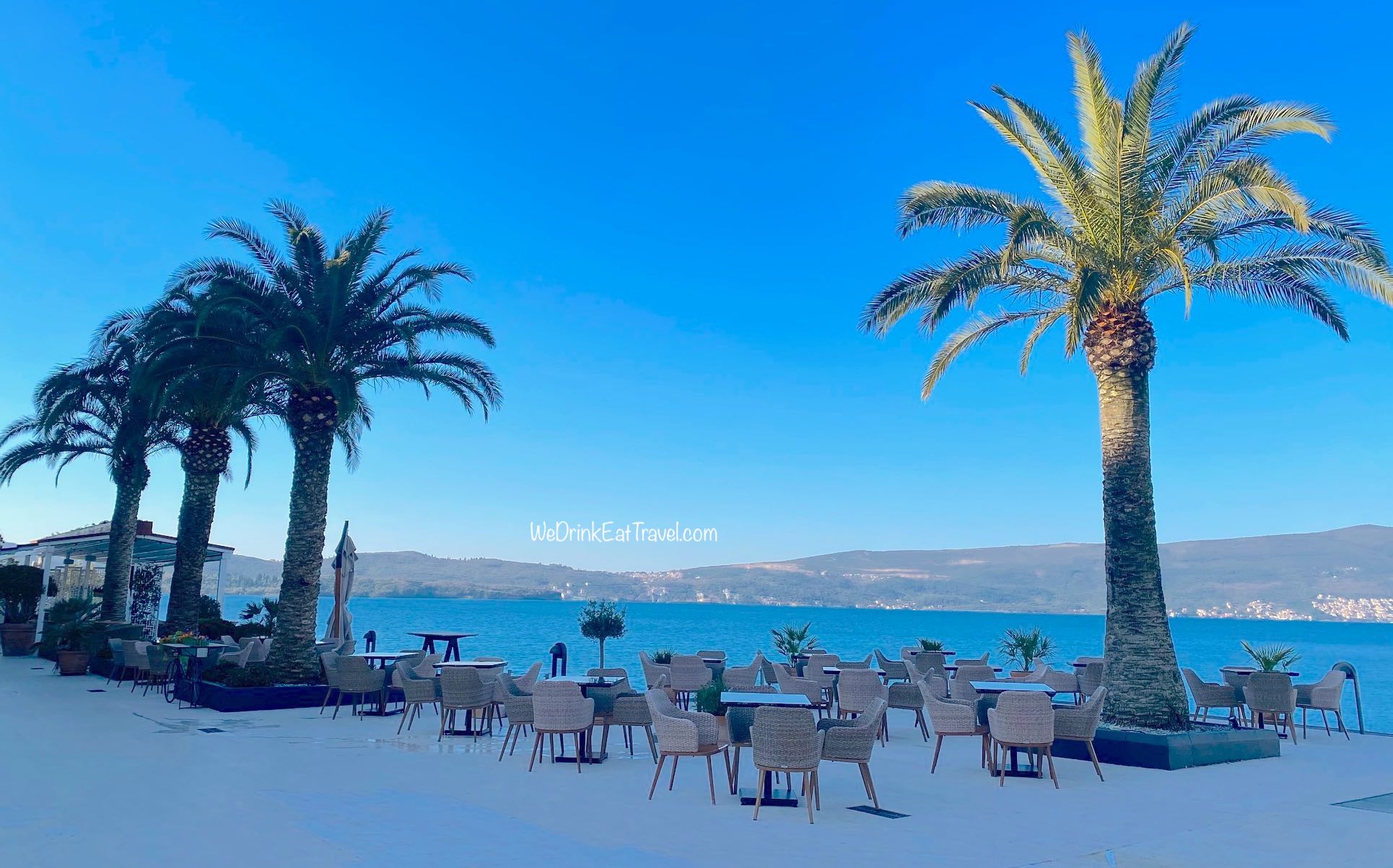 So, after you've had some refreshments and finished shopping, here's another thing to do in Tivat…
Stroll Along The Tivat Riva
Take a wander along the Riva of Tivat, and bask in the sunshine. The Riva is wide and spacious, making it a pleasant walk along the waterfront. Plus, the views of the surrounding mountains and bay is so beautiful.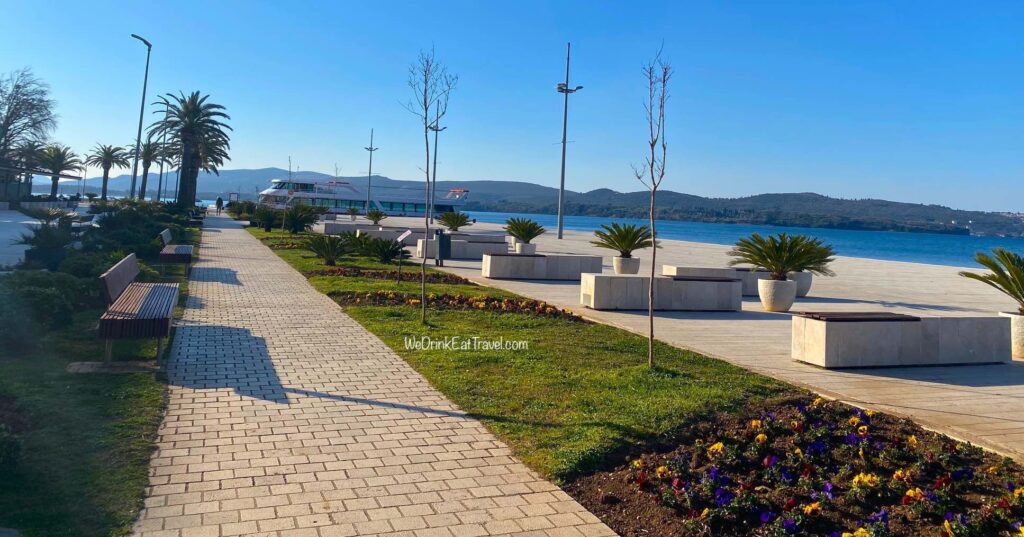 Tivat Clock Tower
When you're strolling along the Riva past all the magnificent yachts in Porto Montenegro, you'll come across this tall structure…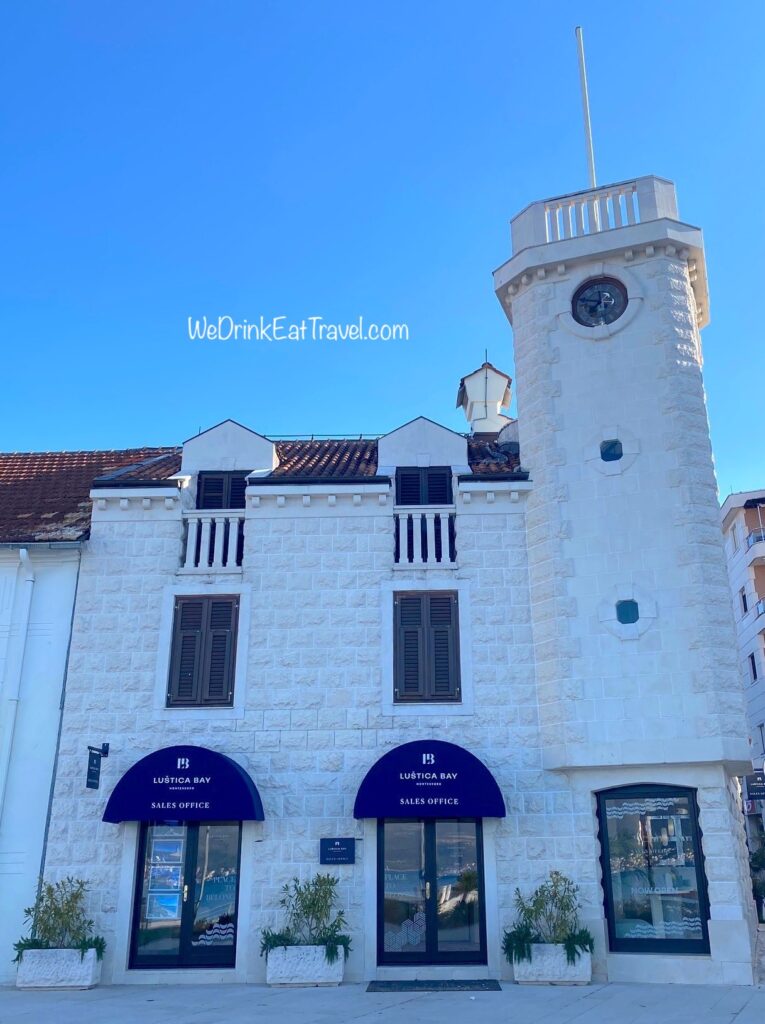 This clock tower seems almost too perfect. Yet, being in the area of Porto Montenegro Tivat… we should expect that it would be pristine!
Plaža Ponta Beach
When we went exploring along the coastline of Tivat… there was a beach that was easy walking distance to the town centre, by the name of Belane Beach. From the photos it did look pretty. Yet, when we got there they must've been doing some works in the area… as it didn't look like a nice place to lounge around and relax!
So, when we discovered the Plaza Ponta beach area… it was a breath of fresh air.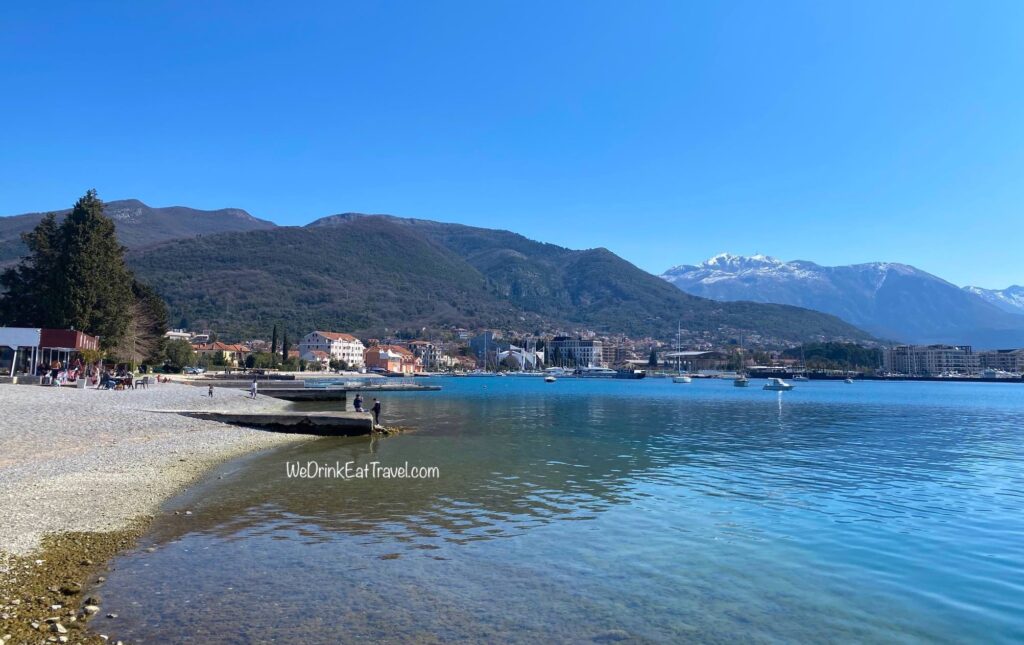 Yet, if you want an even better area… then we'll share another place later!
Now, with the amazing surrounding scenery, this is a must for a top thing to do in Tivat…
Check out Stunning Sunsets
When you're in Tivat and have some great weather… make sure you head to the waterfront at sunset. The colors are so beautiful when the sun starts to set. And, as the sun goes down behind the mountains, it truly looks spectacular. Photos don't do it justice!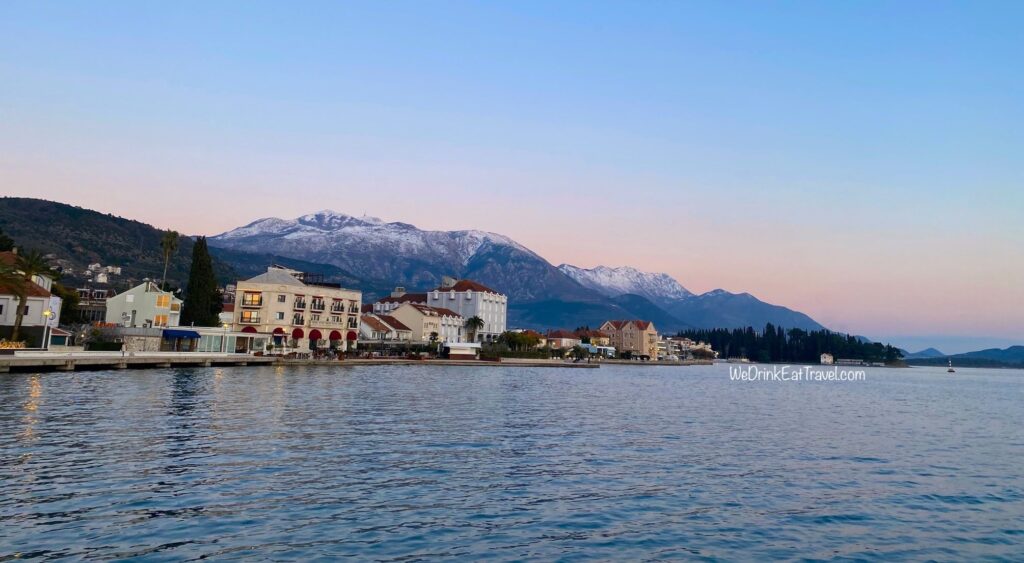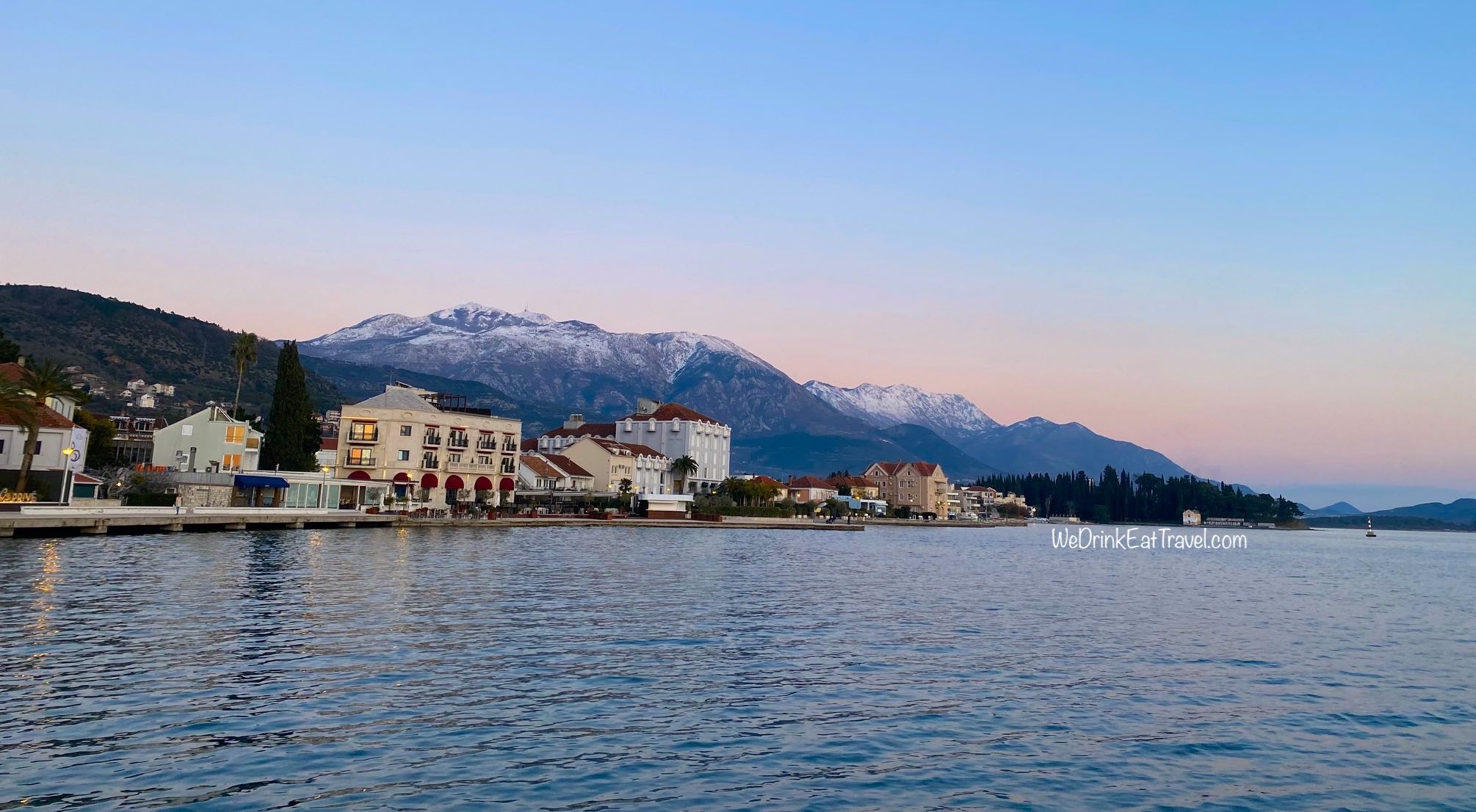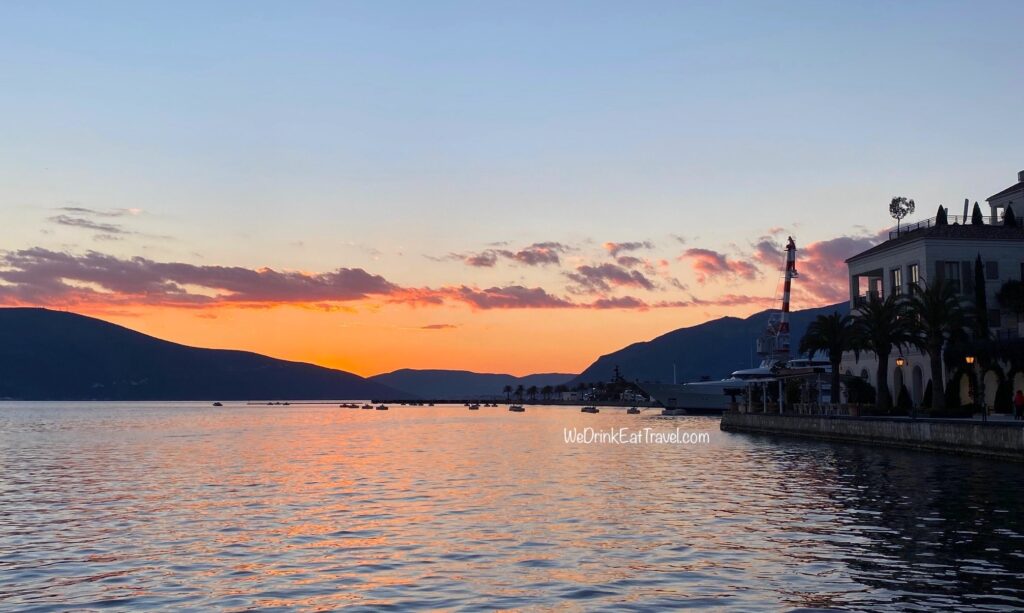 Naval Heritage Collection Museum
Now, if historic naval artefacts are your thing… then head on over to the Naval Heritage Collection Museum.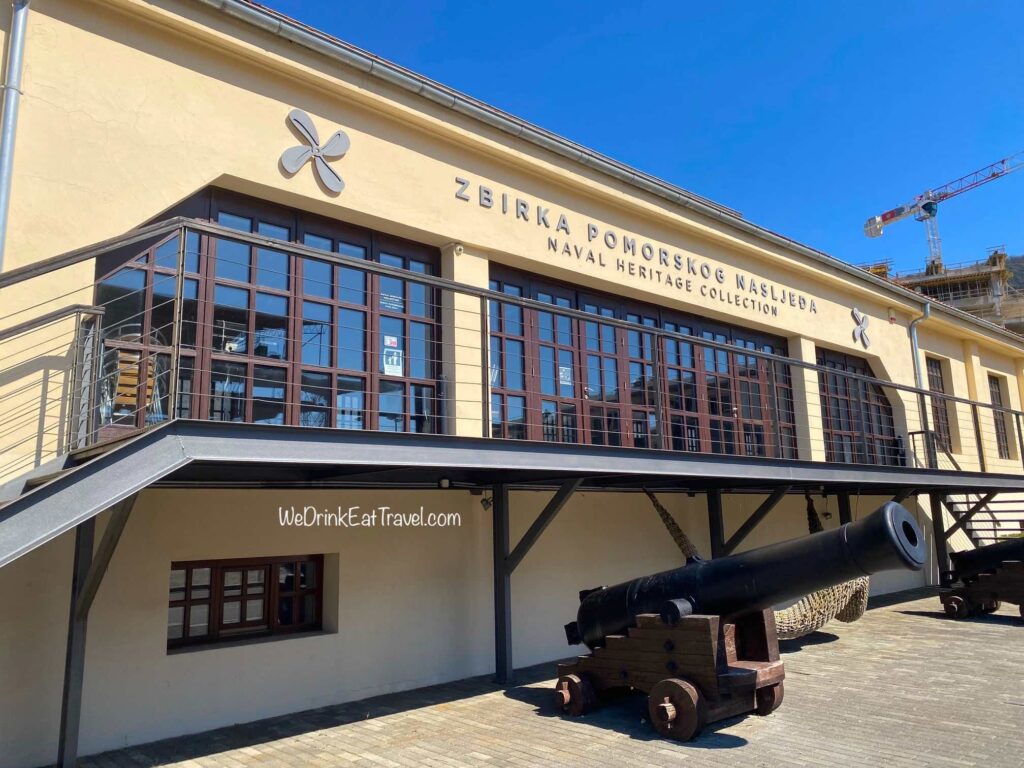 At the time we were there, the museum wasn't open. Yet, that didn't stop us from getting up close to a couple of mega submarines!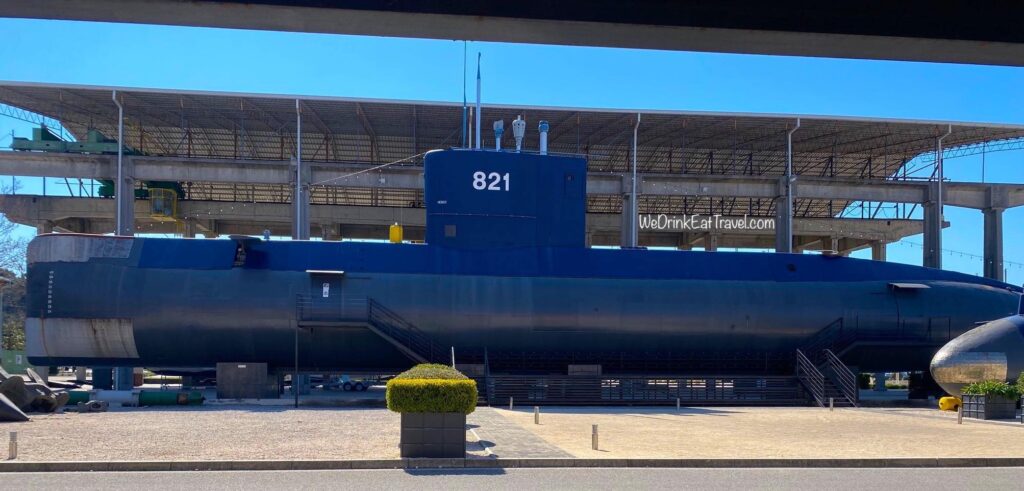 Donja Lastva – Beach
Now, remember how we were talking about Plaža Ponta and its beach area… and how we said that there was another area to check out? Well, if you keep walking further around Plaža Ponta away from Porto Montenegro, then you'll see these amazing views…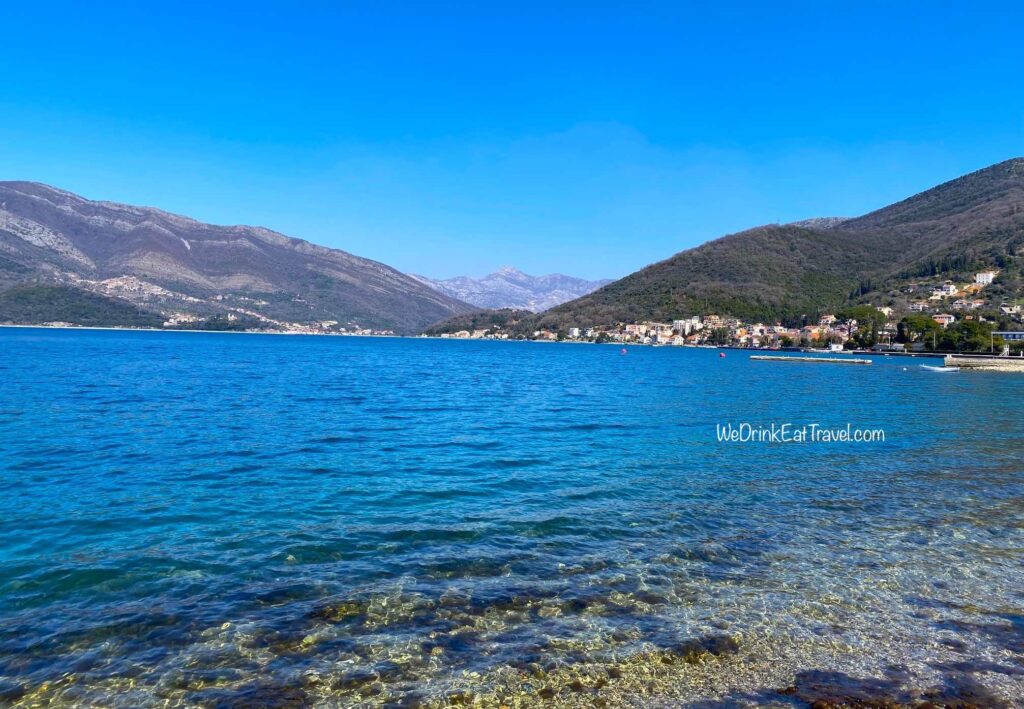 So, to get here, a landmark to lookout for is the Waikiki Restaurant and Beach Club. When we were there the Beach Club wasn't open. Yet, this was most likely because it was the start of Spring, and not into peak season yet. However, the scenery is still beautiful and we had the entire beach area to ourselves.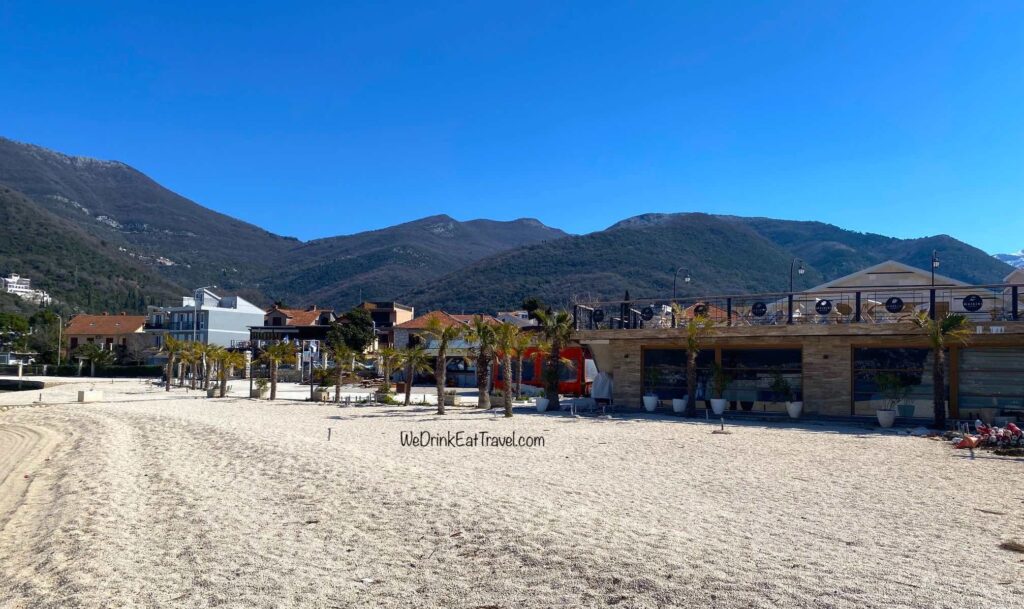 Veliki Gradski Park (Big City Park)
If you want to relax amongst the trees in peace and quiet… take a walk to the Big City Park in Tivat. It's a stone's throw away from Porto Montenegro. Plus, there are many seats to sit under the shade of the many trees… a relief if you're going to be there in the peak of the Summer heat.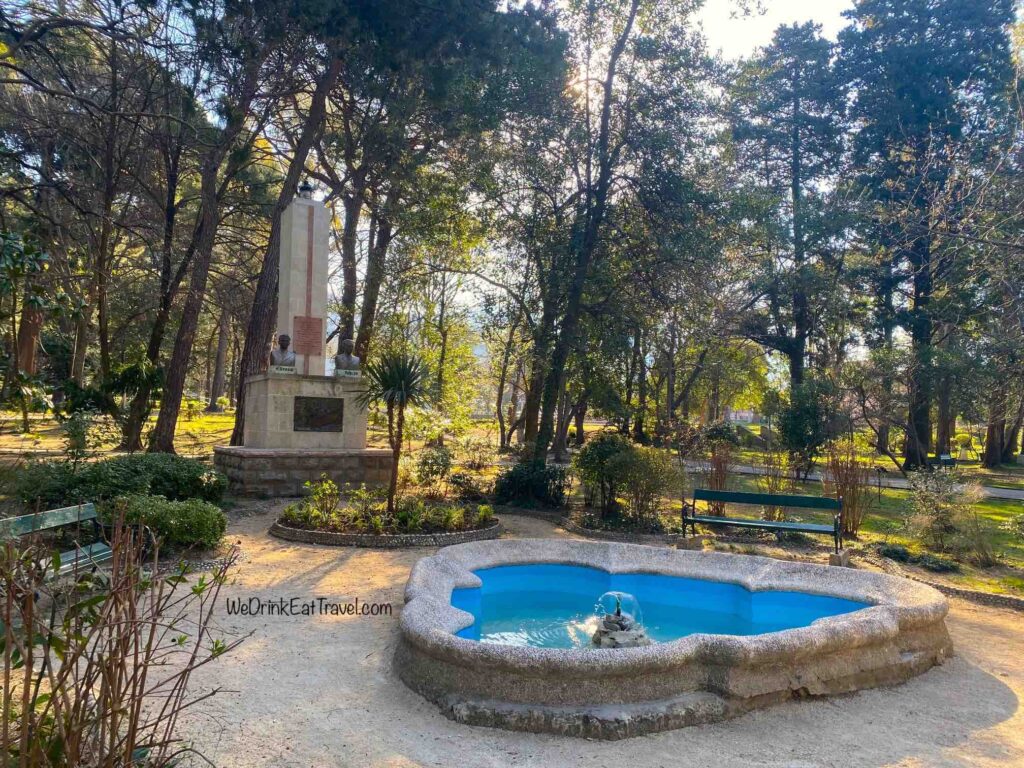 Next on our list of things to do in Tivat, and typical of us to do is…
Gorge on Yummy Bureks
If you LOVE your bureks like we do… you MUST, MUST, MUST visit Buregdzinica AS!
One of the things that makes Buregdzinica AS so lovable, are the owners. They would always greet us with big smiles. And, although the wife couldn't speak any English… you knew she was happy to see us with her actions and beautiful smile. Her husband can speak some English, which was great when we were trying to have a conversation!
Plus, there are different variteties of bureks… and the price per burek was only 1.50 Euro! They also had homemade pizzas if you felt like something different. It sure is a popular place. Best time we thought to go before the hoards arrived, was around 9:30am. ENJOY! They are closed on Sundays though.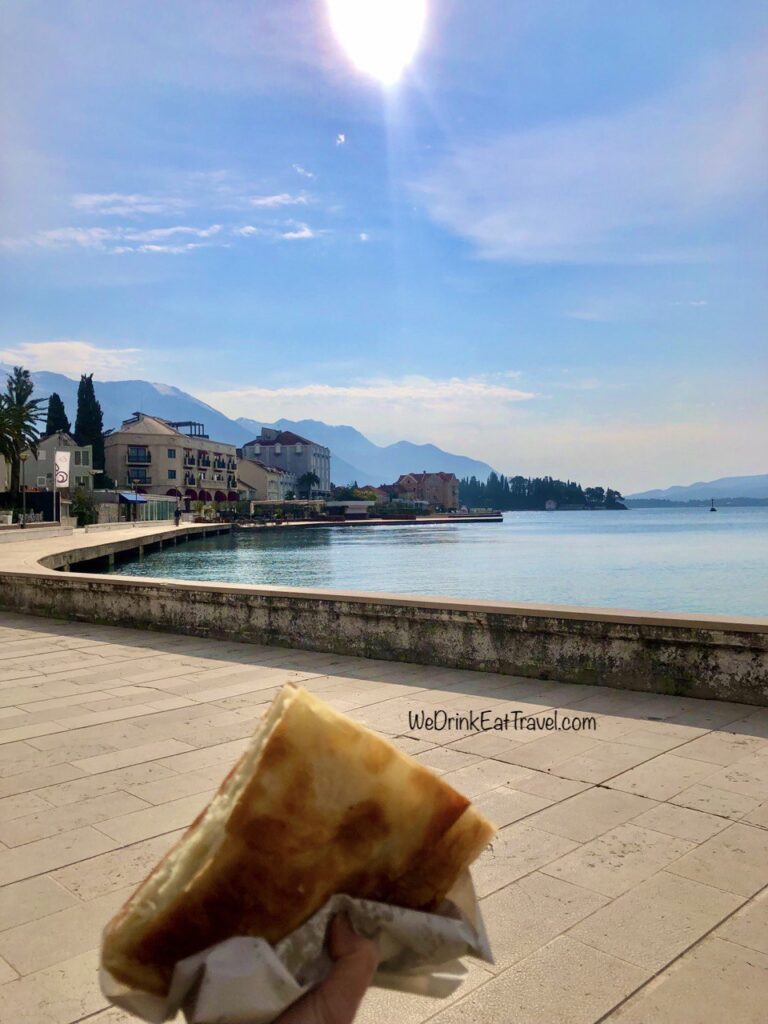 After having some delicious bureks or pizza in Tivat, time to walk off the calories! So, another thing to see in Tivat is…
Pine Embankment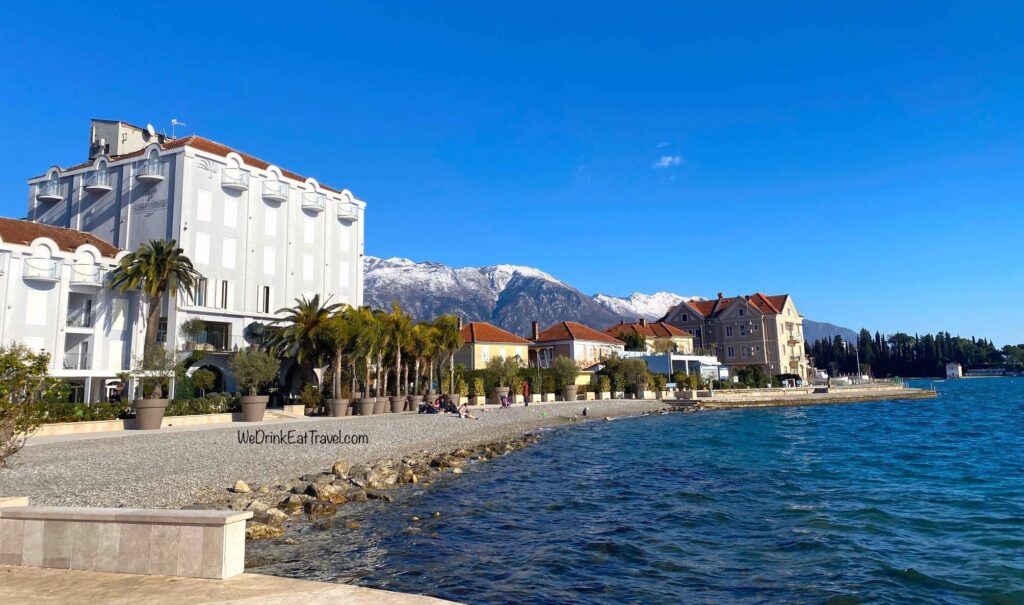 So, the best way to describe the whereabouts of Pine Embankment… is that it's between Porto Montenegro and Belane Beach. There are some eateries along this waterfront area. Plus, there are also these huge pot plants!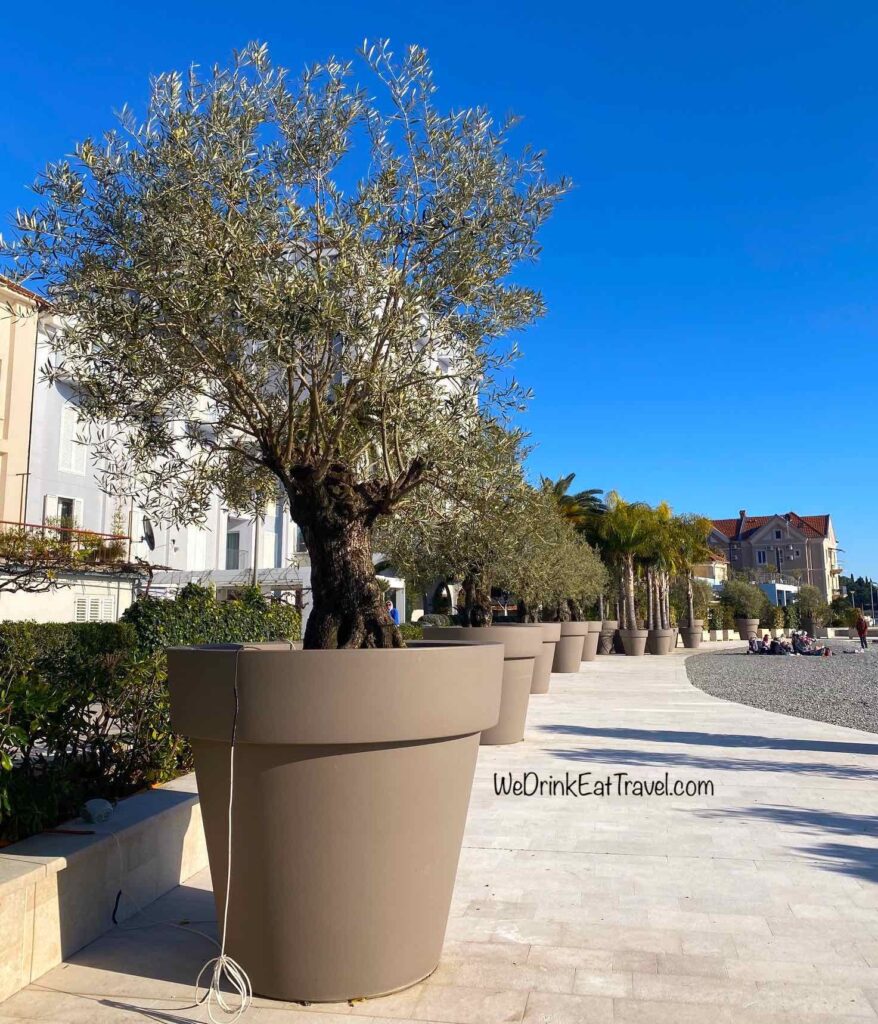 Saint Sava Church
Further back past Porto Montengro and behind Big City Park is the Saint Sava Church. This is one of the younger churches in Tivat. Building of this church started in the 1930's, and was done in 1967.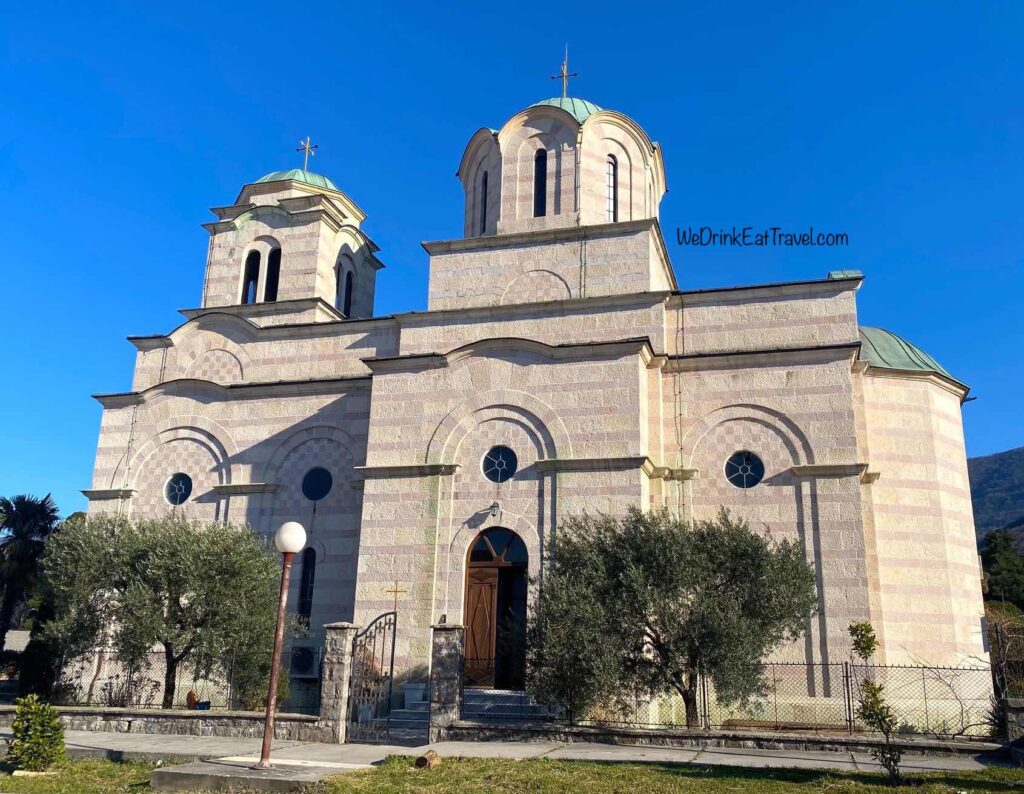 Yet, if you want to see an historical structure right in the center of Tivat, go here…
Bucha Palace
When we were wandering around aimlessly one day in Tivat… we saw a fortress-like structure. And, once we got closer this is what we saw…
This is Bucha Palace, which has a tower, museum and an old cannon in front. At the time we went, the museum wasn't open. This 17th century palace is such a contrast to the modern, upscale Porto Montenegro… which is only minutes walk away.
Go Hiking on One of the Many Trails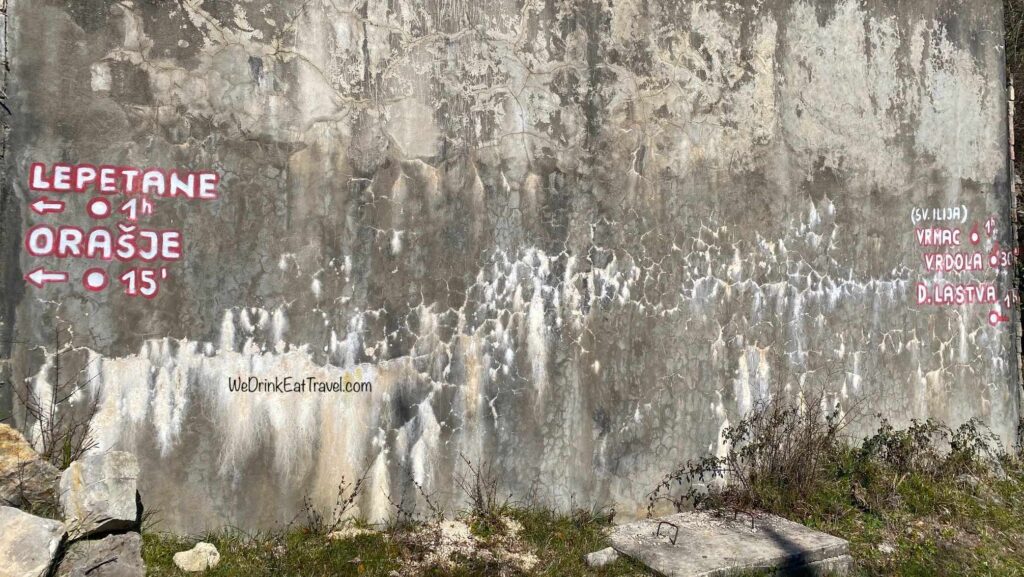 In Tivat, if you want a change of scenery and activities… go for a hike up the mountains. And, there are many trails that you can take. It all depends on how long you want to go for… and what your fitness levels are.
Yet, even if you go the partly abandoned town of Gornji Lavasta… it's a relatively easy walk up on a road. And from here, you can still get some lovely views over TIvat and beyond.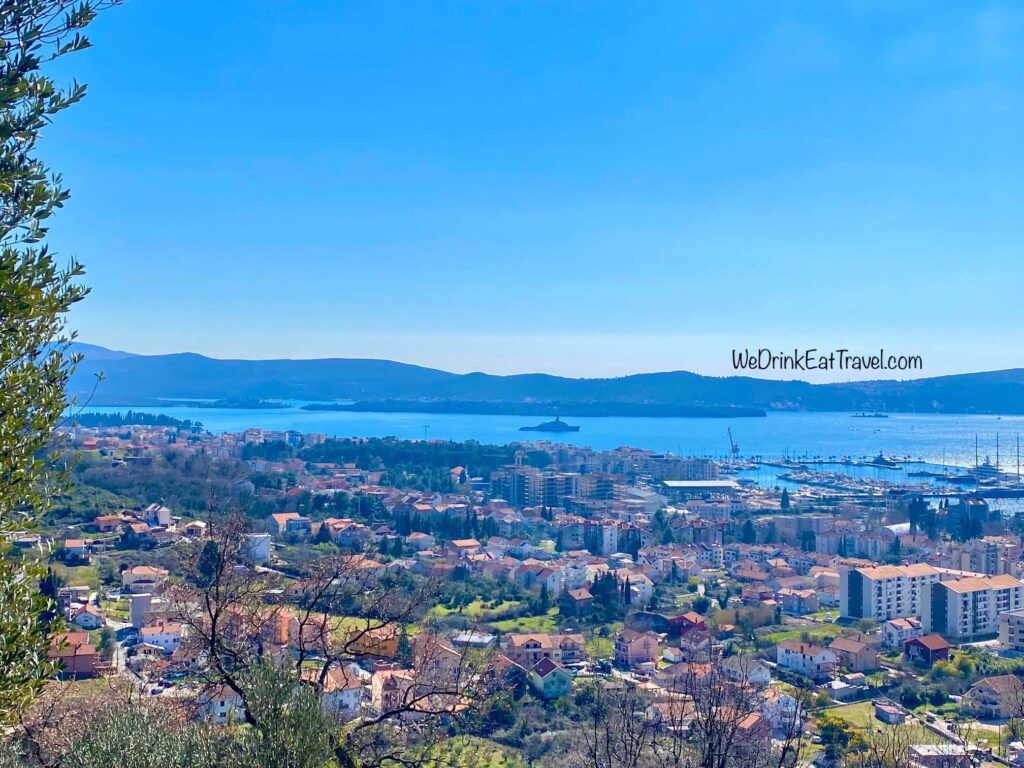 Yet, for more grand and breathtaking views like the one below… there's another hike that we did and we highly recommend! When that travel blog post is ready, we'll post it so you can do it too :)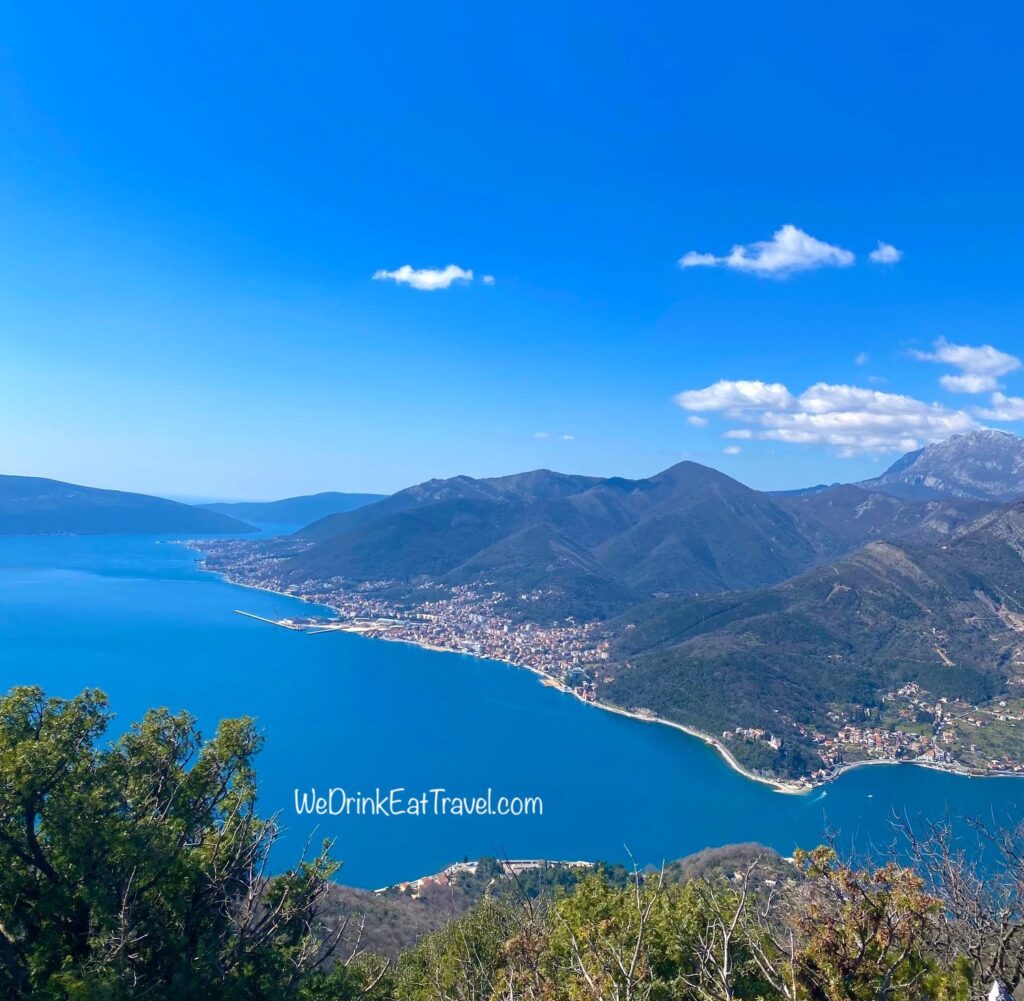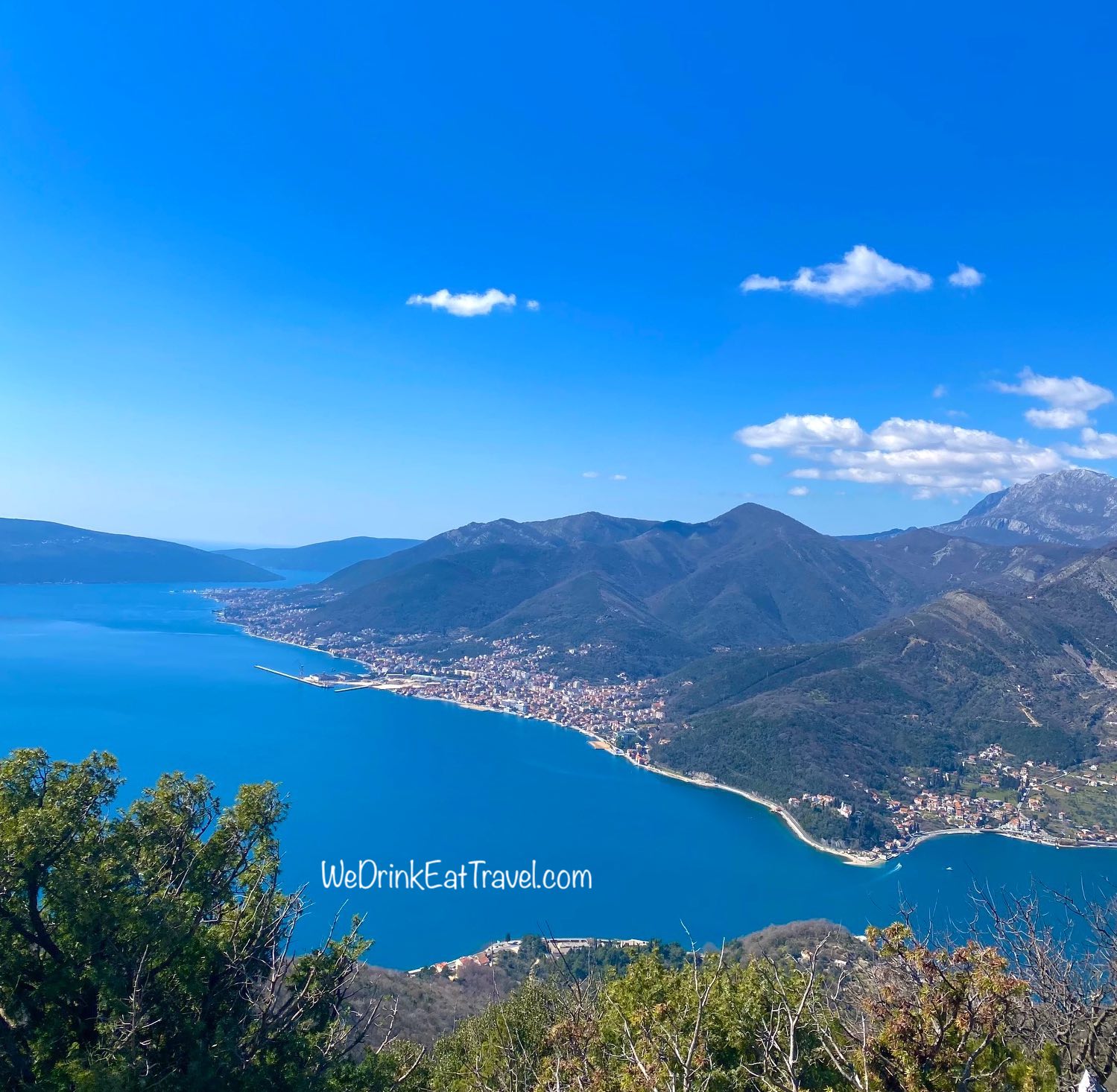 There you have it, 16 different things to do in Tivat, Montenegro. Now, while we did spend a leisurely 2 weeks in Tivat, we'd have to say you'd only need a few days… unless you're planning on doing day trips from here, or lots of outdoor activities like hiking.
So, if you do plan to go to Tivat… we hope you have some amazing and memorable experiences. ENJOY!
Like This? Share it and comment on it!
Note: All of our reviews and comments are our opinions and no-one else's. Even if we receive complimentary goods or services we share our opinions honestly.
You Might Be Interested In This Too…
How To Get FREE Accommodation While Travelling
25 Awesome Things To Do In Split, Croatia
Amazing Vidova Gora Hike On Beautiful Brac Island Croatia
What You Need To Know: Great Things To Do On Brac Island
Here Are 12 Amazing Things To Do In Mostar
15 Interesting & Surprising Things To Do In Sarajevo Now
13 Interesting Places To See In Podgorica Today
Shop Until You Drop In Ratchada, Near Thailand Cultural Center MRT
7 Free Things To Do In Bangkok
10 Places To Visit In Gozo Malta For Breathtaking Views
10 Picturesque Churches To See In Vienna Austria
How To Make Your Time In Tirana Albania Fun And Memorable
Here Are 7 Remarkable Things To Do In Berat Albania
10 Awesome & Surprising Things To Do In Skopje Now