Vi and I were on our last week in Bangkok, when we decided to do last minute shopping.
I went and bought a few things at Fortune Town. This time I didn't bore Vi to tears and did a quick shop for my IT needs.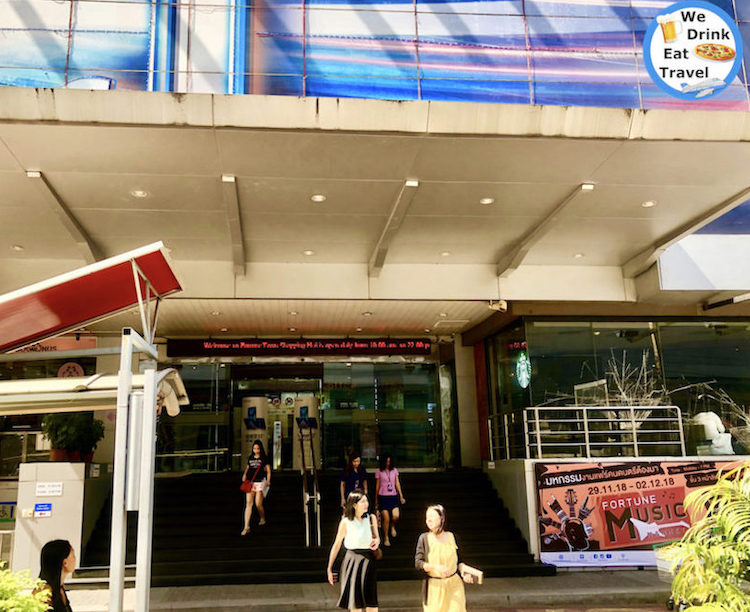 Then after thinking about what else I needed… I thought about buying prescription glasses in Bangkok.
For years I'd been using a cheap pair that I bought at a stall on Sukhumvit Road for 100 baht (about USD $3.20)! The power I bought was 1.0, and I only used it occasionally for reading up close.
Now they were starting to fall apart!
I'd noticed some time ago that the lenses seem to have like a different magnification. So when I was looking through say the left side of the lens when compared to the right, they didn't seem the same.
So who knows what the exact magnifying power was… hey what can you expect for 100 baht. So I thought I better invest in a proper pair!
I'd noticed walking around in Fortune Town that there were several optical shops. Unlike Vi, I don't do a huge amount of research on certain things like shops!
This would be my first time buying prescription glasses too. So the best thing to do was to go in to different optical stores and enquire.
Hunting Through Bangkok Optical Shops
The brand that I see a lot of in Bangkok is Top Charoen Optical, so I tried there first.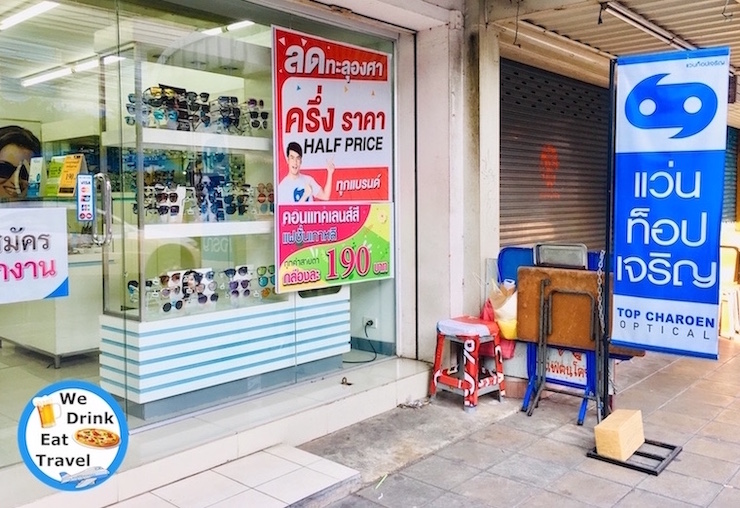 The service wasn't very good when I went in, and they didn't have a good range of eyeglasses that I liked. So I didn't spend long in there.
So I went to a few other places, and even got a couple of free eye tests. Some of them charge for an eye test… And they were quoting 300 baht (about USD $9.60), but I would get that back if I bought some glasses.
The eye tests that I did were nothing like back home in Australia. To me, it wasn't in-depth. Yet, I didn't really expect much because they were for free.
The tests came out similar in terms of the power of the prescription glasses they said I would need.
But after walking into about 4 optical stores in Fortune Town, none of them had any styles that I liked.
So Vi suggested we go to Central Plaza Grand Rama 9, which was conveniently across the road. I reckon she secretly wanted to go there for clothes shopping!
My Choice For Buying Eyeglasses In Bangkok
Like Fortune Town, there were quite a few optical shops here too. Some were upmarket selling mainly designer brands. Yet, it was the same story… I couldn't find any designs that I liked.
I was beginning to think that buying prescription glasses in Bangkok was not going to happen!
That was until I found this store called Eyeclass.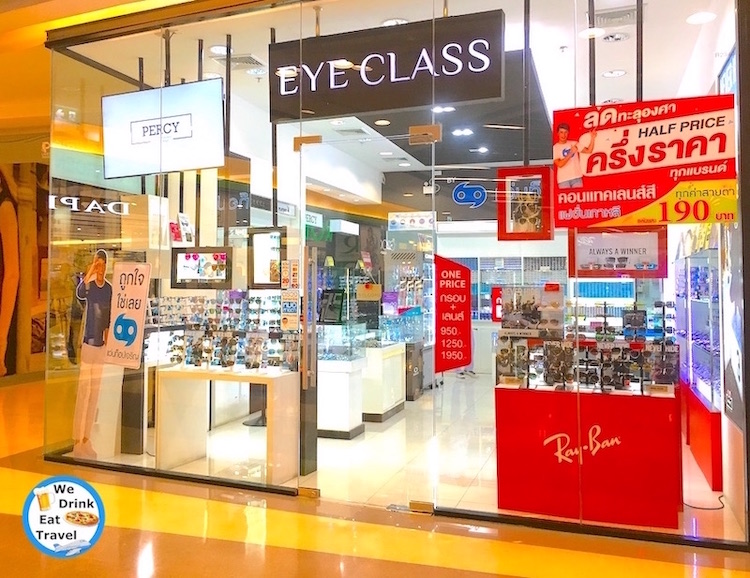 It wasn't the biggest optical store… But I had a look around at their entire range, and FINALLY found a couple pairs that I liked.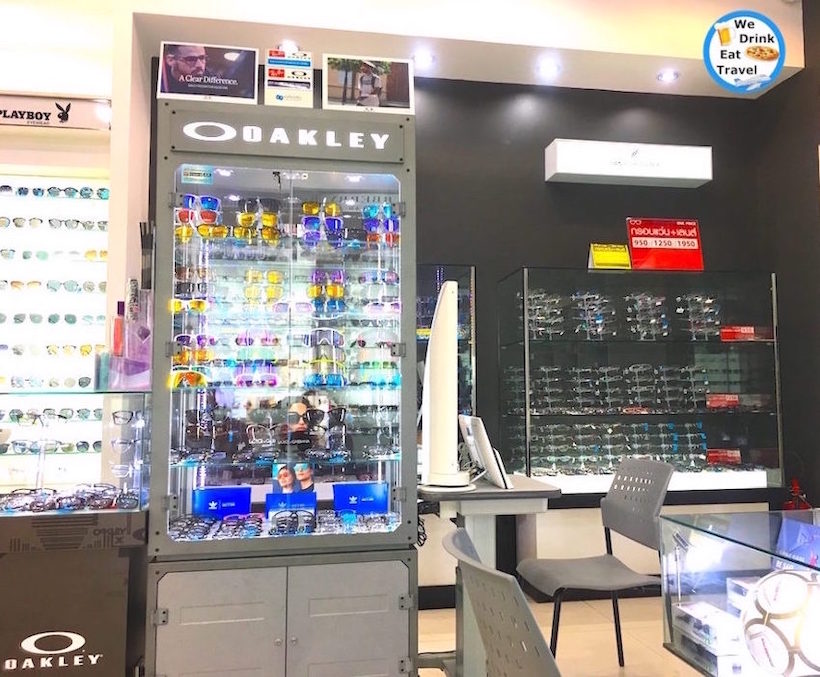 They also have a big range of contact lenses too…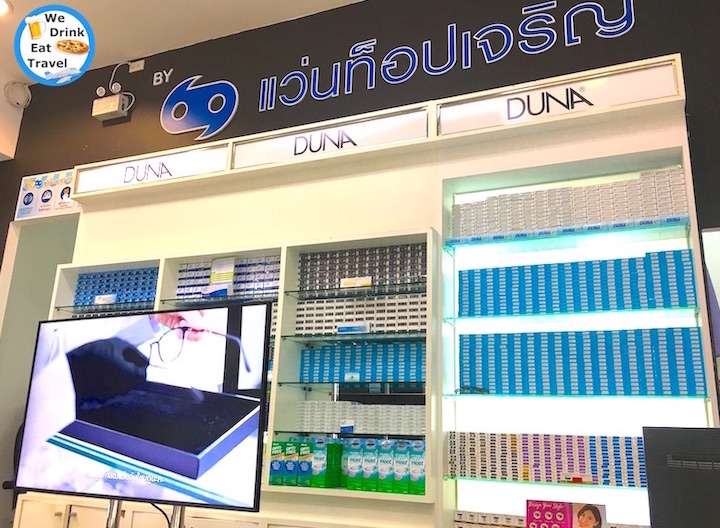 But if you're looking for contact lenses Bangkok, check out Vi's blog post HERE.
So I did an eye examination here too and got the power for my lenses.
The frames I chose ended up being half price, which was great. They also had different lens brands and thicknesses too. Because my power was low, I didn't go for spending the extra to get super thin lenses.
So all up, my prescription glasses with frames and lenses cost 3,800 baht (about USD $122). I thought that was cheap.
And the best part was… it only took them 20 minutes to get my new lenses cut and fitted to the frames I chose!
So, here are the glasses I got…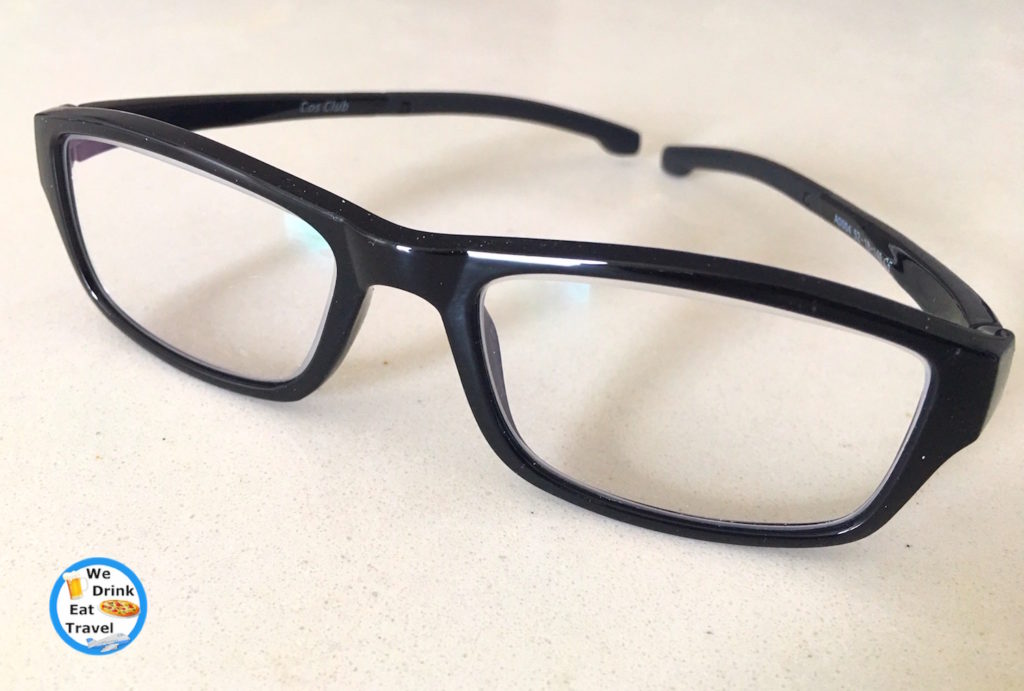 So my impromptu trip of buying prescription glasses in Bangkok was a success!