Having never been to Croatia before, we seen and heard stories of how beautiful it is. And, the first place we went to in Crotia was Brac Island. We fell in love with this place. Then, our next destination was Split.
Having been in Split for about 1 month during Winter… we did find that there were lots of things we could do. So, we've put together a list of 25 awesome things to do in Split Croatia. Let's start with an ancient and incredible UNESCO complex…
Diocletian Palace
OK, first up is the most popular attraction in Split, the Diocletian Palace. This amazing Roman structure is one of the few buildings of its type… where locals go about their normal daily life. So, remember this when you're exploring… as we believe it truly is an honor to experience it!
It was built by the order of the Roman Emperor Diocletian, who expected it to be complete by AD 305… as this Palace was to be his retirement home. Not bad for a retirement home, hey! The Diocletian Palace has many parts to it, and we suggest you check them out…
Iron Gate
The Iron Gate is the Western gate of the Diocletian Palace… and although small, it exudes charming characteristics. Well, that's what we think anyway! And, as part of the Iron Gate is the Church of Our Lady of the Belfry, with a beautiful Romanesque bell tower. Plus, there's a clock tower. Back in the day, the area past this gate was used as a courthouse. Yet, now there are shops and other businesses. Also, when you get to the clock tower take a closer look… as you'll notice that the clock has 24 numbers instead of 12.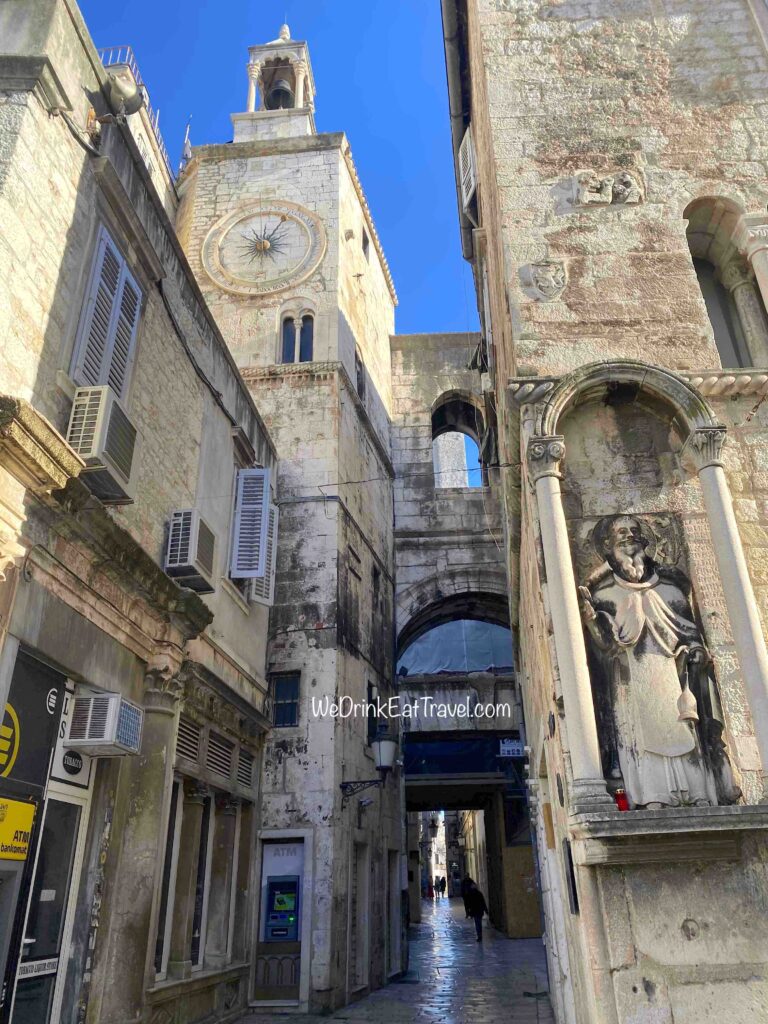 Silver Gate
The Silver Gate, for the want of a better word, is the most "rugged" of them all. And, for us, this is what makes this gate a picturesque one to photograph. This gate is on the Eastern side of the Diocletian Palace. And, you can see from the structure that it did suffer enormous damage after bombings. Yet, for the remaining part of the gate that still stands today, it sure looks ancient and incredible. When we were leaving Split to go to our next destination… we saw that they were uncovering a new section of the Sliver Gate!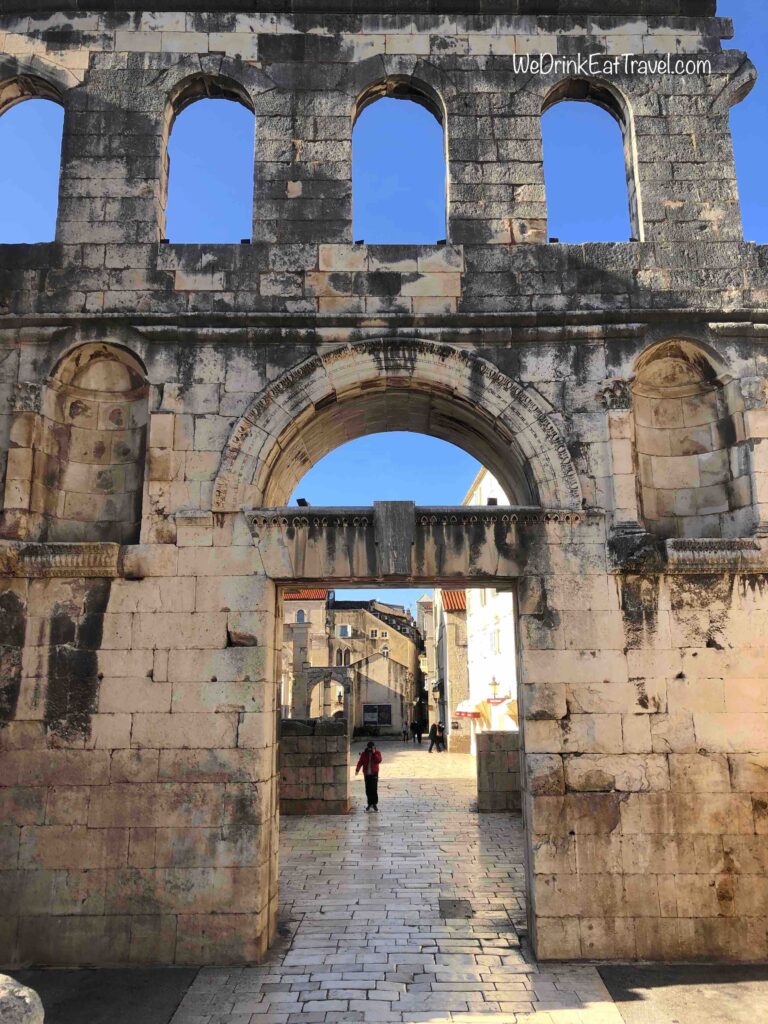 Golden Gate
The Golden Gate is the northern gate of the Diocletian Palace… and is the biggest of the 4 gates. If you want to get a gauge on how big this gate is, get someone to take a photo of you standing in the doorway! And no, this gate doesn't have gold through it as the name would suggest (well, not that we know of anyway)! This gate was the main one used by the Emperor, his family and for guests. Oh, and before you walk through the archway, remember to look up. As you'll see sculpted faces of 4 different tetrarchs… being Maximian, Galerius, Constantius Chlrous, and Diocletian.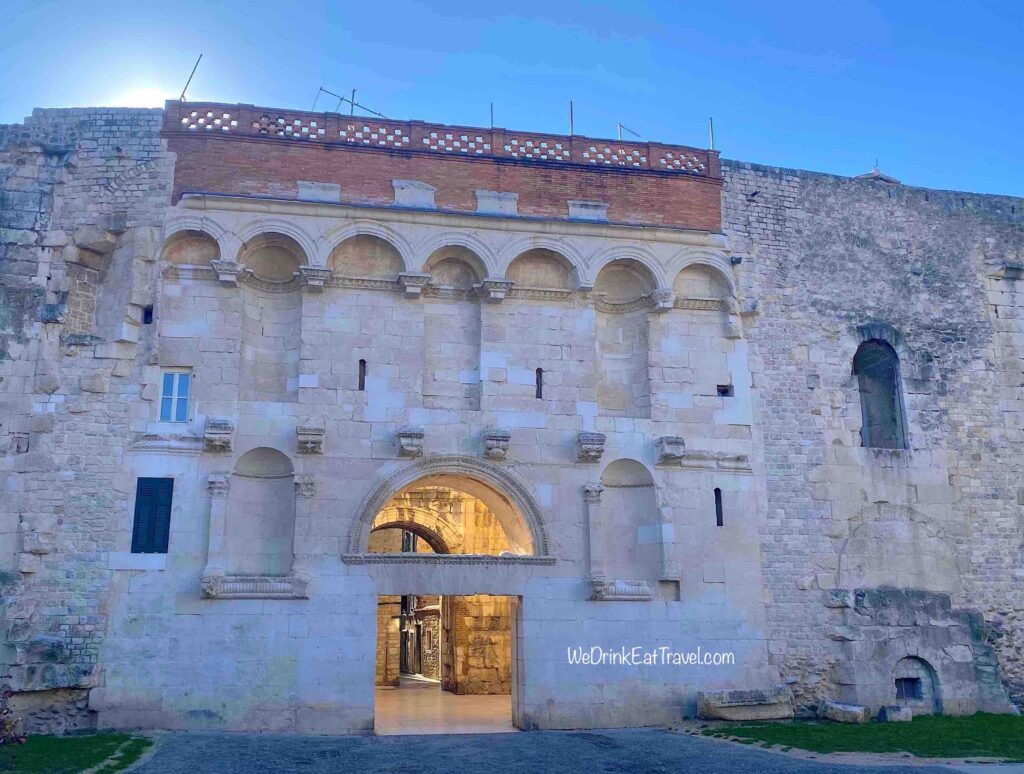 Bronze Gate
We weren't sure if we should include this as one of the things to do in Split. Yet, as it makes up part of the UNESCO Diocletian Palace, we felt we should. The Bronze Gate of the Diocletan Palace is the Southern Gate, and the smallest of them all. Its use was primarily as a pathway from the Palace to the sea. Hence, why its location is close to the Riva. For us, the Bronze Gate is the less spectacular looking of all 4 gates. So, if you want to look at the gates one by one, we suggest starting with this one first… as the others look more remarkable.
Saint Domnius Cathedral
You can't miss seeing this amazing cathedral… which is so striking when you look at it close and from afar. The Saint Domnius Cathedral has 2 other sections… which includes the Mausoleum of Diocletian, built in AD 305. Plus, there's the incredible bell tower, which was originally built in AD 1100. The tower stands at 57 meters. And, if you pay a fee you can walk up the stairs for wide sweeping views of Split.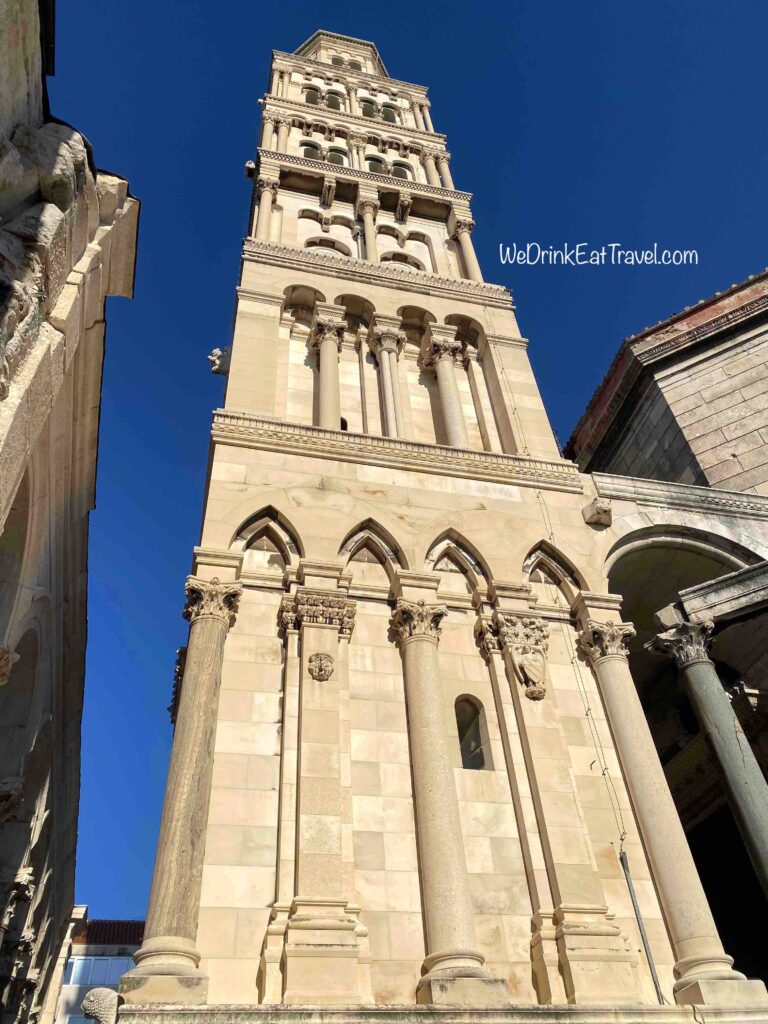 Peristil Square
There are several Squares in Split to explore, yet one of the most impressive is Peristil Square. This was the central square of the Diocletian Palace. On two sides of the square are Romanesque style colonnades. And, many of the walls and columns forming Peristil Square… come from the beautiful Brac Island Croatia. If you love the view and want to spend time enjoying the atmosphere… there are little cafes dotted in the area.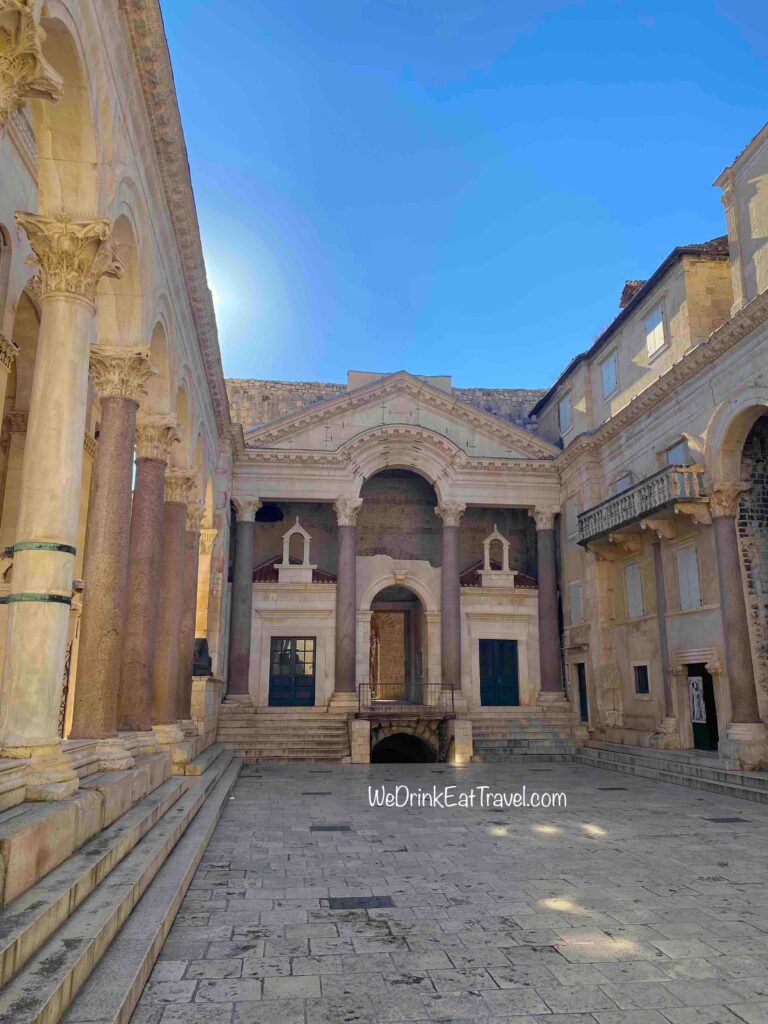 Vestibulo
When you're in the Diocletan Palace and start exploring, you'll come across this… And, this circular structure is the Vestibulo, which is old imperial court… and the first corridor that would lead to the residential area of the Palace.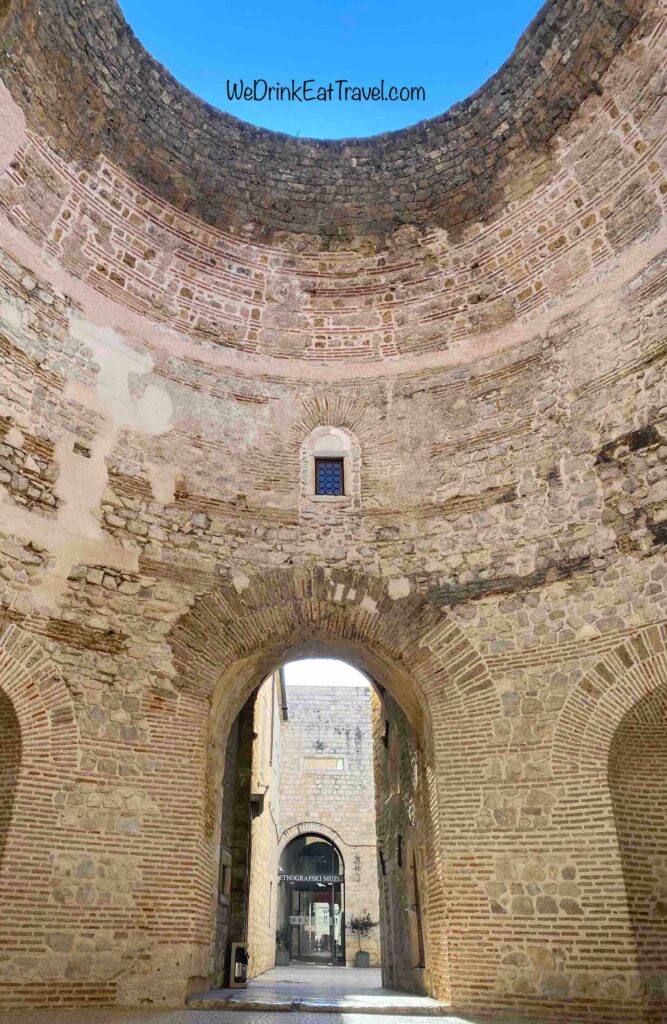 The Substruture
Back in the days the Substructure, otherwise known as the basement halls… is said to have built to raise the Emperor's chambers. Plus, it had practical uses such as storage and making produce. Yet, nowadays the substructure is lined with stall owners, selling souvenirs and trinkets.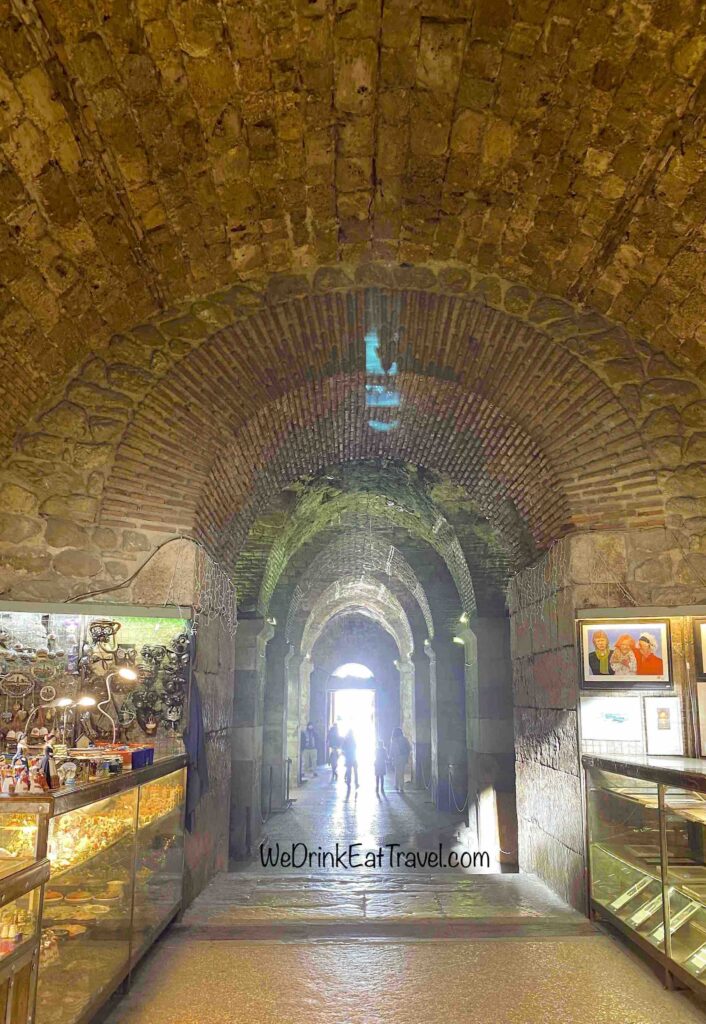 Explore The Alleyways Of Split Old Town
When we were walking through Split Old Town… there were so many alleyways that we could explore. And, because we purposely didn't have a map, it was fun to make impromptu decisions as to which alleyway to go down. It was really cool. And, we did discover some quaint cafes… that you wouldn't see if you didn't wander through the streets of the Old Town.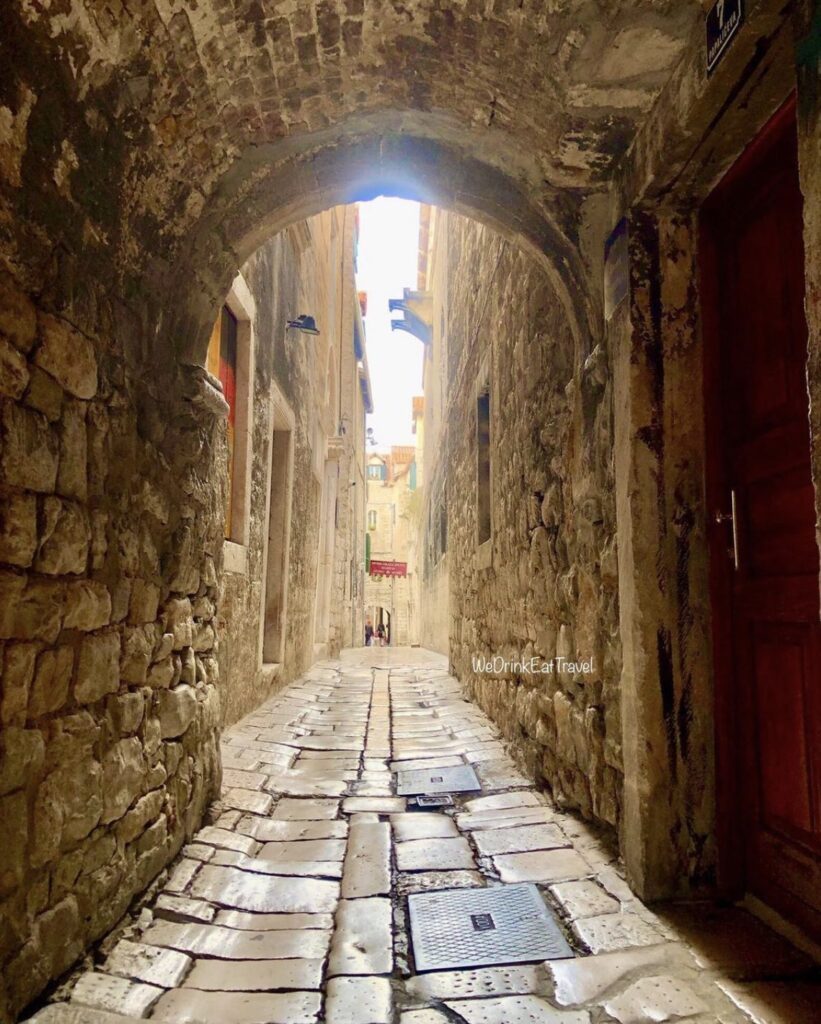 Statue of Grgur Ninski (Gregory Nin)
When you're heading towards Diocletian's Palace at the Golden Gate entrance… you must've had your eyes shut if you didn't see this statue…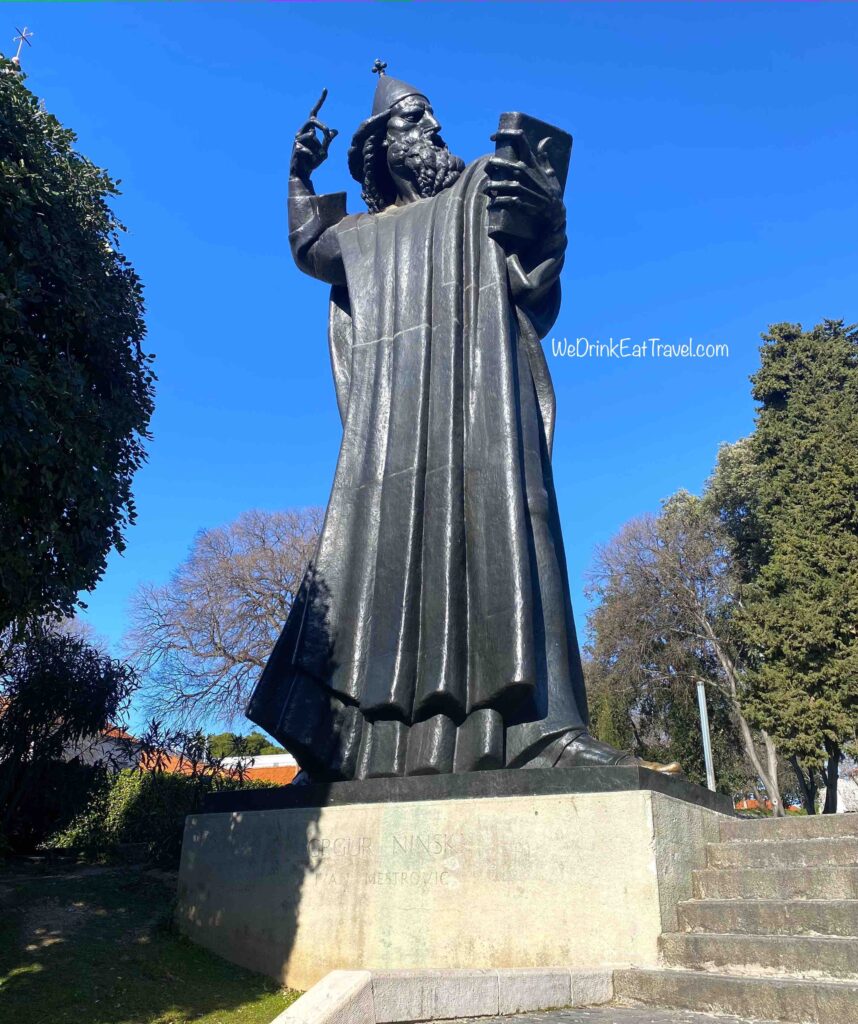 This massive, 8.5 meter tall statue is of Grgur Ninski, was designed by Ivan Meštrović in 1929. Not only was he a bishop in the town of Nin, he was instrumental for many Croatians… as he fought to include their language into religious services in the 900's. And, it's said that if you rub his big toe, it will bring you good luck!
Right next to the Statue of Gregory Nin is this…
The Bell Tower Chapel of the Holy Arnir
This is a huge bell tower, standing tall outside the Golden Gate of the Diocletian's Palace. This bell tower did have a Benedictine monastery next to it… yet, it didn't survive a massive fire, which decimated it. So, what you see today are the remains, the bell tower and chapel.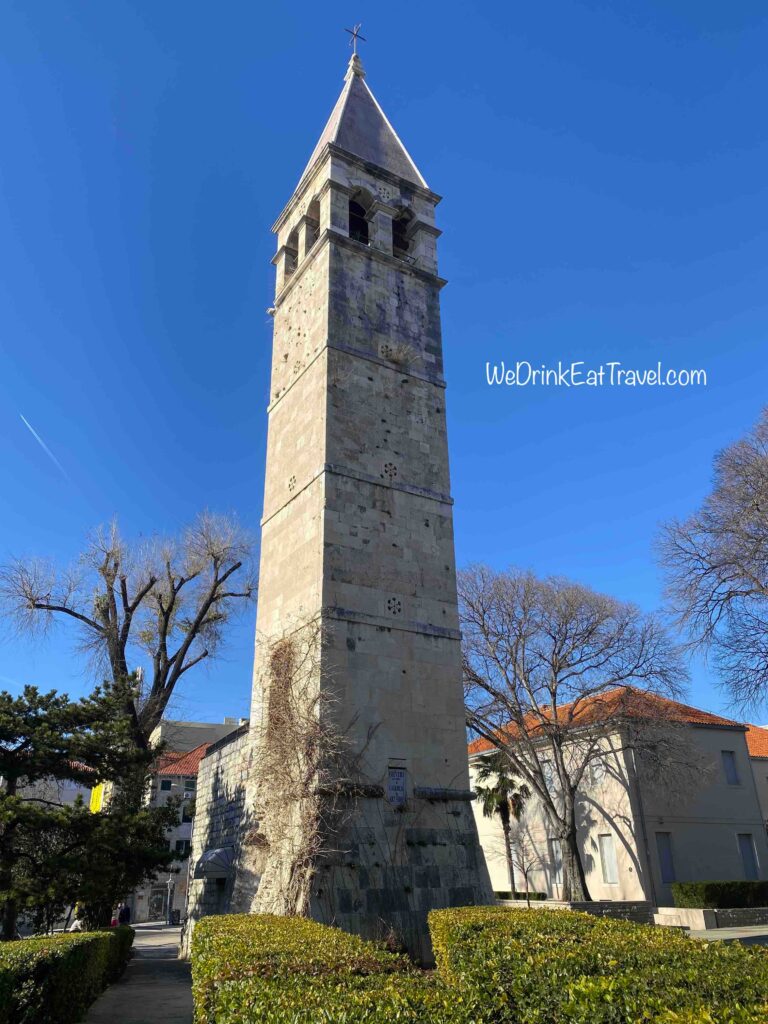 Split Riva
There are plenty of options on the Riva in Split if you feel like a feed or drinks. On the weekends the waterfront restaurants in Split and the cafes are flooded with people… especially when the sun's out.
Plus, the promenade has many seats and is spacious. So, alternatively you can just take a seat on the waterfront, people watch, and enjoy the views.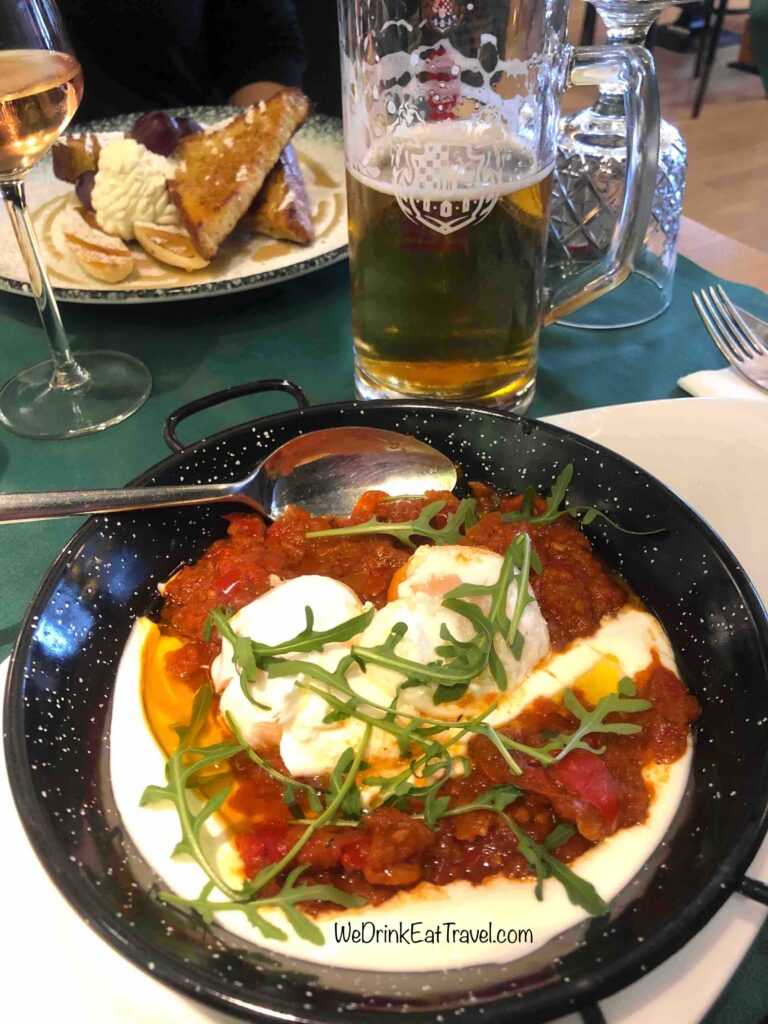 Bacvice Beach
From the center of the Split Old Town… if you take a 15 minute walk past the harbour and train station, you can reach Bacvice Beach. Now, when you first get there it might look a little underwhelming. Yet, if you keep walking around further for about another 5 minutes… the surrounding area is much more pleasant.
Green Market
For a bustling farmers market with lots of stalls selling local produce, head on over to the Green Market. This market is next to The Silver Gate. Here, you can find an array of fresh fruits, vegetables… through to home-made olive oils, honey, cheeses, meats, and more. And, surrounding the market stalls are small shops and bakeries… selling bureks of course amongst other things!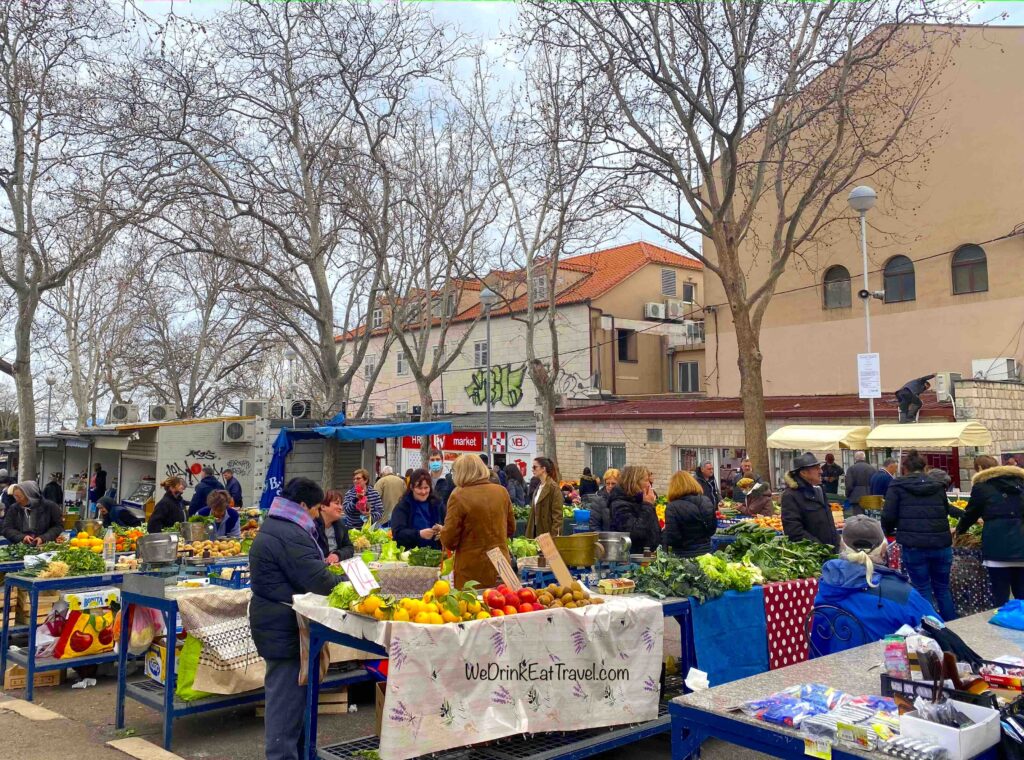 People's Square (Pjaca)
For a charming little enclosed area with monumental buildings is People's Square. A quaint place to watch the world go by. And, within this Pjaca are several restaurants, cafes and shops. It's said that this Square was the first area in Split, outside the Diocletian Palace… that was inhabited. So, that makes this Square a very significant part of Split's history.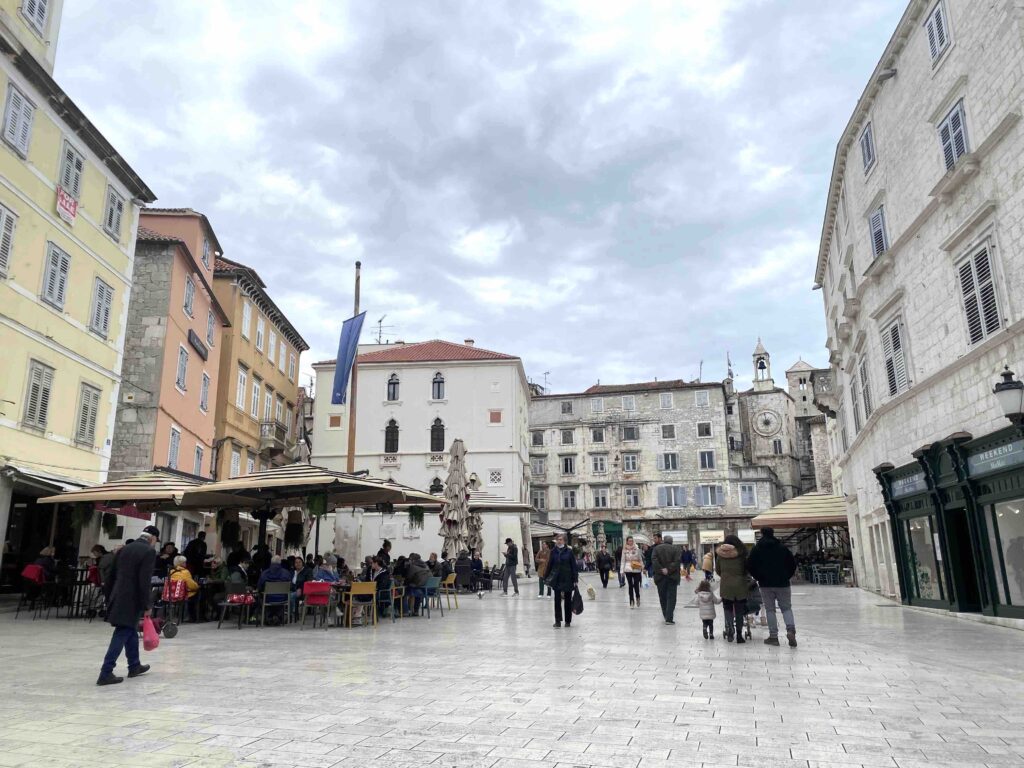 Republic Square Split – Trg Republike (Prokurative)
Now, if you're looking for an impressive surrounding to have a coffee, drink or food… head on over to Republic Square. This was established in the mid-19th century, and was built to resemble St. Mark's Square in Venice. The area in the Prokurative has been a place… where events, festivals, stalls, and other cultural events are held.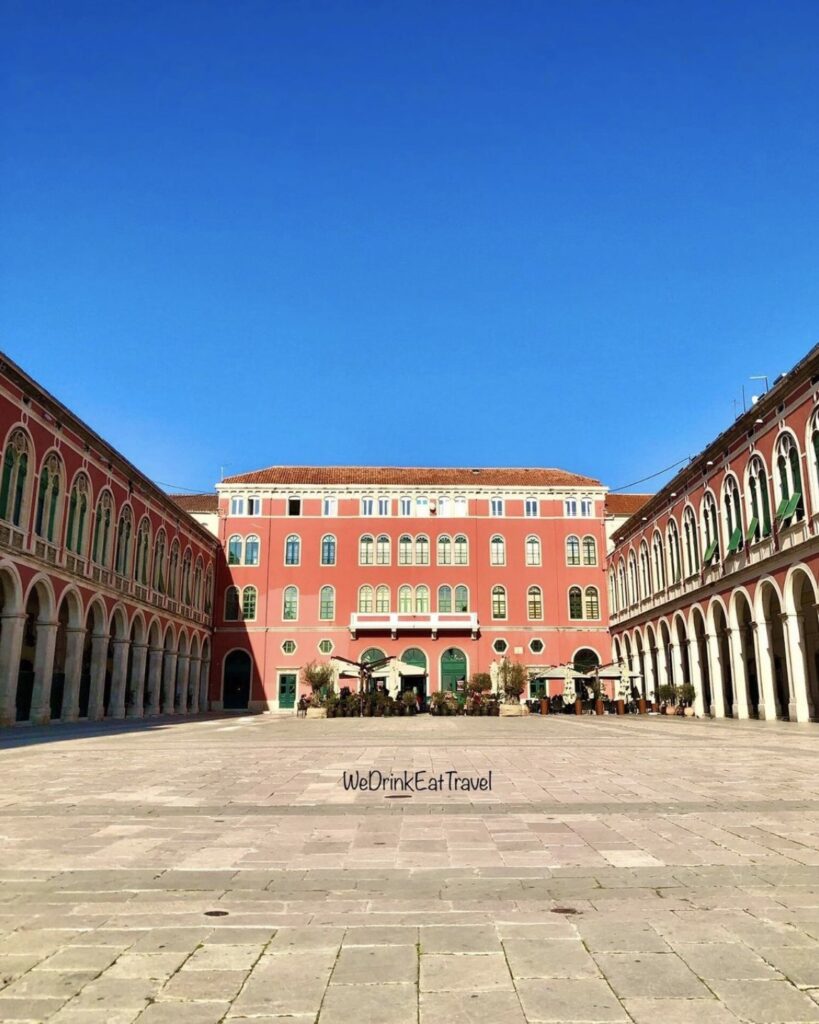 Fruit Square
So, after reading the words Fruit Square, most of you will have visions of a square… lined with market stalls selling fresh fruit and fruit products. Well, back in the days that's what it would've been! Yet, nowadays it has important landmarks that are still standing there… including the 15th century Venetian tower, the remains of a former fortress. As well as the 17th century Palace of the Milesi family, with its magnificent Baroque façade. Plus, you can't miss the statue in front of it, which is a monument to Marko Marulić… an important figure in the 15th century for all of Croatia, yet was a philosopher and poet from Split.
St Francis Church and Monastery (Crkva i samostan sv. Frane)
If you're strolling along the Riva near Republic Square… you'll see this commanding church and monastery.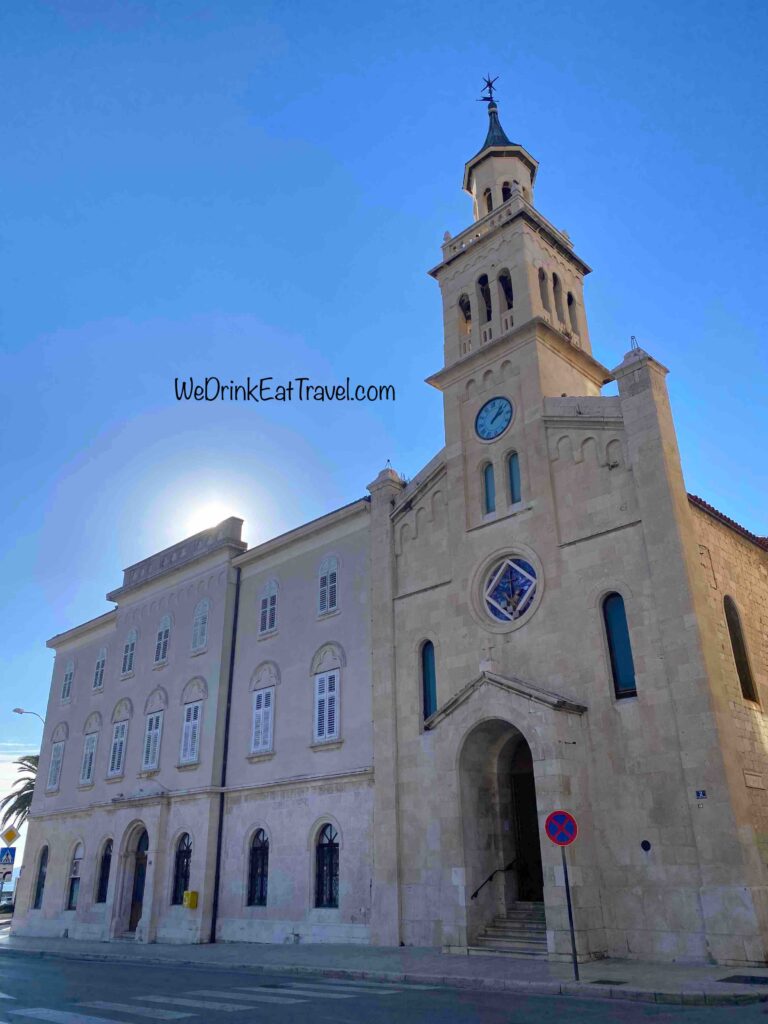 The Franciscan monastery has a cloister dating back to the 13th century… as well as a library with about 3,000 books. That's a lot of reading! This church and monastery also contain the tombs of notable Split legends… including Marko Marulić.
Marmontova Ulica (Street)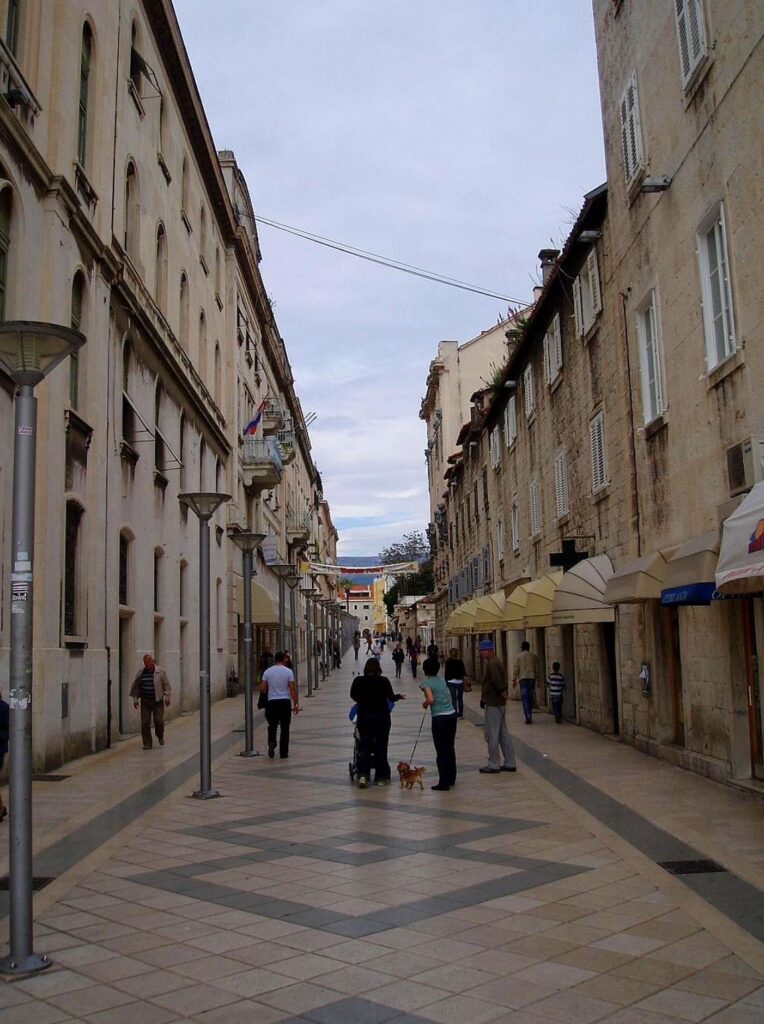 From the Riva, take a stroll down the main pedestrian only street of Marmontova. Here, there are shops and eateries that you can enjoy. Now, if you smell something fishy then, you'll be right. As, off to the side of Marmontova Street is the daily fresh fish market. Yet, if you want some cheap, quick and tasty snack… head on over to Pizza Cut Planet for a big slice of pizza around 1.5 Euros.
Park Josipa Jurja Strossmayera
If you're wanting somewhere amongst the greenery away from the hustle and bustle of Split… go to Park Josipa Jurja Strossmayera. This is nearby the Golden Gate entrance, and a quiet sanctuary to relax and unwind. Just keep an eye out for the pigeons if you have food!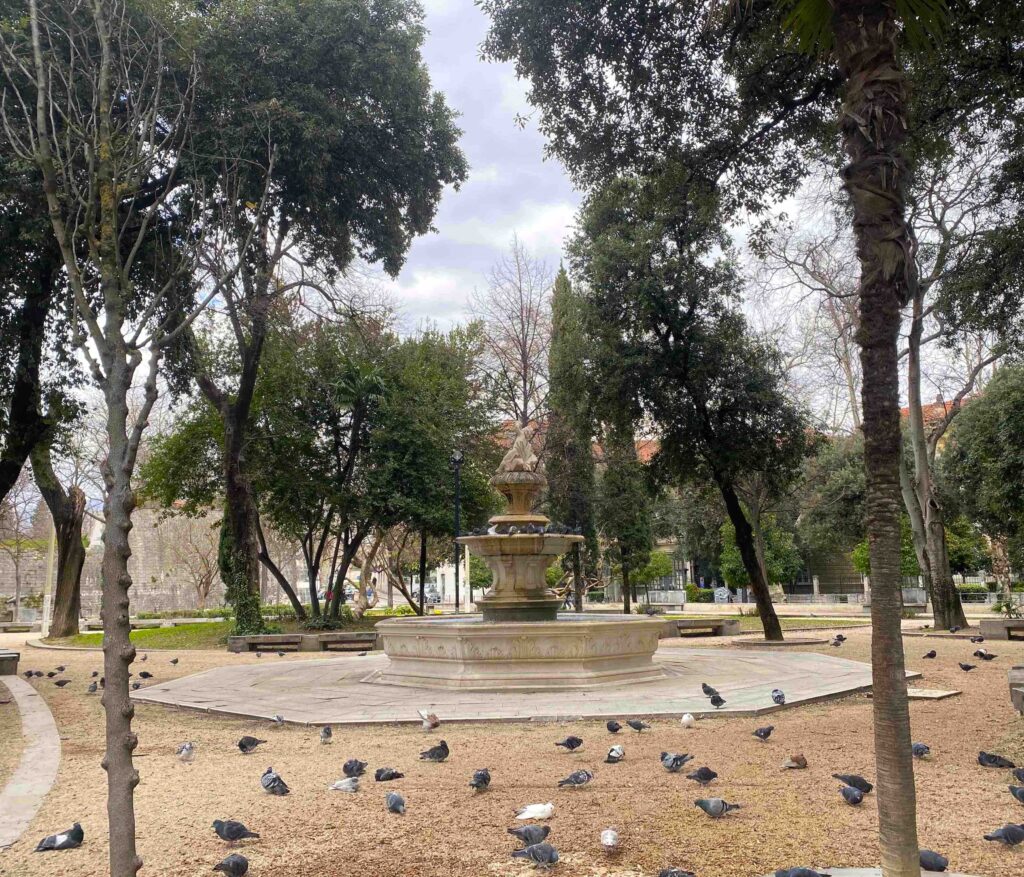 Vrh Telegrin
If you're keen for a walk to see amazing views of Split… then make your way up to Vrh Telegrin. As far as walks or hikes go to see incredible landscapes… we've had our fair share of some tough ones. Yet, we found the walk up to Vrh Telegrin quite easy in comparison to others. And, you'll know when your almost at the top, as you'll see the huge white cross.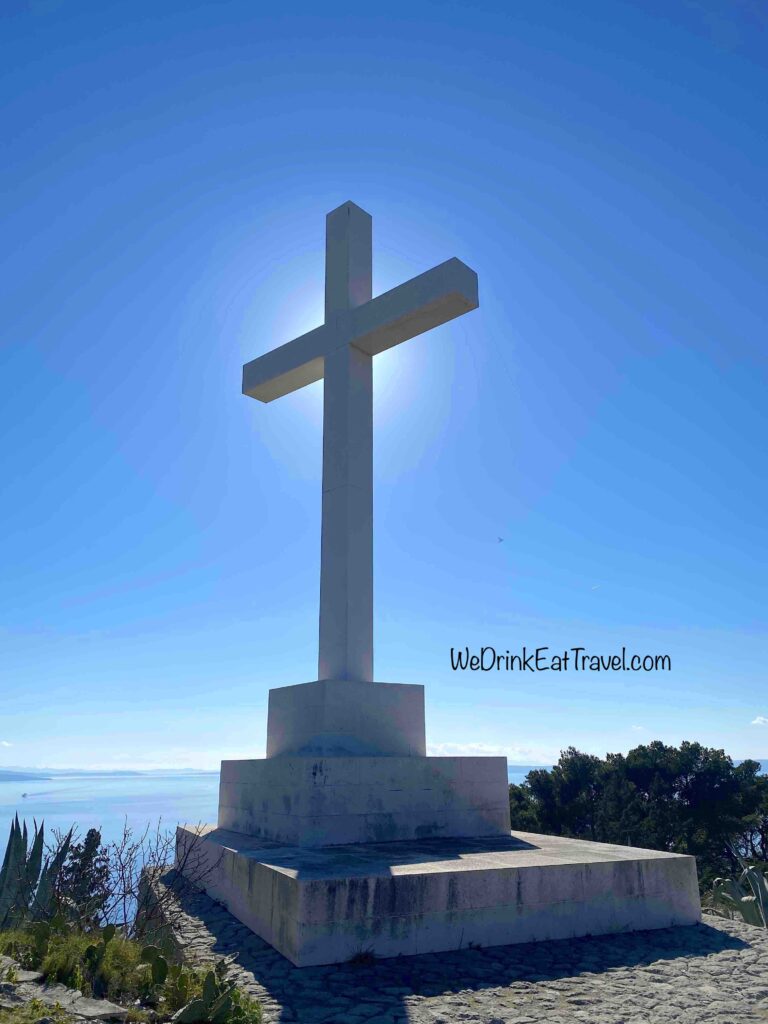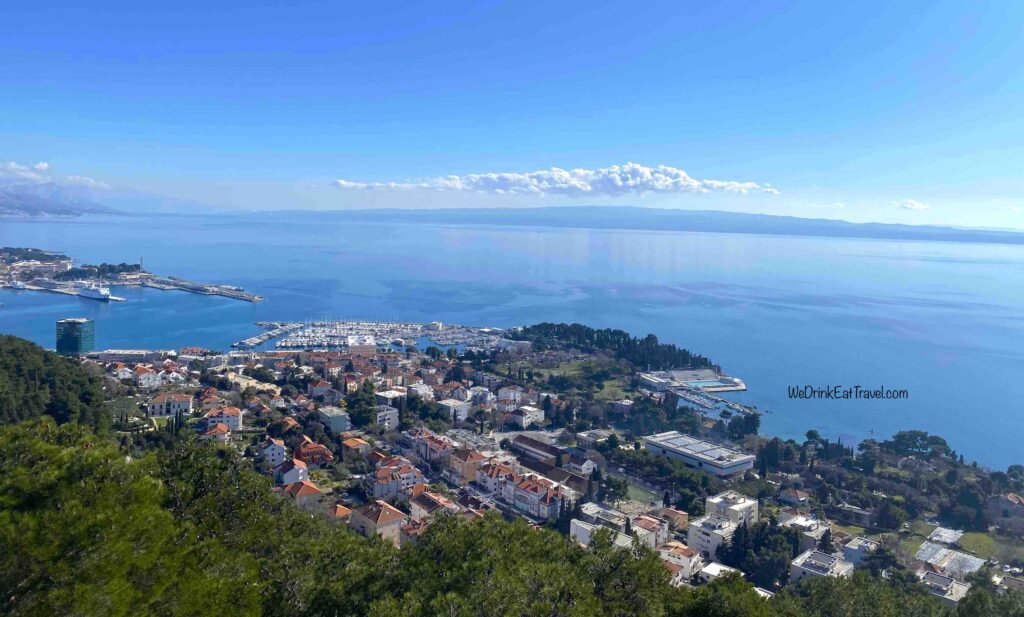 Marjan
Now, if you're keen for more walks or hikes, there are plenty more in Split. And, one of the most popular areas for locals and tourists alike is Marjan Hill. And, we actually went up there a few times during our stay… as it gave us different beautiful landscape views of Split, and beyond.
Crkva Sveti Nikola
For a quaint little church that seems in the middle of nowhere, go and see St Nikola Church. When you're going for a walk through Marjan, you're likely to come across it. As, this is nearby one of the main pathways that leads to Vrh Telegrin. This 13th century church sure is cute… with a beautiful little bell tower. Plus, we found out that there are about a dozen little churches on Marjan Hill!
Try Some Bureks
If you've been reading our travel blog posts, then you'll know what we love our bureks. And, every place we go to that has them… without fail we try some. So, we tried several bureks… with one big burek costing around 14-16 Kuna (about 2 Euros / USD).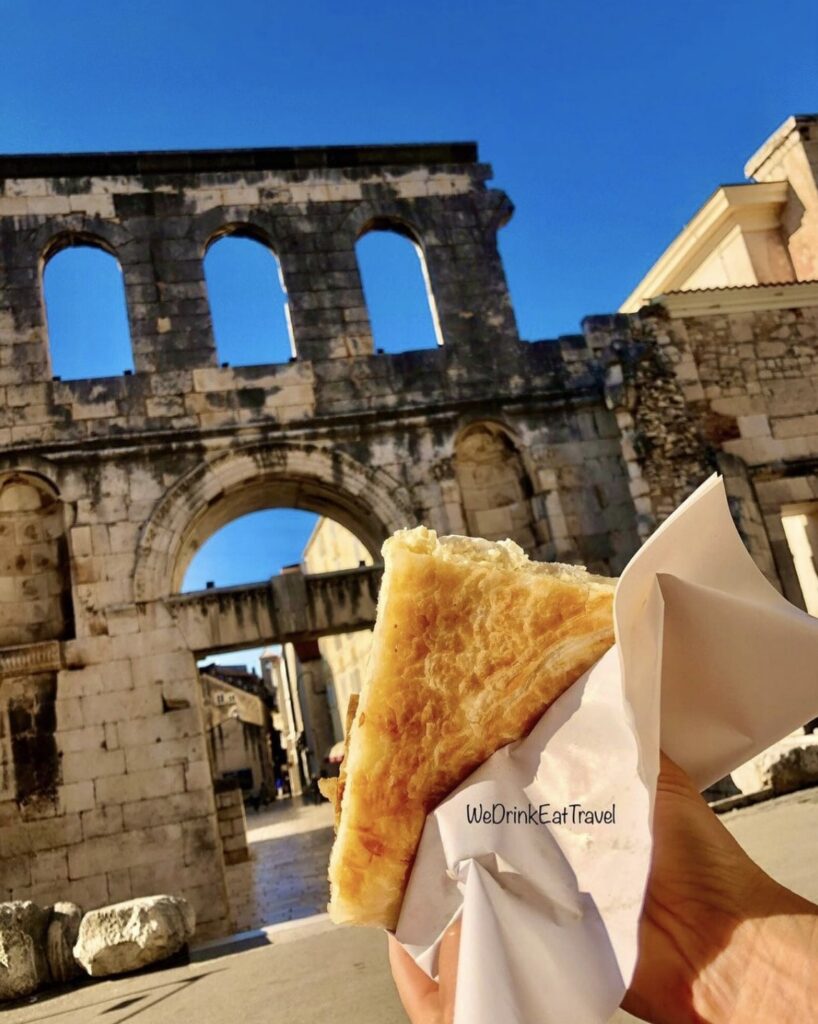 And, out of all the places we tried, our favorite was at a tiny bakery, Pekara Solin. Now, there's a couple of places by the name of Pekara Solin. We did try both, but the one we recommend is at at, Ul. Antuna Gustava Matoša 1A. And, right next to it is a local farmers market, Tržnica Matoševa.
Once we got our fresh from the oven, piping hot cheese bureks… we wandered over to take a seat in the sun in a different square in Split, by the name of Trg Gaje Bulata.
And here, we had a lovely view whilst eating a super tasty burek, in front of another landmarket in Split….
Croatian National Theater (Hrvatsko Narodno Kazalište – HNK)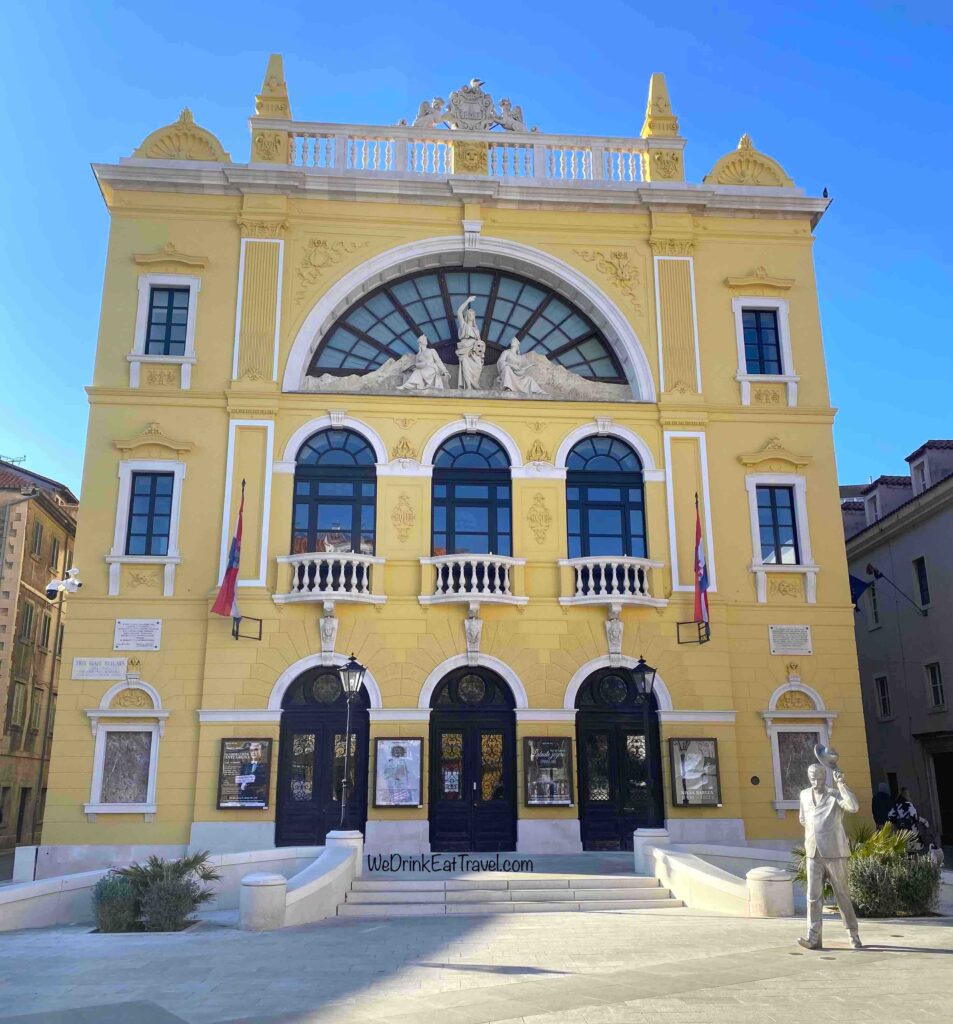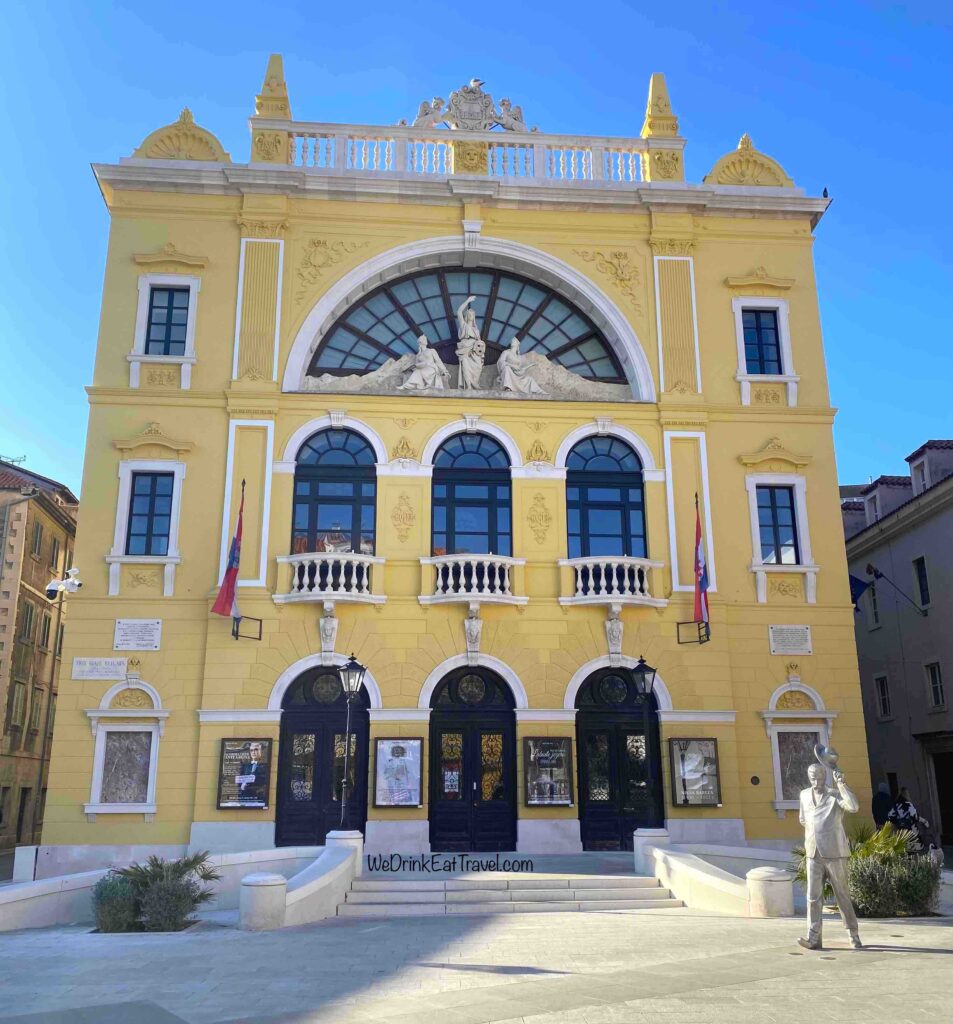 The Croatian National Theater in Split is a striking building built in 1893. Its bright yellow paintwork stands out. Plus, take a look at the architecture of the theater… magnificent, right? So, at the HNK it hosts Croatian language performances… as well as operas and ballets. Plus, this venue is a major destination for the Split Summer Festival. So, get cultured in Split and attend an event!
Phew, so there you have it… 25 awesome things to do in Split, Croatia. As you can see, you won't get bored in Split. From taking in the incredible UNESCO site of the Diocletian's Palace, through to dining on the Riva… or taking walks for breathtaking views, or basking in the sun. There's plenty to do, so ENJOY!
Check Out Our Youtube Video of Split, Croatia

You Might Be Interested In This Too…
How To Get FREE Accommodation While Travelling
Amazing Vidova Gora Hike On Beautiful Brac Island Croatia
What You Need To Know: Great Things To Do On Brac Island
Here Are 12 Amazing Things To Do In Mostar
15 Interesting & Surprising Things To Do In Sarajevo Now
13 Interesting Places To See In Podgorica Today
Shop Until You Drop In Ratchada, Near Thailand Cultural Center MRT
Spotlight On Albanian Drinks And The Best Bars In Tirana
7 Free Things To Do In Bangkok
10 Places To Visit In Gozo Malta For Breathtaking Views
10 Picturesque Churches To See In Vienna Austria
How To Make Your Time In Tirana Albania Fun And Memorable
Here Are 7 Remarkable Things To Do In Berat Albania
10 Popular Drinks & Food In Skopje To Make You Happy
10 Awesome & Surprising Things To Do In Skopje Now