When we were on Brac Island Croatia for about 1 month… we had some amazing weather despite being there in Winter. In fact, we had only a few rainy days which was great for us. Plus, we even got a tan during Winter – BONUS!
Yet, the fact that we had lovely weather most days… meant we could do lots of sightseeing.
And, there's actually lots of things to do on Brac Island. So, if you haven't seen our travel blog post about Brac Island Croatia yet… you can check it out HERE.
We grew to love Brac Island, with its laidback atmosphere… and gorgeous towns with amazing scenery. Plus, if you love the outdoors, you'll be glad to hear that there are plenty of activities… from water sports to mountain biking, horseback riding through to boat cruises.
Yet, one of the things to do on Brac Island that was high on our list… was to hike Vidova Gora.
We do enjoy walking as part of our sightseeing itinerary… as opposed to taking wheeled transport. And, that's because we can get to places that vehicles can't… allowing us to explore more.
Now, hiking is somewhat different to walking! And, if the truth be told, I'm scared of heights. So, for me to go hiking up mountains is a serious feat… and it can scare the hell out of me. Yet, at the same time it gives me a huge sense of achievement… once I've made it to the top.
One example, is a hike in Berat, Albania. This was truly an amazing hike… that gave us absolutely incredible sweeping views of this UNESCO town.
Anyway, back to hiking Vidova Gora! Vidova Gora is the highest mountain on Brac Island Croatia… as well as out of all the islands in this country. And, Vidova Gora's peak reaches a height of about 780 metres.
And, as part of our research we learnt that the views were amazing at the summit. So, onwards we go to Vidova Gora!
How To Get To Vidova Gora On Brac Island
Now, depending on where you are on Brac Island… there are various ways to get to Vidova Gora. This mountain is in the town of Bol, which is on the south side of Brac. Bol itself is a pretty town… which you can check out before or after your Vidova Gora hike.
Plus, if you want to see a breathtaking beach… about 2km west of Bol is Zlatni Rat Beach (otherwise known as Golden Horn). So, just a couple of other things to do if you're in Bol, and have some time.
As far as transport goes, you can hire a car, take a bus, or catch a ferry… depending on which part of the island you're coming from. If you feel brave, you could even cycle there. Yet, we're not sure how safe that'd be during the height of Summer… especially considering some of the people drive like maniacs!
Now, the starting point of the Vidova Gora hike is near the corner of Novi Put and Bracka Cesta… close to the main town centre of Bol. At the time of writing this travel blog… there was a Studenac Supermarket near the intersection of these streets.
And, once you're here, there's a sign like the one below… to show the start of the Vidova Gora hiking trail.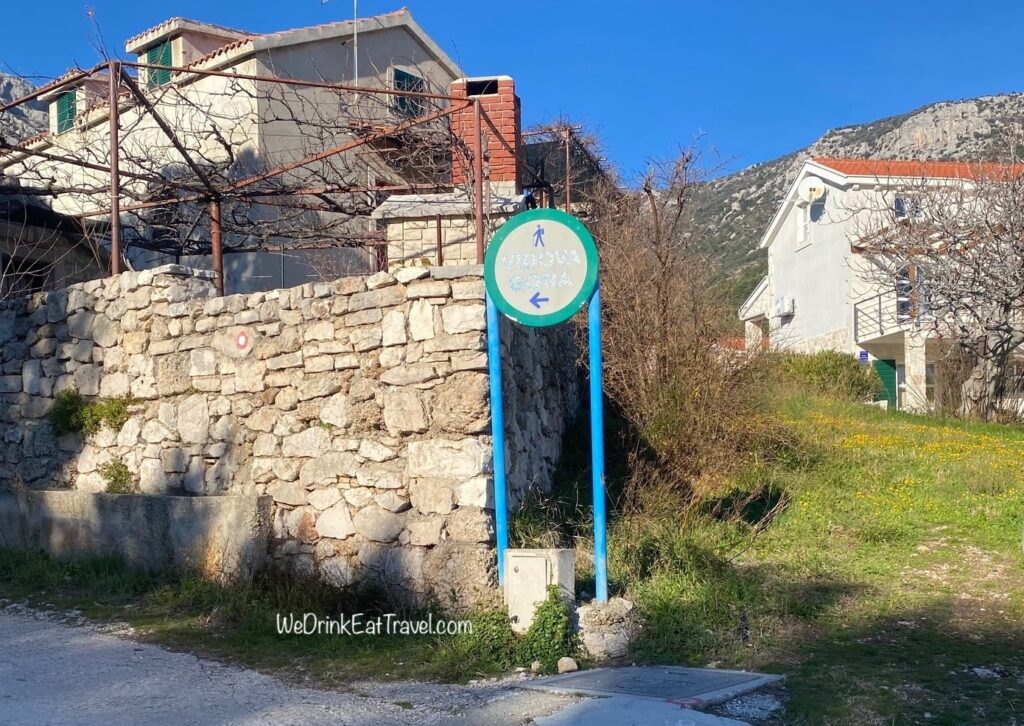 Starting The Walk Up The Vidova Gora Hiking Trail
We set off on the hike up the mountain around 1pm.
It was a beautiful, clear, bright sunny day without a cloud in the sky. In Bol, the temperature was about 15 degrees celsius (about 60 degrees farenheit). So, we did have jackets, and we did need to wear them… especially towards the end of our journey. Plus, the good thing was by hiking in Winter… we weren't sweating like pigs!
Now, we did plan to start our Vidova Gora hike earlier. Yet, we took a wander around Bol first… trying to find a bakery to get some goodies for our walk and give us some energy! Unfortunately, we had no luck.
The local bakeries were shut for Winter, or because it was a Sunday. And, we did discover that this was common on Brac Island during Winter. Yet, we did manage to find some supplies at one of the supermarkets in Bol, that would suit us fine. Back to the hike…
After seeing that first Viodva Gora sign for the hike, you'll walk past several houses. Then, you'll see another Vidova Gora trail sign…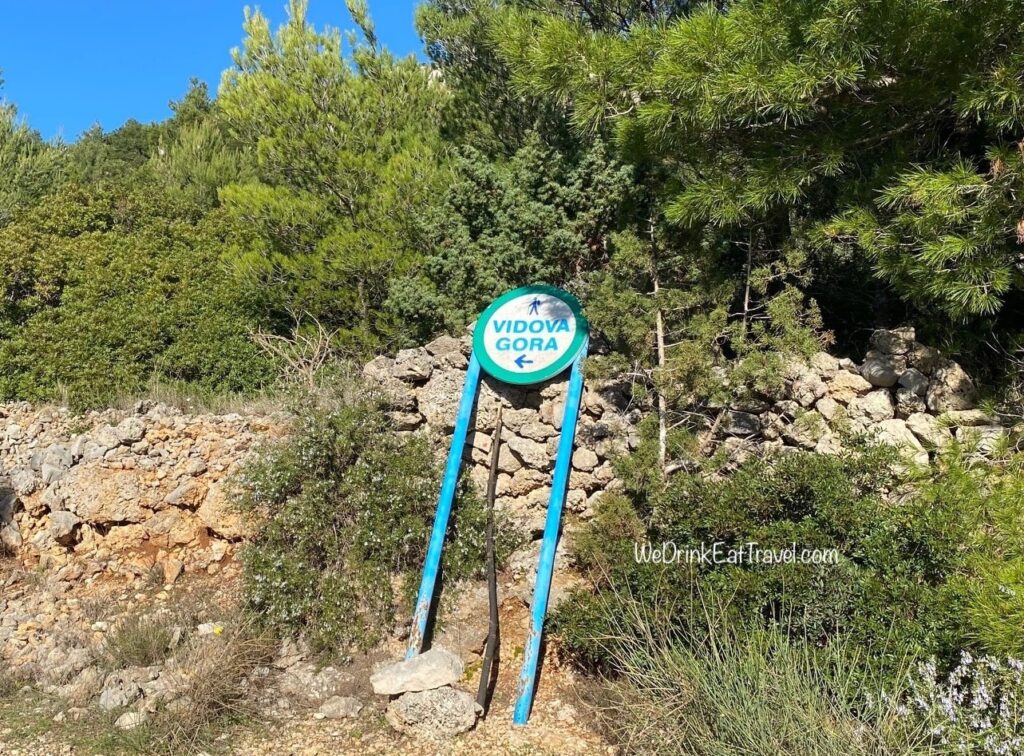 So, at the time of our walk, which was in January 2022, this is what the path was looking like…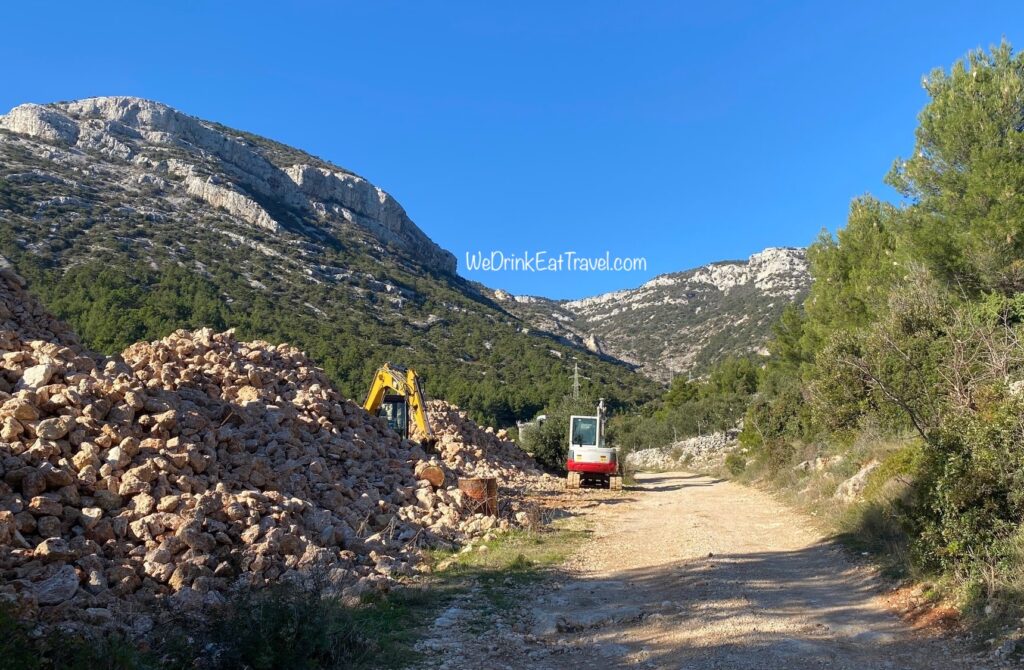 There was a quarry with several trucks at the site. It was a little confusing, but keep to the right side of the trail and keep following it. Then, eventually you'll see a gate. Now, don't worry, simply open the gate and keep walking on the Vidova Gora trail.
In case you were wondering, the trail to the top of Vidova Gora is like this…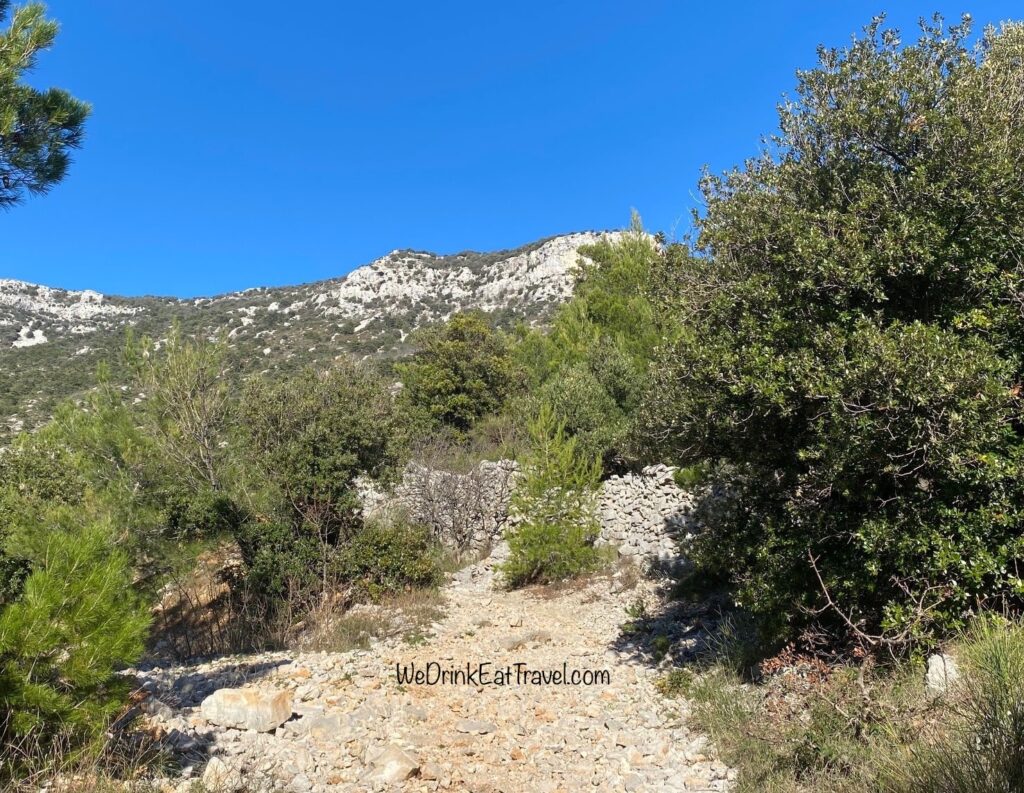 It is rocky for most of the hike up.
Now, we didn't have hiking boots or shoes, just normal sneakers with a thicker sole. So, in some spots it was a little uncomfortable under foot… yet, overall it was fine. If you have hiking gear, then I recommend you wear it for more comfort.
The Vidova Gora Hiking Trail – Freaking Out!
So, as we were walking up the mountain, we could see the trail markers, like this…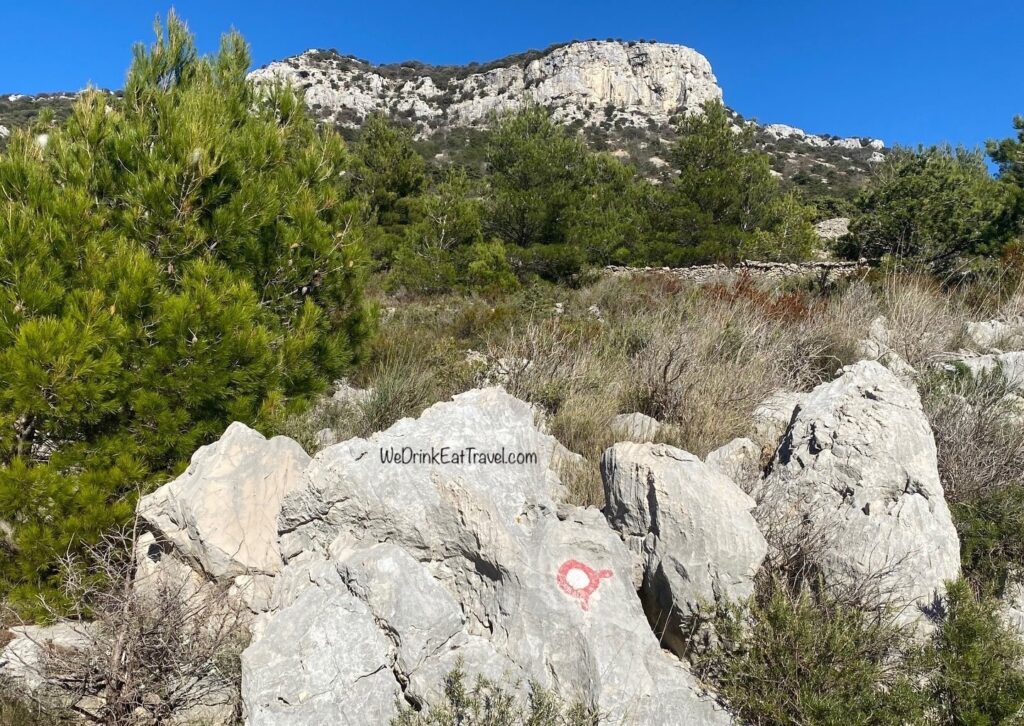 For most of the journey there were plenty of markers to keep us on track. Yet, when we got to the top of Vidova Gora, we had to keep our eyes open. More on that later.
As you'd expect, there were some steeper areas along the Vidova Gora trail. Yet, there were some areas that we could have a rest if need be. However, as we were hiking up, instead of sitting down… there were some beautiful views along the way. So, we stopped for a breather and were admiring the view.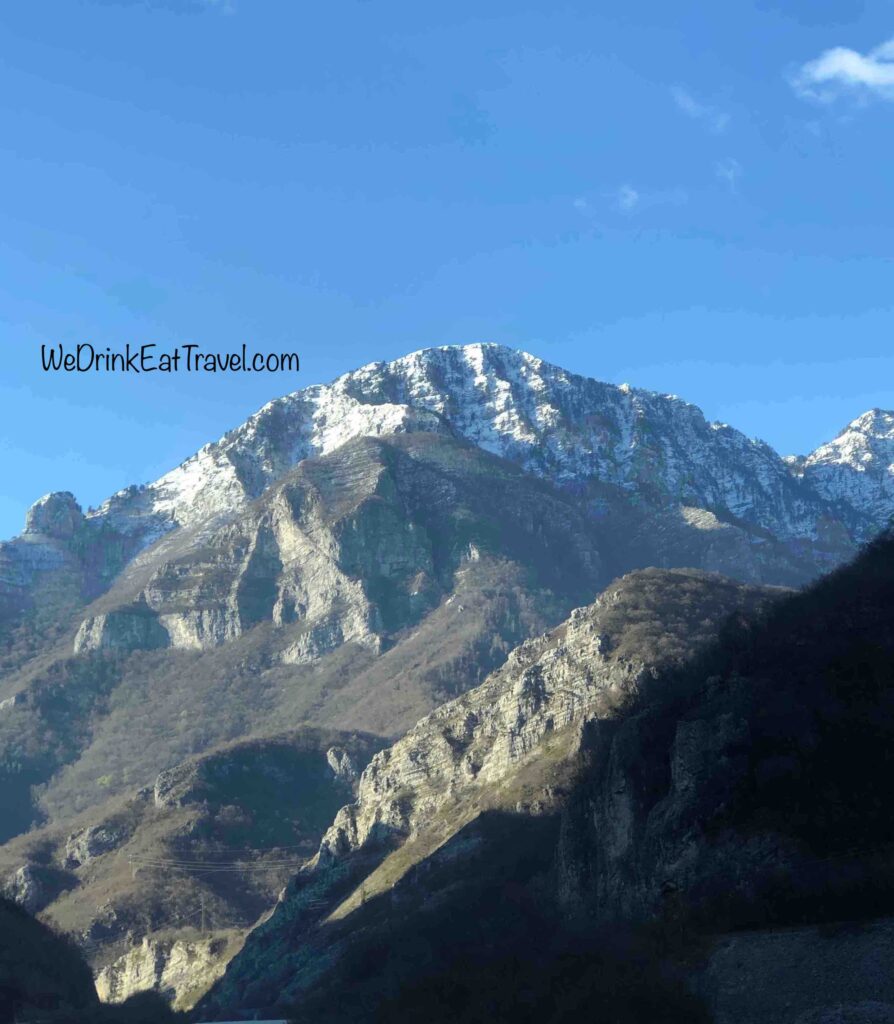 We thought that if we could see amazing landscape like this… we could imagine how incredible it'd be at the top.
We saw about a dozen people on our walk, who were all coming down the mountain… so it was quiet. And, there wasn't anyone else walking up. We didn't see any goats either.
We did come across 2 mountain bikers who I thought were dare devils… especially as they were coming down a precarious section of the mountain.
Now, for me, who's scared of heights… there were some spots when hiking Vidova Gora that made me freak out. And, to me it felt worse when going down the mountain… as I could see the big drops on the side of the trail!
Plus, it didn't help when I lost my footing a few times and my feet would slip. I didn't fall down though, thankfully.
So, to "help" keep me on track, Paul was saying to me, "We're almost there!" Yet, after he said this several times… I knew he was bluffing, and I chose to ignore him. Whilst he was trying to motivate me and keep my mind off the height thing… he was frustrating me. Ha ha ha!
We Made It To The Top Of Vidova Gora
So, our Vidova Gora hike up took about 1 hour and 45 minutes… and it was about the same amount of time going downhill too. It should've been quicker, though.
Yet, as I was panicking a few times I had to stop to calm down. Now, for those of you who aren't scared of heights… you'll have no idea how it feels. Otherwise, you'll know exactly what I mean!
Yet, once we got to the top the hike was well worth it. The views were amazing!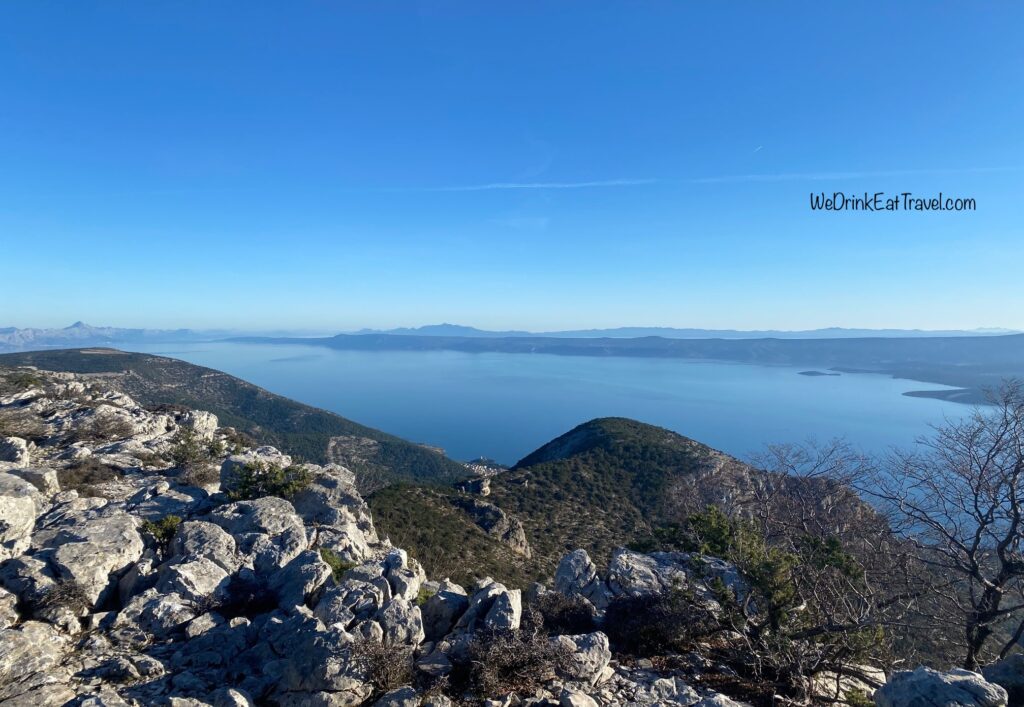 We could see Bol, which was looking so tiny from the top… as well as Zlatni Rat. Plus, seeing the islands with the clear blue backdrop made the view look even more beautiful.
BUT WAIT, There's More…
Now, if you recall me saying earlier, when you get to the top you AREN'T at the summit yet. And, this is where you need to look out for the trail markers on the rocks. You need to get to where the tower is for even better views. Here's a photo of the tower.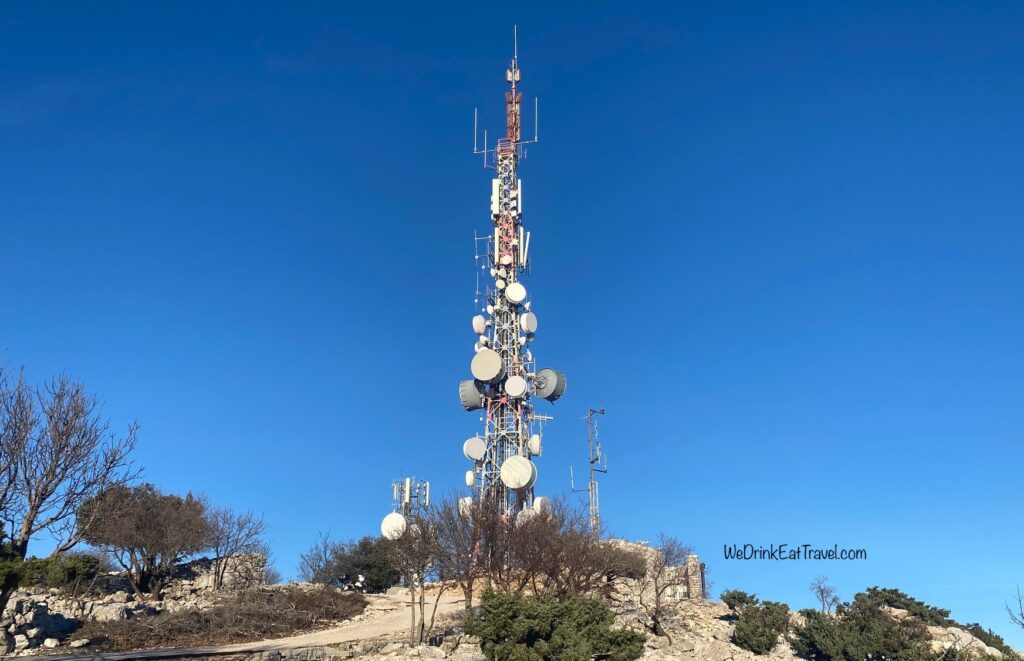 Keep following the markers for the Vidova Gora trail… and, eventually there's a gate that looks like this.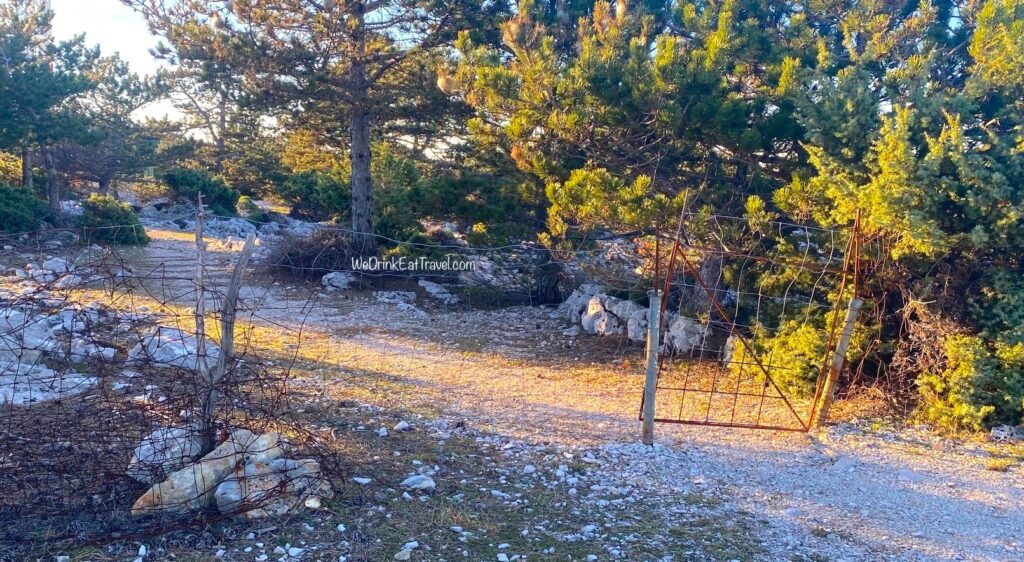 Simply open the gate and go through. Then, not long after that is the car park… for those who want the easy way to get to the top of Vidova Gora.
So, once we got to the first viewing point… it took us about another 15 minutes to walk to the summit. Thus, all up about 2 hours.
And here, the views were breathtaking.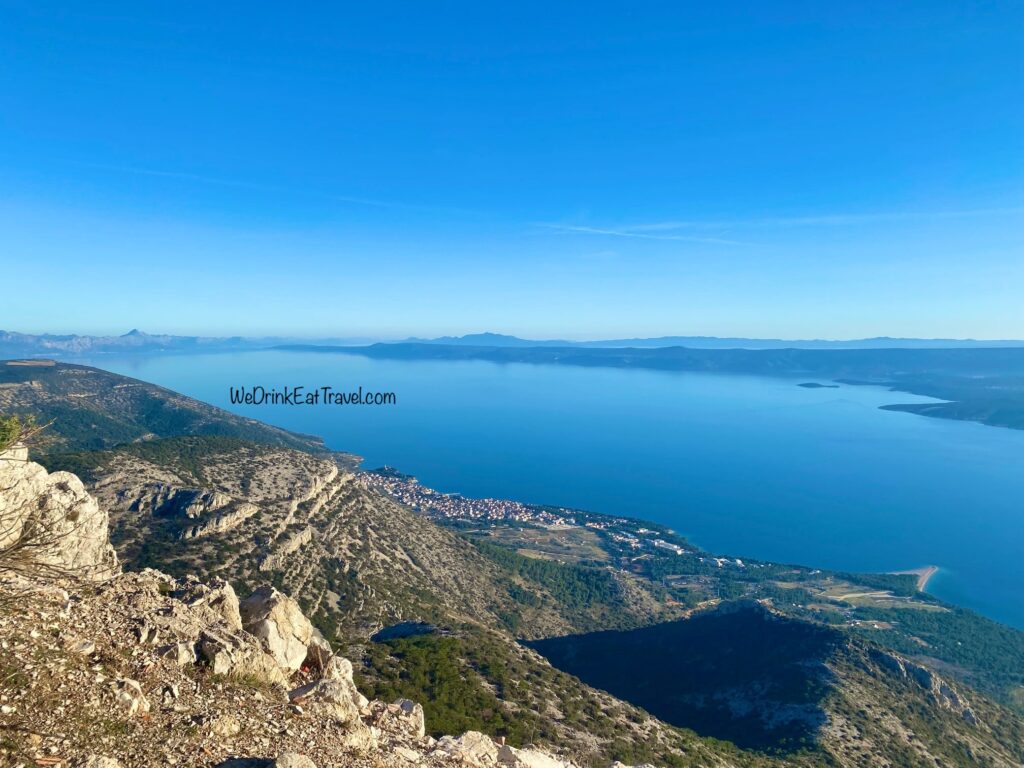 We now had an amazing view of the Dalmatian coast… and some of the Croatian islands including Hvar, Lastovo and Korcula.
In hindsight, we should've started the hike earlier. Because as you can see in our photos… they weren't the best due to the angle of the sun. Yet, it still was beautiful though.
There is a table with chairs if you want to have a picnic. Yet, I suspect in Summer it'd be difficult to secure as there'd be heaps more people. So, when we got to the top there were only 6 other people admiring the views.
It was so peaceful and well worth the effort of hiking up and down. And, as we were hiking Vidova Gora in Winter, the sun was setting before 6pm. So, as we were going down the mountain… we saw the beautiful scenery as the sun was setting.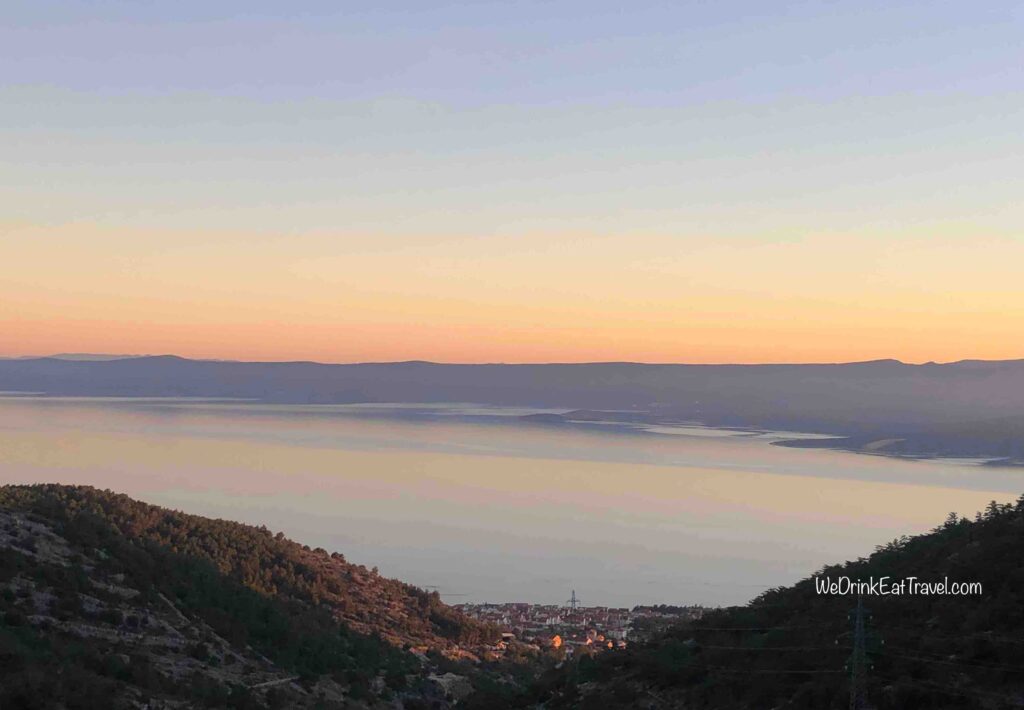 And, of course, to reward ourselves and quench our thirst… we had to have some beers!
So, for breathtaking landscape views from Brac Island Croatia… we recommend you make the effort to hike Vidova Gora.
Like This? Share it and comment on it!
Note: All of our reviews and comments are our opinions and no-one else's. Even if we receive complimentary goods or services we share our opinions honestly.
You Might Be Interested In This Too…
How To Get FREE Accommodation While Travelling
What You Need To Know: Great Things To Do On Brac Island
Here Are 12 Amazing Things To Do In Mostar
15 Interesting & Surprising Things To Do In Sarajevo Now
13 Interesting Places To See In Podgorica Today
Shop Until You Drop In Ratchada, Near Thailand Cultural Center MRT
Spotlight On Albanian Drinks And The Best Bars In Tirana
7 Free Things To Do In Bangkok
10 Places To Visit In Gozo Malta For Breathtaking Views
10 Picturesque Churches To See In Vienna Austria
How To Make Your Time In Tirana Albania Fun And Memorable
Here Are 7 Remarkable Things To Do In Berat Albania
10 Popular Drinks & Food In Skopje To Make You Happy
10 Awesome & Surprising Things To Do In Skopje Now