One of the top things to do in Montenegro is… to see the UNESCO Heritage listed Kotor and the Old Town. And, when you're in Kotor… one of the top activities we recommend is to hike to Kotor Fortress. Even when you're walking up, you can witness some amazing views… and of course, take some memorable photos.
Yet, when we researching about hiking Kotor Fortress / castle, also known as San Giovanni Fortress / castle… we found out that there are 2 main routes you can take. The main route is through Kotor Old Town. Yet, there is another route which has a "Secret Entrance," where you can get into the fortress for FREE.
Now, in many of the travel blogs we had read about hiking Kotor Fortress… they didn't go into detail about a CRITICAL part of this route, which is the secret entrance. And, as we found out more, it made us more interested in taking this route.
In the end, we decided to take this lesser known path to hike San Giovanni Fortress. Plus, we'll go through it in detail, as we believe it's very important for you to know.
So, before you do your hike to Kotor Fortress, read this blog first…
Hiking Kotor Fortress – The Alternative Route Via an Old Locals Trail
We found out about a hiking trail that the locals would use way back in the days. And, to this day there are still locals who use it, and now tourists as well.
This route that can take you to Kotor Fortress is known as, The Ladder of Kotor. Plus, it's this path that would take the locals from Kotor, to the top of the mountain… and to a town called, Cetinje. When you do this hike… it makes you wonder how tough and fit the locals were back then!
Now, to start your hike to Kotor Fortress… make your way to the street by the name of, Tabačina, which is near Skurda River.
So, at the time of writing this travel blog post, places to look for on Tabačina street include Voli Supermarket… which is also near the corner of Jadranska Magistrala (Adriatic Highway E65/E80). Other places to look out for is the Shopping Centre Kamelija… and Delicious Burger Restaurant.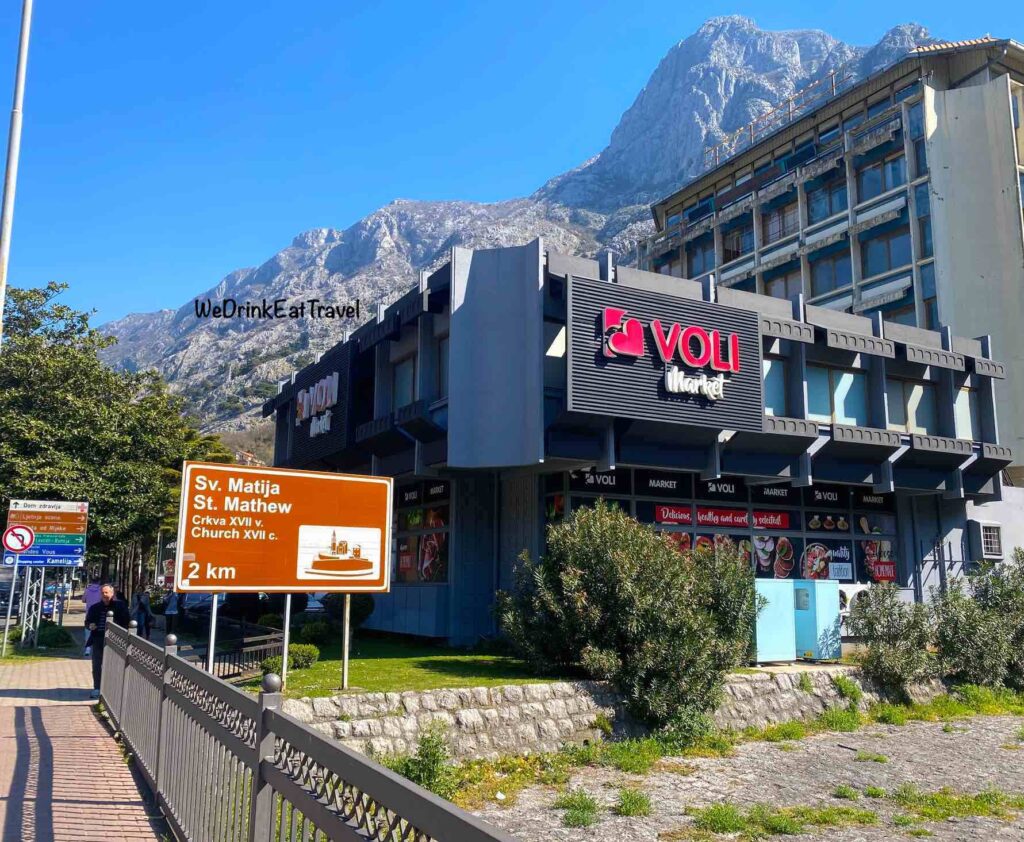 So, you keep walking up this road until you see something like this. Yet, DON'T go through the gated section. Instead, veer towards the right of the gate to the footpath as shown below…
Then, near the corner of this path you'll see a marker like this…
So, you simply keep following this track…
The path is rocky all the way, and in some sections the rocks are quite big. We were wearing standard sneakers, which were fine for us. So, from our points of view you don't need hiking boots.
While you're hiking Kotor Fortress, make sure you stop and admire the views along the way…
So, when you're hiking this path, you'll discover that there are many switchbacks. And, it looks really cool when you're higher, looking down below at the trail…
Eventually, you'll see some rocks that have been painted over with things like this…
Keep walking, as you'll soon be at the secret entrance to Kotor Fortress!
Now, you'll eventually see a little house like this, with chairs, tables and signs for drinks…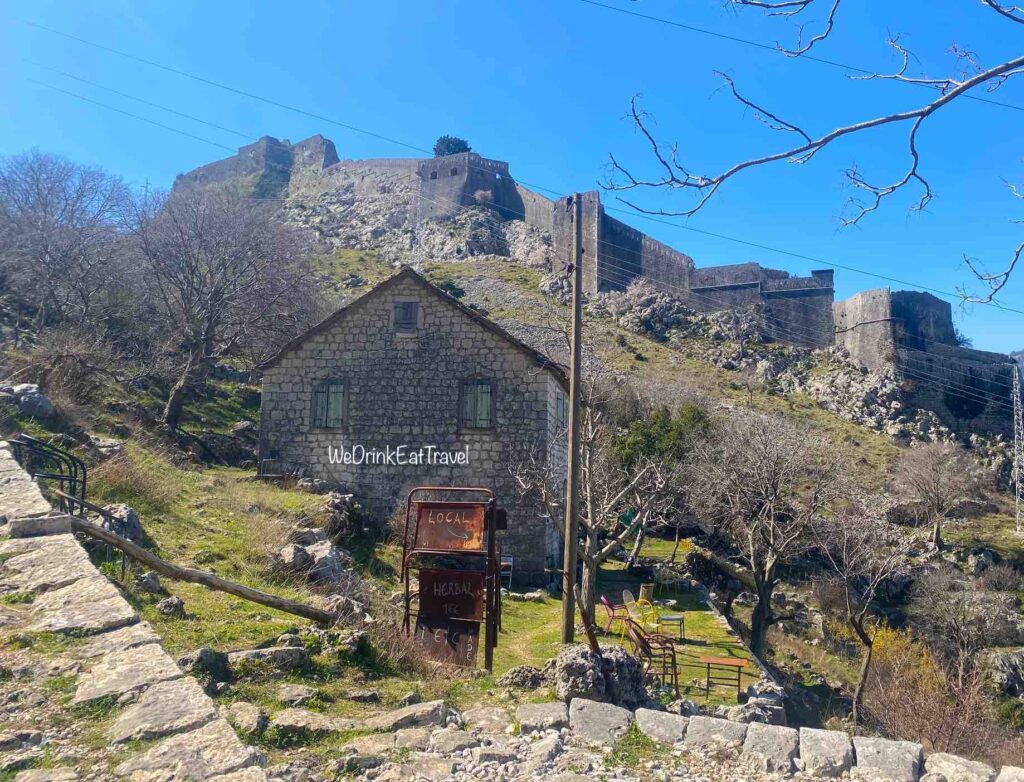 And, it's at this point where there's a "fork in the road." It's like a choose your own adventure!
So, you either go right to head towards Kotor Fortress OR you go left… which will take you to different switchbacks leading to the Rakia Man, and the top of the mountain.
If you have time, we recommend you go and visit the Rakia Man! He has some home-made produce, which is delicious. Plus, the views are great from there too. More on that in a different We Drink Eat Travel blog post.
The "Secret Entrance" to Kotor Fortress
So, after you veer right at the fork in the trail, continue your hike to Kotor Fortress. And, when you take this the path, it looks like this…
Then, soon enough you'll reach this old Catholic church, Sveti Juraj…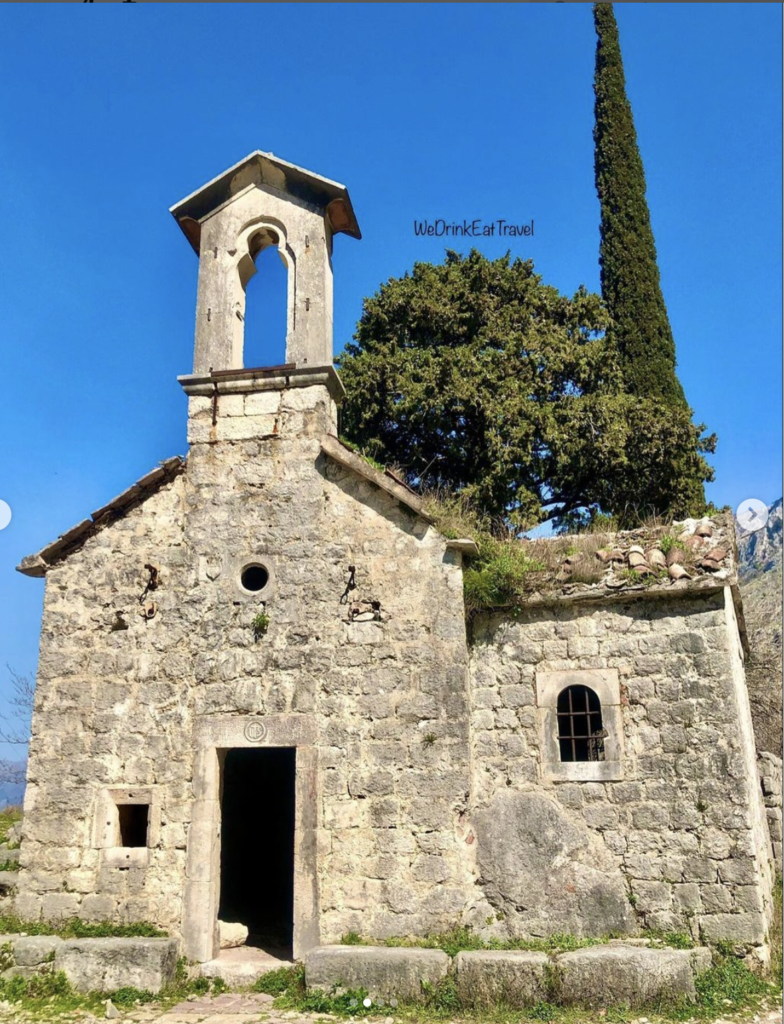 Now, after you've had a look at the old church… look out for the red and white marker, as per the photo below. Then, make your way towards the Fortress via that sandy-colored gravel type path.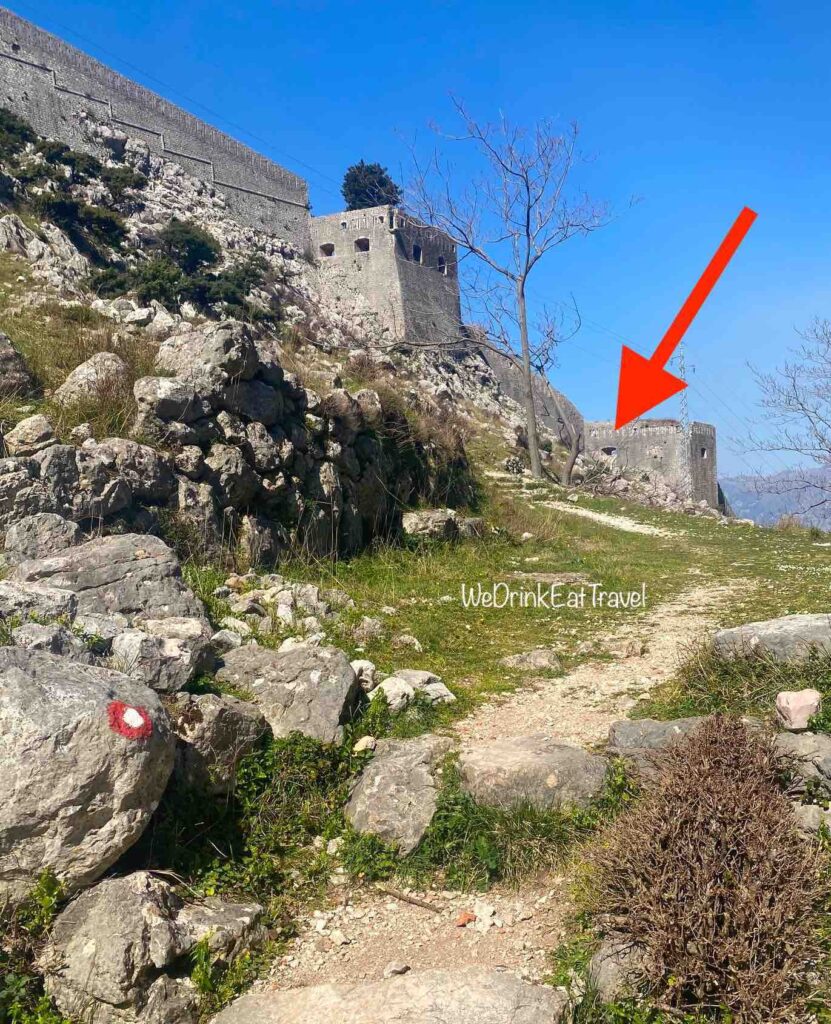 Then, the closer you get to San Giovanni Fortress, the entrance will become more prominent. The photo below shows the Secret entrance to Kotor Fortress… with a red arrow pointing at it.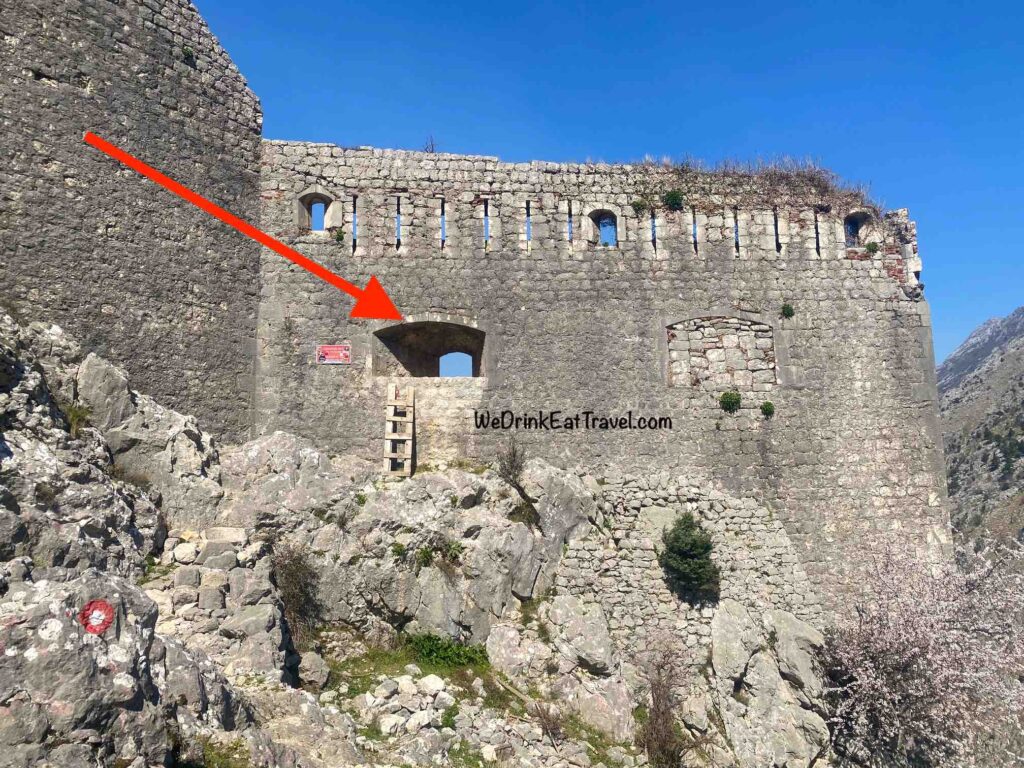 Now, there is a red sign next to the entrance stating that entry is forbidden . Yet, when inside Kotor Fortress, there are several other signs stating a similar thing. However, you can clearly see people walking around these so-called "prohibited" areas. So, we're just letting you know… and at the end of the day, it's up to you how you proceed. And, to get to this point it took us about 45 minutes.
So, at the entry is a ladder, which someone has somehow fastened to the fortress. Plus, with the entrance you will need to crouch down to climb through it… as it's not very high. The below photo is of the Secret entrance AFTER we climbed through it.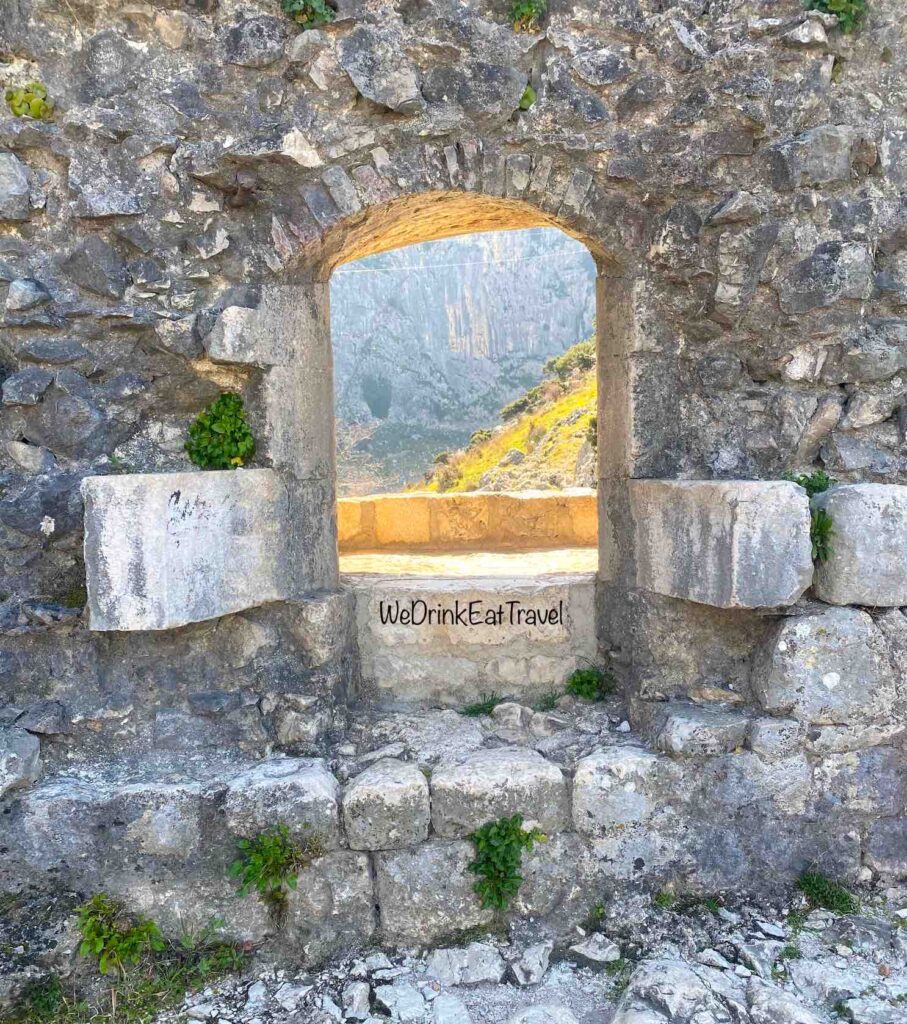 I have to admit, that if Paul wasn't there, I wouldn't have gone through this entrance. That's mainly because I'm scared of heights… and looking down from the entry point isn't for the faint-hearted. Plus, I would've freaked myself out about the thin-looking wooden ladder.
So, your safety is paramount. And, it is your decision at the end of the day as to if you should use this to enter Kotor Fortress.
CLICK HERE for suggestions on the best activities for your travel itinerary…
Witness the Beauty From Kotor Fortress and the NOT SO BEAUTIFUL!
After we got in successfully to Kotor Fortress for free, we could see some incredible views…
Now, while the views are amazing… you need to be careful when inside San Giovanni Fortress. And, that's because from our point of view, it's not well maintained. Check out the pics below with the dodgy bridge, steps, and piles of rubbish…
It is a shame that it's not looked after better. Not only would it showcase the Fortress in a more pleasing way… it would help to restore it for as long as possible. And, with people paying 8 Euros to get to San Giovanni Castle… it makes you wonder what that money is being spent on.
The Kotor Fortress Hike – Down We Go!
As we said earlier, the normal route to hike to Kotor Fortress is via the Old Town. And, rather than leaving the same way we came in… we made the decision to go down via the castle steps towards the Old Town.
And, when going this way there are some breathtaking views of Kotor as well…
Plus, here's a photo of the steps leading down from the Fortress…
So, the steps are NOT wide or big. And, they seem to be more suitable for one-way pedestrian traffic only. When we were making our way down, a tourist ship had pulled into Kotor. So, lots of people were making their way up to the fortress. And, while we could squeeze past each other… it was easier for one of us to get off the path, and wait on the side to let others go through.
Plus, make sure you be careful as the steps can be very slippery. And, when you're making the descent to the Old Town… you'll discover that it is steep. Steep and slippery combined aren't great! So, we're glad we chose the alternate locals route for hiking Kotor Fortress.
From the Old Town… this is what one of the archways looks like leading up to the payment booth. And, the Kotor Fortress price to go this way is 8 Euros.
Overall, we found the hike to Kotor Fortress using the locals trail was easier… compared to if we were to take the route via the Old Town. It was a steady incline and not slippery, like the steps up the Fortress. Yet, as we were explaining earlier, the part that you seriously need to consider if it's right for you is… the "Secret Entrance."
Whichever way you decide to choose… you will be rewarded with amazing views and scenery of Kotor, Montenegro.
Stay Safe and Happy Hiking!
Like This? Share it and comment on it!
Note: All of our reviews and comments are our opinions and no-one else's. Even if we receive complimentary goods or services we share our opinions honestly.
You Might Be Interested In This Too…
How To Get FREE Accommodation While Travelling
25 Of The Best Things To Do In Kotor Montenegro
Where To Eat In Tivat For The Best Fast Food
Ultimate Tivat Hiking Trail For The Most Breathtaking Views
Check Out 16 Things To Do In Tivat Montenegro
13 Interesting Places To See In Podgorica Today
Here Are 7 Remarkable Things To Do In Berat Albania
7 Free Things To Do In Bangkok
10 Places To Visit In Gozo Malta For Breathtaking Views
7 Top Reasons Why You Should Visit Bansko Bulgaria
10 Picturesque Churches To See In Vienna Austria
How To Make Your Time In Tirana Albania Fun And Memorable
Shop Until You Drop In Ratchada, Near Thailand Cultural Center MRT
10 Popular Drinks & Food In Skopje To Make You Happy
Spotlight On Albanian Drinks And The Best Bars In Tirana
10 Awesome & Surprising Things To Do In Skopje Now