The One Ratchada is another of the many markets dotted around the vibrant city of Bangkok. Bangkok is one of the biggest capital cities in South East Asia. And, one of the exciting activities that many tourists like to do here, is visit the bustling markets.
Yet, this market is different to the more popular markets such as Chatuchak… as you'll soon discover.
Now, The One Ratchada occupies a space where a former popular, pre-existing market was. And, on one of our trips to Bangkok this year, we made the journey out to this location… noticing some significant changes to this marketplace.
So, if you're planning your itinerary for Bangkok to include markets… or looking for things to do, you need to keep reading.
In this We Drink Eat Travel Blog… I'll run through 7 important things you should know, about The One Ratchada Market in Bangkok.
1. The One Ratchada is Not in the Heart of Touristy Bangkok
When many tourists visit Bangkok especially on their first visit… base themselves in the heart of Sukhumvit. And, we completely understand why; it's a prime location as there's so much to do in this area, and it's easy to get around.
Yet, The One Ratchada isn't in a main tourist hub. In saying that, it's only about 6km north of the central Sukhumvit area… in a neighborhood by the name of, Din Daeng.
Plus, if you decide to stay in the area, you can discover some great accommodation deals… as well as experience a more local environment. Furthermore, it's simple to get this market… more on that later! 
So, if you're not spending a lot of time in Bangkok keep reading. As this information can help you determine, if you should prioritise The One Ratchada for your itinerary.
This market takes its place where the former Ratchada Train Night Market was. And boy, it sure is a stark contrast to the Train Night Market.
Back in the days, tourists would flock to the nearby multi-storey car park. And, this was so they could capture the stall awnings of the Train Night Market… which were a photographer's delight with a rainbow of colors. 
Nowadays, all the stall awnings at The One Ratchada are white, and blend in together. Yet, this can still look beautiful and here's why…
2. The One Ratchada is a Night Market
Like many markets in Bangkok, The One Ratchada is a night market. It sure is more comfortable exploring the markets at night… to escape the blistering daytime heat in Bangkok!
At the time of writing this blog, this market opens every day of the week… from 5pm until around midnight. Yet, I wouldn't recommend getting there at 5pm. And, that's because some of the stalls are only starting to set up, or don't open until much later.
Yet, if you're keen on taking photos, then you can capture the contrasting colors of the sky as the backdrop… as it changes from day, to sunset, to the night. And, it sure does look pretty amongst the sea of lights that line the myriad of stalls… with some palm trees extending high above them.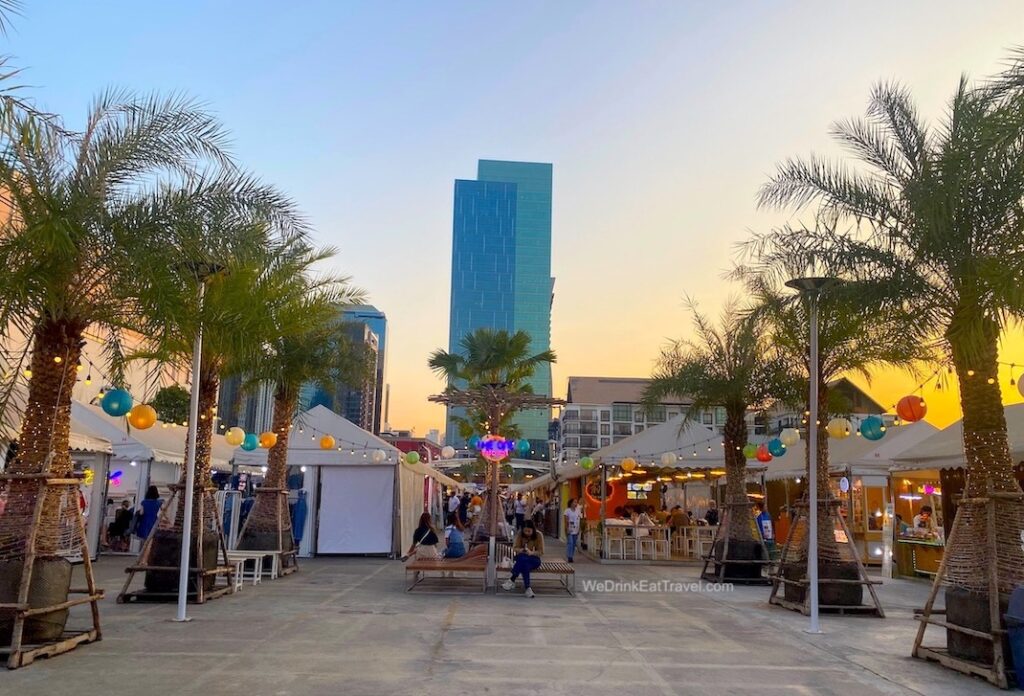 3. The Stalls Are More Geared Towards Females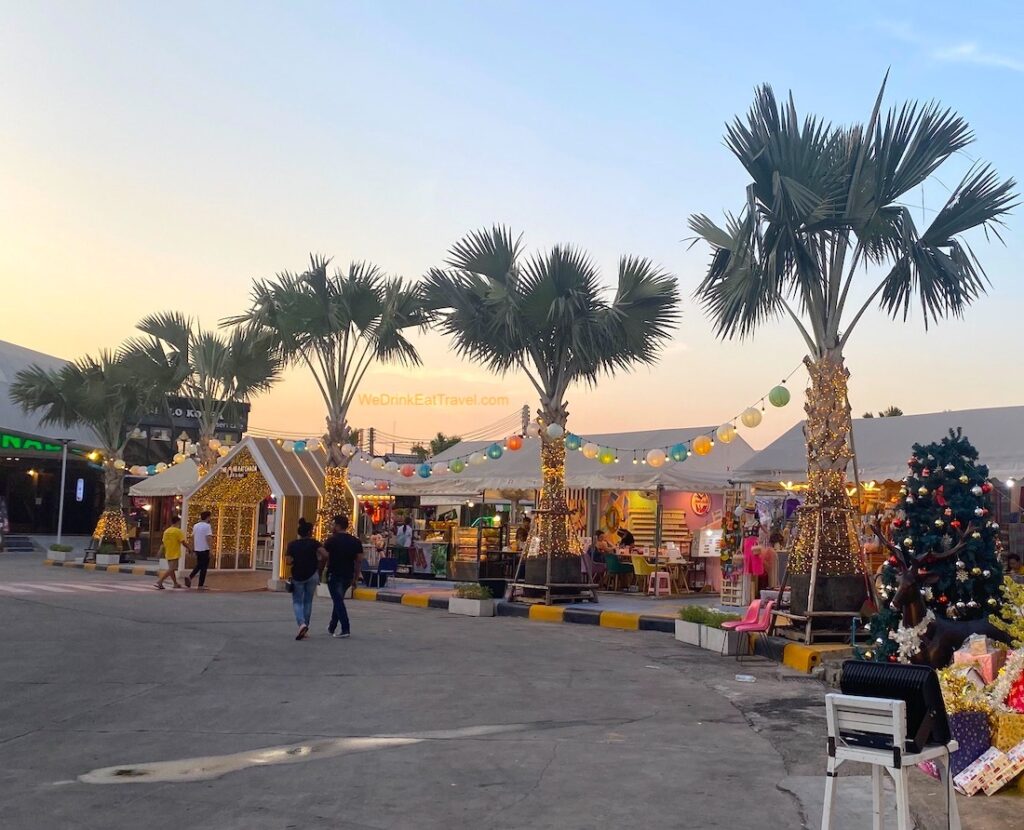 There are many stalls in The One Ratchada Night Market. Yet, from my perspective… I'd say that a lot of the stalls would have more interest for females, rather than for males.
Many vendors sell items including jewelry, clothes, accessories, and hand-made goods, for example… moreso for the ladies. Yet, if you're a male, you may find a cheap cap, t-shirt or a funky Hawaiian shirt!
If you're after some Thai souvenirs or a different area to have a bite to eat… there is an undercover area opposite the stalls. Now, we didn't spend long here as it was relatively quiet when we were there. Plus, the products that were being sold weren't of interest to us.
Yet, while you're at the market you may as well explore as who knows… maybe you'll find something of value to buy.
And, when we went to check out the complete opposite side of The One Ratchada market towards the back… it was a shock to us! Here is a pic of what the area used to look like…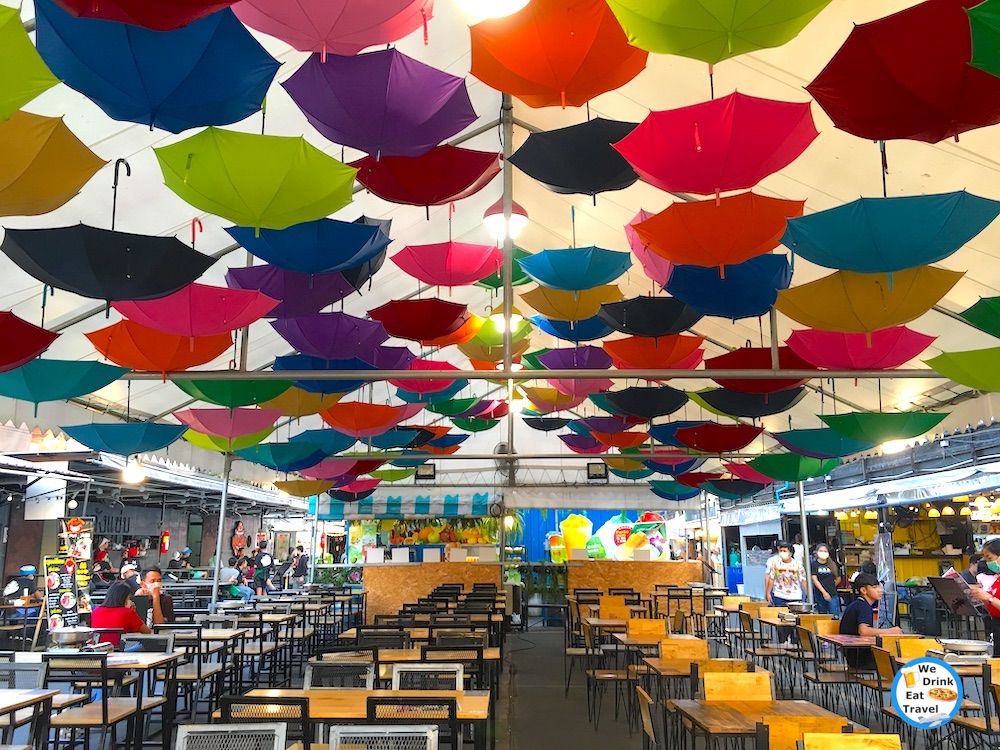 Now, it looks like this…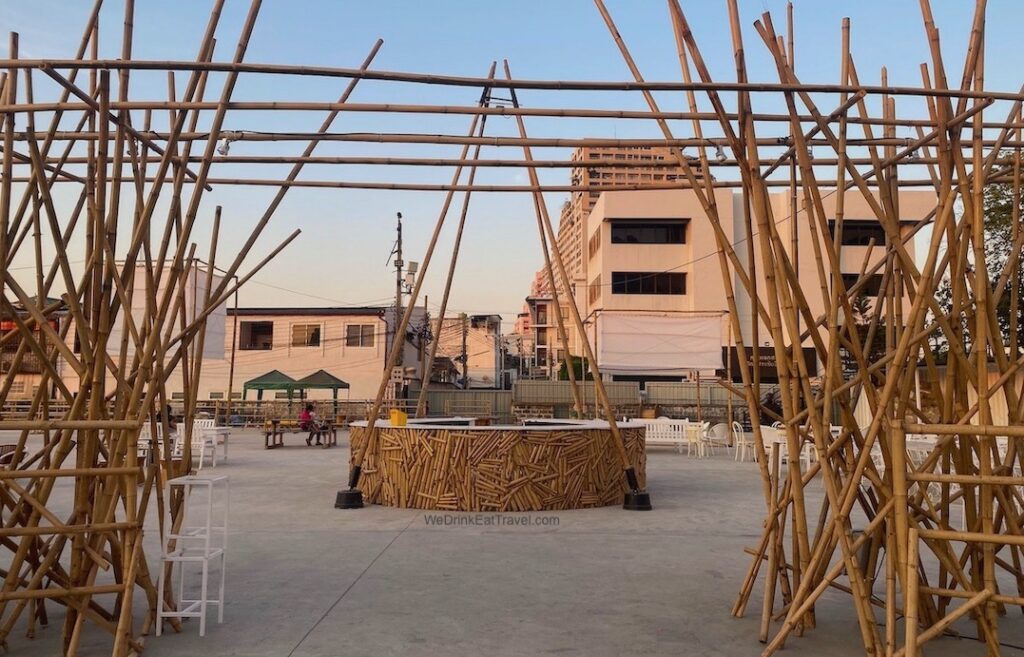 Completely different!
4. A Range of Food, But is it For Everyone?
Of course, at a Thai market there are lots of food stalls! And, at The One Ratchada Night market, you can find an array of food. These include platters of meat and seafood, where they give you gloves to keep your fingers free of mess!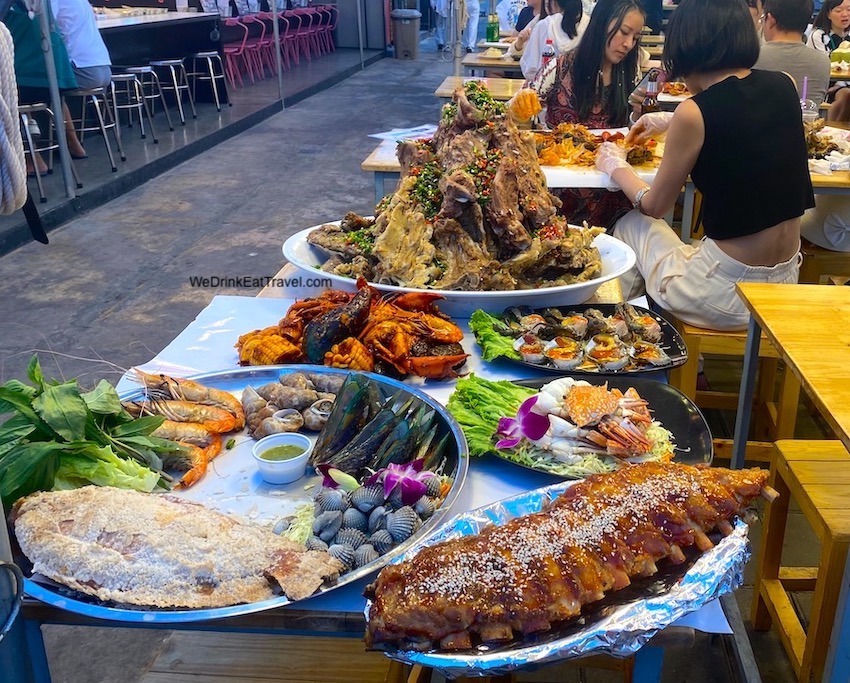 There are also vendors selling skewers, sushi, bubble tea, sweets, noodles, and more. Follow your nose, and wander through the aisles… to see what foods could tantalize your tastebuds!
Now, a word of warning… this is not a market to visit for food if you're a vegetarian, and worse if you're vegan. While there are a few stalls that may be suitable… if you're eager to try a variety of foods, you'll be disappointed.
We did find a few places selling roti, mango sticky rice, and deep-fried cheese balls, for example.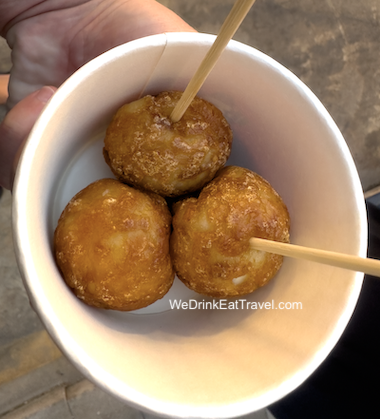 Yet for us, having too many deep-fried foods and feeling the heaviness of the oil in our bellies is uncomfortable… unless we've had a big night on the alcohol. Now, speaking of alcohol…
5. Don't Go to The One Ratchada Bars Early
When you first enter The One Ratchada night market… you'll see that there are plenty of stalls selling food and other items, but no alcohol. Yet, fear not fellow travelers, after entering the main entrance of the market… keep to the front and don't go down any of the aisles with all the stalls.
As you continue make your way you'll see a Cannabis shop. And, after that will be an entire section with a series of bars.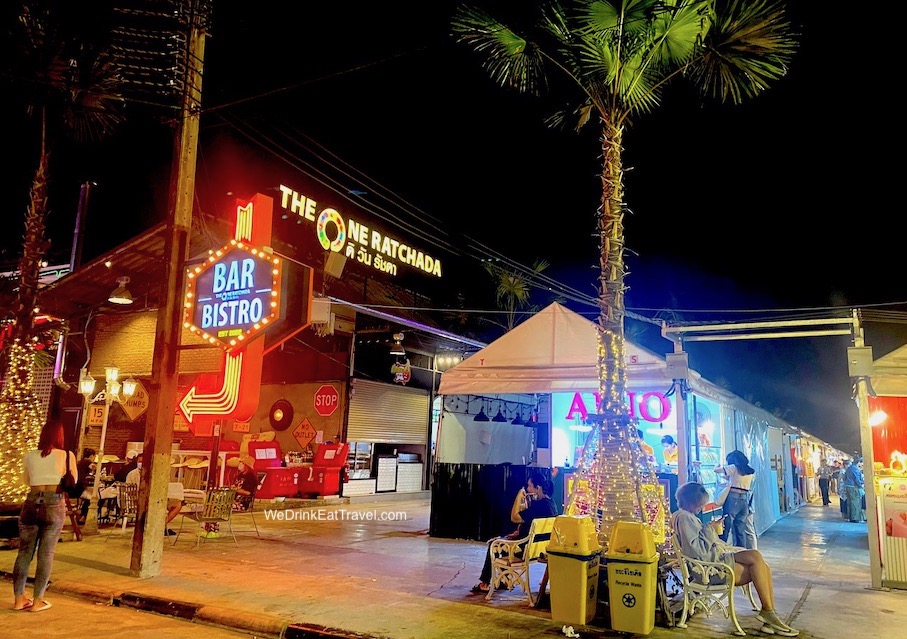 If you're there early evening, you'll notice that the bar area looks empty… as though nothing is open.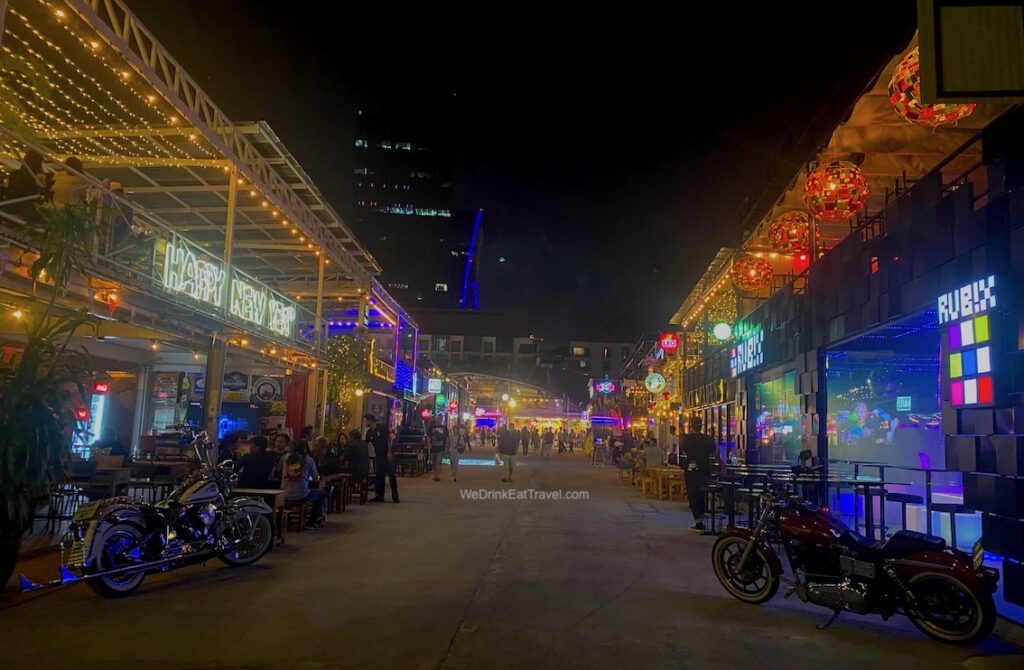 Yes, this may be the case as some of the bars don't open until later. So, if you want to experience more of a vibe, then it's best to get there after 8pm or so. 
Many of the bars have some decent drink specials all night long. And, several of the staff will be calling out to you to influence you to come on in. Some of the bars also have an upstairs and downstairs section… so you can watch the world go by from different vantage points.
Let me Give You Some Insight About Pouring Your Own Beers in Bangkok…
If you've never been to Thailand before, let alone Bangkok… you'll soon discover that you may not have to lift a finger when it comes to pouring your beers into a glass! And, that's because depending on where you go, the staff are happy to pour your beers… whilst you sit back and relax.
In saying that, we've found that this service often happens… only when you have ice IN your beer.
And, when we were at a couple of bars in The One Ratchada, this was no exception! One of the bars we went to was, Vanguard. Not only were they attentive, they were eager to pour our beers!
Yet, we're not fans of putting ice in our beers. But, as I don't drink as quickly as Paul… I had to put a few ice cubes in my first beer to cool it down! Then, later on the staff almost had a heart attack… when they saw us putting the ice into the beer bucket to keep our bevvies cool!
Now, we did have a few jolly times here… especially when there are awesome beer specials that are too hard to resist!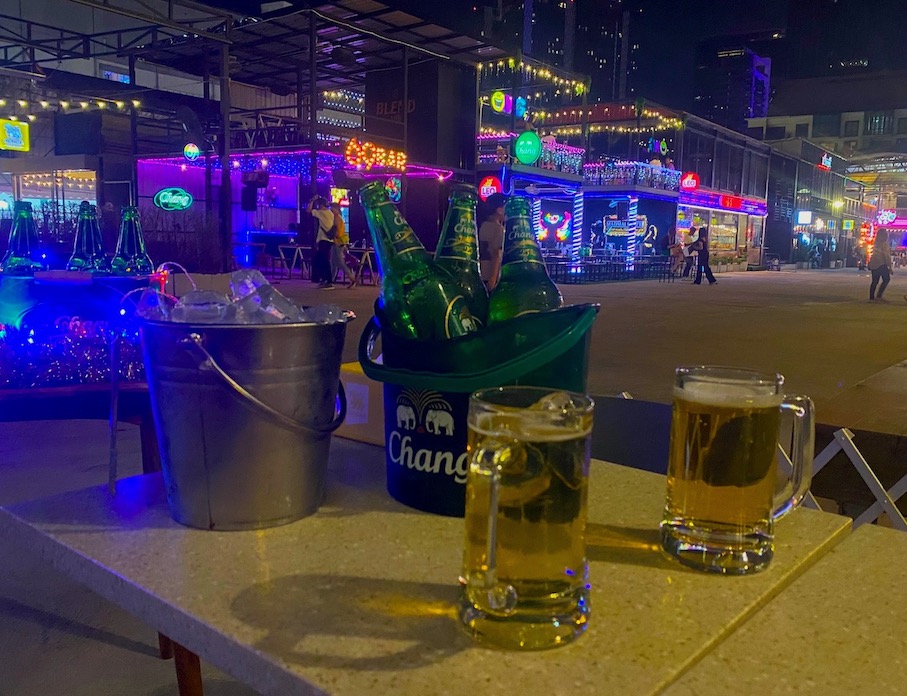 For example, we could get 5 large local beers with a bucket of ice for around 500 baht… that's about 14.20 USD, 13 Euros, 11.20 GBP. And, just so you know, a large bottle in Thailand is around 620mls. Plus, these prices aren't happy hours either. As far as we know, specials like these are available, "All Night Long!"
Just so you know, there are a few places that have live music with a band or duo, for example. And, you may hear the band or singer belt out a few English tunes. Yet, from our experience many of the songs will be Thai.
Thus, if you're eager to find some live bands for English language music to sing along with… then I recommend not going to The One Ratchada Night Market.
6. Bring Some Coins for The One Ratchada
Why would I be highlighting that you bring some coins?
Well, whilst you're exploring this night market, you may have an urge to visit the toilets… especially if you've been ploughing down the drinks! You'll be pleased to know that within the complex are public toilets.
Now, to use the toilets here it will cost 5 baht. And, what you need to do is put your coin(s) in the slot, so you can then go through the turnstile. Each time I went there was toilet paper that you can use. Otherwise, when in SE Asia I always carry a supply of tissues for the in-case factor!
Don't worry if you forget to bring some coins though… as there is a note changer which will spit out coins. Yet, when I was there… I did see a few people having issues with the machine accepting their notes!
If you're not busting to go, and you'd prefer a "nicer" public toilet environment… then you can go to the nearby Esplanade Shopping Centre. It won't cost you anything, but the walk to get there will be longer. 
Enough of the toilet matters now. Although, it is surprising how many people want to know about it!
7. Getting to The One Ratchada Night Market
There are several different ways that you can get to The One Ratchada Night Market. And, that includes getting a Grab, standard taxi, walking or via train, for example. One of the best ways that we recommend is to catch the MRT.
If you need help with how to use the MRT, check out our blog post HERE.
So, the best MRT stop to alight at is the Thailand Cultural Center MRT, BL 19. After arriving at the station, look out for Exit 3.
And, one of the first things you'll notice is a major Road, by the name of Ratchadaphisek. Then, all you need to do is head towards The Esplanade Shopping Center.
After walking past this shopping centre, you'll see a road with motorbike taxis to the right. And, this is where you need to head down to the main entrance… so you can start exploring The One Ratchada Night Market.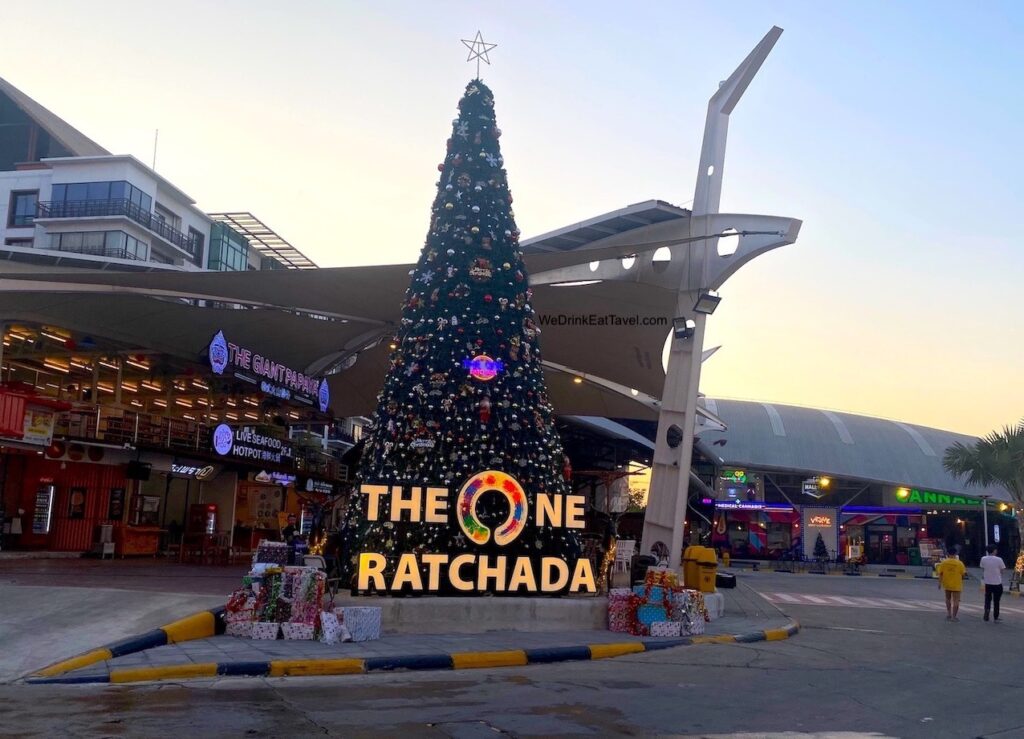 Well, now you have more insight into The One Ratchada Market! The One Ratchada sure is another night market in Bangkok that you could add to your list to explore. If you're in the area you should definitely check it out.
While there are a lot of food stalls with vendors selling a variety of snacks and meals to tantalise your tastebuds… if you're a vegan or vegetarian, there's not much to choose from if you want a significant meal.
Yet, if you're keen for some cheap beverages while soaking up the local atmosphere, especially later in the night… then head on over for the experience.
It definitely is not as touristy as other night markets and doesn't seem as busy either… not the times when we went anyway. So, if you're looking for a more low-key night market, then The One Ratchada may be right for you.
And, if you're thinking of staying in the area… there are some great bargains to take advantage of. That's one of the benefits of being in a non-touristy area, especially if you're budget conscious. Plus, you can experience more of how the "locals" live.
So, we hope that you enjoy your time in bustling Bangkok with some memorable experiences. Have fun checking out the many markets in this awesome city!
You Might Be Interested In This Too..
How To Get A Grab From Suvarnabhumi Airport
Chatuchak Weekend Market: 7 Top Things You Need To Know
How To Get To Chatuchak Market In 2 Ways
How To Go To Platinum Fashion Mall Bangkok By BTS
What You Need To Know About The Bangkok Canal Boat On Saen Saep
Bars In Danang – 7 Of The Best Places
VAT Refund Bangkok: How To Get Money Back On Your Shopping
Is Kuala Lumpur Worth Visiting? 15 Interesting Things To Know
27 Of The Best Things To Do In Bucharest
Thai Airways Review: From Melbourne Australia To Bangkok
Thailand Food – Being Vegetarian In Thailand
Need Accommodation?
Find Your Perfect Vacation Accommodation
Want Cheap Flight Deals?
Looking For The Latest Flight Deals? Click HERE
Get Real Cashback From Your Vacation!
Discover How You Can Get Cashback From Your Vacation Bookings