The Hua Hin nightlife can vary from loud and vibrant, through to laidback and cheap. For this beautiful beach town only about 2.5-3 hours South of Bangkok… there's something for everyone when the sun starts to go down.
So, in this We Drink Eat Travel blog… I'll run through 8 different places where you can experience the Hua Hin nightlife.
Let's kick it off with this area…
1. Soi Bintabaht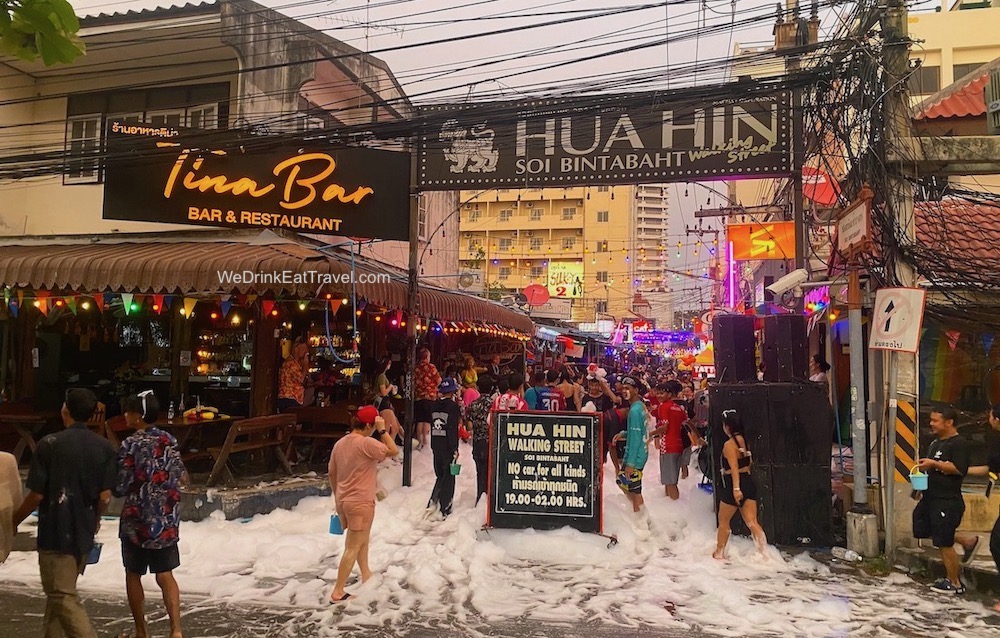 There's no doubt that when it comes to exploring Hua Hin after dark… the most popular area to go is to Soi Bintabaht. And, while places are open during the day… night time is when it thrives.
Now, Soi Bintabaht is not a long street. Yet, it will amaze you at how many bars there are in such a small area.
From big open bars where you can hear live bands, through to glowing nightclubs and cool little bars… you can go bar hopping all night down Soi Bintabaht. Mind you, if you did… you sure would be jolly by the end of it, with all the booze you'd be consuming.
And, like most places in Thailand, the bar girls will be welcoming you in. Some of them screaming frivolously at the top of their lungs… to persuade you to come into their bar.
The great thing is about Soi Bintabaht, is that you can listen to live bands… play free pool to test your skills against the bar girls, or simply people watch.
Since we were last in Hua Hin, a new addition is the Soi Bintabaht Walking Street signs. Even so, it doesn't stop some motorbikes from putting down the street… every now and again.
As you'd expect, drink prices are the most expensive here than in other parts of Hua Hin. For example, outside of happy hours a small local beer could cost around 100 baht. That's about USD $2.90, GBP 2.25, EUR 2.65.
When you're having a big night out on Soi Bintabaht… the Thais know that you'll want a feed. So, there are some street food carts to help line your stomach. Yet, the most popular street cart here would have to be the iconic, Binta Burger.
Now, there are other places to explore outside of Soi Bintabaht, such as this…
2. Soi 88 Outdoor Food Court
What?! Why have I included a food court in this Hua Hin nightlife blog you're wondering? Have I gone mad? No!
For the first half of our trip, one of our Hua Hin accommodation places was down Soi 88. And, one day while we were exploring… we were of course in need of some beers to quench our thirst.
Then, we saw some street food carts lining a street. Yet, as we had look further behind the carts… there was a massive open area with a huge amount of people and food!
As we were walking further in, we saw a heap of tiny hole in the wall type of food places. You could get Thai food, pizza, Indian, Mexican, and more! Now, you need to know that the Soi 88 Outdoor Food Court is not just about food.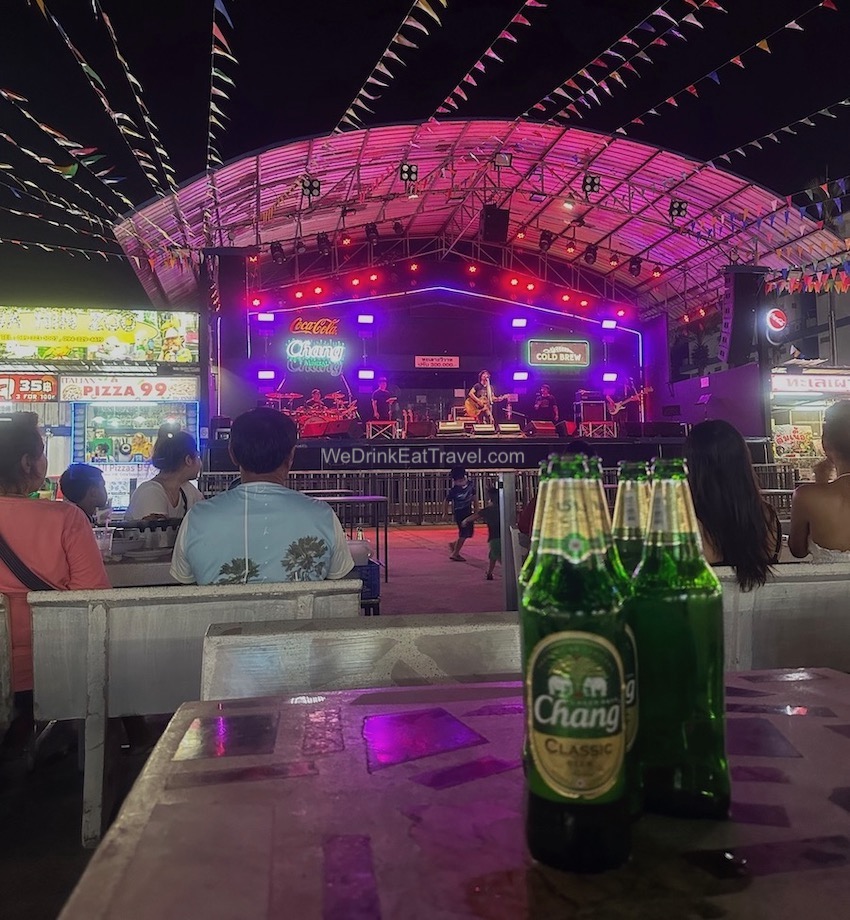 As we were smelling the aromas of delicious foods… we saw the Chang promo girls in their bold green dresses, topping up the beers and ice for customers. Yep, beer service with a smile in an outdoor food court.
If you're after a variety of food and cheap drinks, this sure is a place to go. For example, a large bottle of Chang beer, was only a ridiculous 65 baht. That's about USD $1.90, GBP 1.70, EUR 1.70. And, if they weren't cold enough… then you could go Thai style and buy a bucket with ice to add to your beer. Not for us though!
Plus, there's a gigantic stage where a variety of bands play live music. Depending on the band and night you go, they could belt out a mix of Thai and Western tunes. So, sometimes we'd be singing our heads off… then we'd take a break while the Thais would go crazy with their music.
There were lots of families and groups. Yet, there was also a mix of singles and couples too. So, why not check it out for yourself when in Hua Hin.
3. Soi 94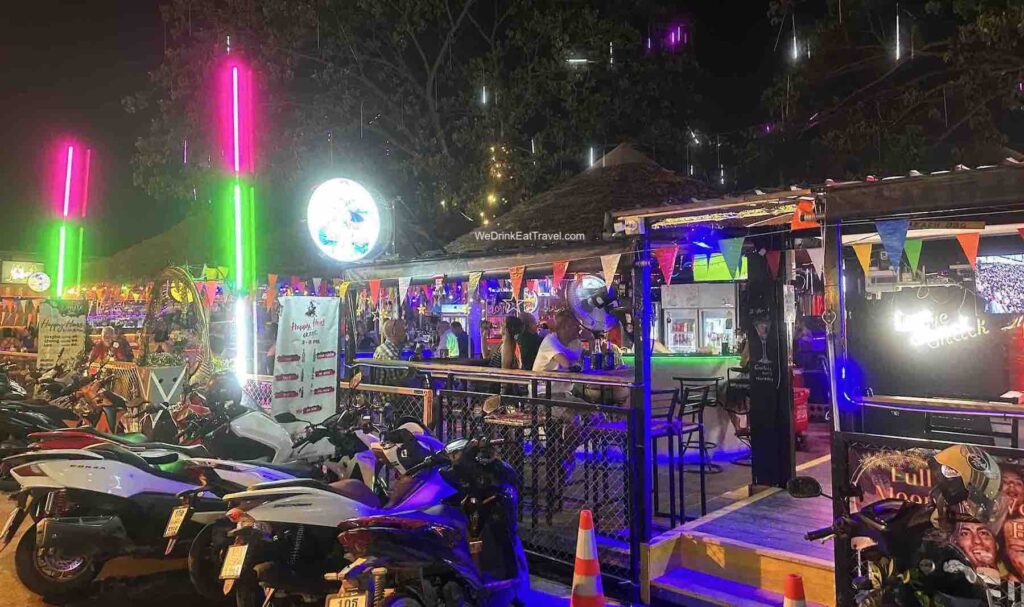 While Soi Bintabaht is the "mother" of the Hua Hin nightlife scene… next in line would be Soi 94. Many, many years ago we spent about a year in Hua Hin… and our accommodation was easy walking distance to Soi 94.
Needless to say that we had to come back on this trip. It would be exciting, or perhaps heartbreaking to see what the changes would be down Soi 94. And wow, yes, it did change heaps since we were last there.
There are still several  bars that line this street. Yet, we saw that there were a couple of major establishment sets up… by the name of, WonderLand and Headrock Zone 94, comprising of about a dozen little bars under the one roof. 
Many of them had happy hours until around 8pm. And, this would include small local beers of around 60 baht. Then, once happy hours were over, the price would revert back to 80 baht. Even so, at the end of the day, that's still damn cheap!
Plus, what was great was that many of the bar staff were friendly and pleasant. On request, they'd even bump up the music once we heard once of favorite songs!
We did go down Soi 94 a couple of times. And, when we were there… once happy hour was over, it did seem to die out a bit. Yet, it probably changes daily, or should I say nightly when it comes to how loud and vibrant it can get.
Yet, if you find that Soi 94 is too quiet for you… then you can stumble or stroll for a couple of hundred meters to to this place.
4. Rock Zone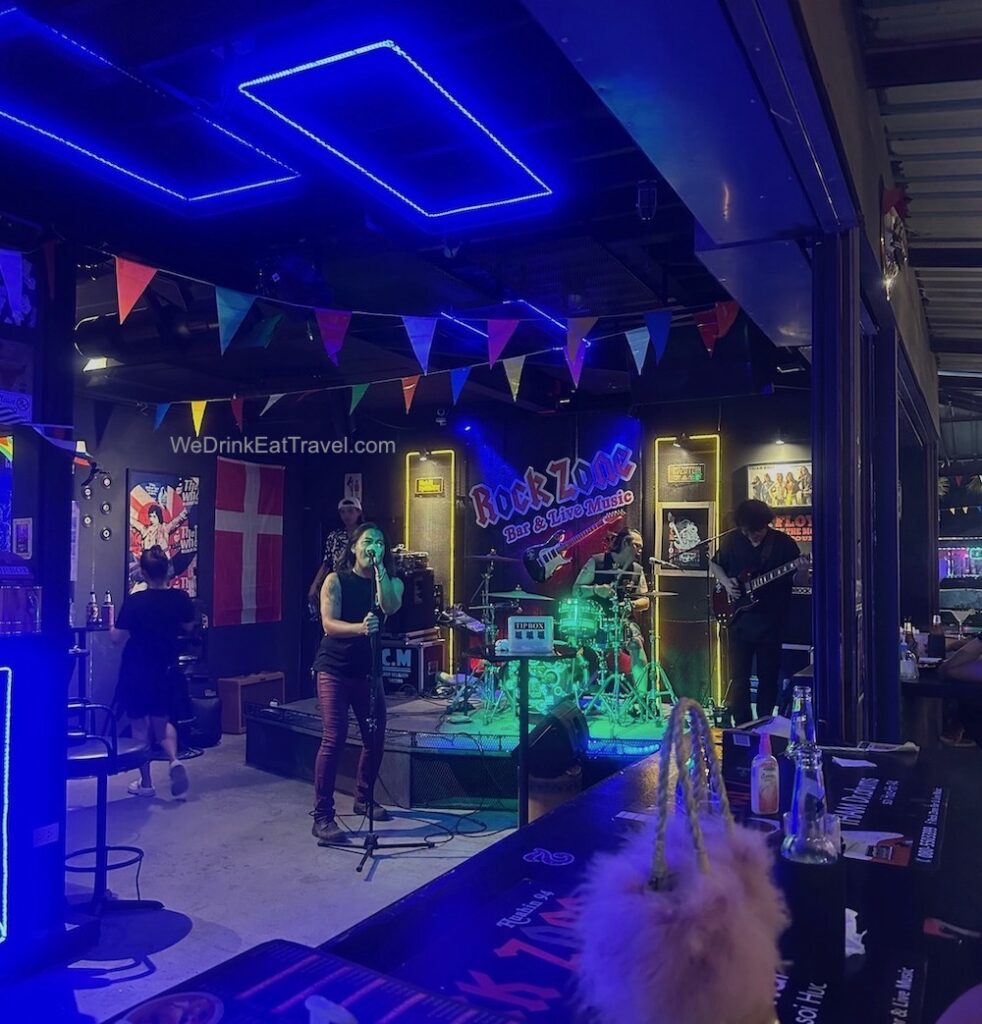 A place you should check out for the Hua Hin nightlfe… especially if you love rock music is, Rock Zone. If you're after a raging great time listening to some awesome live music, then come here.
Just so you know, it's not a huge place. So, if you want to get prime position, you'll want to get here earlier… before the action starts around 9pm.
Before the band hits the stage, you can warm up your lungs with some brews. And, the small local beers if we recall, cost around 90 baht each. Sorry, we can't remember exactly!
So, whether it's ACDC, Guns 'n Roses, even through to Creedence Clearwater Revival… you'll be amongst people who like similar music. Everyone will be having a rockin' night out.
You can't help but not sing or dance! We weren't the only ones. Just be wary that you may lose your voice the next day from all the singing, cheering and shouting… as we all call out for, "One more song, one more song!"
As you wake up the next morning, if you can't or don't want to back up last night's efforts at Rock Zone… then you can experience a more laidback, Hua Hin nightlife atmosphere at this place.
5. Tamarind Market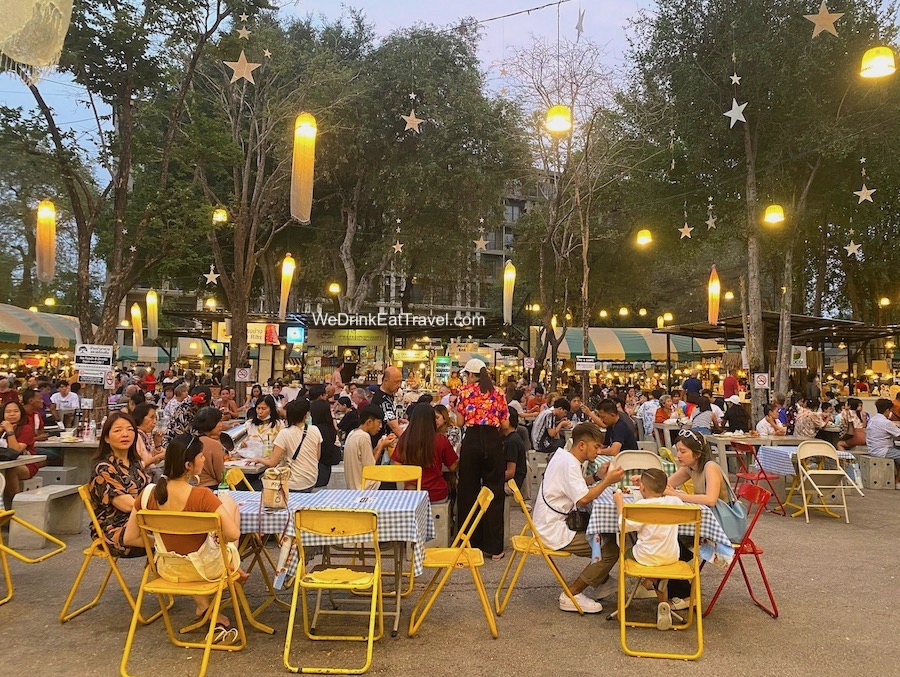 Tamarind Market is a place to chill once the sun goes down. While this night market is about 6km from the centre of Hua Hin… it's easy and cheap to get there.
For example, you can catch the green color songthaew… which costs a crazy cheap 15 baht, one way. That's about USD $0.45, GBP 0.33, EUR 0.40. Otherwise a Grab car is cheap too. Or, you could spend more for a cruisy ride in a tuk tuk.
When we went it was only about 7pm, and was already chock full of people.
There is a mix of people from families, groups, couples and singles. Yet, one thing in common is that many people flock here for the range of food places to try. Plus, most of the prices for food at these stalls are really cheap.
You could have wood fired pizza, bugs, roti, ice cream, deep fried foods, noodles… through to almost anything else you can imagine, at the Tamarind outdoor market.
And, if you're looking for alcohol then you don't have to search far and wide… as the bars are in the centre of the market area. There are only a few places and no happy hours here. But who cares, the beers are COLD and only 55 baht for a small local bottle.
So, you can relax with your beverages and food… whilst also enjoying listening to some live music, in a laidback environment.
6. Soi 80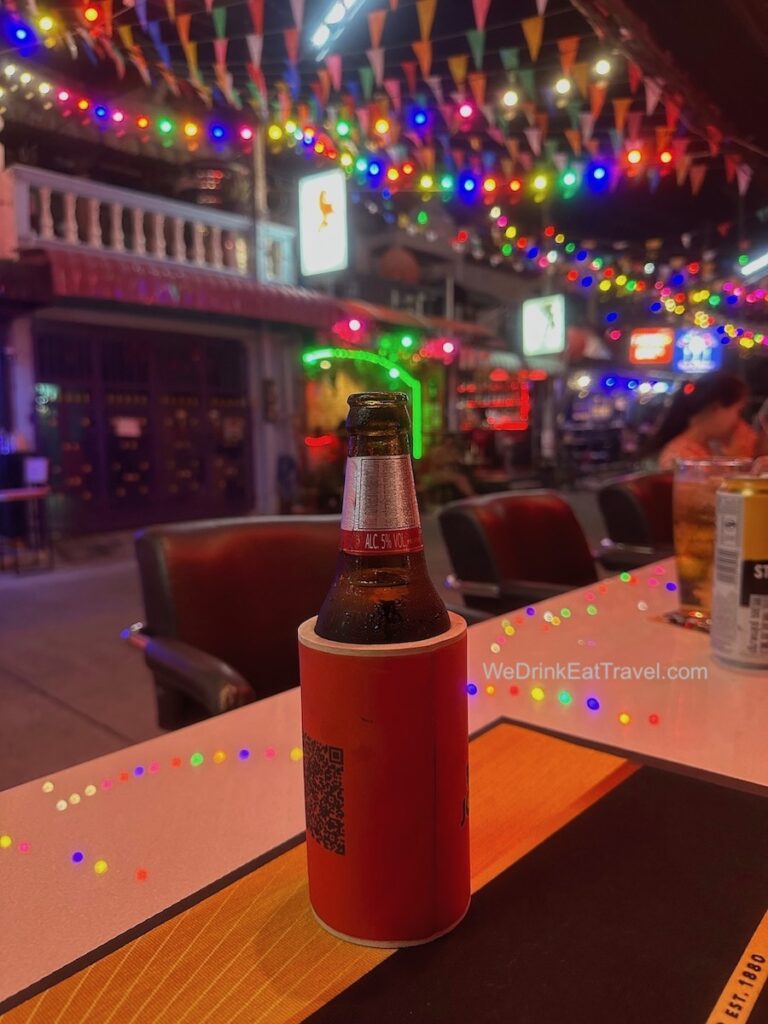 Yes folks this is Soi 80, not Soi 88 so don't get confused! Similar to Soi Bintabaht, Soi 80 has many different types of bars lining the street… so you explore even more of the Hua Hin nightlife.
Plus, if you're up for a chat with the bar girls… or to play a round or two or more of pool, then you'll get that here.
Not only are there a lot of bars down this street, there are some eateries too. So, you can stop by, mid-bar crawl to have a feed and continue drinking afterwards.
So, as we were wandering down Soi 80, once we saw the sign for Joe's Aussie Bar… we of course had to go in. "Aussie, Aussie, Aussie, Oi, Oi, Oi!"
Just so you know, most of the places don't advertise their drink prices. So, you either have to ask or if you don't care… just go into the ones that you like the look of!
To give you an idea… during happy hour the price of small local beer can cost a measly 50 baht. That's about USD $1.45, GBP 1.15, EUR 1.30. And, one place we went to had happy hours from 11am to 9pm!
Otherwise expect prices for small beers to be around 80 baht. Again, that's cheap, and dangerous if you want a big night out. Ha, ha, ha!
7. Hua Hin Night Market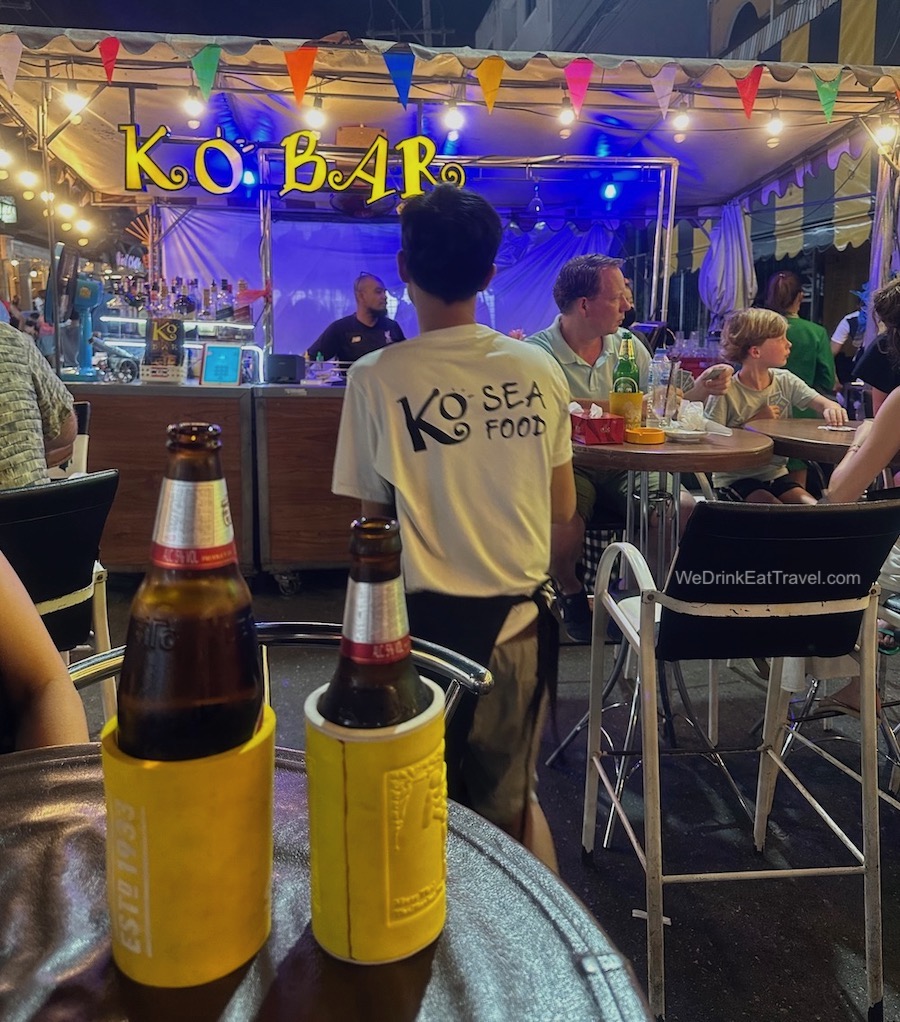 If you want to combine the Hua Hin nightlife with shopping and food and more… then head on over to the Hua Hin Night Market. Here, you can check out the many stalls selling souvenirs, clothes, gadgets, jewelry, and more… while snacking on some street food.
Plus, if you're after something more substantial… then there are plenty of restaurants to choose from. Your nose will be working overtime from all the delicious aromas.
Now, the Hua Hin Night Market sure is a busy place… with lots of tourists flooding in from the bus loads!
You do need to know that that it spans across 2 streets. So, when you think you're done at the market… you're NOT!
If you want to chillax having some beverages… we did find a couple of places where Thai singers would belt out Western music, with their local twang. And, while they soulfully sing their tunes… you can people watch for a relaxing night out.
8. The Side Streets off Soi Bintabaht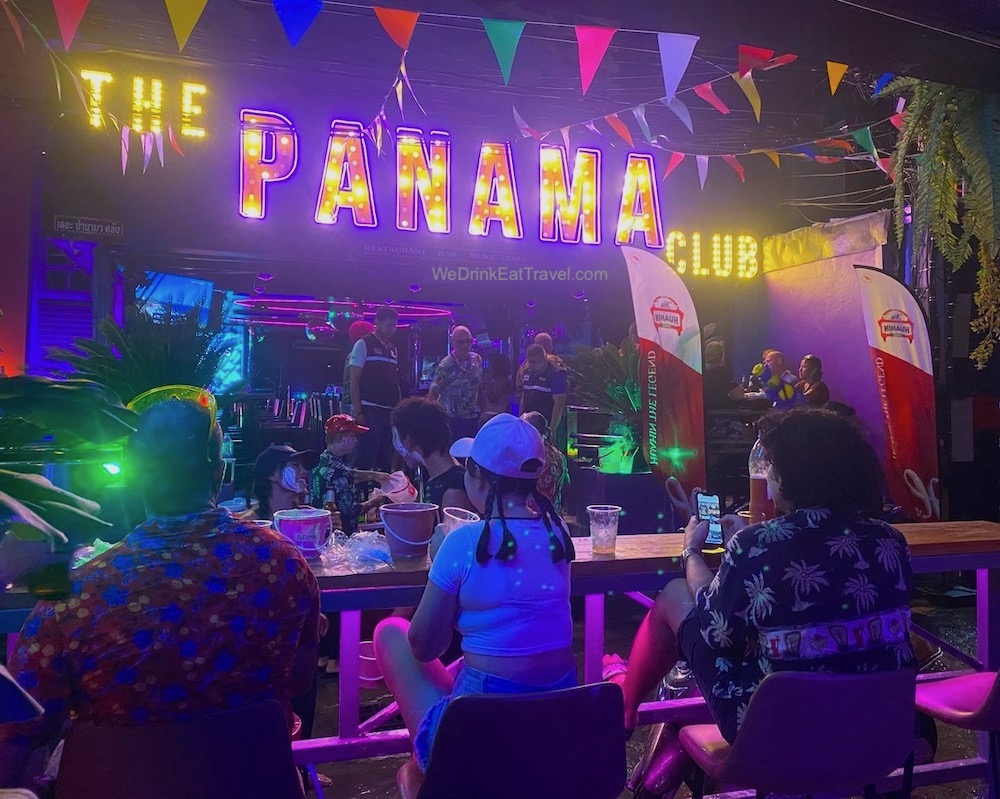 We began our We Drink Eat Travel blog about the Hua Hin nightlife, with the popular Soi Bintabaht. Yet, while you're in the area you must check out the side streets nearby… as there are heaps more bars and night clubs to check out.
And, rest assured that if you can have a HUGE night out a stone's throw from Soi Bintabaht. With fluro lights, fanatical bar staff and flaming cheap drinks… that all makes for a lively night out!
Plus, to bump up the atmosphere… some of the bars are happy for you to steer their music through YouTube. So, then you could have free reign and be a DJ for a night… while having cheap drinks. Pretty awesome, right?
So there you have it, 8 interesting places to check out the Hua Hin nightlife. If you're in this wonderful beach town for a little while… there are different pockets to experience, once the sun goes down.
And, if you can… we recommend you experience the different nightlife areas more than once. That's because the atmosphere can dramatically change from one night to another.
Yet, there's no doubt that the most popular place is Soi Bintabaht. Yet, make sure you discover the other bars and nightclubs within meters of this vibrant street too… for some different action.
If you want to see an array of colorful bars under the one roof, then check out the Soi 94 bars… through to the laidback atmosphere of Tamarind Market. And, for a place where you can unleash your inner Axel Rose… then you MUST head on over to Rock Zone.
Wherever you go to experience the Hua Hin night life… you'll find that when comparing the prices to Bangkok, the drinks are way cheaper. And, it sure does have a different vibe. We're not sure exactly how to describe it… but maybe it's because Hua Hin is along the coast?
You'll have to go yourself to see what we mean!
You Might Be Interested In This Too..
Check Out 17 Amazing Things To Do In Hua Hin
15 Of The Best Things To Do In Siem Reap
What You Need To Know About Pub Street Siem Reap And The Nightlife
Chatuchak Weekend Market: 7 Top Things You Need To Know
How To Get To Chatuchak Market In 2 Ways
How To Go To Platinum Fashion Mall Bangkok By BTS
What You Need To Know About The Bangkok Canal Boat On Saen Saep
Bars In Danang – 7 Of The Best Places
VAT Refund Bangkok: How To Get Money Back On Your Shopping
Is Kuala Lumpur Worth Visiting? 15 Interesting Things To Know
27 Of The Best Things To Do In Bucharest
Thai Airways Review: From Melbourne Australia To Bangkok
Here's A Stress-Free Way To Book Your Private Transfers
Need Accommodation?
Find Your Perfect Vacation Accommodation
Want Cheap Flight Deals?
Looking For The Latest Flight Deals? Click HERE
Get Real Cashback From Your Vacation!
Discover How You Can Get Cashback From Your Vacation Bookings