There are so many amazing and interesting things to do in Hoi An to fill your itinerary. It had been a few years since we were able to enjoy Vietnam again. And, due to the Vietnam Visa situation at the time we had only one month to re-explore.
Thus, we made a decision to stay in one place in Vietnam. That would allow us to relax and explore the sights at our leisure.
Now, the Hoi An Ancient Town is on the UNESO World Heritage List. It showcases an exceptional example of a well-preserved South-East Asian trading port… that dates back from the 15th to the 19th century.
This quaint town has many intriguing landmarks to visit… as well as a delightful array of delicious foods to try.
So, in this We Drink Eat Travel blog… we'll run through 25 different things to do in Hoi An, Vietnam.
Let's kick it off with this attraction…
1. Check Out the Infamous Japanese Covered Bridge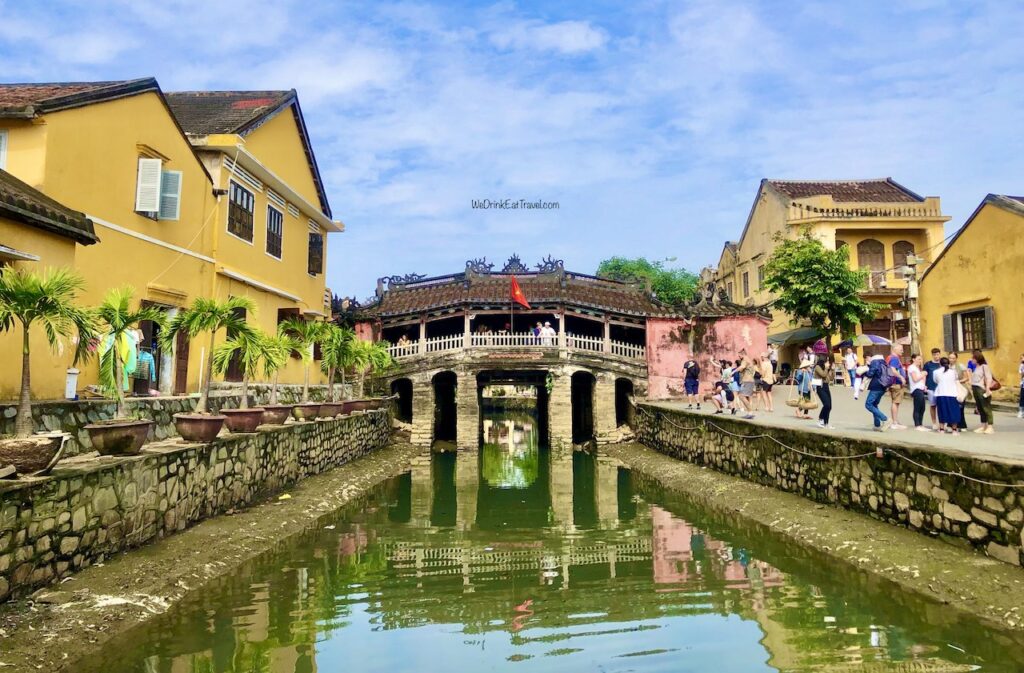 This historical bridge built in the 17th Century serves as a footbridge, and a pagoda. Thus, while many tourists flock to this landmark, the locals treasure this for their religious rituals.
Now, it sure is challenging to get photos of this infamous bridge WITHOUT anyone in it! So, patience is a must. Have your camera or phone ready at all times… for that one split second for a memorable capture.
2. Discover the Bustling Hoi An Central Market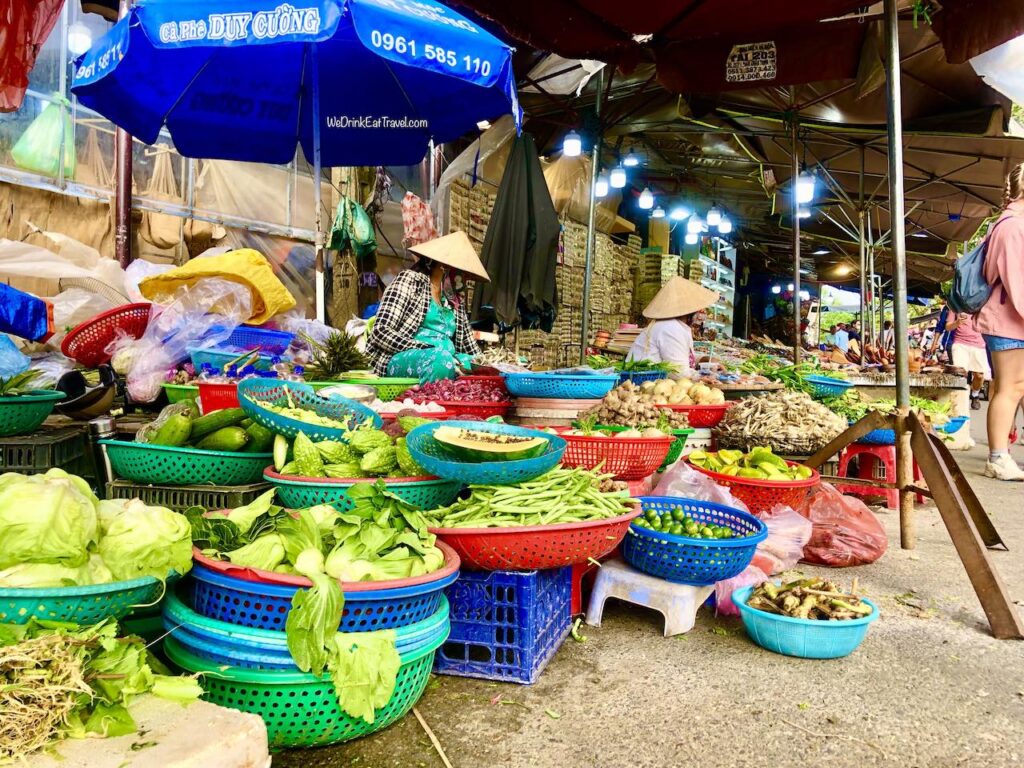 For a bustling atmosphere you need to check out Hoi An's Central Market. And, while many popular markets in a city are outside of the central area… you won't have far to go to experience this one. Its location is amongst most of the other major landmarks in the Ancient Town… nearby the Thu Bon River waterfront.
You'll see plenty of stalls selling amazingly fresh produce… through to homewares and more. There are even ladies sitting on the road side selling their wares.
One of the top things to do in Hoi An if you're an Anthony Bourdain fan is this…
3. Eat Delicious Banh Mi at the Place Anthony Bourdain Made Famous
We're big fans of the late and great, Anthony Bourdain. And, when watching his videos about Vietnam, you can see he was in love with this amazing country… we understand why! Now, when in Hoi An, one place that he went to that did skyrocket their popularity… was Bánh Mì Phượng.
We LOVE bahn mi! The banh mi here is scrumptious… and surprisingly we thought that the prices were reasonable despite their fame. For example, this vegetarian Banh Mi with slabs of creamy avocado and tasty tofu was only 35,000 VND… that's about USD $1.50, 1.35 Euros or 1.15 GBP.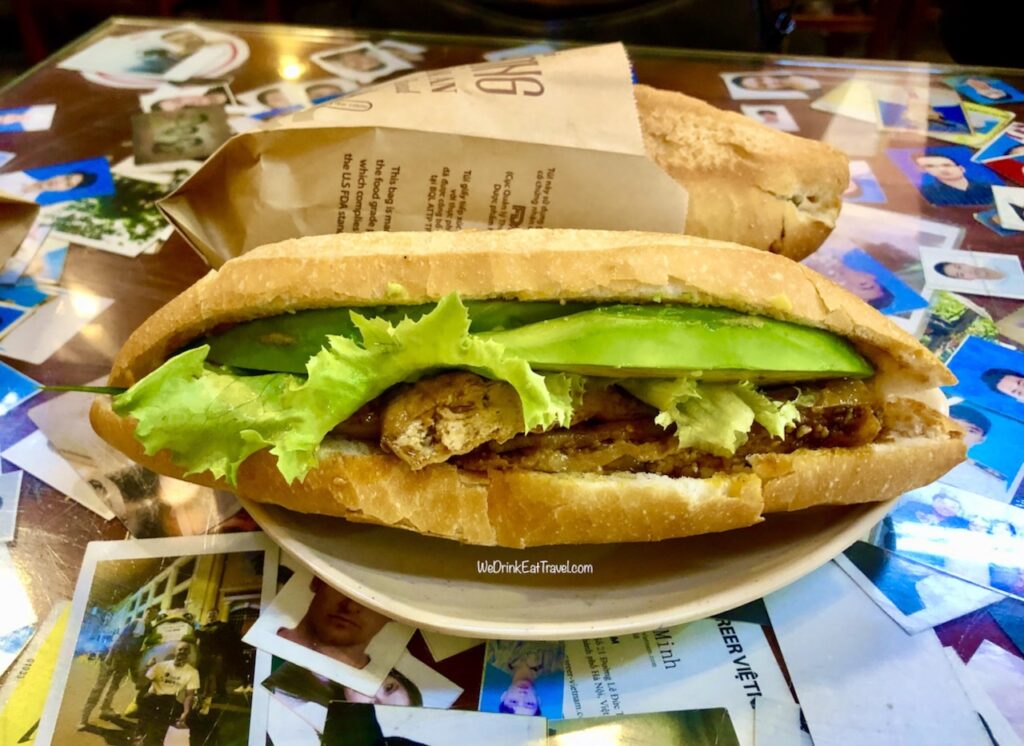 With such a popular destination, it's likely that you'll need to line up with other eager and hungry people!
4. Get Jolly with Cheap Beers & Drinks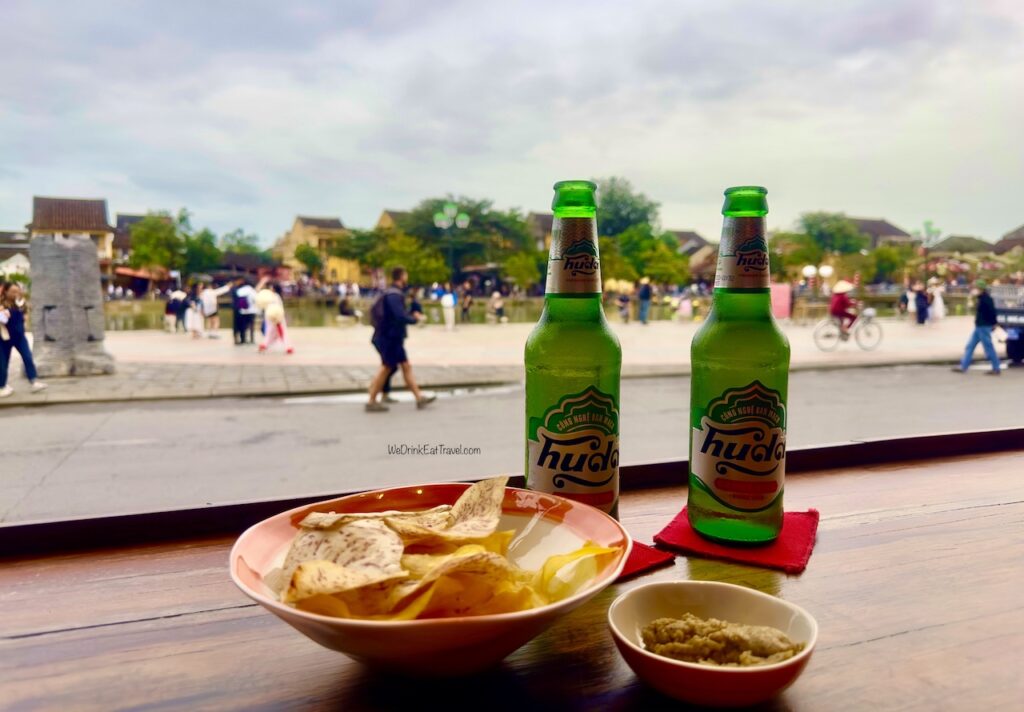 It's without doubt that that to drink in Vietnam it's super cheap. And, to drink alcoholic beverages is ridiculously cheap… especially in comparison to other SE Asian countries.
And, for a town with a high volume of tourists, we found a few places that would serve 10,000 VND beers, all day, every day. That's right, they're not happy hours. They're the standard price all the time! Now, that's a crazy cheap USD $0.45 / 40 Euro cents / 0.35 GBP for a big bottle of local beer. That was along Cua Dai street and NOT in the Old Town area.
In the Ancient Town, expect to pay around 30,000 to 45,000 VND for beers. Also, many places have happy hours so look out for those if of interest.
5. Experience the Colorful Lantern Festival
Plan your visit for one of the most picturesque things to do in Hoi An… and that's to see a lantern festival. These once every month at the time of the full moon.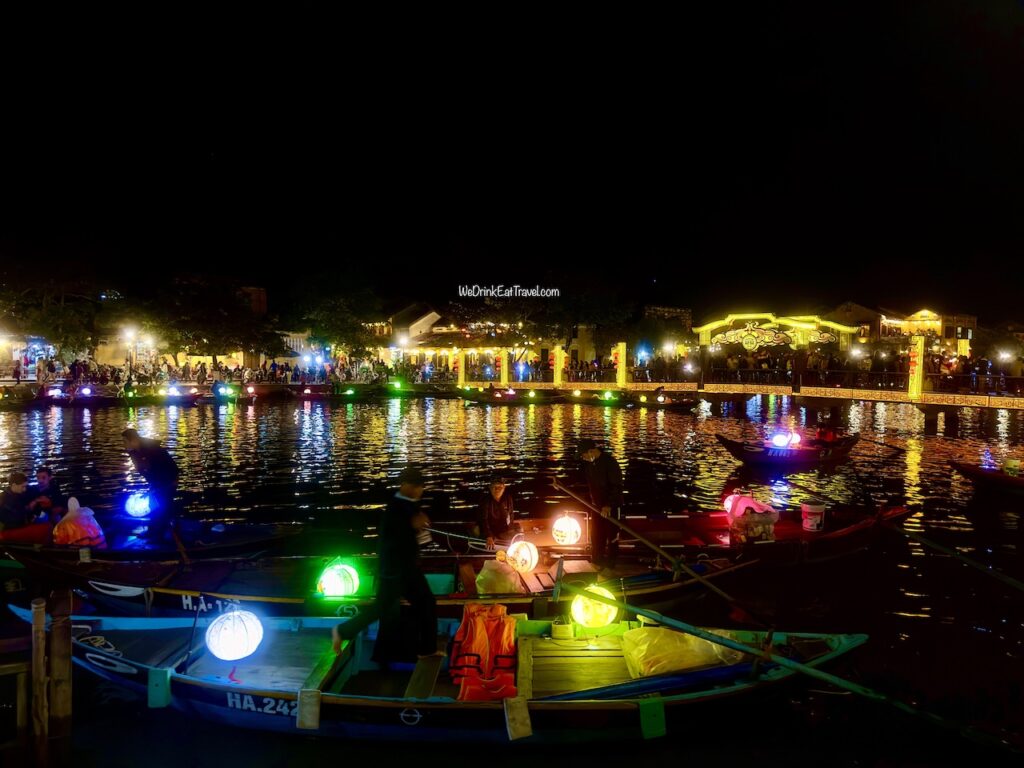 Steeped in history you can also take part in purchasing and lighting a lantern… setting it afloat in the Thu Bon River. It is a magical experience as you see the mountains of colored lanterns light up the dark of the river.
6. Take Photos with the Local Ladies, if You Dare!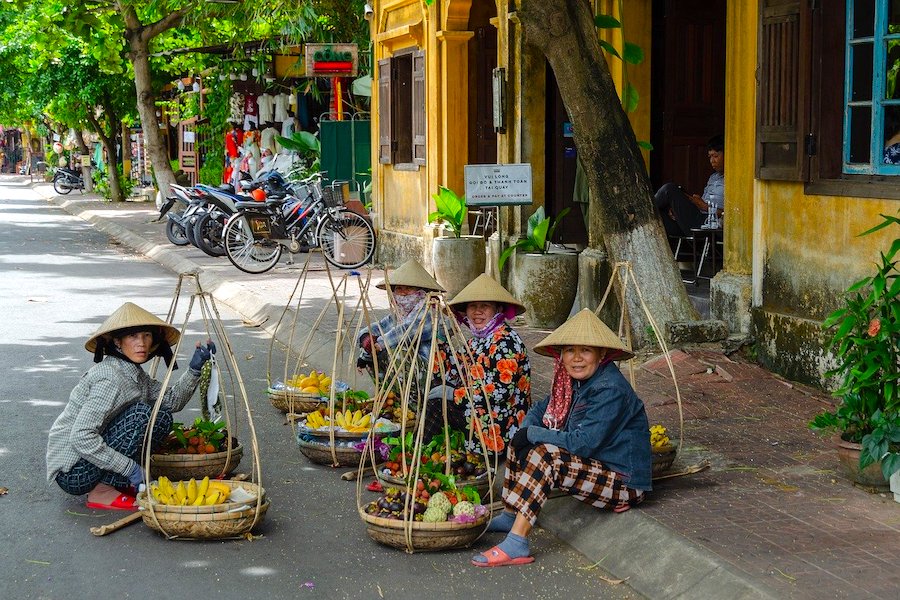 As we've been to Vietnam many times, we understand the scams that can happen. Yet, sometimes travelers don't care about having to fork out money for things… as they may never get the chance to come back to this destination again.
And, when you're in Hoi An Old Town you'll see the lovely ladies with their conical hats… carrying two baskets of goods hanging from a shoulder pole.
Now, we have to warn you that while it all may seem innocent… if you take a photo with them, many will demand money from you. This is when you either pay up or act as an unknowing tourist.
7. Relax in Hoi An Central Park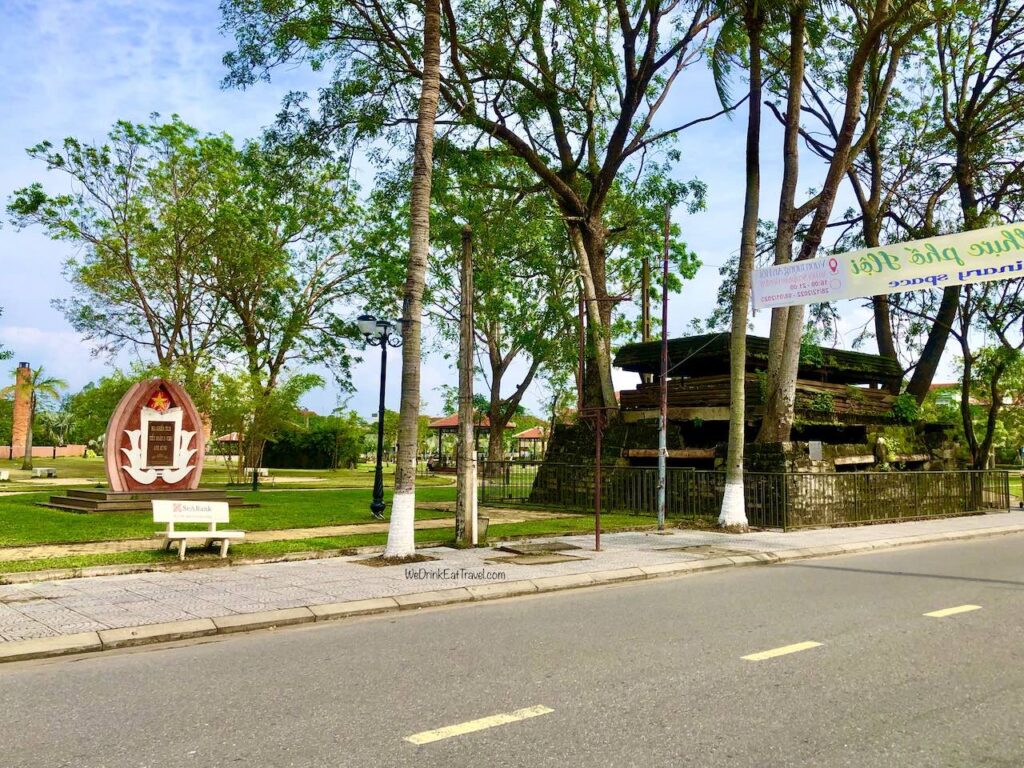 If you happen to be strolling along Lý Thường Kiệt Road, you'll notice a huge park with big terracotta columns. This vast area is Hoi An's Central Park or in Vietnamese is, Công viên Trung tâm Hội An.
While it's a place where you can relax in a big open space… there didn't seem to be many tourists who frequent this place, at least when we went.
Now, we highly recommend that you put this on your list of things to do in Hoi An…
8. Enjoy Glorious Dining with An Exquisite View
Hoi An has such a beautiful environment with all the brightly lit colored lanterns… and a bustling atmosphere. So, one way to soak it all up and enjoy the scenery is enjoying a fine dining experience by the riverfront.
Now, one place we thought that was incredible was Morning Glory Signature Restaurant.
NOTE: there is the Morning Glory Original Restaurant too. Yet, make sure you go to the Signature restaurant… as it has an upstairs section for more elaborate dining overlooking the landscape.
We did indulge in a LOT of food and drink here. And, we almost fell off our chairs when we saw the bill. To give you an idea of pricing… we had six dishes, two beers and one bottle of wine for 1,385,000 VND. That's only about USD $58.45, 52.10 Euros or 44.70 GBP. Not bad hey, for all that delicious food and drink with exquisite views!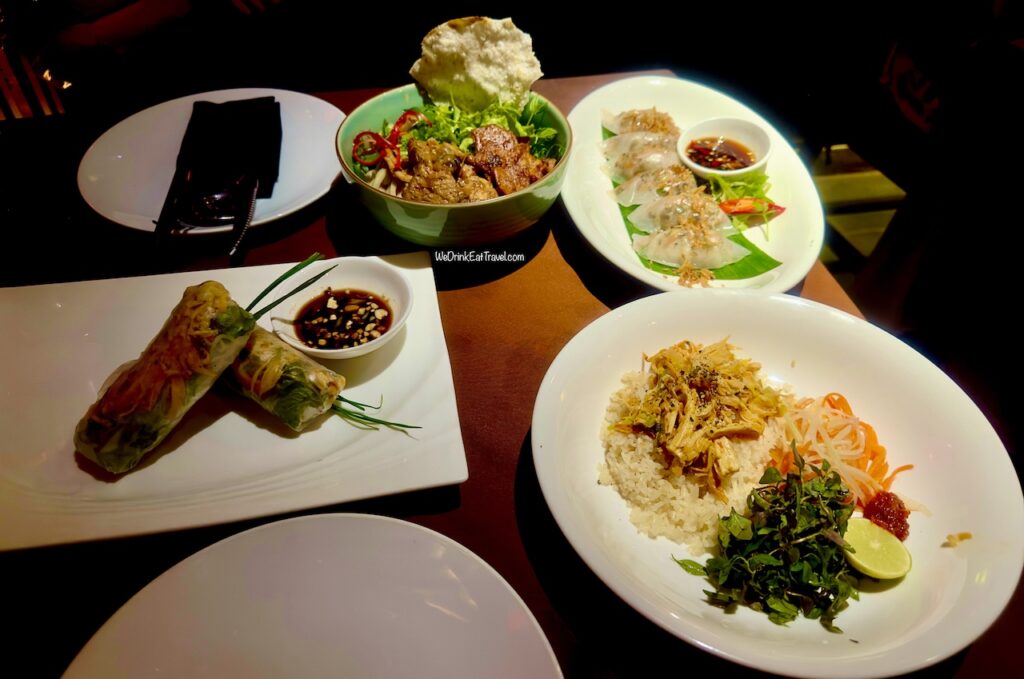 9. Rent a Bicycle or Motorbike to Explore Hoi An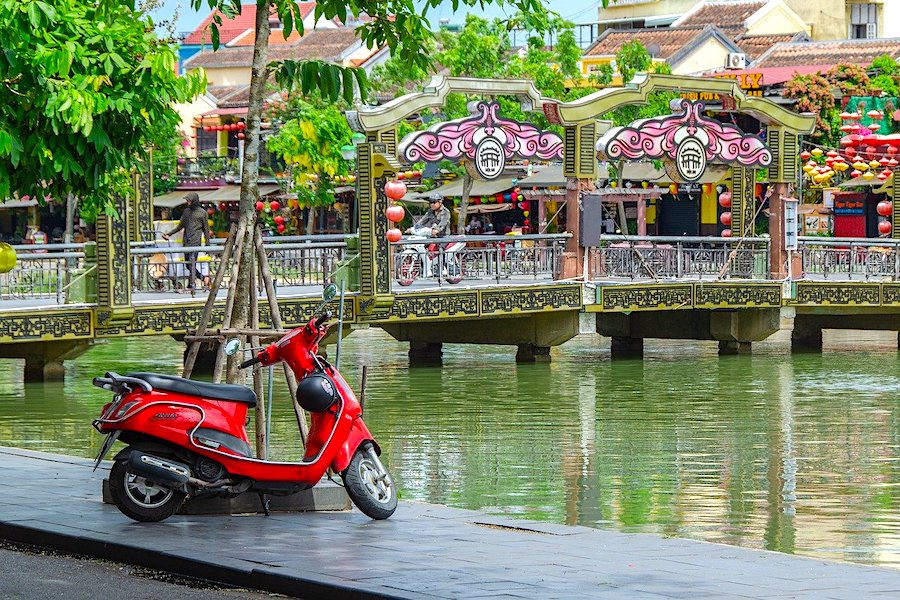 Unlike some countries in Asia who have outlawed tourist motorbike rentals… at the time of writing this blog you can still rent bicycles and motorbikes as a tourist.
Prices of course vary. As a rough guide, to hire a motorbike for a day, expect to pay around 200,000 VND. Or, if you'd like more of a workout… then the daily hire of a bicycle in Hoi An may cost around 30,000 VND.
Now, we must warn you that bike riding is at your own risk. Once you arrive in Vietnam let alone Hoi An… you'll discover how hectic the traffic can be. Road rules? Not really!
10. Shop for Local Handicrafts
If you're looking for unique souvenirs, artwork or crafts made by the locals… you'll discover many places offering handmade goods. Now, you will most likely need to haggle to get a more reasonable price. Yet, with so many stores you're sure to find something for yourself, friends or family.
Now, if you LOVE coffee then you must put this on your list of things to do in Hoi An…
11. Try the Many Varieties of Vietnamese Coffee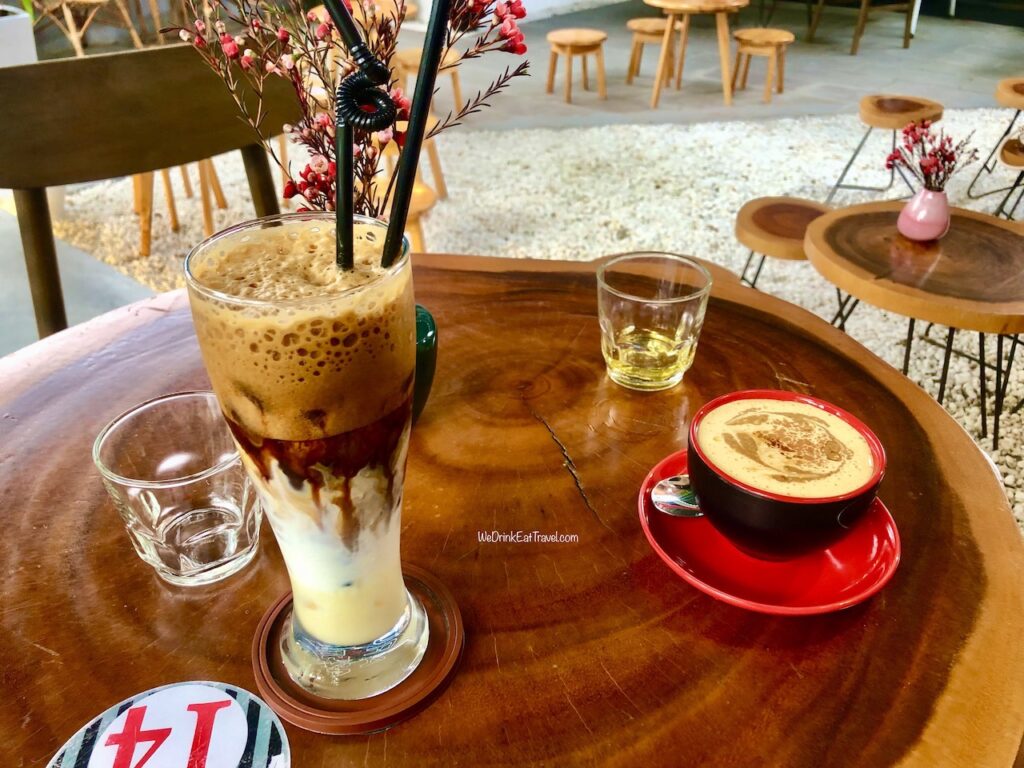 If you're a coffee lover then you'll love trying all the different varieties on offer. From Vietnamese egg coffee through to iced coffees with a big scoop of ice-cream… there's plenty of tasty options. And, you'll be buzzing from all the coffee as the prices are damn cheap.
Basic coffess starting from around 15,000 VND; about USD $0.65, 0.60 Euros or 0.50 GBP.
12. Get Your Selfies at the An Hoi Bridge
One of the main bridges connecting the Old Town to the other side of the Thu Bon river is the An Hoi Bridge. And, you'll find that many tourists flock here not only to gaze at the beauty of this town… but also to take selfies and photos beneath the Hoi An sign.
13. Get Some Custom-Made Clothes for Cheap!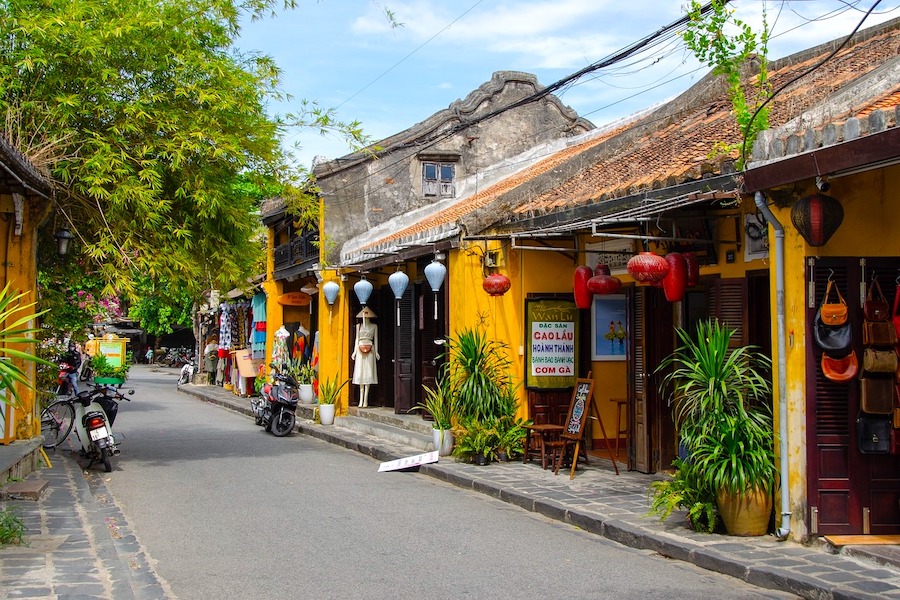 One of the other main drawcards that has made Hoi An popular… is the many tailors that line the Old Town streets and beyond. Whether it's a tailored suit, dress, shoes or more, you can get it done cheaply in Hoi An.
We've been to a few tailors in Hoi An with varying success. Thus, we do recommend that you do your research, as the skill level, and quality of materials differs too. Plus, if the tailors have difficulty in understanding your needs… then this can lead to disaster, wasting money and time.
In saying that, some tailors do offer money-back guarantees if you don't like what they produce. Others require a deposit or even payment upfront. Some claim they can produce garments within 24 hours!
Yet again, do look into who you'd like to custom make your clothes or shoes… so you can leave happy and with a positive tailoring experience in Hoi An.
14. Experience the Beauty of Hoi An at Night Time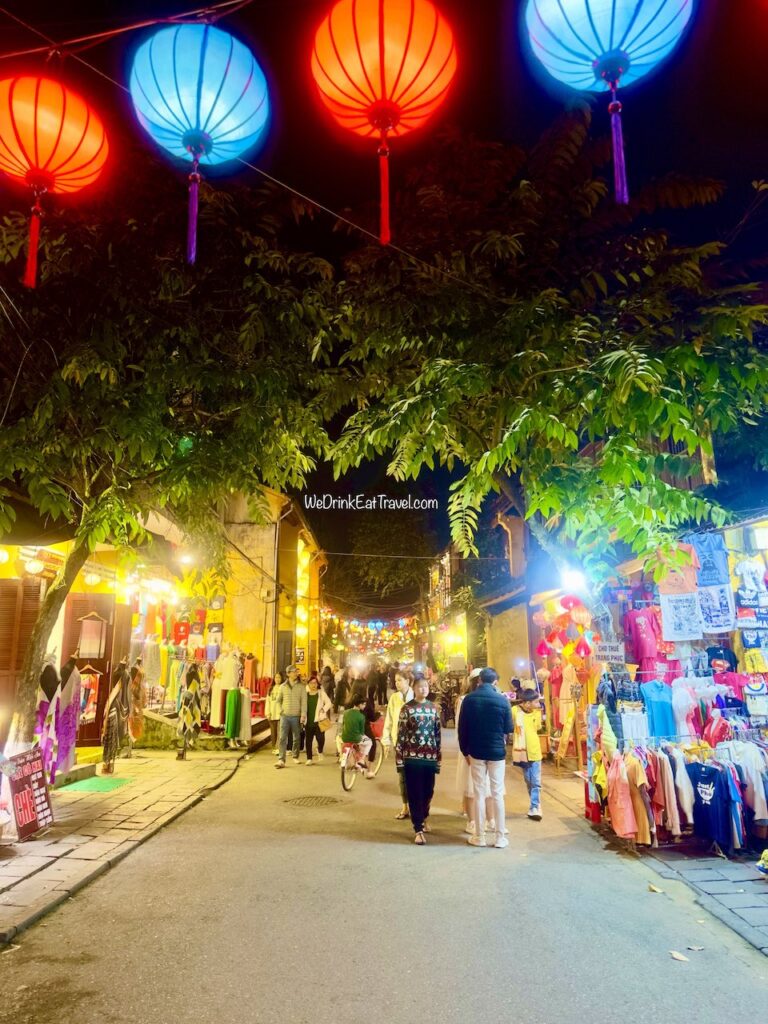 This is undoubtedly one of the top things to do in Hoi An! So, you must plan your itinerary so that you can witness Hoi An at night. Not only will it become more of a bustling hub in the Old Town area… it looks magical with the myriad of rainbow color lights, and brightly lit romantic lanterns.
Now, when you're checking out Hoi An at night time, you should have a look at this place too…
15. Explore the Hoi An Night Market
It's chock full of street food which is why you may also hear it by the name of the Street Food Night market. As well as the variety of street food… you can check out other stalls selling souvenirs, trinkets, accessories and more.
Yet, there is another reason why this is a very popular place for tourists to take their selfies or Instagram shots. And with a backdrop like this, you can understand why!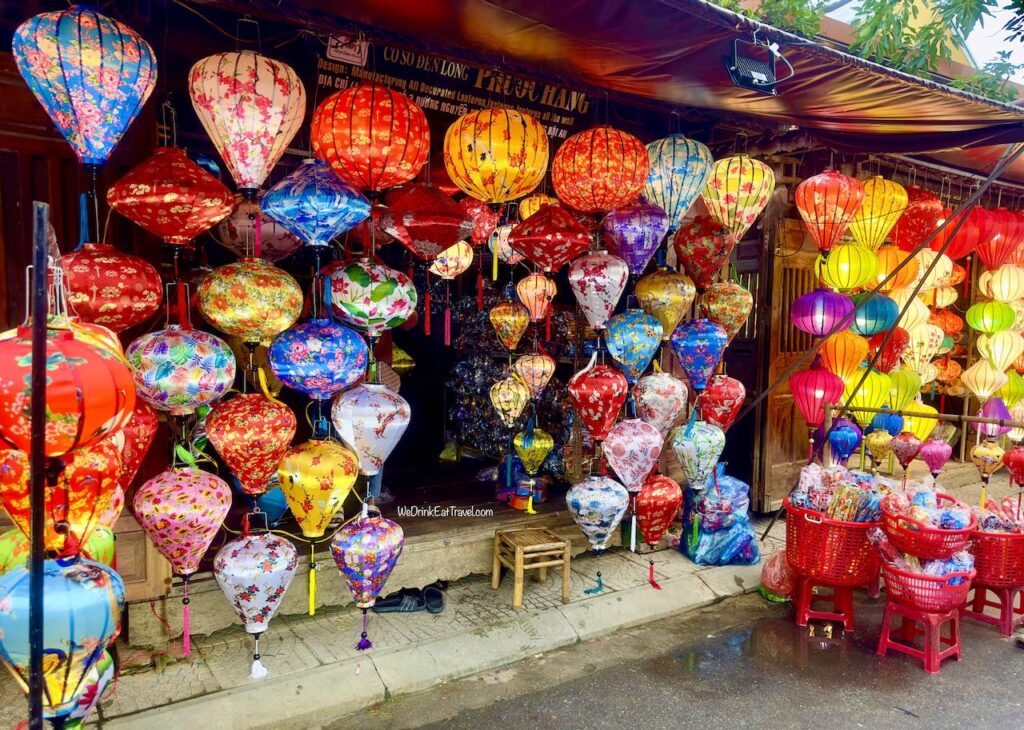 Now, while we're on the subject of night time, you should do this too…
16. Experience the Hoi An Nightlife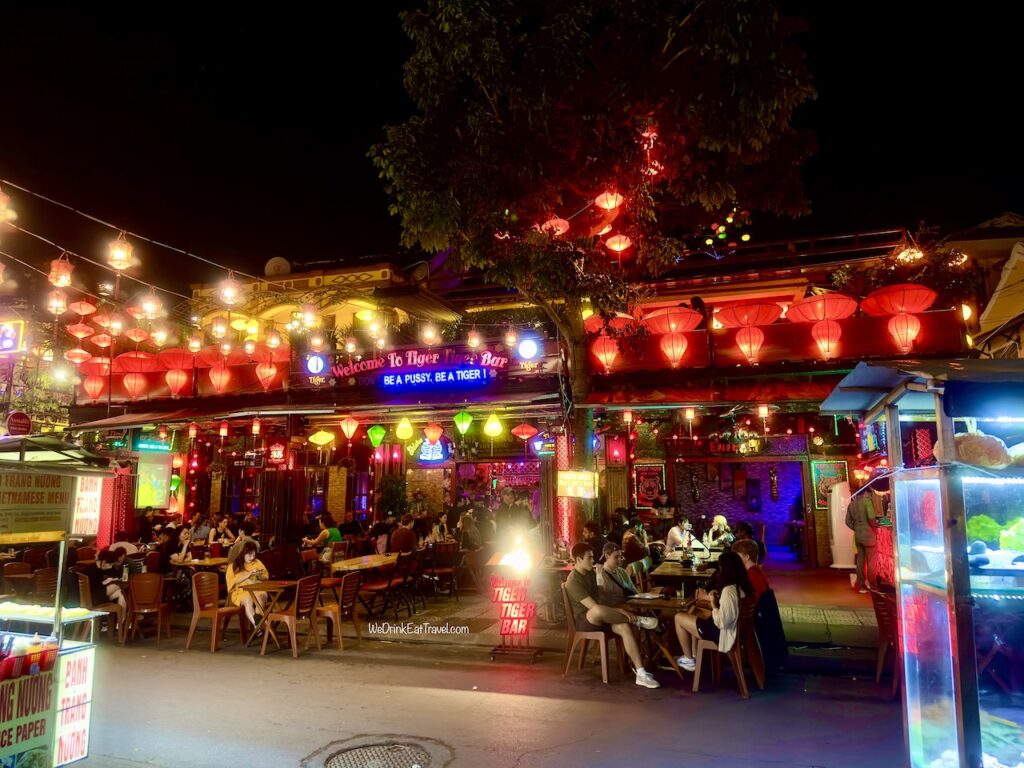 There are many places to go to experience the atmosphere of Hoi An at night. And, you'll discover that on both sides of the river are many bars and restaurants to hop from one to another.
Many of them have happy hours where you can get cheaper drinks… while enjoying watching the action along the waterfront. There are also some great places dotted around the Ancient area… if you're wanting to be amongst the pretty lanterns of this UNESCO town.
17. Devour Some Vietnamese Pho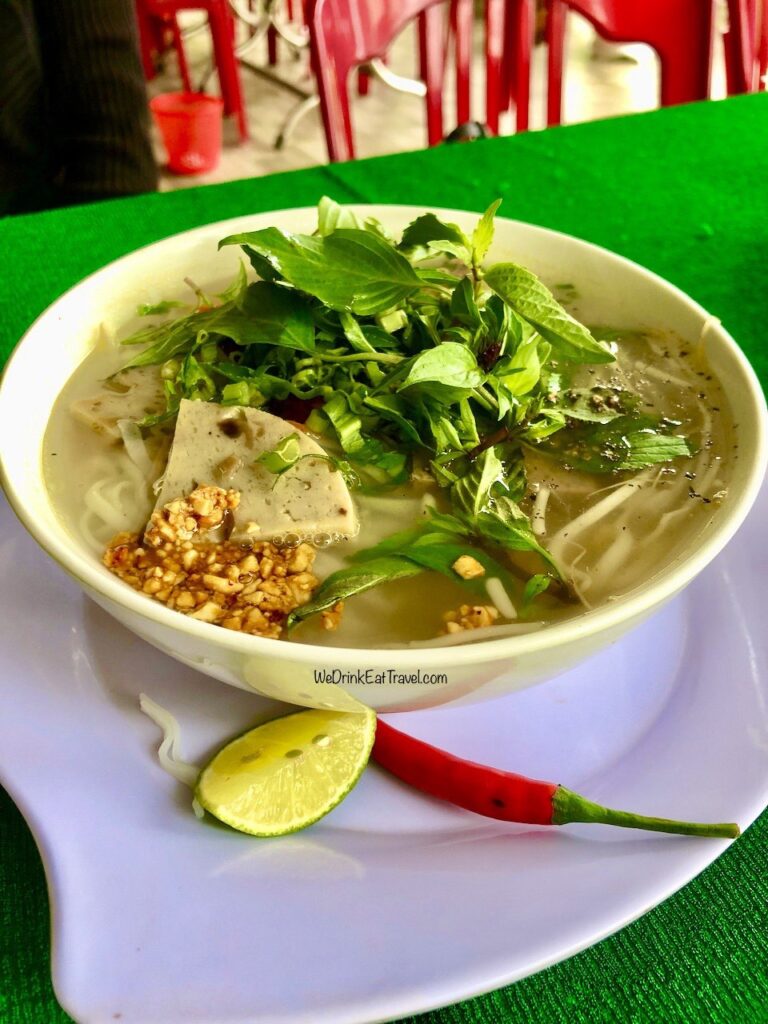 While banh mi is a cheap and scrumptious dish at any time of day or night… one of the other things to do in Hoi An for foodies is to try the Vietnamese Pho. You can't miss devouring this delicious soup noodle dish with fragrant fresh herbs. Now, in Hoi An specifically, the local noodle specialty is Cao Lau.
Depending on where you go, it can cost as little as 20,000 VND, for a filling and yummy dish. Plus, if you're vegetarian or vegan… there are places which make pho without a meat base broth.
18. Take a Stroll Along the Thu Bồn River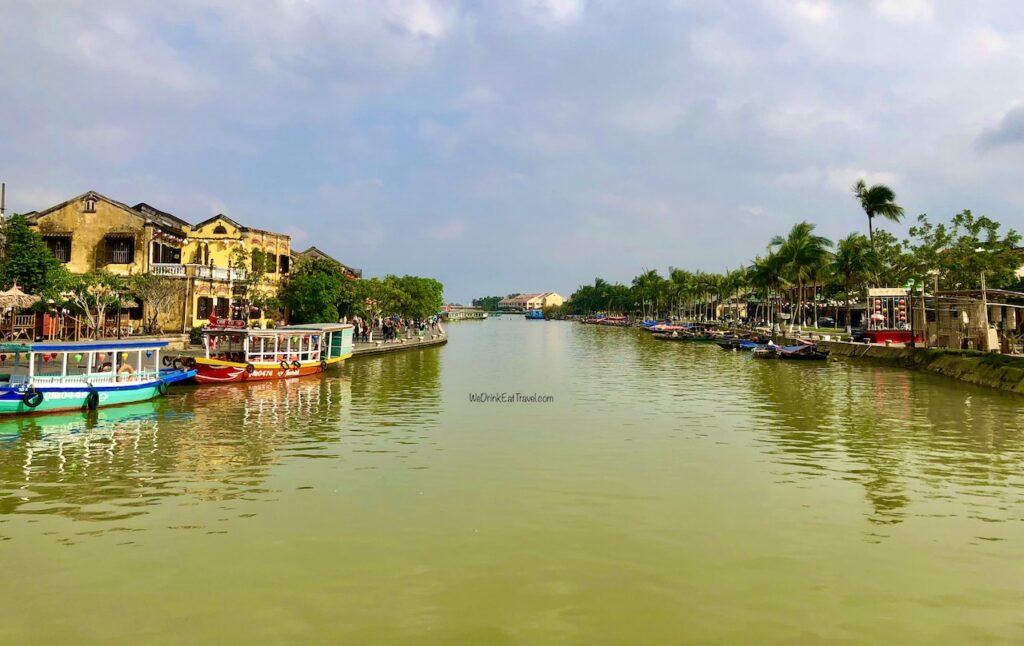 Have a stroll along this main river that flows through Hoi An… to discover the many shops, restaurants and bars that line both sides. And, if you're up for a local boat ride then you can pay for a river cruise in one of the many coloful boats!
19. Discover Incredible Art at the Precious Heritage Art Gallery Museum
When strolling the quaint streets in the Old Town with the many yellow painted buildings… you eyes will definitely be drawn to the Precious Heritage Art Gallery Museum. While it's only a small gallery… it sure does have some amazing art on display, even before you step inside.
20. Discover a "Newer" Landmark in Ancient Hoi An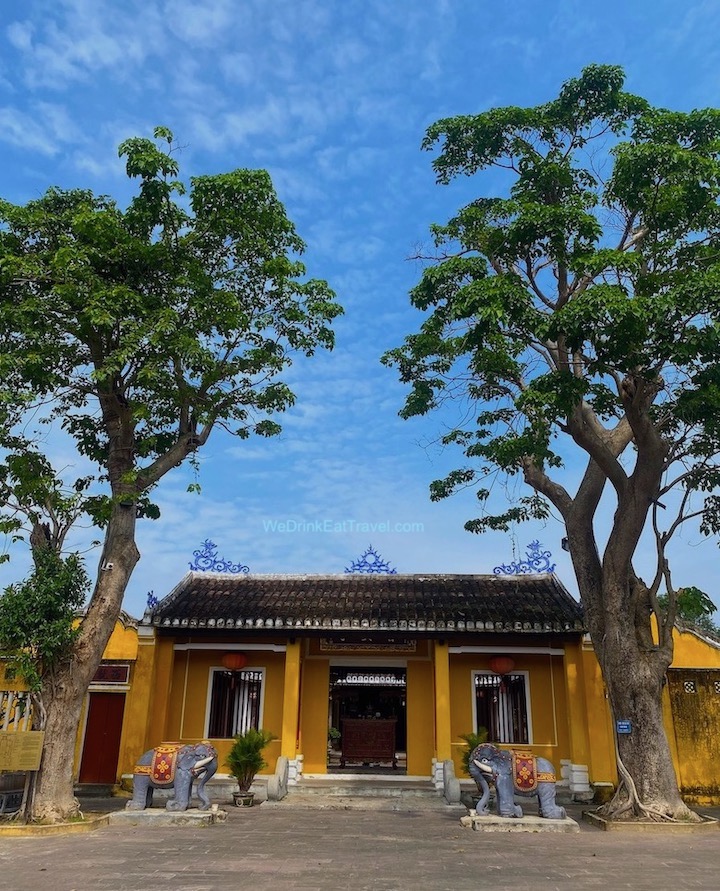 Đình Ông Voi, the Hoi An Communal House, is one of the newer additions in this town's Old Town area… with its opening in 2022. And, when you see the exterior a couple of the distinctive features are the two elephants in front… as well as the massive trees.
Now, here is another of the later additions in Hoi An…
21. Tam Quan Ba Mu Temple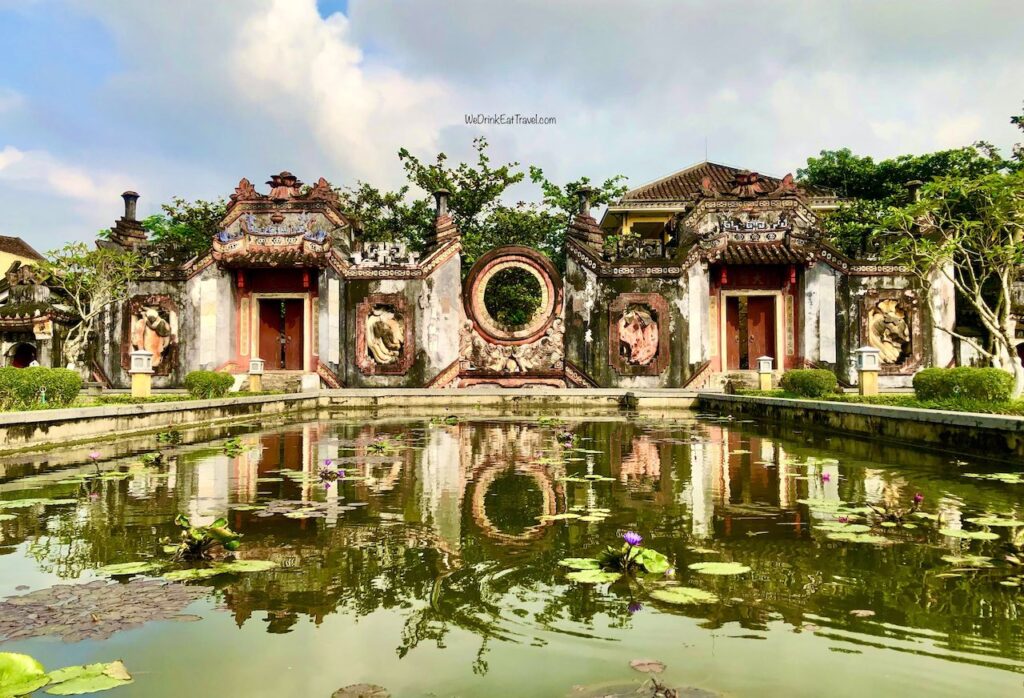 This is the amazing architecture and beautiful water reflection from the Tam Quan Ba Mu Temple. When we were in Hoi An several years ago, this landmark wasn't here. So, it was a pleasant surprise to see and you'd have to agree that it's beauty is incredible!
While there are many magnificent landmarks and things to do in Hoi An Ancient Town, set time aside to do this…
22. Check Out the Hoi An Beaches
Having traveled through Vietnam several times, for one of the major cities… Hoi An has some of the most picturesque beaches and some not too busy either, which is great.
Now, one of the more popular beaches is An Bang. And here, there's an awesome vibe with clots of great places to eat and drink. You can sit back and enjoy the incredible landscape while having a bevvy or two or more! Just be aware that it's about 4.5km from the Old Town area.
23. Witness the Beauty of the Hoi An Cantonese Assembly Hall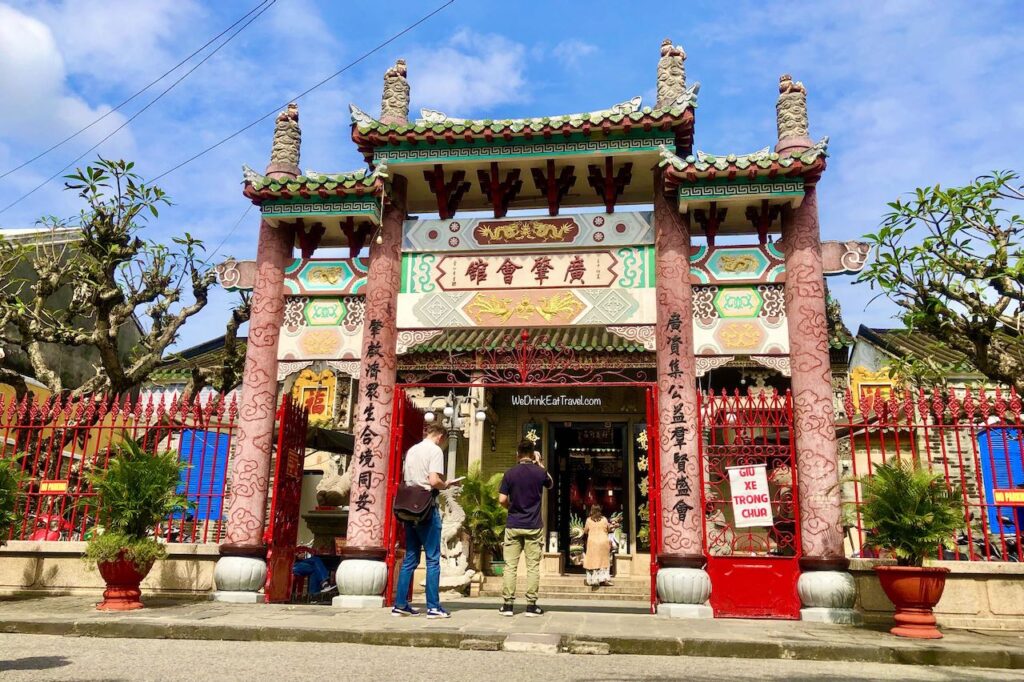 You can find the exquisite architecture of The Cantonese Assembly Hall (Hoi Quan Quang Dong)… on 176 Tran Phu in the Old Town. It was built in the late 18th Century with magnificent detail and ornaments. There are different sections to view once you step within the grounds of this popular landmark.
24. See the Elaborate Fujian Assembly Hall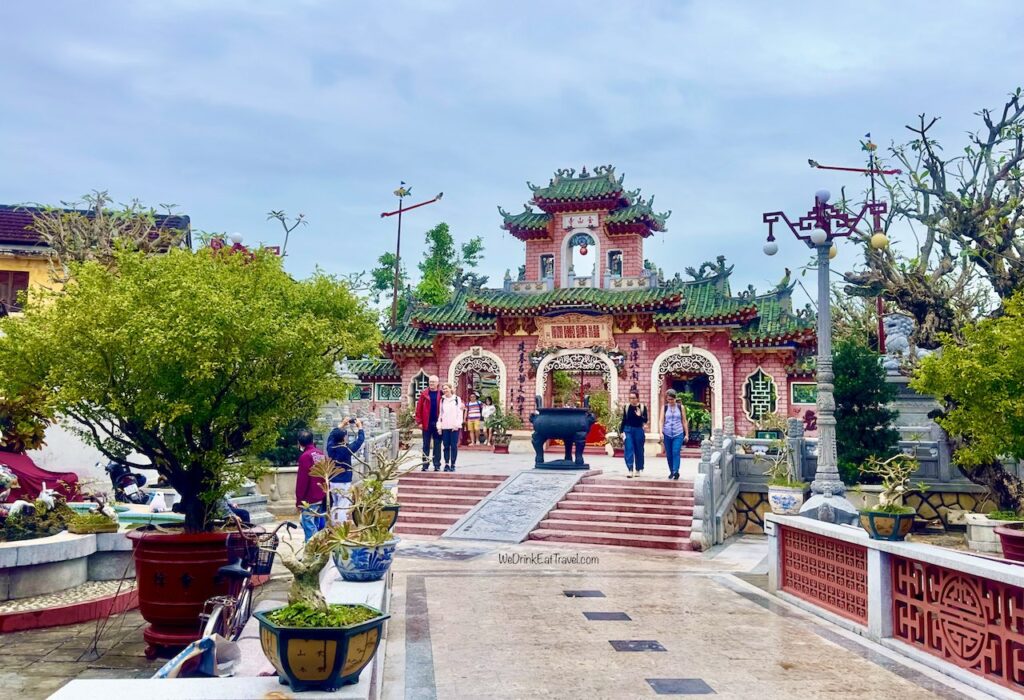 The Fujian Assembly Hall, also known as the Phuc Kien Assembly Hall, is a popular landmark in the Hoi An Ancient Town area. Built in the late 1600's, it was a hub for the Fujian Chinese community to congregate. And later, it became a temple for people to worship the sea goddess. And, as you can see the colors are striking and definitely a photographer's delight.
25. Get Lost Amongst the Infamous Yellow Buildings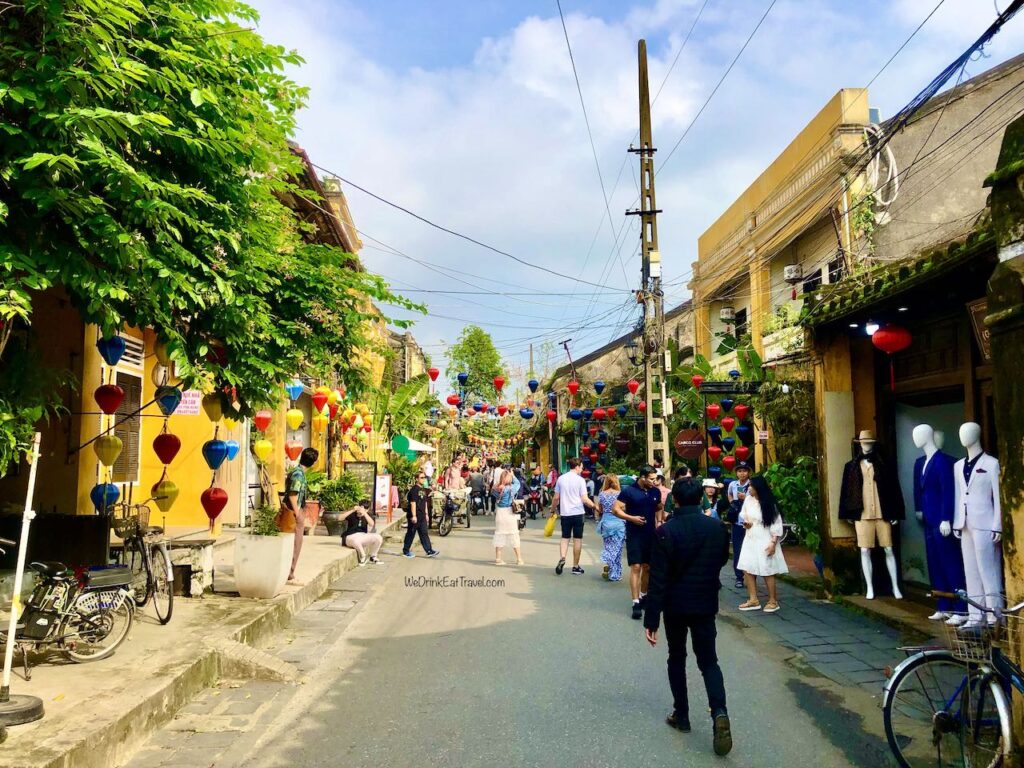 Not only do the gorgeous lanterns of Hoi An draw many visitors… the yellow buildings that drench the streets of the Old Town are beautiful to see too.
Now, there are several reasons that we've heard of as to why the buildings are in this striking color. And, it could be because it represents prosperity and good fortunre. While it's said that others believe that it's for practical as the lighter color absorbs less heat. Whatever the reason, it sure does look amazing.
So, there you have it, 21 different things to do in Hoi An, Vietnam. Now, you can understand why this gorgeous town is on the UNESCO Heritage Listing. For such a small place, this quaint town has so much offer with its historic landmarks, incredible beauty… and even vibrant nightlife.
If you only have a few days then you'll be packing in a lot in your itinerary! We had the luxury of spending a month here and it was relaxing. And, if you're foodie there are so many delectable options to try… from inexpensive street food through to fine dining.
Whether you're a family, couple, in a group or solo traveler… there's something for everything in this amazing town of Hoi An. ENJOY!
You Might Be Interested In This Too..
8 Interesting Places To Experience The Hua Hin Nightlife
Check Out 17 Amazing Things To Do In Hua Hin
15 Of The Best Things To Do In Siem Reap
What You Need To Know About Pub Street Siem Reap And The Nightlife
Chatuchak Weekend Market: 7 Top Things You Need To Know
How To Get To Chatuchak Market In 2 Ways
How To Go To Platinum Fashion Mall Bangkok By BTS
What You Need To Know About The Bangkok Canal Boat On Saen Saep
Bars In Danang – 7 Of The Best Places
VAT Refund Bangkok: How To Get Money Back On Your Shopping
Is Kuala Lumpur Worth Visiting? 15 Interesting Things To Know
27 Of The Best Things To Do In Bucharest
Thai Airways Review: From Melbourne Australia To Bangkok
Here's A Stress-Free Way To Book Your Private Transfers
Need Accommodation?
Find Your Perfect Vacation Accommodation
Want Cheap Flight Deals?
Looking For The Latest Flight Deals? Click HERE
Get Real Cashback From Your Vacation!
Discover How You Can Get Cashback From Your Vacation Bookings