When we were in Malaysia, we found that there are plenty of places to eat in Melaka for a variety of foods… and to satisfy our cravings! 
Plus, the great thing is… we found that we didn't need to walk far to hop from one place to another. Thus, it's easy to go on a food crawl in Melaka. We did make sure that our bellies were empty… so that we could fill up on as many different tasty foods as possible!
And, we understand that Malaysia doesn't have a big drinking culture, when it comes to alcohol. Yet, when we were in Malacca, we did discover some great places to enjoy some bevvies.
So, in this We Drink Eat Travel blog, we'll run through 8 top places to eat in Melaka… including where to have alcoholic drinks too.
Nyona Cuisine
When in Malacca, you should try the traditional Nyona food. The cuisine stems from when the Chinese came to Malaysia. Then through the intermingling with the local Malays… Nyona food began. And, through this mix of cultures… many aromatic and flavorsome dishes were created to tantalize the tastebuds.
And, one of the highlight dishes we had was the Nyona Laksa. This is a magnificent spicy curry soup noodle dish, with coconut milk and fragrant herbs. It was sooooooo tasty. And, you'll want to have it more than once!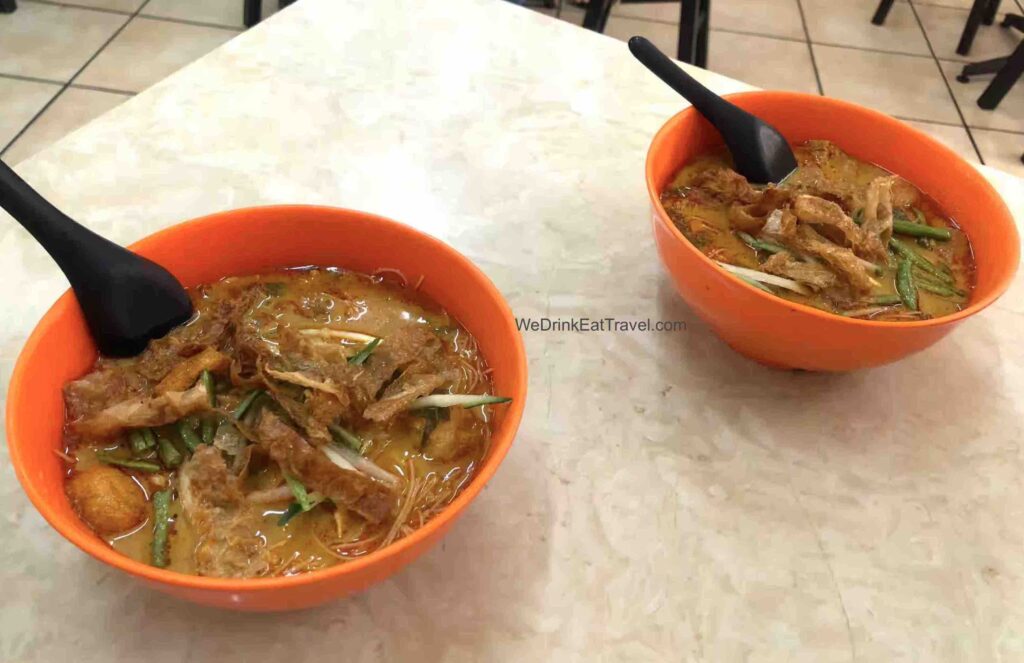 There are many places where you can try this, as well as other Nyona dishes. Yet, one place we recommend is at, Shui Xian Su Shi Yuan. We got the big serving of the laksa, which cost RM 6.50 (about 1.40 Euros / USD $1.55 / GBP 1.25). So, that is inexpensive, especially for a decent size and super tasty dish.
Now, a word of warning with this restaurant… the menu changes daily and may not have everything available as shown.
While it opens early morning… it does close around 1:30pm, and sometimes before that time as we found out first hand! So, in order to avoid disappointment, best to get there early… or you could pre-order. It sure is one of our top places to eat in Melaka for Nyona cuisine.
Gravy Baby
If you have a craving for Western type food in Malacca, then head on over to Gravy Baby. Gravy Baby is by the Malacca riverfront, not far from the popular Jonker Street. Their menu selection is big, with foods ranging from gourmet breakfasts… through to pies, pizzas, burgers and plenty more.
The sizes of meals are large here, so you won't leave hungry. Yet, with that comes a higher price tag too… in comparison to many other restaurants in the area.
For example, this tempeh burger with chunky chips was RM 33… plus 16% taxes had to be added to that. Thus, is was about 8.50 Euros / USD $9.20 / GBP 7.50. Even so, we thought that was still cheap.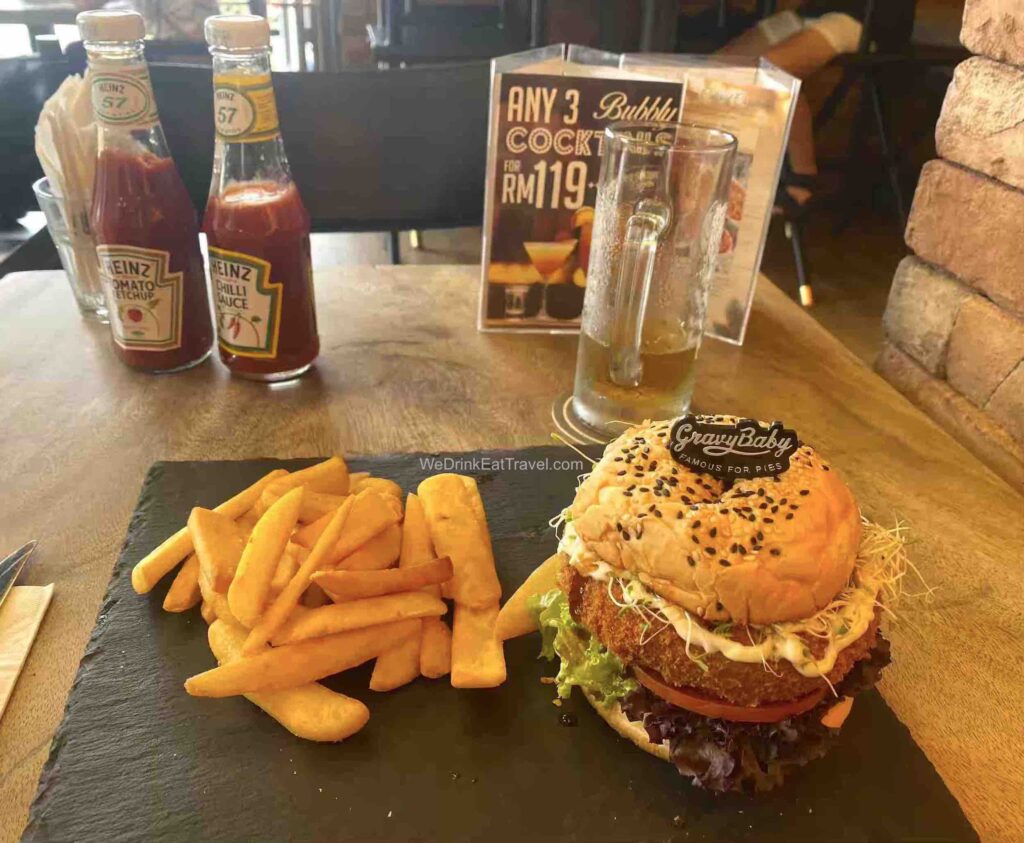 Plus, the food we had on our multiple visits was delicious and it has a bustling atmosphere… especially at night time. Also, look out for daily specials on food, as well as drinks… or simply ask the staff what's on offer on the day.
So, we do recommend Gravy Baby as one of the best places to eat in Melaka… when you're hankering for non-Asian food!
Vegetable Dumplings
We love dumplings! Who's with us here? And, when we were in Melaka, we found a restaurant that made dumpling soup. So, after visiting the Bukit Cina area and sites… we took a short stroll to Hui Yuan Restaurant, to satisfy our dumpling craving.
And, while they do have an extensive menu, we already knew what we'd order. Now, while they do cook to order, they have many other items… such as a buffet of other food items like this.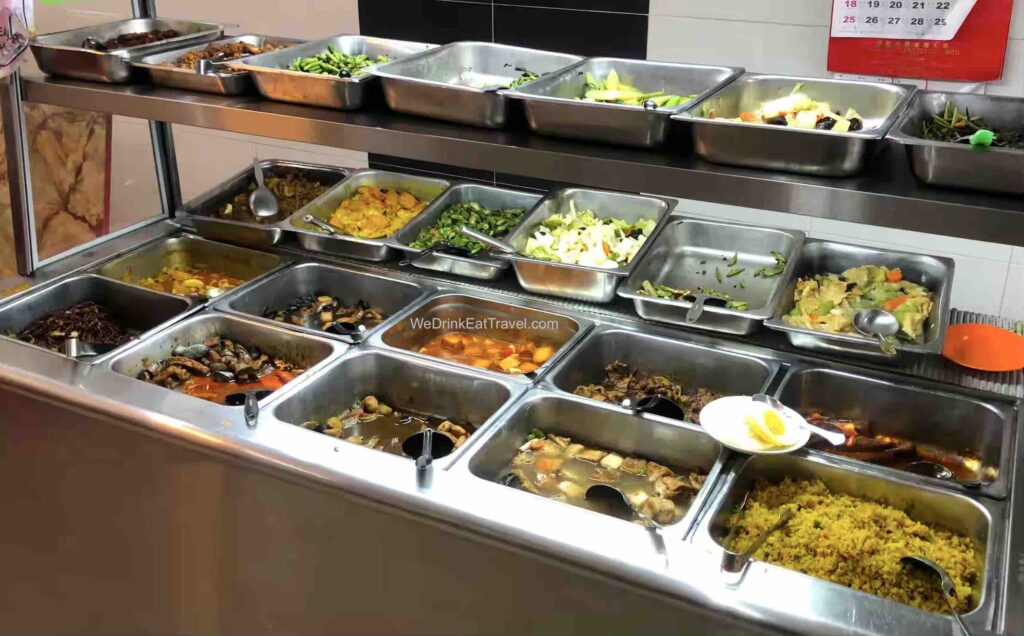 Yet, the dumpling soup that we had was delicious. And, it was super cheap at only 6 Malaysian Ringgit per bowl! So, that's about 1.30 Euros / USD $1.45 / GBP 1.15.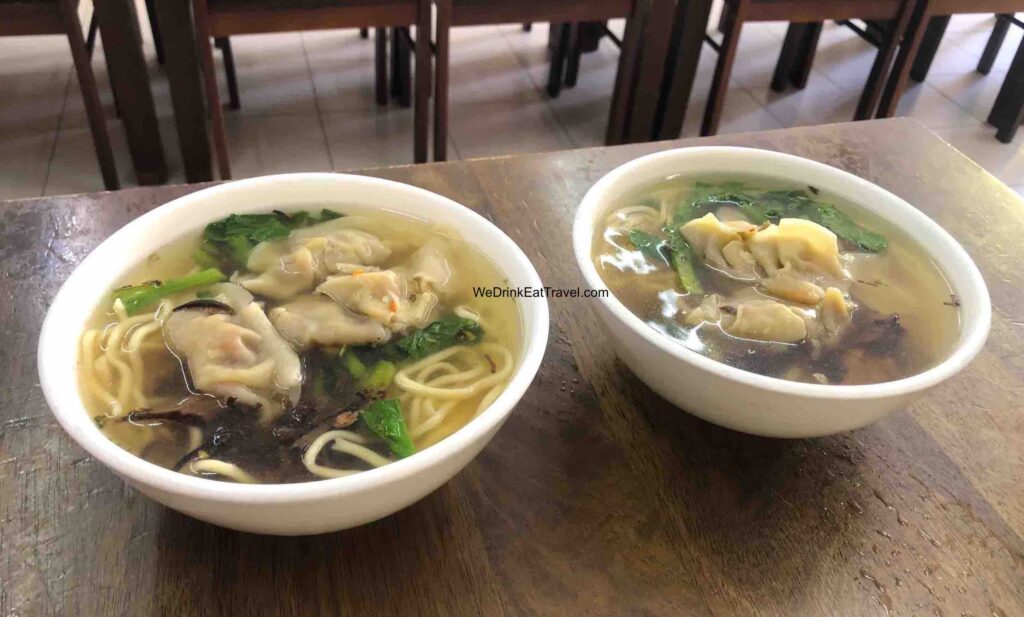 Plus, they have grocery type items and snacks if you want some food items to go.
One of the top places to eat in Melaka for a gourmet breakfast…
Gourmet Breakfasts
While we were in Melaka… we had to go out to indulge on some gourmet 5-star buffet breakfasts. And, the place we recommend you go to is Makan Kitchen restaurant… at the DoubleTree by Hilton Hotel.
The restaurant is huge and there are many different food stations serving local cuisine… through to Chinese, Indian, Western and European type breakfast foods. Plus, they cook a variety of eggs that you can order. There sure is plenty of food to please everyone.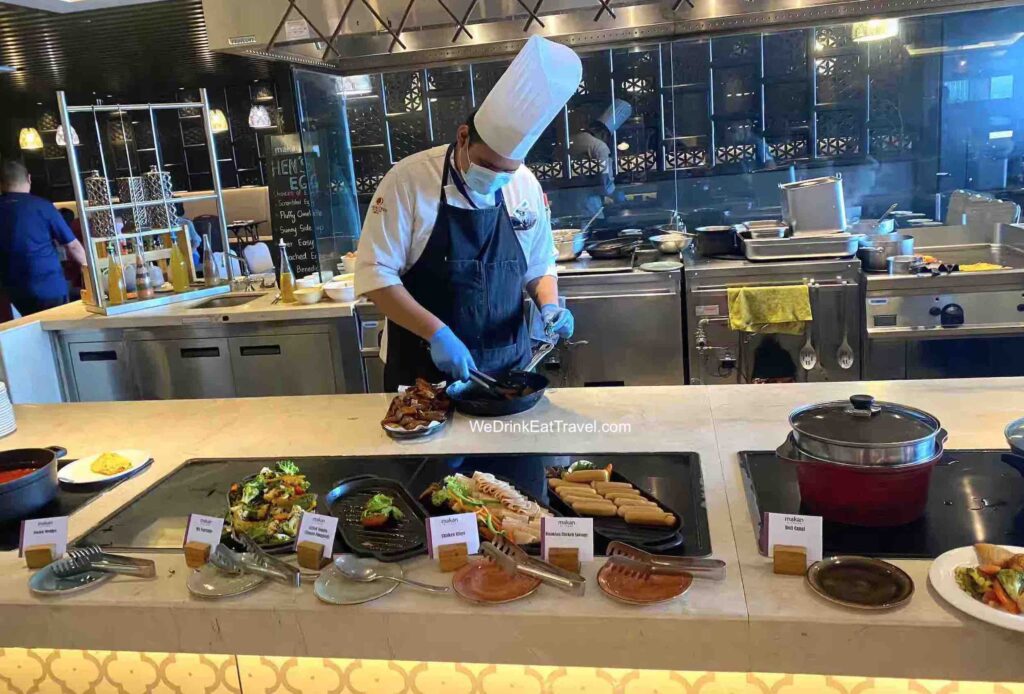 What's more, the service from staff was efficient, excellent and pleasant. Plus, each time we went it was jam-packed with people. And, it became so busy that the managers would pitch in and help too.
At times, the line to get in to the restaurant would be meters long! Yet, we'd always get there early and graze for hours… so, we never the problem of waiting. The only problem we had was stuffing our faces… sometimes way too much, ha ha ha!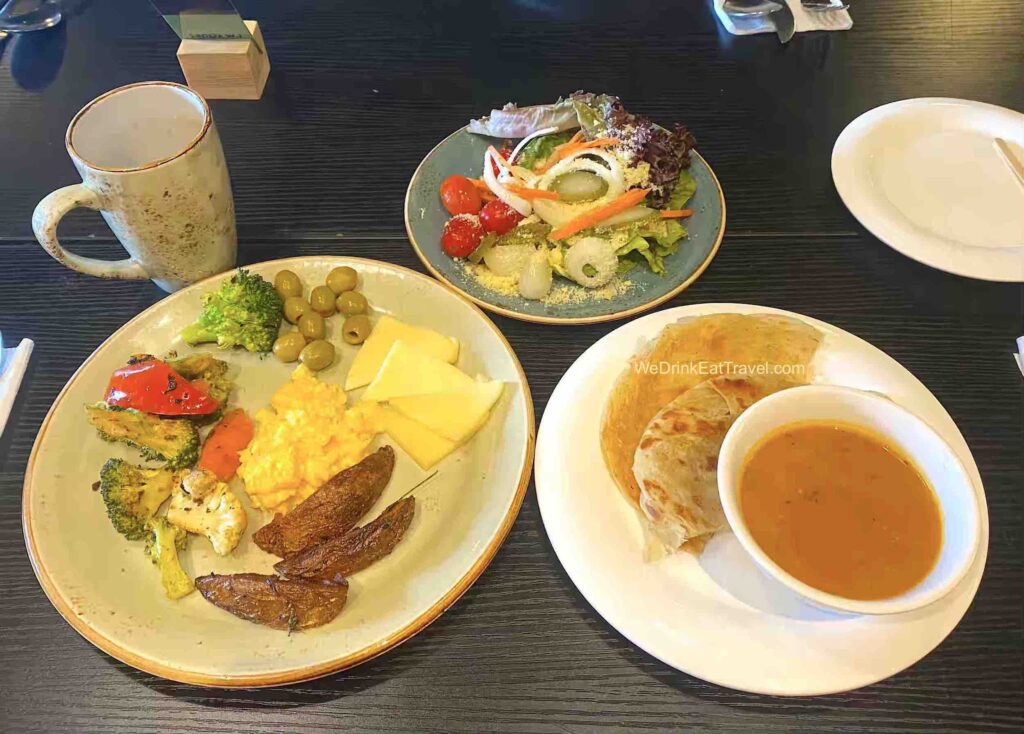 So, to have a 5-star gourmet buffet breakfast at Makan Kitchen, it cost 56 Malaysian Ringgit per person. So, for one adult that's about 10.70 GBP / USD $13.20 / 12.15 Euros.
Hard Rock Café
Now, who would've thought that there'd be a Hard Rock Café… in the quaint UNESCO town of Malacca? Well, if you're a Hard Rock Café fan… then you'll be excited to know that there is one here. And, on Thursday, Friday and Saturday nights there's live music for a rockin' good time.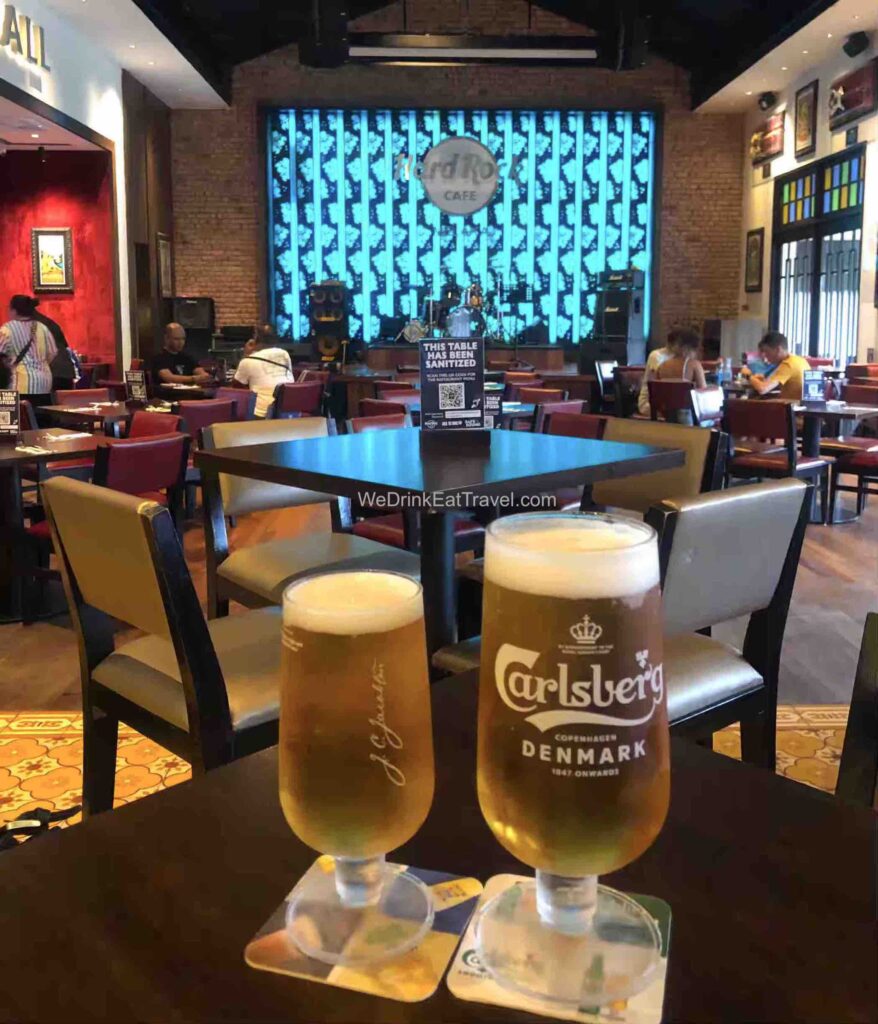 Yet, if you're looking for a cheap night out based on standard Malaysian prices… then this is NOT one of the places to eat in Malacca or drink. For example, a pint of beer starts from RM 36… plus 16% taxes is on top of that price. So, that's about 9.20 Euros / USD $9.90 / GBP 8.
Yet, if you're eager to tick off another of the Hard Rock Cafés off your list… and enjoy the typical vibrant atmosphere with live music, then you should have a fun time.
Jonker Street
When wandering down Jonker Street during the day time… there are many cafes and restaurants you can try. Yet, for an iconic Melakan experience, go to Jonker Street from the evening on the weekend… as this is when the bustling night market happens.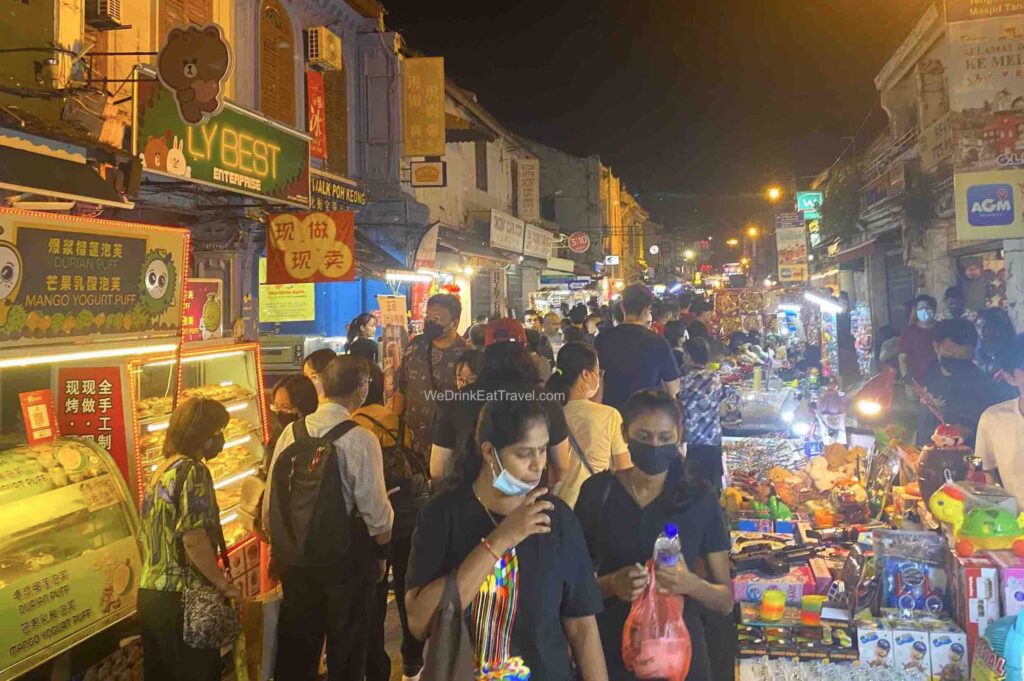 And, when here, there are even more places to eat in Melaka… with its many street food stalls. So here, they sell items such as… durian puffs, bbq skewers, dim sum, coconut ice-cream, through to bugs! Prices will vary of course, depending on which stall you go to. 
Yet, as an example you could get 4 pieces of dim sum for RM 5… that's about 1.10 Euros / USD $1.20 / 1 GBP. Or, you could satisfy your sweet craving with coconut ice-cream for 10 RM.
Now, while you're strolling the length of this thoroughfare, you'll most likely pass by this place…
Geographer Café
The Geographer Café is a magnificent pre-war shophouse, that has been restored and renovated into a restaurant… thus, some people call it a "living museum."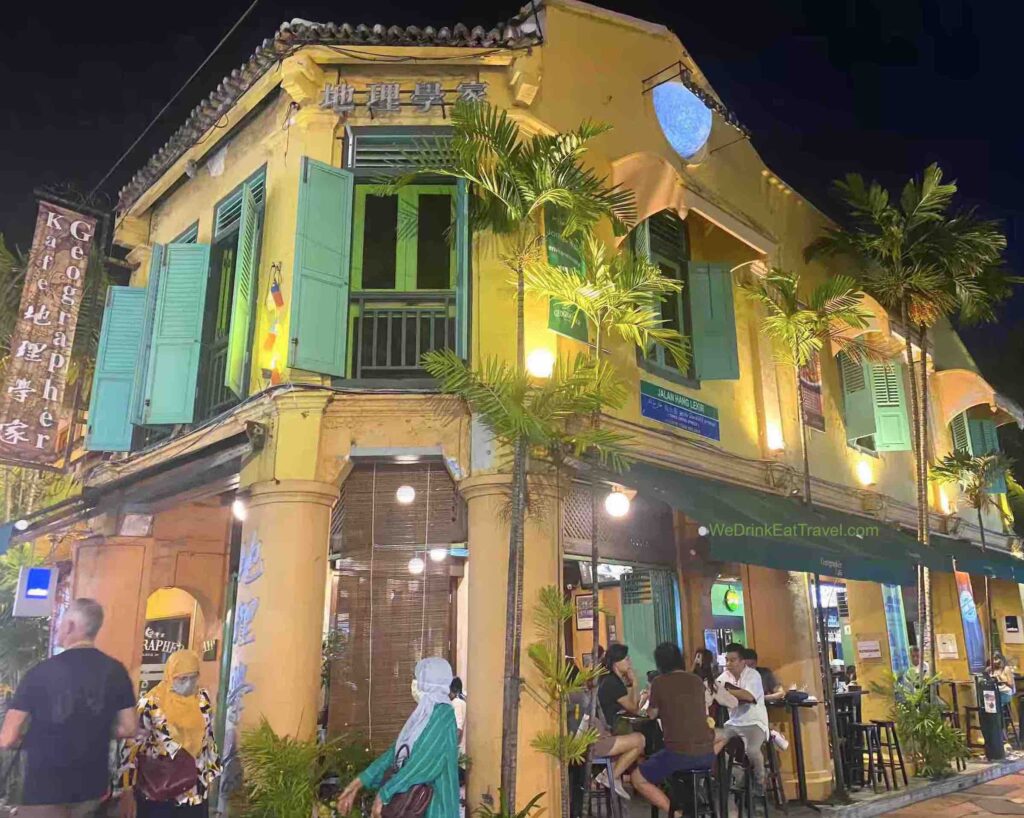 Now, the Geographer Café is a great place to be… especially on the weekend as it hosts live music. Plus, it's one of the few places on Jonker Walk, where it has a bar-type atmosphere.
So, if you get there early enough and get the right seats, you can watch all the entertaining action on Jonker Street… particularly when the night market is in full swing.
The food is a mix of Western and Asian cuisines, with a variety of drinks to suit all tastes. When we went, each time they would hand us a menu… plus, they'd also give us a pen and an order form. So, they would tell us to check out the menu… then write down what we would want to order.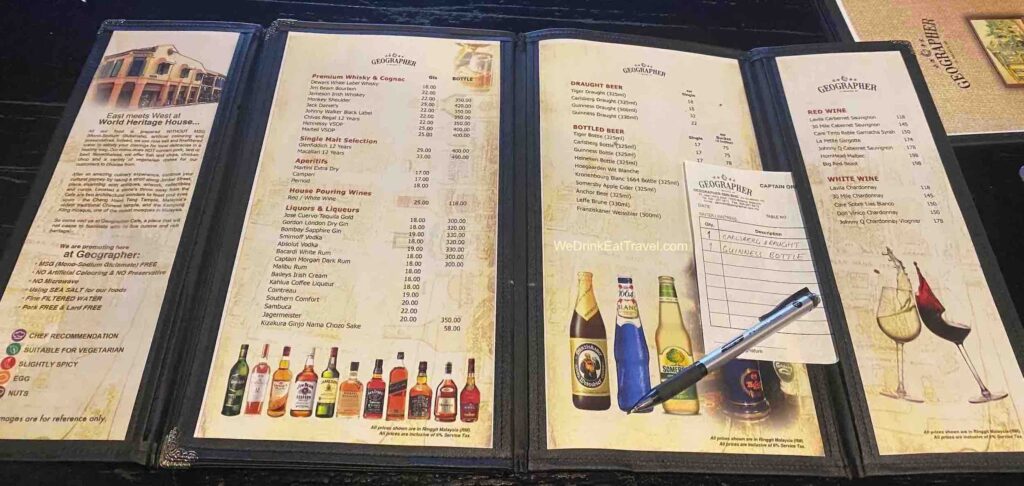 It's a strange system, because when we would want to get more items… we didn't have to fill out the order form anymore!
Even so, it's a great place to people-watch in the heart of the action. Each time we went to the Geographer Café though… we found that the service was a bit slower than in the other places.
Now, as we said earlier, the alcohol drinking culture isn't huge in Malaysia… for obvious reasons. Even so, there are some bars dotted around Melaka. Yet, we did find that even on the weekend, some of the bars had hardly anyone in them. Thus, there was little atmosphere, and not worth spending our time in a dull environment.
Yet, if you're looking for some great bars in Melaka, then make your way to the river…
Malacca Riverfront Bars
If you enjoy a beverage or two or more, then make your way to the Malacca River around the Tan Kim Seng Bridge area… through to Kampung Pantai Street.
Here, there are many bars to choose from, depending on what atmosphere you want… or what you want as your viewing backdrop. It's a fantastic area to watch the world go by… as well as see the river boats glide across the water full of tourists.
When we were happily bar hopping along the waterfront… we found that during that late afternoon, several bars would be chock-full of people. Plus, some of the places have happy hours throughout the day.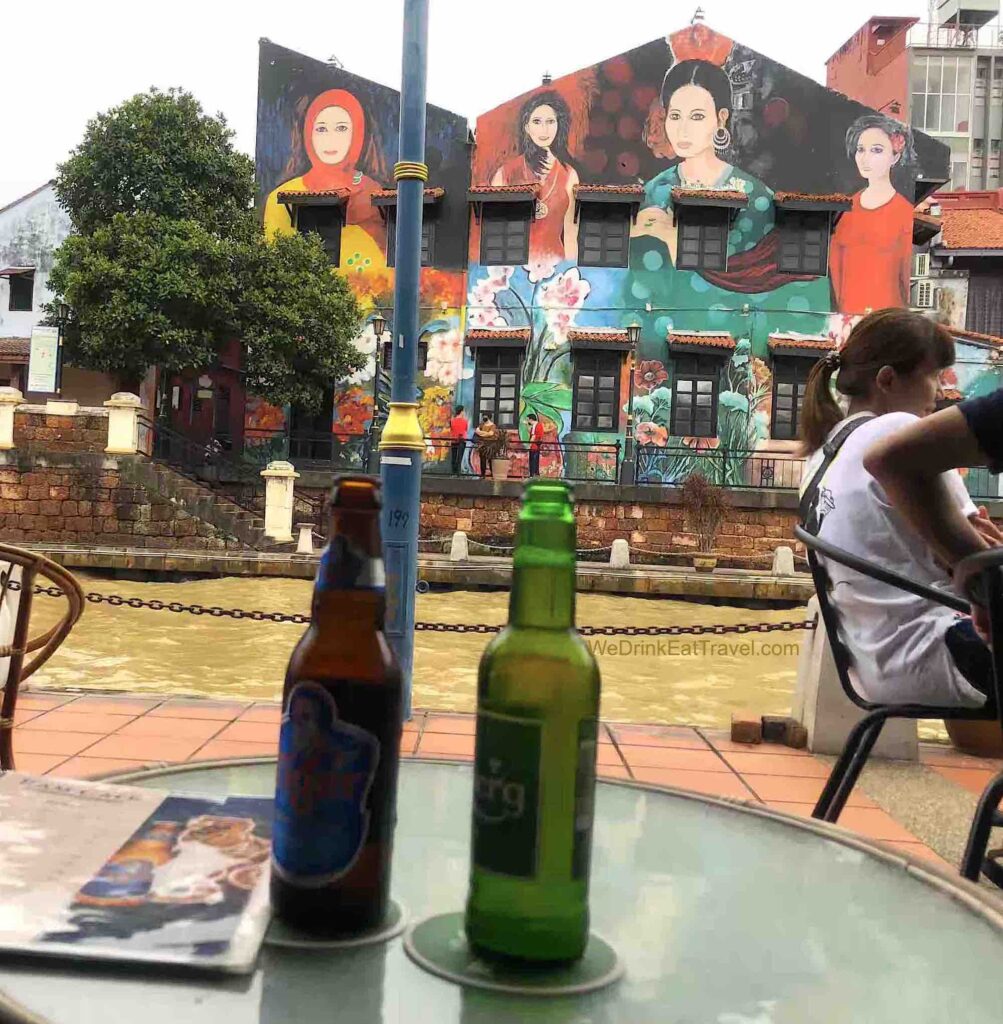 Now, one of the places we did like going to was Ram Café. Here, they had 660ml bottles of beer, that came in a big bucket with ice. And, one bottle would cost RM 22 each. So, that's about 4.80 Euros / USD $5.20 / GBP 4.20. And, if you're in need of a feed they have a food menu. Plus, they would take credit cards too.
Yet, regardless of which bar you go to… it'll be a nice area to relax and soak up the atmosphere over some bevvies.
Well, so there you have it… 8 different places to eat in Melaka, including where to have some drinks too. We had a great time trying all the amazing food, in this lovely UNESCO World Heritage Listed town. And, we're sure that when you explore Malacca… your tastebuds will be tantalized too. ENJOY!
You Might Be Interested In This Too…
25 Interesting Things To Do In Malacca, Malaysia
Here Are 12 Interesting Things To Do In Putrajaya Malaysia
Review Of The Ibis Styles Kuala Lumpur Fraser Business Park
21 Interesting and Top Things To Do In Brno
Our Qantas Flight From Melbourne To Singapore Was Actually Astonishing
Is Dubrovnik Worth Visiting? Fascinating Facts You Need To Know
What You Need To Know About The Bangkok Canal Boat On Saen Saep
Turkish Airlines Review – You Need To See Our Astonishing Experience
27 Of The Best Things To Do In Bucharest
10 Free Things To Do In Hue Vietnam