After our short trip in Podgorica Montenegro, it was time for our next adventure! And yes, we would be continuing our travels through the Balkan region.
So, as we were researching getting to our next destination… we discovered that we had to add to our list of MUST see in Montenegro. And, that was to drive through the Moraca River Canyon.
Now, when we were looking at other travelers' videos and photos… the Moraca Canyon scenery was breathtaking. Yet, it also looked scary in spots!
So, in this travel blog post… I'll run through our experiences of going through the Moraca River Canyon.
Transport In Montenegro
When we were looking for transport in Montenegro to get us to our next destination… we did have several options to choose from. And, this included taking a bus, renting a car, or getting a taxi in Montenegro.
We don't travel lightly. So, that's why we rarely catch public transport for long haul trips by road. Plus, we had an 8 hour journey ahead of us to our next destination.
And, as we saw how breathtakingly scenic the Moraca River Canyon was… we ended up deciding on having someone else take us. Then, at least we could relax and fully enjoy the experience through the Moraca Canyon.
So, in the end we chose a company by the name of, Taxi Transfers Montenegro. And, for a private car transfer from Podgorica for our 8 hour or so drive… it cost us 190 Euros (about USD $215).
And, for that distance we thought it was reasonable.
Driving On One of the Most Dangerous Roads in the World
Now, we did learn that some people did consider the drive through the Moraca River Canyon… one of THE most dangerous roads in the world to travel on.
At first, I was hesitant. Yet, Paul being more of a thrill-seeker was keen to do this trip. So, after a lot of influencing I would be brave for the trip!
So, our route from Podgorica would be via the E80/E65/M2 road. And, as we were driving towards the Moraca Canyon… the roads getting there was like a breeze.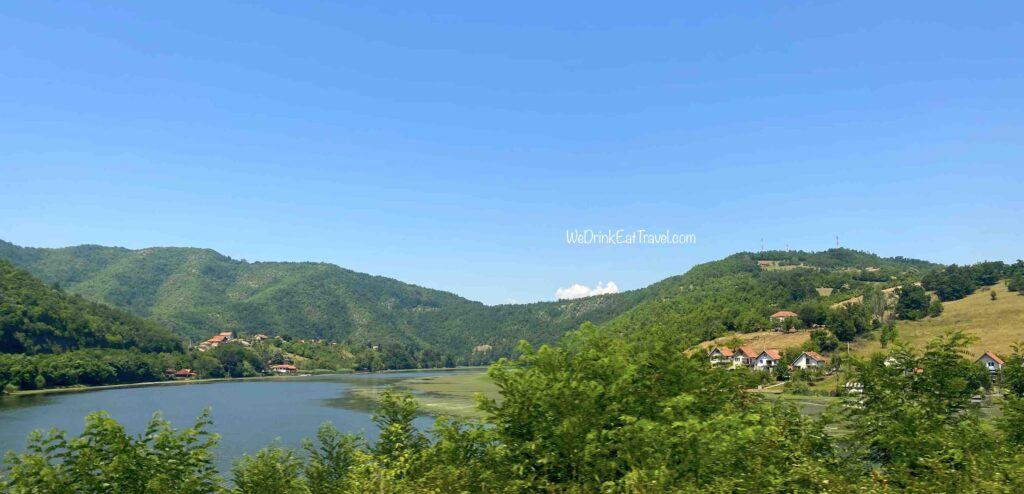 Yet, the closer we got, the more traffic there was on the roads. And, the road through the Moraca River Canyon wasn't wide!
It amazed us at how some of the drivers would be screaming round the corners! And, sometimes I'd be cringing… with one eye open and the other closed, hoping we'd all be OK.
Yes, there were the dangers of falling rock too. And, at one point during our journey, we had to stop for about 15 minutes… as workmen had to clear debris from the cliff face!
Plus, the road isn't wide. So, it was freaky seeing big buses barely fitting in the lanes. What's more, seeing impatient drivers wanting to overtake made me squeamish.
And to top it all off, when I was looking out at the Moraca Canyon landscape, I saw glimpses of steep and deep cliff drops.
Even so, the breathtaking beauty of the journey overtook my fears!
The Incredible Scenery On Our Moraca River Canyon Journey
OK, so scary stuff aside.
As we were leaving Podgorica and on the road through the Moraca Canyon, we saw some amazing scenery…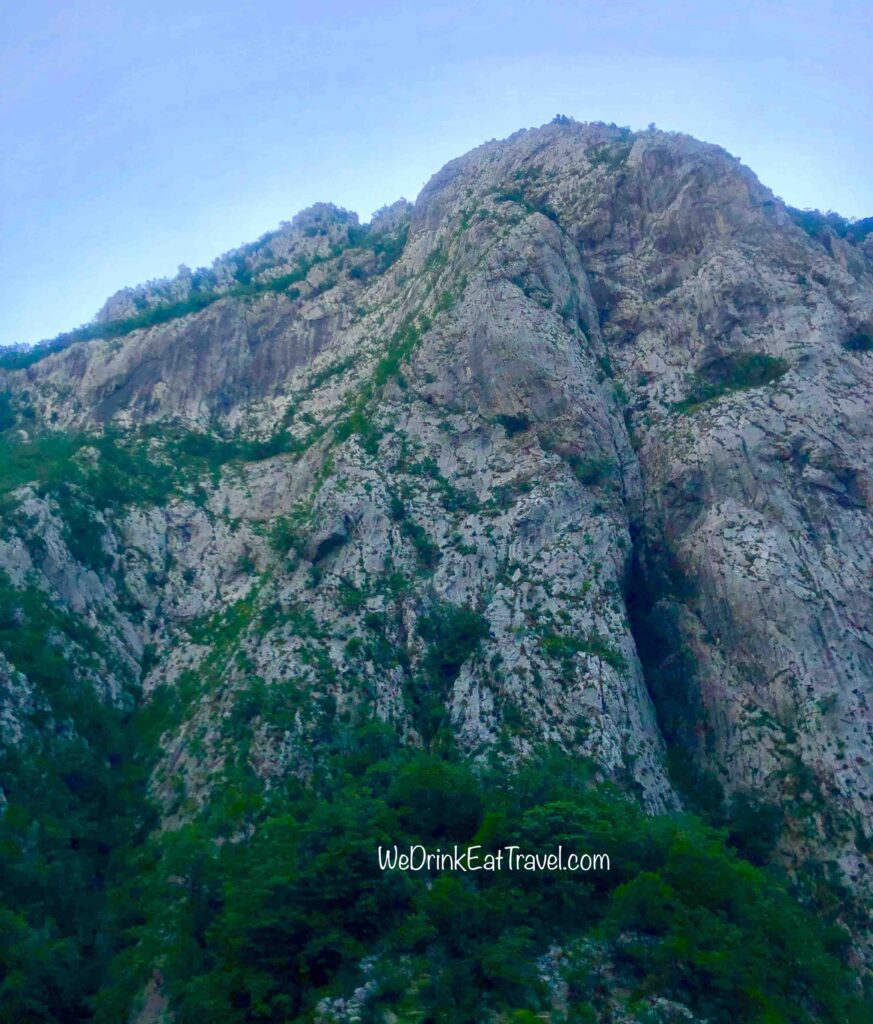 We also went through lots of tunnels. And, it was amazing being able to experience these tunnels… where their creation was from blasting through the thick mountains.
The water running through the canyon was glistening… crystal clear and a gorgeous turquoise color.
And, the mountains In the Moraca Canyon landscape were absolutely stunning.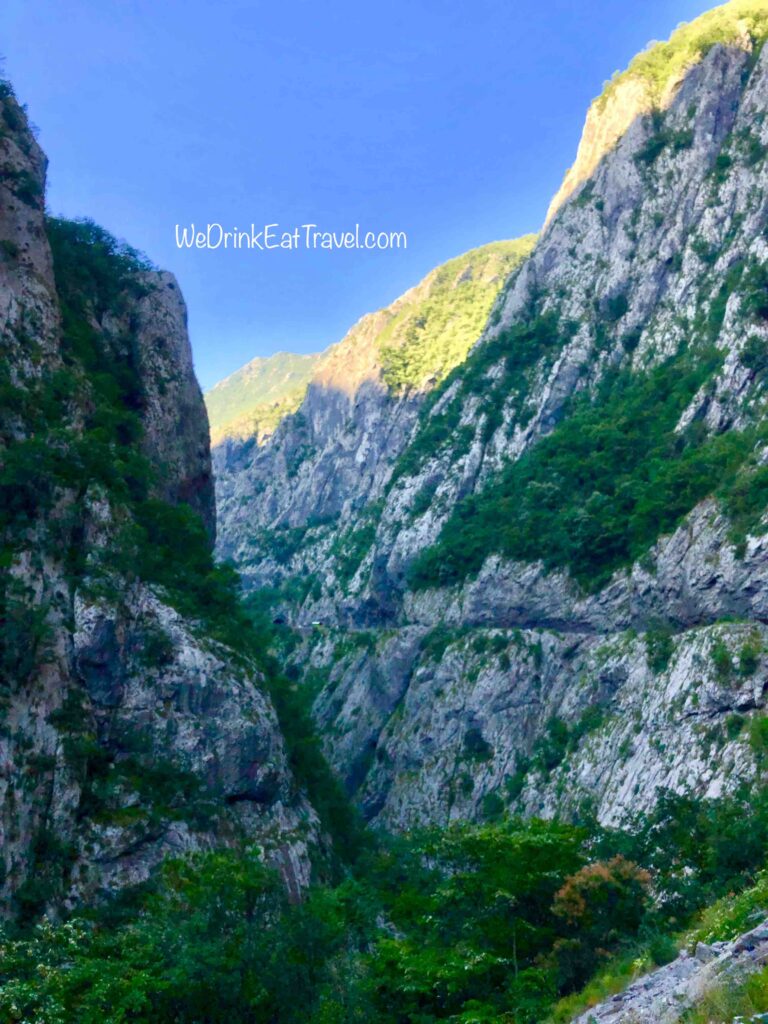 So, there are some points along the road where we could pull over to admire the view. And, our driver did stop so we could take some pics and videos.
Yet, we believe the photos and videos definitely don't do the Moraca Canyon justice. It sure is something you have to witness with your own eyes.
So, from our point of view… one of the top things to do in Montenegro is to drive through the Moraca River Canyon.
And, we said that if we have the opportunity again… we'd love to drive through the canyon ourselves.
So, then we could stop as many times we wanted… and admire the beauty with all the time in the world. Plus, we'd stop along the way… and explore other places that this "road trip" has to offer.
We challenge you to take the trip through the Moraca River Canyon. And, if you've driven through it yourself… then KUDOS to you!
Like This? Share it and comment on it!
Note: All of our reviews and comments are our opinions and no-one else's. Even if we receive complimentary goods or services we share our opinions honestly.
You Might Be Interested In This Too…
How To Get FREE Accommodation While Travelling
7 Interesting Statues To See When You Visit Podgorica Montenegro
13 Interesting Places To See In Podgorica Today
Here Are 7 Remarkable Things To Do In Berat Albania
7 Free Things To Do In Bangkok
10 Places To Visit In Gozo Malta For Breathtaking Views
7 Top Reasons Why You Should Visit Bansko Bulgaria
Discover Some Interesting Things About Albanian Food You Need To Know
10 Picturesque Churches To See In Vienna Austria
How To Make Your Time In Tirana Albania Fun And Memorable
Shop Until You Drop In Ratchada, Near Thailand Cultural Center MRT
10 Popular Drinks & Food In Skopje To Make You Happy
Spotlight On Albanian Drinks And The Best Bars In Tirana
10 Awesome & Surprising Things To Do In Skopje Now