Outside of Angkor Wat one of the most popular attractions is Pub Street Siem Reap. This street is known for its lively atmosphere, glittering colorful lights… as well as cheap drinks, and some popular restaurants.
So, when we were visiting Siem Reap, we went to Pub Street many times… especially considering we were in the city for a few weeks.
Thus, we had lots of time to explore this place, in comparison to most other travelers. And, we were able to experience it from day through to night… to see if it was lively regardless of whether the sun was up or down!
Plus, when we were staying in Siem Reap, the weather was extremely hot. So, after some heavy duty exploring of the Angkor Wat and surrounding areas… having some drinks to chill out and relax was very welcome.
Yet, we did discover that outside of Pub Street… there are lots of other Siem Reap nightlife areas to check out too. And, this was surprising… considering that Siem Reap is not a huge city, in comparison. Thus, we could escape the touristy areas, as well as find some gem of places to enjoy some drinks.
So, we'll share with you some insights into Pub Street, the bars and other nightlife area. Now, let's kick it off with the infamous Pub Street!
Pub Street Siem Reap
We all know that the main attraction in Siem Reap is Angkor Wat… and the other amazing temples that surround this phenomenon. Yet, a different tourist attraction that's also popular is Pub Street.
Now, you may also hear other people talking about "Street 08." And, when you do, you can be sure that they're talking about Pub Street… as this is the number of this entire thoroughfare.
Yet, what we also found out is that this popular street also extends to a "quieter" section. And, the name of this place is, "Little Pub Street"… which then connects to "New Street A" that goes to the riverfront.
So, you can check out these other places, yet if you want a lively atmosphere… then you're best to stick to Pub Street.
Daytime Sleepy Hollow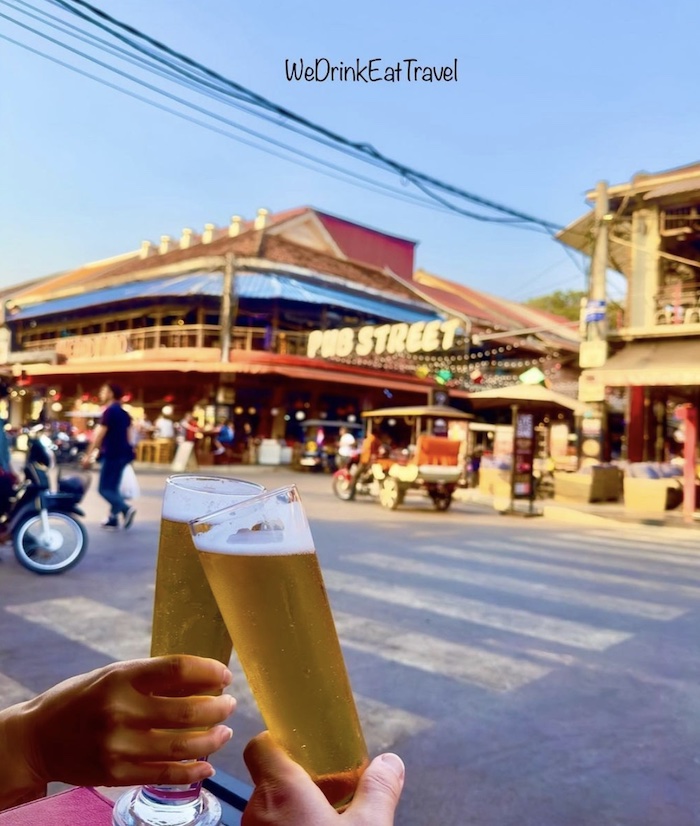 Now, another thing you should know is that during the day… some of the bars and restaurants are open. Yet, it's like a sleepy hollow. So, don't come during the day if you want a vibrant atmosphere.
In saying that, if you want to take advantage of cheaper drinks… there are some places that start happy hours in the afternoon.
And, those happy hours include buy 1 get 1 free beers, beers for USD $0.75… or buy 1 get 1 free cocktails, for example. So, these happy hours extend until around 8pm. Thus, if you start early… there's a big chance you'll be very jolly by the time the sun goes down!
Night Time, Party On
Now, when you head into town to go to Pub Street Siem Reap… you can't miss it. And, that's because you'll see a mammoth amount of lights up and down the street like this…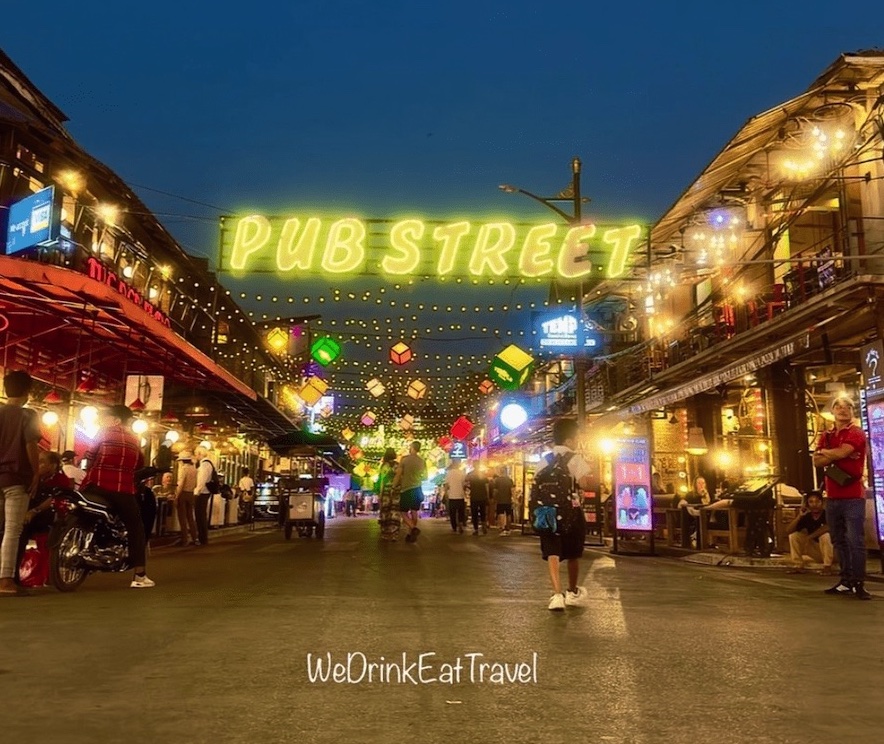 So, it sure is a magical and colorful display. And, that's why you'll see many tourists taking selfies or videos. We had to wait patiently to get as little people in our pics and videos. 
What you need to know is that there's more places to experience the Siem Reap nightlife. And, now we'll run through some of those places.
Sok San Road
While the infamous Pub Street is a must visit attraction when in Siem Reap town… if you're looking for another with lots of bars, then you should check out Sok San Road.
Now, if you're looking for glitz, glamour and a place full of bright, colorful lights… then Sok San Road is NOT that. Instead, it could be described as having a more "locals" feel to it.
It seems to feel more casual, with a variety of bars from small to large. And, some have pool tables to showcase your skills, or front row seating to watch the world go by.
Plus, if you're wanting to belt out some tunes… there are some bars where you can choose your own music via YouTube. Yes, we have first-hand experience, and it can end up being a jolly good time! Cheap beer, great music, what else could you want?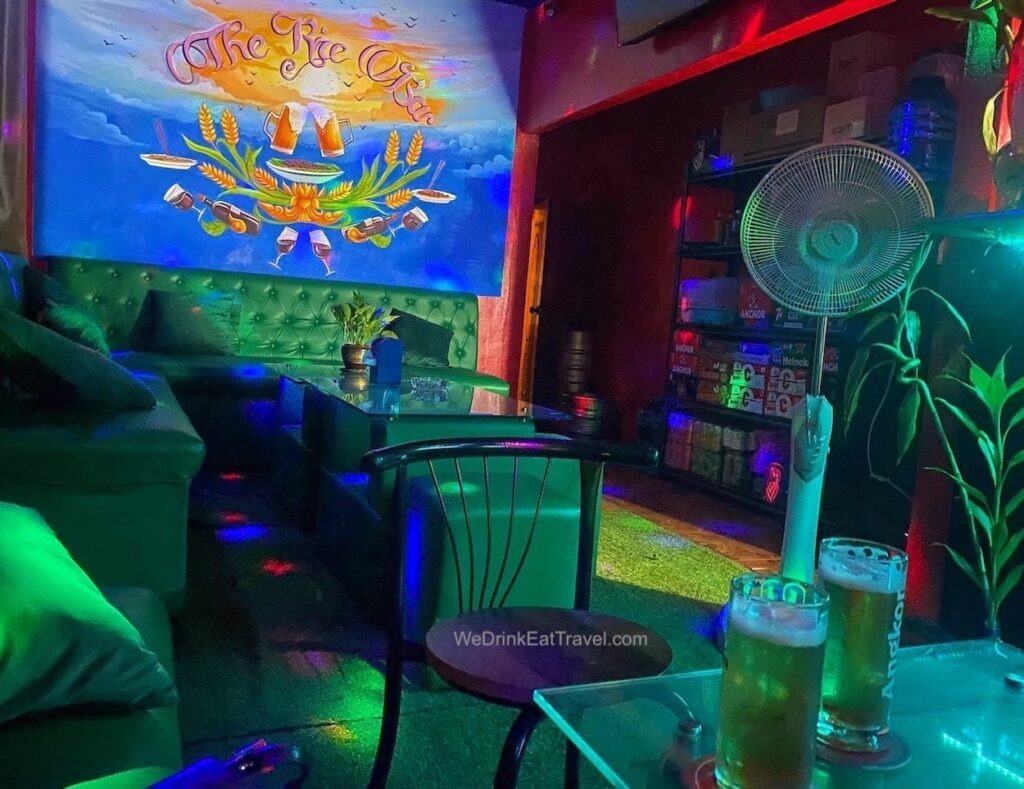 Well, if you're craving for some snacks or meals… there are restaurants nearby within easy walking distance. Plus, there are a variety of cuisines to choose from outside of traditional Cambodian food… such as Greek, Thai, Middle Eastern, and Mexican food.
Now, we understand if you've been hammering the drinks for a while, and the time has flown… then you realize that no restaurants are open!
Not to worry though, as there are a few convenience-type stores that are open. So, if you're in the moment and having fun at the Sok San Road bars… rest assured, you can fill your belly after your late night or early morning drinking sessions!
Drinks can be cheaper in the Sok San Road area, in comparison to Pub Street. For example, a few places would have USD $0.50 beers, or $0.75 and upwards. So, if you have the time, add Sok San Road to your Siem Reap itinerary.
For a different alternative the Pub Street Siem Reap area, you should check this out…
Pop Up Bars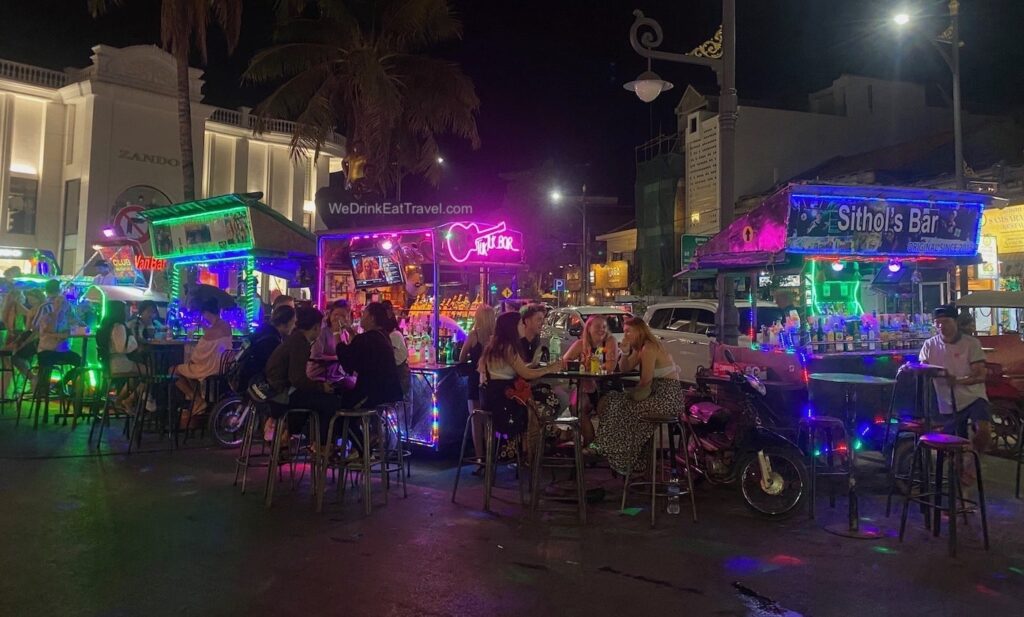 These quirky pop up bars are a fun way to enjoy some beverages in a cheery environment. Not too far from Pub Street, you can find them lining up on Street 10. Now, Street 10 is not a long street… yet they do manage to cram several bars in, for you to choose from.
There are some which have music blasting to get you in the groove. Or, there are others that make you want to transcend into a tropical environment… while you can get glowing at some of the fluoro design bars. 
And, if you find that it's all too difficult in choosing which one to go to… then you may as well do a pop up bar hop!
Now, while these pop up bars are more popular for serving cocktails, they do have other beverages on offer… in case you feel like something different, while soaking up the vibrant atmosphere.
Oh, by the way, this area is not for the early birds… as you'll discover that most of them don't open until after 10pm.
So, here's another area to have some beverages, outside of the Pub Street Siem Reap zone.
Siem Reap Riverfront Bars
As we were exploring Siem Reap… we found that many places would look completely different from day through to night. And, one of those areas was along the Siem Reap River, on Achar Sva Street… in particular between Street 25 and the Old Market Bridge.
And, along here are a mix of quiet, cozy and relaxing bars bars… through to the brightly lit rainbow colored, and loud bars.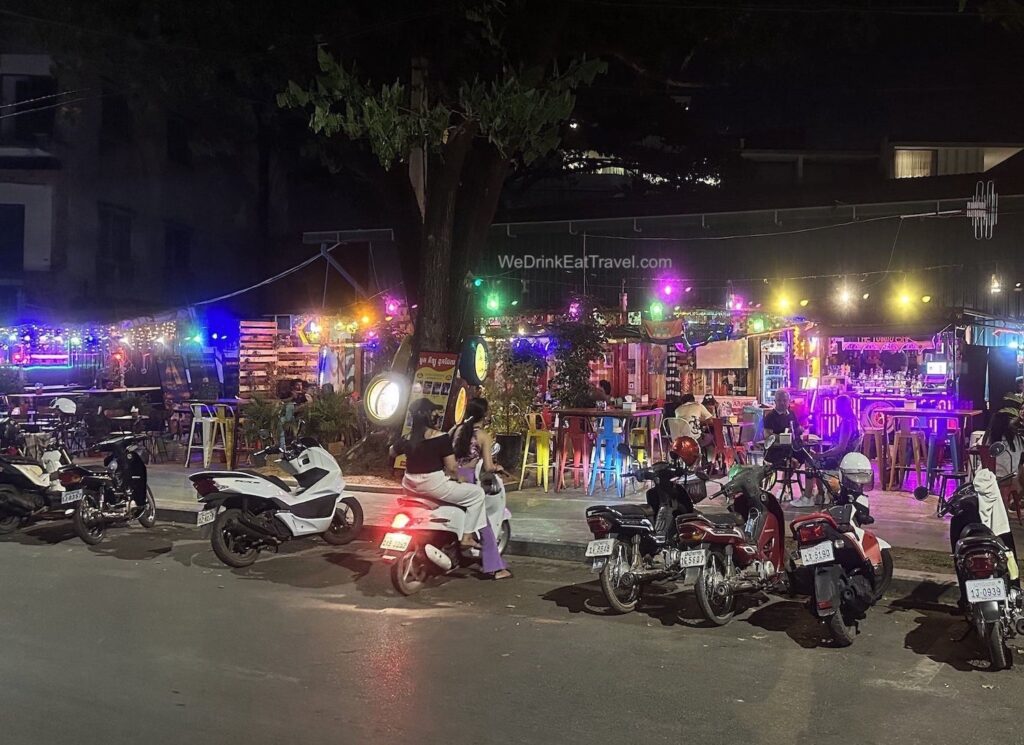 Now, the main difference here in comparison to Pub Street… is that it felt like there were more locals than tourists. Yet, that didn't bother us, and it didn't seem to bother the locals either. Plus, some of the service we got here was exceptional.
We do have to warn you though, that at some of these bars the beers weren't ice cold. So, we weren't sure if that was all the time. And, we don't like putting ice in our beers… which is common in many of the South East Asian countries. So, our solution was to drink quick!
Now, that you know have some insight into Pub Street Siem Reap, and alternative areas to drink… we'd now like to highlight a few places to check out.
Miss Wong Cocktail Bar
For sophistication and style… we recommend that you head on over to Miss Wong Cocktail Bar. So, Miss Wong's is not far from the Riverfront Bar area we spoke of before. 
And, as you approach it, out the front of Miss Wong's… you'll see a row of hanging large glowing red lanterns. Now, we thought that the color theme would be bold reds. Yet, that sure wasn't the case!
Once you walk past the Chinese lanterns and step inside, you'll walk down a long corridor. And, with a surprise you'll see that the interior color is a bold, deep blue… and in contrast to what we were expecting.
Plus, lining the corridor and into the main bar areas… are a variety of old world ancient Asian relics, as well as a variety of artwork. And, the lights are dimly lit, which adds to the classy feel that Miss Wong's bar exudes.
It sure feels like being in a completely new realm… in comparison to the stark contrast to Siem Reap town.
The service from staff is professional and efficient. And, credit must be given to the owner, who's attentiveness is impeccable. Plus, he would go out of his way to provide suggestions of places to eat and things to do.
Now, you'd expect to pay prime prices for drinks at a bar like this. Yet, surprisingly, it was only USD $2 for a small can of Angkor beer in such a chic place.
And no, don't expect your beer to come out in the can… with a regular beer glass to pour yourself. The upmarket theme continues with our beers served to us in a refined looking beer glass… with complimentary delicious crisps.
Not only can you relax at Miss Wong Cocktail Bar having some drinks… there's also a food menu to order some delightful meals. And, speaking of menus… you can discover the history behind this bar with the story printed on the menus.
This sure is a magnificent alternative to the bars in the Pub Street Siem Reap area. Yes, for some people the prices may seem more expensive, yet it's well worth the visit.
Beatnik Speakeasy Bar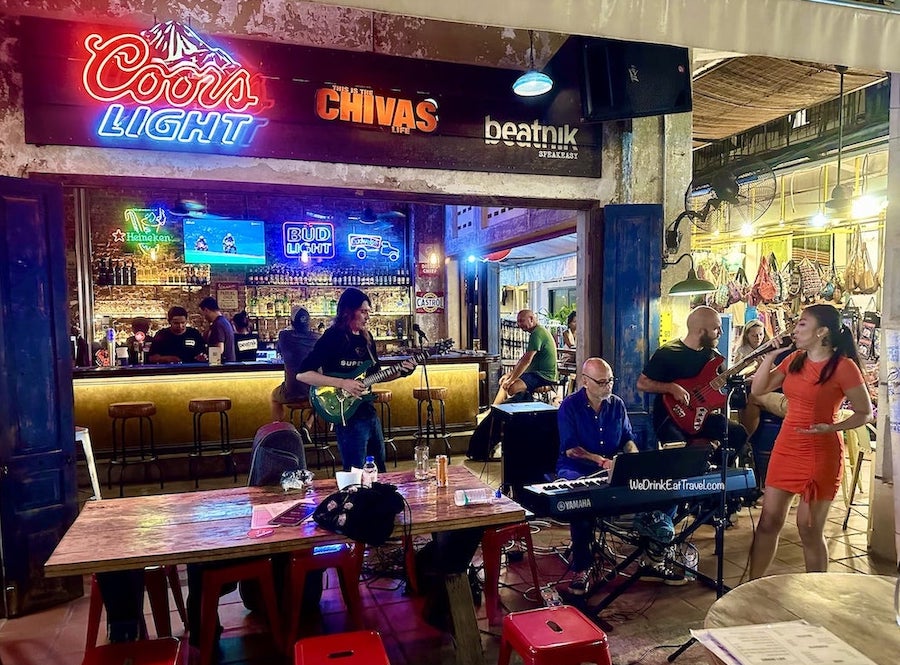 One of our favorite bars just outside of Pub Street, was Beatnik Speakeasy bar. At the time of writing this, Beatnik was on Street 11, on the corner of Alley W.
This was a pleasant change from the hustle and bustle of Pub Street… while still in easy walking distance within the main hub. Plus, we were still able to people watch, while enjoying a brew or two, or more!
So, beers are cheap here, with a draught beer costing a measly USD $1 all the time. Plus, if you were hankering for a feed… they could whip up some meals too.
We did like the music that they were playing here, with a mix of genres. And, on some nights they would even have live music.
And of course, we had to mention a place on Pub Street Siem Reap! Now, there are lots of options, yet one place that did stand out was this one…
The Angkor What? Bar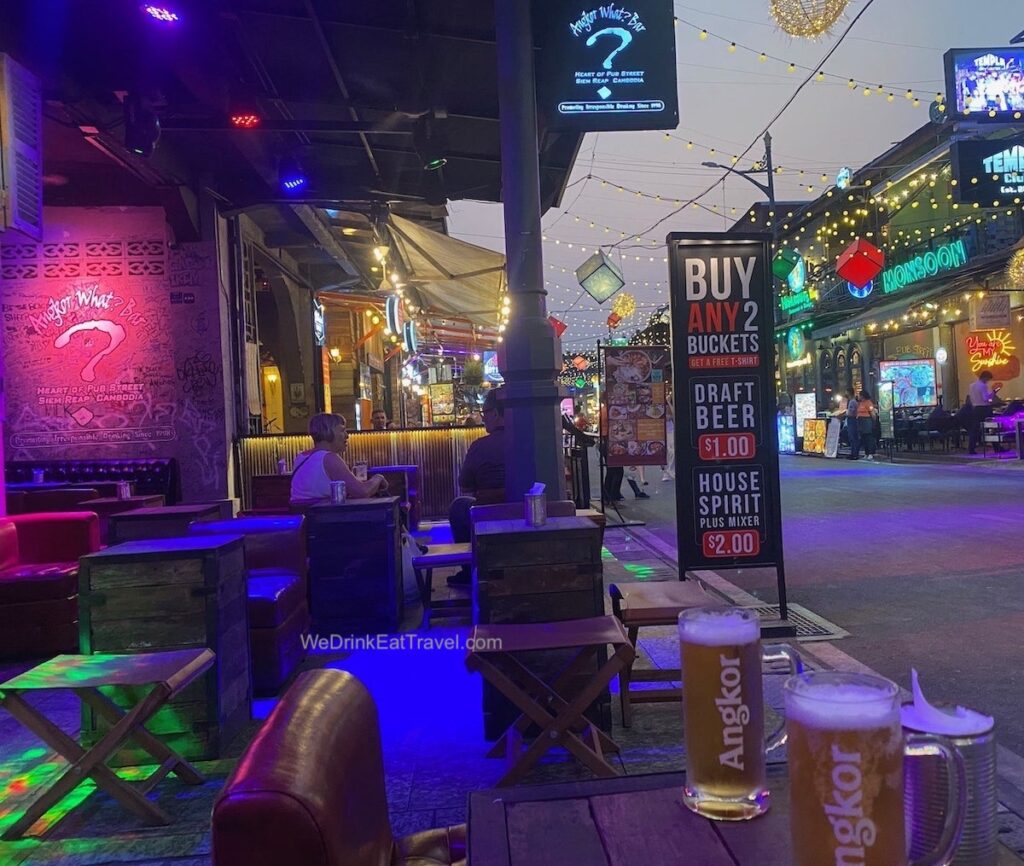 Now, with The Angkor What? Bar, one of things we did like about it… was that it felt more spacious than other bars. So, we could have conversations without other people within earshot.
Plus, like many bars that we choose… we enjoy having the option to sit at front to watch all the action. And, on Pub Street there sure is a lot of activity, especially later in the night.
And, if you're after some other type of activity… it also has a pool table and an arm-wrestling table, for example, which are all free to use.
Plus, the beers here are cheap and cold, starting from USD $1.
Wow, all this writing about bars and drinking is making us eager for some brews! So, we trust that this We Drink Eat Travel Blog… has given you some insight into the Pub Street Siem Reap area.
It's a sleepy place during the daytime. Yet, after the sun goes down… the colorful lights illuminate the dark sky. And, you'll be in amongst a vibrant and jolly environment… in one of the most popular Siem Reap attractions.
Plus, you now have some alternate areas to check out the Siem Reap nightlife. For such a small place, there are many different areas and atmospheres to have drinks… to relax after exploring the amazing Angkor Wat and surrounding temples.
ENJOY!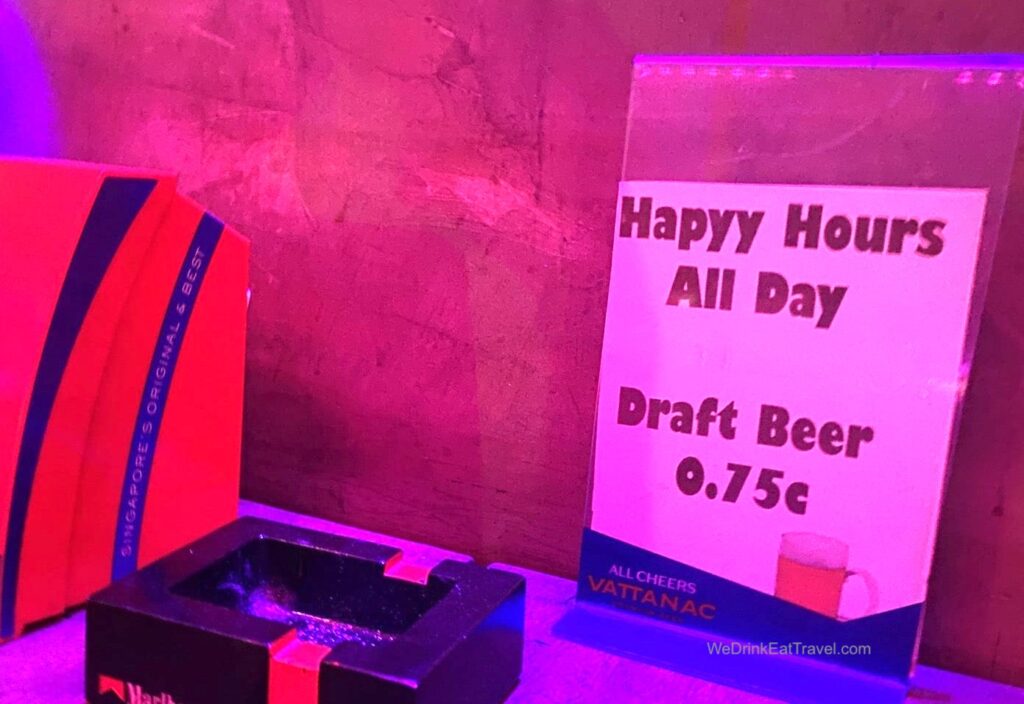 You Might Be Interested In This Too..
15 Of The Best Things To Do In Siem Reap
Chatuchak Weekend Market: 7 Top Things You Need To Know
How To Get To Chatuchak Market In 2 Ways
How To Go To Platinum Fashion Mall Bangkok By BTS
What You Need To Know About The Bangkok Canal Boat On Saen Saep
Bars In Danang – 7 Of The Best Places
VAT Refund Bangkok: How To Get Money Back On Your Shopping
Is Kuala Lumpur Worth Visiting? 15 Interesting Things To Know
27 Of The Best Things To Do In Bucharest
Thai Airways Review: From Melbourne Australia To Bangkok
Thailand Food – Being Vegetarian In Thailand
Need Accommodation?
Find Your Perfect Vacation Accommodation
Want Cheap Flight Deals?
Looking For The Latest Flight Deals? Click HERE
Get Real Cashback From Your Vacation!
Discover How You Can Get Cashback From Your Vacation Bookings