When we were in Bucharest, Romania's capital city we were spending several weeks there. So, we had time to explore the different food in Bucharest from delightful bakeries… through to leading 5-star hotel dining options.
Plus, it was awesome to discover how mind-blowingly cheap it was to dine out… even at gourmet restaurants.
Now, while on vacation, sometimes you want to indulge right? So, in this We Drink Eat Travel blog, we'll highlight 3 breakfast places in Bucharest… where you can go all out eating until your belly is chock-full!
Plus, when going to hotels, we have this obsession with checking the wifi connection and speeds… even if we're not staying there!
So, for you digital nomads or freelancers, we'll highlight that too. Because sometimes working in a different environment can bring out those creative juices! Or, it's handy to have in case we want to research things to do after brekky.
OK, so let's kick it off with this place…
Radisson Blu Bucharest
For a whopping buffet breakfast to jump start your day… head on over to the Dacia Felix restaurant in the Radisson Blu.
Now, while this hotel isn't in the Old Town area… it's only about a 1.5km pleasant stroll away from the centre, via the historic Calea Victoriei. And, there are many major tourist attractions conveniently nearby such as… Cișmigiu Gardens, Romanian Athenaeum and Revolution Square.
Thus, if you're not staying at the hotel and hankering for a buffet breakfast in Bucharest… you wouldn't have to make a special trip, as you'll most likely be in the area sightseeing anyway.
So, as you stroll through the hotel's opulent entrance… head towards the back and to your right is the Dacia Felix Restaurant. And, after walking in, it felt spacious with a comfy atmosphere.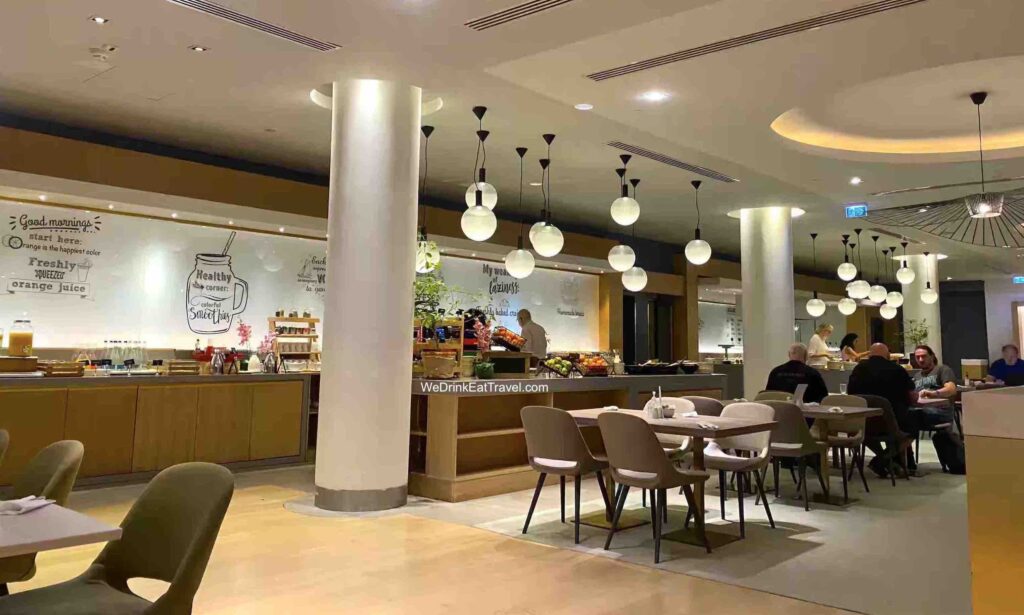 Plus, when we were deciding where to sit… we chose a 4-seater table so we could spread out. We need room to pile up our empty plates!
The set up looks sophisticated with its chic lighting… showcasing an array of colors from the huge variety of foods.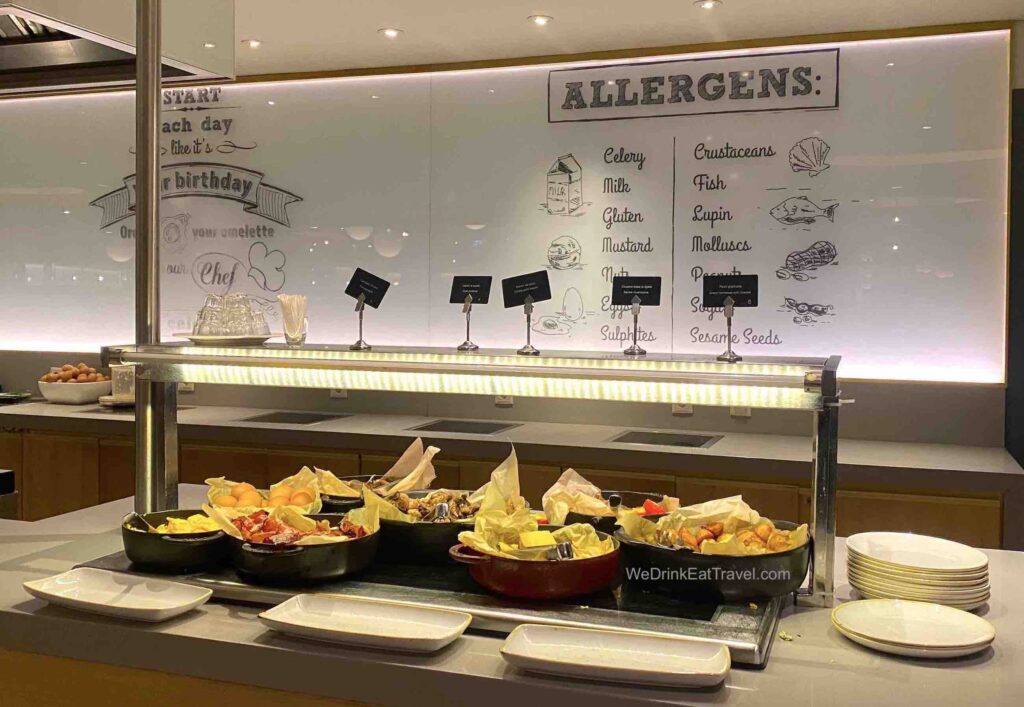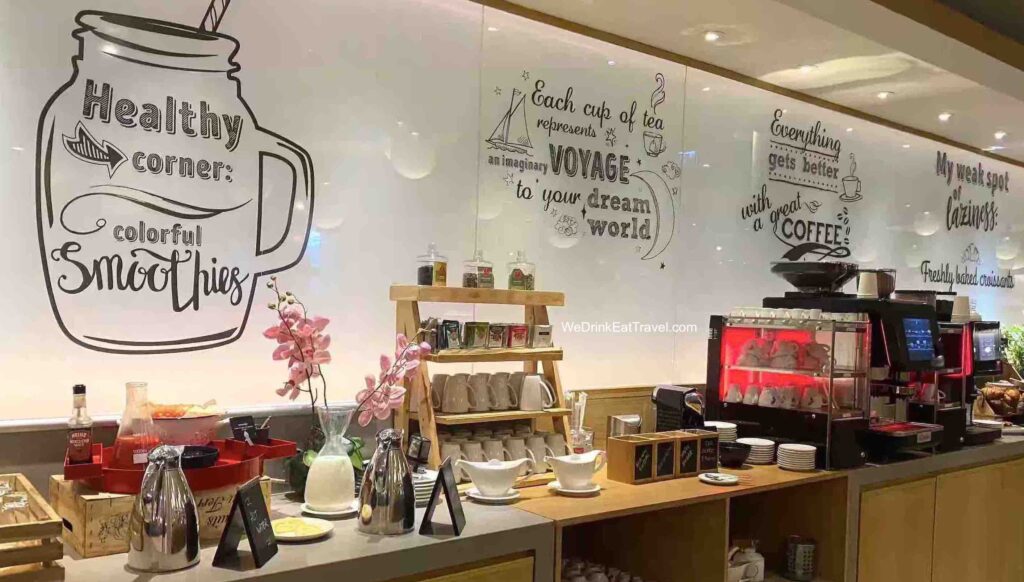 Besides the standard coffee, there was also loose leaf teas which is uncommon… as well as bloody mary without the alcohol, through to sparkling water.
And, one important thing to note is that there is fresh juice. No, not from a bottle or carton… but REAL, freshly squeezed juice straight from the fruit. It amazes us at how many of the 5 star hotel buffet breakfasts we've been to claim to have "fresh" juices. Yet, when they top up the containers with packet juices, that's a joke.
So, when in "Rome-ania" we had to try their traditional zacusca, which is like ayvar… a to-die-for herbaceous spread, with roasted eggplant and bell peppers. And, this bright red spread is usually put on top of bread. Yet, sometimes we love scooping up tablespoons full, and having it on its own!
Plus, of course, there'd be something wrong with us if we didn't devour the cheeses. Sometimes there were about 7 different varieties on offer… from the soft to hard cheeses, through to the pungent stinky blue. YUMMY!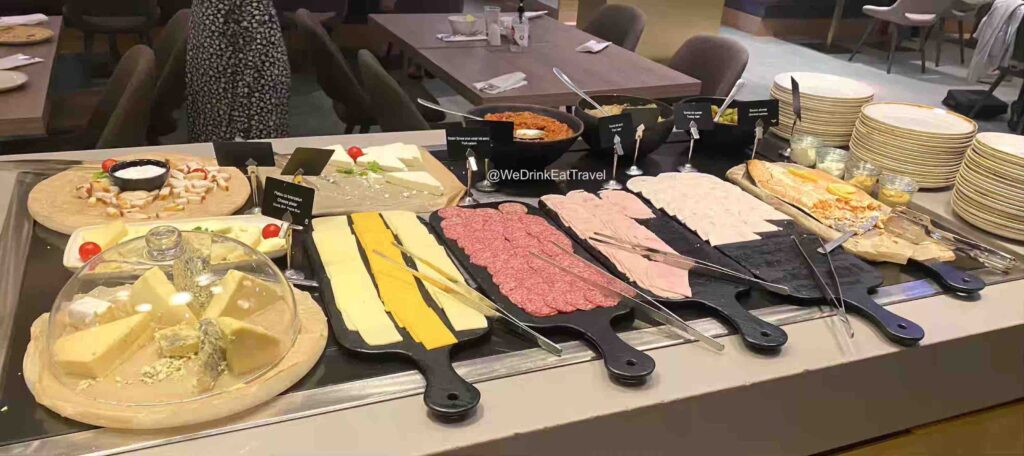 Now, one thing we can't recall seeing at a buffet brekky, was a whole fish! Gee, they know how to elevate the breakfast in Bucharest.
The overall quality of food at the Radisson is excellent. And, as you'd expect in a 5 star hotel… they live up to expectations of efficient and pleasant service from staff. As well as being attentive with taking away our empty plates.
At a buffet, there's nothing worse than having a lack of food. And, it shouldn't be the customer's responsibility to let staff know that the food needs to be re-stocked. So, it was great at the Radisson, as replenishing food items was priority. Must keep our bellies happy!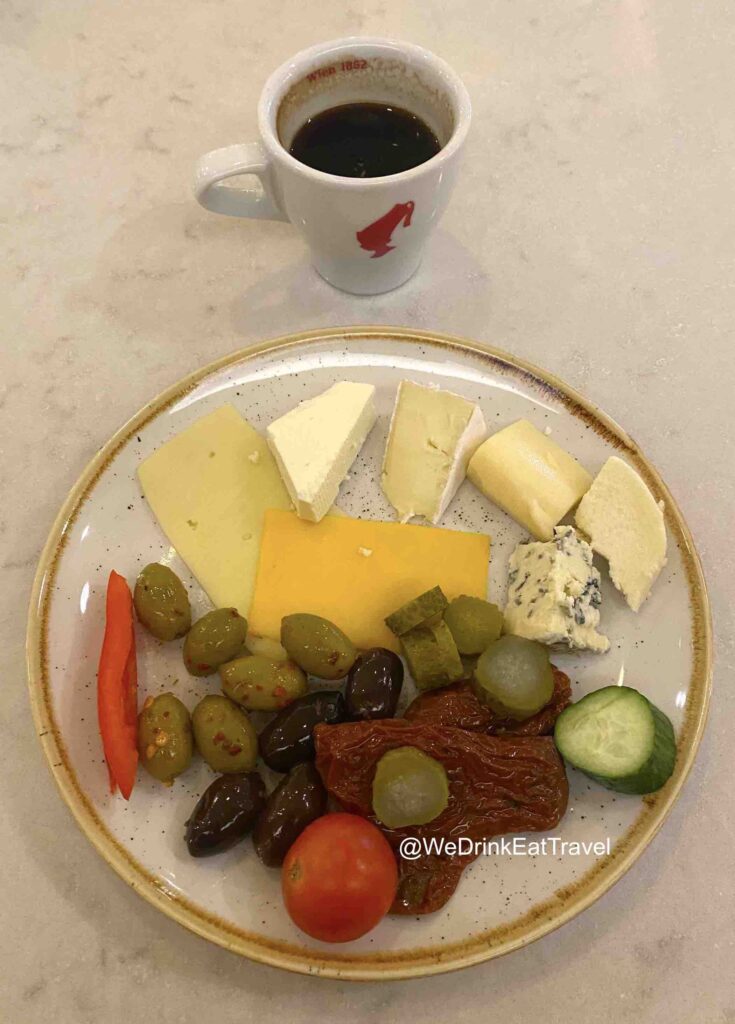 Radisson Blu Bucharest Wifi
We do see people at brekky with their laptops, working away. So, if you're not staying at the hotel and need wifi… you can easily connect to the network. There's no need to painstakingly get a code or password to access the wifi.
Plus, the upload and download wifi speeds were decent… 20.4 mbps and 20.6 mbps respectively. Whereas in some 5-star hotels we've been to… the speeds would barely clock up 2 mbps!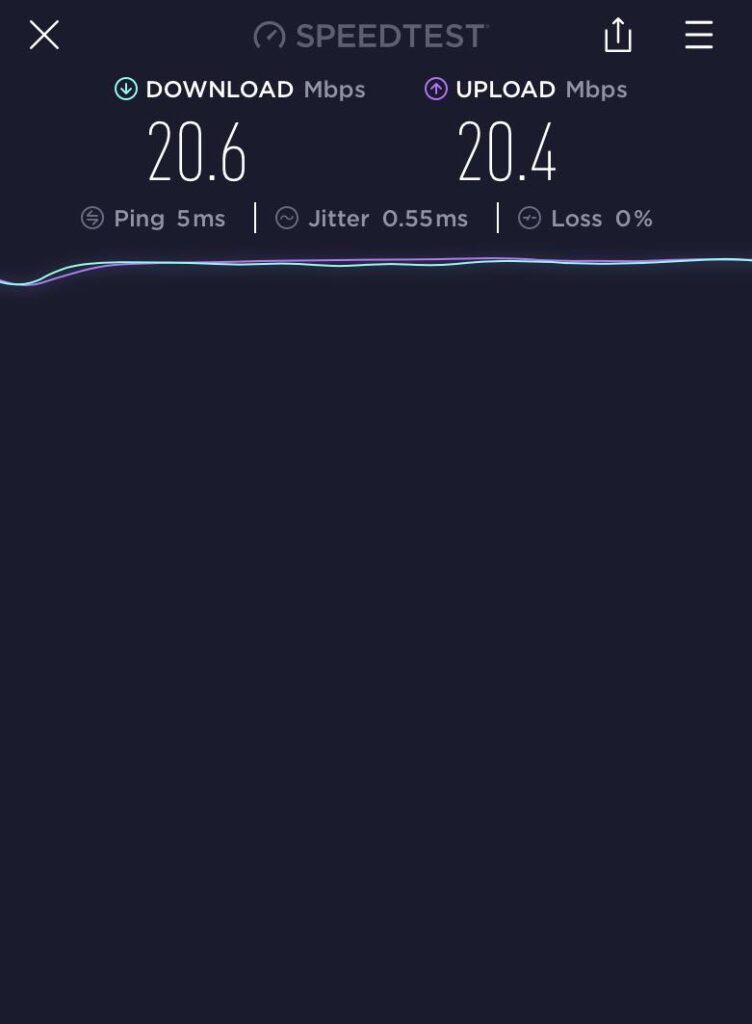 Radisson Blu Bucharest Breakfast Price
For a 5 star hotel buffet breakfast, the price was only 105 RON per adult (about USD $22.50 / 21.30 Euros / GBP 18.40). Now, that's a jaw dropping inexpensive price, wouldn't you agree?
Next on our list of breakfast places in Bucharest is…
JW Marriott Grand Hotel Bucharest
We didn't know this… It's said that the JW Marriott Hotel is the only 5 star business hotel in the area. That's an interesting claim. Even so, there were many other leisure travelers amongst the business folk. So, it's not all about the "suits!"
Now, the location of the hotel is about 2.5km from the Old Town centre. Even so, we did walk there to work up an appetite. Yet, if that's the last thing you want to do first thing in the morning… then take the stress-free option of getting an Uber or Bolt, for example.
Then, as soon as you catch that first glimpse of the hotel's building… you can see how grandiose it is. And, once inside is exudes a feeling of old-world European charm… with a modern twist.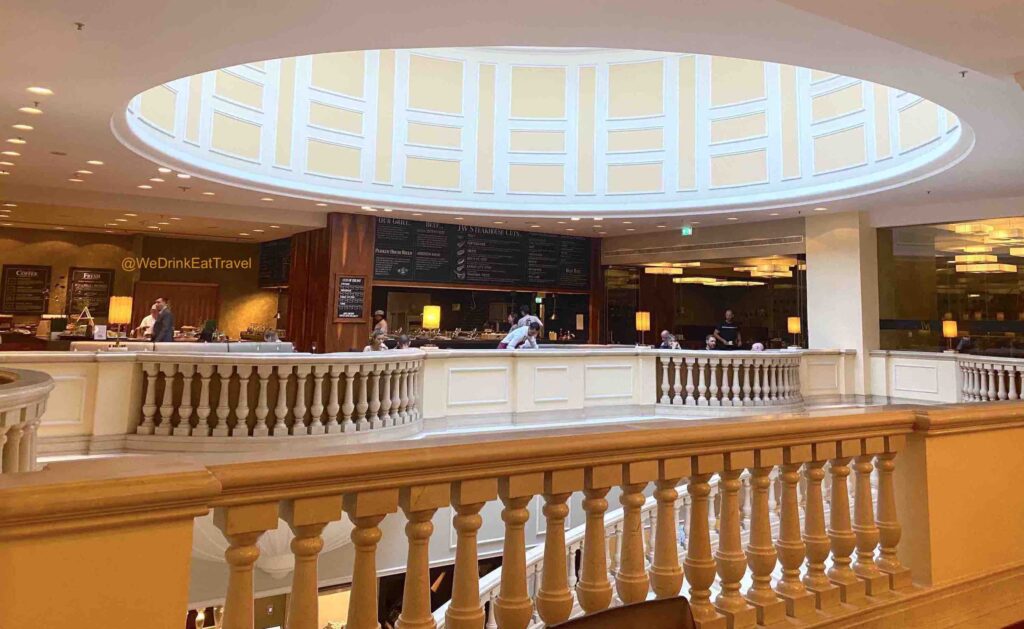 Their buffet breakfast in this hotel is served at the JW Steakhouse restaurant. Yet, don't worry my vegetarian foodies… there are lots of options at brekky time.
So, one of the first things we did notice was that it was super busy… and the tables are close together. Thus, if you're wanting to have some privacy… you'll have to low-talk or whisper, or not care if your "neighbours" are listening in on your conversation.
Even so, if you're after an extensive range of different foods to try… then the JW Marriott has it.
You need 15 minutes just to wander through the various sections, to see what's on offer!
And, if you LOVE bakery items then this is where the JW Marriott excels. You'll be going up many times as this section of the buffet is gigantic…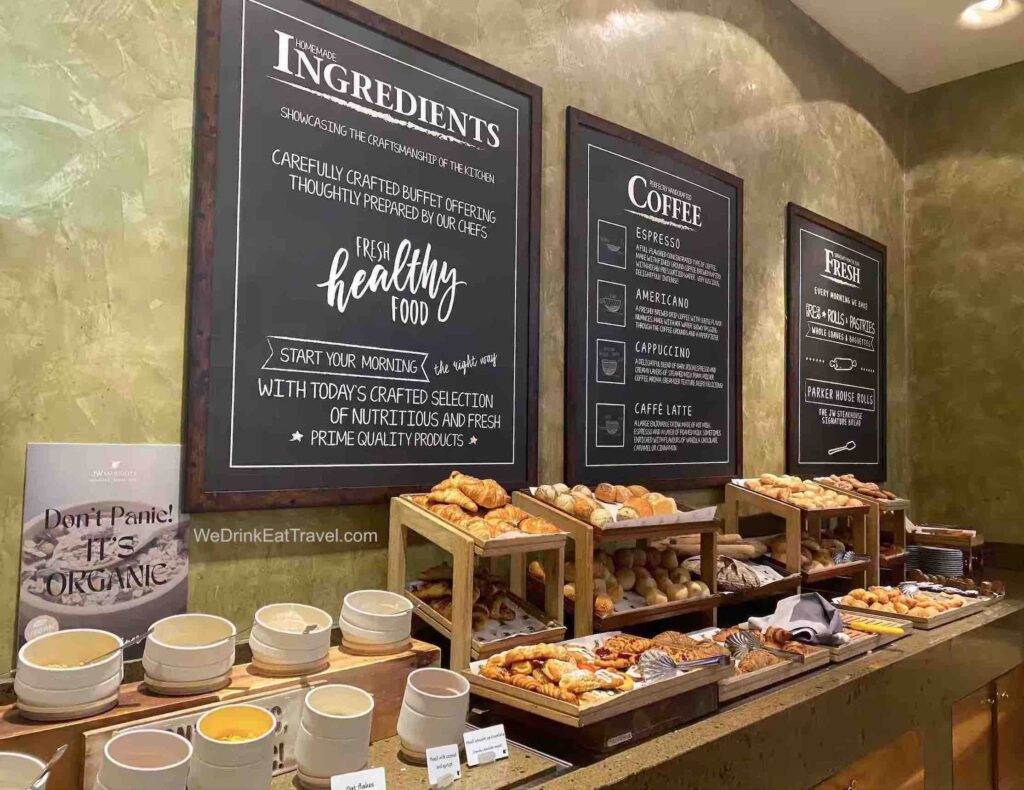 Now, what we did realize after having several dishes is… you'll need to season the food yourself, especially with the hot food items. Even with the eggs made to order there was a lack of seasoning… which we weren't expecting. Yet, thankfully there are heaps of sauces and condiments to flavor the food… however you desire.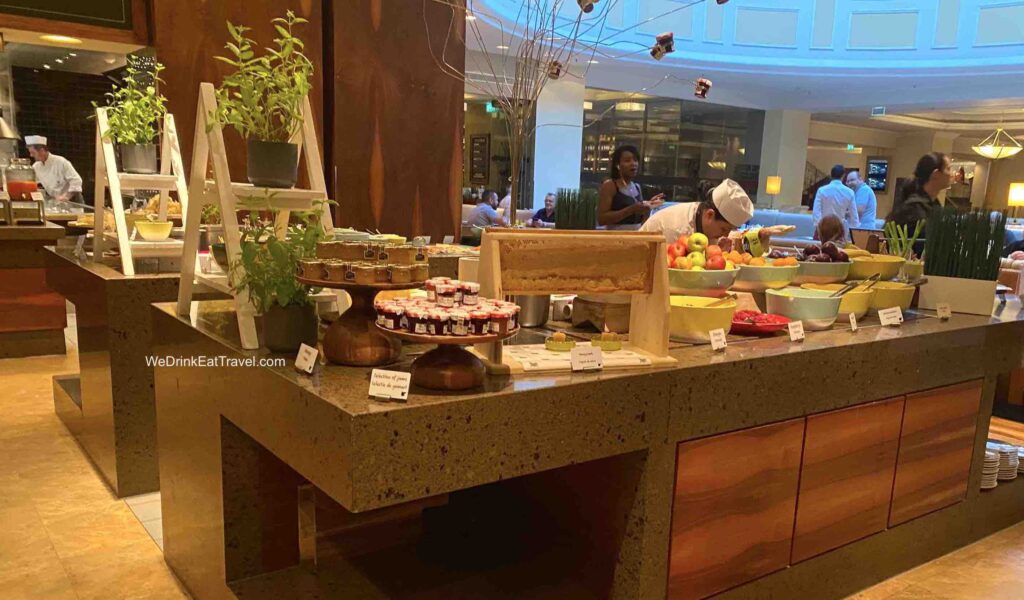 It was very busy at breakfast when we were there. And, whether or not they didn't have enough staff or whatever the reason… several of the sections were in need of topping up. So, we then had to wander around and fill our plates with other items… until they would do a re-stock.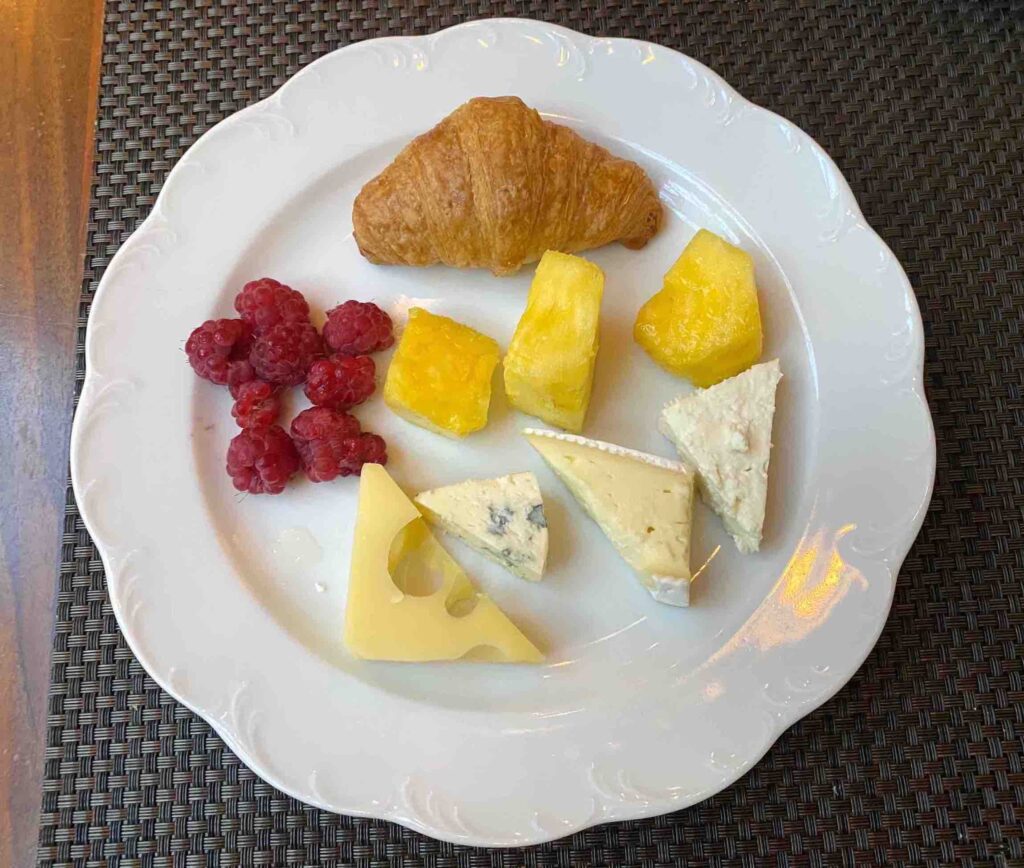 The service from staff was fine, yet we wouldn't say it was outstanding. The staff did look like they were run off their feet clearing tables… as well as attending to guest requests. And, while they were mostly efficient at clearing our empty plates… it felt almost robotic.
Now, we don't need staff to do cartwheels, magic tricks or karaoke. Yet, it would've made our breakfast experience more pleasant… if they even cracked a smile, or were appearing chipper.
JW Marriott Grand Hotel Bucharest Wifi
While this may be a thriving business hotel, unless you can find a quiet spot in the restaurant somewhere… it's not an ideal place to work and eat brekky during prime time. And, as we were looking around, no-one was on their laptops working.
Like the Radisson Blu though, you can connect to the wifi network with ease.
And, the upload and download wifi speeds that we got in the restaurant was OK… at 16.4 mbps and 8.13 mbps respectively.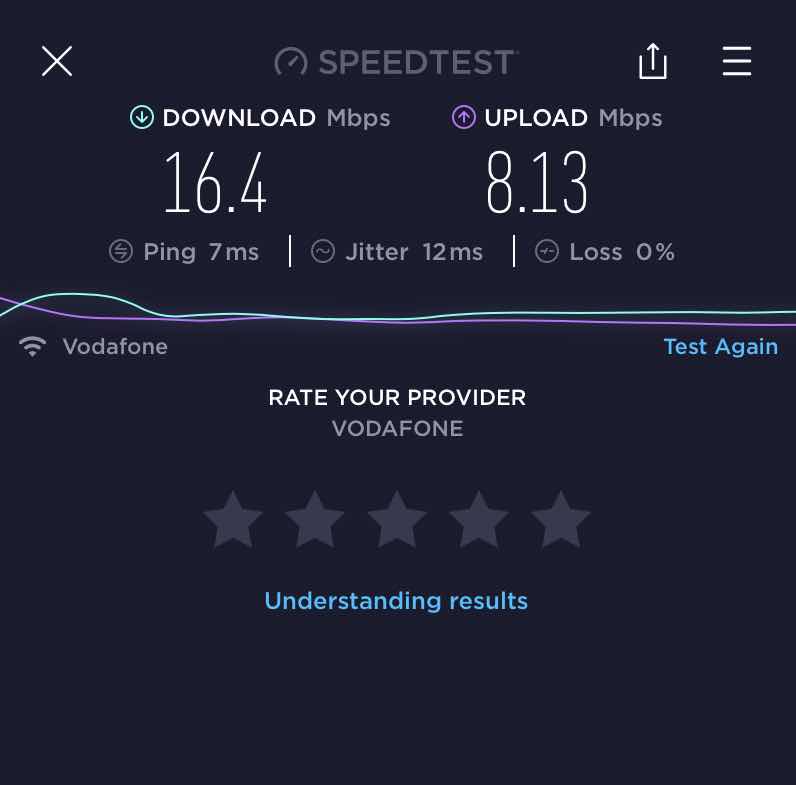 JW Marriott Grand Hotel Bucharest Breakfast Price
Out of interest we did contact the Marriott Hotel before getting there… of which they said buffet breakfast would cost 125 RON per person. Yet, when we got to the restaurant, we only had to pay 105 RON each (USD $22.50 / 21.30 Euros / GBP 18.40). So, that was a great surprise!
Hilton Garden Inn Bucharest
OK, so you may be asking where you can have a top breakfast in Bucharest Old Town area? So, one that we recommend is at the Hilton Garden Inn.
Now, while this is a 4 star hotel… some of the aspects did impress us more than the 5 star hotels!
The buffet breakfast is in their restaurant with a simple name of, Beef Room. Makes me conjure up images in my mind of big, brawny guys… flexing their muscles with a big piece of steak hanging out of their mouths… LOL!
Yet, like the Marriott with its beefy restaurant name, have no fear vegetarians… as there are dishes here that will satisfy your food desires too.
And, in comparison to the other 2 restaurants, the amount of choices are smaller. Yet, there's enough to please even the hungriest of people like ourselves! What's more… there are some key positive aspects that sets this restaurant apart from the others.
And, the first one is that the dishes here are delicious. They sure do know how to season the food here, even at the hot food section.
Remember how we were mentioning the traditional Romanian spread of zacusca? If you don't try it here, you'll kick yourself. It's incredibly flavorsome, as is the eggplant spread. Don't fill up too much on the bread, though!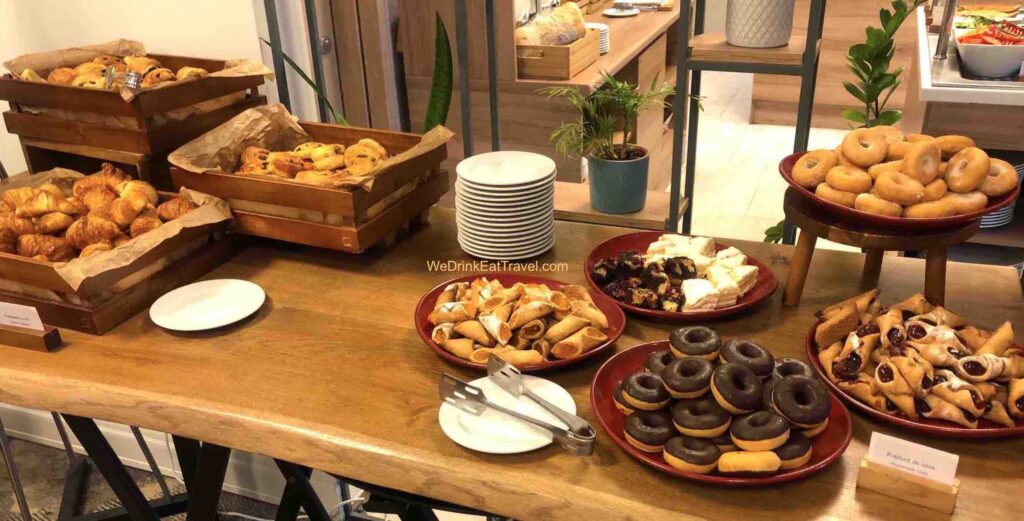 Also, one of the other things we did LOVE about the breakfast here, was the substantial amount of cheese…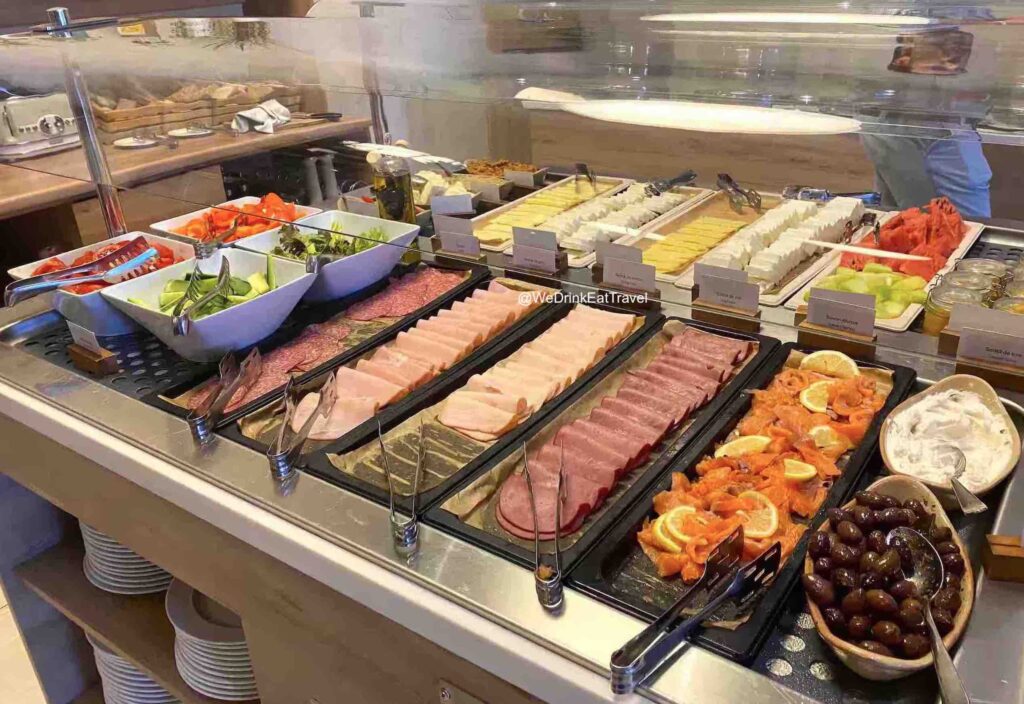 Now, there is something you should know about having a buffet brekky here. The Beef Room restaurant is much smaller in size and more compact… in comparison to the other 2 places. And, to compensate… there were lots of tables packed close together to accommodate more guests.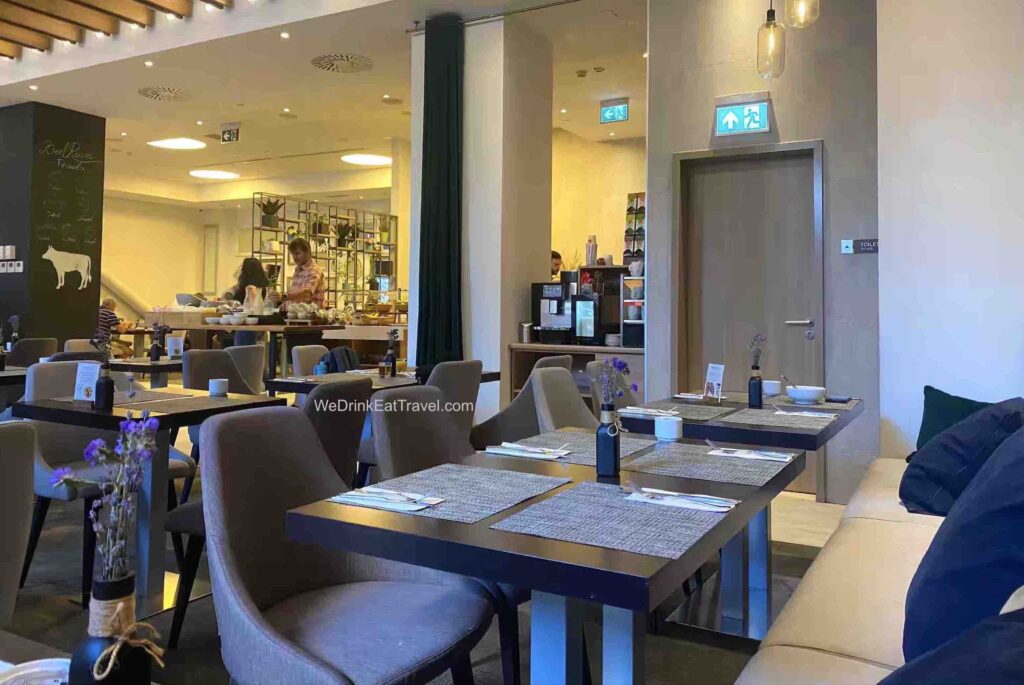 So, while we do like to have a bigger table with lots of room, we thought we should be considerate… and choose a smaller table that would seat 1 to 2 people.
And, we'd notice several people not pushing their chairs in… after sauntering to explore the buffet. Thus, it was tight at times when trying to get to the buffet ourselves. So, in the end, we would push their chairs in. Being considerate again!
Now, what's also top notch, is that the service here was impeccable.
Many of the staff waiting on the tables are young. Yet, it was astonishing to see how polite and efficient they were. And, even though we had a smaller table… we had no worries as our empty plates would be gone in a blink. So, huge thumbs up to the staff here.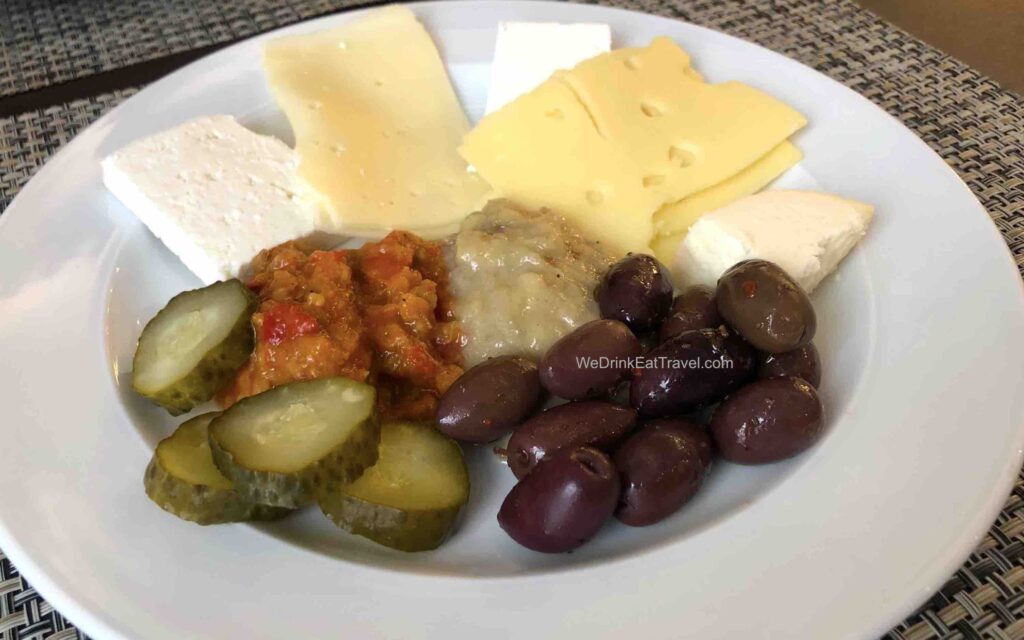 Hilton Garden Inn Bucharest Breakfast Price
For this 4 star hotel buffet breakfast, the price for 1 adult was 83 RON (about GBP 14.50 / 16.90 Euros / USD $17.80). Now, that is ridiculously cheap… especially as the food quality is excellent.
Our Choice for the Best Breakfast In Bucharest?
When we were comparing these breakfast places in Bucharest… it was difficult to decide which was the ultimate. And, unlike most other tourists… we chill out by spending about 3 hours having a leisurely buffet breakfast! So, we get to observe everything that goes on during most of the service… as well as immerse ourselves in the atmosphere and experiences.
Yet, if we had to choose one place… then we recommend you try the Radisson Blu in their Dacia Felix Restaurant.
And, while the location of this hotel may not be in the Old Town… it is on the prominent Victory Street, and amongst many popular tourist attractions. So, it's convenient to include in your itinerary before sightseeing.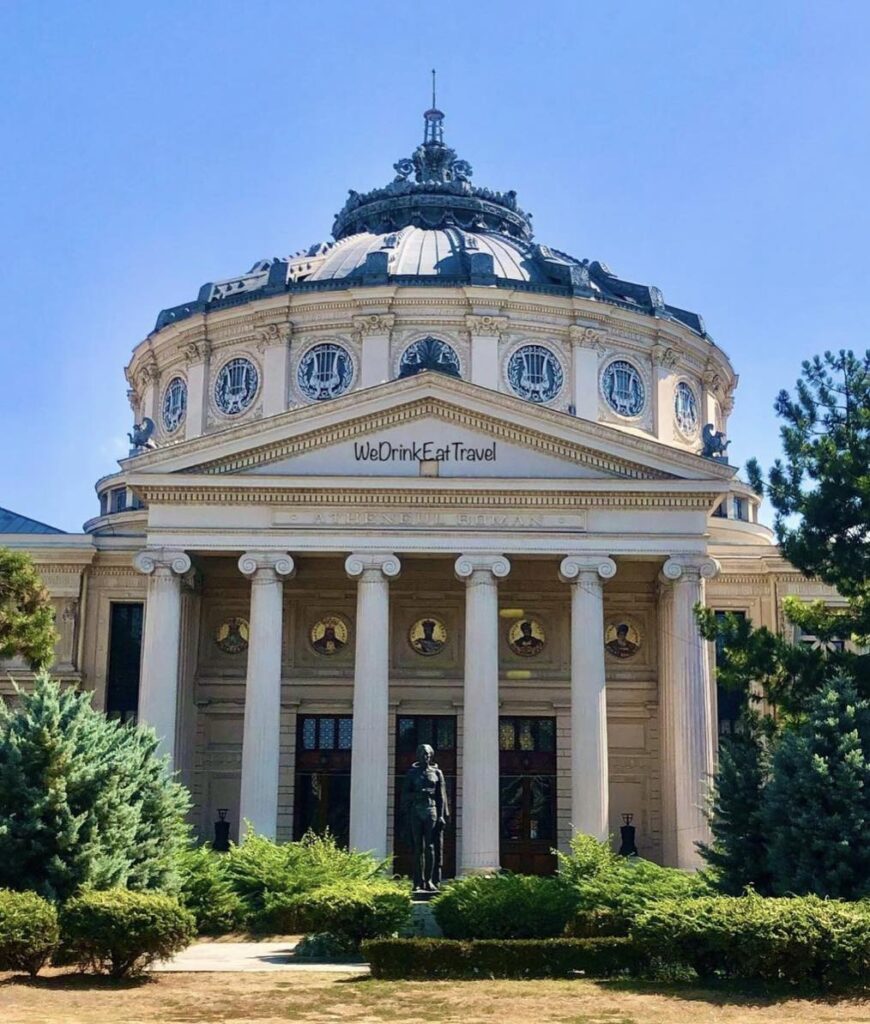 Their restaurant is in a comfortable, spacious and relaxing environment… with several different sections to choose from. So, you could even work and have brekky without annoyances… which is what we saw some people do. Plus, the useful wifi has decent speeds of around, 20 mbps up and down.
And, it didn't feel poky, as the tables were an adequate distance away from others. So, no "neighbours" eavesdropping in on our conversations. Furthermore, we had lots of space to stack up our empty plates, bowls, cups and glasses!
There's an extensive array of food on offer, from Mediterranean breakfast items, to a range of hot foods… through to continental style items, as well as cooked to order eggs. So, if you're eager to try lots of different food in Bucharest under the one roof… there's something to suit everyone's tastebuds.
And, they even have proper FRESH juice straight from the fruit and not from a packet… which these days seems to be rare in 5 star hotel restaurants.
Plus, for only 120 RON per adult… that's an astonishing cheap price for a luxury hotel buffet breakfast in eastern Europe. That's about adult USD $22.50 / 21.30 Euros / GBP 18.40.
Yet, there's one sure fire thing about having buffet brekkies… you can eat until you're chock-full and you most likely won't need lunch! Well, that is if you pig out like we did. Ha, ha, ha!
Well, after writing this it's making me hungry. So, I'm off to fill my growling belly. Keep checking in to discover more travel experiences… and to help you plan for your next vacation. And, if you want to explore other things to do in Bucharest, check our blog HERE.
You Might Be Interested In This Too…
Discover The Best Website To Book Flights And Hotels
Turkish Airlines Review – You Need To See Our Astonishing Experience
27 Of The Best Things To Do In Bucharest
10 Free Things To Do In Hue Vietnam
25 Of The Best Things To Do In Kotor Montenegro
30 Awesome Free Things To Do In Prague, Czech Republic
25 Amazing Things To Do In Dubrovnik Old Town
15 Interesting & Surprising Things To Do In Sarajevo Now
Check Out 15 Amazing Things To Do In Budva, Montenegro