There are many things to do in Hua Hin Thailand even if you're not a beach lover. In saying that, we do love the beach and having not been back to Hua Hin in years… it was still beautiful and enjoyable.
Of course, when we were back, we had to check out our old haunts… as well as explore, to see if we could discover new places. So, from checking out the ever popular Thai night markets, through to getting in amongst the action of the nightlife… through to witnessing walking up mountain to see incredible views.
In this We Drink Eat Travel blog, we'll run through 17 different things to do in Hua Hin Thailand. Now, we must kick it off with this one…
See the Historic Hua Hin Railway Station
In some places around the world… the local railway stations are popular places to see some artwork, or amazing architecture. And, Hua Hin Railway station is no exception. It's one of the oldest stations of its type in Thailand, and exudes beautiful architecture.
And, when in Hua Hin, you should come to see this historic site. While it's still a functioning railway station… when we were here, they were building the new high-speed railway station.
And, once that one is complete, it's said that the old Hua Hin railway station will become a museum. Even so, we recommend that you go see it… in case for some reason it doesn't open up to the public.
Try Some Delicious Thai Street Food
Needless to say that when in Hua Hin and Thailand in general… there's a mammoth amount of street food to try. You could have deep fried chicken, to papaya salad, pad thai, skewers, grilled clams… even through to coffee in a plastic bag!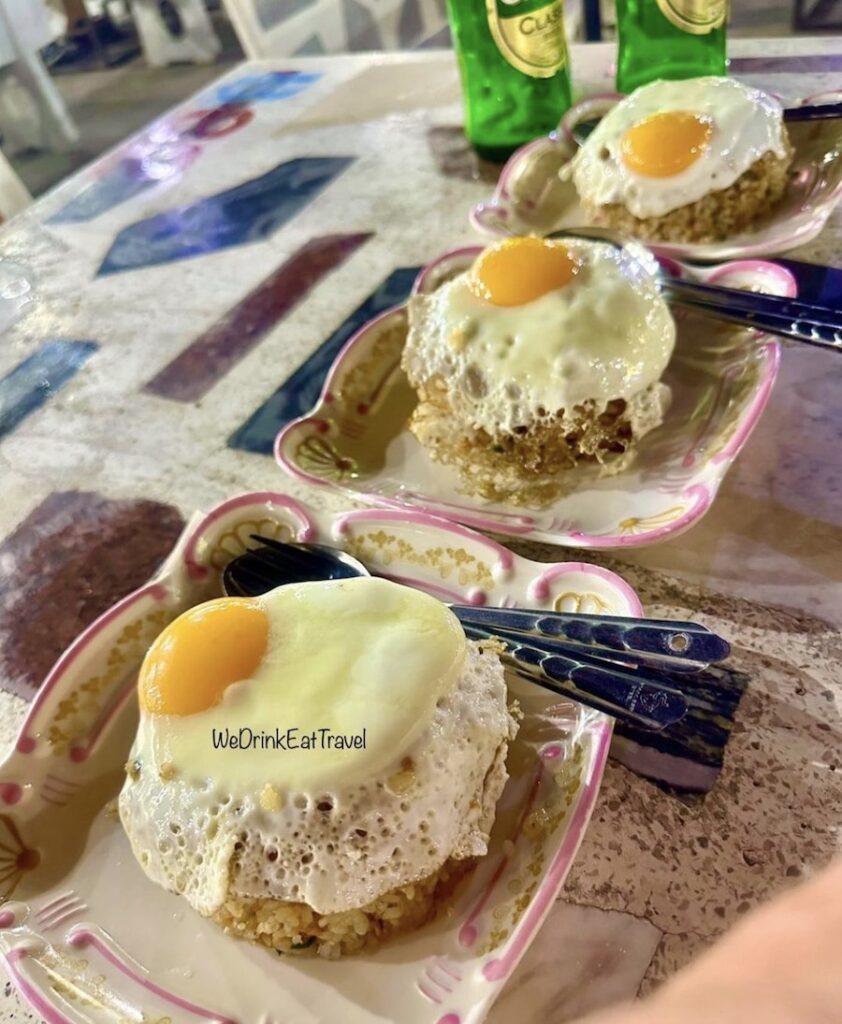 And, for those of you who are game… you could even try some insects and other creepy crawly creatures. Definitely not the style of food we'd like to have.
Yet, if you want to go the total opposite, here's one of the things to do in Hua Hin…
Indulge in a Gourmet Buffet Breakfast
When traveling around the world, sometimes we have a hankering for a BIG buffet breakfast. And, one place we recommend you try for an indulgent breakfast… is at the Hilton Hotel Hua Hin.
This 5-star hotel houses it's buffet breakfast in The Market restaurant. And, a staff member will take you to one of the several areas to sit and dine. Each time we went, we did prefer the area with the booths… as it felt like we were in our own little world.
And, there's something to suit everyone from western foods, Chinese food, a comprehensive salad bar with many dressings… through to cheese, sushi rolls, cooked to order eggs and heaps more. Yet, there are no bug skewers here.
It was surprising to us to notice that the quality was exceptional… and the service from staff was attentive too. Needless to say, each time we went, afterwards we felt like someone would have to roll us back to our accommodation… as we felt so full and rotund!
Witness a Breathtaking Sunrise
Seeing the sunrise is one of the top things to do in Hua Hin. In fact, from our perspective it's a MUST do when you visit this lovely town. There are many great vantage points to see spectacular sunsets. Yet, on one morning we got up early to see the sunrise around 5:30 in the morning.
So, one of the spots we went to was nearby the Navy Phirom area. And, when we got there, only 2 other people were on the beach. Thus, we almost had the beach all to ourselves.
Even so, we were glad it was almost deserted, as we were able to capture a stunning sunrise like this…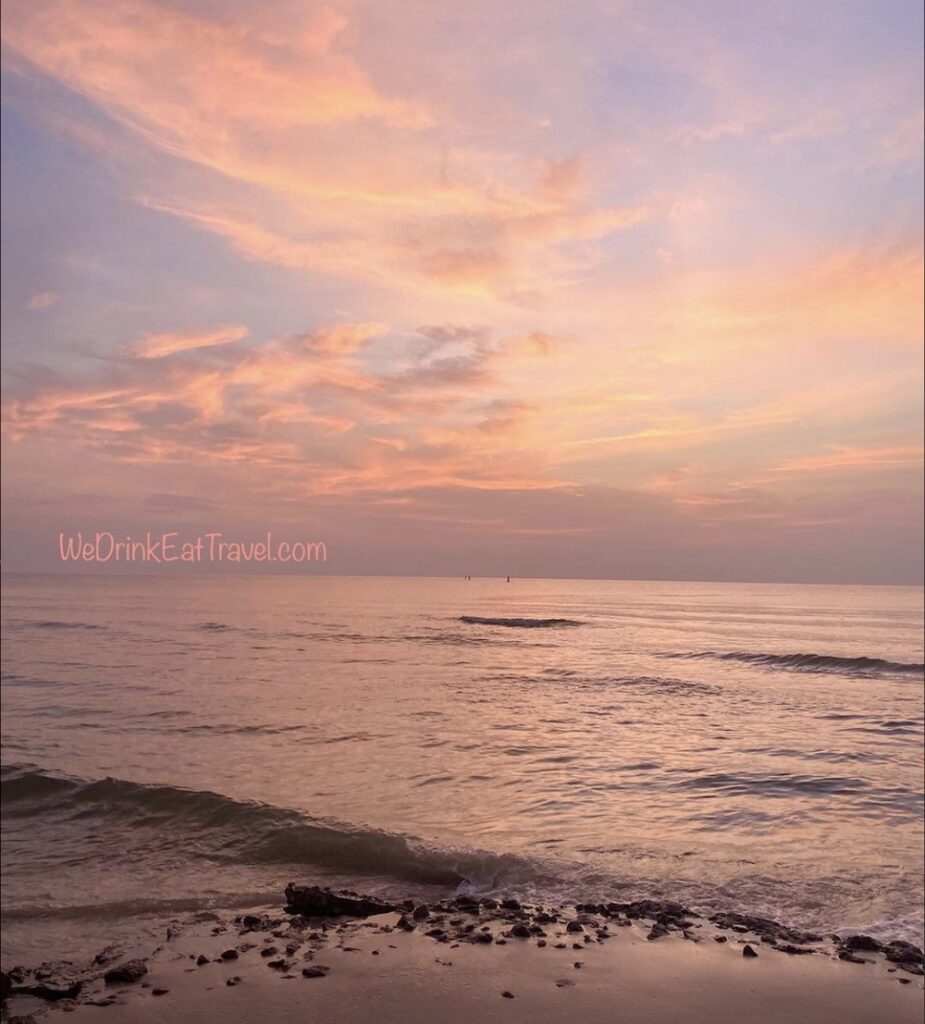 Get Amongst the Action at the Hua Hin Night Market
The Hua Hin Night Market is definitely one of the more touristy night markets. Yet, it's worth taking a look and getting in amongst the vibrant environment.
When you're here, there are lots of food stalls, clothes, shoes, souvenirs… through to beauty products, accessories and even places with live music.
Now, when you're at the end of one of the streets, you need to know that it still goes on! So, make sure you look ahead… as you'll see that it extends across the road for another block.
Yet, if you're wanting to check out a night market that's not so touristy, then head on over here…
Tamarind Night Market
Tamarind Night Market is about 4.5km away from Hua Hin town centre, on Nong Kae-Takiab Road. Now, we did go there a few times… and even during a week night it was a bustling place.
What dominates this market is the abundance of food stalls you can go to. Plus, depending on when you go, they may have live music too.
From noodle soups, ice-cream, wood-fired pizza, grilled seafood, through to pancakes… there are plenty of options to choose from.
And, if you're after some alcoholic beverages, then you can get them here at a few places. For a small bottle of local beer, it starts from only 55 baht (about USD $1.60 / 1.50 Euros / 1.30 GBP) .
Yet, if you want ridiculously CHEAP beer that's the normal everyday price, then head on over here…
Experience a Bustling Atmosphere at the Soi 88 Food Court
When thinking of food courts… most people would picture an indoor area within a shopping centre. Yet, we recommend you put this on your list of things to do in Hua Hin… and that's to check out the Soi 88 Food Court.
This food court is outdoors, and it's HUGE. And, there are mix of people that go there, so everyone is welcome.
Now, you do need to know that most of the places only open from the early evening. Yet, as the night goes on it gets chock full. Plus, even live bands play here. And, depending on the artists, they may mix in some English songs with the Thai music.
The food here is damn cheap too, like the beers. And, oh my gosh, will your tastebuds have a party with all the different flavors. Plus, your nose will be working overtime… with all the amazing aromas you'll smell from the delicious dishes.
You could get rice dishes for 20 baht, small pizzas for 100 baht… through to seafood hot pots, Thai salads, Indian, and plenty more.
We were staying close by, so needless to say, we went here several times. This truly is a place that is cheap and cheerful!
Take a Stroll Along the Hua Hin Fishing Pier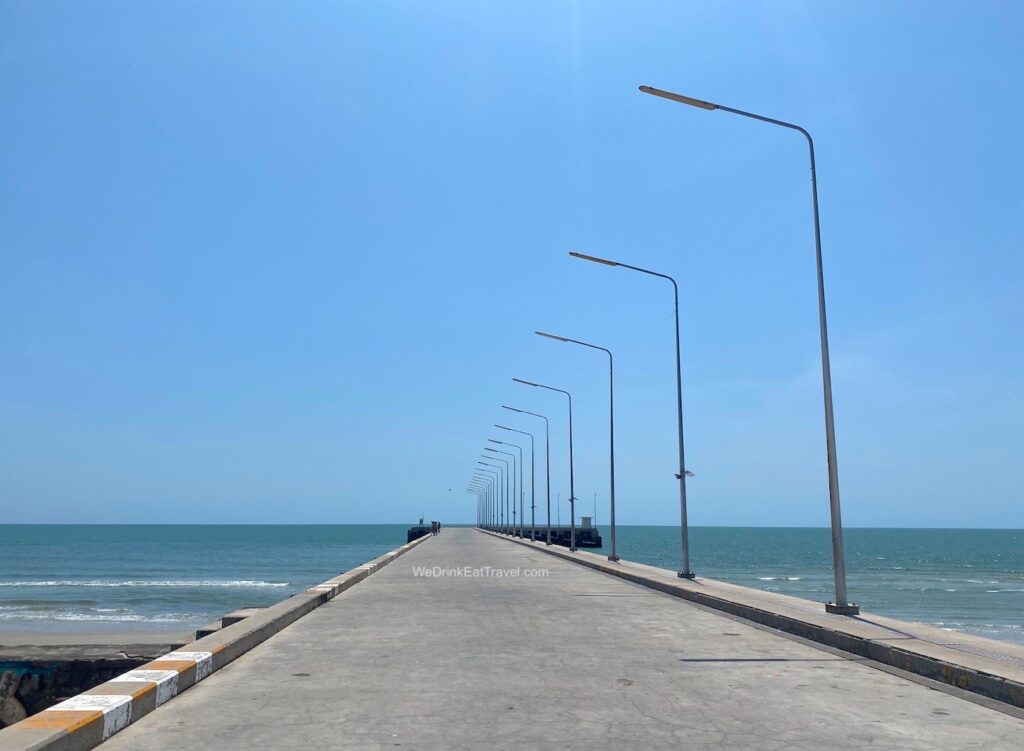 If you're in Hua Hin around the month of May… you'll discover that it's one of the hottest times of the year to visit.
Now, sometimes we must be like gluttons for punishment! Because, even though it was like a 40-degree celcius day, without a cloud in the sky and the sun's ray heat laden… we went out exploring.
And, you'll find that on days like this, most of the locals and even tourists will be undercover. But hey, not us!
So, one day we went out to take a stroll along the Hua Hin Fishing Pier… where it was just us and a couple of fishermen casting out their nets, to see what would be their catches of the day. It's a great place to take in the surroundings in a peaceful environment.
Get Active at Hua Hin Beach
With so many things to do in Hua Hin, you of course have to enjoy the beach!
It's lovely to stroll along the beach front… or you could venture out into the water to have a swim. Yet, if you want something more thrilling and adventure-seeking… then you could try kite surfing, surf boarding or even wind surfing, to name a few.
It's such a beautiful, colorful and mesmerising display… when you see the abundance of kite surfers flying enchantingly in the air.
And, if you want to give your arms a workout… you can sit down at one of the bars, restaurants or beach stalls along the waterfront, indulging in some beverages!
See the Colorful Jao Mae Tub Tim Shrine
Only a few minutes walk from the Hilton Hotel by the beach front… is the bright and colorful, Jao Mae Tub Tim Shrine, on 18 Selakem Road.
It's a small yet quaint shrine, that is tucked away. And, while you're here you can see wide, sweeping views of Hua Hin from here, which are beautiful.
So, you wouldn't know it was here unless you go exploring. Or you hear about it from a travel blog, for example :)
Hua Hin Market Morning Market
While the night markets are popular for many tourists… get up early one morning to experience the hustle and bustle at the Hua Hin Morning Market.
With the vendors pushing through huge carts of produce down tiny alleyways… and yelling out in their booming voice that they're coming through, in Thai language of course!
And, there are gorgeous old ladies sitting down patiently and quietly… awaiting the locals or even tourists, to try their home-made goodies.
Plus, there are other stalls selling clothes, shoes, accessories, homewares and more.
Experience the Infamous Soi Bintabat
Now, one of the top things to do in Hua Hin is to experience the nightlife. And, one of the must go to places is Soi Bintabaht. You'll be spoilt for choice with the number of bars that line this street.
Some bars have live bands, others play blaring music from YouTube… and there are the small cozy bars. Many of the bars have happy hours which vary in start and end times… as well as prices.
Plus, you'll find that several of the bars do not advertise their prices. So, be aware that a few may charge tourist prices. Yet, except to pay around 90 to 120 baht for a small bottle of beer, for example (about USD $ / X Euros / X GBP). Thus, even outside of happy hour it's still very affordable.
So, no doubt that after downing some drinks, you may get the late-night munchies. And, one of the popular places to go to down Soi Bintabaht for a food fix is…
Get Your Late-Night Snack Fix at Binta Burger
Now, Binta Burger is not a big burger restaurant chain, pumping out McDonald's type burgers. Instead, it's a humble one-person cart, preparing burgers on the fly.
Years ago this place was run by a lovely lady… who we found out no longer was in Hua Hin, having moved back to be with her family. So, the Binta Burger cart is run by this gentleman… who whips up the burgers just about as fast as the previous owner.
And, while you're drinking at one of the bars nearby… you'll get a waft of him cooking up those onions on the grill. Ahhhh, such a magnificent smell, and delightful taste!
Now, in case you're eager for a Binta Burger but aren't in the town centre… then you'll be pleased to know that you can get their burgers down Soi 94. And, sometimes we've ordered extra to have them cold the next day! Don't knock it until you try it!
So, make sure you put the infamous Binta Burger, on your list of things to do in Hua Hin.
Get a Relaxing Thai Massage
Now, we'd have to say that when comparing the South East Asian countries… Thailand is one of our favorite places to get a relaxing massage. OK, so some of you may be wondering about the "special" massages. And, yes, there are plenty of those around too!
Yet, for only around 300 baht… you can let all your stresses and tensions be released, as the massage therapists work their magic. So, for 300 baht, that's 1 hour of a full body, relaxing oil massage.
Our preference is that we tend to not go for the Thai massages. That's because a few times it was like they would be stretching our limbs to oblivion. So, we avoid that… as we don't want to run the risk of being incapacitated during our travels!
See the Golden Buddha and Witness Amazing Views at Chopstick Hill
You can combine seeing 2 things in one go, by heading to Chopstick Hill… seeing the Golden Buddha and then walking to the top of the hill.
And, when you get to the top, you'll see amazing views like this…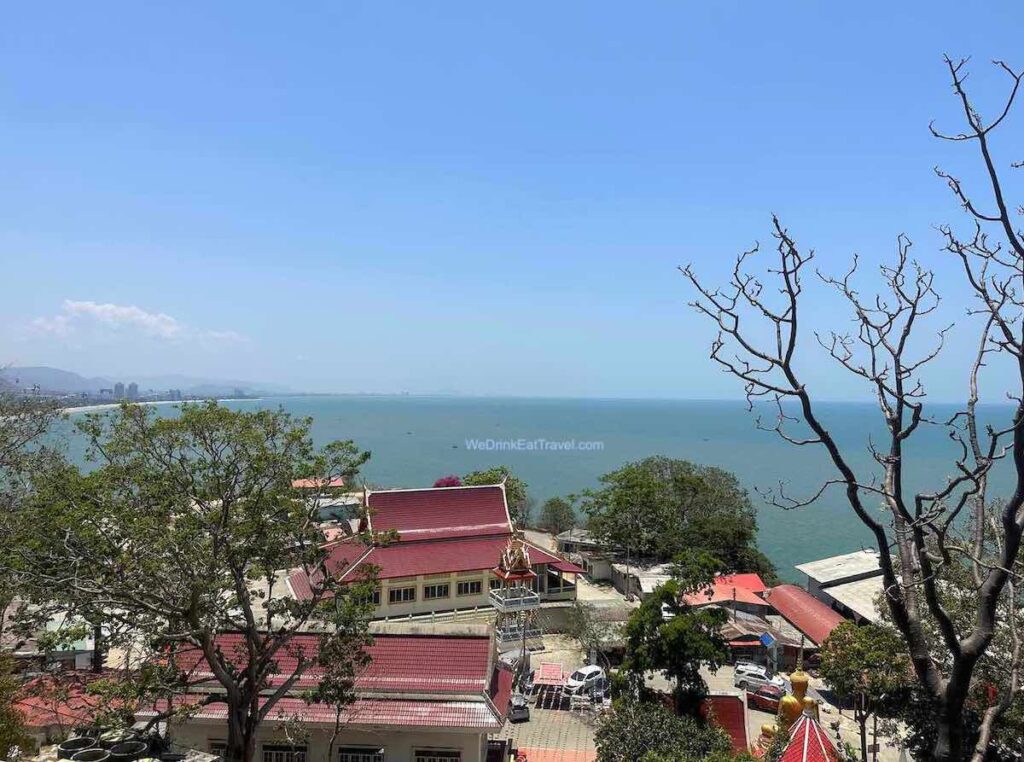 Yes, you do need to watch out for the monkeys… as they have no shame, and will try to grab any food you may have. We also suggest that you keep a hold of your personal belongings as they may try to snatch that from you too.
Now, if you want even better views, then here's another one of the awesome things to do in Hua Hin…
Hike Up Khao Hin Lek Fai
If you want to see some amazing views over Hua Hin, head on over to Khao Hin Lek Fai. While you can drive up here… we recommend that you take the time to hike up, if you're able. It's a great way to burn up calories from eating all those Binta Burgers and from all that booze… ha, ha, ha!
It did seem that the area had gone through some development since we were last here… as we saw some lookout areas that we didn't recall going to last time.
Even so, when you get to the top, you'll be able to witness some awesome views like this…
Check Out Khao Takiab Beach
If you're wanting to see another beach area… then only about 7km away from the town centre of Hua Hin… is Khao Takiab Beach. And, when you get there… you'll see that it is a stark contrast to the main beach of Hua Hin.
In the main area before hitting the water, there are some beach restaurants… with the tables and chairs packed in. Then, you can see that the sand is not golden.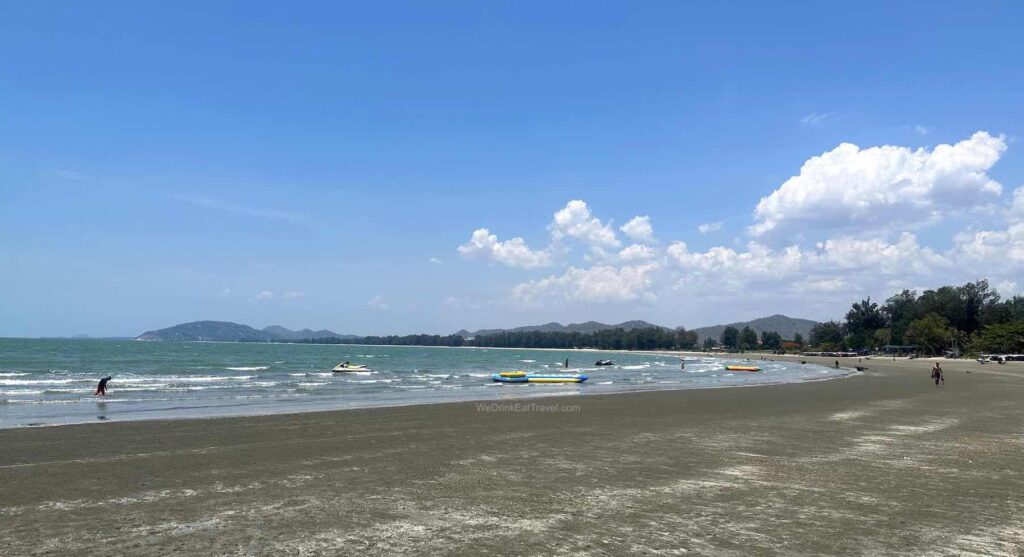 Now, this was surprising, as we saw other people's photos of Khao Takiab Beach… and it sure did look different. Even so, it's much quieter than Hua Hin Beach. Thus, if you want a more peaceful environment not too far away… then this could be an option for you.
So, there you have it, 17 different things to do in Hua Hin Thailand. Hua Hin is such a charming beach town with lots to offer.
You could experience the vibe at the markets, take part in thrilling water sports, indulge in a variety of foods… through to experiencing the nightlife, or seeing historic architecture.
There's something for everyone… and we recommend you spend more than a few days in Hua Hin. It sure is an amazing part of Thailand, ENJOY!
You Might Be Interested In This Too..
15 Of The Best Things To Do In Siem Reap
What You Need To Know About Pub Street Siem Reap And The Nightlife
Chatuchak Weekend Market: 7 Top Things You Need To Know
How To Get To Chatuchak Market In 2 Ways
How To Go To Platinum Fashion Mall Bangkok By BTS
What You Need To Know About The Bangkok Canal Boat On Saen Saep
Bars In Danang – 7 Of The Best Places
VAT Refund Bangkok: How To Get Money Back On Your Shopping
Is Kuala Lumpur Worth Visiting? 15 Interesting Things To Know
27 Of The Best Things To Do In Bucharest
Thai Airways Review: From Melbourne Australia To Bangkok
Here's A Stress-Free Way To Book Your Private Transfers
Need Accommodation?
Find Your Perfect Vacation Accommodation
Want Cheap Flight Deals?
Looking For The Latest Flight Deals? Click HERE
Get Real Cashback From Your Vacation!
Discover How You Can Get Cashback From Your Vacation Bookings