Sometimes when it comes to booking private transfers for traveling… whether it be for vacation or business, it can get laborious. 
You need to spend time looking for the right vehicle option… as well as at a price that fits within your budget. Plus, it can take a hefty amount of time, to find reputable transport operators too.
Yet, you'll be glad to know that there is a great company… where you can get private car transfers at awesome prices. And, rather than you having to do a lot of the tiresome research, which uses up your precious time… the drivers pitch their offers to you!
Now, that sounds great, right? Why do all the hard work yourself when you don't have to?
So, the company that we're talking about is GetTransfer. We've used their services many times now around the world. And, we've been able to get some great private transfers at top prices.
Thus, not only are we saving money… we can book a private driver without stress.
So, in this We Drink Travel Blog post, we'll run through what GetTransfer is… and why we believe you should use them. Plus, we'll share some top travel tips and hints, on how to use GetTransfer.
Then, next time you want to book a private driver, it can make travel planning stress-free… as well as to help you to save time and money.
Let's dive right in!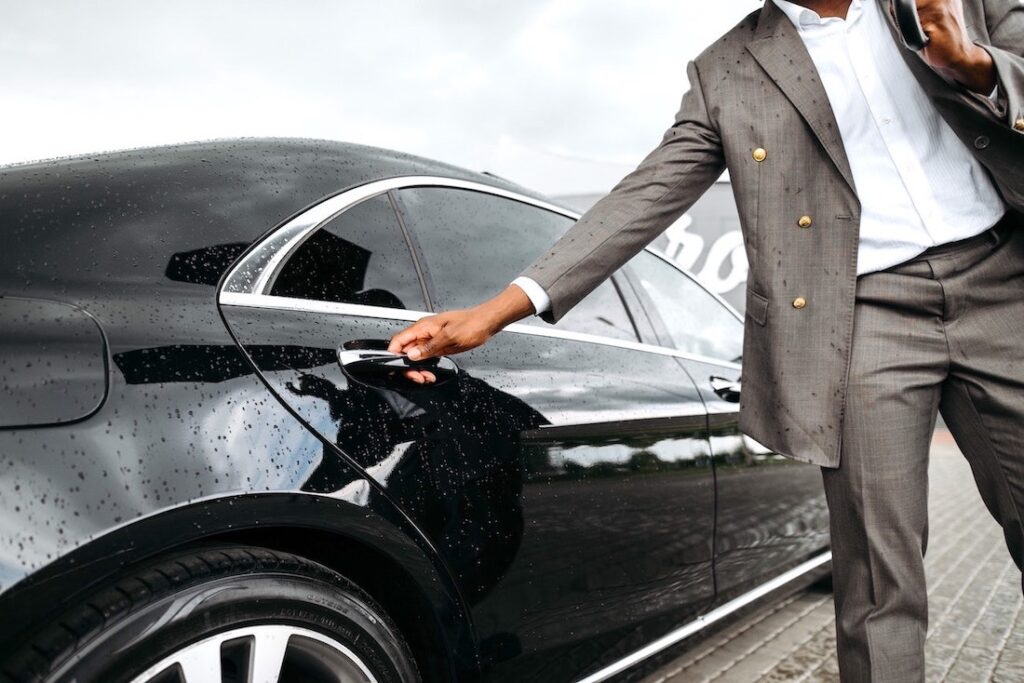 Who and What Is GetTransfer?
GetTransfer provides a service where you can book transfers, car rentals and rides… all with a personal driver. And, they have an extensive around the world, where you can access their services in over 100 countries… from Bolivia to Croatia, through to Thailand and Australia, for example.
They also provide different transport options to suit various budgets and needs… from economy cars through to SUVs, vans to buses. And, from our experience… the prices for GetTransfer private drivers is more cost-effective, than other transport operators.
What's more, it's so easy and simple to get competitive quotes for your travels. In fact, GetTransfer will do the hard work for you! And, the great thing is… once you get the quotes there's no obligation to book.
Now, depending on which city you're looking at transport for… some places will have more driver options than others. So, while in one city you may get 20 offers… in other places you may only get 3 offers, for example.
With GetTransfer, not only do they provide private transfers… you can even book drivers by the hour. So, this is handy if you want to go sightseeing, with a flexible itinerary. Or, you just need a chauffeur to drive you around to places… when you don't have transport of your own, for example.
And, they even have delivery services, if you need to send something.
Thus, GetTransfer can help solve several of your transport needs while you're traveling.
How to Get Offers via GetTransfer
One of the outstanding benefits of GetTransfer is that drivers pitch their offers to you. So, you don't have to spend hours, or even days, searching for a driver and vehicle.
So, to see what offers you can get for your private transfers… head on over to their website at: www.GetTransfer.com
Once you get there… you'll notice that there are multiple vehicle options you can choose from.
Now, here's travel tip for you when using GetTransfer…
We've only ever looked for transport using the "Economy" option. And, one of the main reasons why, is we've found that all different types of transport options are offered… from luxury cars through to vans!
And, yes, for just the 2 of us we've even booked a van so we can ride in comfort with plenty of space for our luggage… and lots of leg room for Paul!
Even so, if you do want something specific like an SUV, then of course, select that option.
Also, we can't comment on the hourly or delivery services… as we've never had a need to use them yet.
OK, so before you can see and receive offers from drivers… you will need to sign up to GetTransfer using an email address.
Then, on their website, here's an example of the process to get quotes for a transfer:
Select the "TRANSFER" option.
Enter the pick up address in the "From" section.
Enter the destination address in the "To" section.
Then, hey presto, you immediately get an IDEA of what the transfers may cost. See our example below: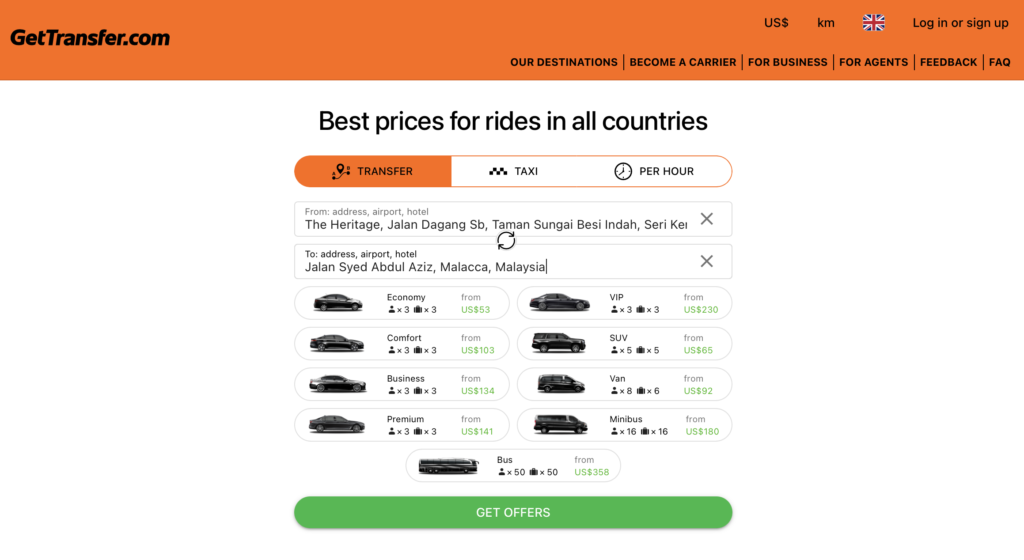 After that, you simply need to hit the "GET OFFERS" button.
Now, the mandatory details you must enter to get quotes, is the ride date and time. You'll then need to accept the terms before you can go further. Then, after hitting the "GET OFFERS" button, sit back and relax… as you'll start getting offers from drivers.
NOTE: Remember to log in to be able to see and receive offers. You'll also get notifications via the email address you used when you were signing up to GetTransfer.
Plus, you'll also get a handy estimate of the distance and time it should take for the transfer.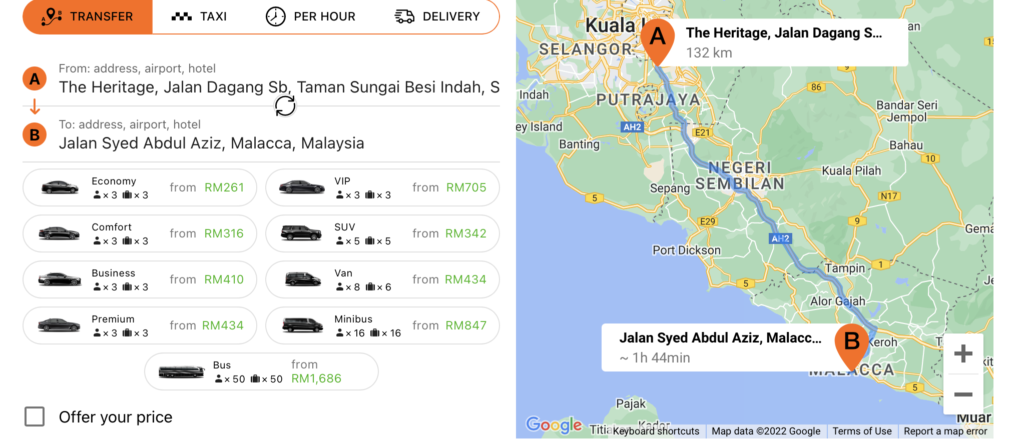 Travel Tips BEFORE Making the Booking for Your Private Transfers
If there are specific requirements you need, such as an English speaking driver, or you need a car with a baby seat… it's better to request that before choosing your driver. Otherwise, you'll need to go through the process again.
Check the driver's cancellation policy to ensure you're OK with the terms.
Check the ratings and comments that the driver has been given for previous transfers. As we always say, be mindful of reviews and star ratings… as sometimes they may not always be legitimate. And, that applies not just to Get Transfer… but to other sites and companies, like Google, Booking.com or Agoda, for example.
Check that the vehicle will cater for your needs. It wouldn't be comfortable having to squeeze 6 people into a mini! Or, that the vehicle can't hold all the luggage you need it to.
Check what the offer price includes. For example, does it include tolls, waiting time, all taxes?
Most drivers show photos of their car on the outside and inside, so you know what to expect. Some may also have extras that they provide… for example, wifi or free bottled water.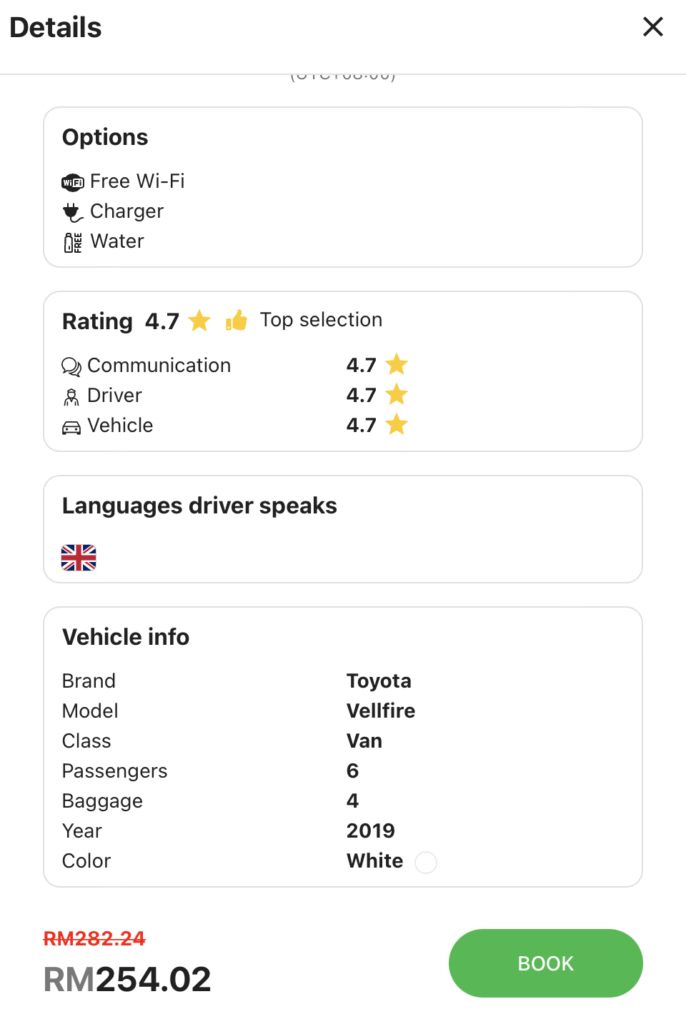 What Happens After Making the Booking on GetTransfer?
After scanning through the available drivers and vehicle options and making your selection… you'll get a confirmation email of your booking.
You can use the GetTransfer platform to communicate with the driver… before your transfer starts. Yet, what we've found is that many of the drivers will communicate via WhatsApp or similar. And for us, we were fine with this, and we felt it was more convenient.
Yet, if you're unsure… you can keep all communications within the GetTransfer platform, if that makes you feel more comfortable.
Now, on the day of your private transfer, about 1 hour or so before your pick up time… you can track where your driver is via the GetTransfer platform. So, this is a handy feature to have, to give you assurance the driver is on their way.
Pros and Cons of Using GetTransfer for Booking Your Private Transfers
Now, while there are many benefits of using GetTransfer for your private transport needs… there are some things you need to know. So, in this section we'll highlight not only the positives of using GetTransfer… but also things you should consider when using this company.
Pros of Using GetTransfer for Private Transfers Bookings
You save time by reducing the amount of research when trying to find a driver and vehicle… as drivers pitch their offers to you.
Most of the time we've found that the offers from drivers through GetTransfer… are less expensive than other places.
You generally get a bulk of the offers from drivers within a couple of hours or so. Thus, you won't have to wait for days, or weeks to decide which driver to choose.
Get Transfer often have promotional codes you can use, to help you save even more money. Here's one promo code that may work to get you a 10% discount: WELCOME10
You're under no obligation to select any driver, if none of the drivers or offers suit your needs.
You can pay online by credit card, rather than cash. So, that's great if you want to rack up those frequent flyer points via your credit card spend!
GetTransfer has services in over 100 countries around the world. So, that helps to make finding a private driver easier for your travels.
Cons of Using GetTransfer for Private Transfers Bookings
You may not get a large selection of drivers to choose from. For example, for a route that we were looking for drivers in Dubrovnik, we only got 3 responses. So, depending on which city you're in, your route, when you need a driver and what vehicle you need… you may plenty of offers and choices, or you may only get a few.
Not all drivers will have reviews. Now, this is not always a bad thing if a driver doesn't have a formal review on GetTransfer. And, this may be because they are new to GetTransfer… but have years of experience and positive reviews elsewhere. So, you'll need to decide if you want to consider potentially using them or not.
So, as you can see, there are many positives when booking with GetTransfer. It's a stress-free way for booking your private transfers with ease. It's a great platform to use when you don't have the time, patience or resources… to extensively research private transport options yourself.
And, sometimes you want the comfort of having your own driver and vehicle… without having to share facilities or space with people you don't know!
Plus, often times the prices via GetTransfer are more competitive than others. Thus, it could help you to save money, so you can spend it on other things like sightseeing tours… or hotel room upgrades, or a fine dining experience at a rooftop bar, for example.
We have used the GetTransfer platform several times, on our travels around the world.
So, we're glad we could share this with you, as it's another travel tool you can have… for when you make your next travel plans and bookings for private transfers. 
Now, if you don't have the time, resources or patience to book your own travel needs… get in touch with us! As full-time global travelers for many years… we have plenty of experience in travel planning.
And, we know how challenging it can be to find suitable accommodation and transport… let alone researching what to do when you get to a destination.
So, we can work within your budgets… and help to plan your itinerary so you can have amazing experiences on your vacation.
Thus, if you need help to make your travels better for pleasure or business… feel free to reach out!
You Might Be Interested In This Too…
Check Out 16 Things To Do In Tivat Montenegro
8 Great Places To Eat In Melaka And Where To Drink
25 Interesting Things To Do In Malacca, Malaysia
Here Are 12 Interesting Things To Do In Putrajaya Malaysia
Review Of The Ibis Styles Kuala Lumpur Fraser Business Park
21 Interesting and Top Things To Do In Brno
Our Qantas Flight From Melbourne To Singapore Was Actually Astonishing
Is Dubrovnik Worth Visiting? Fascinating Facts You Need To Know
What You Need To Know About The Bangkok Canal Boat On Saen Saep
27 Of The Best Things To Do In Bucharest
10 Free Things To Do In Hue Vietnam
25 Of The Best Things To Do In Kotor Montenegro