Prague is one of our favorite capital cities in Europe, especially when it comes to drinking! There are plenty of places to have a beverage, or 2, or more in this vibrant city.
Plus, there are even more options when Summer time comes around! From bars by the waterfront, old town pubs, amazing beer gardens… through to drinks by the pool that aren't in a hotel! There's so many places to discover when you get thirsty.
Yet, in this We Drink Eat Travel blog post… we'll run through 10 of the best places for drinks in Prague. And, some of them are very surprising!
Dejavu
Location: Jakubská 648/6, Staré Město (Old Town)
If you're looking for a place to drink with a sleek and chic interior… then head on over to Dejavu. It has a very sophisticated bar area… and is popular for their cocktail happy hours between 6 and 8pm.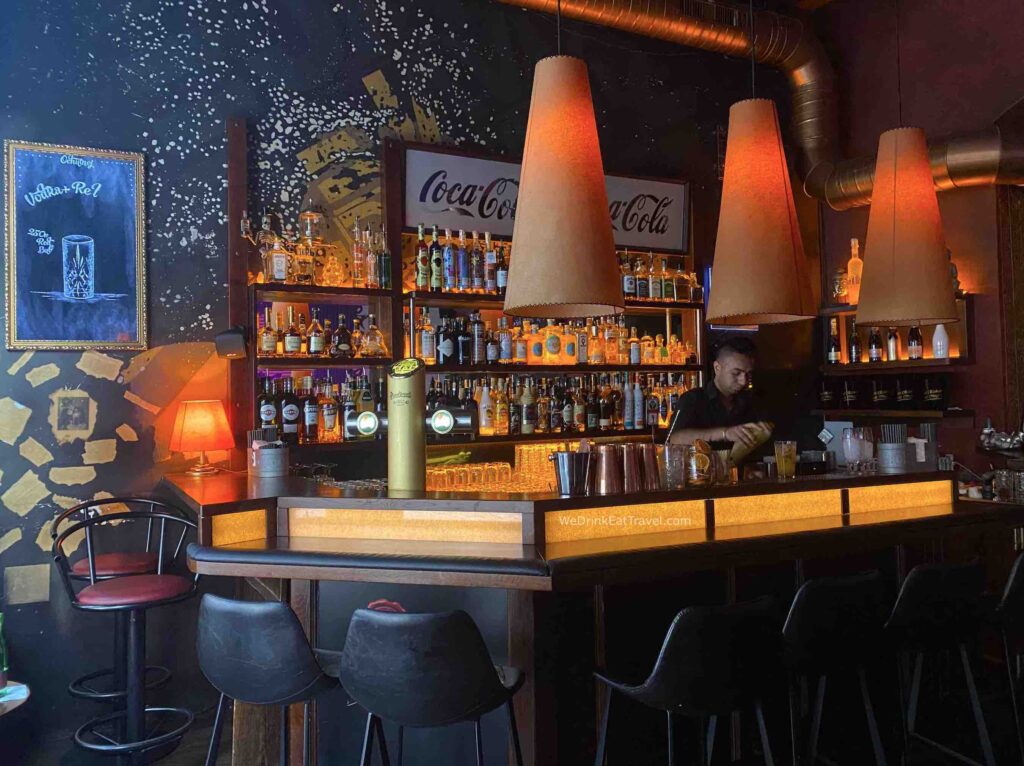 Plus, they claim to make REAL cocktails… which makes you wonder what other places are doing! Are they using cheap alcohol than what they say… or maybe the drinks are watered down? Hmmm… interesting to think about when you're out and about!
Service here is swift, friendly and helpful. Plus, you can pay by credit card if need be.
We didn't take advantage of the cocktail happy hours and had beer instead. A 330ml bottle of beer will cost around 65 Koruna (about 2.70 Euros / $2.80 USD / 2.25 GBP).
Chapeau Rouge Bar
Location: Jakubská 2, Staré Město (Old Town)
If you're looking for a place with cheap beer in Prague, and generally inexpensive drinks… you should go check out Chapeau Rouge.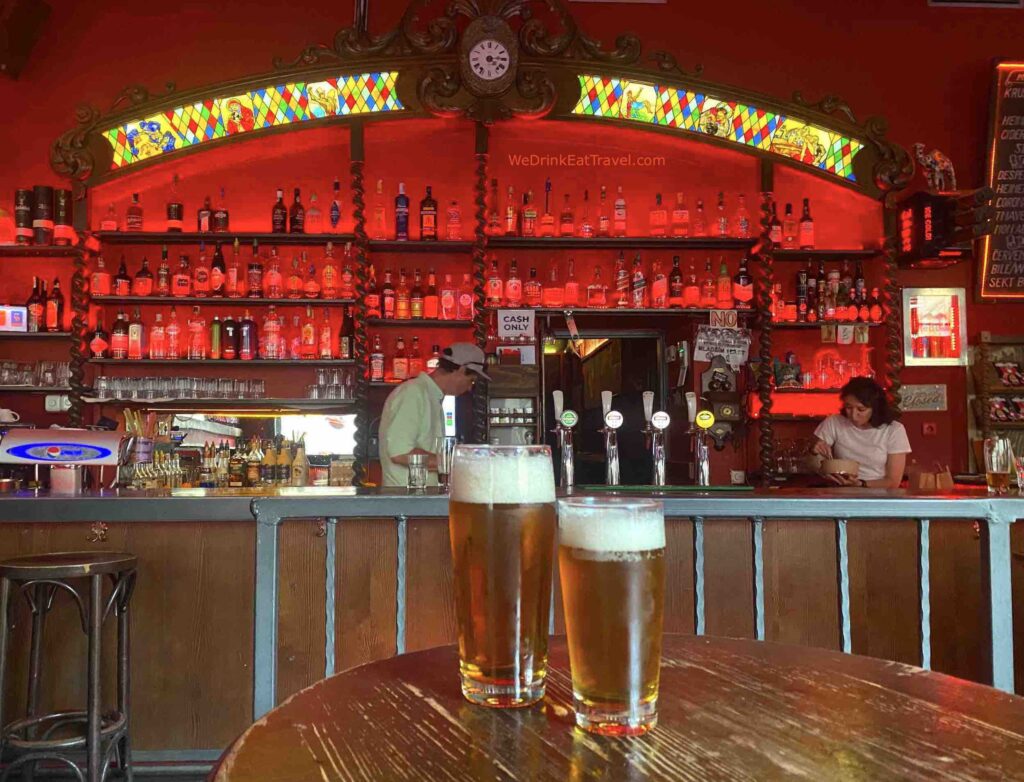 This is a huge place which spans over 3 floors. Depending on what time you go, you can simply hang out at the bar areas… or dance away with the DJ in the nightclub section. Or, you can listen to some live music. So, it's great for variety if you want to stay in the one place.
Plus, there's also a big throne near the main bar, where you can look over everyone else in the bar… LOL!
Drinks are cheap, with a pint of draught beer about 60 Koruna… and a small one about 40 Koruna.
Be wary though, this bar only accepts cash.
Double Trouble
Location: Melantrichova 970/17, Staré Město (Old Town)
In the heart of Prague Old Town is a place you should check out called, Double Trouble.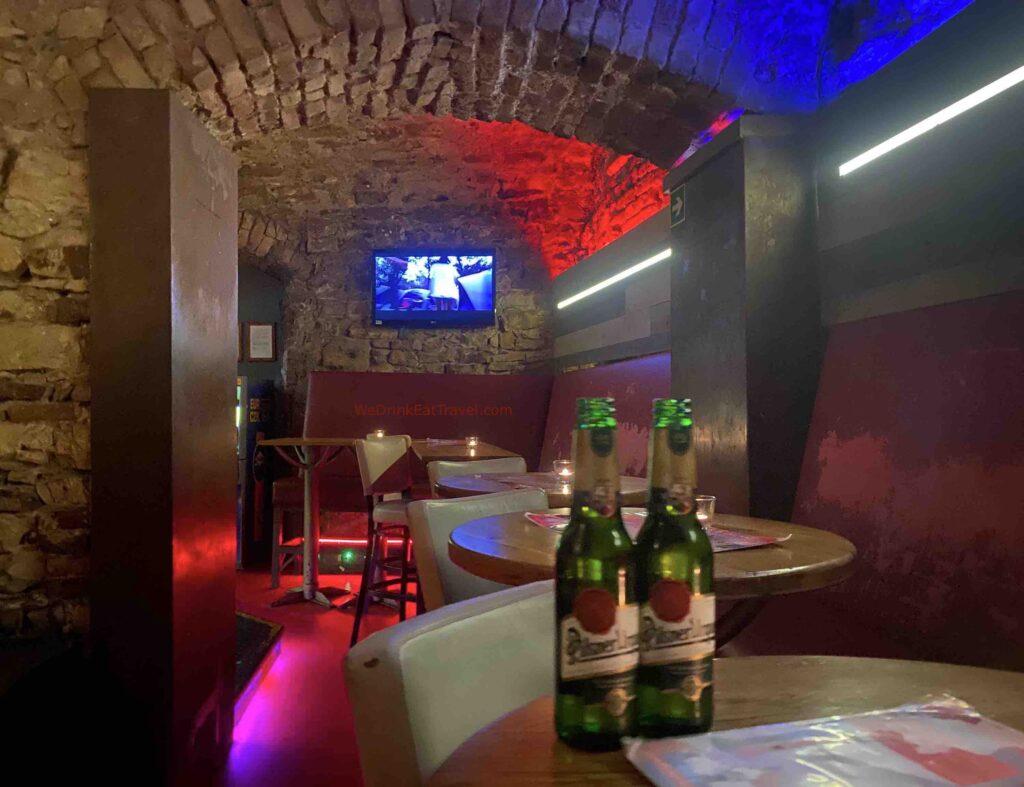 It's a fun atmosphere, with many groups having fun while we were there.
And here, you can enjoy your drinks at one of the many tables. Otherwise, head on over to the dancefloor… with the different colored lights glittering around the room. And, show off your dance moves when the DJ pumps out music all night long.
For a 330ml bottle of beer, it'll cost around 79 Koruna. A little more expensive than other places… yet it is a place to party!
So, a travel tip for this place is to remember to bring cash… as they don't accept cards.
Letna Park
If you saw our blog about 30 Of The Best Free Things To Do In Prague… you will have seen us mention Letna Park. And, not only do we recommend you visit this park… you should stop to have a drink.
Letna Park has a huge beer garden, with plenty of seats. While the range of drinks is small, one of the best things about this place is the amazing views you'll witness at this park…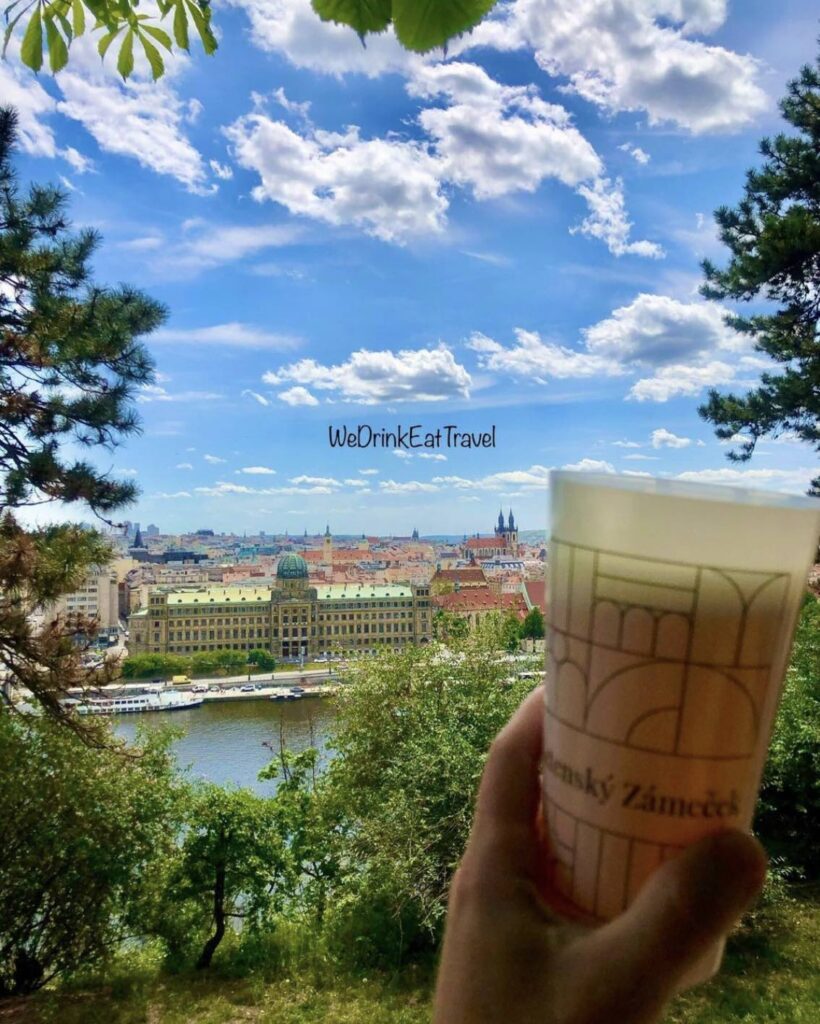 When you get a beer here, they'll put it in a re-usable plastic cup. So, you'll need to pay a deposit per cup of 50 Koruna (about 2 Euros / $2.10 USD / 1.70 GBP). Just remember to return the cup after you're done drinking… otherwise you'll lose the deposit!
Also, another travel tip is to have some cash, as they don't accept cards.
Gastro Bar 1401
Location: Michalská 970/20, Staré Město
For a bar with a different looking interior, you need to check out the Gastro Bar 1401. While on the outside it may look like a standard bar, once you walk in you'll see all this…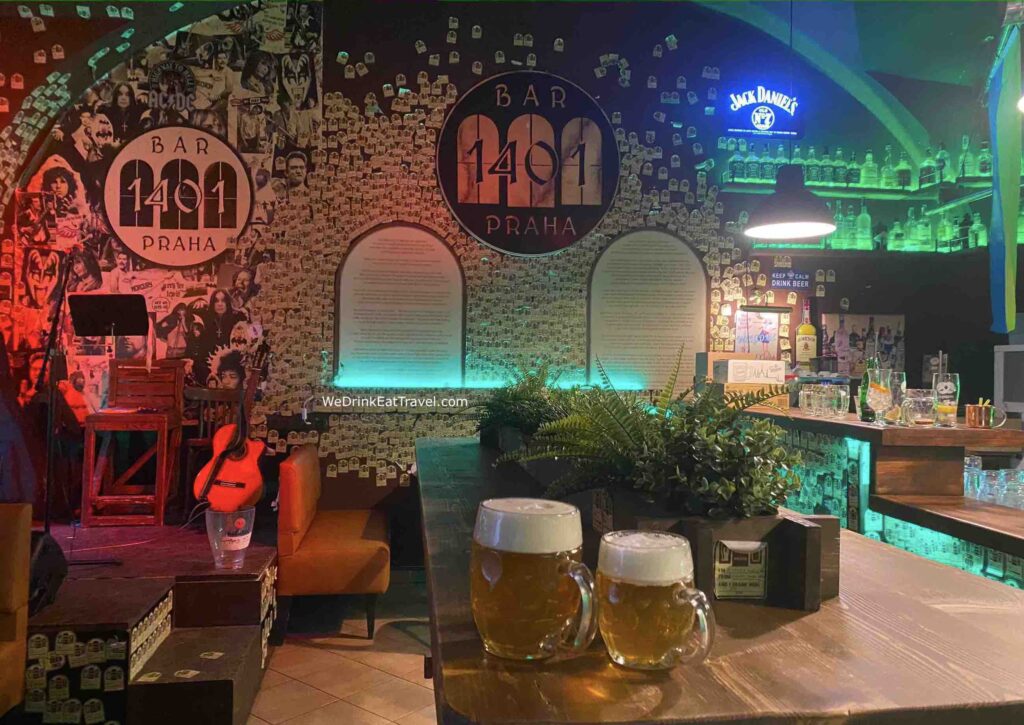 Now, all of these white things are sticky notes where people have messages on them… and then they get put up around the bar. So, if you want to leave your mark in Prague, write a heartfelt note here!
If you enjoy live music, then you can see and hear it here at this Prague bar.
Also, you can sit outside at the front of the bar at the windows, if you like people watching. Or, you can sit outside in the courtyard areas, to enjoy the warm weather.
A pint of craft beer will cost around 75 Koruna.
Now, we this is one of the best places for drinks in Prague… and it's not what you probably expect!
Střelecký Island
If you want to hang out at an island in the middle of Prague to enjoy some beverages… then make your way to Střelecký Island. We went here several times during our time in Prague… as the views are great, and it has a relaxing laidback environment.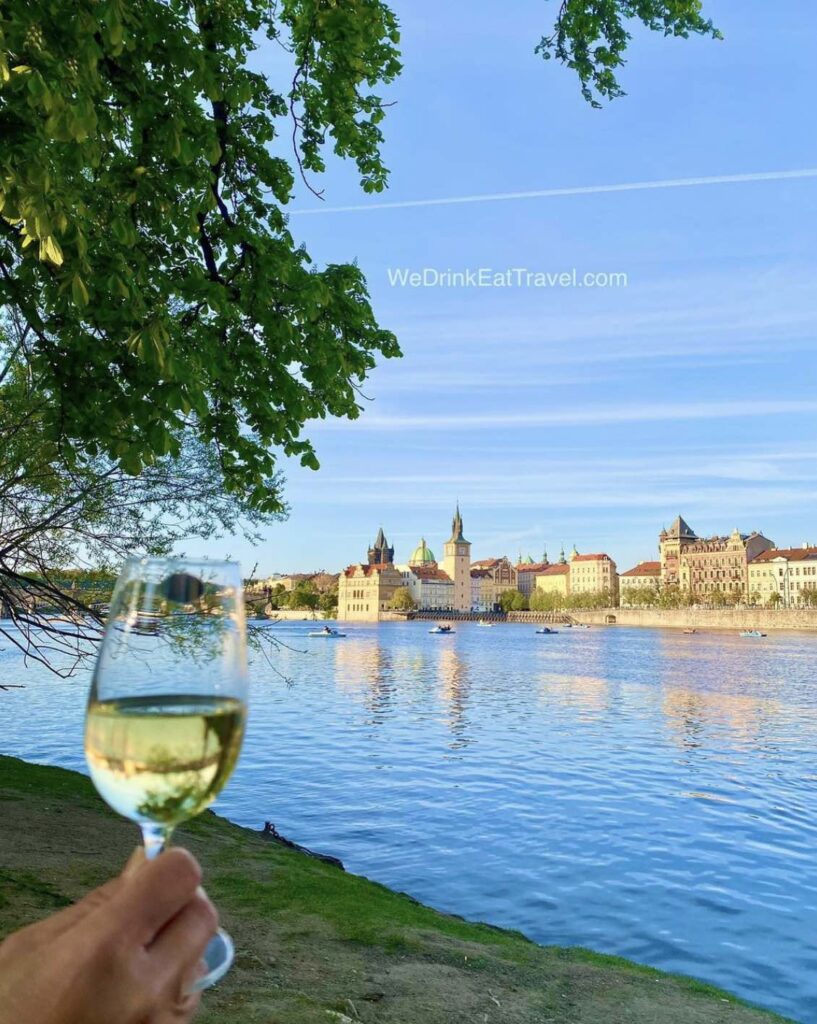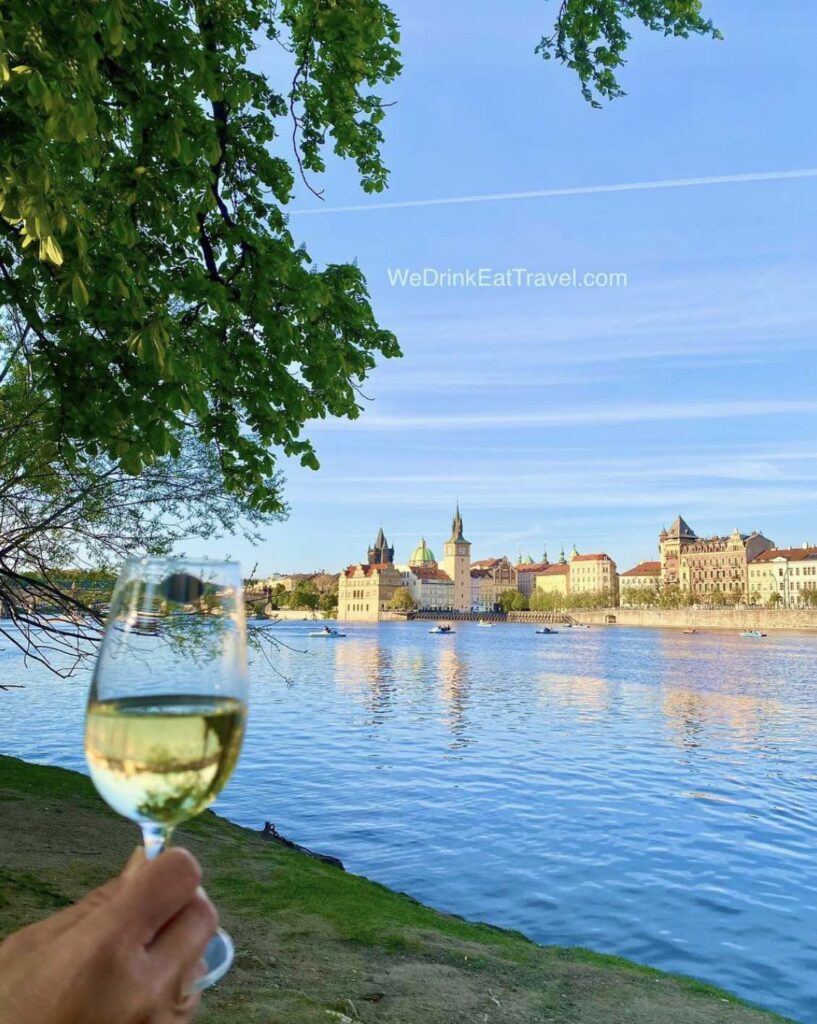 They often hold various events and festivals here, especially in Summer. And, if there aren't any events on… then there are usually some food and drink stands to help fill your belly, or quench your thirst.
Plus, there are some great views of Prague for some fond memories.
Manifesto Market Anděl
Location: Ostrovského 34, Anděl
If you want to hang out in a cool and trendy environment by a pool… head on over the Manifesto Market in Andel. There are many food stalls, and places selling drinks to quench your thirst.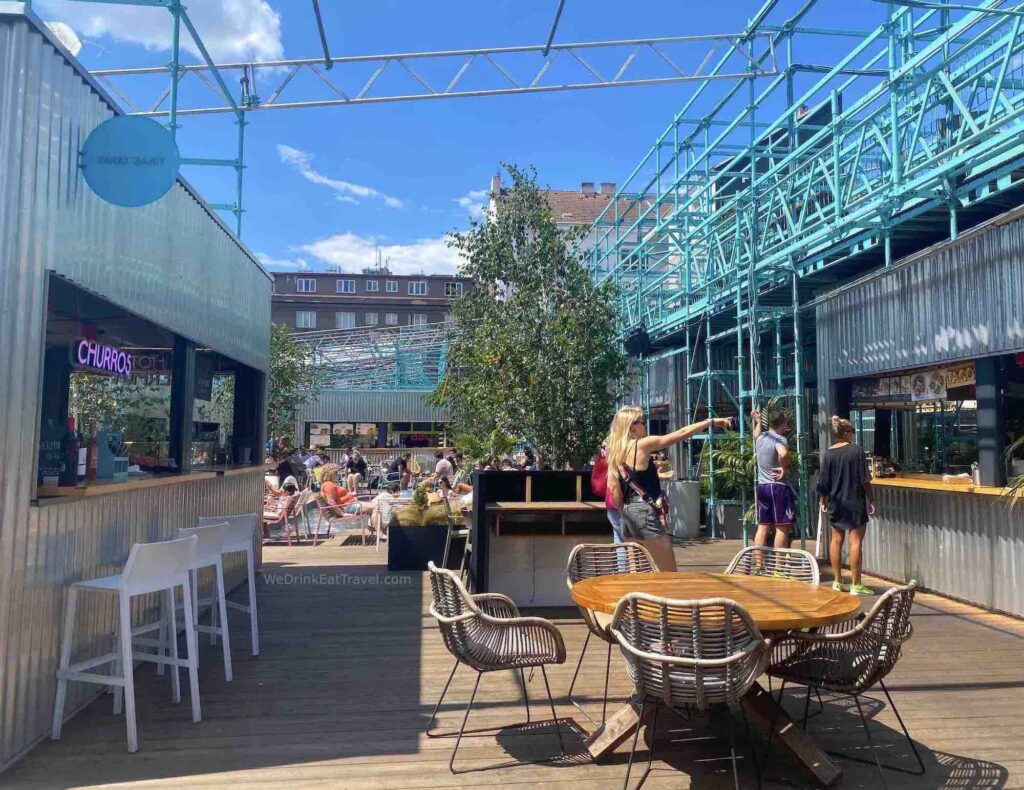 Plus, on certain days during the week they host food and drink events, parties… as well as other entertainment, such as stand-up comedy.
And, one of the other main drawcards to this place is… you can sit by the pool chilling out, enjoying your beverages. No, you don't have to pay to enter Manifesto. Yet, the drinks are slightly more expensive than others we've been to.
For example, as there are many stalls, prices vary. Yet, a big beer can cost around 70 Koruna. Maybe you're paying for the privilege of being poolside!
Skautský Institut v Rybárně
Location: U Sovových mlýnů 134/1, Malá Strana
Now, this is a different type of place to have a drink in Prague. The Skautský institut v Rybárně is like a community-type centre. Yet, before you think about giving it the flick… read on.
So, as we were walking by the waterfront near Kampa Park… we saw lots of people having drinks. Thus, the beer was calling us to come in.
Now, you can enter this place via the waterfront like we did… or as you're walking through Kampa Park. We have to admit, we wouldn't have given it a thought strolling past it via the Park… because it doesn't look anything special at front.
Yet, we recommend you sit by the waterfront area… either at the wooden tables and chairs. Otherwise, there are seats along the path where you can take your drinks… and get views like this.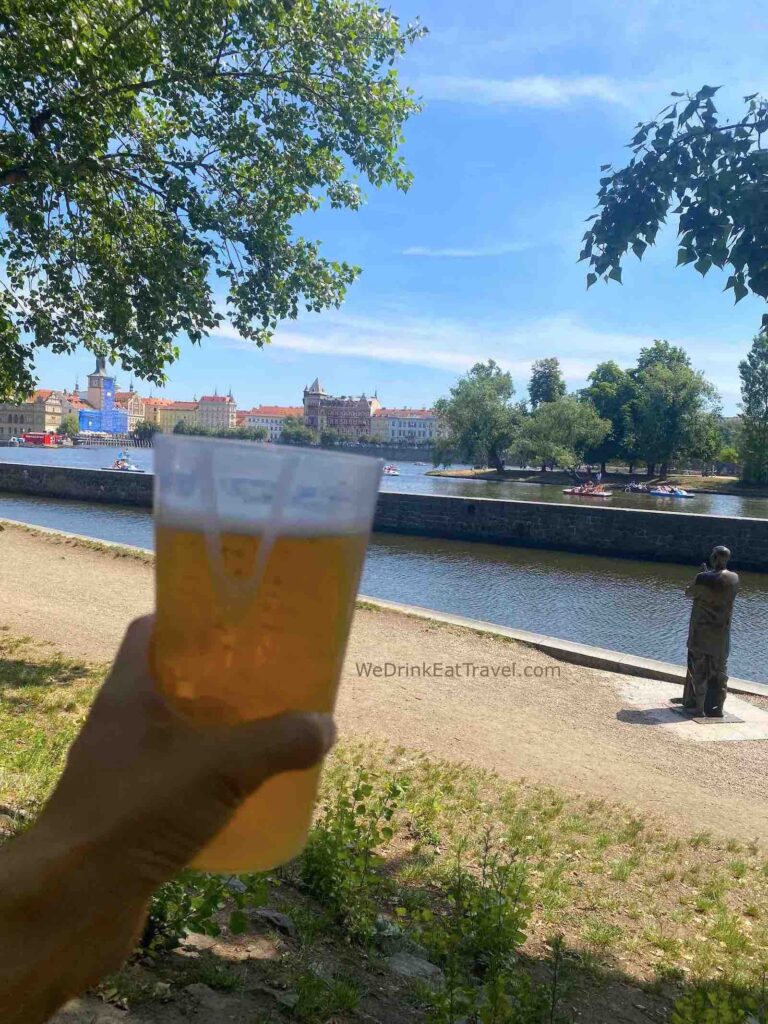 Beers are cheap, with a big one costing about 47 Koruna. Plus, they accept credit card here.
So, be wary that if they run out of glasses… they'll give you one of those re-usable plastic cups. And, similar to Letna Park, you'll need to pay a deposit… which is refundable when you return it.
Now, next on our list of best places to go for drinks in Prague… is one that you must do!
Check Out One of the Many Festivals
When we were in Prague during Summer, it was surprising to see that there were HEAPS of festivals… especially on the weekends. So, if you're a foodie, beer or wine lover… then you'll be busy every weekend eating and drinking!
Yet, you should go out and enjoy the atmosphere. Plus, at most of the festivals are food stalls… and some will have live bands playing, or DJ with music blaring.
Now, here's a travel tip, while most of the festivals are free to enter… you may need to pay for a beer or wine glass, which may cost around 100 Koruna each (about 4 Euros / $4.20 USD / 3.40 GBP).
Usually you can find out beforehand if you'll need to pay for glass to enjoy the beverages… via the festival website or their Facebook page. And, while many of them will be in Czech language… we simply used Google translate to help us understand the festival details.
One of our favorite festival locations was surprisingly… beside the Church of Saints Cyril and Methodius in the area of Karlin, in Prague!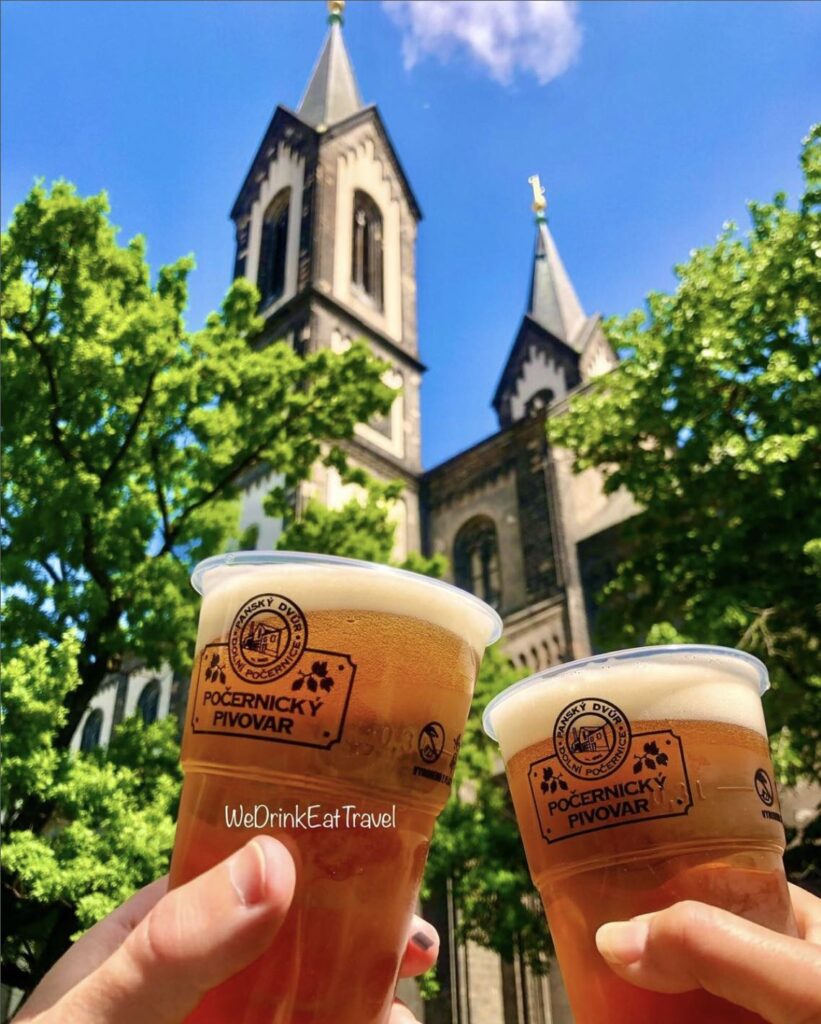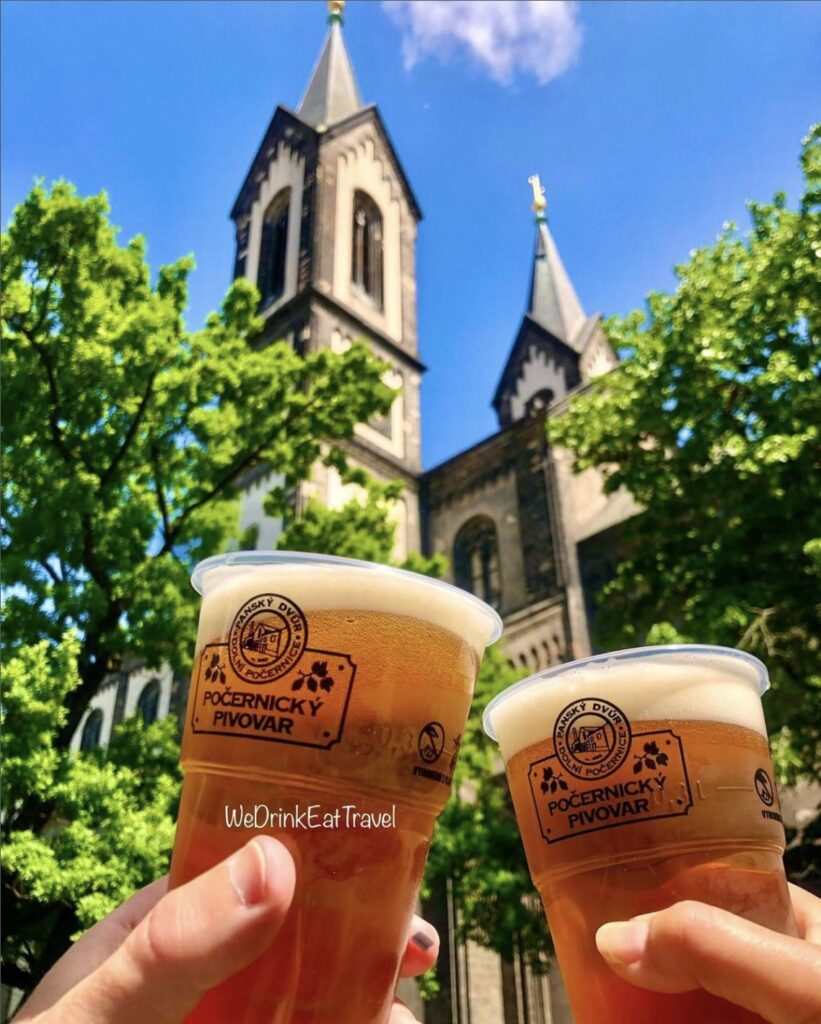 (A)void
Location: Náplavka č.11, Nové Město
When you're strolling along the waterfront in the New Town area… you'll notice some funky looking bar cafes with huge glass doors like this…
We stopped at one by the name of, (A)void to have a few brews. And, we got there at the right time to grab a couple of the deck chairs. It was relaxing to people watch, while drinking and chilling out on the deck chairs.
They have a variety of drinks to choose from. And, for a big draught beer it'll cost around 50 Koruna.
So, there are 10 very different, but some of the best places to go for drinks in Prague. From laidback atmospheres, by the waterfront, in a pumping club… through to beer gardens with incredible views.
There's sure to be many places you'll love to have drinks, while you're discovering Prague.
What were your favorite Prague bars or places to drink? And, what did you like about them?
You Might Be Interested In This Too…
Your Ultimate Guide On The Best Food In Belgrade
21 Of The Best Free Things To Do In Vienna, Austria
25 Amazing Things To Do In Dubrovnik Old Town
15 Interesting & Surprising Things To Do In Sarajevo Now
What You Need To Know About The Dubrovnik Card Now
One Of The Amazing Things To Do In Kotor Montenegro
10 Free Things To Do In Hue Vietnam
25 Of The Best Things To Do In Kotor Montenegro
Check Out 16 Things To Do In Tivat Montenegro
13 Interesting Places To See In Podgorica Today