When we went to Belgrade, Serbia… it sure was a surprising place to explore. Although we did do a little bit of research, we weren't sure what to expect… as other people's experiences may not reflect what would happen with us.
And, as we were spending a longer time there than most tourists… we could take our time to see the sights.
So, when we were strolling around the city, sometimes randomly without a plan… we found some amazing and interesting places when it came to buildings.
Thus, in this We Drink Eat Travel blog post… we want to share some of the best places to visit in Belgrade for interesting architecture. And, this can help build your list when you visit Belgrade.
Oh, and just to clarify… this doesn't include churches, as they deserve their own blog!
The Old Palace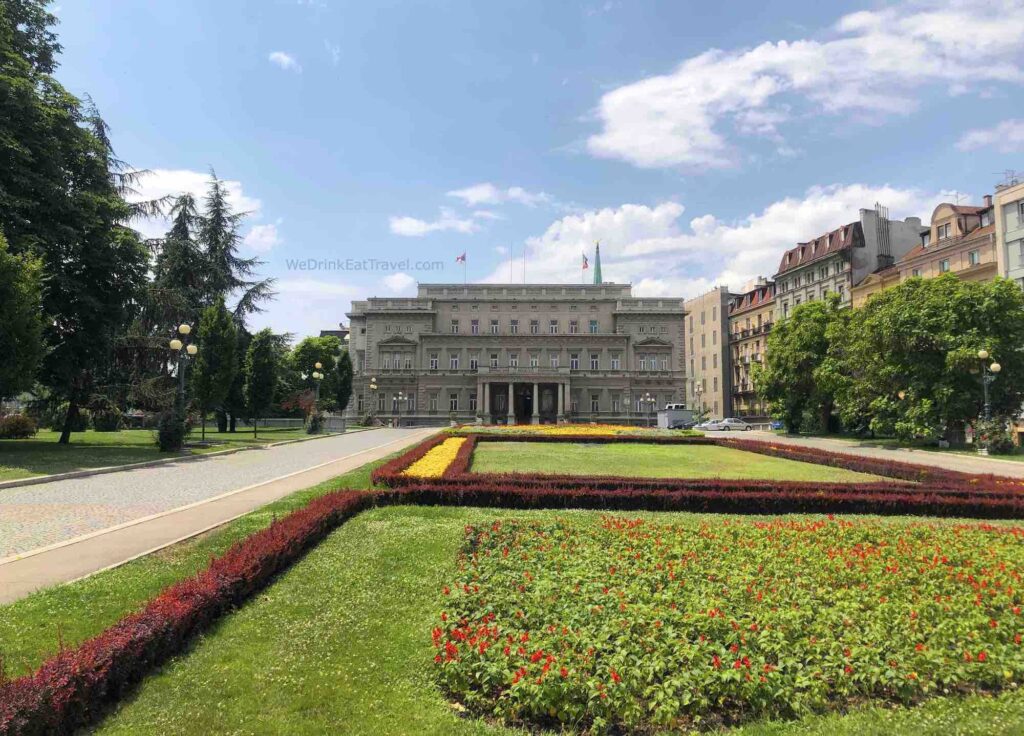 The Old Palace was built in the 1880's, originally for the Serbian Obrenović Dynasty. Then, in the early 1900's… it became the home for the Karađorđević Dynasty once they took over.
This Palace underwent several reconstructions with significant changes… as a result of the many wars. Nowadays, The Old Palace houses the City Assembly of Belgrade… as well as the Mayor's Office.
Now, as you can see in the photo there is a big lush garden. And, conveniently across the other side of this garden is another landmark building…
The New Palace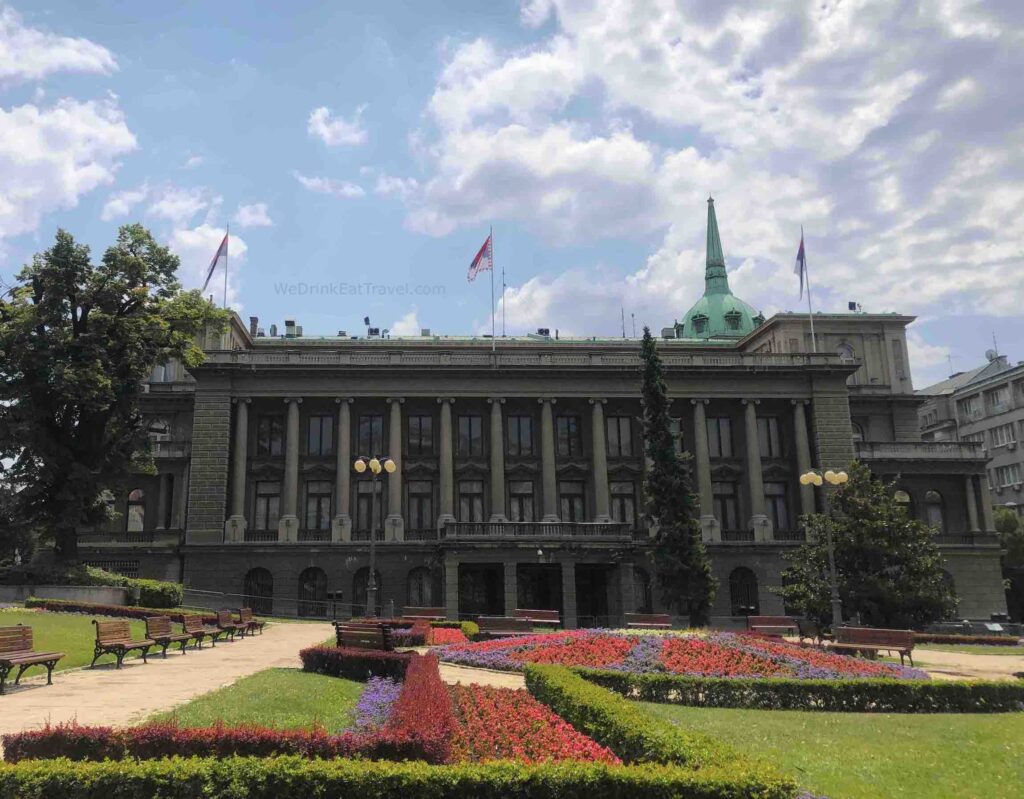 The Karađorđević Dynasty sure left their mark when it came to buildings and architecture. The New Palace was built in the early 1900's for this Dynasty, as their new home. Yet, in the 1930's after moving to a new home… the Palace then became a museum, opening its doors to the public.
Nowadays though, this is the home of the President of the Republic of Serbia.
And, while you can see the differences in the two buildings… it's hard to determine which one we like better! What do you think?
Now, one of the best places to visit in Belgrade for interesting architecture is this building…
The National Museum
The National Museum is one of the most iconic buildings in Belgrade, Serbia… as it is the oldest museum, having been established in the mid 1800's. Plus, you can find it in the popular, Republic Square.
And, when you see this building… the contrast in colors of the materials to build the museum, help make it stand out and look striking. It's said that the National Museum houses over hundreds of thousands of artworks and pieces… covering around 5000 square metres, over 3 floors for the various collections!
By the way, here's a travel tip: If you happen to be in Belgrade on a Sunday, make sure you visit the museum then… as the entry is FREE. It is worth visiting Belgrade to see this building… as well as the museum's art collections.
To see other tourist attractions for free in Belgrade, CLICK HERE.
Now, next to the National Museum is this building…
The National Theatre
The National Theatre in Belgrade, was established in 1869… to house performances including opera, drama and ballet. The designer was the infamous Aleksandar Bugarski, an icon in Serbian architecture.
Like many buildings in Belgrade… the National Theatre also suffered damage from the wars. Yet, the original façade of this building has largely been able to kept as is… with its Neo-Baroque style architecture.
And, while it does look beautiful in the daylight, make time to see it at night, as it looks spectacular…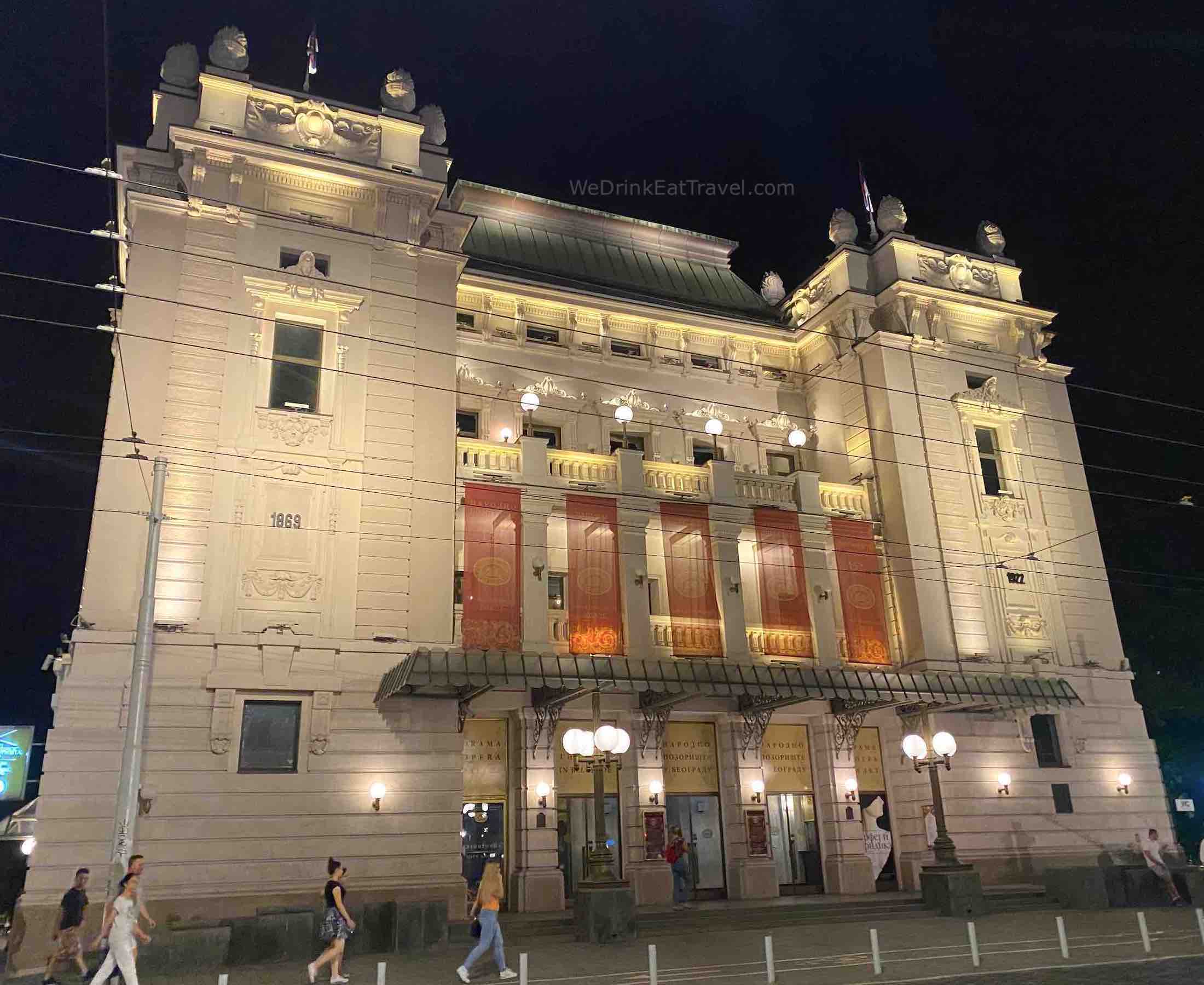 For one of the top places to visit in Belgrade for outstanding architecture, go here…
The Old Belgrade Main Railway Station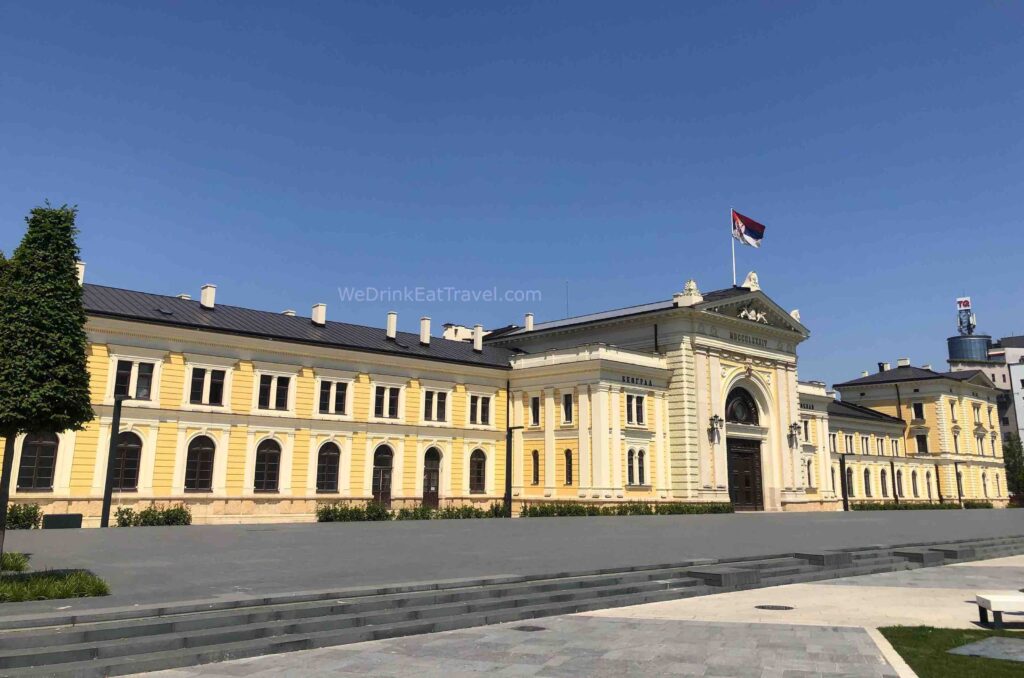 This magnificent building was built back in the late 1800's… and was a bustling hub to transport thousands of people to various destinations. Yet, operations from this station were shut down in mid 2018… with let's say, a not so attractive alternative station!
If you have some confusion about where to find this building, we understand. Because if you type in "Belgrade Railway Station" into a web search… you'll get many different results. Yet, you can find this historical old station at Savski trg 2… next to the Park and Monument in dedication of, Stefan Nemanja.
Now, if you fancy yellow for colors, then you need to see this…
Students' Cultural Centre
One day after having a feast at the Hilton Belgrade… we went for a stroll down Kralja Milana. And, one interesting building that stood out this…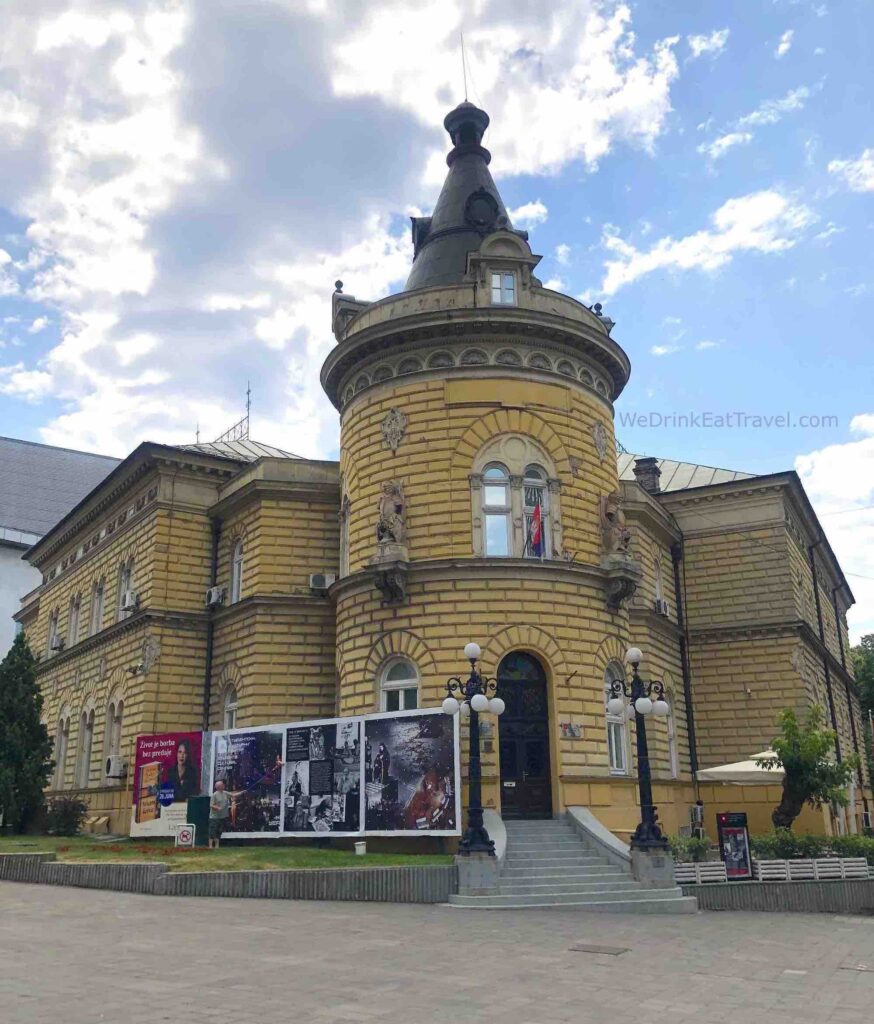 Now, it wouldn't be surprising to mistake it for a castle… especially with its medieval type architecture.
Yet, this building with its bright yellow brickwork is… the Students' Cultural Center (SKC). It's also known as the Officers Club or Officers House. Back in the days it would host the officers' events, and other important occasions.
Nowadays, the SKC is a cultural hub… where it houses concerts, exhibitions, performances and more.
Remains of the NATO Bombing of Yugoslavia
When it comes to exploring European countries and cities… most of the time, unfortunately tragic events are part of the history. And, Belgrade is no exception. Initially we were unsure if we should include this.
Yet, the Serbians have left remains of some buildings still standing as is… destroyed as a result of the horrific bombings in 1999.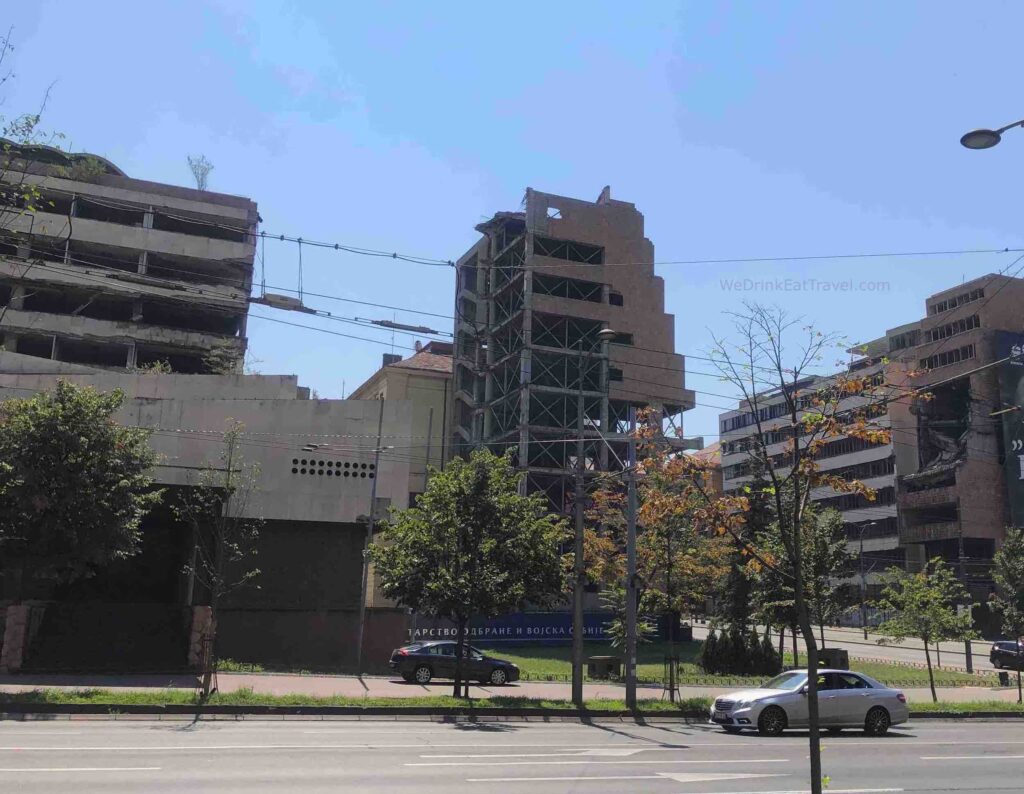 And, when you speak with the locals who suffered through it… you can see the pain and heartbreak that still haunts them today. Yet, what we love is their resilient attitude.
We post this in honor of the people who died, who live today… and for the generations to come.
Princess Ljubica's Residence
If you want to see a pretty royal building… then head on over to Princess Ljubica's Residence.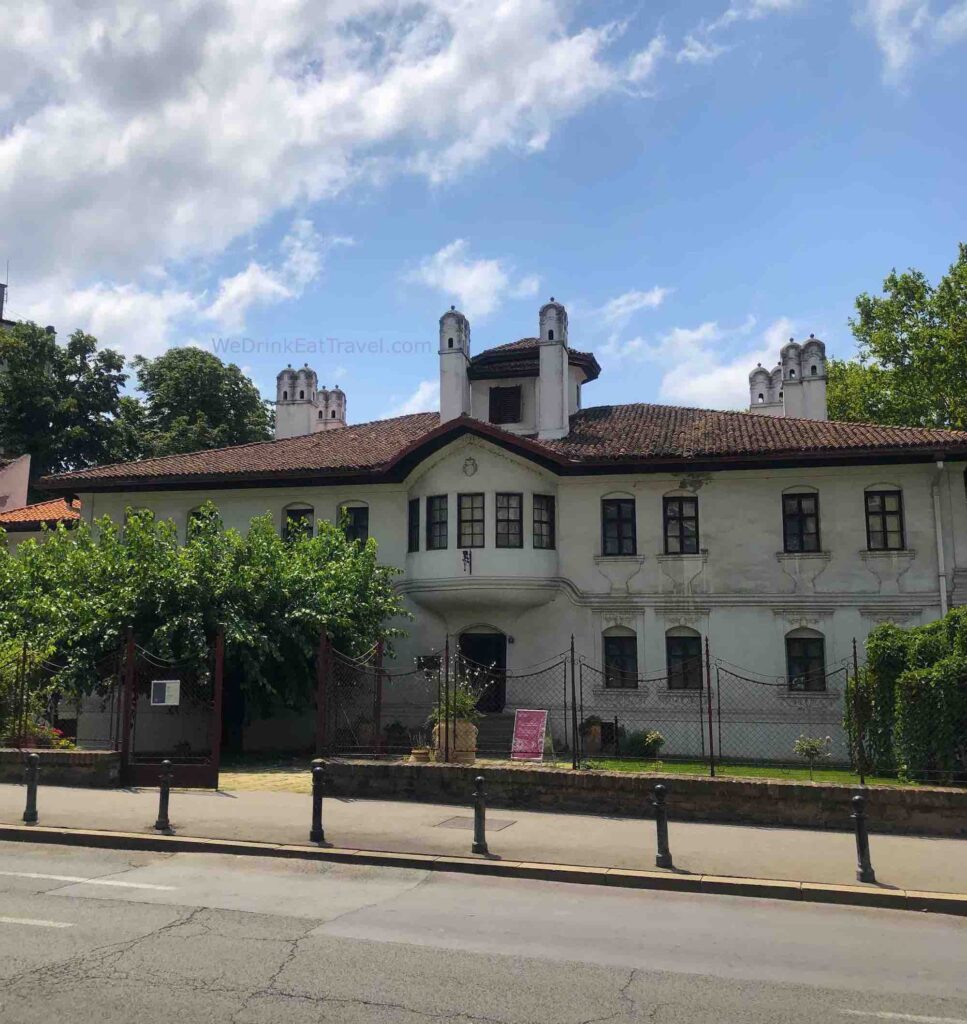 This building was originally built in 1830… to serve as the representative court of the Obrenović Dynasty. Yet, it then became the residence for Prince Miloš over a short period.
And then, it became the residence for Prince Mihailo… his wife Princess Ljubica and their children. Nowadays it serves as a museum, showcasing the culture and lifestyle.
So, for one of the best places to visit in Belgrade for amazing architecture, go here…
National Assembly of the Republic of Serbia
Whether it's front on or side on, you'll get amazing photos of this amazing building.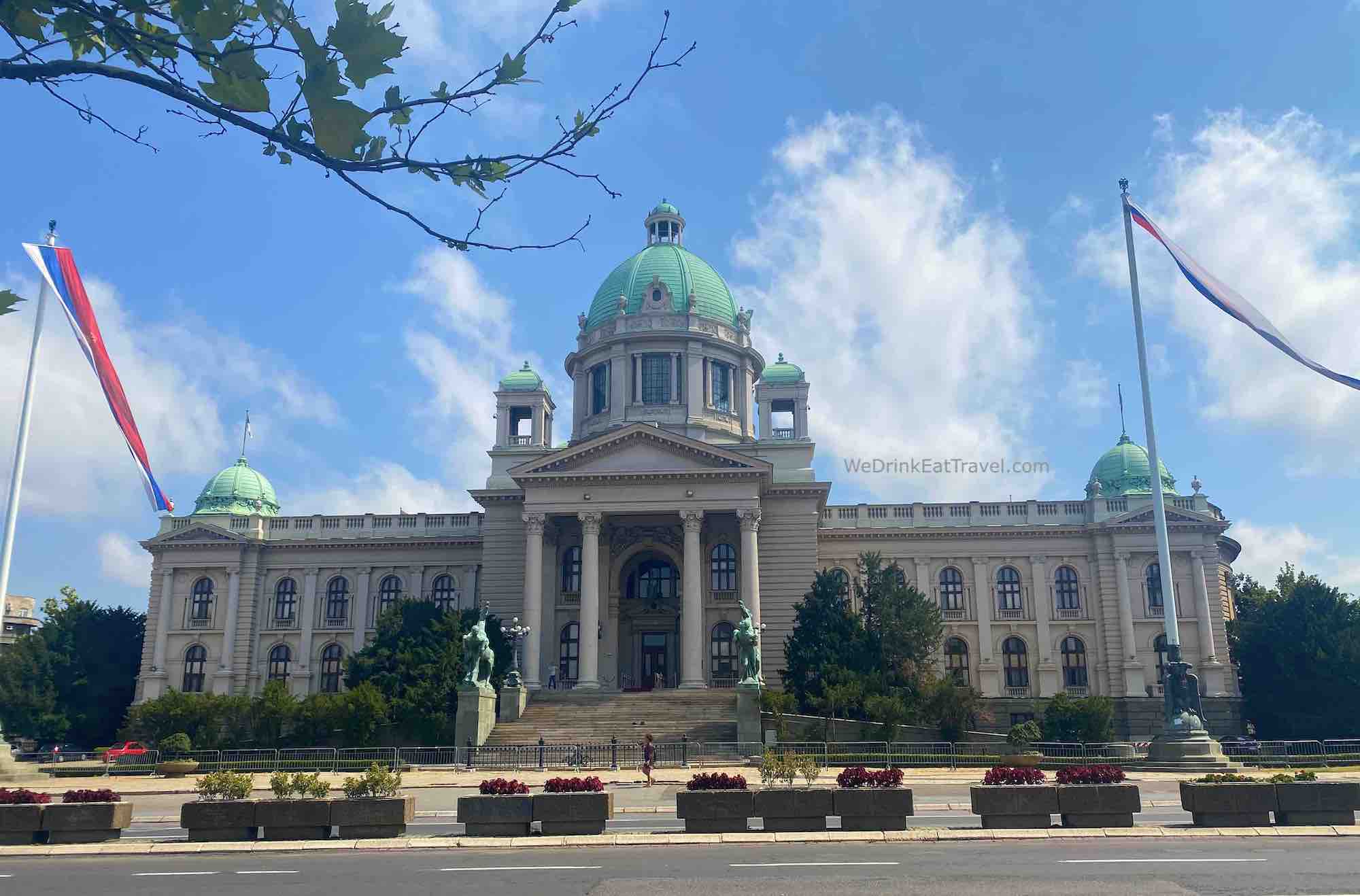 While construction started in the early 1900's… it wasn't easy, taking decades to complete it as you see it today.
One of the most significant features is the huge central dome… and the grand staircase leading to the entrance. Plus, the two huge flag poles on either side, with the symbolic eagles at the base.
For a completely different style of building design, go to this place…
Manak's House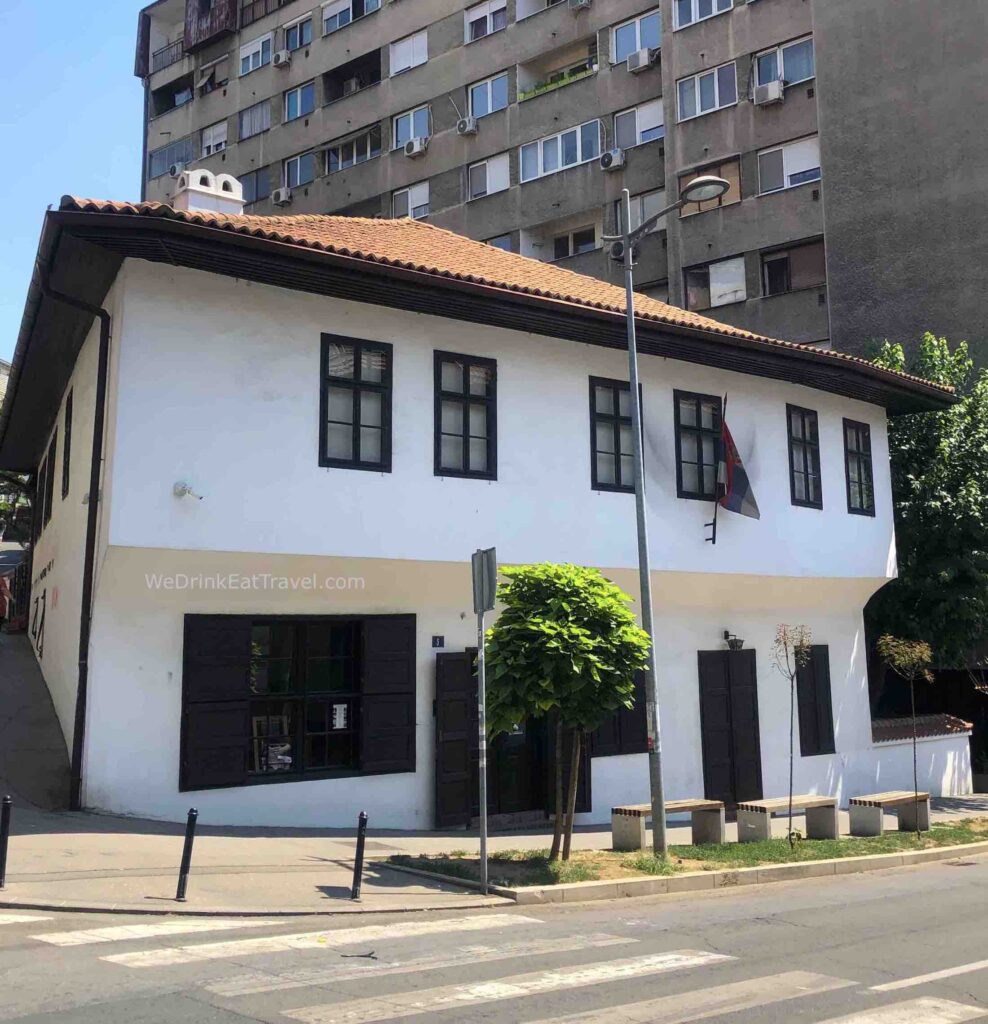 In comparison to all the other buildings we have shared with you so far today… this one looks the most simple in design, right?
Yet, what makes Manak's House special is that it's an example of an 19th Century townhouse… showcasing the traditional architectural characteristics of Belgrade.
Plus, during the time of when this house was built in the early 1800's… Belgrade was preparing to become the capital of the Principality of Serbia. So, a lot of key historic significance surrounds this little white house… owned by the merchant, Manak Mihailović.
Now, when it comes to seeing interesting architecture… many government and even academic institutions, have some of the most incredible buildings. Wouldn't you agree?
And, this one is no exception…
Ministry of Forestry and Mining and Ministry of Agriculture and Waterworks Building
OK, yes, it's a bit of mouthful saying the name of this building. Try saying it 10 times really fast… ha, ha, ha!
Now, this is a building that we stumbled across, as we were strolling around Belgrade. And, what caught our eye was the amazing architecture.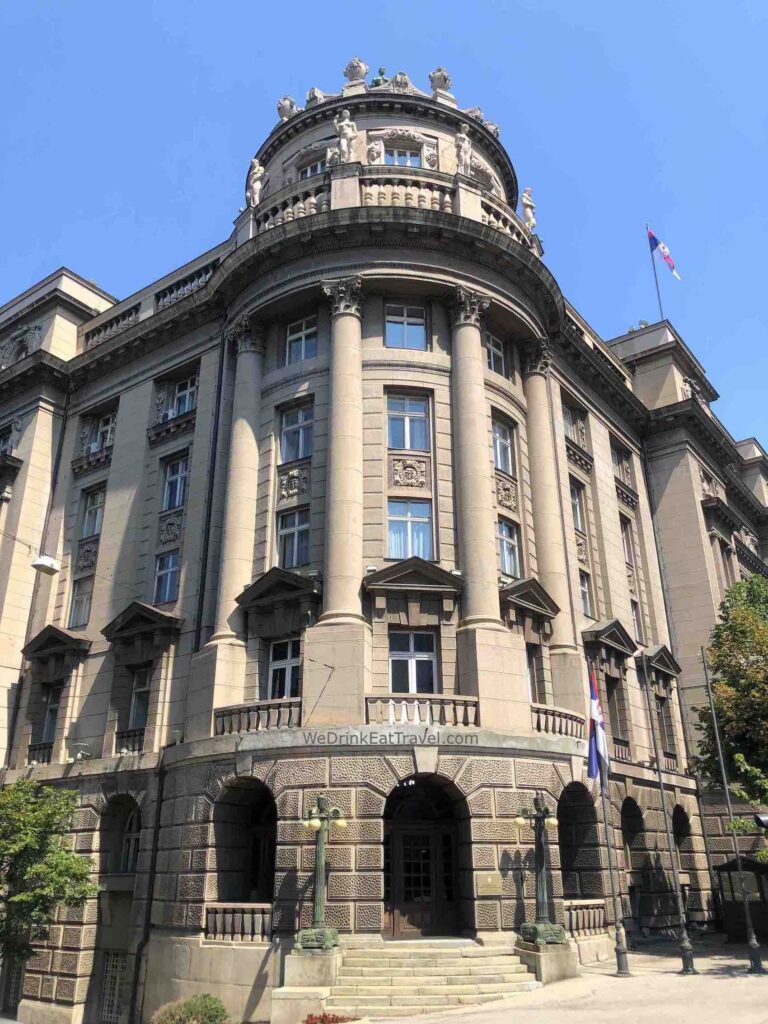 The construction of this building started in the 1920's… with the desire to replicate a Serbian-Byzantine style of architecture.
Yet, notable architect Nikolaj Petrovič Krasnov… made his contributions to the design of this building. And, one of the most striking features is the dome with male and female sculptures… as well as other structures relating to the functions of mining and agriculture.
And last, but not least on our list of best places to visit in Belgrade, for interesting architecture is…
The Main Post Office
This huge building built in the 1930's is eye-catching. The dark grey columns and stone blocks surround rows of windows… gives it a unique character, for one of the biggest postal buildings in Yugoslavia, back in those days.
Do you think it has a commanding-type look and style? If you said yes, then that's exactly what the architects set out to achieve… to represent the prosperity and strength of Belgrade being the capital city.
At the time of writing… this building still operates as a functioning post office.
So, there you have it… some of the best places to visit in Belgrade Serbia, for interesting architecture. Put these on your list, and there are plenty more you can add… as you explore Belgrade.
And, while some of the buildings are much younger than in other parts of Europe… there are various and amazing architectural styles, important in this city's history.
What other buildings in Belgrade did you see, that you found interesting?
You Might Be Interested In This Too…
30 Awesome Free Things To Do In Prague, Czech Republic
Prague Drinking Guide – 10 Of The Best Places To Go
Your Ultimate Guide On The Best Food In Belgrade
Top Recommendations For The Best Pizza In Belgrade, Serbia
7 Surprising Things You Should Know About Belgrade Fortress
25 Amazing Things To Do In Dubrovnik Old Town
15 Interesting & Surprising Things To Do In Sarajevo Now
Check Out 15 Amazing Things To Do In Budva, Montenegro
Perast, Montenegro – Why You Need To Visit This Town
10 Free Things To Do In Hue Vietnam
25 Of The Best Things To Do In Kotor Montenegro
Check Out 16 Things To Do In Tivat Montenegro