When it comes to traveling through Western Europe, it can get expensive… especially if you're traveling as a family unit or in a group. Yet, there is so much to love about the places in this region… such as the beautiful capital city of Austria, Vienna.
While you could spend hundreds of dollars sightseeing in Vienna… sometimes you may need to stick to a certain budget.
So, in this We Drink Eat Travel blog post… we'll share with you 21 free things to do in Vienna, Austria.
See the Beautiful Churches in Vienna
Vienna has many churches from small to large… and each with various architectural styles from Renaissance, Baroque to Gothic. And, some of them look like you're stepping into a magical fairytale, or medieval location.
For some of the churches you'll need to be an entrance fee. Yet, if you want to admire the beauty of the churches in Vienna from the outside… then you won't have to pay anything.
Here are a few of the magnificent churches you can see. For more, head on over to our Vienna Churches Blog.
---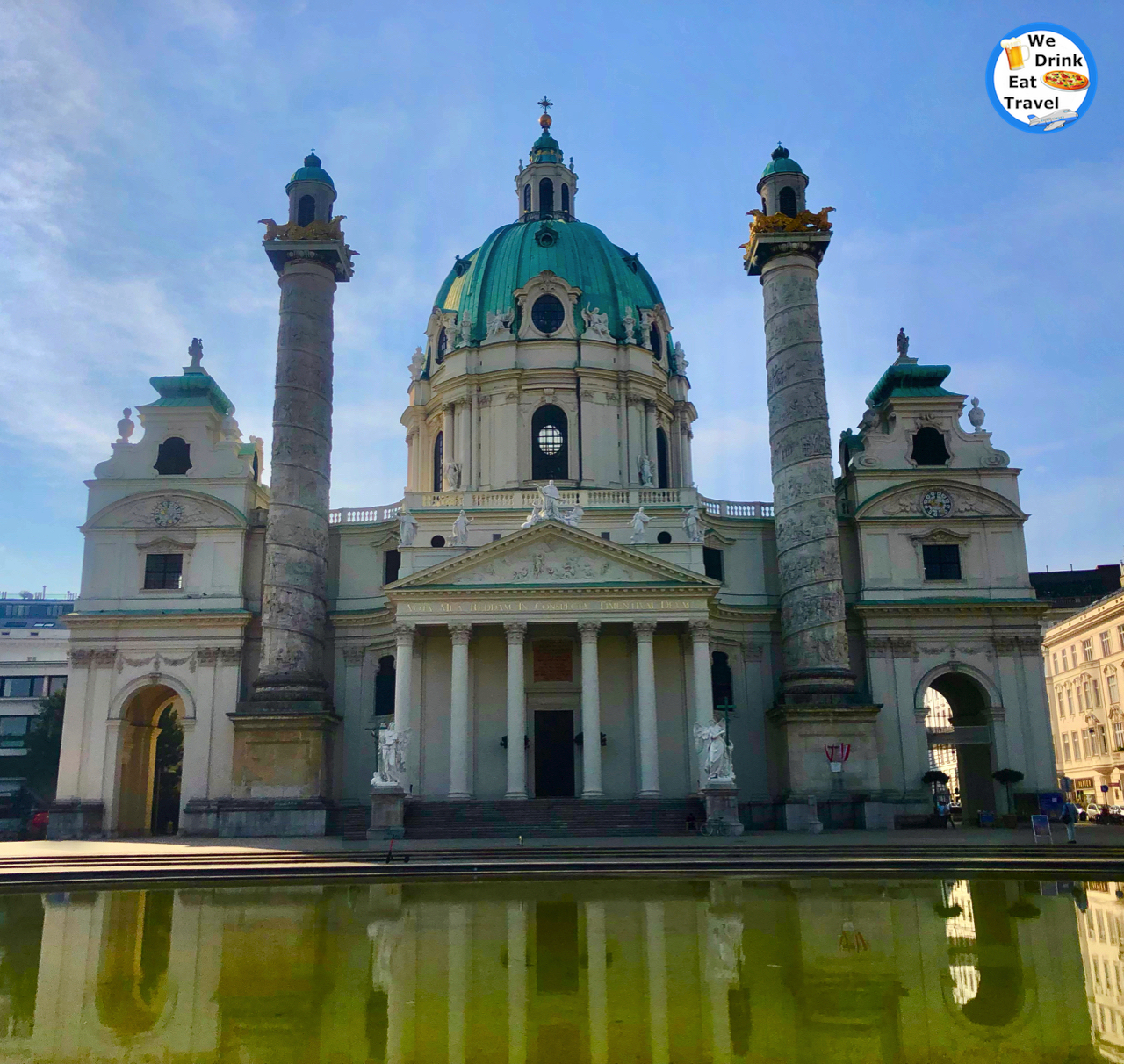 Relax in Stadtpark Vienna
Stadtpark is Vienna's biggest park, covering an area of about 65,000 sqm, which is HUGE! And, not only is it massive… this would have to be one of the prettiest parks we've seen on our travels.
It's lush, filled with ornate statues, monuments and impressive water features. Plus, in the warmer months… you'll see a variety of colourful flowers spread throughout the park. There's also the iconic floral clock and a beautiful lake.
Hundertwasserhaus
For a contrast in building styles that will make you go "WOW"… you need to put Hundertwasserhaus on your list of free things to do in Vienna.
This striking apartment building with an unconventional structure, and rainbow color exterior … was built back in the 1980's. And yes, there are people living in this apartment. Hmmmm… how would you feel if thousands of people flock to your home every day?
Stroll Through a Palace Made for Summer!
If you want to see an elaborate environment of where royal families lived… then on your list of free things to do in Vienna is to go to Schönbrunn Palace.
Note, that there is an entrance fee to go inside and view the actual Palace… as well as a few sections such as the Schönbrunn Zoo. 
Yet, your mind will be blown when you discover other parts of the surrounding areas. And, this includes the magnificent, Gloriette. This is a popular viewpoint to look down onto Schönbrunn Palace… as well as providing wide sweeping views of Vienna.
This grand structure was built in the mid 1700's… and was actually the Summer Palace of the Habsburg royal family!
Yet, if you want to be blown away by the riches, and majestic environments of the royals… then put this next thing on your list of free things to do in Vienna…
Belvedere Palace
Now, similar to Schönbrunn Palace… you will need to pay an entrance fee to explore the inside. Plus, it houses one of the most impressive museums, showcasing a range of artworks. Yet, it won't cost you to take a walk around the grounds. Plus, you'll be amazed that this entire complex has not 1, but 2 palaces!
Here is a photo of the Upper Belevedere…
And, below is the Lower Belvedere Palace…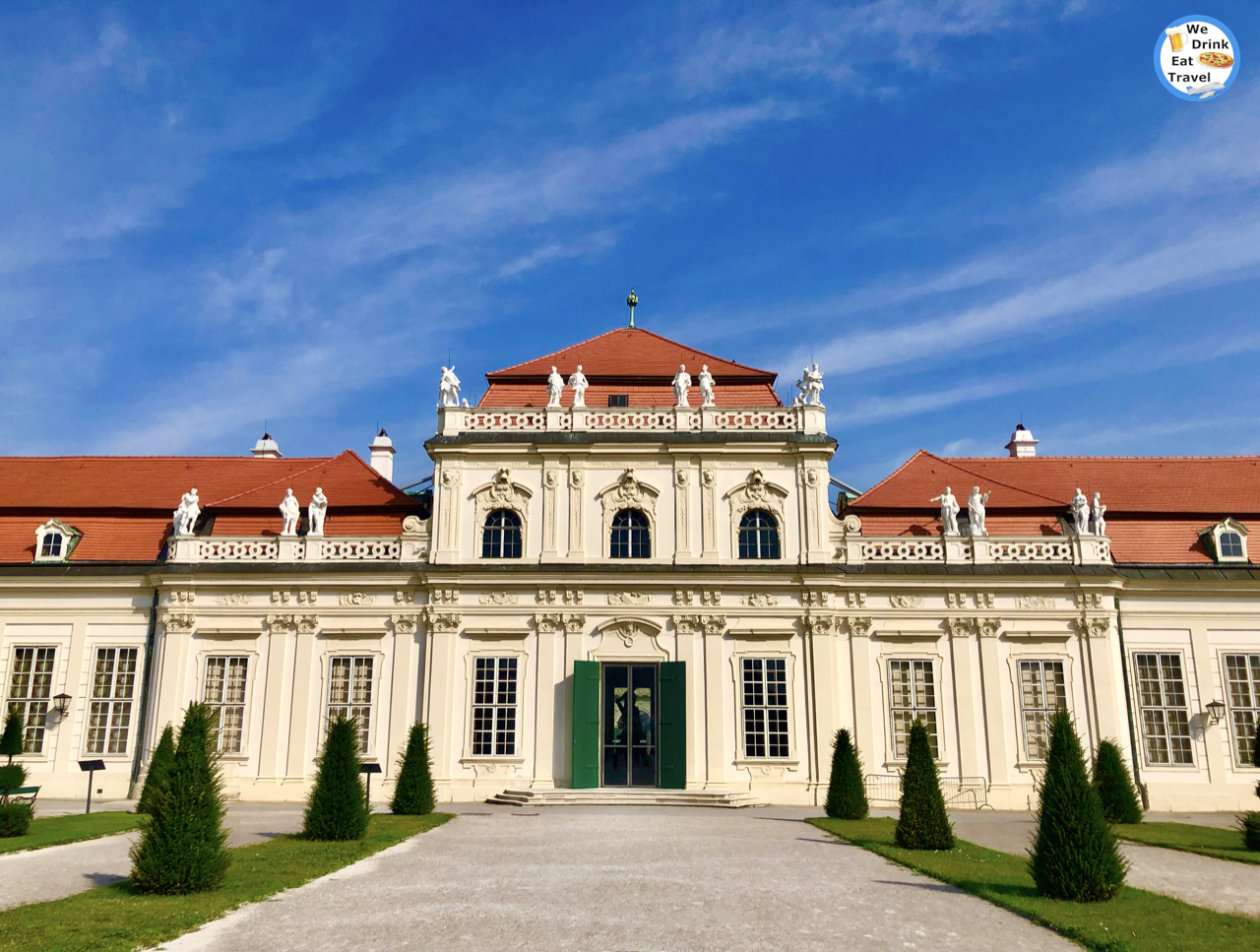 Needless to say, the royal families have lots of wealth, and weren't afraid to flaunt it!
Join One of the Free Vienna Walking Tours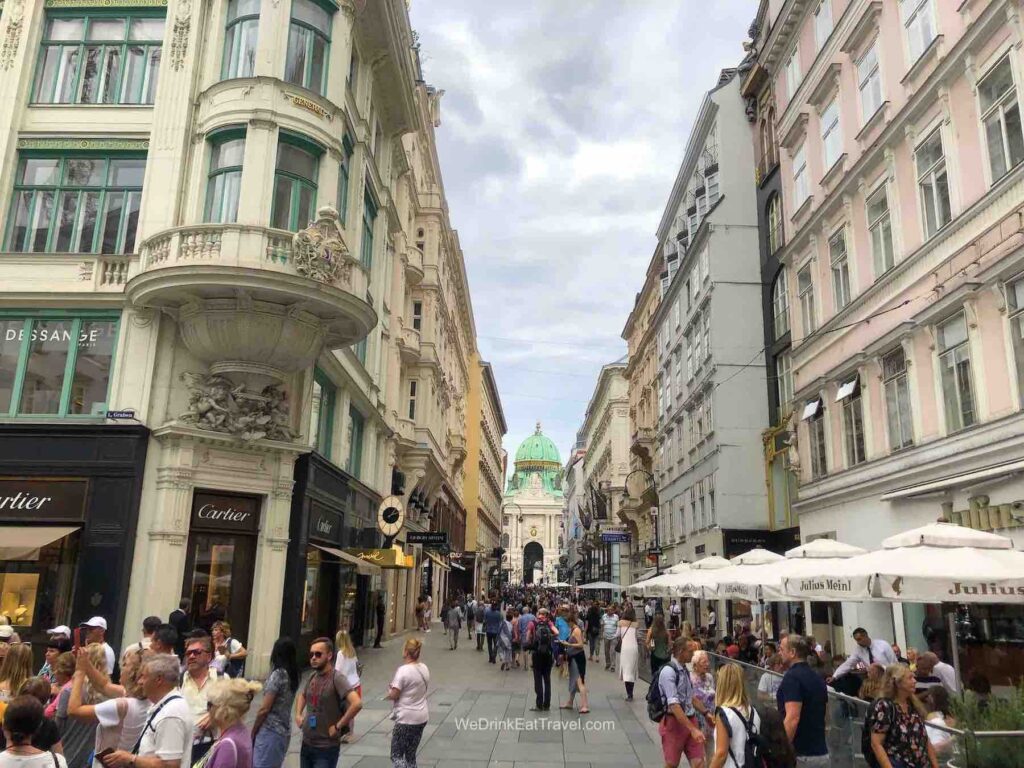 There are several organizations that offer free tours of Vienna… so you can get an insight on the amazing landmarks and hear the stories. It's also a convenient way to visit the important landmarks if you're limited for time… as you don't need to do much planning. Many of these free walking tours run for about 2 hours.
Now, while they are advertised as being for free… if you feel that your tour guide did a great job, then don't hesitate to give them a tip!
Take Advantage of the Open Days
When you're planning your travels, looking for free things to do in Vienna… research when the free Open Days are for different attractions, which you'd otherwise have to pay for. As an example, on the first Sunday of each month… some of the museums have free entry.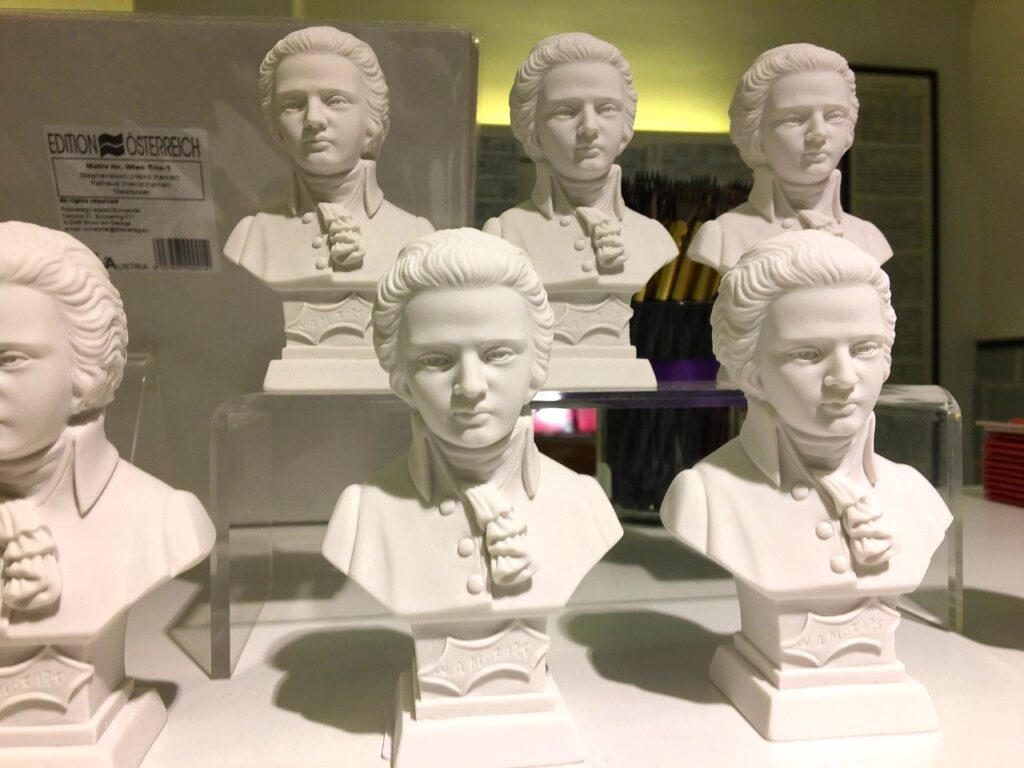 Yet, if you are going to visit the museums on these free days, especially in peak seasons… make sure you plan ahead and get there BEFORE opening time. We've found that the lines can be very long, which is not a great use of your travel time!
If you want to see a bustling market, then head on over to this Vienna attraction…
The Naschmarkt
This would have to be one of Vienna's most popular outdoor markets. With over 100 market stalls selling fresh produce, homemade goods, and more… there's something for everyone.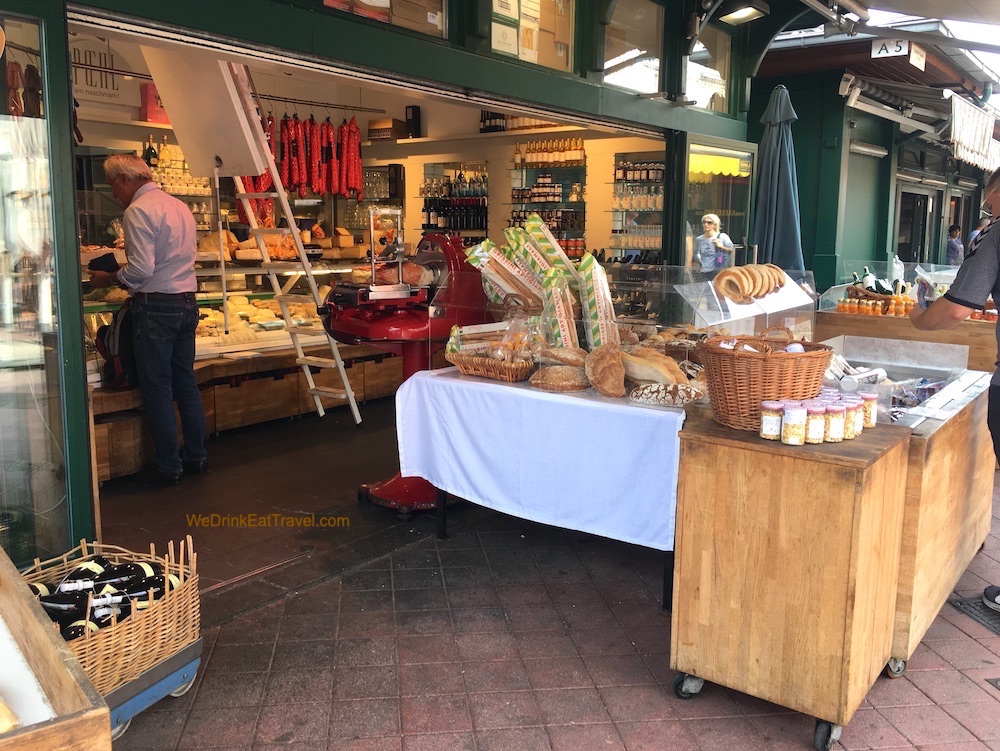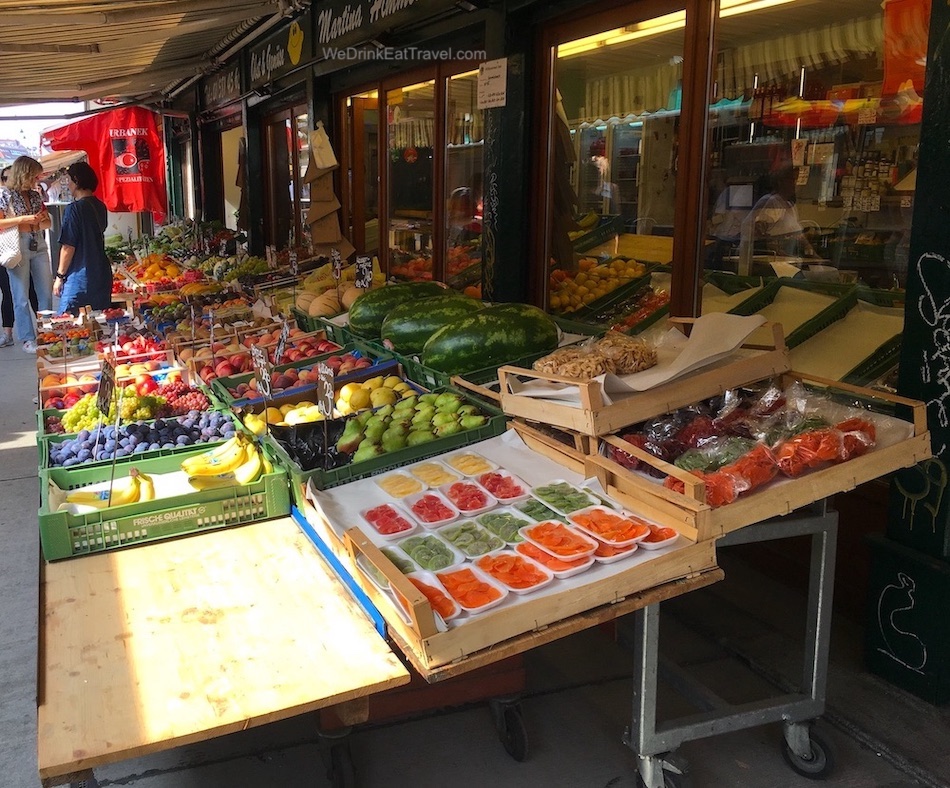 And, if you want to experience the Naschmarkt at its most vibrant time… then plan to see it on a Saturday. Not only do they have their standard market stalls, there's also a flea market. Plus, there may even be live music. 
Now, while it is free to see the Naschmarkt, it wouldn't surprise us if temptation sets in… and you need to sample the many delicious varieties of food and drinks on offer.
Check Out an Open Air Cinema
When the warm weather hits, there's plenty more free things to do in Vienna. And, one of the popular things to do is to watch a film at an open air cinema. Just make sure you go see a film that is in English, or has English subtitles!
There are a few locations in Vienna that offer this activity… such as at City Hall Square, where they have the Music Film Festival. Or, you could head on over to Karlsplatz, for the Kaleidoskop open air cinema.
Check Out a HUGE Elaborate Fountain
When we were on our way to see Belvedere Palace, we had to make a stop at the square, Schwarzenbergplatz. And, that's because we had to see the massive fountain, Hochstrahlbrunnen.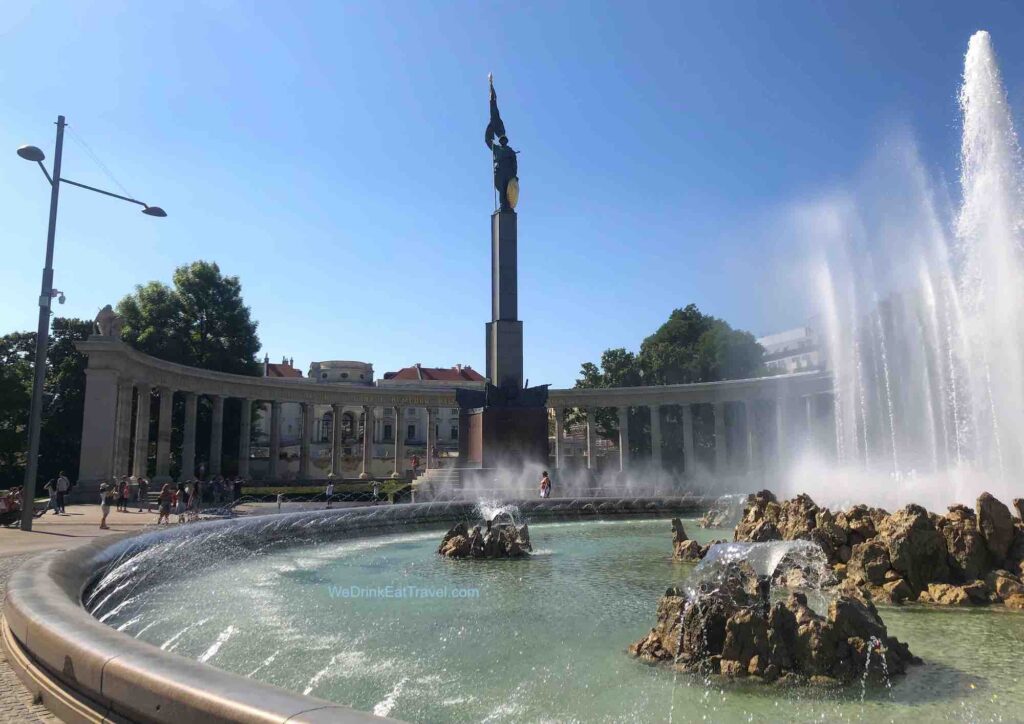 This fountain is an important landmark in Vienna's history of evolution. And, that's because it commemorates the first ever water pipeline from the Alps to Vienna… that was constructed in the late 1800's.
Not only does it look impressive, it's great for some relief when it's hot to help cool down!
Get Lost in the Streets of Vienna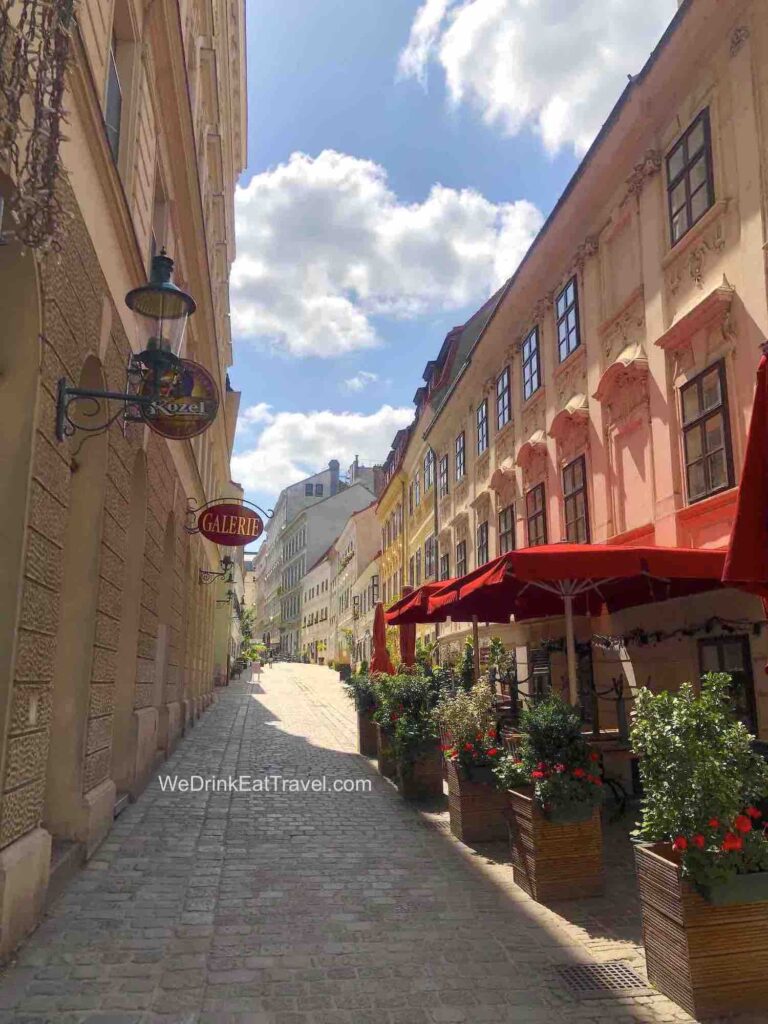 When you're strolling around Vienna city, you'll discover that there's so much to explore. And, as we spent a few weeks in Vienna we took our time. So, as we normally do in a new place, we got ourselves lost on purpose!
We walked down beautiful streets, and found amazing places we hadn't planned to see.
See Some Remarkable Statues & Monuments
Now, if you've seen our travel blog about Skopje… then you'll be amazed at how many statues they have in such a small capital city! Yet, Vienna also has their fair share of statues, and many of them are very grand.
You could walk around Vienna for days… seeking out the elaborate statues and important historical monuments. And, the great thing is, you don't have to pay anything to see some of the best!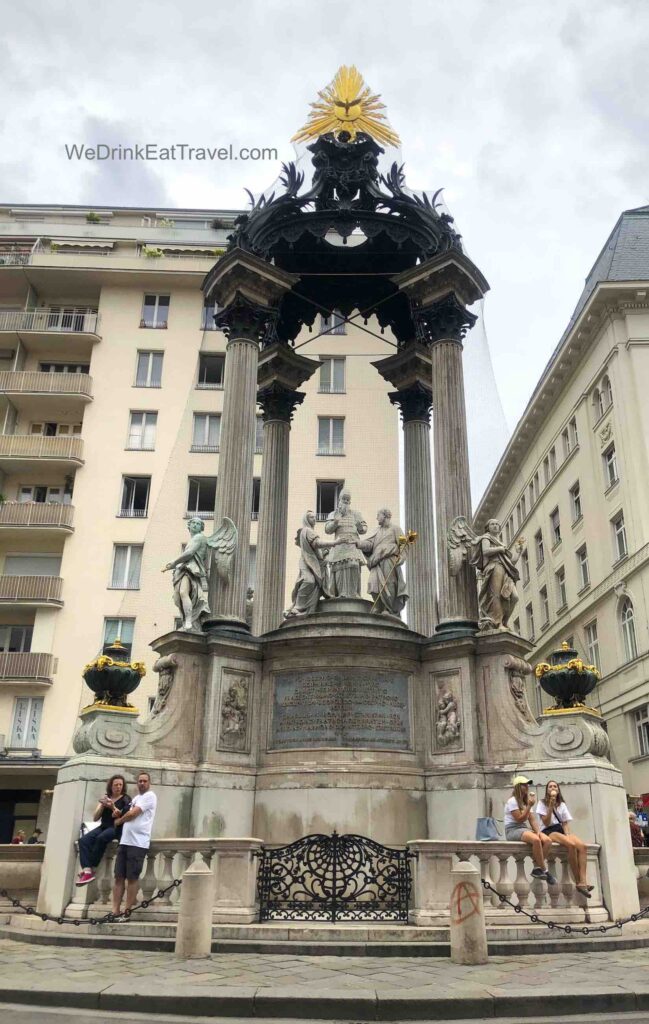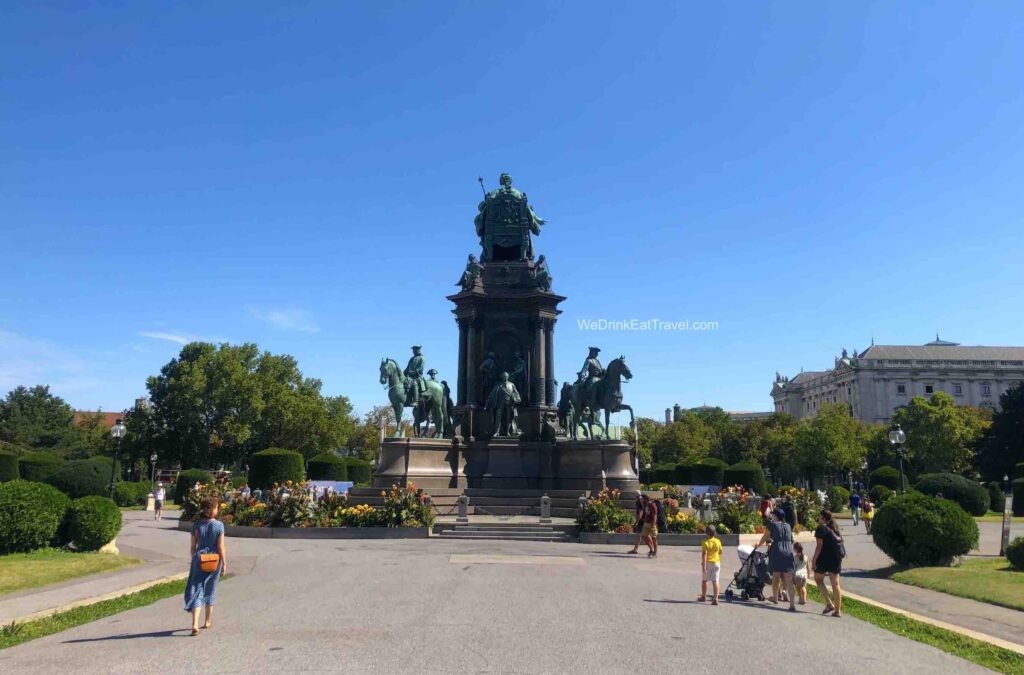 Now, next on our list of free things to do in Vienna, is a must especially if you need to relax…
Lounge Around in an Historical Area of Vienna
When you've been roaming around, exploring the brilliant attractions in Vienna… you'll most likely need to take a break. And, if you're looking for a unique area to relax in an historical area of Vienna, without having to pay for anything… then head on over to the MuseumsQuartier.
This is one of the most popular areas in Vienna for art and culture lovers… as well as those of us who love architecture. So, once you go inside the main MuseumsQuartier area, you'll see these brightly colored funky lounges…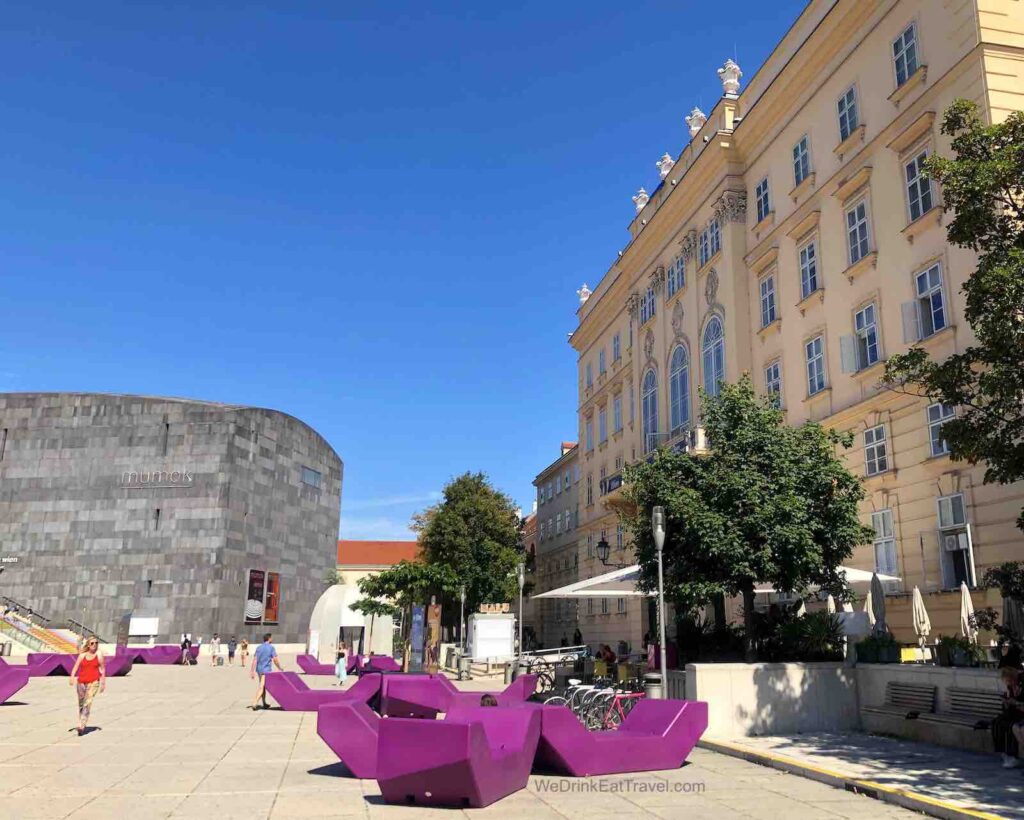 So, whether you're traveling solo, a couple or in a group… take a break in the MuseumsQuartier courtyard. And, can you believe that in the year of 2005… these lounges were given the Adolf Loos National Prize Award for Design! It just goes to show you how iconic they are.
Talking about icons, you must put this on your list of free things to do in Vienna…
Be Amazed by St Stephen's Cathedral
While there are so many beautiful cathedrals and churches in Vienna, Austria… the MOST popular is St Stephen's Cathedral in Stephansplatz. This commanding, striking, Gothic cathedral cannot be missed when in Vienna. And, just looking at the outside of it will make your jaw drop in awe. Watch out for the flies though in the hot weather… LOL!
Now, Vienna is famous for its music… and the brilliant musicians who shared their talents with us. Yet, even if music isn't your thing… you need to see this important Vienna landmark…
The Mozart Monument in Vienna
Wolfgang Amadeus Mozart brought joy to many people around the word, with his incredible musical talent… even though it was only short lived. And, in memory of this great composer, a monument was erected in the Burggarten.
And, one of the most iconic parts of the Mozart Monument… is the floral treble clef display in front of his statue.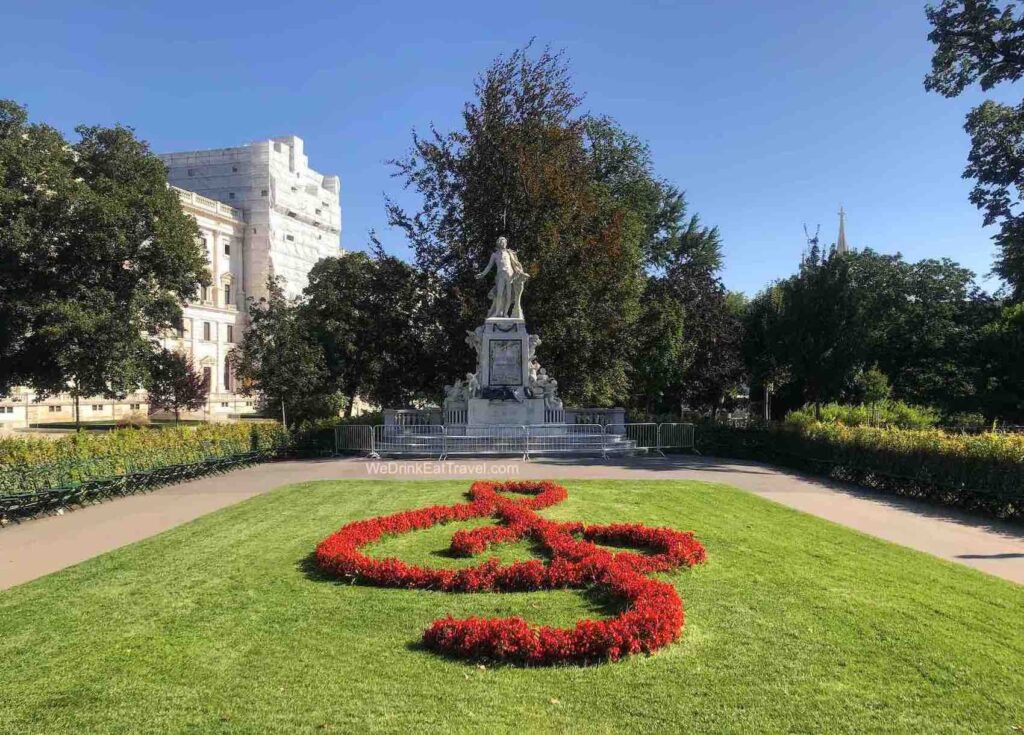 Next on our list of free things to do in Vienna is to see…
Vienna Ringstrasse
Built in the mid-late 1800's is Vienna Ringstrasse (Ring Road), which stretches over 5km and is wider than 50 meters. It took about half a century to complete the entire Ringstrasse! Yet, the time and effort was worth it, as it's an incredible masterpiece in Vienna city. 
The Ringstrasse is flanked with some of Vienna's most exquisite buildings. These include the Vienna Opera House and the Burgtheatre.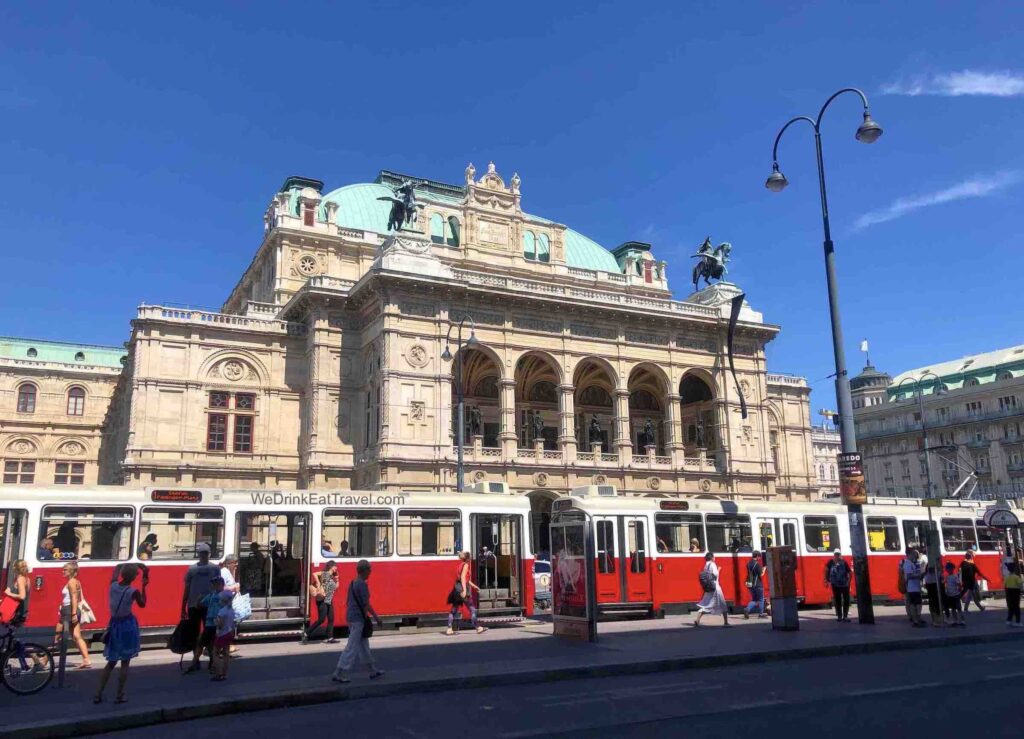 Now, if you think they're amazing buildings, then you need to see this one…
Hofburg Palace
You haven't seen Vienna if you haven't checked out the Imperial Palace – Hofburg. This is one of the largest building complexes in the WORLD. And, the oldest part of the Palace, is the Old Fortress, which dates back to the 13th Century. 
Of course, to see some of the historical artefacts in detail, you will need to pay. Yet, you can simply admire its beauty and extravagance from the outside…
And, being one of the most popular attractions in Vienna… it does get busy with plenty of tourists and groups. So, if the you're wanting to escape the hustle and bustle of the city centre, then put this on your list of free things to do in Vienna…
Stroll Along the Danube River
The Danube River is huge, spanning a length of over 2,800 metres… and flowing through multiple countries, including Austria. We've had the opportunity to see the Danube in many different places around Europe.
And, when we were staying in the Ibis Wien Messe in Vienna's 2nd District of, Leopoldstadt… we took the opportunity to take the short 10 minute or so wander to see the Danube River. It was very relaxing, with a huge promenade that goes on for miles!
And, in the vicinity of that area where we were on the Danube River, was this island in Vienna…
Donauinsel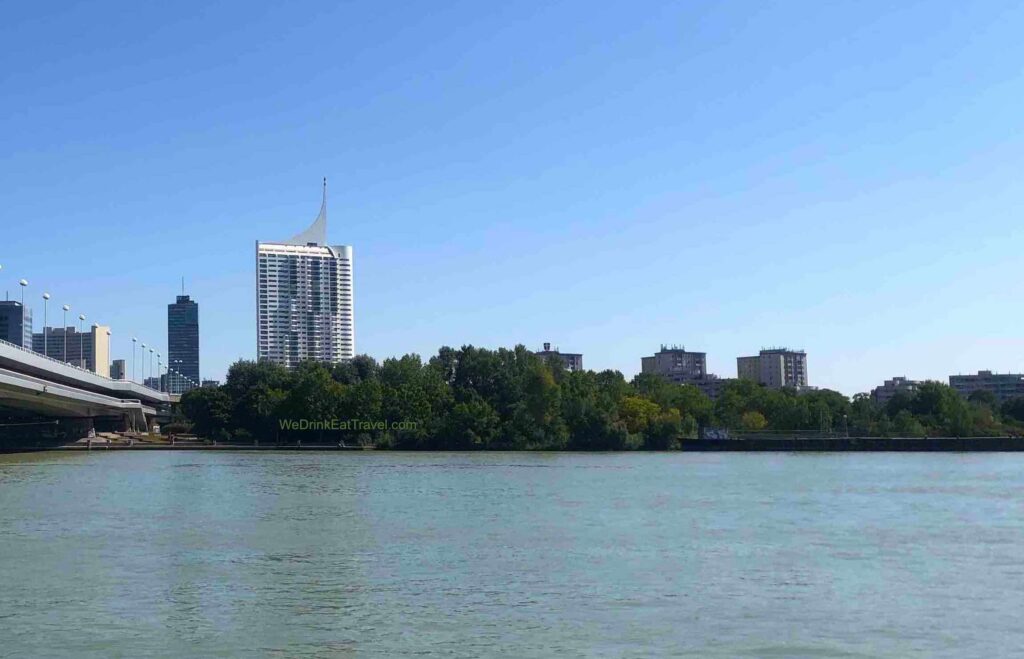 Donauinsel, also known as Danube Island, is an artificial island in Vienna… over a span of about 20 metres. And, this is popular with families, as there are plenty of activities to do here. Or, you can just laze around, get some rays… and soak up the surrounding views of the Danube River and Vienna.
Now, while you're in the second district of Vienna, then check this out…
Prater
OK, so Prater is famously known in Vienna for its range of fun and exciting activities… as there are rides and many other attractions to keep the young, and young at heart entertained for hours.
And, one of the main attractions is the Wiener Reisenrad… the giant historic ferris wheel, which has been in Vienna since the late 1890's! It was such an amazing photo opportunity…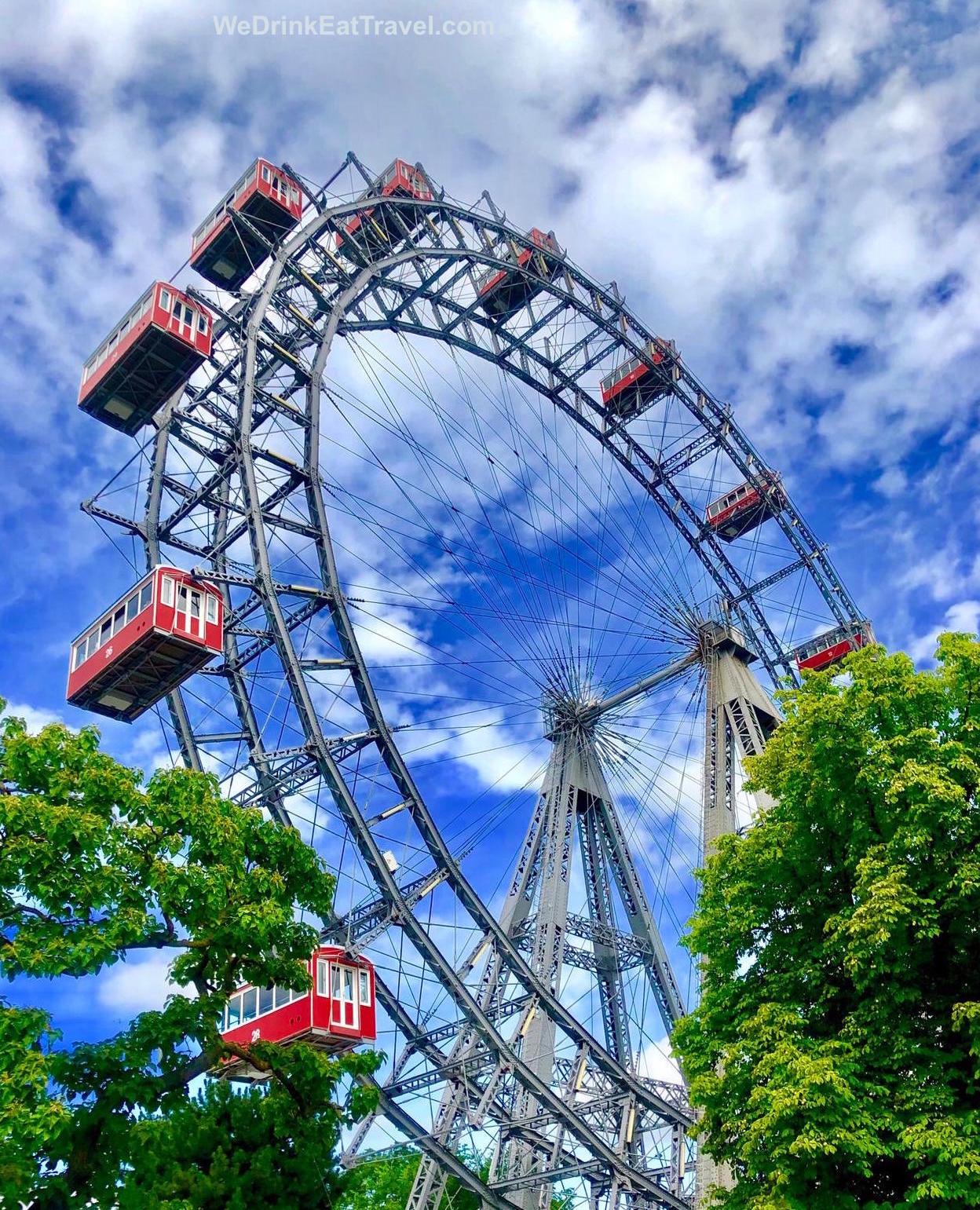 Yet, while you have to pay to go on the Wiener Reisenrad, and amusement park attractions… within Prater is the Hauptalle, which is free to explore. So, Prater Hauptalle a large, straight boulevard that runs about 4.5 kilometers… and is lined with over 2,000 trees.
And, last but not least on our top free things to do in Vienna, is this to head on over to…
Maria-Theresien-Platz
Be surrounded by some of the most remarkable buildings and artefacts in Maria-Theresien-Platz. This beautiful square has the majestic looking Museum of Natural History on one side… and opposite it, is a similar looking building, which is the Art History Museum.
Plus, between the two museums is the Maria Theresa Monument, built in the late 1800's… honoring the Monarch, who was the ruler of Vienna for 40 years in the mid to late 1700's.
Also, the opulence doesn't stop, with majestic fountains adorning the square. And, in Summer time it gets really busy with locals and tourists alike… plonking themselves on the lush green lawns amongst the manicured trees, shrubs and plants.
So, there you have it, 21 free things to do in Vienna, Austria. Yes, it can get expensive when you travel through Vienna, let along the rest of Europe. So, take advantage of exploring Vienna, without having to open your purse or wallet.
There's so much more to do that's free than what we've listed here. Yet, this gives you a taste of what to expect… when you visit one of Europe's most historical, magical and beautiful capital cities, Vienna. 
Like This? Share it and comment on it!
Note: All of our reviews and comments are our opinions and no-one else's. Even if we receive complimentary goods or services we share our opinions honestly.
You Might Be Interested In This Too…
How To Get FREE Accommodation While Travelling
25 Amazing Things To Do In Dubrovnik Old Town
One Of The Little-Known Top Things To Do In Dubrovnik
What You Need To Know About The Dubrovnik Card Now
Check Out 15 Amazing Things To Do In Budva, Montenegro
Perast, Montenegro – Why You Need To Visit This Town
One Of The Amazing Things To Do In Kotor Montenegro
Hiking Kotor Fortress – Things You Need To Know
25 Of The Best Things To Do In Kotor Montenegro
Where To Eat In Tivat For The Best Fast Food
Ultimate Tivat Hiking Trail For The Most Breathtaking Views
Check Out 16 Things To Do In Tivat Montenegro
13 Interesting Places To See In Podgorica Today
Here Are 7 Remarkable Things To Do In Berat Albania
7 Free Things To Do In Bangkok
10 Places To Visit In Gozo Malta For Breathtaking Views
7 Top Reasons Why You Should Visit Bansko Bulgaria
10 Picturesque Churches To See In Vienna Austria