When you visit Prague, the capital of Czech Republic… you'll be in amazement with all the incredible sights it has to offer. Yet, what you may also discover when exploring this beautiful and lively city… is that there are many different, and even quirky statues that will blow your mind!
So, when you're thinking about things to see in Prague… consider putting these interesting statues on your list to broaden your horizons.
Let's start with these popular statues…
Giant Crawling Babies
When you're strolling through the Kampa Gardens area in Mala Strana, Prague 1… you'll notice how beautiful the surroundings area. Then, as you continue through the gardens, your eye will look twice as you see these…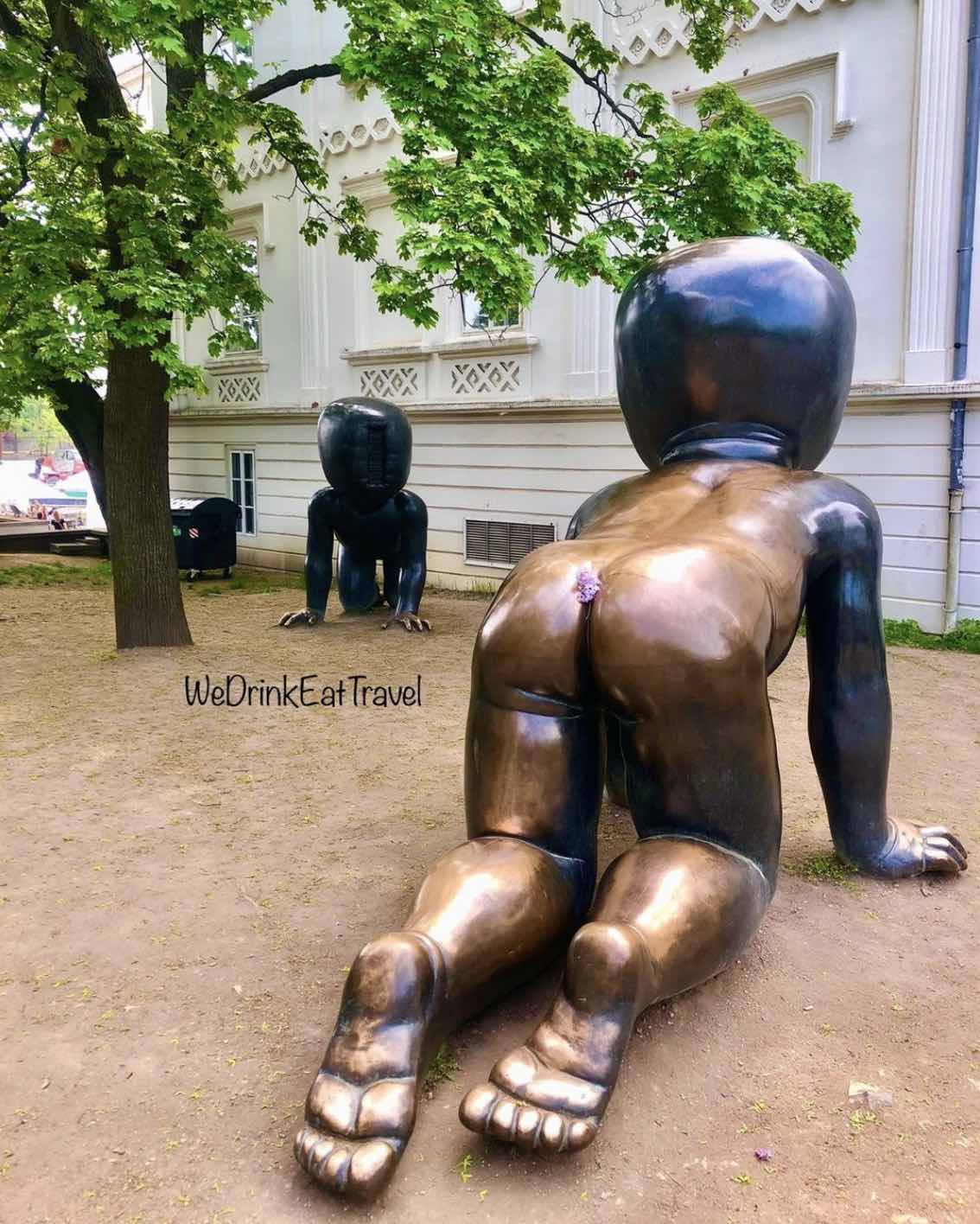 These giant crawling babies statues with interesting faces… was made by the controversial Czech artist, David Cerny. They certainly are photoworthy. And, we saw many tourists taking "unconventional" photos with these famous giant babies!
Umbrella Man
Now, this interesting statue is something we may not have found… if we hadn't of seen several people hanging around strangely near Odboru Street of New Town, Prague.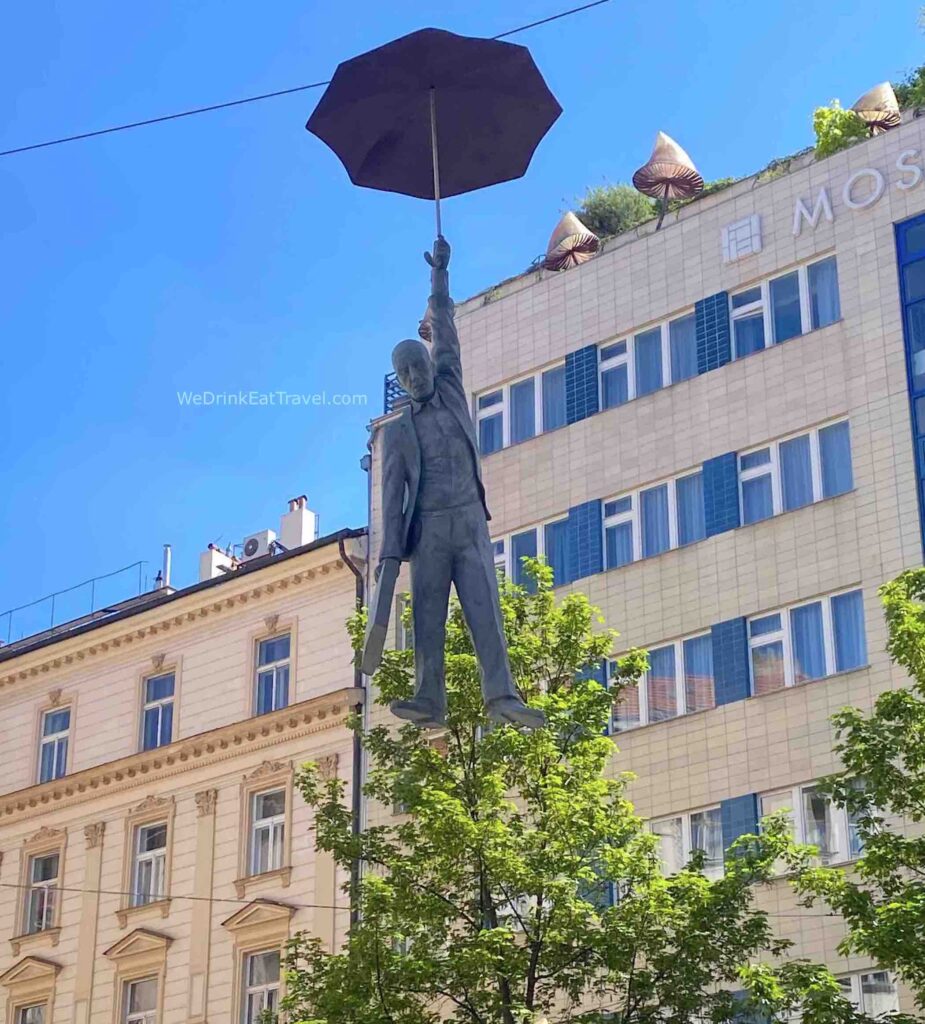 And, this statue goes by the name of, Slight Uncertainty… of which the sculptor was, Michal Trpak.
So, after seeing this it reminded us to look upwards, downward and everywhere… while we were wandering the streets of Prague.
Now, one of the things to see in Prague that will surprise you is this…
Pissing Statue
If you're making your way to see the narrowest street in Prague… nearby is the Franz Kafka Museum in Mala Strana. Now, even if you're not a fan of museums… you need to walk through the entrance.
And, that's because you'll see another highly popular statue by David Cerny… which is the Pissing Statue.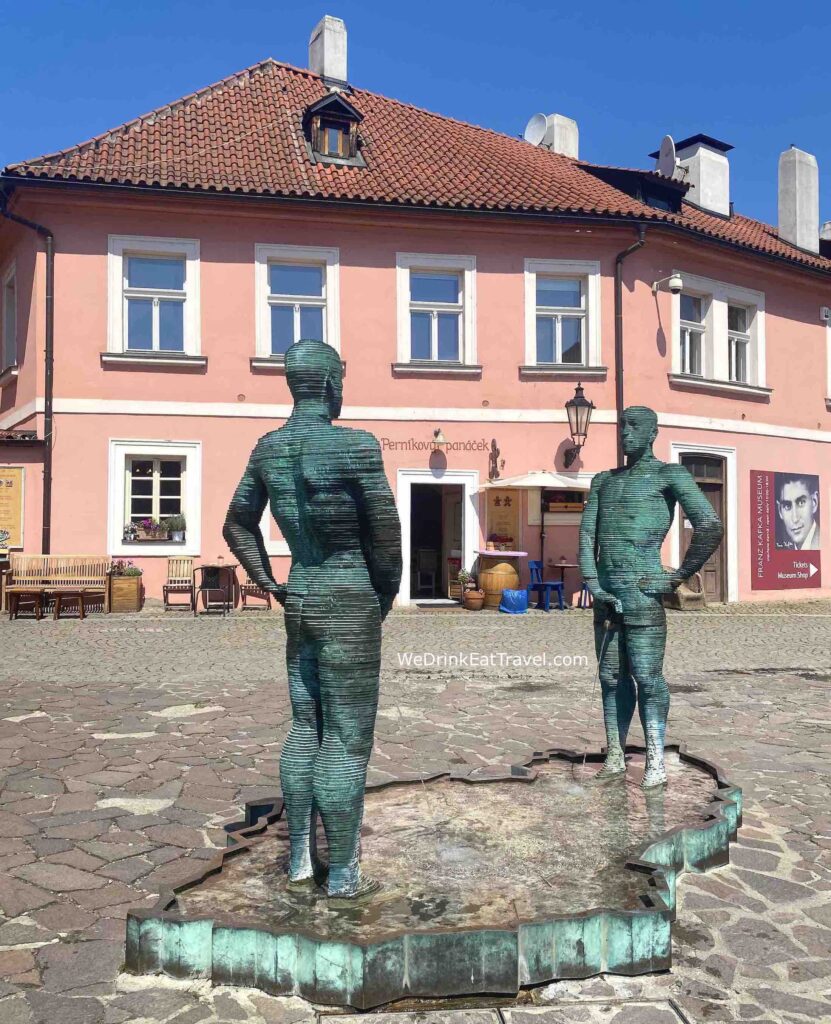 This outdoor sculpture brings in loads of tourists. And, we had to wait patiently for groups of tourists to leave… or to get an angle where no-one would be in our pics.
The interesting thing about these statues is that you can go up to them… and you'll discover that you can rotate their hips. So, their piss can go in many different directions! Take as many "interesting" photos or videos as your heart desires!
Statue of Harmony
This next statue is of Sri Chinmoy, and has the label of the Statue of Harmony.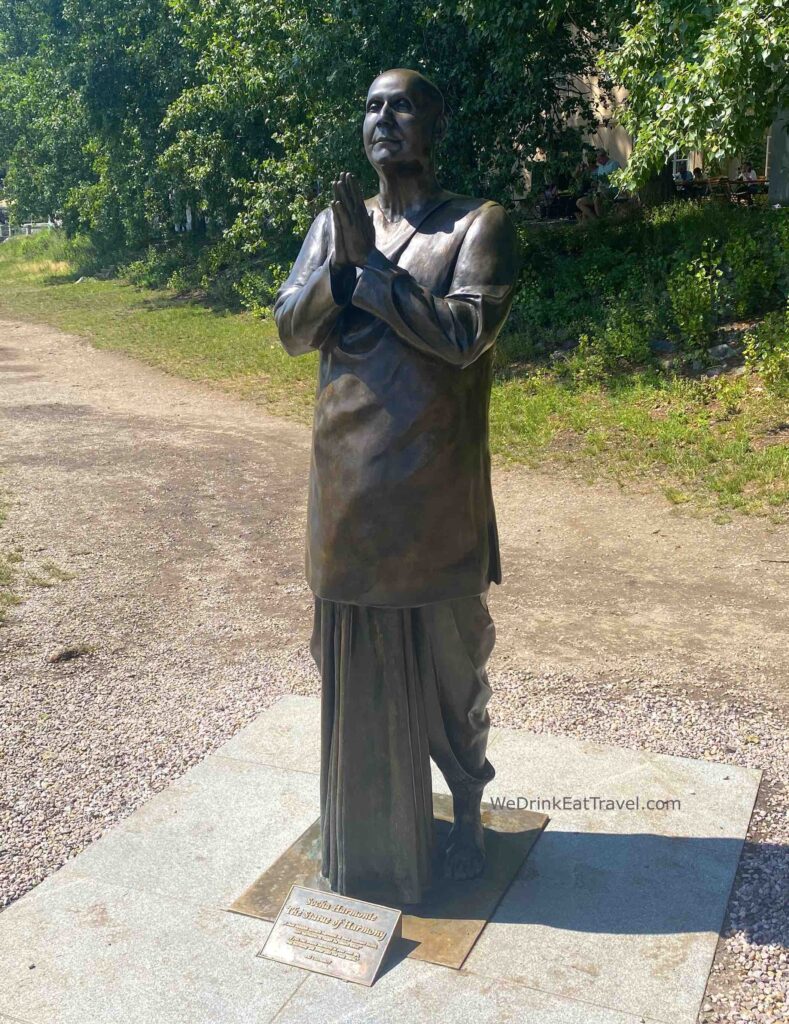 You can find this statue when you're strolling along the waterfront in Kampa Park. Yet, while this statue may seem peaceful… it has been a point of contention for many years.
When you look at it… most people assume that it's a statue of a Buddhist monk, praying. Yet, it's said that this statue has an underlying meaning… where its associations are with a religious cult. Hmmmmm!
So, when it comes to seeing lots of statues in one location on a major Prague landmark, then see these…
Charles Bridge Statues
The popular and prominent landmark of Charles Bridge… has 30 statues that you can see in the one place. These statues that line both sides of this famous bridge… date back to around the late 1600's and beyond.
Statues include the bronze statue of St John of Nepomuk. Now, this statue is said to bring good luck! And, that's why you'll see tourists putting their hand on this statue… and you can see the marks.
The most expensive of all the statues on Charles Bridge is by sculptor, Ferdinand Brokoff. This statue was originally built in the 1700's, to honor 3 different figures… St John of Matha, St Felix of Valois, and St Ivan. Make sure you look at the lower part of this statue… as there is a chamber containing Christians, who are praying to the Lord for salvation.
Statue of Franz Kafka
When you're exploring the Jewish Quarter in Prague… you'll most likely come across this statue of Franz Kafka.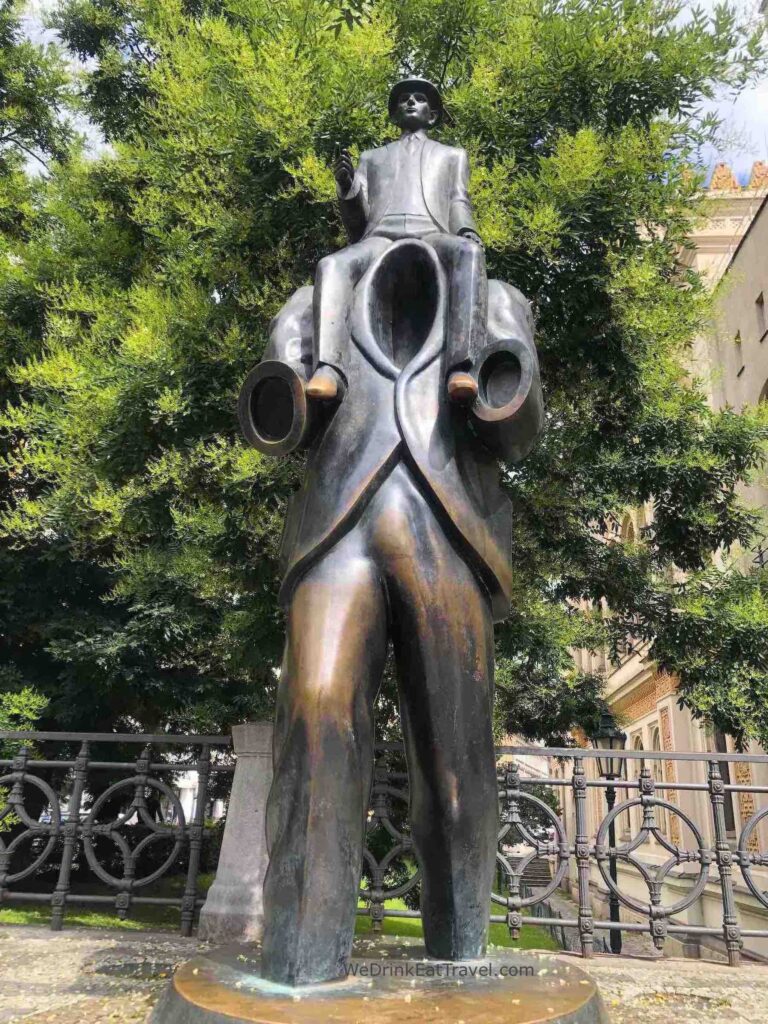 It stands out the front of the Jewish Museum… near the corner of Vezenska and Dusni Streets. So, the most defining feature of this statue is the larger man… with a hole in his upper body and arms. And, sitting atop of his shoulders is a smaller statue of Franz Kafka.
It's said that it took about 4 years for this statue to come into fruition. Yet, you'd have to agree that this artistic flair by sculptor, Jaroslav Róna… makes it one of the interesting things to see in Prague, when it comes to statues.
Red Man on Horse
Tucked away in Museum Kampa are a variety of statues. We weren't sure if we had to pay to get in to explore what was around. Yet, on both occasions that we went, no-one was there and we paid no entry fee in the outside courtyard area.
So, one of the most prominent statues, especially because of the vibrant color… is this man on a horse…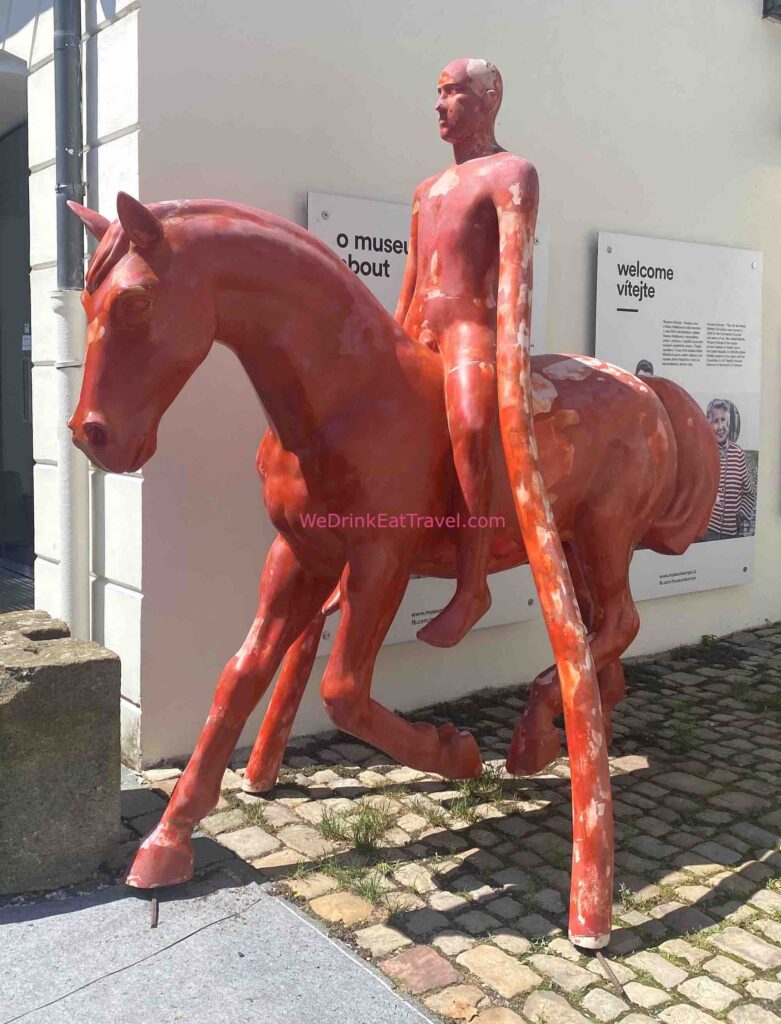 Yet, when you look at his arms, they extend all the way down to the ground!
And, a stone's throw away from this, is another interesting statue…
Woman in the Sun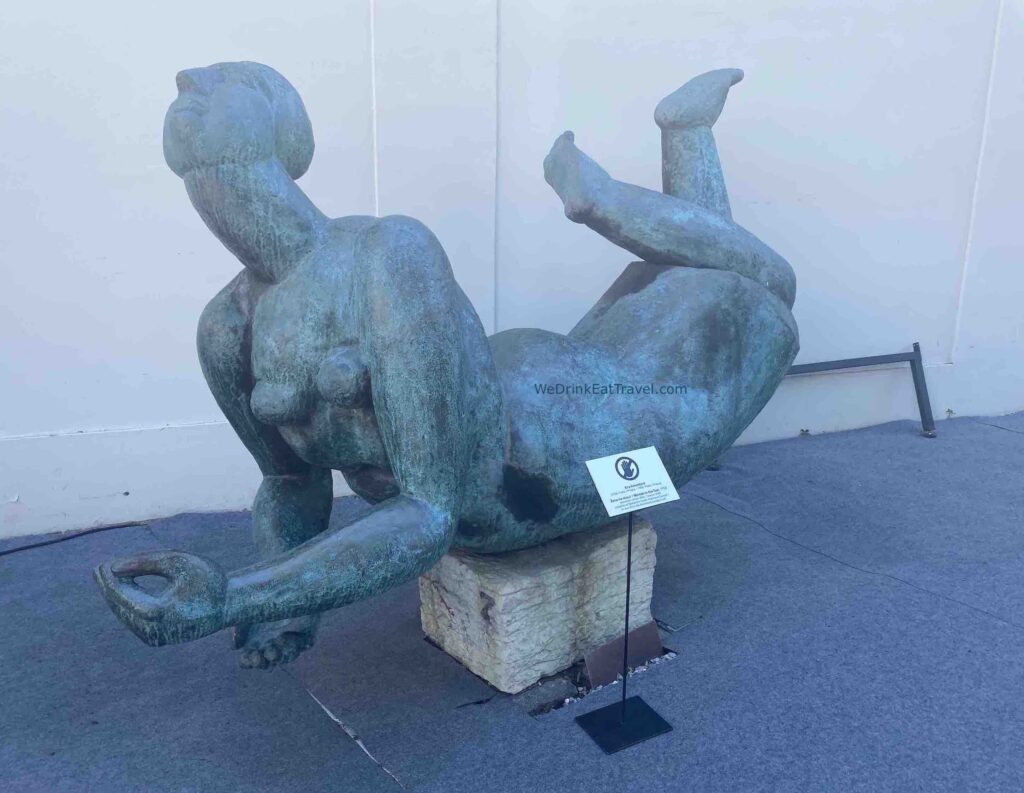 This bronze sculpture is of a Woman in the Sun, by designer Eva Kmentova.To me, it appears that she doesn't seem too comfortable in that position!
Yet, the interpretation and what you get by looking at artwork… differs between each person. So, you may have a completely different outlook of what you think and feel… when seeing the Woman in the Sun, in comparison to what I think!
There are other statues and artworks within the Kampa Museum… so check it out if you're in the area.
Now, when it comes to statues, this is an interesting one…
Memorial to the Victims of Communism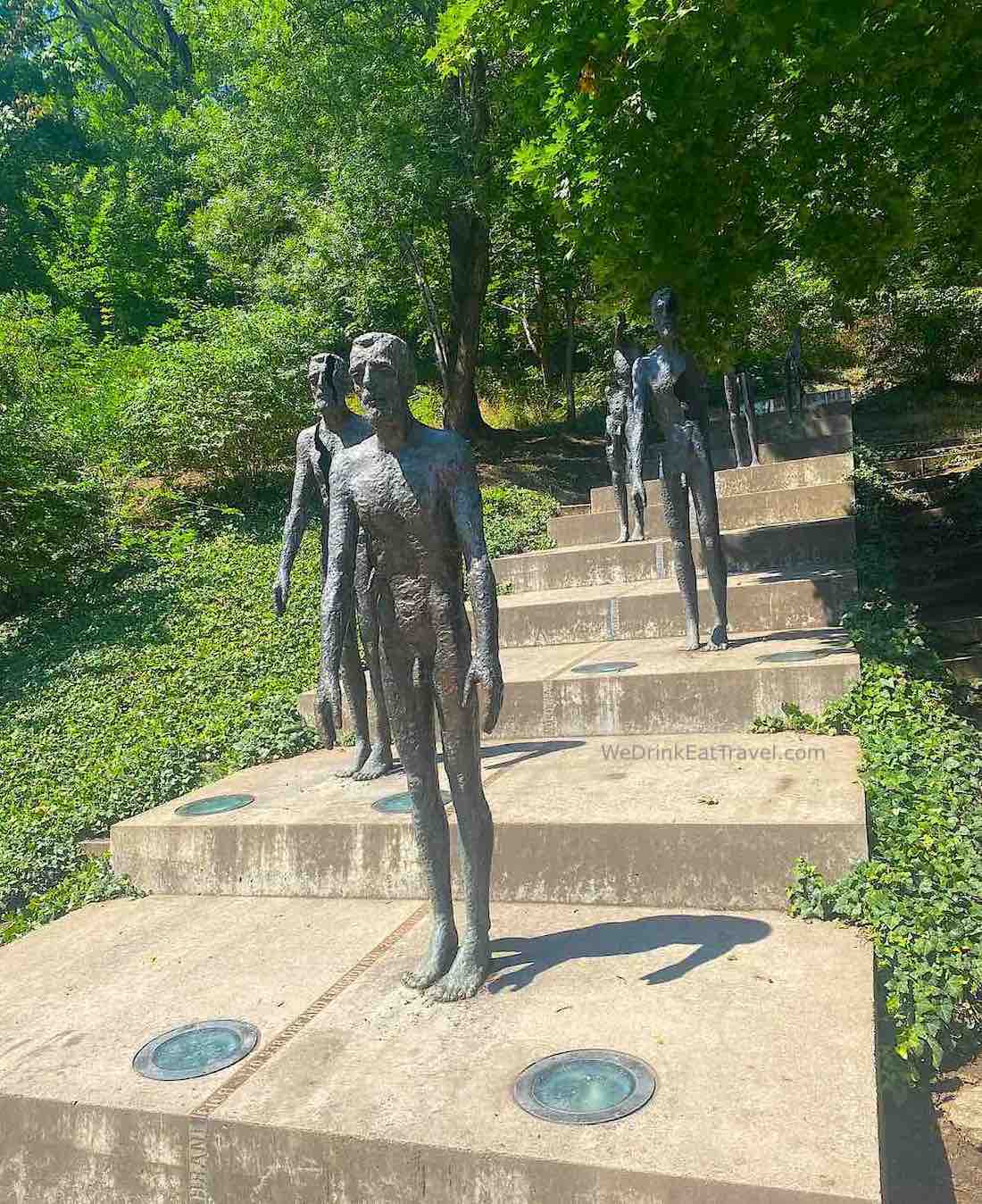 This is a very moving memorial of bronze statues… at the end of Vitezna Street in Mala Strana, near the base of Petrin Hill. This is to commemorate the prisoners who had suffered… during 1948 and 1989 under communism.
At first glance, you may think that all the statues… with their harrowing faces are exactly the same. Yet, as you take a closer look, each one has a slight difference.
Upside Down Horse
Now, this is a statue that often has tourists flocking to see it. And, that is the Statue of King Wenceslas on an Upside Down Horse.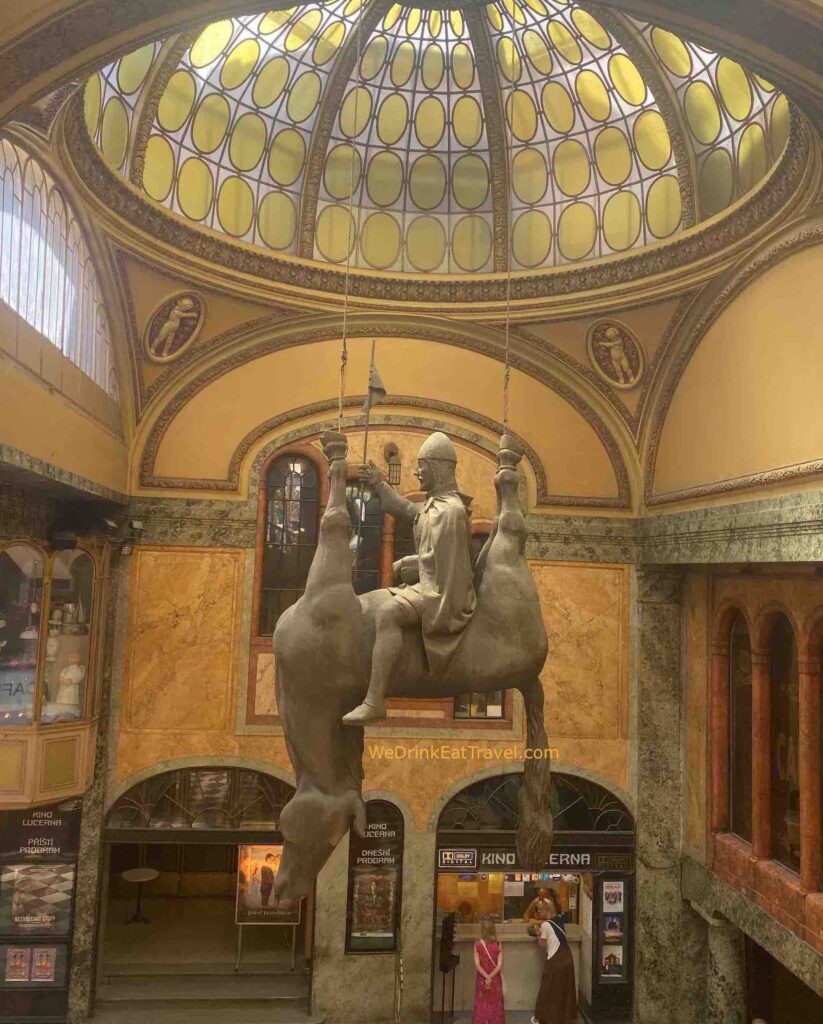 So, to see this statue, you'll need to go into a shopping centre… which is on Vodickova Street, off Wenceslas Square. You won't see any huge signs pointing to where it is… or not that we saw anyway.
A landmark to look up or keep an eye out for is Kino Lucerna… as they're in the same building.
It's a unique statue to look at. And, if you walk up the staircase… you can get even better views of it.
Next on our list of things to see in Prague is this…
Senovážném Náměstí (Hay Square) Statue
When you're in the New Town area of Prague… you may come across Senovážném Náměstí (Hay Square). And, when you're on the Dlazdena Street side of the Square, you'll see this…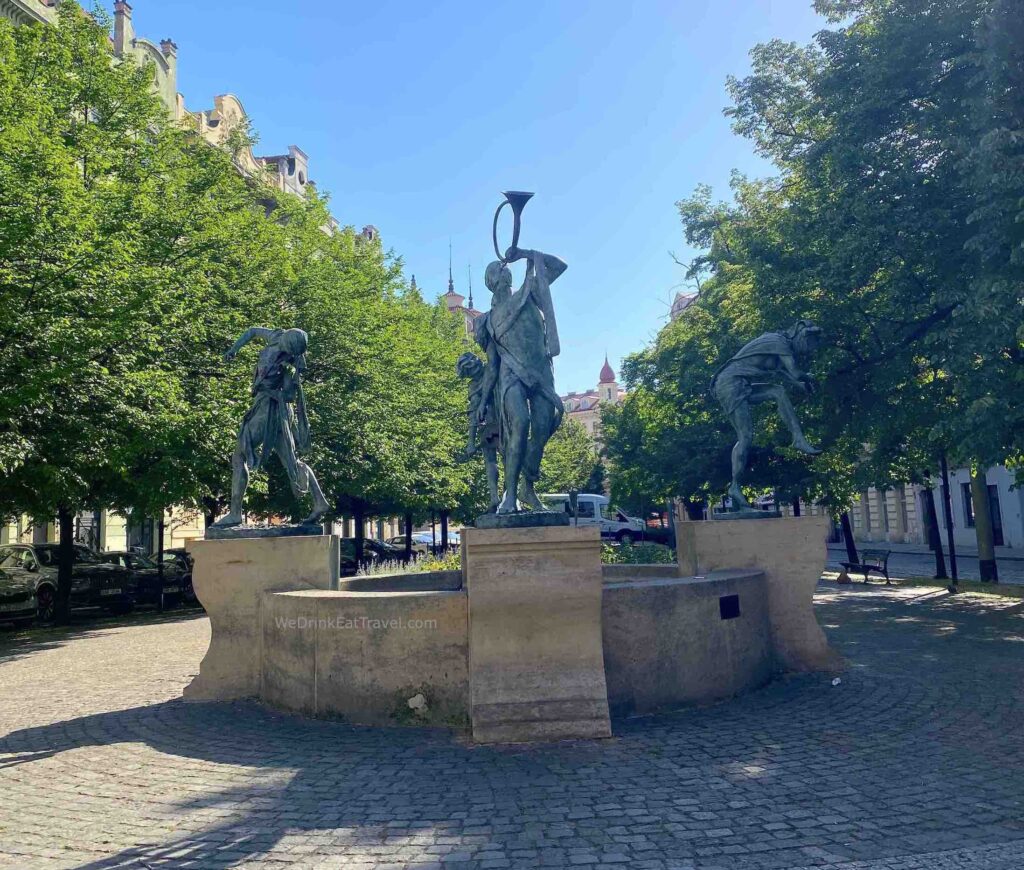 The 4 dancing statues were from the artist, Anna Chromy… and represent Czech musicians surrounding a fountain.
When I look at it, it gives me feelings of happiness and harmony. Don't know what you think?!
Standing Brave
When we were strolling around the Prague 7 district, after checking out a festival / market… by the waterfront we saw this huge statue, near the corner of Hlavkuv Bridge…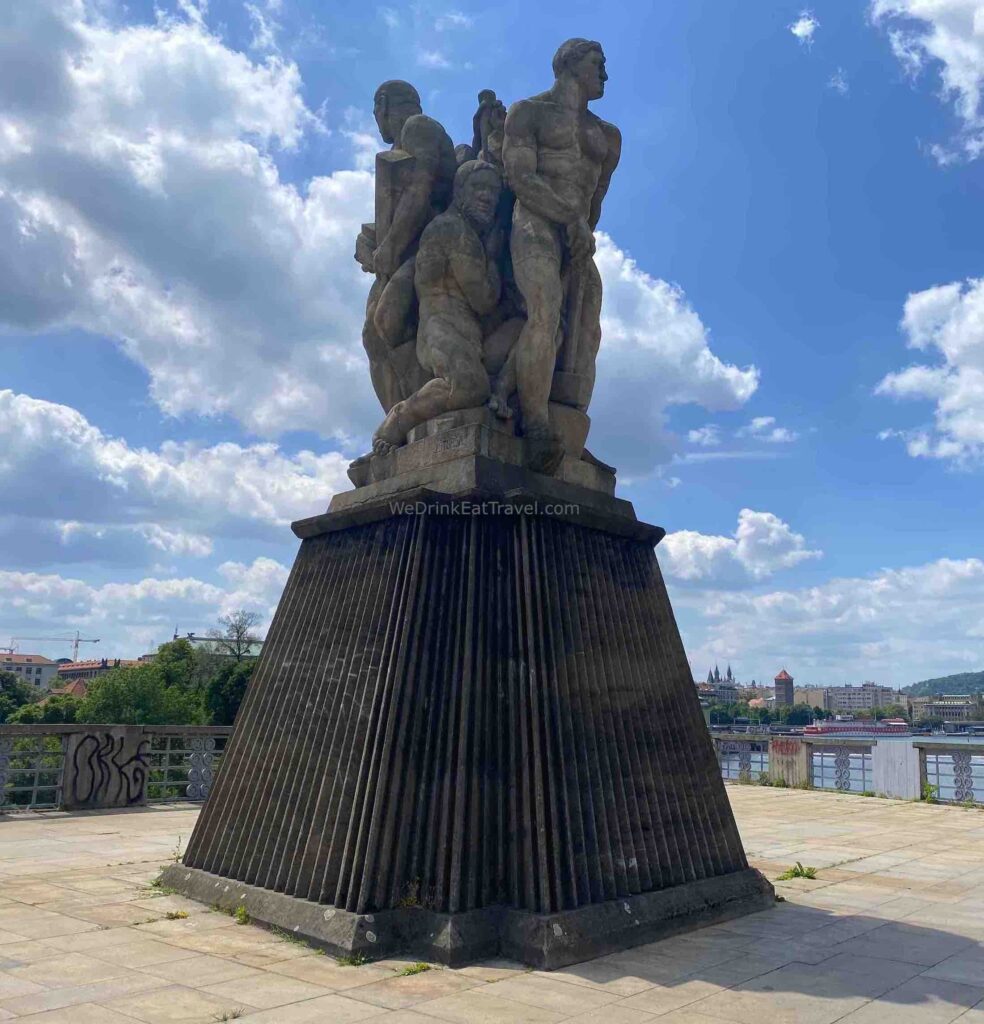 The name of it is, Standing Brave. It's said that the statue was taken away, to allow for expanding of the bridge. And, while the intention was not to put them back, perseverance byy sculptor Vlastimil Vecera… would see the Standing Brave statues return.
We give thanks to this artist, because otherwise we may not have been able to witness it!
So, when you're looking for things to see in Prague, Czech Republic… it's well worth taking the time to check out the interesting statues dotted around the city.
While some are controversial, others are fun, memorable or down right unique!
Yet, while you're exploring Prague, make sure you keep an eye out… as there are plenty more statues around to see.
What other statues did you see and thought were memorable in Prague?
Like This? Share it and comment on it!
Note: All of our reviews and comments are our opinions and no-one else's. Even if we receive complimentary goods or services we share our opinions honestly.
You Might Be Interested In This Too…
How To Get FREE Accommodation While Travelling
7 Amazing Things You Must Do In Prague
Discover 12 Of The Best Bars In Belgrade, Serbia
21 Of The Best Things To Do In Belgrade, Serbia
Top Recommendations For The Best Pizza In Belgrade, Serbia
7 Surprising Things You Should Know About Belgrade Fortress
25 Of The Best Things To Do In Kotor Montenegro
21 Of The Best Free Things To Do In Vienna, Austria
25 Amazing Things To Do In Dubrovnik Old Town
15 Interesting & Surprising Things To Do In Sarajevo Now
One Of The Little-Known Top Things To Do In Dubrovnik
What You Need To Know About The Dubrovnik Card Now
Night Market Bangkok: All Aboard For The Ratchada Rot Fai Train Night Market
Check Out 15 Amazing Things To Do In Budva, Montenegro
Perast, Montenegro – Why You Need To Visit This Town
One Of The Amazing Things To Do In Kotor Montenegro
10 Free Things To Do In Hue Vietnam
Hiking Kotor Fortress – Things You Need To Know
Where To Eat In Tivat For The Best Fast Food
Ultimate Tivat Hiking Trail For The Most Breathtaking Views
Check Out 16 Things To Do In Tivat Montenegro
Here Are 7 Remarkable Things To Do In Berat Albania