When we went to Serbia we had a hankering for pizza in Belgrade. And, as we were spending a few months there, we could take our time discovering this vibrant capital city. And, while we love many of the traditional Serbian dishes… sometimes we were craving some comfort food, especially after a night out!
OK, so it's no secret that we are PIZZA LOVERS! Pizza for breakfast, lunch and dinner? Yes, we have done that before… ha ha ha!
And, one of the great things about Belgrade is… there are lots of places to choose from when those pizza cravings kick in. So, in this foodie travel blog, we'll run through our top recommendations for the best pizza in Belgrade… from top shelf, to cheap and cheerful.
Mama Shelter
Now, the Mama Shelter global hotel brand is known for its unique design, and fun atmosphere. Not only that… it offers a restaurants with an enjoyable ambience from day through to night. Plus, there's a variety of food options on Mama Shelter's menu.
Yet, after seeing all the mouth-watering dishes we could have, we had to try some pizza. And, that's because what stood out for us was their Black Truffle pizza. Pizza and truffles… that's a match made in heaven for us!
Plus, we made the decision to get a Margherita pizza too, which was 790 Dinar (about 6.85 USD/ 6.80 Euro/ 5.75 GBP).
You can even get a 1 metre pizza for 2,600 Dinar… where you can choose 3 different pizza flavors. We did ask our waiter about it as a joke, and he did say that for the 2 of us… he recommends us to not have it, as it's HUGE.
There's also an extensive drinks menu from non-alocholic, to beers, wines and cocktails. So, you'll have plenty of drinks to choose from… that will go well with your choice of yummy pizza.
Plus, Mama Shelter offers a variety of seating options… from relaxing alfresco to admire the wonderful views from the rooftop. Or, you can relax inside on comfy couches, at the bar… or you can grab a spot on their communal tables.
So, while we sat in our cosy couch area… we were devouring our absolutely delicious gourmet pizzas.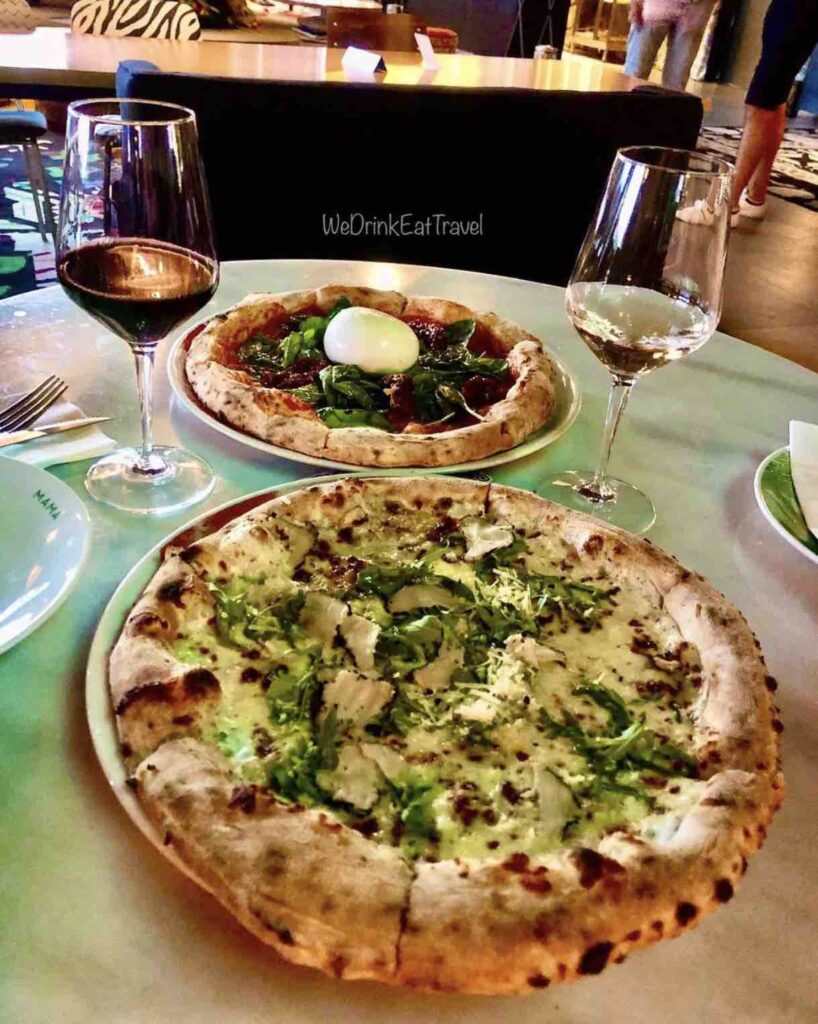 They are simply divine, and very filling. The Black Truffle pizza was one of the most delicious pizzas we've ever had!
And, we loved the big, luscious mozzarella ball on the Margarita Pizza. When we cut into it, it was oozing delicious, gooey cheesiness.
Plus, the pizzas are wood-fired, which adds a delicious smoky flavor. They know how to make amazing pizzas. Remember, if the truffle pizza is on offer… you MUST try it!
You can find Mama Shelter in the Rajiceva Shopping Center, at Kneza Mihaila 54A.
Now, for a mega size quality pizza with lots of topping and flavor, in a vibrant environment… we recommend you check out this restaurant…
Piano Loco
When we were staying in the area of Belgrade called, Voždovac… the locals said that we should try a restaurant by the name of, Piano Loco. And, while they have an extensive menu… popular meals are the pizzas, as well as sandwiches with stuffings called, panuozzi.
There are over 20 different varieties to suit meat eaters as well as vegetarians.
Plus, the pizzas come in 3 sizes – 32cm, 40cm and 50cm. So, the prices of pizzas start at 700 Dinar (about 6.20 USD/ 5.95 Euro/ 5.10 GBP)… right up to around 1,550 for the 50cm size.
Well, as we admit we are pizza pigs, we had to choose the mega size pizza… even just for the 2 of us! We could never finish a whole 50cm pizza ourselves in one sitting, with just the 2 of us. But remember, pizza for breakfast, lunch and dinner… ha ha ha!
So, we did try a few different types of pizza during our time in Belgrade. Yet, our favorite was the Greca Pizza. The 50cm cost us 1,150 Dinar (about 10.05 USD/ 9.80 Euro/ 8.40 GBP).
The pizza dough is delicious and a medium size, rather than thin. The ingredients were fresh and flavorsome. The rocket (arugula) was fresh and pungent, and the feta had a sharp yummy saltiness to it. Plus, the olives added another element… which skyrocketed the entire pizza flavor.
And, what went well with the pizza, was the variety of craft beers.
Now, the size of Piano Loco restaurant is actually deceiving, when you see it from the outside. There is outdoor seating, and many tables on the ground floor inside. Yet, there are heaps more seats and tables upstairs.
We even found that sometimes during the week, it can get just as busy as the weekends. Thus, we recommend that you reserve a table, especially in peak times.
You can find Piano Loco in the suburb of Voždovac, on Vojvode Stepe 203.
Majstor i Margarita
If you're in the vicinity of Republic Square Belgrade, then to satisfy your pizza cravings… head on over to Majstor i Margarita.
This casual and relaxing restaurant was busy every time we went. In saying that, every time we were there it was at night time. It must have been our luck… as we were always able to get a table without reserving. Yet, if you were to go in a big group, it would be more challenging.
Now, there are about 18 different types of mouth-watering flavors here… with a variety to suit vegetarians too. Their pizzas come in 2 sizes – 25cm and 32cm. Of course, we would always get the bigger size!
And here, we believe they are the masters of making pizza, especially the Margarita.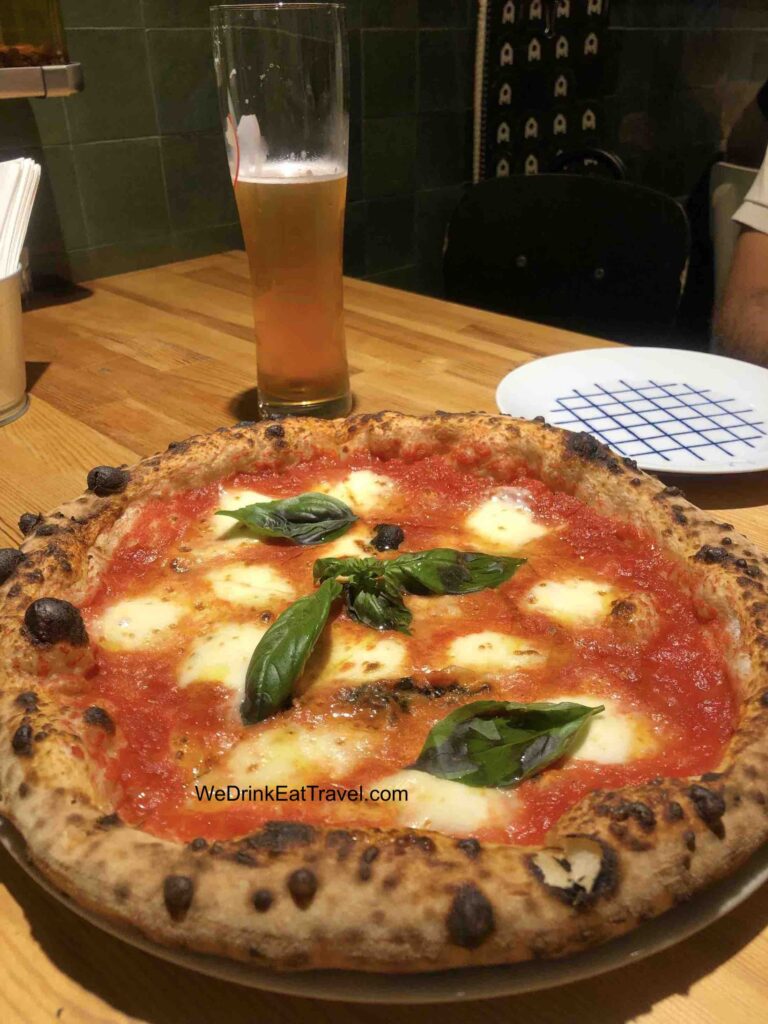 When we had it, we got taken to flavortown! The perfect wood-firing, thin base with chunky crust… and tasty, melted mozzarella oozing over the pizza! Plus, the bursts of flavor from the fragrant fresh basil, adds to the party in our mouths!
A large Margarita pizza cost us 690 Dinar. And, it's worth every bit of money spent. Plus, the Gvint craft beers go amazingly well with the pizzas.
You can find Majstor i Margarita close to Republic Square at, Vuka Karadžića 12.
Now, if you're after a cheap and cheerful pizza, then head on over to this place…
Kli Kli Pizzeria
The family owned and operated Kli Kli Pizzeria, has been serving hungry pizza lovers for a long time. Each time we went there it was busy, but we were happy to wait.
OK, so it's a different level of quality as the previous pizza places we recommend. Plus, it's the thin style pizza base and crust. Yet, it still tastes great, and the prices are cheap for the size!
There are 2 sizes at Kli Kli… the "small" size at 32cm, will cost on average about 300 Dinar (about 2.60 USD/ 2.50 Euro/ 2.20 GBP).
Yet, whenever we went, which was usually after a boozy night out… we would get the large size. And, at 50cm this was more than enough to keep us happy after drinking. 
Now, prices will vary depending on what pizza variety you get. Yet, on average it will cost about 530 Dinar for a 50cm pizza. Now, that's cheap!
Oh, be careful though, when you pick up a slice and forget that it's the thin style pizza… the pizza will droop and some of the ingredients may fall off!
So, we did go to Kli Kli a few times, to try some different flavors. Yet, our favorite was the Funghi. It was loaded with mushrooms.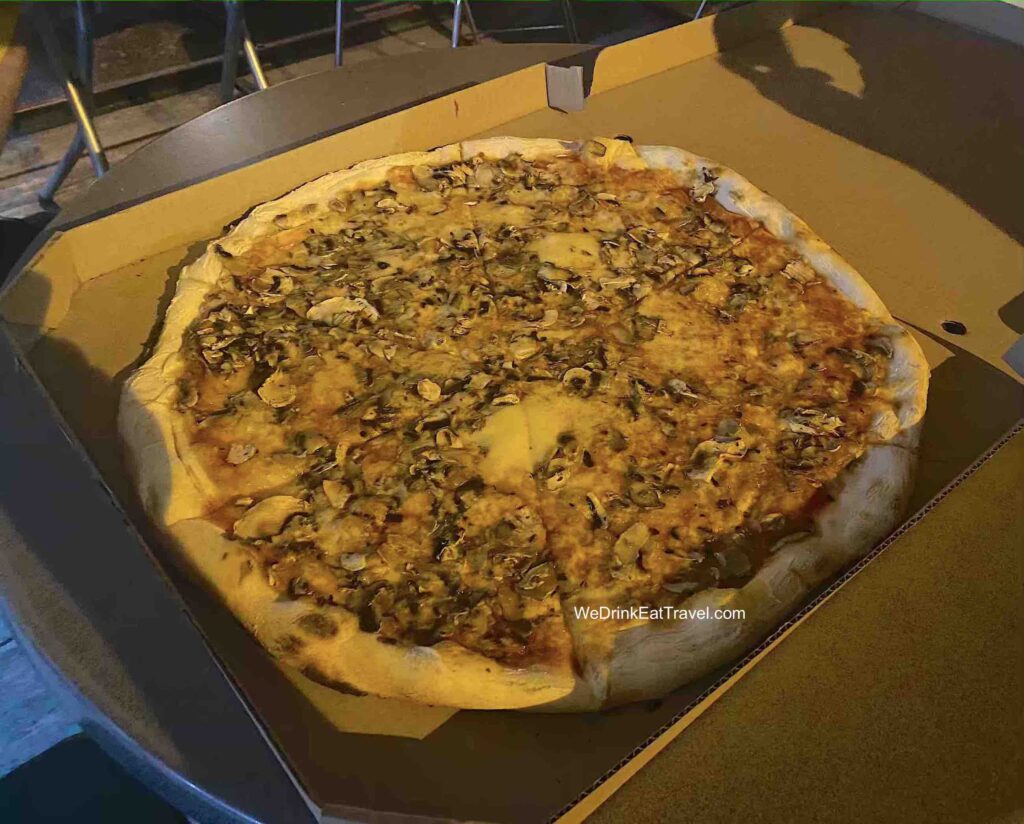 While most people get take away or delivery, there are a few seats and tables at the front. And don't worry, if you're Serbian language isn't that great or non-existent… then someone there can speak English.
You can find this family-owned pizza restaurant in Belgrade, at Venizelosova 2.
Well, I don't know about you… but writing this travel blog has made me hungry! So, time to wrap it up.
Belgrade is such a lively and awesome place to visit. Whether you go for a short time or for longer, when you're looking for the best pizza in Belgrade… remember to check out our top recommendations. Try one, or all of the places!
Prices are so cheap in comparison to other parts of Europe. Yet, the quality and flavor is outstanding.
What's your favorite pizza place in Belgrade, Serbia?
You Might Be Interested In This Too…
7 Surprising Things You Should Know About Belgrade Fortress
21 Of The Best Free Things To Do In Vienna, Austria
25 Amazing Things To Do In Dubrovnik Old Town
15 Interesting & Surprising Things To Do In Sarajevo Now
10 Free Things To Do In Hue Vietnam
Hiking Kotor Fortress – Things You Need To Know
Ultimate Tivat Hiking Trail For The Most Breathtaking Views
Check Out 16 Things To Do In Tivat Montenegro
13 Interesting Places To See In Podgorica Today
7 Free Things To Do In Bangkok
10 Places To Visit In Gozo Malta For Breathtaking Views
7 Top Reasons Why You Should Visit Bansko Bulgaria
Need Accommodation?
Find Your Perfect Vacation Accommodation
Get Awesome Deals on Your Accommodation
Want Cheap Flight Deals?
Looking For The Latest Flight Deals? Click HERE
Get Real Cashback From Your Vacation!
Discover How You Can Get Cashback From Your Vacation Bookings