Prague is not only a magnificent capital city… where you could spend days, weeks or even months exploring what it has to offer. Prague is also a great base to visit other parts of the Czech Republic.
And, one of the towns that we'd heard about from other fellow travelers was, Cesky Krumlov. It often has references as being the "Little Prague." So, this was intriguing. Plus, having seen various photos and videos, it did look like an amazing place to visit.
Yet, as we didn't have our own transport… we had to do some research on how to get to Cesky Krumlov from Prague.
So, in this We Drink Eat Travel blog… we highlight some of the ways to get from Prague to Cesky Krumlov. And, keep in mind that we were looking at transport options for a day trip.
So, let's get right into it!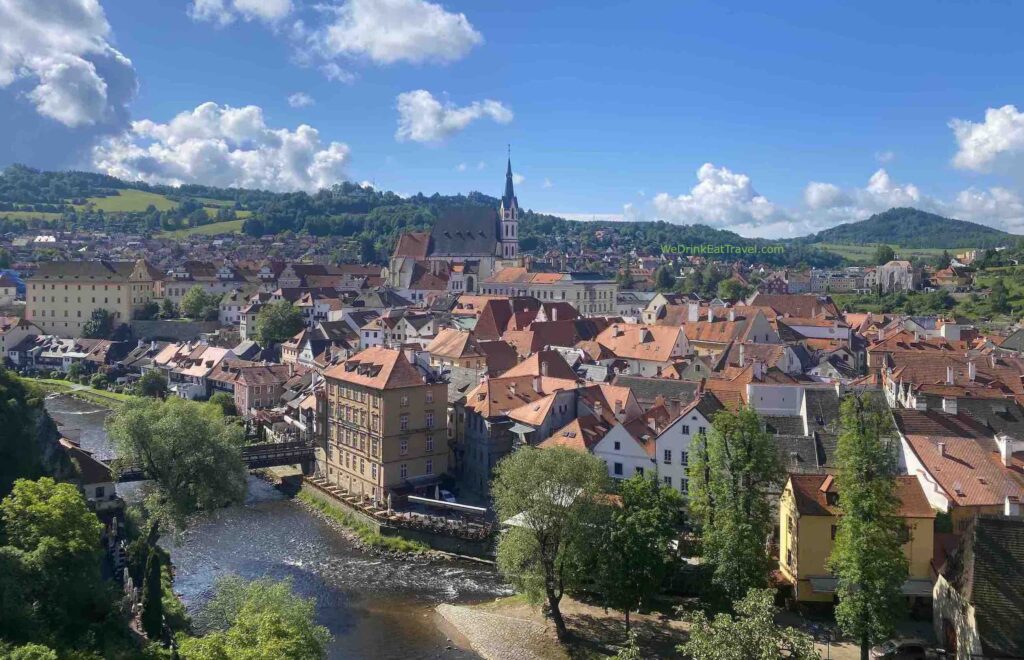 Getting to Cesky Krumlov from Prague
When we were in the Czech Republic… we found out that the transport systems are pretty good. So, it was great to discover that there are several options for getting to Cesky Krumlov… if you don't have your own transport.
Options include taking the bus, train, hiring a car, getting a taxi, rideshare… or even hiring a private car with a driver.
Now, it was interesting to research the prices for the services of a taxi, rideshare… or even hiring a car for the day.
So, to give you a rough estimate… to take a taxi may cost around 5,000 Koruna (about USD $205 / 200 Euros / GBP 175). And, while it may get to our destination quicker… we were dubious about getting a taxi for this trip, in case of scamming.
So, rideshare services like Uber and Bolt are common to use. Yet, depending on the time of day and how much traffic or demand… it could cost around 4,200 Koruna and upwards. And, having that uncertainty of what the final fare would be, wasn't appealing to us.
Another option is to book a private car with driver. And, there are many to choose from. Yet, even though it would be convenient and faster… this could cost around 180 Euros and upwards, depending on the company you book through.
So, after looking at all those options… we made the decision to check out the trains and buses.
Taking the Train from Prague to Cesky Krumlov
There are a few train operators that offer transport when traveling around the Czech Republic. Yet, the more popular option when using the train services is… the Czech Republic's primary railway operator, Ceske drahy. When you go to their website it does have an English translation option, which is handy.
According to their website… a direct train trip from Prague to Cesky Krumlov takes about 2 hours and 47 minutes or even longer. And, the price can vary depending on the time of day, season, and so forth.
Yet, if you're wanting to do a day trip from Prague, then we believe the earlier the better… so you can fit more in. You never know what you'll discover when you're there.
For us, using the train service may not have been the best option. And, that's because the first departure time from Prague was around 8am. Plus, getting into Cesky Krumlov would take about 3 hours. So, that means we wouldn't get into town until about 11:00am. That's almost the whole morning gone!
Even so, for a one-way adult ticket the price is cheaper… in comparison to the other alternatives we have already gone through. So, by taking the Ceske drahy train… prices for a one-way trip may START from around 314 Koruna (about USD $12.90 / Euros 12.75 / GBP 11.10).
The train departure times weren't ideal for us. So, that's when we had a look at the bus services to see what they could offer.
Taking the Bus from Prague to Cesky Krumlov
There are 2 main bus operators that we had a look at to choose from… which was RegioJet and Flixbus.
Flixbus has the bright lime green color…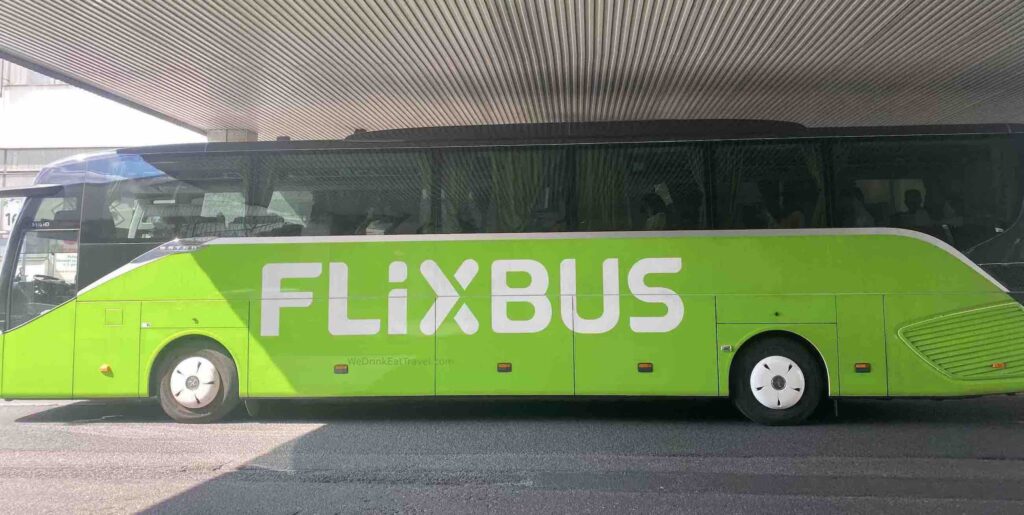 Whereas with RegioJet, the transport has a bold yellow color…
With Flixbus, they had many options to choose from… including departure times from around 7am, which was good. Plus, direct services to Cesky Krumlov would take around 2 hours 40 minutes, or 3 hours 15 minutes… depending on the departure bus stop in Prague. And, there are different stops from Prague to choose from.
So, the base fare would cost around USD $9, which sounds really cheap.
Yet, a mandatory service fee is added on top of the base fare. Plus, if you want to reserve a seat this is an additional cost. Thus, all up a one-way adult ticket could cost around USD $14.50 (about 343 Koruna / Euros 14 / GBP 12.10). Even so, in the scheme of things it still is cheap!
Now, with that in mind, we had a look at options with RegioJet.
RegioJet had a bus that would leave Prague at 6am, getting into Czesky Krumlov around 8:50am. We aren't raving fans of early starts, especially if it has to involve an alarm clock!
Yet, as we had in mind to make the most of the day trip… this was a good option to consider. And, with RegioJet it doesn't cost extra to reserve a seat.
Plus, they offer other services like a free Smart Guide on the destination… as well as free cancellation 15 minutes before departure.
So, for the 6am bus it cost around 8 Euros (about 200 Koruna / USD $8.15 / GBP 7). And, prices may be higher depending on times, or other factors.
TRAVEL TIP:
Make sure you check BEFORE booking, where the departure points are. Also, we recommend you double check your stops, AFTER booking and at the destinations. Because, things can change at the last moment, without you realizing!
Plus, it can get confusing sometimes, especially if the stop names are similar. Unfortunately, we saw a few people miss their transport… as they went to the wrong station or stop.
Which Transport Option Did We Choose in the End?
So, the transport options such as using taxis, a private driver or rideshare… didn't suit us for this trip.
And, while we prefer taking trains over buses… there weren't ideal departure time options for us. As we do like to make the most of our day trips.
We thought that taking the train from Prague to Cesky Krumlov would be quicker… and cheaper than by bus. Yet, as we did our research it was surprising to discover that it wasn't.
So, in the end it was going to be bus transport. Then, after having made comparisons with Flixbus and RegioJet… our choice for getting to Cesky Krumlov from Prague, was via a RegioJet bus.
It had better times, flexibility if our plans were to change, and a great price.
So, we trust that this is helpful… for when you're thinking about how to get to Cesky Krumlov from Prague.
What transport option did you decide to take when you made this trip? And, why did you choose that option?
You Might Be Interested In This Too…
Things To See In Prague, Czech Republic – Interesting Statues!
21 Of The Best Things To Do In Belgrade, Serbia
Top Recommendations For The Best Pizza In Belgrade, Serbia
25 Of The Best Things To Do In Kotor Montenegro
25 Amazing Things To Do In Dubrovnik Old Town
15 Interesting & Surprising Things To Do In Sarajevo Now
One Of The Little-Known Top Things To Do In Dubrovnik
Check Out 15 Amazing Things To Do In Budva, Montenegro
Hiking Kotor Fortress – Things You Need To Know
Ultimate Tivat Hiking Trail For The Most Breathtaking Views
Check Out 16 Things To Do In Tivat Montenegro
Here Are 7 Remarkable Things To Do In Berat Albania