Through our travels in Montenegro we were told about the Cats of Kotor. Yet, we didn't really think anything of it, while were seeing so many amazing historical sites… and experiencing some of the wonderful Montenegrin culture.
Yet, the more we were exploring Kotor, it was surprising what we saw.
There are HEAPS of Kotor cats roaming the streets, laying in the middle of historical landmarks… or even as we found, sometimes following us! No, we're not talking about a couple here or there. Just about every corner we went around… there were many cats of Kotor!
And, it wasn't until we stumbled upon different information… that we would discover the importance between this incredible town, and cats.
The History of the Cats of Kotor Montenegro
With the thousands of animal species in the world, why are cats so important and treasured… especially in the town of Kotor?
Well, the locals say that for centuries… the cats of Kotor have been there to help protect the town from rodents and snakes. Plus, the cats are seen as a symbol of prosperity and good luck.
In ancient times, Kotor was a major port for business and trade… where many ships would have cats on board.
Yet, sometimes the cats would be left behind… making the cats set up their new home in Kotor. So, this is where many believe that the huge population of Kotor cats began.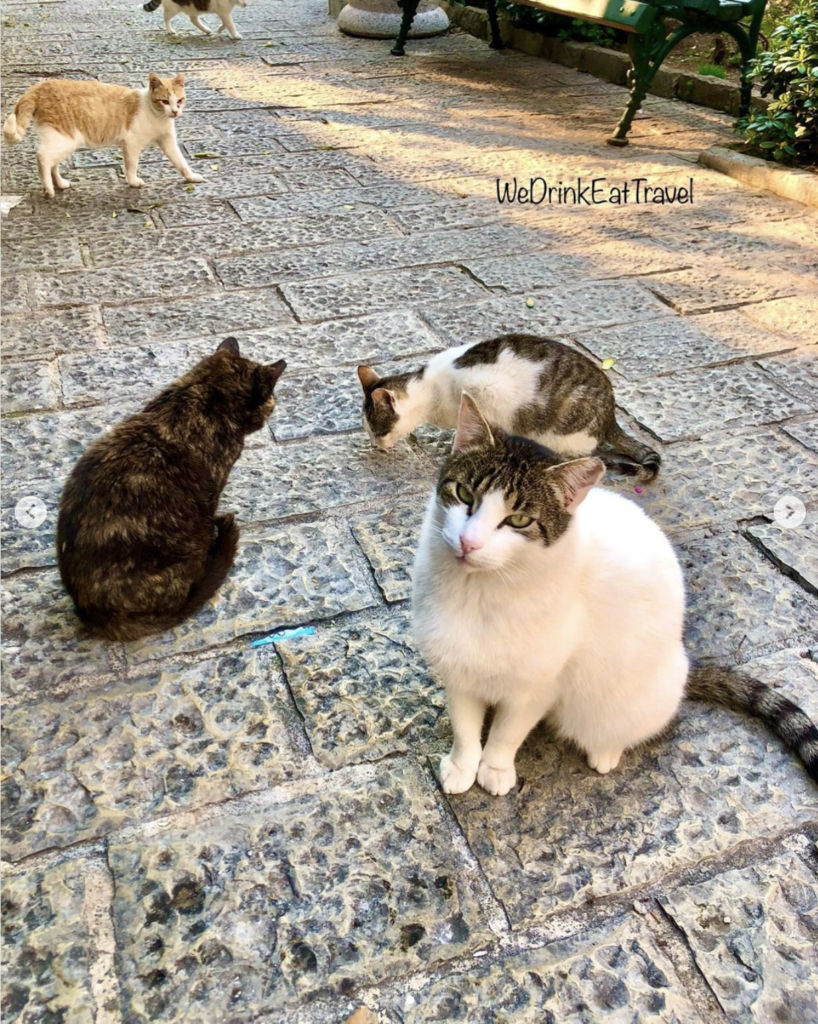 Kotor Cats Are Everywhere!
When you're strolling around Kotor from the Old Town, the parks, through to the waterfront… you're sure to come across some cats of Kotor .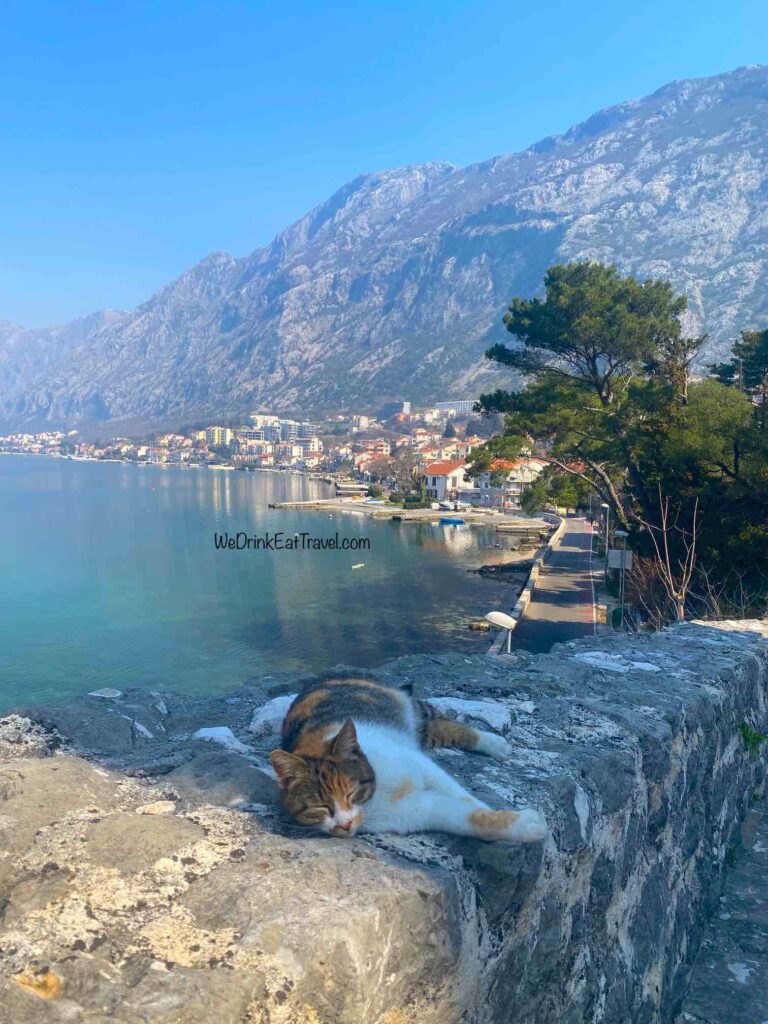 Plus, you'll also see many souvenir shops selling cat-related merchandise… from keyrings, to bags, and jewelery, through to clothes. So, if you're a catlover you'll love going into one of the many stores… to discover some unique Kotor cat merchandise you can buy to take home.
Plus, there's even a shop by the name of, the Cats of Kotor. Look out for the guard cats, he he, he!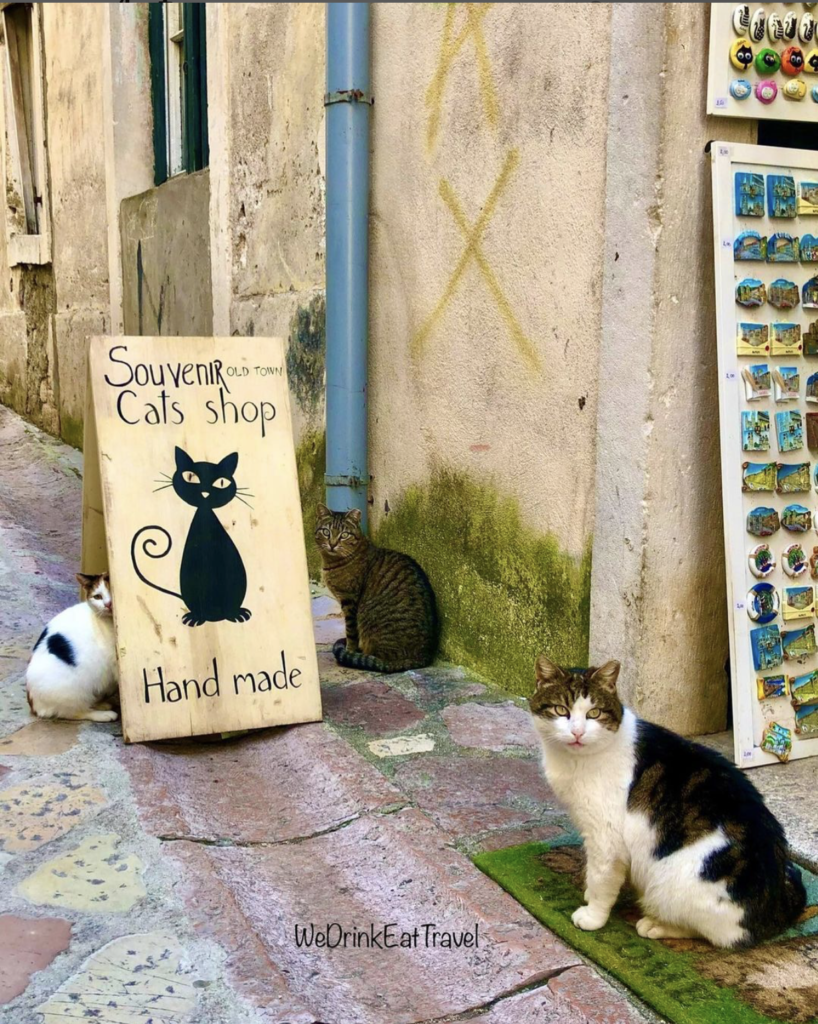 There's even a Kotor Cats Museum, yet it wasn't open at the time we were there.
And, fellow kitty lovers know that most cats love being up high. So, you will even find cats 280 metres high above the town, at the infamous San Giovanni Fortress…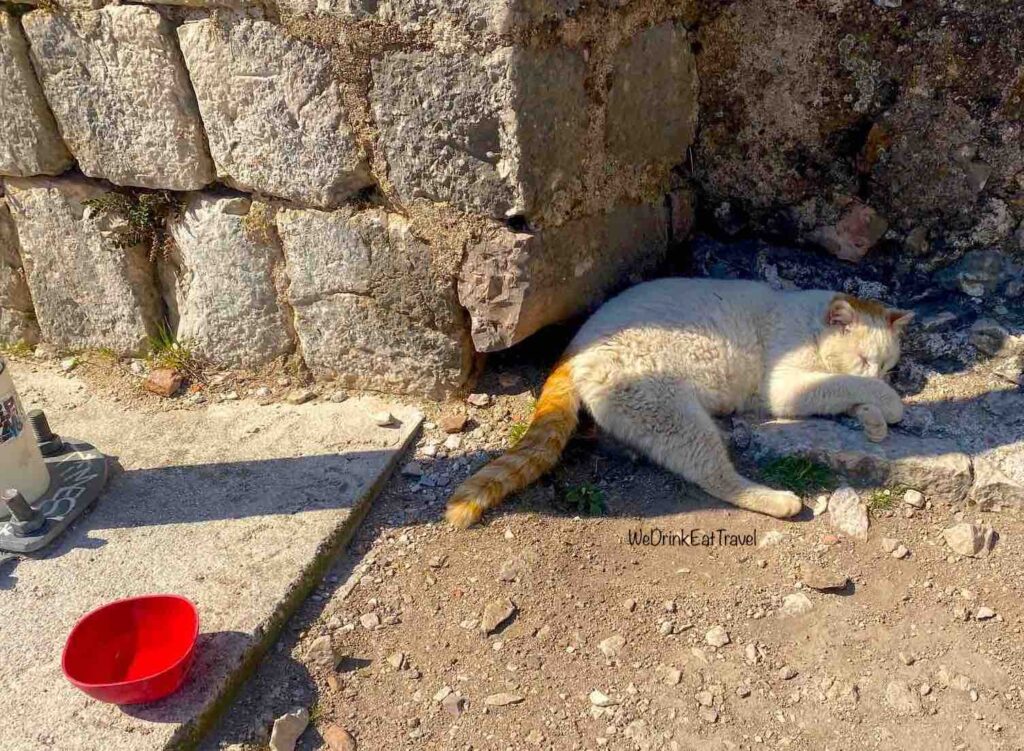 You'll often see restaurant or café or shop owners leaving bowls of water… as well as food out for the hungry cats. Imagine your kitty cat having spaghetti bolognese or gourmet bread – very spoilt!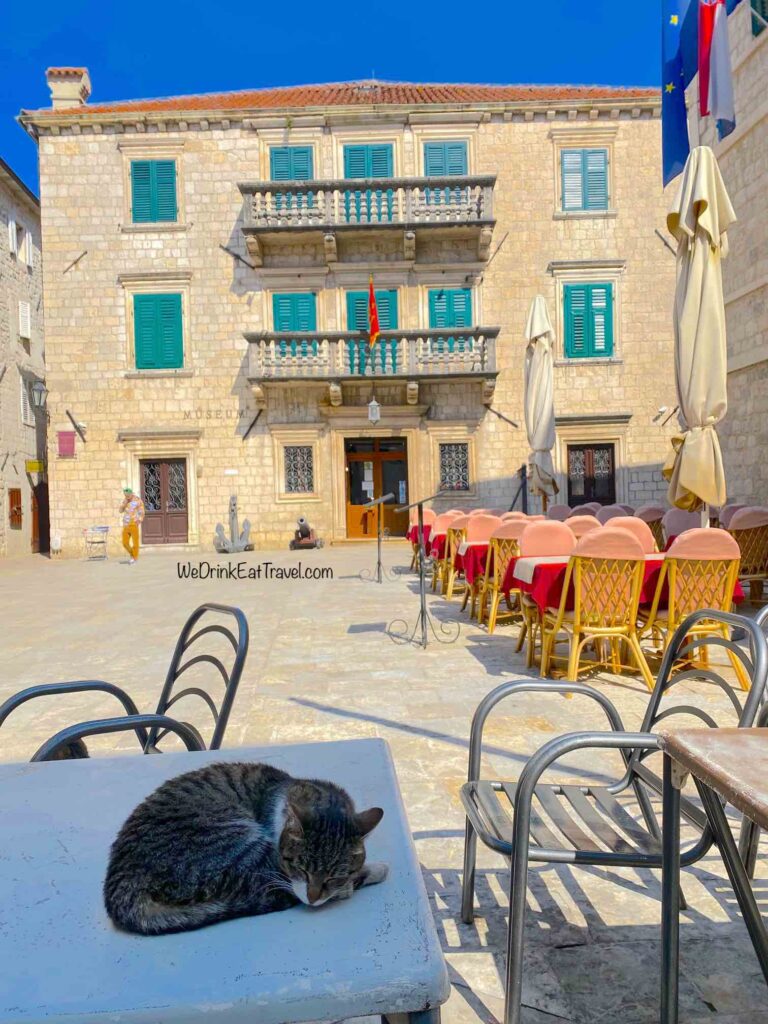 Plus, you'll see many locals buying cat food in supermarkets… and then distributing the food around the town for the Kotor cats. Many truly are kitty lovers, who look after and cherish them.
Knock, Knock, Guess Who's At The Door?
Now get this, next to our accommodation there were surprise, surprise… resident cats. Yet, there was one cutie who would love to come and visit us. So, with cats being curious, once we would open the door his eyes and nose would be working overtime…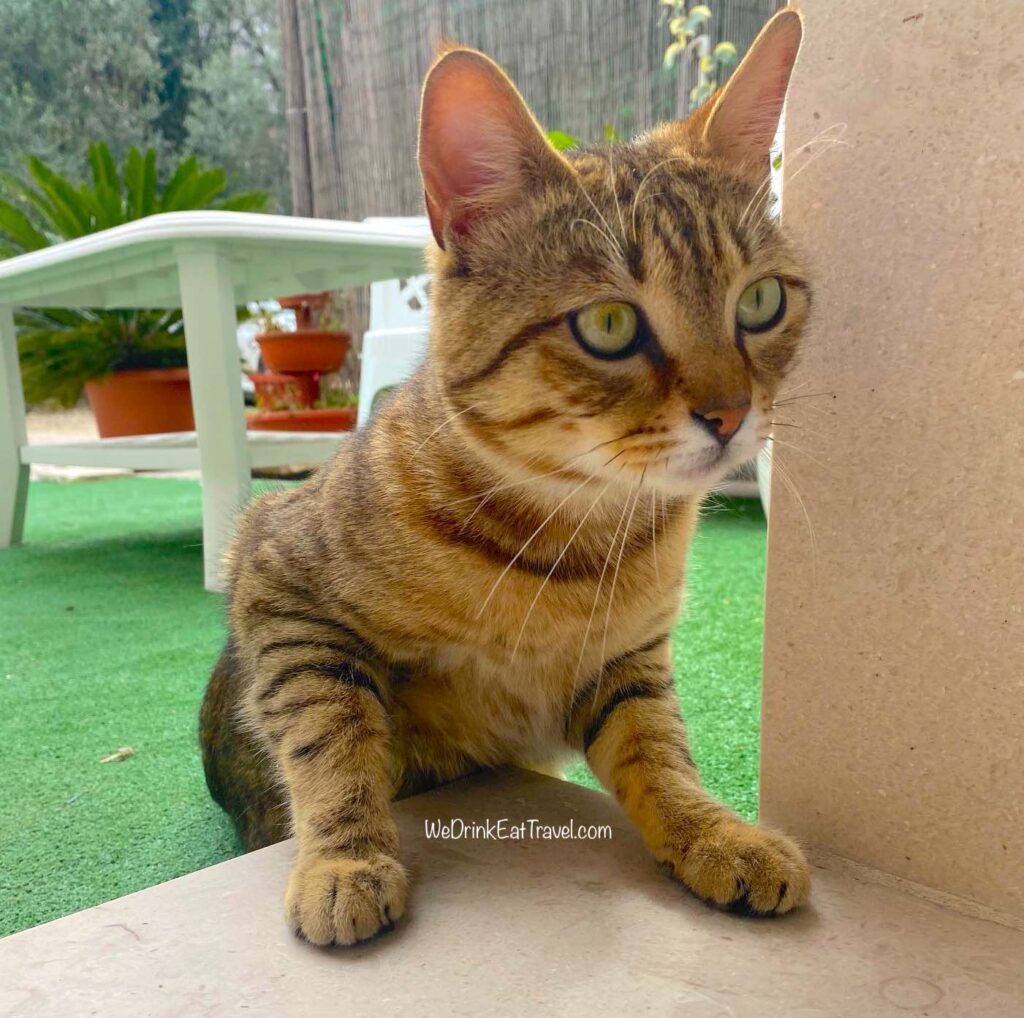 In the end, he was such a cute kitty we invited him in. And of course, he made himself comfortable…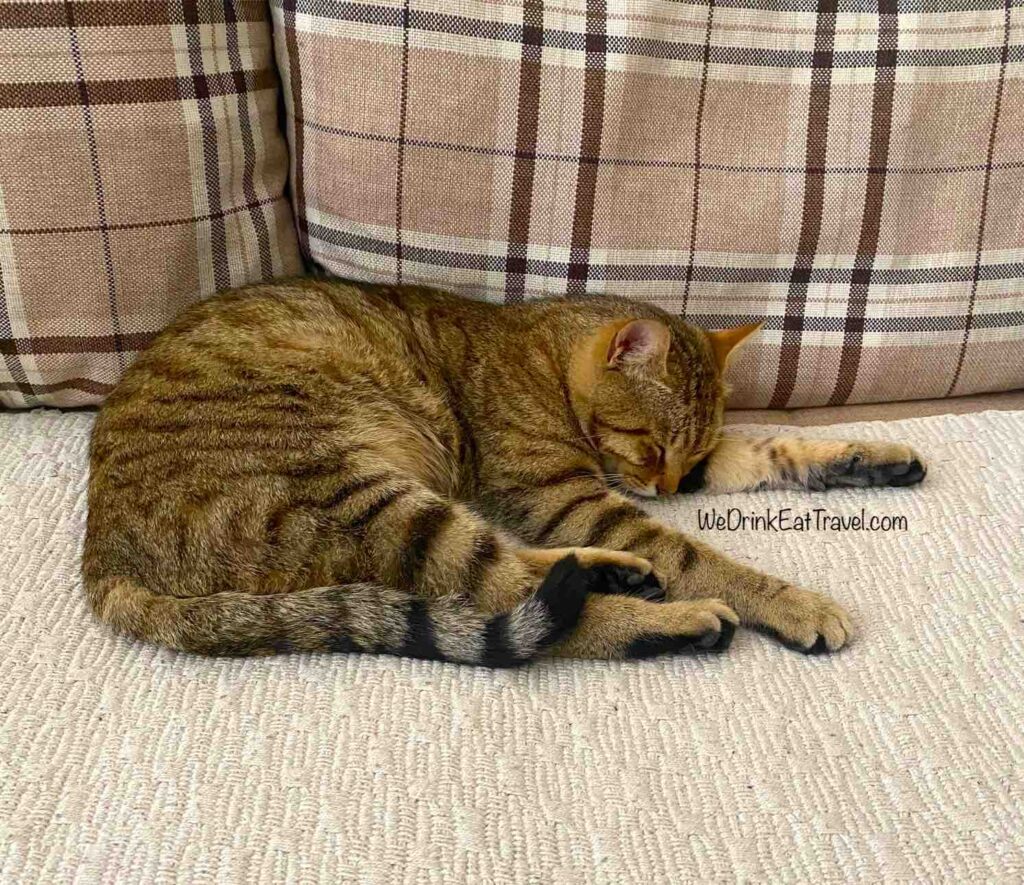 For most part, the cats of Kotor looked like they were fed well, clean and friendly. Plus, as fellow kitty lovers know, cats rule. So, there were many that did DEMAND attention… LOL!
Sadly, there are some Kotor cats that are in need of attention and care. And, with a large population it is challenging to look after them all, and find dedicated care.
Yet, there is a foundation by the name of, Kotor Kitties. And, this organization focuses on the spay-neutering of cats. Since it began this program in September 2018… thousands of cats have had this operation.
So, when you visit Kotor, there will be cats around almost every corner you walk! And, for you kitty lovers… you'll be a "Crazy Cat" if you miss seeing the many cats of Kotor, Montenegro.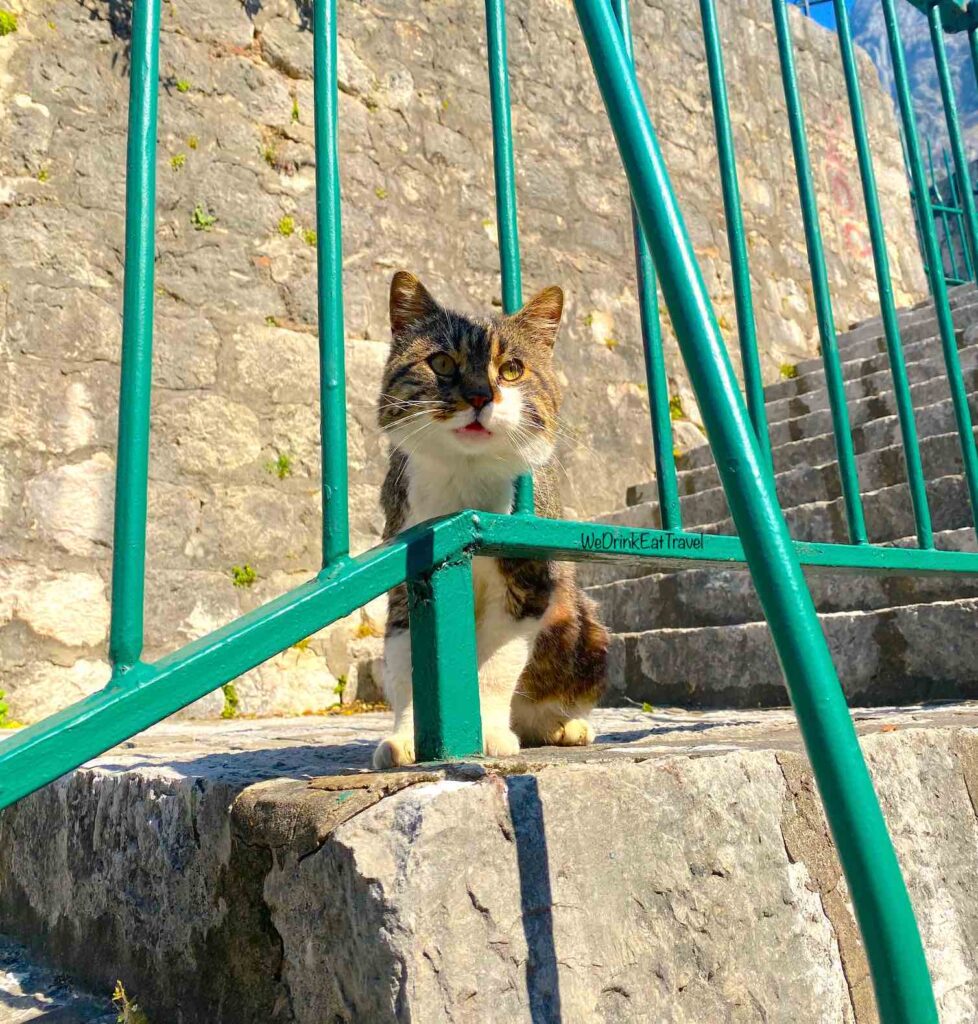 For some unique travel experiences to remember, CLICK HERE
Like This? Share it and comment on it!
Note: All of our reviews and comments are our opinions and no-one else's. Even if we receive complimentary goods or services we share our opinions honestly.
You Might Be Interested In This Too…
How To Get FREE Accommodation While Travelling
Perast, Montenegro – Why You Need To Visit This Town
One Of The Amazing Things To Do In Kotor Montenegro
Hiking Kotor Fortress – Things You Need To Know
25 Of The Best Things To Do In Kotor Montenegro
Where To Eat In Tivat For The Best Fast Food
Ultimate Tivat Hiking Trail For The Most Breathtaking Views
Check Out 16 Things To Do In Tivat Montenegro
13 Interesting Places To See In Podgorica Today
The Ultimate Guide To Vietnamese Coffee
7 Tips For Handling A Vietnam Taxi Scam
Here Are 7 Remarkable Things To Do In Berat Albania
7 Free Things To Do In Bangkok
10 Places To Visit In Gozo Malta For Breathtaking Views
7 Top Reasons Why You Should Visit Bansko Bulgaria
10 Picturesque Churches To See In Vienna Austria
How To Make Your Time In Tirana Albania Fun And Memorable
Shop Until You Drop In Ratchada, Near Thailand Cultural Center MRT
Spotlight On Albanian Drinks And The Best Bars In Tirana