In this We Drink Eat Travel blog we'll be highlighting 12 interesting Hoi An Temples that you may like to see… when you're in this beautiful UNESCO Heritage Listed town. While most of the temples we highlight are in the Old Town area… we do recommend that if you have time you should venture further out.
We've been to Hoi An several times now, and one thing is for sure… it's charming, mesmerizing, beautiful and fun!
The history of Hoi An dates back thousands of years… where it was predominantly known for being a trading and port town. Yet, it became even more popular from the 15th Century… attracting many nations including France, China, Japan, the Netherlands and Indonesia.
And, the most prominent traders for several centuries were the Chinese and Japanese. Not only that, some did settle in Hoi An, thus their influences have remained… with many magnificent cultural landmarks that you can still see today.
So, without further ado, let us show you some of the amazing Hoi An temples and architectural delights… that you may like to put on your list of things to see in this beautiful UNESCO town.
Oh, and by the way, you'll discover that these landmarks may have different names… of which we've tried to include to help avoid confusion when you go sightseeing!
1. Pháp Bảo Temple
Other names you may see for this temple is Phac Hat Pagoda or Chùa Pháp Bảo.
Before you head into the heart of Hoi An Old Town… one of the biggest temples to see is the Phap Bao Temple, which you can find on Phan Chu Trinh street. This sure looks more elaborate than when we were here last time!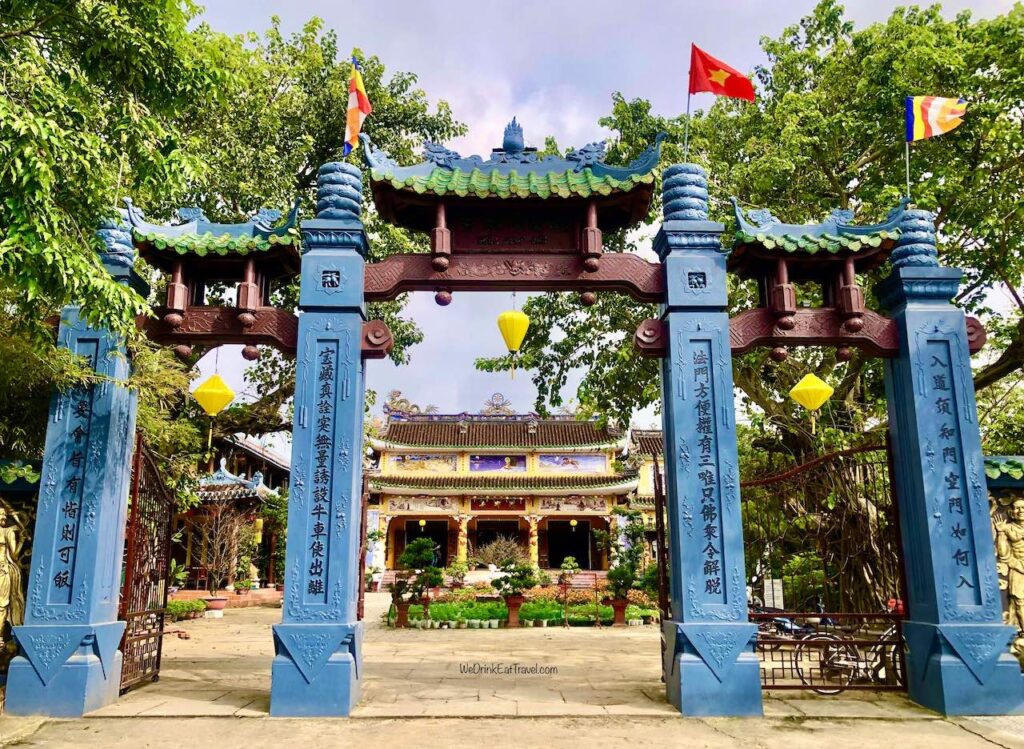 This is a grand-looking Buddhist temple with huge, commanding pillars making up the entrance. Then, once you step inside… you'll see the colorful array of flowers amongst the green trees and shrubs. Plus, within the courtyard are various statues and shrines dotted around.
Then, once you head into the temple towards the altar, you'll discover how elaborate it is. It's peaceful here and a great place for reflection.
Note that here, they seem to be stricter with your attire. So, make sure you have your knees and shoulders covered. We did see one female tourist in short shorts, and a monk did come out with a covering for her. Yet, to be safe, dress appropriately to avoid disappointment.
2. Confucius Temple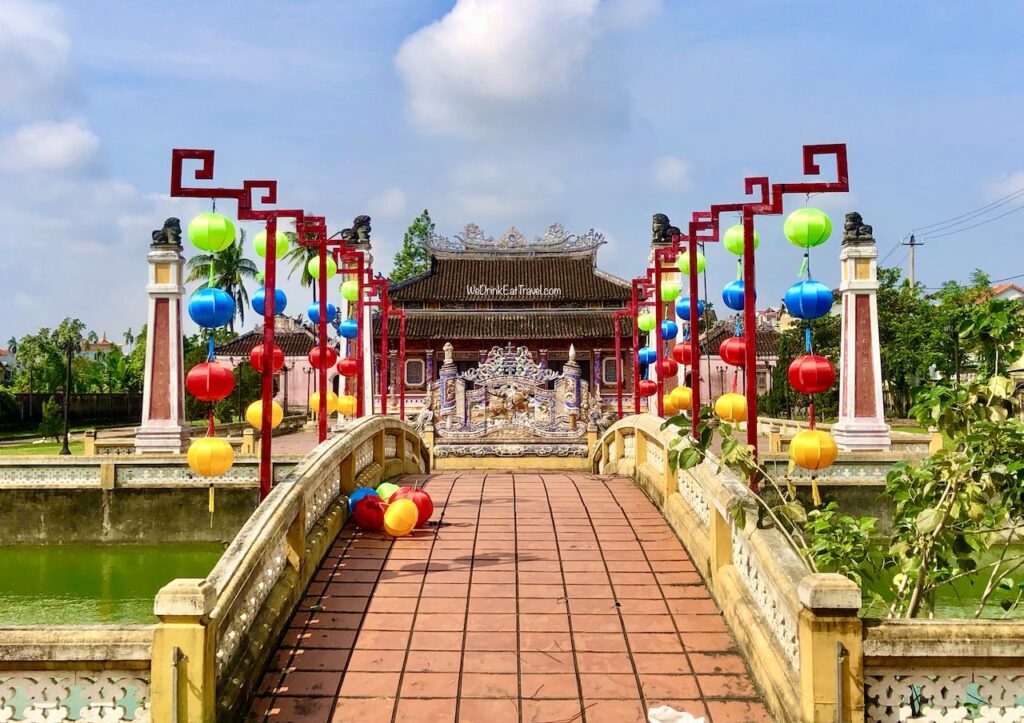 Another name you may see for this temple is Miếu Thời Khổng Tử.
We stumbled across another of the magnificent Hoi An temples… as we were walking to try another banh mi place, ha ha! This Buddhist temple dates back to the 17th Century, and is another outside of the Ancient Town.
You can find this on Tran Hung Dao street, away from the hustle and bustle of the main tourist attractions. In fact, we were the only ones there when we saw it.
The eye-catching yellow bridge over the water lily pond… and the colorful lanterns are what caught our attention! Especially with the bright blue sky as the backdrop.
3. Cantonese Assembly Hall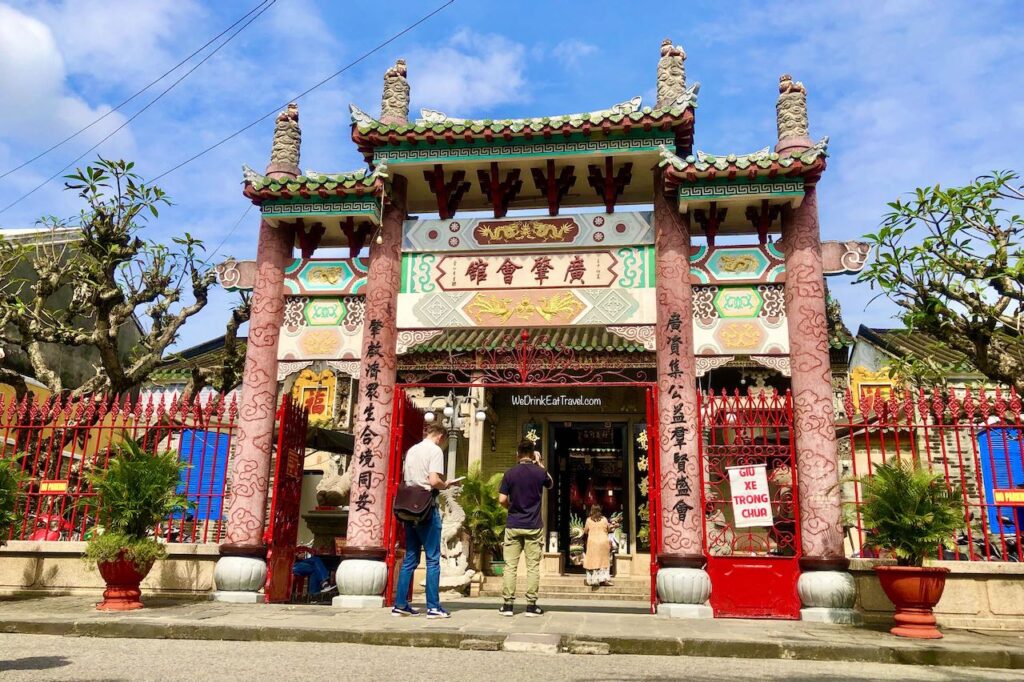 Another name you may see for this landmark is Hoi Quan Quang Dong.
You can witness the amazing Chinese architecture of The Cantonese Assembly Hall… on Tran Phu street in the heart of Hoi An Ancient Town.
It was built in the late 1800's by inhabitants of the Guangdong province in China. It would operate as a place where the Cantonese community of Hoi An could get together… as well as help each other in business and interact socially. Plus, like many of the assembly halls, this one also serves as a temple.
Once you step inside the grounds of this complex… there are other artefacts, artwork, murals and statues to check out.
4. Chùa Bảo Thắng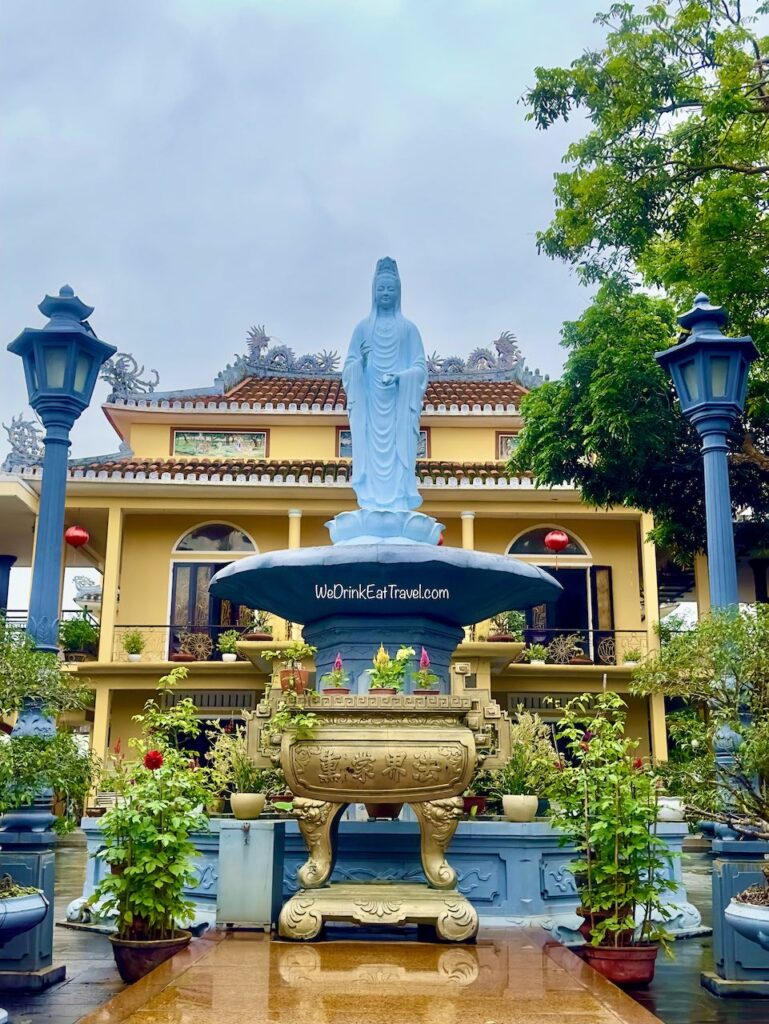 Outside of the Old Town on Nguyễn Duy Hiệu street is another one of the lovely Hoi An temples… by the name of Chùa Bảo Thắng. It is peaceful here and at the time we went to visit, we were the only ones there.
And, as you wander further in, one of the defining features is… the beautiful fountain within this Buddhist temple complex.
5. Trieu Chau Assembly Hall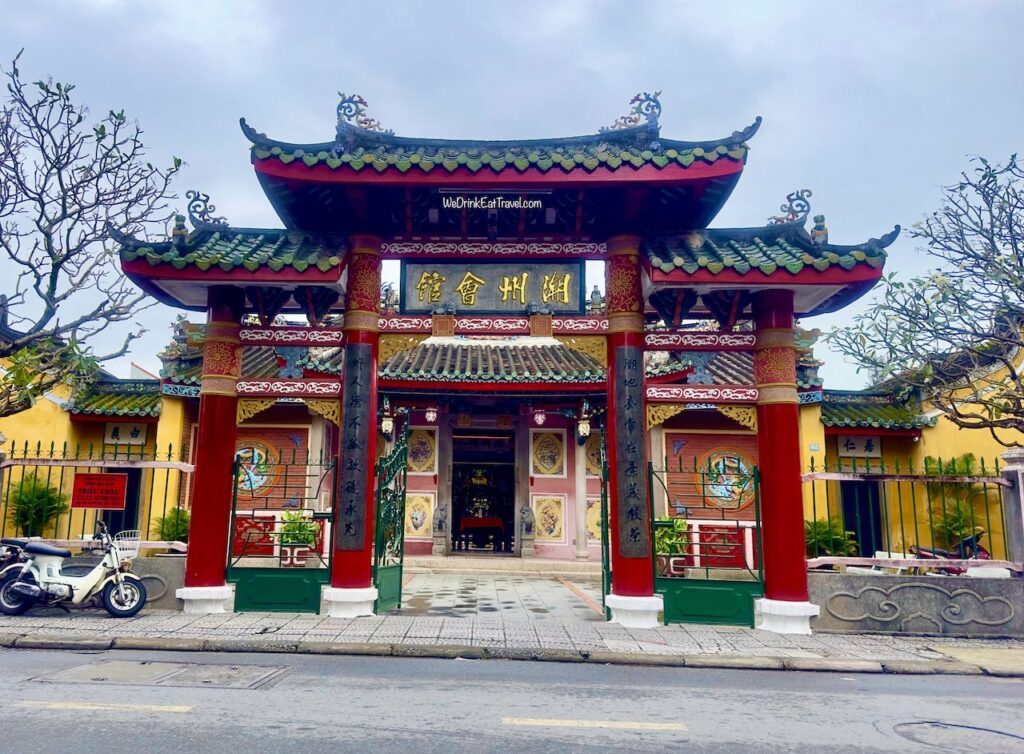 Other names you may see for this landmark is Teochew Assembly Hall, or Chaozhou Assembly Hall or Ong Bon Pagoda.
The bold deep red color of the columns and contrasting green of the gates… presents a remarkable entrance to the Trieu Chau Assembly Hall. Built in the mid 1800's… it's said that people would come here to pray for good luck, prosperity and for safe travels on the sea.
Once inside you'll see a variety of artworks, spiritual sculptures and the intricate detail… that went into the construction of this hall and temple.
6. Tam Quan Ba Mu Temple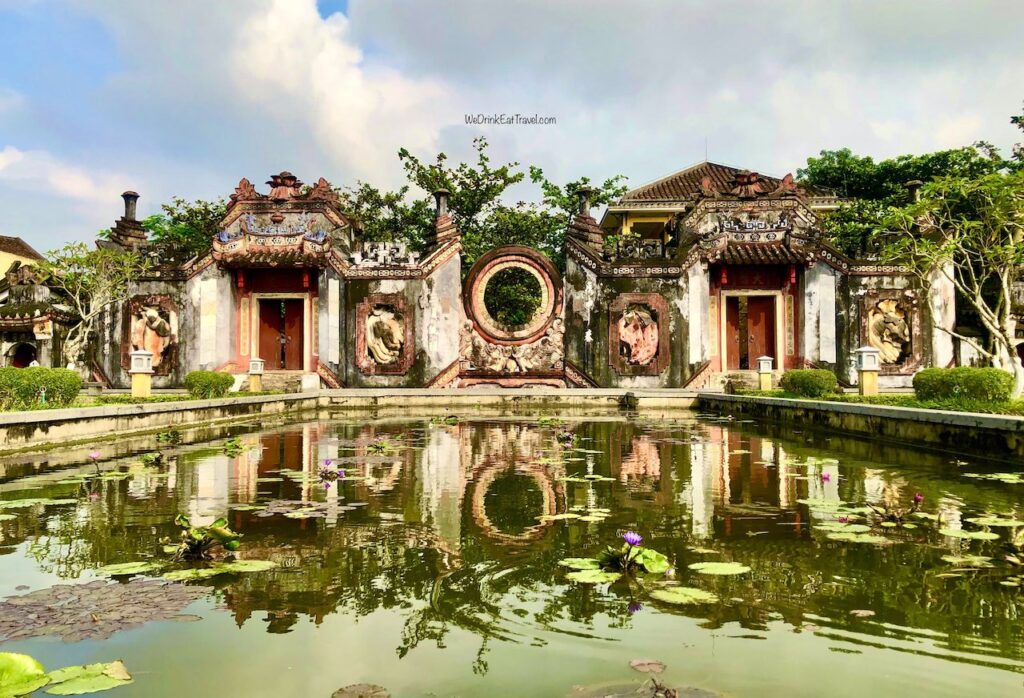 Other names you may see for this temple is Lady Temple or Cam Ha Cung.
Whilst all the temples and assembly halls that we'll feature in our travel blog are ancient… this is one of the temples in Hoi An that is an exception, well, to some degree!
It's said that the original construction of this temple was in the 1600's, yet it underwent a re-model. And, it has a new location on Hai Bà Trưng street in the Old Town area.
A couple of the features that makes this temple stand out… is the amazing architecture and beautiful water reflection.
7. Hainan Assembly Hall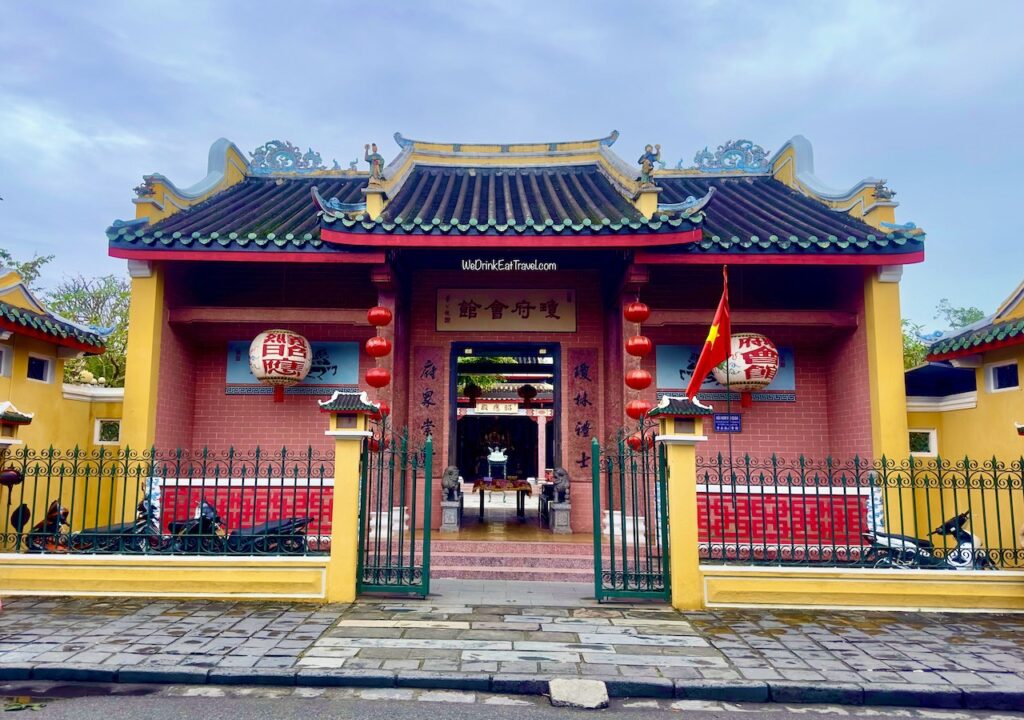 As you wander along the one of the main pedestrian streets in the Old Town by the name of Tran Phu… you'll see his landmark, which is the Hainan Assembly Hall. Although it was originally built in the 1850's, as a gathering place for Chinese traders… it became a place of worship too.
This assembly hall became a place to honor 108 Chinese merchants… where it's said that they were wrongly killed at sea, mistaken for being pirates!
8. Phuc Kien Assembly Hall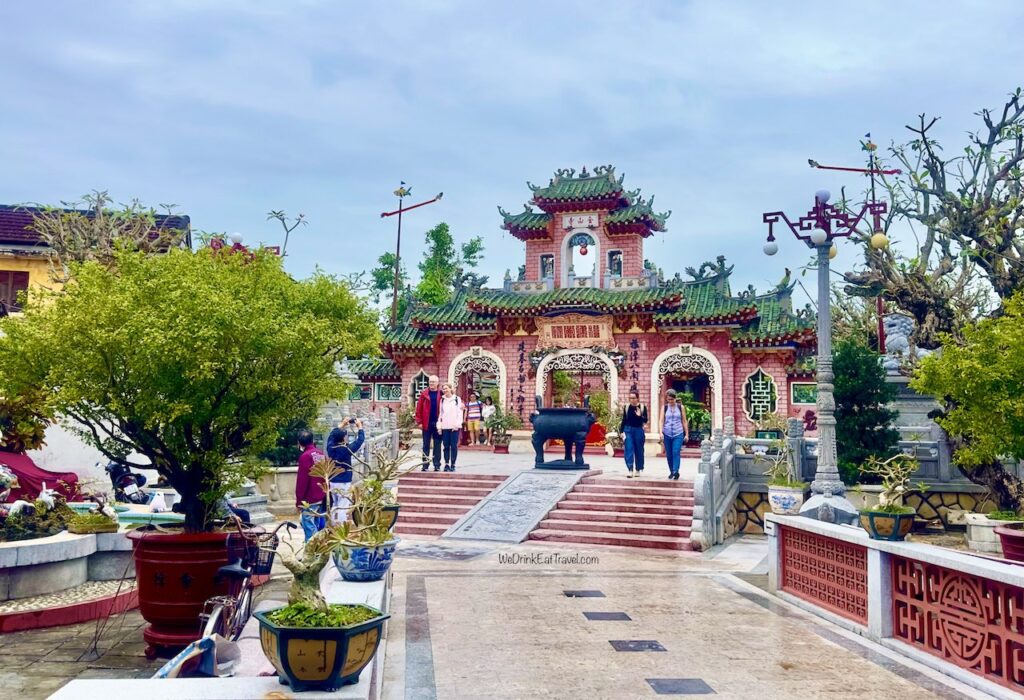 Other names you may see for this temple is Fujian Assembly Hall or Hoi Quan Phuoc Kien.
This is undoubtedly one of the more popular Hoi An temples, especially in the Old Town area. It was challenging to get photos without anyone in them, as streams of tourists flock here. Even so, this striking architectural delight that you can find on Tran Phu street… was built in the late 1600's.
It's said that this assembly hall was built for the Chinese Fujian community… originally as a place to socialize and congregate. Yet, over it underwent a transformation to become a temple in honor of Thien Hau… the sea goddess who would provide protection for the sailors.
9. Đình Ông Voi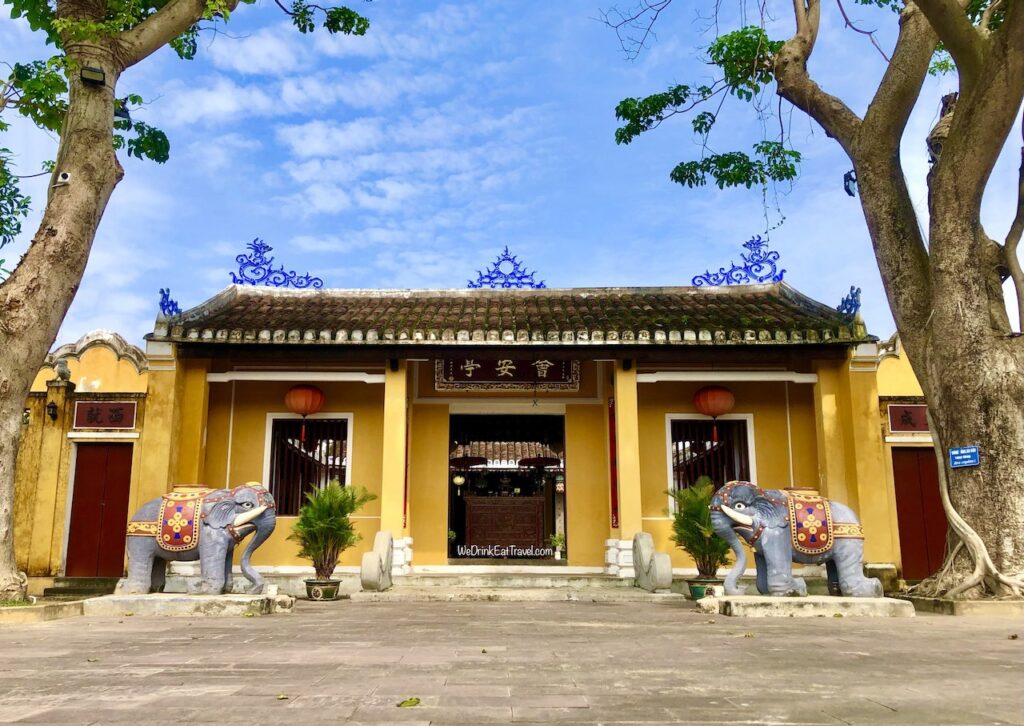 Đình Ông Voi is the Hoi An Communal House, is one of the newer structures in the Ancient Town. This large complex covers an area of around 1300m2… where it's primary purpose was to house religious ceremonies. Plus, its use was for a place where community and social activities would take place.
And, at the exterior of the building are two elephants… as well as the magnificent massive trees that frame the entrance.
10. Hy Hoa temple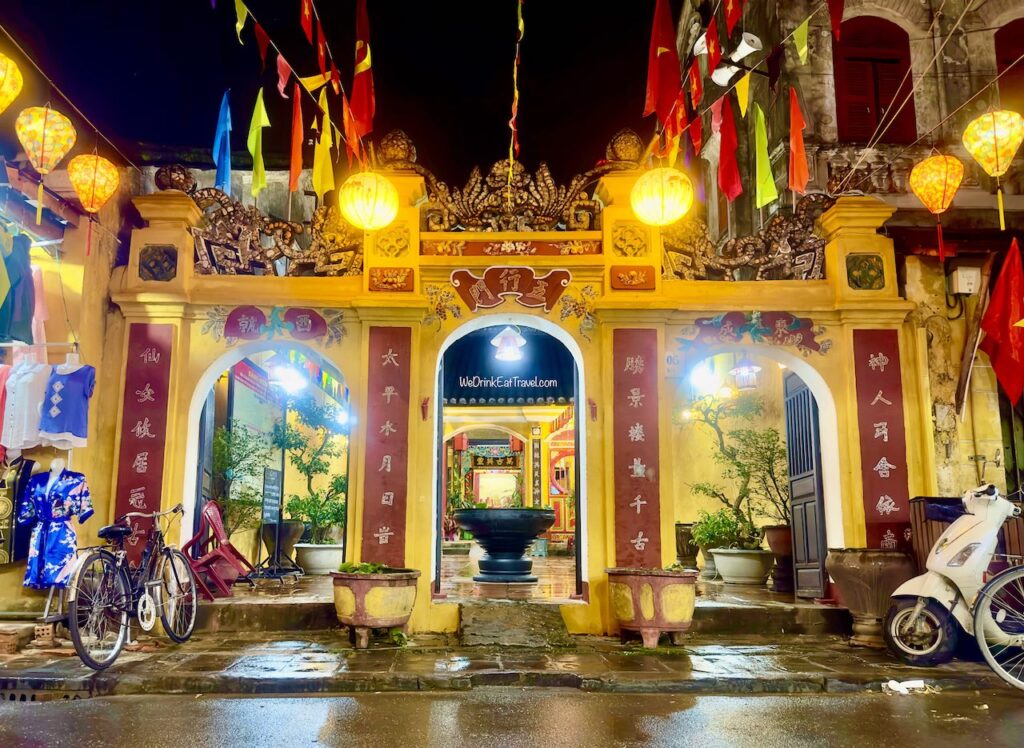 When you're exploring Hoi An… undoubtedly one of the things you must do is see this town at night time. And, as we were strolling through the heart of the Ancient Town on Nguyen Thai Hoc street… we came across the Hy Hoa Temple, also known as the Marble Temple.
And, as you can see, the entrance to this Hoi An temple sure is spectacular at night. It's said that this temple was built to worship the governing gods, Ngu Hanh and Ngu Hanh Tien Nuong.
11. Chùa Nam Quang Tự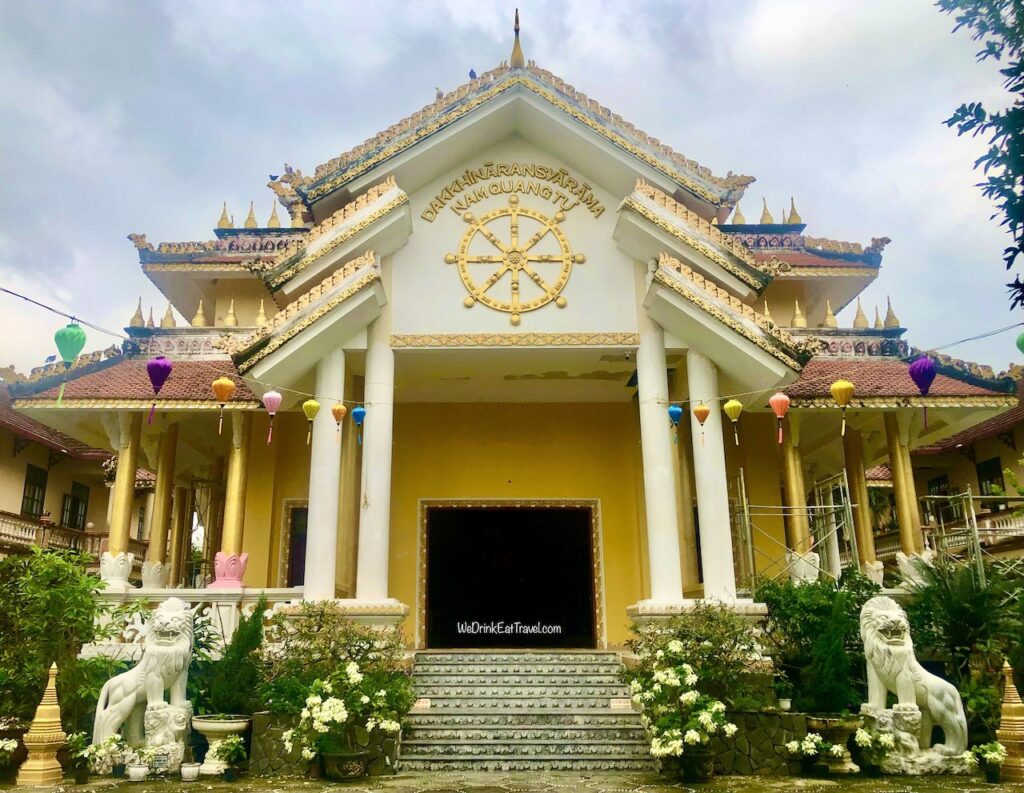 When we were staying in Hoi An we had free use of bicycles at our accommodation. So, one day we took advantage of them. And, outside of the Hoi An Old Town area on Cửa Đại street, we found the Chùa Nam Quang Tự temple.
You'll immediately notice that the architecture of this temple and even the colors… are different to the ones we've shown you in this travel blog.
This 2-storey Buddhist temple complex, covering an area of around ​​500m2… has a mix of Vietnamese and Thai architecture. It is an active place of worship, with a large shrine and gold buddha… as well as mats available for those to undertake their prayers.
Last but not least is this infamous landmark…
12. Japanese Covered Bridge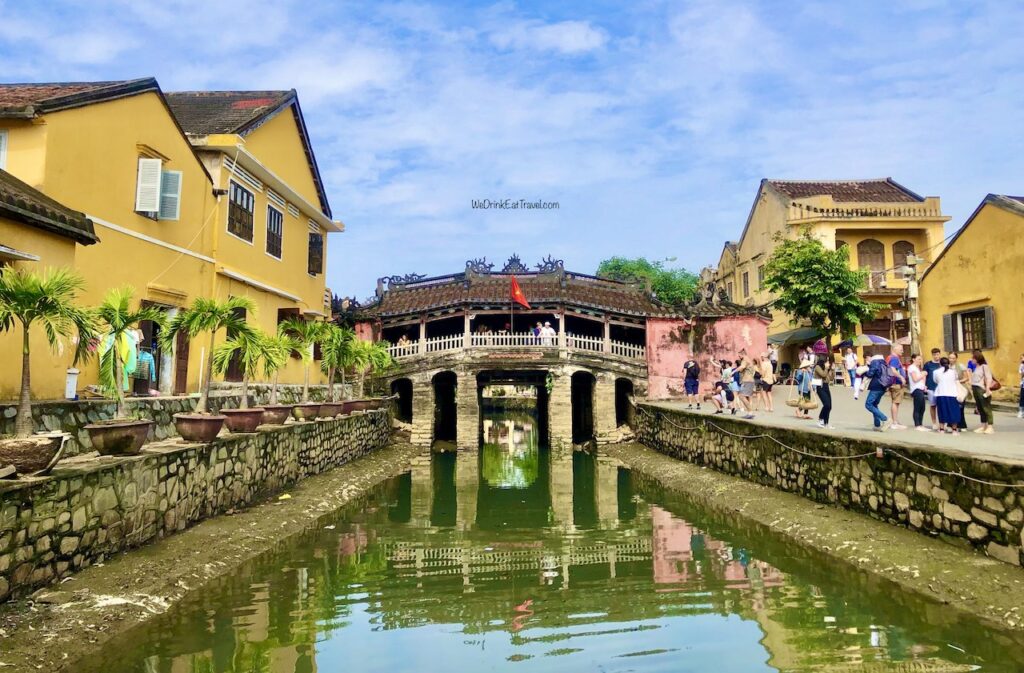 Now, you may be wondering why we're including a footbridge, in this blog about temples and assembly halls? Well, the Japanese Covered Bridge, also known as Chùa Cầu or Cầu Nhật Bản, is more than a footbridge… it's also a temple where people still actively visit for their religious beliefs.
This 17th Century historical bridge spans 18 meters and crosses the Thu Bon River. With the help of Japanese businessmen, they were able to construct this magnificent bridge… showcasing a mix of Vietnamese, Japanese and Chinese cultures.
It's stunning architecture is even more mesmerising when looking at it from front on. It stands between the bold yellow of the surrounding buildings… and the reflection from the river makes it a photographer's delight.
They were 12 different Hoi An Temples that you could add to your itinerary… when you visit this gorgeous UNESCO town in Vietnam.
It's great to see that the cultural influences and history remain when exploring these temples and buildings. Some have such amazing detail in their construction, while the colors of others make them stand out and visually appealing.
Now, at the time of writing this, for some of those landmarks tourists would have to pay an entry fee. Yet, we have heard that everyone may now have to pay a fee to be able to explore Hoi An Ancient Town!
So, make sure you check beforehand to see what the situation is, and plan your itinerary accordingly.
You Might Be Interested In This Too..
8 Interesting Places To Experience The Hua Hin Nightlife
Check Out 17 Amazing Things To Do In Hua Hin
15 Of The Best Things To Do In Siem Reap
What You Need To Know About Pub Street Siem Reap And The Nightlife
Chatuchak Weekend Market: 7 Top Things You Need To Know
How To Get To Chatuchak Market In 2 Ways
How To Go To Platinum Fashion Mall Bangkok By BTS
What You Need To Know About The Bangkok Canal Boat On Saen Saep
Bars In Danang – 7 Of The Best Places
VAT Refund Bangkok: How To Get Money Back On Your Shopping
Is Kuala Lumpur Worth Visiting? 15 Interesting Things To Know
27 Of The Best Things To Do In Bucharest
Thai Airways Review: From Melbourne Australia To Bangkok
Here's A Stress-Free Way To Book Your Private Transfers
Need Accommodation?
Find Your Perfect Vacation Accommodation
Want Cheap Flight Deals?
Looking For The Latest Flight Deals? Click HERE
Get Real Cashback From Your Vacation!
Discover How You Can Get Cashback From Your Vacation Bookings