In this We Drink Eat Travel blog we'll run through 15 useful tips on how to use Grab in Malaysia.
While we've had the experience of using many different public transport options in Malaysia, such as the LRT and MRT… one of our favorite ways to get around is using the Grab service.
Grab is a handy app that you can use in many parts of South East Asia… and is well known for being a convenient and cheap way to get around. Sometimes it can be even cheaper than public transport… especially when more than one person is sharing the car.
And, if you've ever been to Malaysia… you'll understand that throughout the year it is hot and humid! Thus, traveling door-to-door in air-condition comfort is always bliss.
Plus, there are other uses of the Grab app aside from transport that you could take advantage of. So, keep reading as we run through 15 helpful tips on how to use Grab in Malaysia.
NOTE: Everything that we mention in this blog, is correct at the time of writing. And, as we all know, things can change at the drop of a hat, especially in SE Asia! Now, let's kick it off with this first tip…
1. You Don't Need to Get a Malaysian Sim to Use Grab
Depending on which destination we're at and for how long… sometimes we won't bother getting a sim card in that place. And, one of the conveniences when using the Grab app is… you don't need to have a local sim to take advantage of the benefits.
So, even with the sim from your home country… you can simply download the Grab app to your mobile device.
Plus, if you previously downloaded the Grab app in another country, such as Thailand… you won't need to download it again. All you need to do is change the country.

2. How to Use Grab in Malaysia to Watch Your Grab Driver
OK, this is not meant to sound creepy, ha ha ha! What we're referring to is that for your convenience… you can see how far away your Grab driver is. So, then you won't be hanging around wasting time waiting for them.
Once you have notification that your driver has accepted your fare a map will appear. So, this map will show the driver's location, the path that they'll be taking… and an estimate of how long it will take for them to arrive.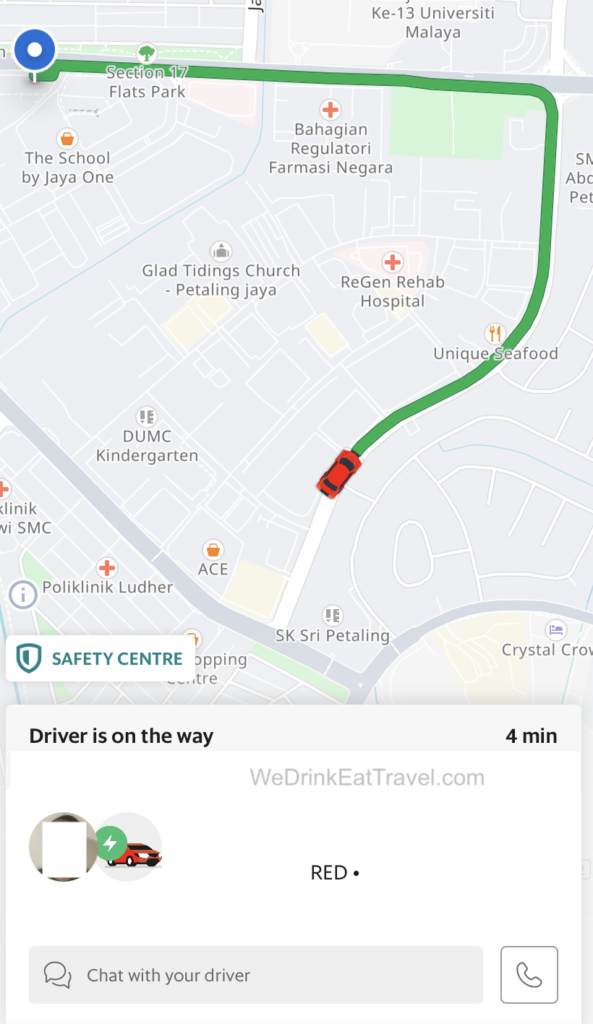 Plus, on the app is shows areas of high traffic to indicate delays. So, for example, in the image below… the red section on the map means that there is high traffic / traffic congestion. Then, the yellow color represents medium traffic congestion.
It sure is a handy and convenient tool to have!
3. Send Photos to Your Driver to Help Them Find You
Sometimes you be be staying in accommodation or are at a location, where it may be difficult for the driver to find you. Yet, don't worry. One way to get around this is to take photos of your surrounding area or landmarks. Then, upload them in the app and message them to your driver.
4. Keep a Track of Tolls as Often they are NOT Included
In most cases, tolls are not part of the total fare when using Grab in Malaysia. So, here's a way to ease those concerns. When you're coming up to the toll point, get your mobile device out and get ready to take a photo of the display device. This will show how much the toll fee is.
In EVERY instance we have always paid the correct toll fares. And, when you look at the charges if using credit card or debit card… the toll fees will most likely be a separate line item like this, as opposed to being charged in the one fare.
If you don't want to pay toll fees, let the driver know beforehand either by telling them when you get in the car… or in the messaging section of the app. From our perspective the toll fares are inexpensive anyway. So, for a few dollars more to get to your destination quicker, we suggest that it's well worth it.
5. How to Use Grab in Malaysia to Pin Your Exact Location for the Driver
Sometimes in the app, it lists the location where you are. Yet, there could be many areas that a driver could pick you up from. This could be in scenarios where you're at a huge shopping mall or park, for example.
So, a handy feature you may like to use is to "Pin" your location for the driver.
6. No Need to Worry About Extra Costs When You're Stuck in Traffic
Yes, you read that correctly! We're sure you've been stuck in traffic when in a regular taxi, and watching that meter continually tick over. Then, before you know it the fare has blown out to not what you were expecting.
Well, on our most recent trip to Malaysia… we did experience something astonishing when we were using Grab. The traffic in Malaysia can be horrendous in Malaysia, especially at peak times, or when it's pouring rain.
Now, we remember one occasion when using Grab in Malaysia… where we were stuck in Kuala Lumpur's weekend night traffic for 1.5 hours! And, this was for a trip that would normally take about 15 minutes. So, we were expecting to pay extra for the extra time as we were crawling along in the traffic.
Yet, it was surprising to discover that after our ride was done… the fare was still the SAME as the original price! How awesome is that? We thought that maybe it was wrong. Yet, after each ride, you'll get a receipt to show the total charge.
Plus, in the app there is an "Activity" section, so you can see each transaction that occurs.
7. How to Use Grab in Malaysia to Check the Fare Demand Indicator for Better Prices 
When you're getting a Grab car in Malaysia… a great feature is you can see if the prices are higher or even lower than normal. All you need to do is look at the arrows next to the fare price.
When the arrows are red and indicating upwards, the fare is higher as there is higher demand.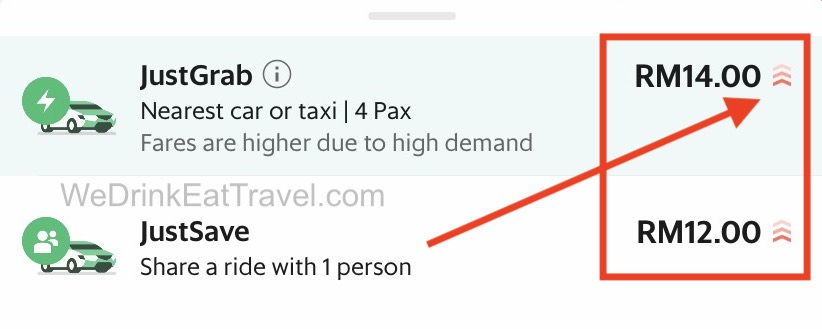 Conversely, when the arrows are green and showing a downwards trend, the fare is lower than normal. Thus, you're getting a cheaper price.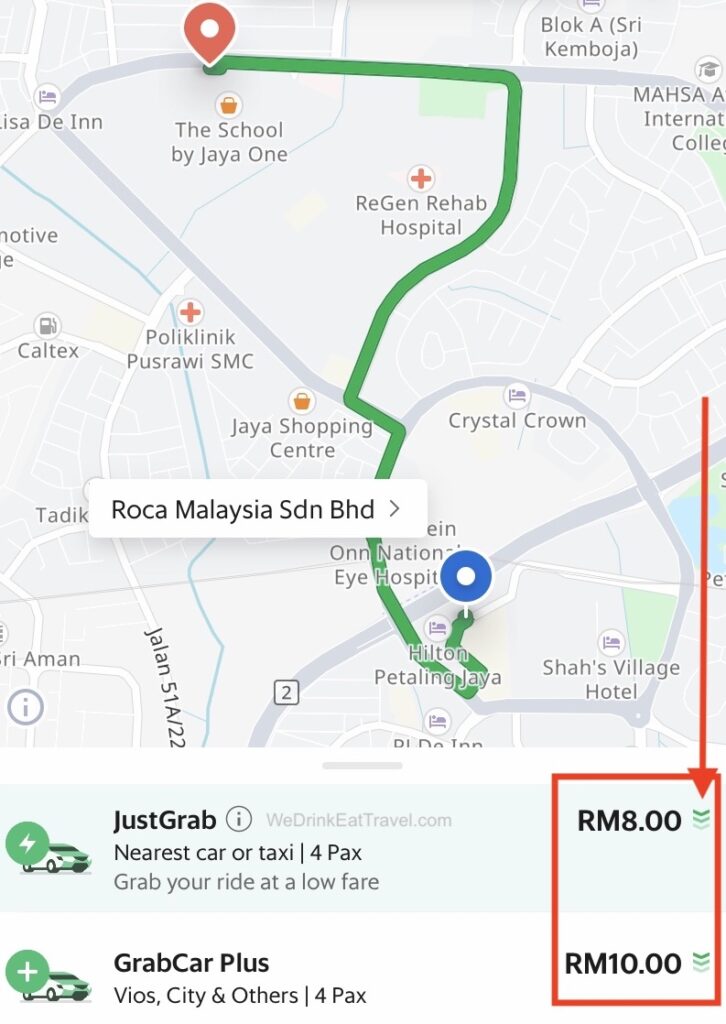 So, if you're not in a hurry you can wait until the fares go back to normal or snap up a deal when it's a cheaper price.
8. Alert the Driver so You can Travel in Peace!
Sometimes you may not feel like having a chat to the driver… especially if you've come from a long, tiring chain of flights, right? Well, if you're not in the mood to chat with your driver, there is an option to choose a "Quiet Ride." So, when you select this option, it will let the driver know so you can ride in peace!
9. How to use Grab in Malaysia for more than Transport
The Grab app is convenient and we did use it for man than just transport services. We would order food to have it delivered, and even to shop for groceries, for example. Yes, sometimes we got lazy… or we couldn't be bothered walking around getting supplies in torrential rain!
So, when you're in the app, you'll notice that there are other options such as Mart for grocery shopping… through to Delivery to sending parcels. You can even book accommodation or other transport options that aren't cars.
It's as simple as choosing the service you need, then following the easy instructions. It's like a hub for all your needs!
10. Subscribe to the Grab Unlimited Plan for Deals, Discounts and More!
For only a measly 4.90RM (about USD 1.10 / 1 Euro / 0.85 GB), you can subscribe to the Grab Unlimited Plan. This will unlock your access to a host of awesome deals and discounts. And, for this ridiculously cheap amount, it's worth buying the plan.
Now, before you sign up, make sure you look out for a free trial of this plan. Funnily enough, we were offered this plan for free TWICE, during our stay in Malaysia. And, the free trial could be up to 2 months! So, we never had to pay for this elite plan.
Even so, if you don't get the free trial offer it's damn cheap to buy the subscription. It really is a no brainer!
So, with the Grab Unlimited Plan, you can get access to useful benefits including:
Discounts on delivery fees for grocery and food deliveries.
Discount rate if you choose to pick-up your food, rather than delivery.
Food deals, and more.
11. How to Use Grab in Malaysia for Even More Benefits
While you're already getting a gigantic amount of benefits, there's more! In Malaysia, you can take advantage of what they call, "Grab PayDay Deals." So, starting from the 25th of each month… you can get your hands on some extra special discounts and deals.
For example, when spending over a certain amount you could get an extra discount.
The Grab PayDay Deal offers end on the 7th of the next month. So for example, the PayDay Deals start on 25th July… and the last day to make use of it would be on 7th August.
12. Earn Rewards Points to Redeem
When using Grab in Malaysia you can earn reward points on certain activities. And, the more points you earn then you can earn a higher membership status… giving you more benefits.
Now, having used the app in many parts of SE Asia… we've found that the points earning potential is not as great as say in Thailand. Yet, every point earnt counts towards a redemption. So, you can redeem the points for activities, discounts on rides, and more.
13. Schedule Deliveries Convenient for You
If you're wanting to order some food or groceries in advance, you can do that with Grab. Yet, you will need to check…  as each food outlet or grocery store may not offer that service. 
So, to schedule your food or groceries at a time that suits, all you need to do is look for this section…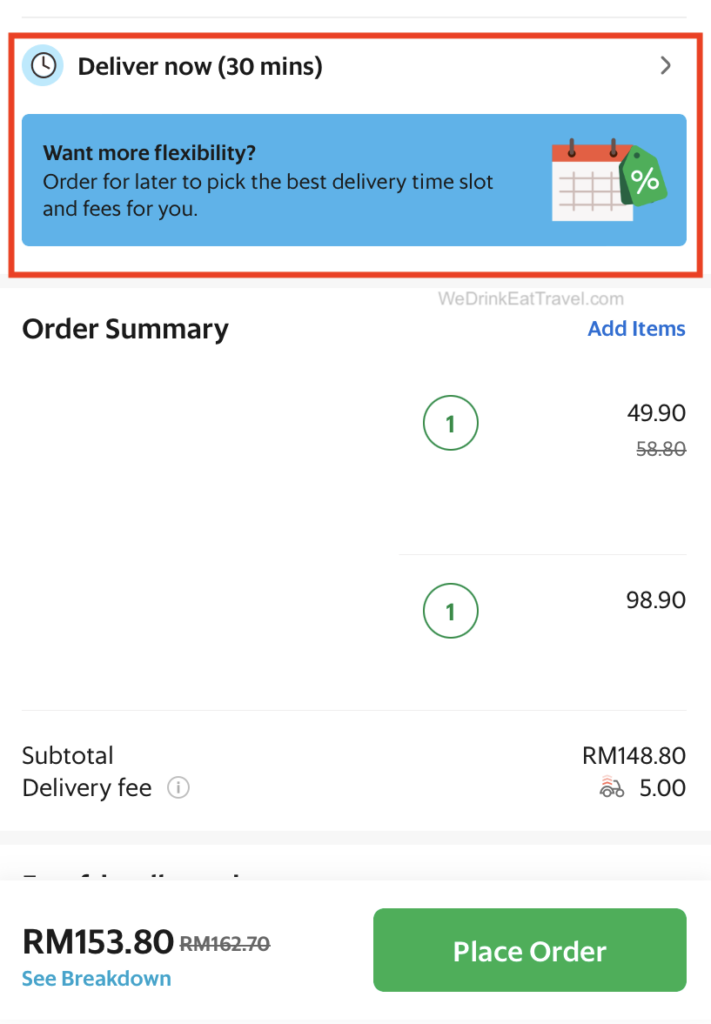 Then, simply choose a time, or even a day and time that you'd like your delivery to arrive.
Now, here's another tip: Sometimes if you book your time well in advance, the delivery fee may be cheaper.
14. How to Use Grab in Malaysia to Cancel Orders
Sometimes when you put an order in for groceries, you may not need it anymore. So, if you've pre-booked the delivery service you may have the opportunity to cancel it. And, to see if you can do this, you'll see on the screen, "Cancel Order" that will be in red color.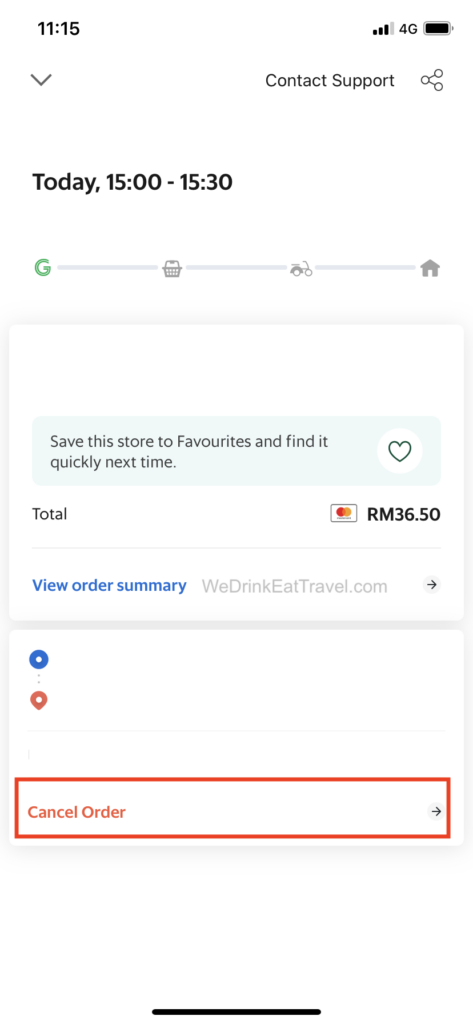 Yet, if you see the "Cancel Order" in grey color, you won't be able to cancel your order. In saying that, we did have a pre-booked order and the "Cancel Order" was greyed out. And so, there is another way to cancel the order…
15. If You Experience Issues, Contact the Grab Customer Service Malaysia Centre
We did have to use the Grab customer service centre on a couple of occasions. And, we found it easy and seamless to communicate with the customer service representatives. On each occasion we simply went to the Help Centre.
So, regarding cancelling the order earlier… we contacted the Grab Service Centre to see if we could cancel the order. And, hey presto, they put through the cancellation for us! In saying that, it was about 2 hours before the delivery time and the staff hadn't started packing the order.
Now, depending on when you contact them, you can immediate attention via their chat service. Otherwise you can leave a message via the app, and they'll notify you of their response.
So, there you have it, 15 helpful tips on how to use Grab in Malaysia. It's a great app to have when in this country and using the transport with Grab is super cheap. We would use this more than public transport… because from door-to-door we could be comfortable in the common humid weather.
Plus, when it does pour down rain in Malaysia it's convenient to have a delivery service rather than dodging puddles… or having cars splashing us as they zoom by!
When you take advantage of the special Grab Subscription Plans… you can get even more benefits like extra deals and discounts. And, the plans are so cheap at only 4.90RM!
It's so easy to use and you don't even need a Malaysian sim to enjoy the benefits. So, when you're in Malaysia… we recommend you download the Grab app and make the most of it.
ENJOY!
You Might Be Interested In This Too..
Here Are 25 Interesting Things To Do In Hoi An
8 Interesting Places To Experience The Hua Hin Nightlife
Check Out 17 Amazing Things To Do In Hua Hin
15 Of The Best Things To Do In Siem Reap
What You Need To Know About Pub Street Siem Reap And The Nightlife
Chatuchak Weekend Market: 7 Top Things You Need To Know
How To Get To Chatuchak Market In 2 Ways
How To Go To Platinum Fashion Mall Bangkok By BTS
What You Need To Know About The Bangkok Canal Boat On Saen Saep
Bars In Danang – 7 Of The Best Places
VAT Refund Bangkok: How To Get Money Back On Your Shopping
Is Kuala Lumpur Worth Visiting? 15 Interesting Things To Know
27 Of The Best Things To Do In Bucharest
Thai Airways Review: From Melbourne Australia To Bangkok
Here's A Stress-Free Way To Book Your Private Transfers
Need Accommodation?
Find Your Perfect Vacation Accommodation
Want Cheap Flight Deals?
Looking For The Latest Flight Deals? Click HERE
Get Real Cashback From Your Vacation!
Discover How You Can Get Cashback From Your Vacation Bookings