When we were staying in Budva Montenegro, our next travel plan was exciting for us. And, that's because after about 2 years… we were going to get on a plane to fly to our next destination!
And, for those of you who are frequent travelers, and normally use planes to get around… you'll understand what we mean. It was like being a kid going to a candy shop, which of course, is excitement plus!
So, when we were in Budva, we took a private car to get to Podgorica Airport… where we would catch our Turkish Airlines flight.
Yet, we were uncertain about what it would be like at the airports, let alone on the plane! So, here's our experience at Podgorica Airport, and after NOT flying for just over 2 years…
Options for Getting to Podgorica Airport
Private Car Transfer
If you've been following our travels, you'll know that we've quit our day jobs… and have been traveling around the world for over 8 years now. So, we basically have our belongings in 2 big suitcases and 2 carry on bags.
So, to get to Podogorica Airport from Budva… we made the decision to get private car transport. Then we wouldn't have to worry about lugging all our bags around… especially as the weather was rainy.
The cost of the private car was USD $35.70 (about 34.70 Euros / 29.50 GBP). The distance for us was about 65km, and took about 1 hour.
Public Transport – Bus/Train
Now, a cheaper alternative is getting public transport from Budva to Podogrica Airport… but there are some important things you need to know.
First of all, at the time of writing this… there is no direct bus or train service to the airport, as such.
From Budva, you'd need to get the bus from the main station in town. And, the cost from Budva to the Podgorica main bus station… is about 6 Euros (about USD $6.30 / 5.20 GBP), give or take. This journey would take about 1 and a half hours.
Then, you'd need to walk from the bus station to the Podgorica train station… which is only about 1 minute walk.
Then, what you'd need to do if you want to continue to take the public transport route… is to go to the Aerodrom Train Station. Now, it isn't a big station. And, when you see it… you'd think it's like an abandoned hut-like structure!
So, the Aerodrom train stop is about 1.5km to Podgorica Airport.
Therefore, depending on how fast you walk, you could get there in about 15 minutes. Yet, if the weather is undesirable and it's pouring rain… that ain't going to be fun! Plus, services don't run 24 hours a day. Plus, be mindful that services outside of peak season may run less frequently.
Yet, it is a budget-friendly way of getting from Budva to Podgorica Airport… as it only costs about 1 Euro for a one-way ticket.
So, all up it would cost about 7 Euros, and with a travel time of about 1 hour 45 minutes… which DOESN'T include waiting time. It was sounding all too painful for us, especially with lots of luggage and being rainy weather.
Yet, this maybe the best option if you're on a tight budget.
Taxi
Another option if all else fails is to get a taxi from Budva to Podgorica Airport. Convenient, yes. But, it may cost around 50 Euros (about USD $52.15 / 43.10 GBP). And, similar to the private car transfer option, the travel time is about the same… 1 hour.
So, they are some options for getting from Budva to Podgorica Airport. Our recommendation is to save some money to get a private transfer.
See what other transport options are available below…
Now, let us share with you our experiences at the airport…
Podgorica Airport – Our First Airport Experience in Over 2 Years!
It was so weird getting ourselves ready for the airport, because it's been a long time. In some ways it almost felt like we were first timers… LOL!
Sorry, we forgot to take photos ourselves of the outside of the airport… as it was pouring rain.
So, the domestic and international airport at Podgorica is not very big. And, once we walked inside, our first experience was that it was surprisingly quiet…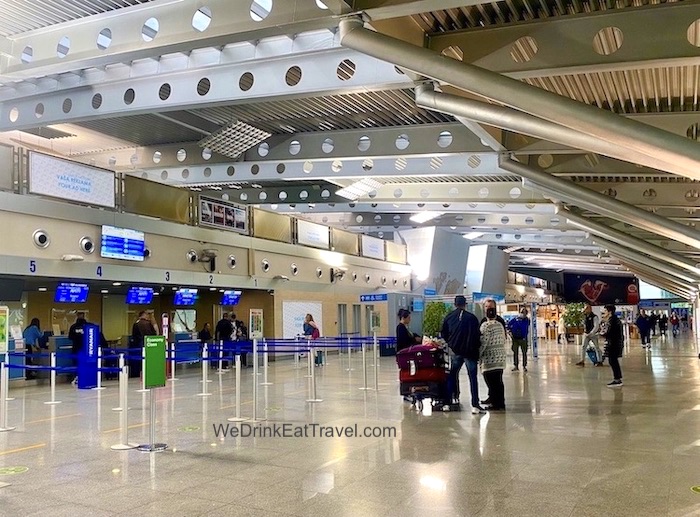 It was a very clean at the airport. And, maybe that's because they were so careful about disinfecting everything!
Now, even though it was raining, the temperature wasn't that cold outside. Yet, it felt warm, stuffy, and uncomfortable inside the airport. We had to stand around with arms on our hips, waiting for the airport entrance doors to open and close… so that the drafts of air would help cool us down!
Check In at Podgorica Airport
So, being an international flight… we got to the airport about 2 hours and 45 minutes before the flight departure time. We thought that would give us plenty of time to check in. Yet, what we found out was that the check in counters would not open until 2 hours before the flight! Arghhhh! We could've slept in!
Anyway, we had to stand or otherwise sit on the floor. Because even though you saw that photo the airport with hardly anyone in it… more travelers flooded inside. And, there aren't many seats.
Yet, if you wanted to have a bite to eat or drink, there is a cafe to chill out and sit down.
Now, when we were finally able to check in to our Turkish Airlines flight… we noticed that the staff weren't wearing Turkish Airlines uniform. So, this reminded us of our check in experience at Malta Airport… where the staff must be from a contract company.
Even so, our check in with the customer representative was pleasant and swift. We were glad to get out of there, through customs, and onto the other side… as we were hoping it would be cooler.
Podgorica Airport After Going Through Customs
Even though there were lots of people at the airport… getting through customs was quick.
Yet, our wish of having cooler temperatures on the other side didn't happen. It was still warm inside and uncomfortable for us. Even so, we did find some seats to wait for our flight.
And, to help pass time, we saw that there were a few free wifi options… so hopefully we could connect to wifi and do some work. Yet, would you believe that NONE of the wifi options worked?!
So, if you want to kill some time or "shop until you drop," there is a Duty Free Store…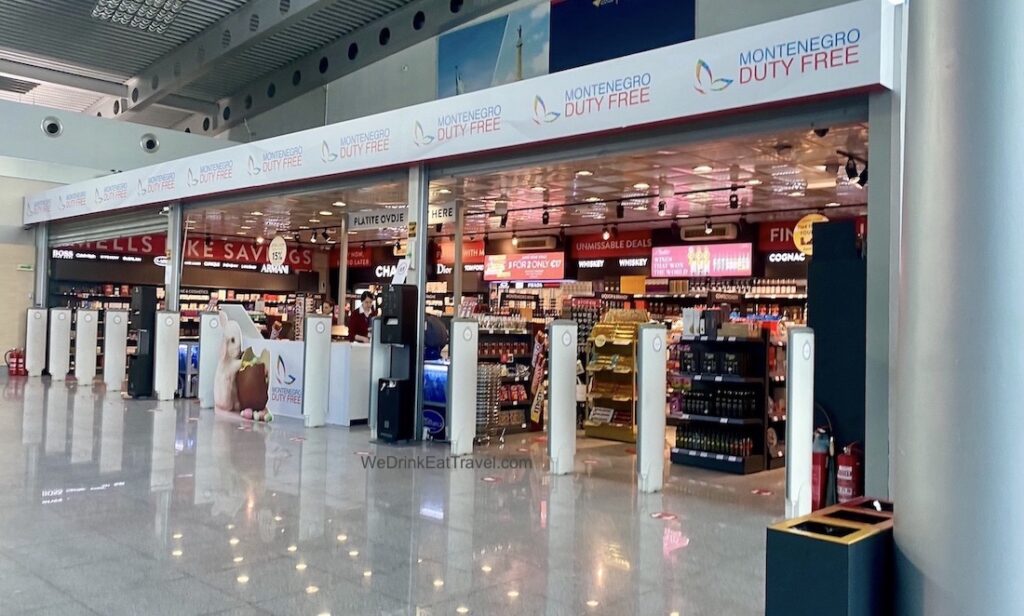 Plus, there is a café if you want a bite to eat or drink. Yet, don't expect there to be lots of places to choose from, because there isn't.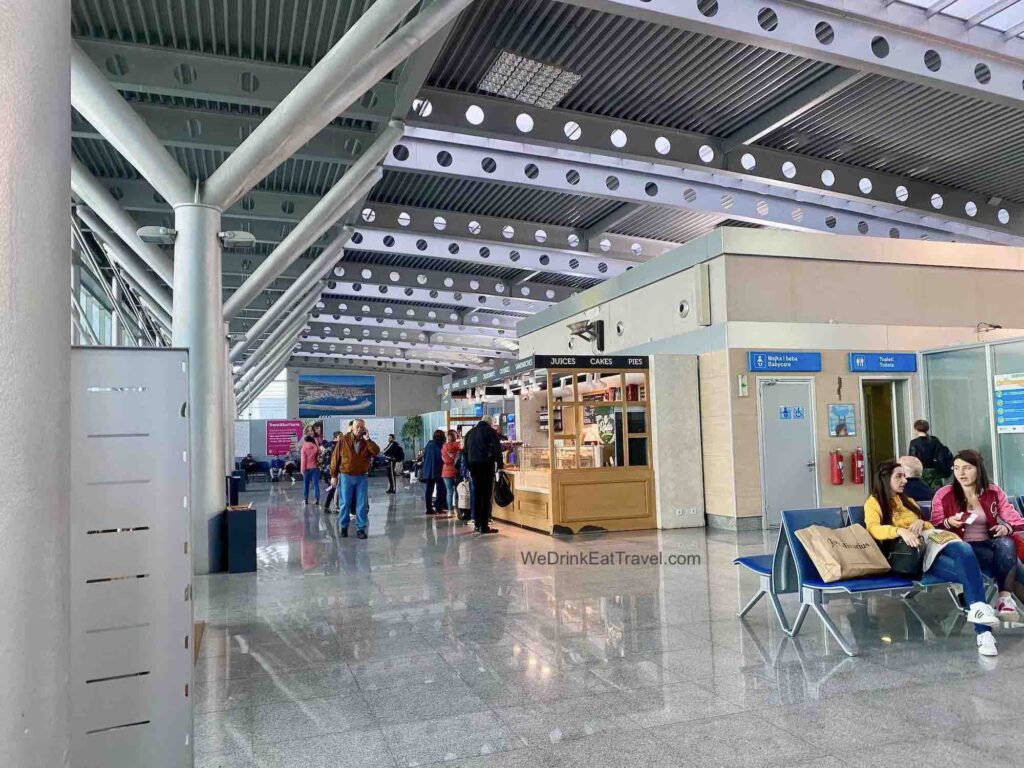 Now, to get to the plane for our Turkish Airlines flight, we had to walk on the tarmac. It was only a short walk, so no airport bus was needed to take us there. Thankfully by that stage, it was only drizzling with a bit of rain.
And after that, we were to take our first international flight in years – WOO HOO!
So, that was our first airport experience in over 2 years! And, it kicked off with being at Podgorica Airport in Montenegro. While the airport isn't inspiring and was uncomfortably warm for us… at least it was clean. Plus, the service from the staff was efficient and pleasant.
Have you been to Podgorica Airport? What were your experiences like?
Like This? Share it and comment on it!
Note: All of our reviews and comments are our opinions and no-one else's. Even if we receive complimentary goods or services we share our opinions honestly.
You Might Be Interested In This Too…
How To Get FREE Accommodation While Travelling
21 Of The Best Free Things To Do In Vienna, Austria
25 Amazing Things To Do In Dubrovnik Old Town
One Of The Little-Known Top Things To Do In Dubrovnik
What You Need To Know About The Dubrovnik Card Now
Check Out 15 Amazing Things To Do In Budva, Montenegro
Perast, Montenegro – Why You Need To Visit This Town
One Of The Amazing Things To Do In Kotor Montenegro
Hiking Kotor Fortress – Things You Need To Know
25 Of The Best Things To Do In Kotor Montenegro
Where To Eat In Tivat For The Best Fast Food
Ultimate Tivat Hiking Trail For The Most Breathtaking Views
Check Out 16 Things To Do In Tivat Montenegro
13 Interesting Places To See In Podgorica Today
Here Are 7 Remarkable Things To Do In Berat Albania
7 Free Things To Do In Bangkok
10 Places To Visit In Gozo Malta For Breathtaking Views
7 Top Reasons Why You Should Visit Bansko Bulgaria
10 Picturesque Churches To See In Vienna Austria