While many travelers relax at the beach during the day there are many things to do at night in Patong. Whether you're after something low key or looking to immerse yourself in a lively atmosphere… there are many choices in Patong for everyone.
So, in this We Drink Eat Travel blog I'll run through 15 things to do at night in Patong. Let's kick it off with this iconic landmark…
1. Check Out Vibrant Bangla Road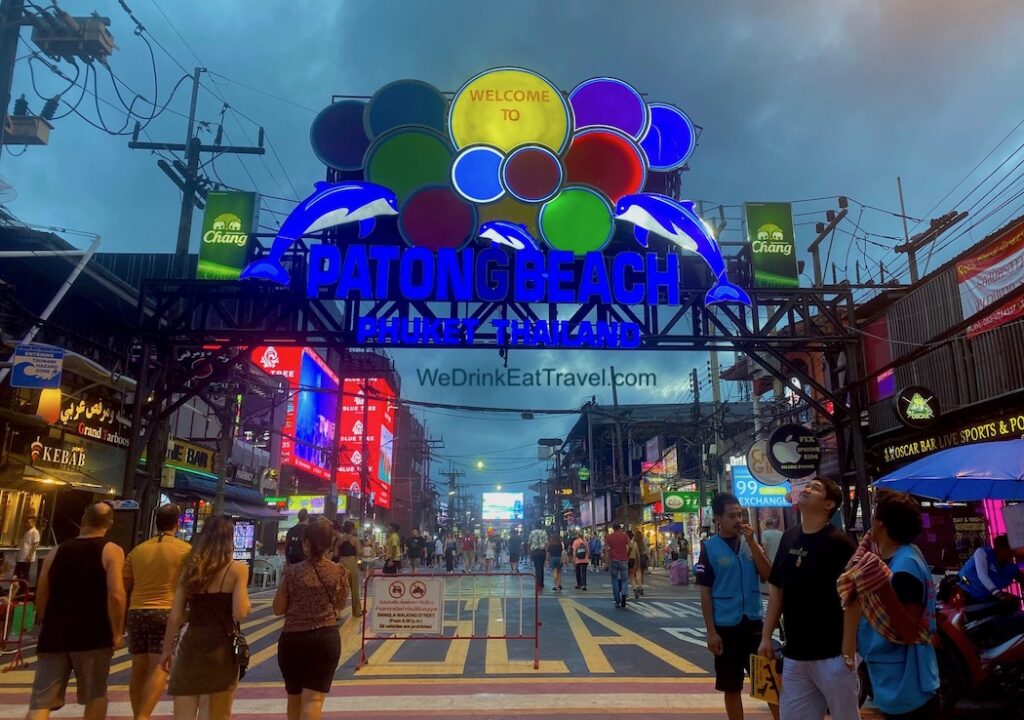 When you're in Patong you'd be crazy to not head into the infamous Bangla Road. Known for its lively atmosphere after the sun goes down… it sure is the place to be to experience the heart of Patong's nightlife.
Now, while during the day vehicles can drive through Bangla Road… from 6pm it's a pedestrian only street. Thus, you can freely wander and explore Bangla Road… without having to frantically dodge motorbikes, cars and other vehicles.
There are plenty of bars, restaurants and nightclubs that you can hop to and from. It's not the place to be at night time if you want peace and quiet… as there is music that blasts all night long from multiple venues.
And, while we found the drinks to be surprisingly cheap for such a touristic area… there are some awesome happy hours too, which last until around 8pm.
For example, small local beers start from just 65 baht… which is a top price at around USD $1.85, 1.70 Euros or 1.50 GBP. And, outside of happy hours they can start from only 80 baht.
Next on our list of things to do in Patong at night which is a must is…
2. Witness a Beautiful Sunset on Patong Beach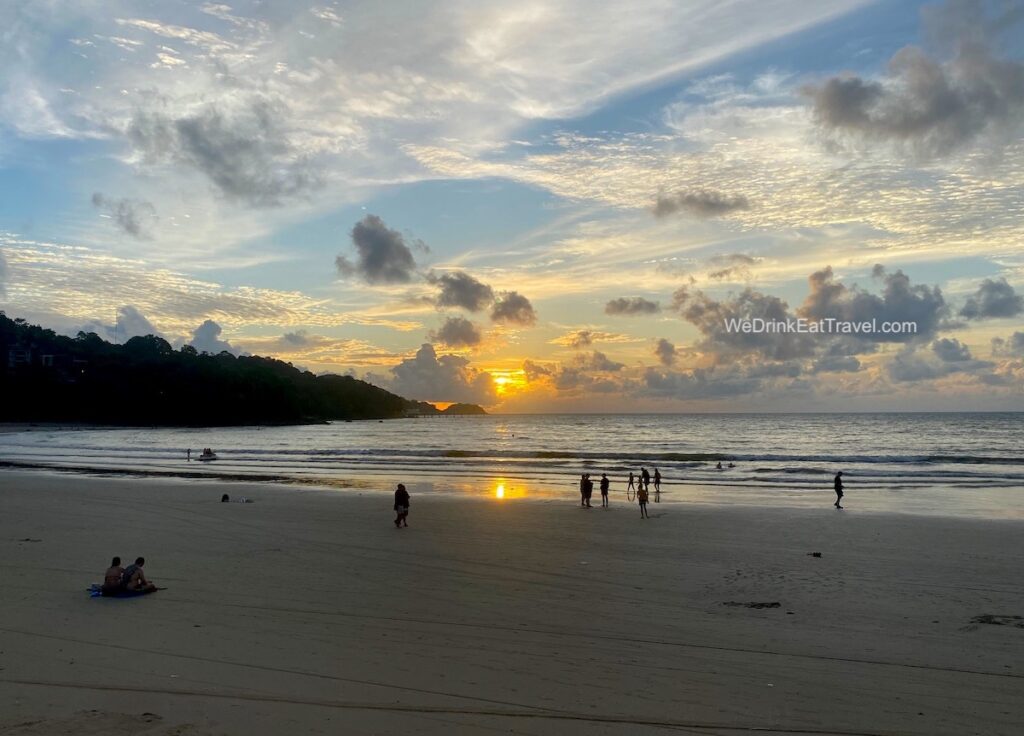 Thailand has many beautiful beaches and when in Patong… you should find yourself a spot along the beachfront to witness a magnificent sunset. You'll discover that many others will have the same idea, taking in the beauty.
3. Stroll Around the Night Markets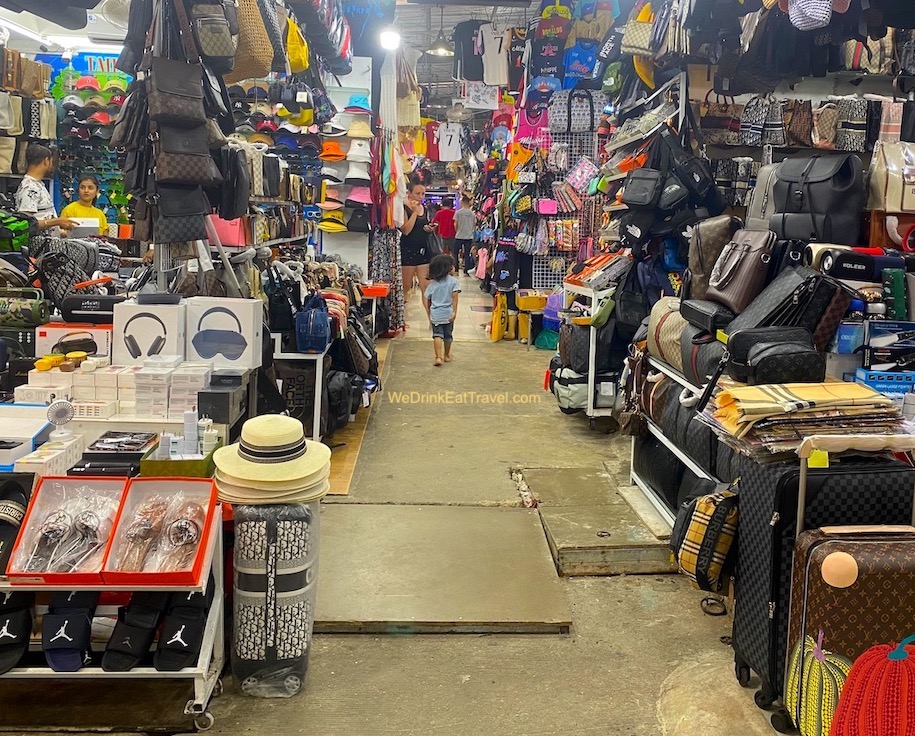 If you've been to Thailand then you'll know that there's a huge market culture… and in Patong it's no exception. There are many markets that open during the day. Yet, as the sun goes down, you'll find that more markets start opening up.
From the Bangla Road night market, to Patong Otop Shopping Paradise… through to Malin Plaza… these are just a few of the many you can explore.
Test out your bargaining skills! And, see what great deals you can get on clothes, accessories, souvenirs and more.
4. Listen to Live Music at the Hard Rock Café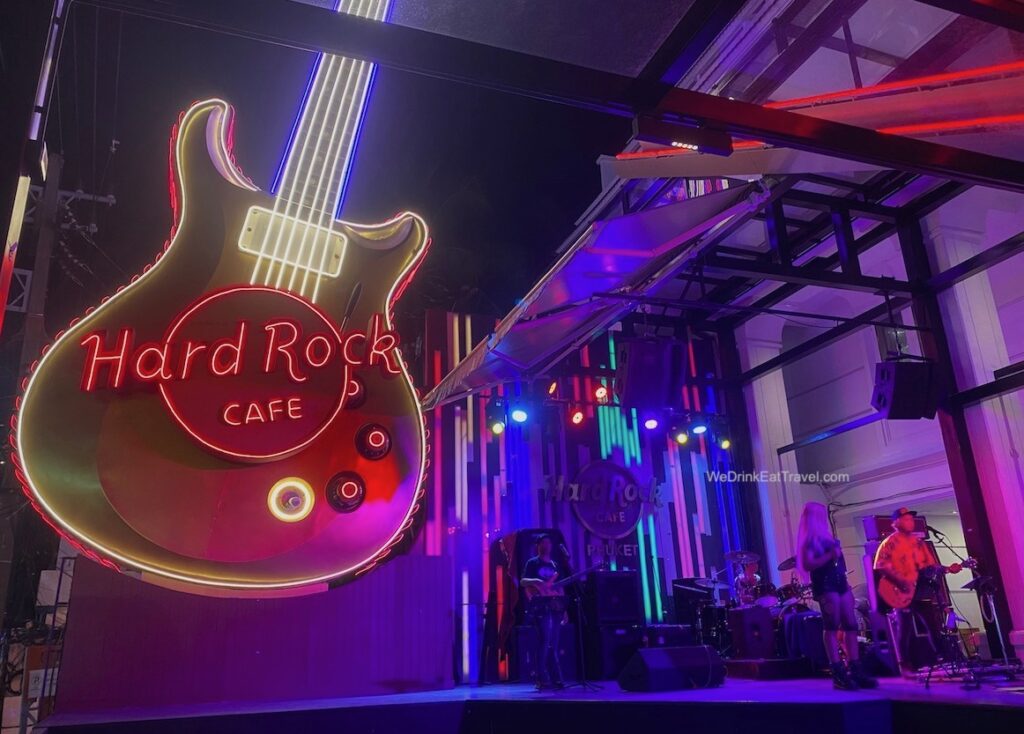 On our travels through South East Asia… we've sadly found that many of the Hard Rock Cafes have been shut down. Or, they are only open to sell merchandise.
Yet, for those of you who are Hard Rock Café fans… it will delight you to know that there is a fully functioning one in Patong.
Now, the prices are far more expensive than what you can get down Bangla Road… or in other places in Patong. For example, a pint of local beer costs 199 baht, which doesn't include taxes and fees of 17%. So, all up that costs around USD $6.55, 6.15 Euros or 5.25 GBP.
At the end of the day we still think that's cheap… especially when comparing to Western prices.
So, one of the most iconic things to do here is… to listen to the awesome live music in the colorful surrounds. Plus, you can't go to the Hard Rock Café without indulging in one of their signature burgers! And, my gosh, it was absolutely delicious and filling!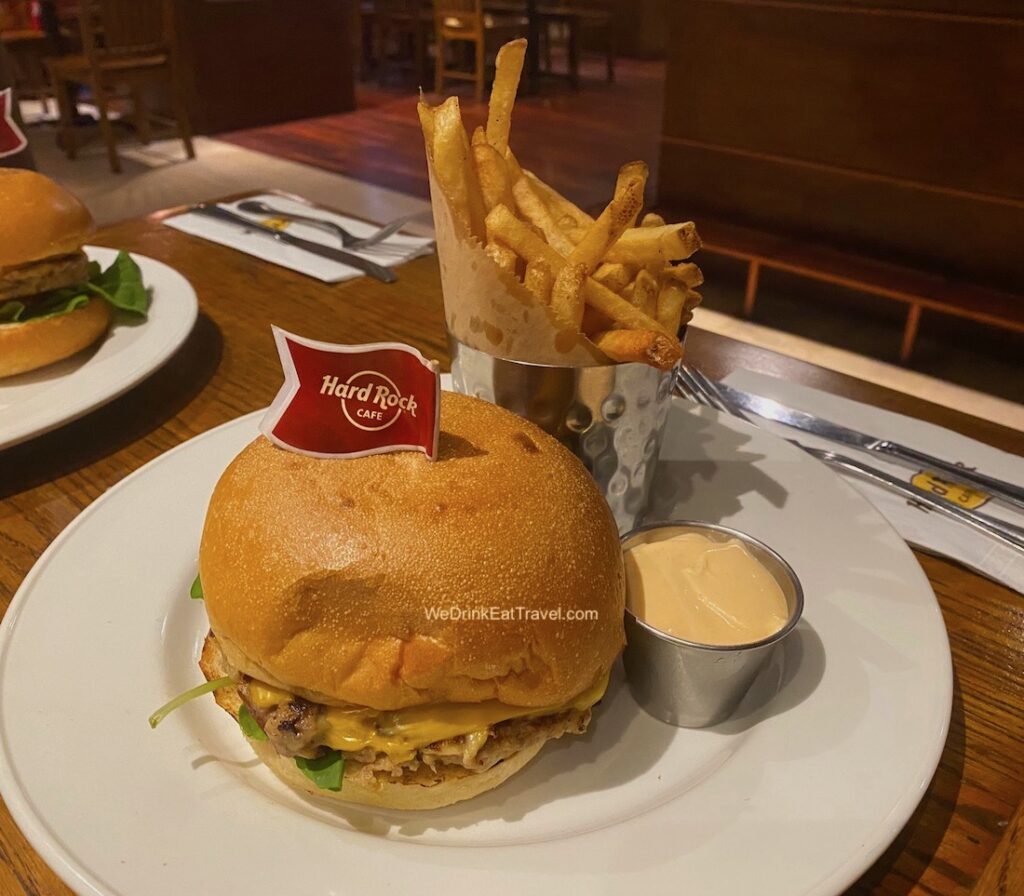 5. Entertainment for Everyone at Game Space
Now, if you have children or are kid at heart… then one of the best things to do at night in Patong is to get active! So, what I mean by that is when you're wandering down Bangla Road… you'll come across a huge place by the name of Game Space.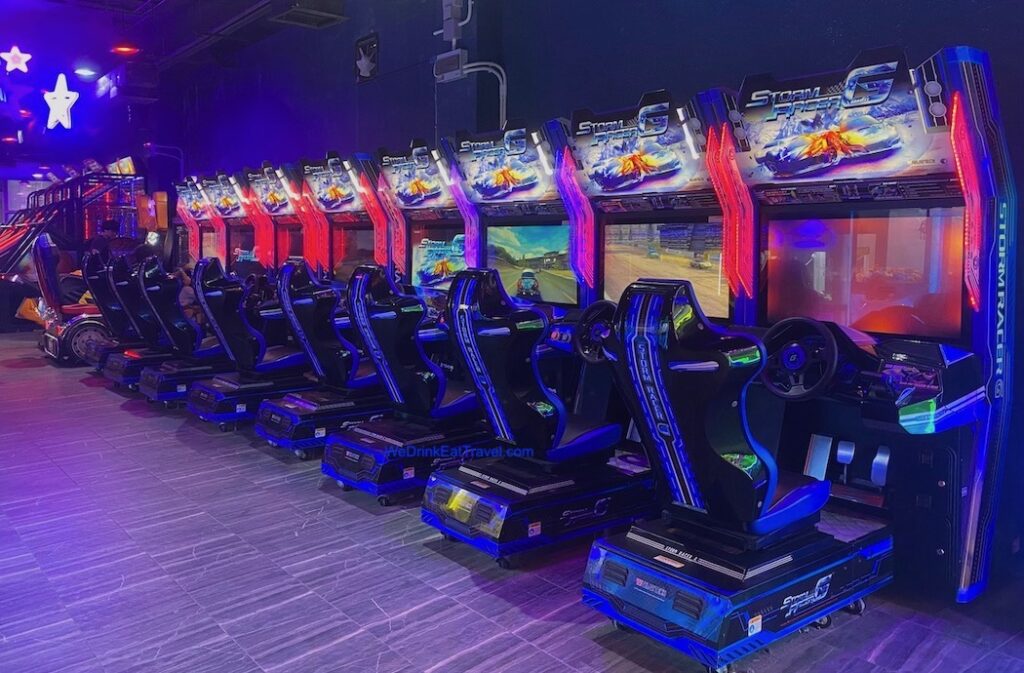 And here, in this entertainment centre you can play all sorts of games. There are a variety to choose from including racing cars, shooting basketball hoops… through to laser battles, and those skill testers to see if you can grab one of those coveted toys!
So, each game needs a token for you to be able to use them. And, 1 token equates to 20 baht. You'll see the token machines around the venue, where you can exchange 20, 100 or 500 baht notes for tokens.
6. Indulge in Some Street Food from the Carts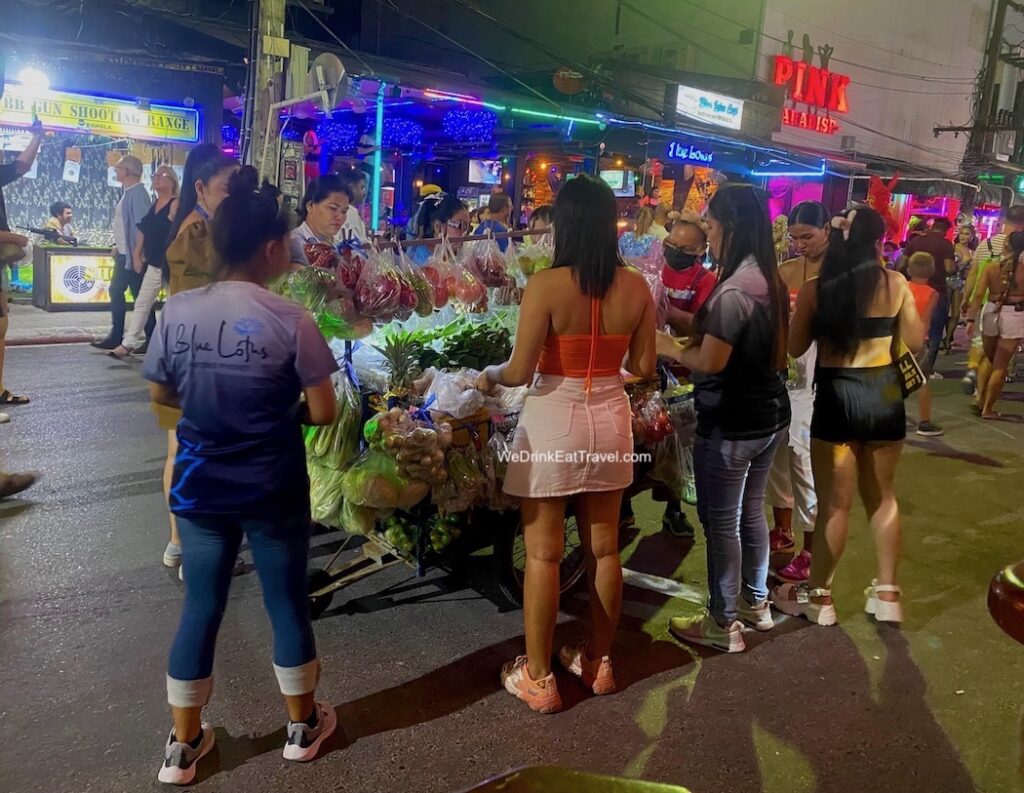 When you're in Thailand there's no doubt that the street food culture is massive… and Patong is no exception! From deep fried bananas, to meat skewers, to dried squid, to fresh fruit… you'll be spoilt for choice.
And, one of the great things about these street food carts is this. If you're out drinking at a one of the bars, some of the owners will allow you to buy food from these carts passing by. Then, you can eat the food in their venue. So, that's convenient if you're lazy and don't want to leave your spot!
The prices are cheap too. So you can eat like kings and queens with lots of change to spare!
7. Get a Relaxing Massage
After doing some serious sightseeing you may want to relax and let yourself go. And, one of the great ways to do this is… by getting a massage at one of the many venues around Patong.
It was surprising to see that we could get a one-hour full body oil massage for only 300 baht! That's only around USD $8.50, 7.90 Euros or 6.80 GPB. Or, if you're wanting just to get a foot massage that's super cheap at only around 200 baht. Yet, for an extra 100 baht we would opt for a rejuvenating full body massage.
Now, one of the things to do in Patong at night, if you want to escape the warm weather is this…
8. Go Shopping in Air-conditioned Comfort
It can get incredibly hot and even humid in Patong even at night time. So, there are a couple of major shopping centers in Patong, where you can get some respite from the hot weather.
Now, one of the big shopping centres is Jungceylon and the other is Central Patong. And, you may as well visit both of them because they're opposite each other!
At the time of writing Jungceylon was undergoing renovations… yet it was still easy enough to get around without the works interrupting the shopping experience. The interesting thing with this shopping center is that there are 4 different sections… The Jungle, The Botanica, The Bay, and The Garden.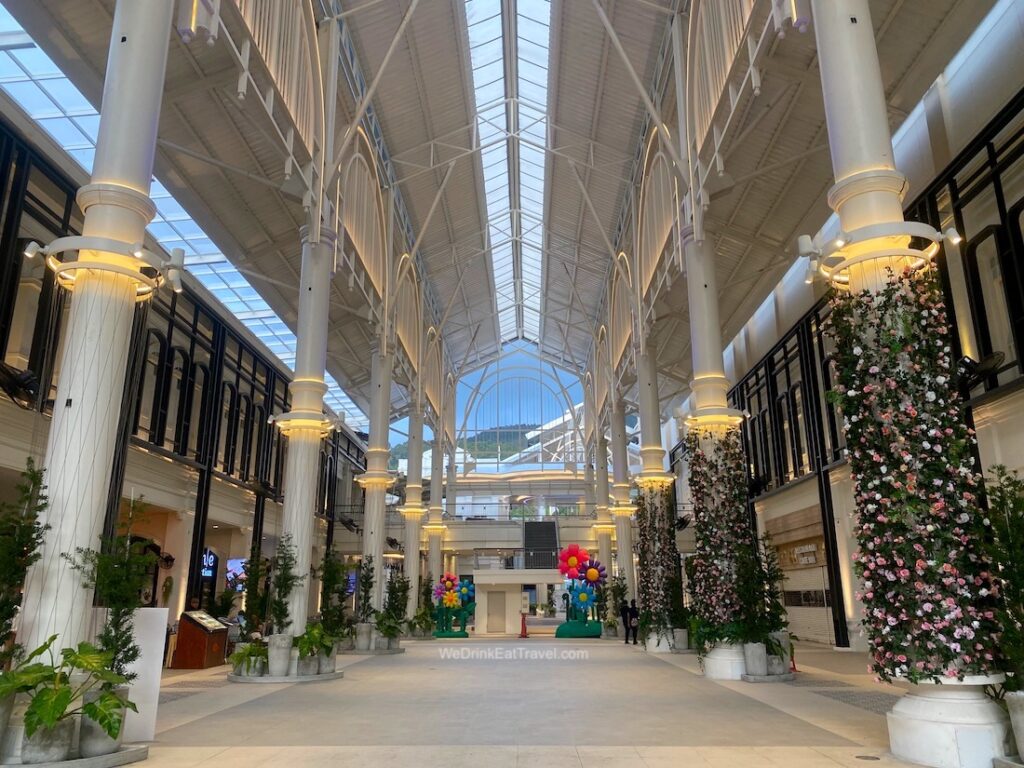 Each one has a different theme that you can experience… with a variety of shops, eateries and entertainment to check out.
Then, across the road from Jungceylon is Central Patong… which is the newer of the 2 shopping centres. Once you step inside… you can immediately feel that the environment is more upmarket than Jungceylon.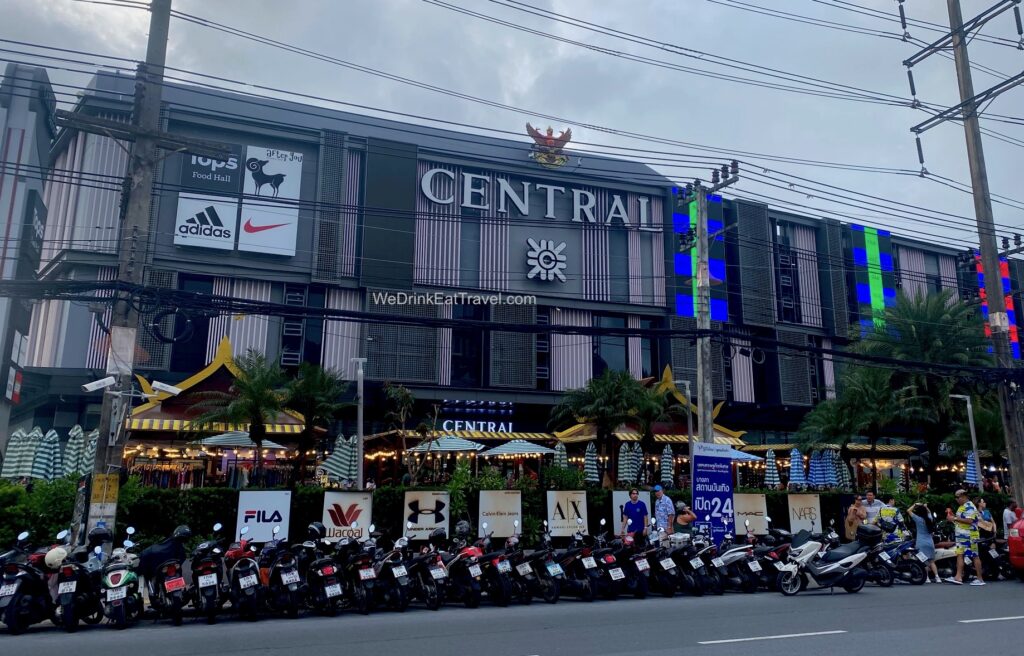 After walking around and being in the heat though… it's great to shop and eat for a change in air-condition comfort!
9. Watch a Muay Thai Boxing Match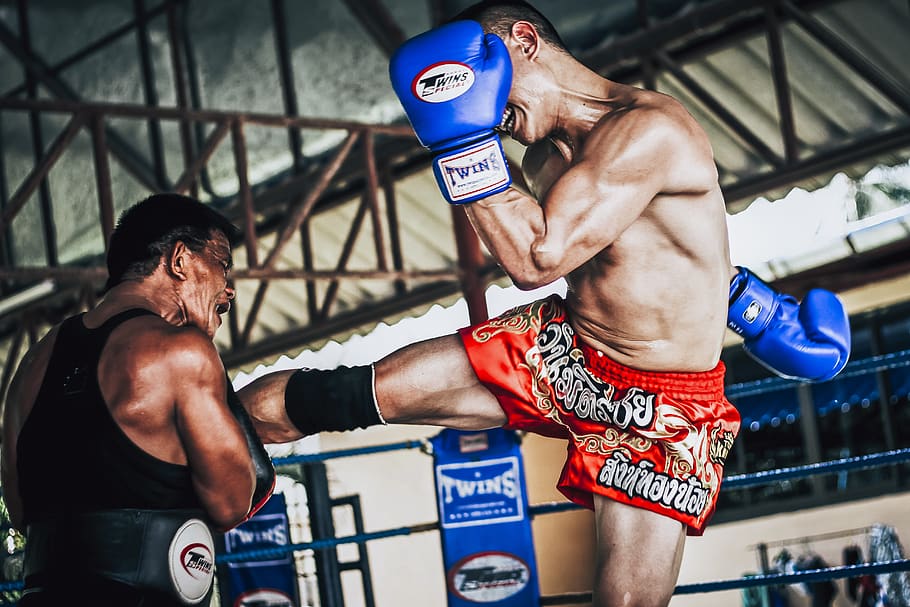 When you're strolling around the streets of Patong… you may hear speakers coming from a small truck with a handful of young males on it. And, if you listen carefully you can hear words booming from the speakers like… "Tonight, fight night!"
And, what they're promoting are the many Muay Thai boxing matches. Now, these matches aren't free to watch so expect to pay from around 1,300 baht for a ticket… which may include a complimentary t-shirt depending on which venue you choose. So, that equates to around USD 36.55, 34.15 Euros, or 29.35 GBP.
There are a few venues in Patong to witness a real fight. And, as far as I know there was conveniently a fight on every night!
10. Visit One of the Many Go Go Bars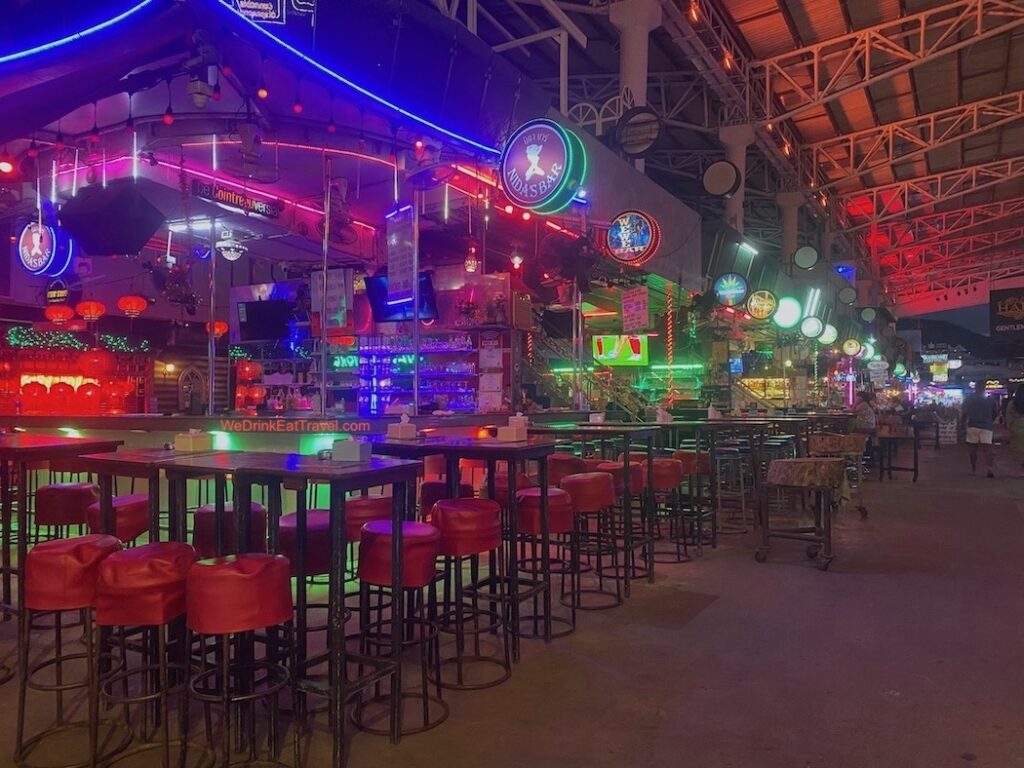 It's no doubt that one of the popular things to do in Patong at night is to visit a Go Go Bar. Here, there'll be many scantily clad ladies with different themes who dance, entice you to watch them… and do whatever else you desire once the night continues on!
You'll find many along Bangla Road… or on a laneway off this street by the name of, Soi Sea Dragon.
11. Go on a Joy Ride in a Tuk Tuk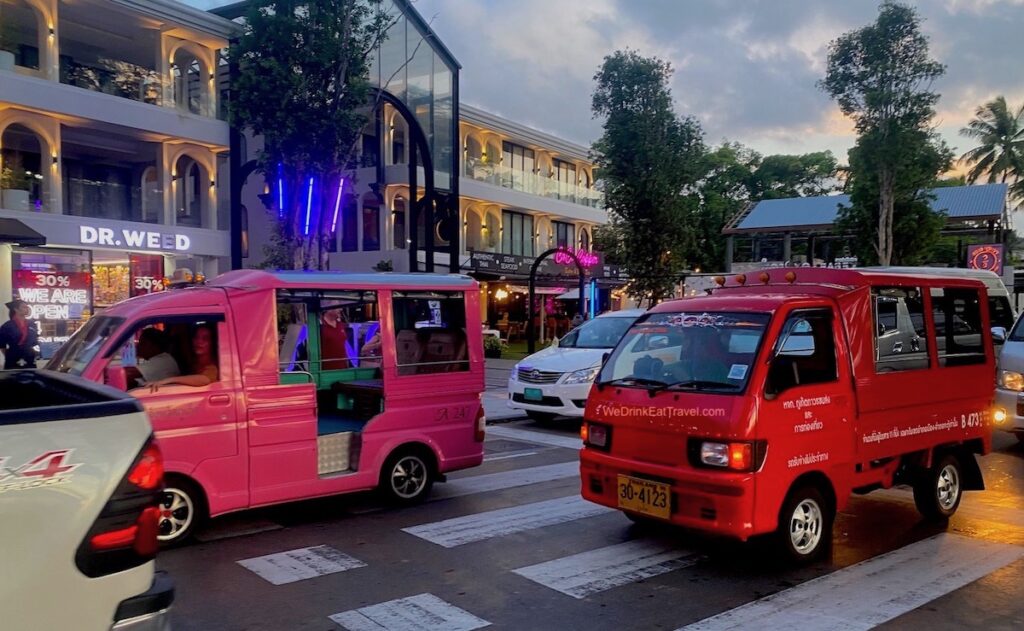 There are many tuk tuks in Thailand, each with their own style, design and level of music blaring! Now, when in Patong you'll see that many of them are like tiny enclosed trucks… which are usually pink or red in color.
The tuk tuks are more expensive than if catching a songthaew… or even when getting a Grab. Yet, if you've never been in one before, then why not enjoy the experience and have fun.
Now, make sure you ask what the price is BEFORE you get into the tuk tuk. Plus, you can always negotiate a price if you think the price is too steep.
12. Go Surfing at the Surf House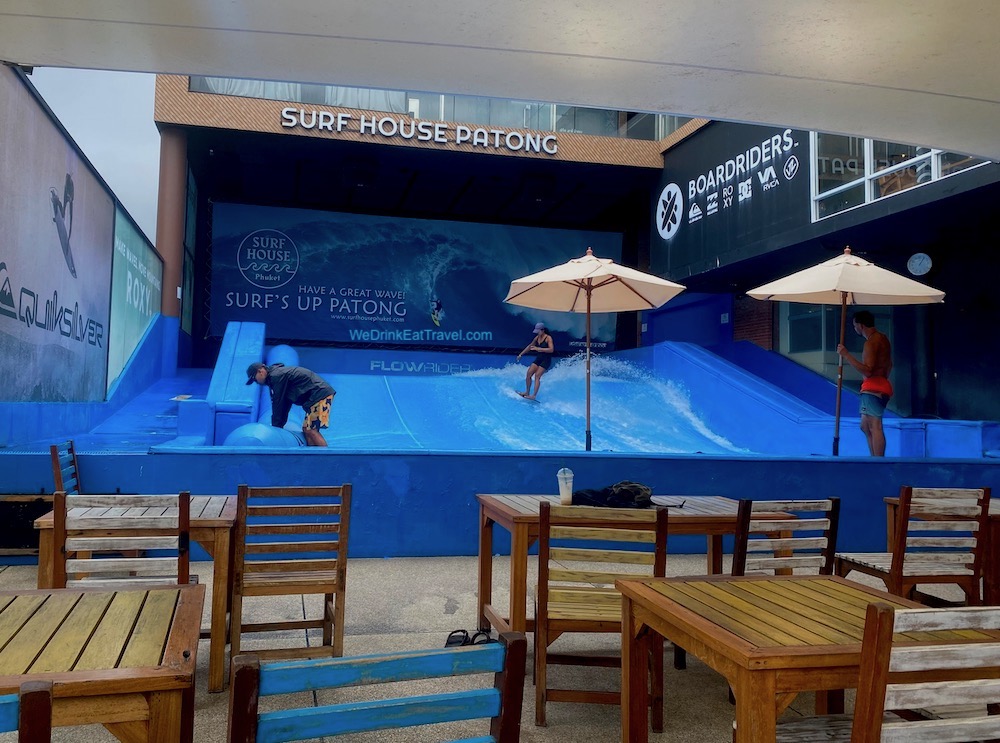 While there are many water sport activities you can do during the day on Patong Beach… one of the things to do at night in Patong is surfing. What? That's right, in Patong there's a man-made venue where you can surf from day until night.
And, you can do this at a place by the name of, Surf Day Phuket. Here, you can enjoy the thrills and spills of surfing on what they call their FlowRider.
Now, if you're a self-conscious person and get panic stricken about people watching your every move… then this is not the place for you! And, that's because there are seats all around the venue where people can eat, drink and watch you.
For members, prices start at 450 baht, which is about USD $12.65, 11.85 Euros or 10.15 GBP. Otherwise the prices for non-members start from 990 baht for a session… that's about USD $27.80, 26 Euros or 22.30 GBP.
13. Gorge on an Array of Delicious Food at the Night Markets
There are plenty of markets where you can shop until you drop in Patong. Yet, if you're craving food but not sure what to eat… then head on over to one of the night food markets. So, one of our favorites was the Banzaan Market… which you can find behind Jungceylon Shopping Centre.
Here, the food is cheap and plentiful. You can try a variety of items such as cheese balls, to fried chicken, gyozas… through to grilled seafood and yummy pad thai.
This is one of the dishes I had of which was a great size, and it was only 40 baht! So, that converts to around a ridiculously cheap USD $1.15, 1.05 Euros, or 0.90 GBP.
14. Test Your Skills at Patong BB Gun Shooting Range
One of the activities that I saw dotted around… were small hole in the wall type shooting ranges. This was something that I hadn't seen much of in Thailand… so it was surprising to see them in Patong.
There are other bigger shooting ranges but if you're hankering for something quick and easy… then you can stop by on your way while sightseeing around Patong.
And last but not least on our things to do at night in Patong is one of our favorites…
15. Watch the World Go By and Drink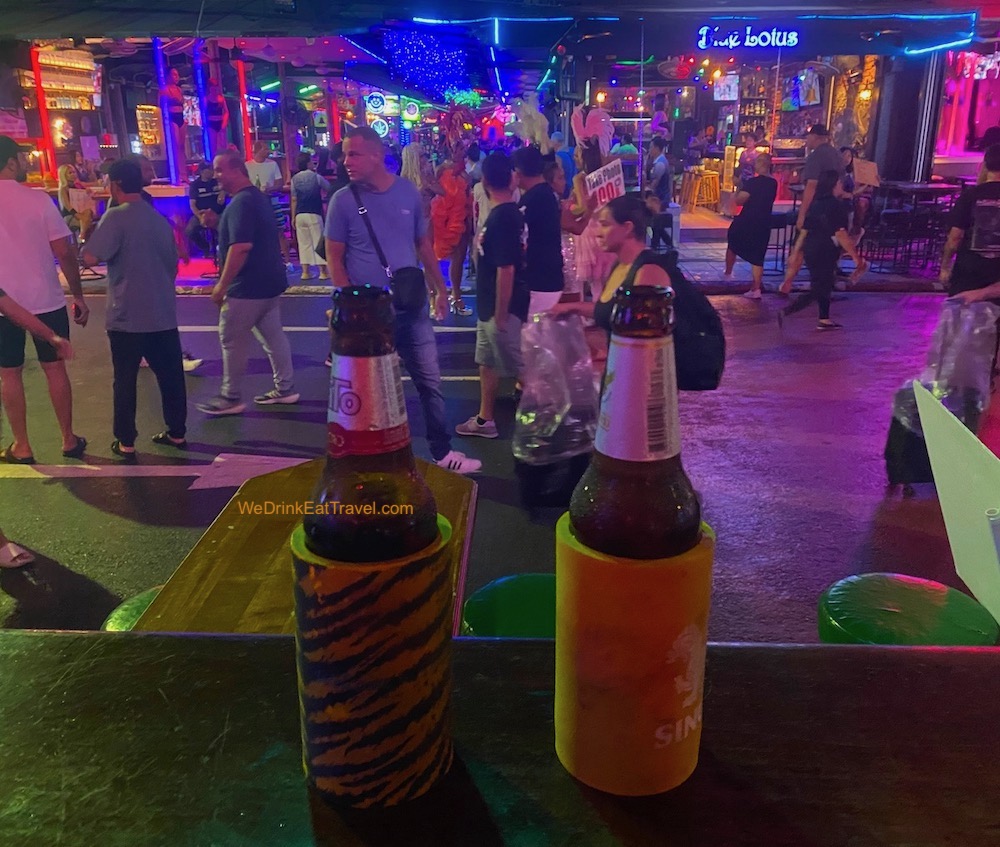 When we were last in Patong it was the rainy season. We spent a few weeks in Patong and for most of our time there… we had the experience of witnessing a lot of downpours. And, when we were out and about sometimes the rain would pelt down unexpectedly.
Thus, one of common past times was to go to the nearest bar, sit down have a beverage or two or more… and watch the world go by. There was always somewhere we could stop by to watch the craziness unfold with the traffic… or to see drunken tourists stumble around!
While many travelers enjoy relaxing beach time in Patong… after the sun goes down, there are many different things to do at night in Patong. So, now you have 15 ideas to add your travel itinerary if you like.
Of course, there are plenty more and that's the exciting part about traveling… to explore.
Whatever you decide to do once night time hits in Patong, Thailand… we trust that you'll have an amazing time.
You Might Be Interested In This Too..
Here Are 25 Interesting Things To Do In Hoi An
8 Interesting Places To Experience The Hua Hin Nightlife
Check Out 17 Amazing Things To Do In Hua Hin
15 Of The Best Things To Do In Siem Reap
What You Need To Know About Pub Street Siem Reap And The Nightlife
Chatuchak Weekend Market: 7 Top Things You Need To Know
How To Get To Chatuchak Market In 2 Ways
How To Go To Platinum Fashion Mall Bangkok By BTS
What You Need To Know About The Bangkok Canal Boat On Saen Saep
Bars In Danang – 7 Of The Best Places
VAT Refund Bangkok: How To Get Money Back On Your Shopping
Is Kuala Lumpur Worth Visiting? 15 Interesting Things To Know
27 Of The Best Things To Do In Bucharest
Thai Airways Review: From Melbourne Australia To Bangkok
Here's A Stress-Free Way To Book Your Private Transfers
Need Accommodation?
Find Your Perfect Vacation Accommodation
Want Cheap Flight Deals?
Looking For The Latest Flight Deals? Click HERE
Get Real Cashback From Your Vacation!
Discover How You Can Get Cashback From Your Vacation Bookings