When it comes to markets in Patong there are many to check out and immerse yourself in. While the "heart" of Patong and most famous area may be around Bangla Road… there are other markets here in this beach town that you should explore.
Whether it's shopping for fresh produce, souvenirs, clothes, toys, accessories, tech goods… through to trying an array of delicious foods or relaxing with some drinks. You'll be able to find what you're looking for at one of the many Patong markets.
Yet, with so many markets to choose from, which ones do you visit?
In this We Drink Eat Travel blog… we'll compare some of the best markets in Patong you may like to add to your travel itinerary.
Now, let's start with one of our most favorite markets here.
Malin Plaza Patong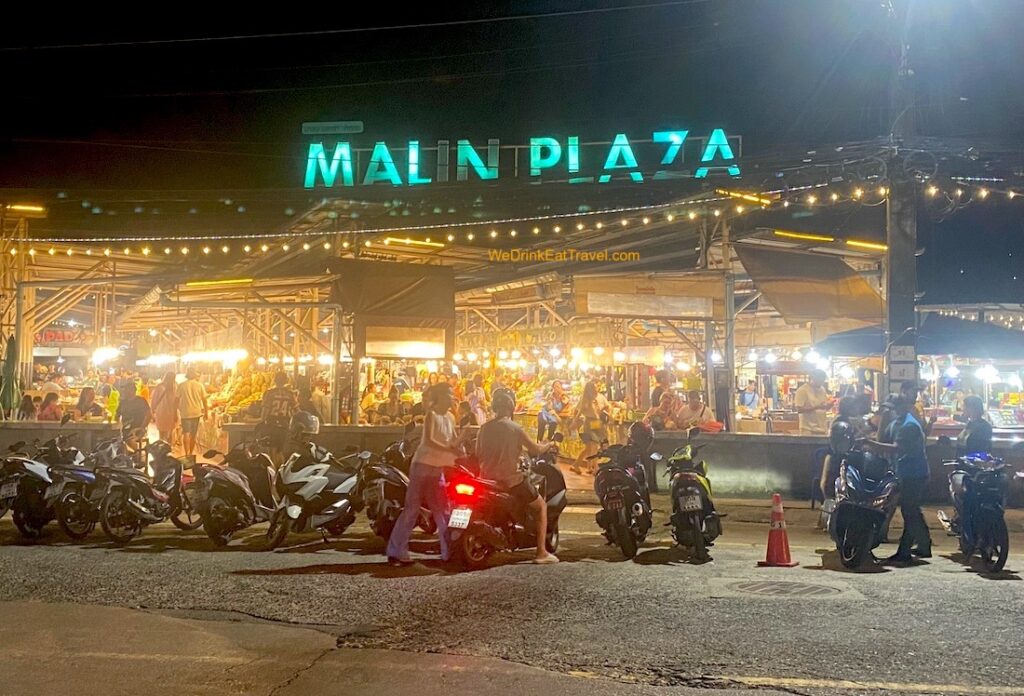 One of the accommodation places we were staying at in Patong… was about a 20-minute walk from Bangla Road. And, when it was pouring down rain one day, we found the Malin Plaza.
While it's around2 kilometres away from Bangla Road, it's still easily accessible if you don't mind walking… or if you want to get a ride share service or tuk tuk. Yet, we do recommend that you visit this market as it has such a laidback vibe… in comparison to some of the other markets we went to.
At the front of the market you'll see that there are many food stalls. Yet, as you walk further inside, you'll discover that there are a couple of bars. Then, behind here are rows upon rows of stalls selling clothes, accessories, souvenirs and more.
So, one of our favorite places to have a brew or two, sometimes more… was at Namo Bar.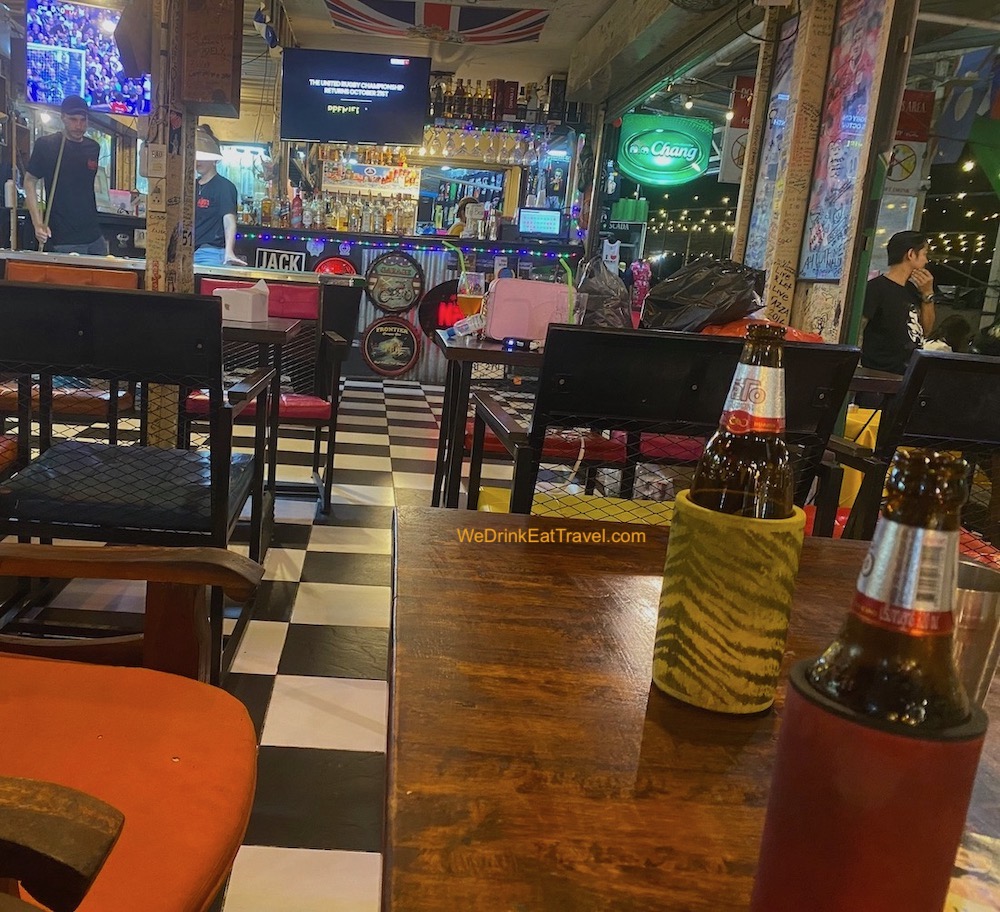 Drinks here are reasonable prices, with a big local beer selling for around 130 baht… that's about USD $4, 3.40 Euros or 2.95 GBP. While a small bottle of local beer costing 70 baht. Plus, if you were hankering for something to eat while you were having a drink… you could buy food in any of the stalls and have it there.
And, they have a pool table and TVs in case you were wanting to watch some live sport.
As it was only a few minutes stroll from our hotel and enjoyable… we went to Malin Plaza many times during our time in Patong. Needless to say, the staff would remember us and were always happy to see us… and would have a joke or laugh.
Bangla Road Market
Now, a trip to Patong must include seeing and exploring the entertaining Bangla Road. So, before you hit the bars and nightclubs… you can stop by the Bangla Market.
You'll see the huge sign for this market as you're strolling down the road. So, this market is convenient if you're not wanting to travel too far from the centre of the action!
Yet, you will need to haggle and get your bartering skills in top gear… if you're wanting to pay a reasonable price for goods.
Here, we would normally start bartering at more than 50% less of what they quote… as it is in a big tourist area.
To put things into perspective… you could keep negotiating until you get the price you desire. Yet, at the end of the day, you could be haggling over a couple of dollars! So, is it really worth the effort to bargain over a few dollars for that purchase?!
So, after you've been shopping here, next to Bangla Market is a Street Food section. When you walk past each food place… just about every stall owner will try and influence you to sit down and try their dishes.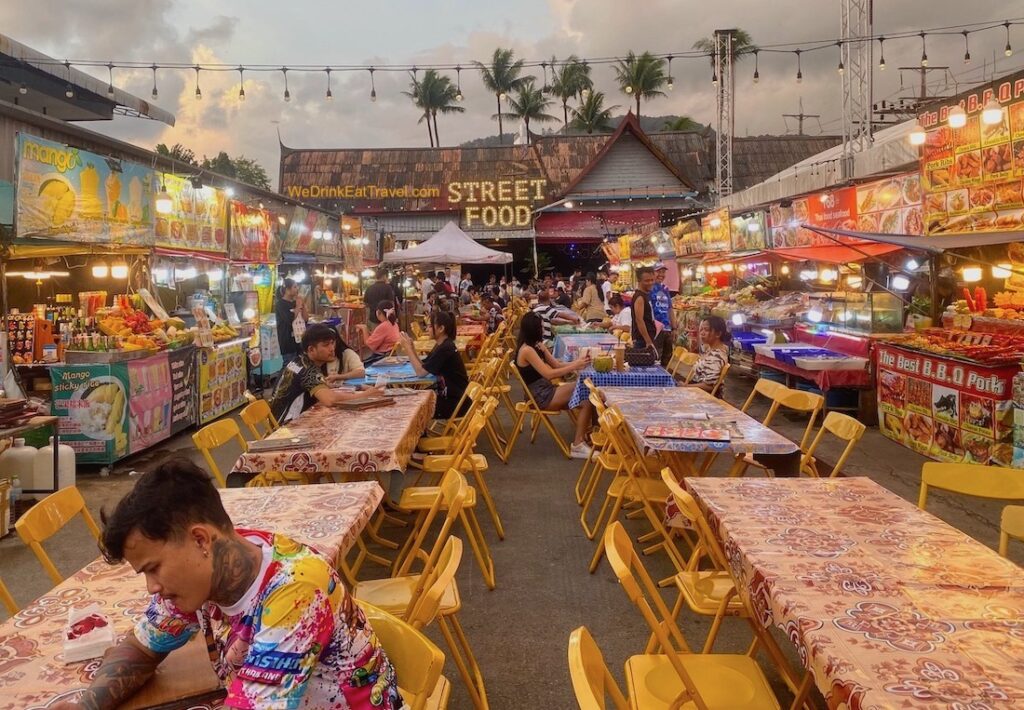 Many of them sell an abundance of seafood. Note that prices here are more expensive than other food markets.
Now, one of the markets in Patong we recommend you visit and explore is this one…
Banzaan Market Patong
You can find the Banzaan Market behind Jungceylon Shopping Centre, and the Big C Supermarket. When we got there around 5:30pm… it was not so busy, and some of the stall owners were finishing setting up.
Now, with this market there are the food carts on the right-hand side. Then, to the left are more eateries, which focus more on main meals and seafood… rather than street food type eats. And, once you wander into the Banzaan Market undercover area… you'll discover the fresh food section which is massive!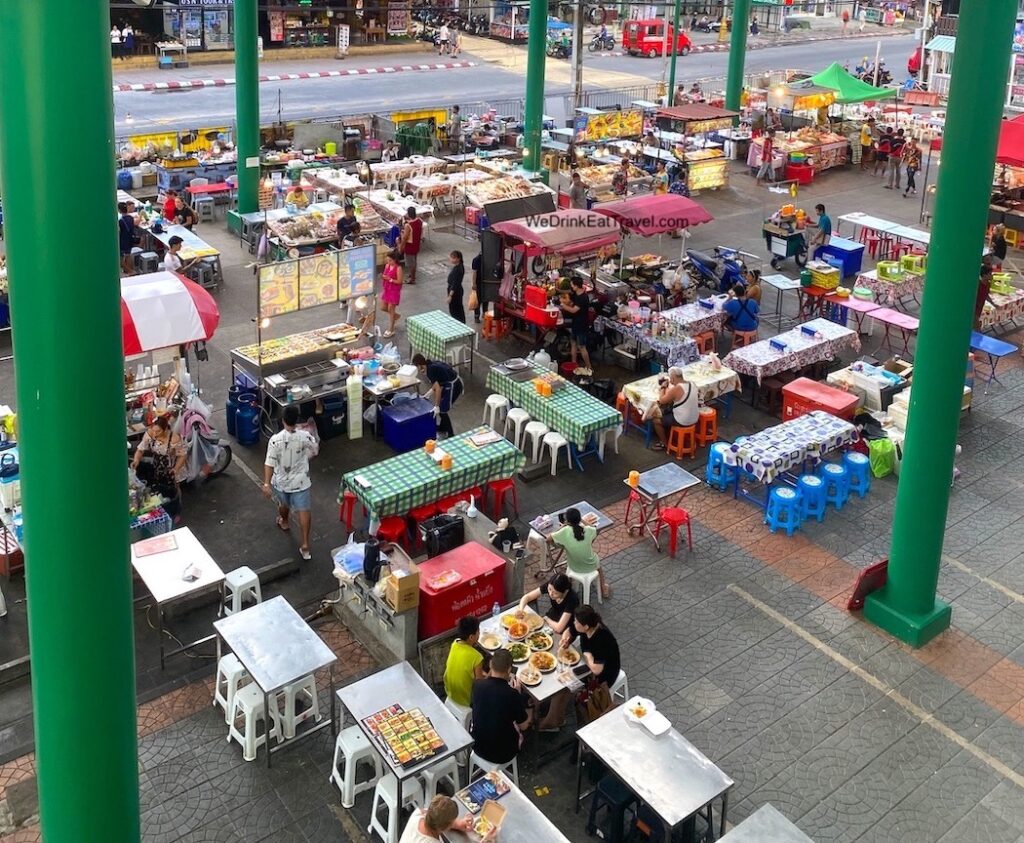 We saw some escalators leading to an upstairs area. And, once at the top we found that there were even more eateries. Yet, for us the atmosphere here was lacking in vibrancy. So, we went back downstairs to go fill our bellies.
Then, as time went on Banzaan Market was bustling. We were keen on having some street food type eats. And, for such a small area… we did find that there was a decent variety of food to tempt the tastebuds!
Now, the price of food here is cheaper… in comparison to many of the other markets in Patong.
And, drinks here are cheap when you buy them from the pop-up stalls… starting from only around 60 baht for a beer. Yet, the only thing with most of these little stalls is that there are no seats.
So, we did what the locals were doing. And, we found some steps where we could still watch all the action… while enjoying our food and drinks.
Otop Market Patong
When we were walking past the Hard Rock Café towards the centre of Patong… we saw a market by the name of Otop. You may also hear it with the name of, Otop Shopping Paradise. One of the first noticeable differences was that all the little stalls had tent-like tops.
And, in the middle of the market area were 2 rows of food stalls, one after the other. Now, we did find that many of the stall owners were whipping up noodle dishes… that we found to be slightly more expensive than other markets. 
Yet, there were other dishes on offer including fried chicken, seafood, stir fried meals, and more. This definitely was one of the quieter markets that we went to. And, this can be a positive as you can escape the hustle and bustle of other markets.
And, before or after eating or drinking there are some non-food stalls that you can explore too.
Central Patong Floating Market
One day during our stay in Patong… we were going to explore the Central Patong Shopping Centre. Yet, as we got closer we saw that at the front of the complex… was a row of perfectly lined beautifully lit market stalls.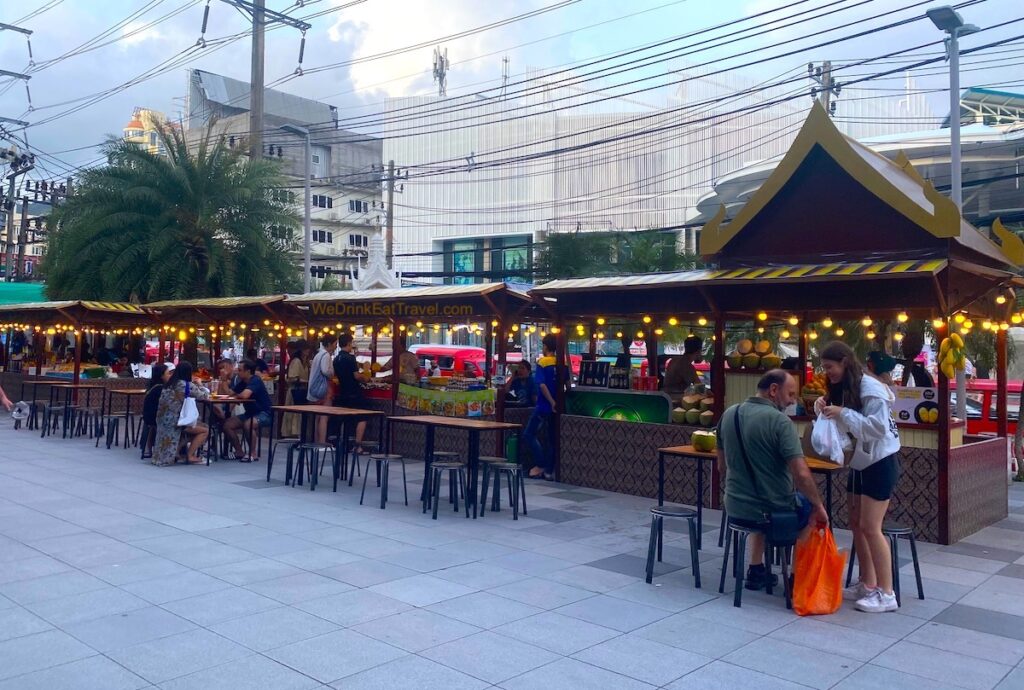 Now, it was interesting to see that the name of this market is, Floating Market. OK, so I guess you have to use your imagination here… and picture the stalls floating on a river!
Whilst it is the smallest of the markets we have been comparing in this travel blog… it is pretty and opens from day through to night.
Most of the stalls sell food and beverages… yet, there are a few that sell clothes, accessories and souvenirs, for example.
And, when you buy food or drinks here, there are seats at the front to enjoy your meal. So, no need to sit on some concrete steps, like we did at the Banzaan Market street food section… ha ha ha!
Other Markets in Patong
Many of the markets open in the evening… which is common in Patong and Thailand in general.
Yet, if you feel the urge to do some market type shopping during the day time… then you'll find several on the side streets off Rat Uthit Song Roi Pi Road. In particular, between Ruamchai Road and 205 Rat Uthit Song Roi Pi Rd… on the right-hand side of the main road, as you're heading in towards Bangla Road.
And, during the day we found it to be very quiet. So, if you prefer to avoid crowds and don't mind shopping during the hottest part of the day… then this is an area you can check out too.
Need to exchange money because you've been buying up big?
From our experience, you'll find some of the best currency exchange places in Patong… in this section of Rat Uthit Song Roi Pi Road too.
Plus, we found that most of the places didn't ask for our passport to exchange money… which was in contrast to most places in Bangkok, for example. And, most don't charge commission either. Yet, best to ask if you're unsure.
Now, one of the best money exchange places we found… was around 213 Rat Uthit Song Roi Pi Rd. Of course, that also depends on which currency you're looking to exchange too. The name of it is, The Best Rate Exchange, near George Tailor Patong.

So, we trust that our comparison of some of the markets in Patong is helpful. While they were our recommendations for some of the Patong markets you should visit… you can form your own opinion when you explore.
Remember that many of the bigger markets open in the evening. Yet, as we did mention there are some that open throughout the day and night to cater for you shopaholics… or for those of you who aren't spending a lot of time in Patong.
Our two favorite markets in Patong were Banzaan Fresh Market and Malin Plaza… which are in complete opposite ends of Patong. Yet, they are only a couple of kilometres from each other.
And, the good thing is, it's easy to get around Patong using tuk tuks or ride share services. Or, like us, you can walk from one to the other if the heat doesn't bother you.
Regardless of which markets you decide to explore… we hope you have an amazing time in Patong, Thailand!
You Might Be Interested In This Too..
15 Interesting Things To Do At Night In Patong
Here Are 25 Interesting Things To Do In Hoi An
8 Interesting Places To Experience The Hua Hin Nightlife
Check Out 17 Amazing Things To Do In Hua Hin
15 Of The Best Things To Do In Siem Reap
What You Need To Know About Pub Street Siem Reap And The Nightlife
Chatuchak Weekend Market: 7 Top Things You Need To Know
How To Get To Chatuchak Market In 2 Ways
How To Go To Platinum Fashion Mall Bangkok By BTS
What You Need To Know About The Bangkok Canal Boat On Saen Saep
Bars In Danang – 7 Of The Best Places
VAT Refund Bangkok: How To Get Money Back On Your Shopping
Is Kuala Lumpur Worth Visiting? 15 Interesting Things To Know
27 Of The Best Things To Do In Bucharest
Thai Airways Review: From Melbourne Australia To Bangkok
Here's A Stress-Free Way To Book Your Private Transfers
Need Accommodation?
Find Your Perfect Vacation Accommodation
Want Cheap Flight Deals?
Looking For The Latest Flight Deals? Click HERE
Get Real Cashback From Your Vacation!
Discover How You Can Get Cashback From Your Vacation Bookings