When you're in Croatia, one of the must see places is the UNESCO town of Dubrovnik. It's also known as the Pearl of the Adriatic. And, when you go there, you'll understand why it has been given this adoring name.
We were looking forward to seeing Dubrovnik and exploring this beautiful town. Yet, while we were there… Mother Nature gave us mostly rainy, windy and stormy weather. Oh well, you can't expect sunny weather all year round. And, don't always trust the weather forecast reports either!
Even so, when we had some sunny or reasonable weather… we set out to make the most of our time in Dubrovnik.
So, in this blog, we'll run through 18 top things you can do in Dubrovnik. It truly is a magical place. Plus, we share with you a secret location that most tourists would not know about!
Now, get your pen and paper, laptop, or mobile device out… so we can help plan your itinerary.
Be Mesmerized By Dubrovnik Old Town
Of course, we start with the most popular of the Dubrovnik attractions to visit… which is the Dubrovnik Old Town. This would have to be one of the most charming Old Towns we've seen on our travels in Europe.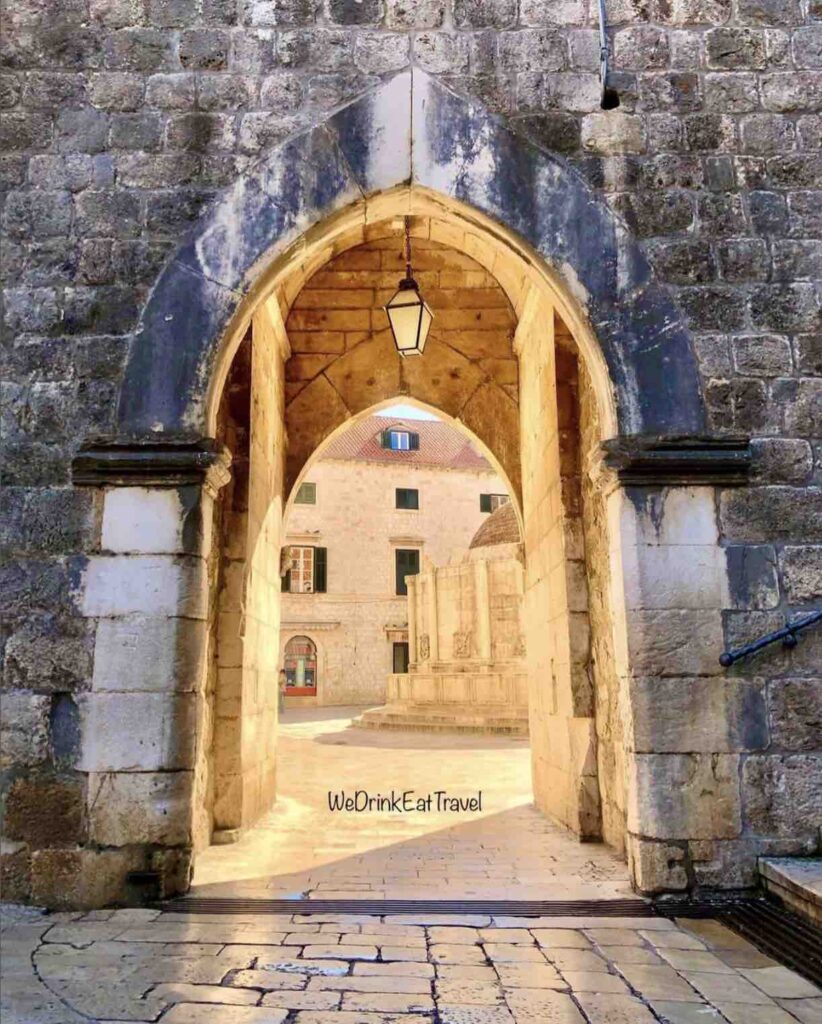 From afar you its beauty will astound you. Yet, once you step foot into Dubrovnik Old Town, to immerse in the incredible architecture, history and culture… your heart will melt. And honestly, even though it looks magical in the photos and videos… they don't do it justice!
Now, the great thing is, to get into the Old Town is free. Yet, if you want to go into or explore more of some of the landmarks… you'll have to pay a fee. And, per place, the price can vary from say 30 Kuna (4 Euros / USD $4.30)… through to 250 Kuna (33.30 Euros / USD $35.40).
Yet, if you buy the Dubrovnik 1 Day Card, which is 250 Kuna… you can see many of the important Dubrovnik attractions. There is also the Dubrovnik 3 Day Card, as well as a 7 Day Card. To find out more, check out our blog post… which includes how to use the Dubrovnik Card, and its benefits.
So, when you're in the Old Town, we highly recommend you put this on your top list of things do in Dubrovnik…
Walk the City Walls of Dubrovnik Old Town
You've seen the pictures, and watched the videos of Dubrovnik Old Town. And, to say the least, how breathtaking does it look? You can clearly see surrounding the Old Town are the massive city walls… which look like they are hugging and protecting its town.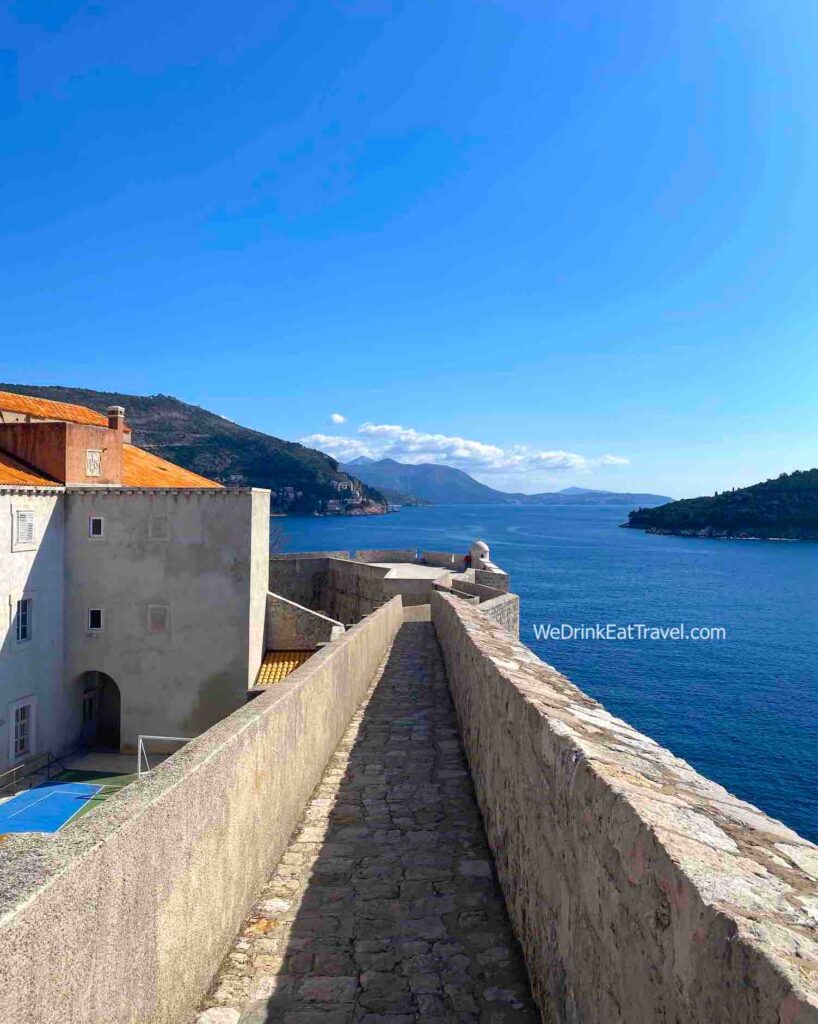 So, from the 9th Century, some even say from the 7th Century… the City Walls of Dubrovnik were originally built. Yet, devastation would crush the wall, resulting in it having to be re-built several times.
Yet, one of the best things to do in Dubrovnik is to walk the Old Town Walls. It can take about 1 hour to get all the way around. Yet, we can honestly say that it sure is worth it. There are so many incredible vantage points for memorable photos of the Old Town… as well as the areas outside of this.
Now, so you know, it does cost 250 Kuna (33.30 Euros / USD $35.40) to get this privilege.
Yet, for this price, we recommend that you get the Dubrovnik Card.
Not only are the City Walls included in the price… there are several other main Dubrovnik attractions as part of this package too. Prices start from 250 Kuna. For one adult, you get free entrance for one child aged up to 7 years of age.
If you prefer the services of a tour guide or traveling in a group, CLICK HERE.
So, next on our list of the best things to do in Dubrovnik is to see this…
Lovrijenac Fort (St Lawrence Fortress)
One of the Dubrovnik attractions that stands out high above the Adriatic Sea is… Lovrijenac Fort, also known as St Lawrence Fortress.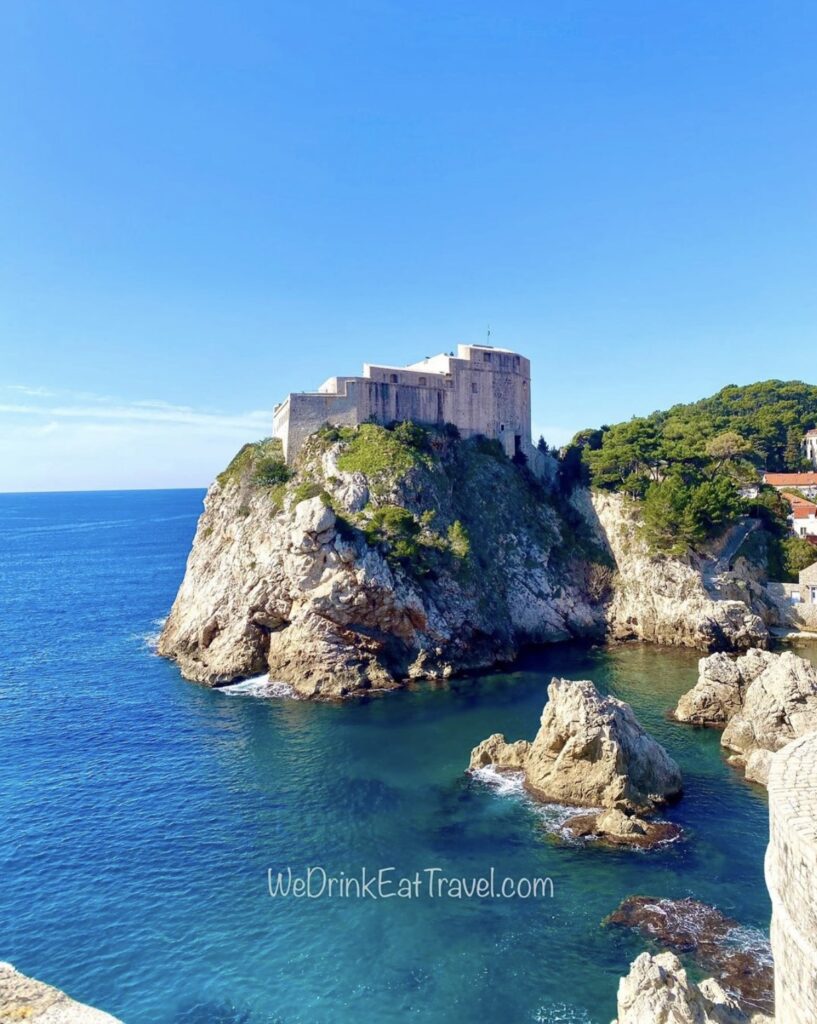 This remarkable fortress dates back to the 11th Century. And, it's said that Lovrijenac Fort was originally built… to keep the Venetian troops at bay.
Yet, over time, due to natural and man-made disasters… Lovrijenac Fortress had to undergo several reconstructions. And, thankfully it is still here, and you can take advantage of seeing it. When you head to the top of the Fort, there are amazing views of Dubrovnik and beyond.
Feel like a King or a Queen… as you look out at your subjects and the events going on from your Fortress. Well, at least it's fun to imagine it… and what it would've been like back in the days!
Now, so you know, to buy a Fort Lovrijenac ticket… it would cost 100 Kuna (about 13.30 Euros / USD $14.20).
Yet, here's a travel tip for you…
Some people are unaware of this… and that Lovrijenac Fort is actually part of the Dubrovnik Card benefits. Unless you look at the back of the ticket for the City Walls of Dubrovnik… it's not clear if you can get into the Fortress too. Yet, before we went, we doubled checked that it was still included as part of the Dubrovnik Card. So, take advantage of it while you can.
Now, when you're at Lovrijenac Fort, you'll be able to catch a glimpse of this…
Relax in Gradac Park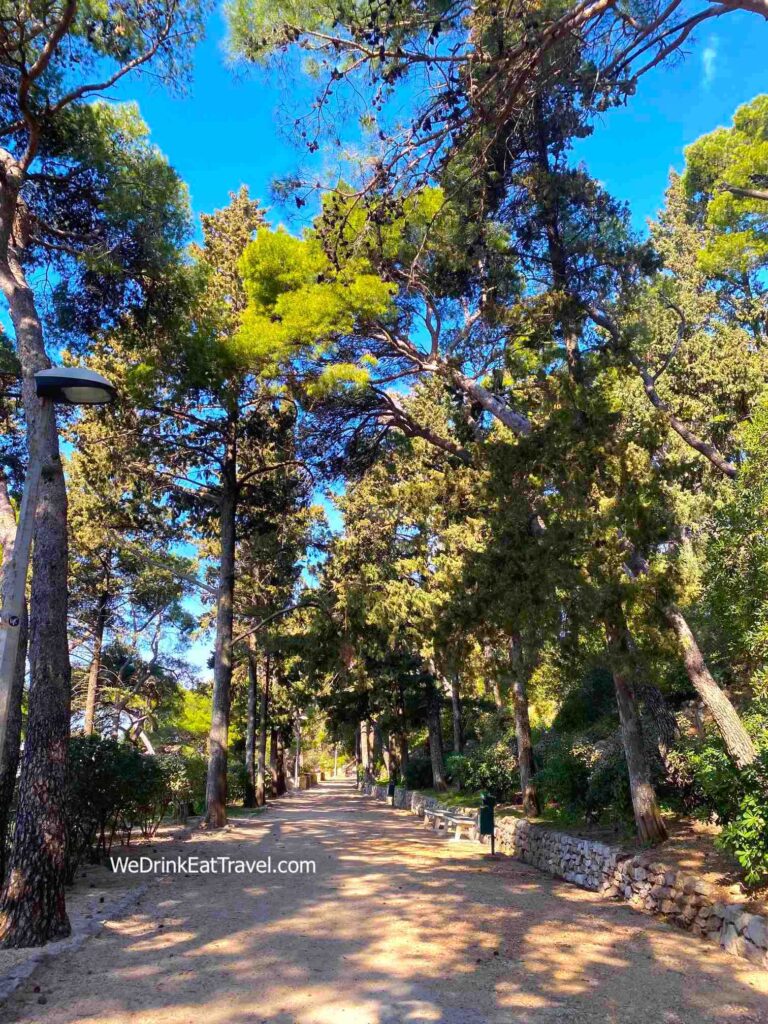 Gradac is a huge park, that was developed in the late 1890's… with lots of trees for shade in those sunny days. And here, you can take in the different views of Dubrovnik and the coastline. When we were there it was peaceful, with not many people around. We had a seat to ourselves, as we took in the incredible landscape.
Drink at One of the Best Bars in Dubrovnik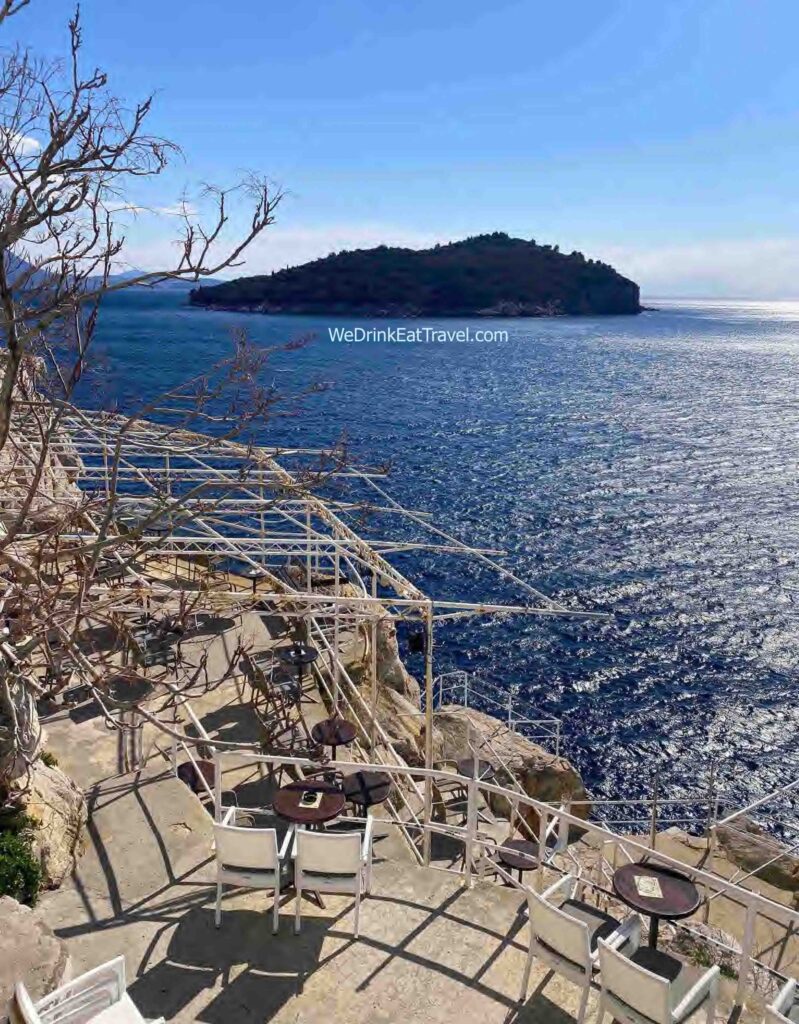 In Dubrovnik you could never get sick of the spectacular landscapes and scenery. It is like a fairytale, especially in and around the Dubrovnik Old Town area. So, why not enjoy it while having a beverage.
Whether you gawk at the magnificent ancient architecture, or people watch in the Old Town… or have a refreshing cocktail, wine or beer at a cliff bar, you'll be rewarded with amazing views.
Walk the Mount Srd Hiking Trail
If you want to see some of the most breathtaking views of Dubrovnik… then you must head up to Mount Srd. Now, we took the energetic route by taking the Mount Srd hiking trail.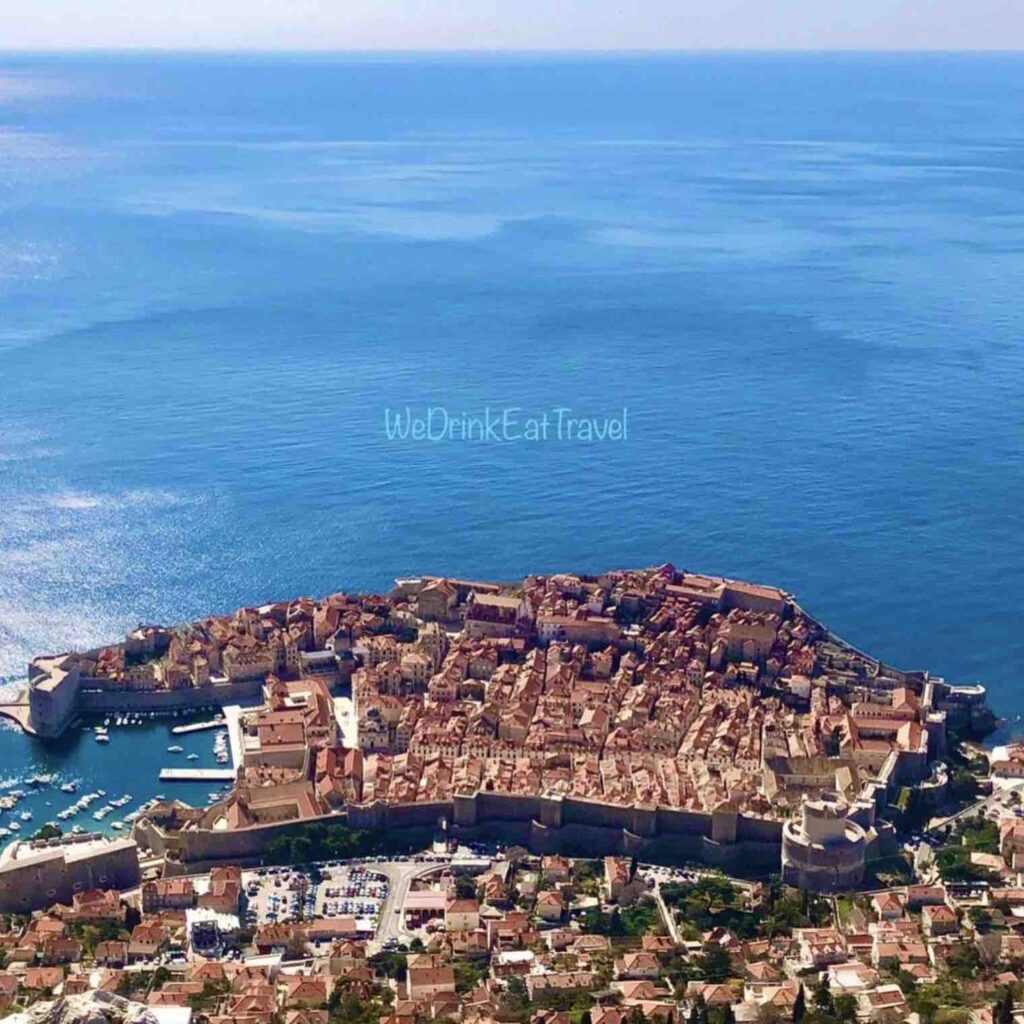 And, it did surprise us, as it's one of the easier hikes we've done in Croatia. Plus, when you read our travel blog about our Mount Srd hike… we let you in on a secret little path for more magnificent views!
Yet, if you're not keen on walking through nature, or can't spare about 45 minutes for the hike up… then there are several other options.
And, if you want to take the effort out of organizing it yourself… get some help from the local guides.
Next up on our list of top things to do in Dubrovnik, is something you may consider a little strange. Yet, keep reading to find out…
Visit One of the Oldest Pharmacies in Europe
Near the Pile Gate, is the Franciscan Monastery Dubrovnik, built in the 13th century. And, as part of this complex it includes 2 cloisters, library… and an old pharmacy. Yet, you may be wondering what the attraction is with going to an ancient pharmacy?
Well, not only does the Franciscan Monastery have the oldest pharmacy in the Dubrovnik… it's one of the oldest in the world. And, it's still functioning today as a real and live pharmacy. Plus, this complex has wonderful architecture… with its mix of Baroque and Gothic styles.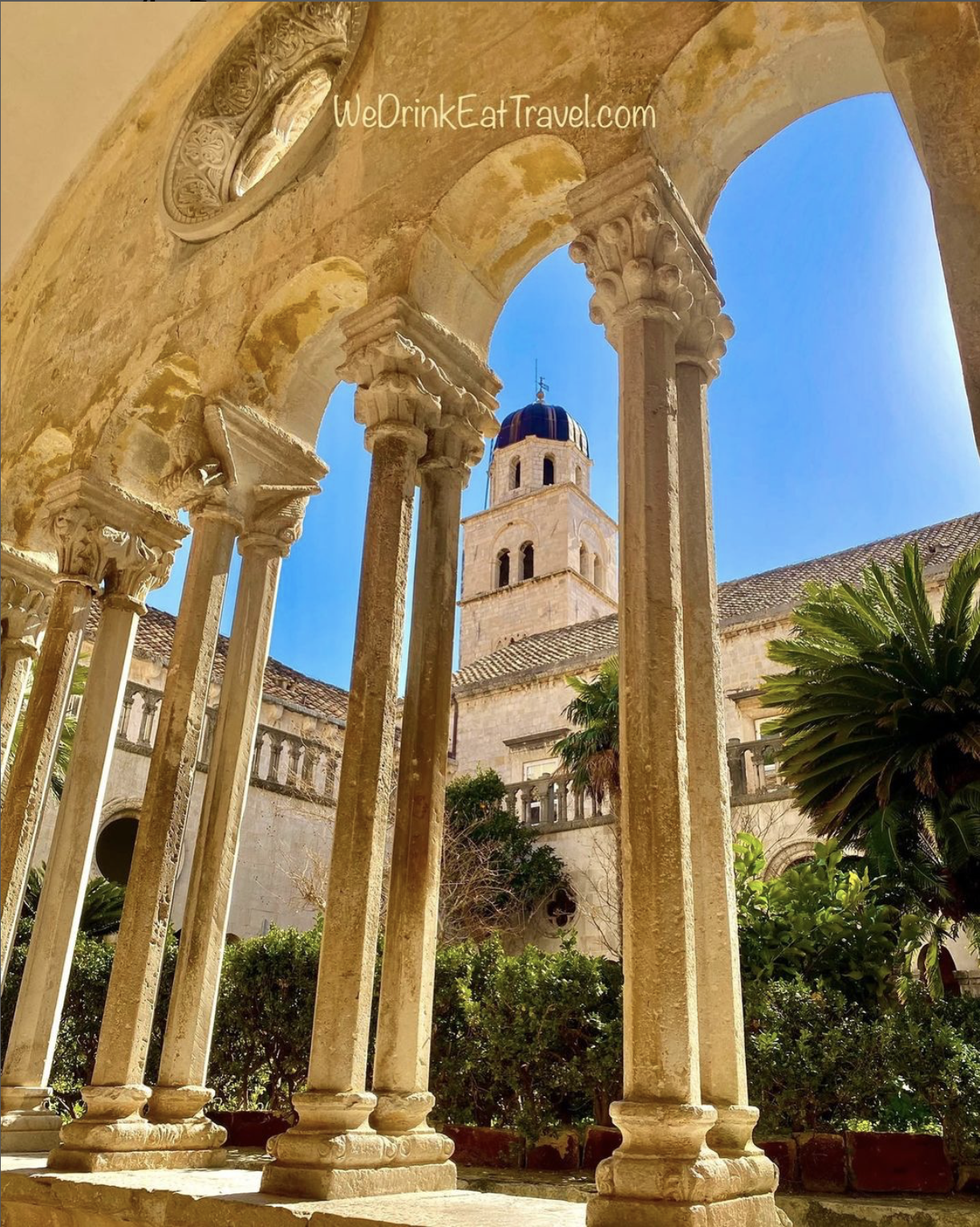 So, make sure you see an ancient and unique part of history… as you never know, it may shut down or be closed off to the public one day. Also, it's worth noting this… the Dubrovnik Franciscan Monastery Entrance Fee is included, with the Dubrovnik Card.
Check Out the Cute Little Streets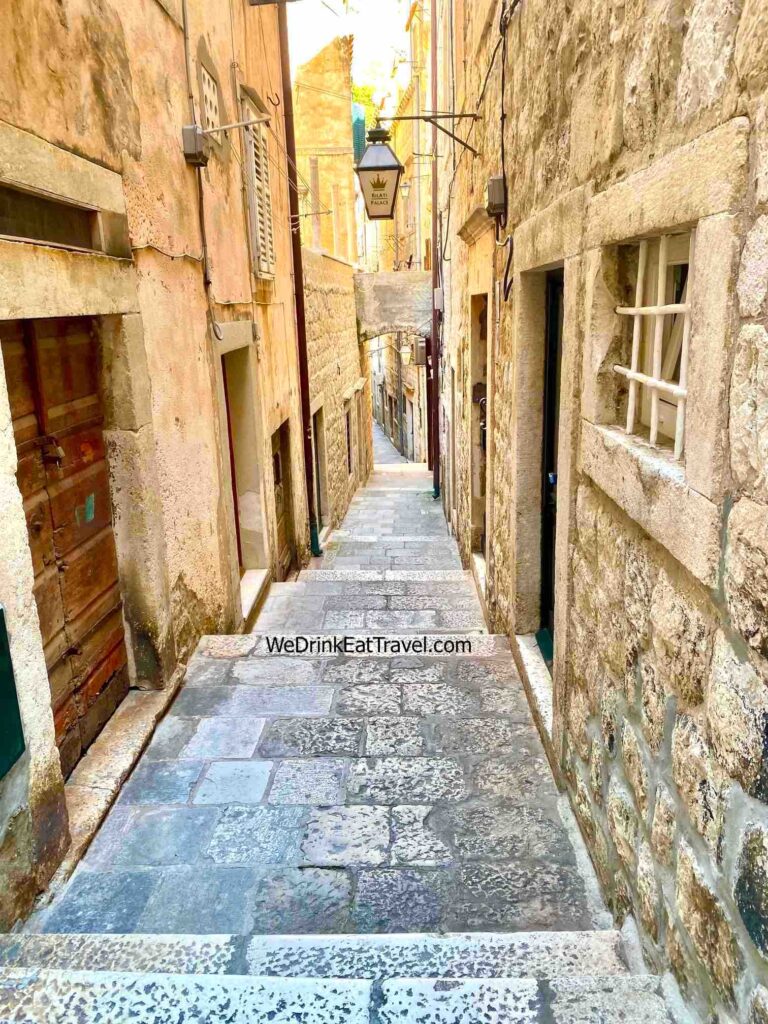 Of course, our usual thing to do is to get ourselves lost in the back streets of these towns. And why not? That's all part of the fun! Yet, one of the big differences with Dubrovnik Old Town is… there are lots of steep stairs leading up to different parts of the town. We figure it's a great way to work off all the food that we eat… good and "bad" food!
Now, speaking of food, another of our usual things to do in this region of Europe is… to try the local bureks.
Grab a Local Burek
It would be a shock to many of our followers, if we didn't include something about bureks… LOL! And yes, we did try several bureks in Dubrovnik. Now, the bureks are the most expensive here out of all the places we've been to in Croatia. Depending on where you go, a burek in Dubrovnik costs on average… about 18 Kuna (about 2.40Euros USD $2.55).
Yet, from our point of view… the best burek is at a place called, Turist. Now, don't let this plain looking hole in the wall burektore fool you. Even though the place looks small, it sure makes up for it in flavor and more!
The first time we went there we had to wait about 5 minutes, as they were making a fresh batch. Oh yeah, bring it on! And, it sure was worth the wait. Not only do they taste yummy, they are BIG and filling. We almost burnt our mouths as they were piping hot, fresh from the oven.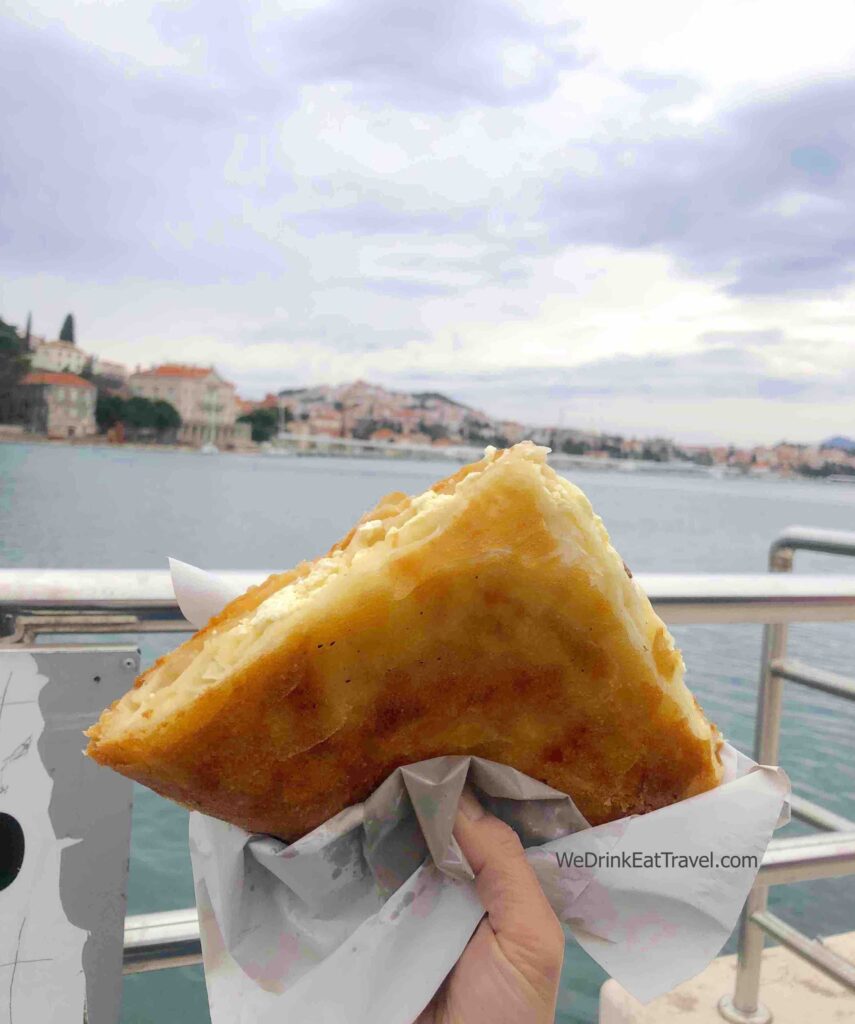 OK, it's not in the Old Town. Yet, go out and explore outside the Old Town. Your tastebuds and belly will thank you for it.
Game of Thrones Locations
OK, so we have to admit that we're not Game of Thrones fans. Yet, we know that some of you are, so we threw this one in. When you're sightseeing around Dubrovnik… you'll naturally stumble across some of the Game of Thrones locations. So, take your superstar selfies in front of some incredible historic sights… buildings and locations!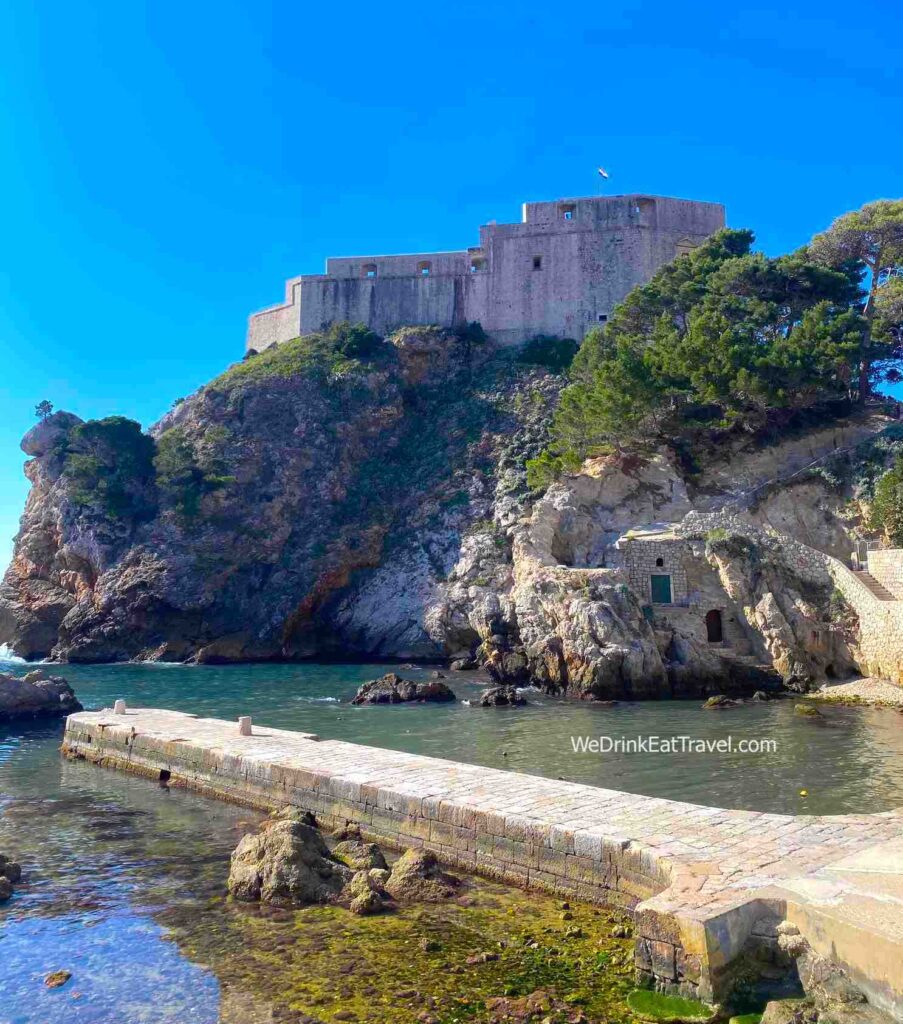 You'll then have stars in your eyes, knowing that you've set foot on the same Dubrovnik landmarks… that your Game of Thrones movie celebrities did too.
See How Breathtaking Dubrovnik Is At Night
When you're out and about visiting the many Dubrovnik attractions… most of the time you'll be doing this during the day time hours. And, after doing this, you'll see how stunning Dubrovnik is during the day. Yet, what will make your jaw drop is seeing Dubrovnik at night…
Visit the Dubrovnik Beach Areas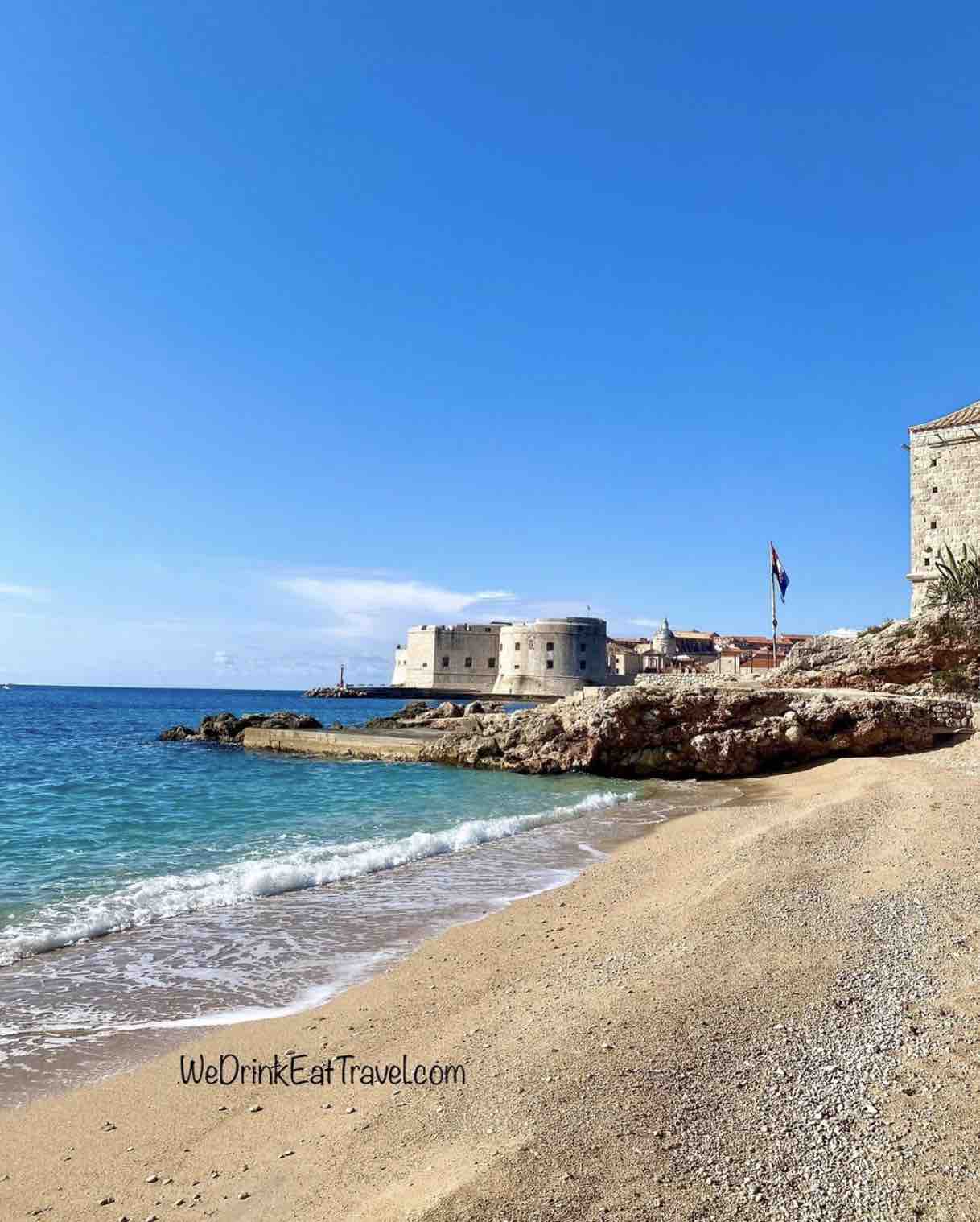 With part of this town being on the coastline, Dubrovnik has a variety of beach areas to enjoy. Each has a different atmosphere… varying from sandy beaches through to rocky beaches. Unfortunately, during our time in Dubrovnik… it wasn't the ideal weather conditions for swimming.
Yet, there are plenty of beach cafes and restaurants around to soak up the wonderful views… while having a few bevvies or bites.
So, up next on our list of things to do in Dubrovnik, this is where you can let your mind go…
Appreciate Dubrovnik's Art Scene
Dubrovnik has several different art galleries that you can visit. And, these include modern art housed in an old mansion, to the tiniest of cute galleries… through to contemporary artworks from local artists. Whatever your artistic preferences are… there are many options to get lost in the art of Dubrovnik.
So, for me and Paul, our interpretation of artwork somewhat differs. Yet, that's the great thing about art… there is no right or wrong! Let your artistic mind and imagination run wild.
Now, here's another travel tip…
Some of the Dubrovnik art galleries and museums are part of the Dubrovnik card… including the Musuem of Modern Art, for example.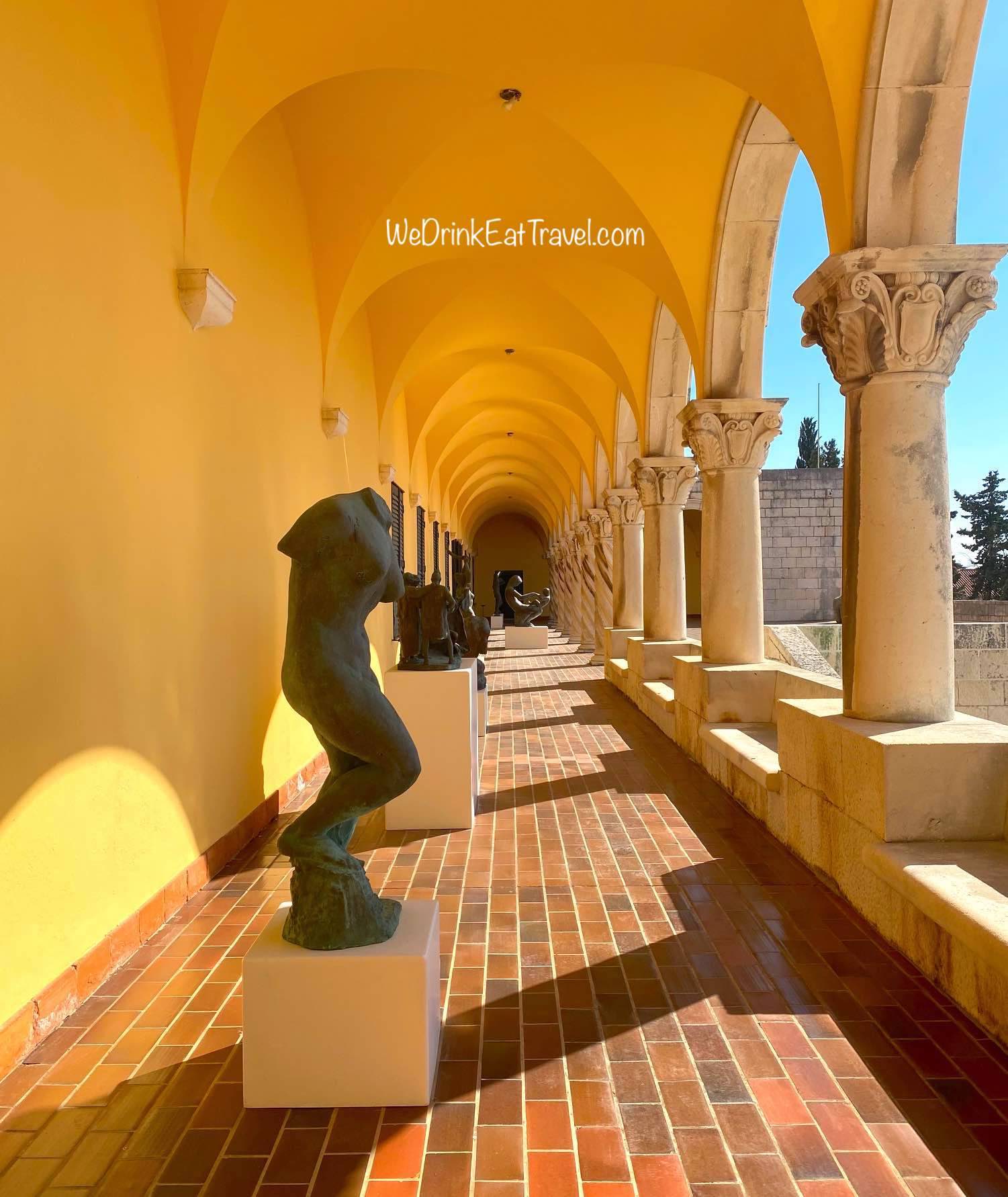 Discover the Many Dubrovnik Churches
For a smaller town, Dubrovnik sure has many churches… with many of them in the Old Town area. From the small and quaint churches, to the big and elaborate ones… if seeing churches are your thing, then Dubrovnik won't disappoint!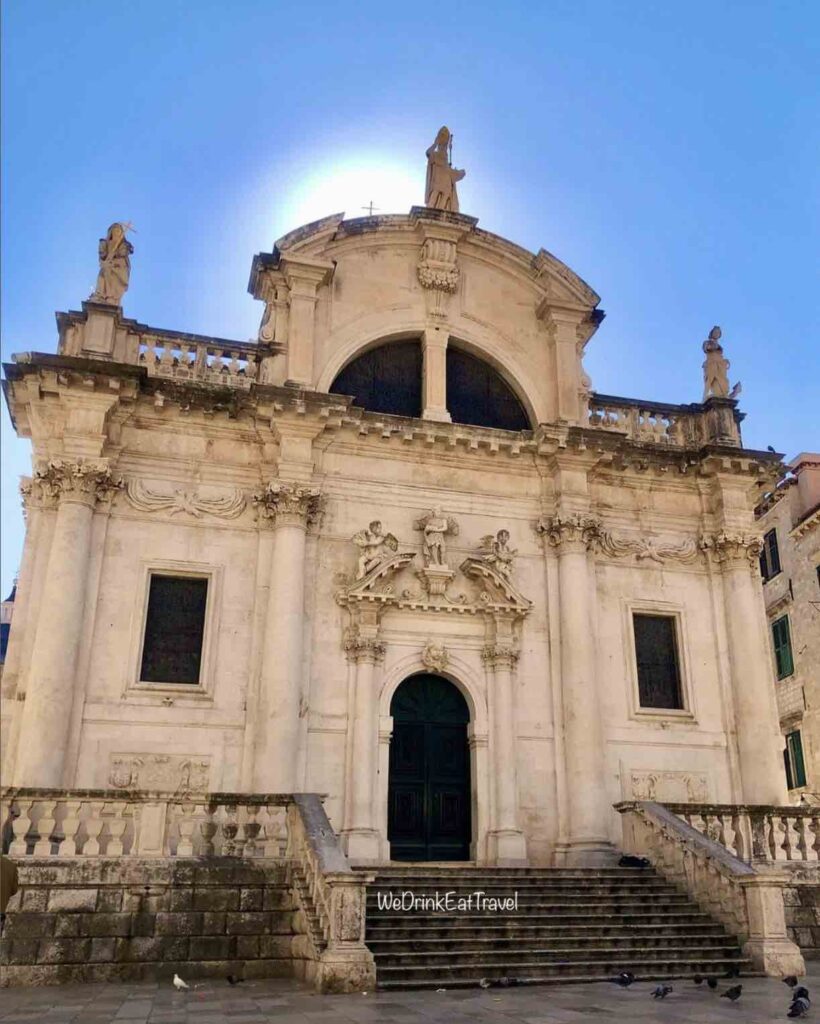 And, when you visit some of these churches that are hundreds of years old… you'll be dumbfounded at how much detail has been put into them, inside and outside.
Now, for those of you who like to go off the beaten path… put this on your list of things to do in Dubrovnik…
Experience a Different Part of Dubrovnik in Lapad
Many tourists end up spending most of their time visiting Dubrovnik Old Town. Yet, if you have the time, head further out to see other parts of this city. There are a host of other restaurants, bars, walking trails, and beaches to experience… outside of the Old Town. And, one of the areas we recommend is Lapad.
And, in Lapad we suggest you allocate time to do the Setnica Walking Trail. This is a lovely walk around the Lapad Peninsula area. And, when you stroll around, there are stunning views to be seen…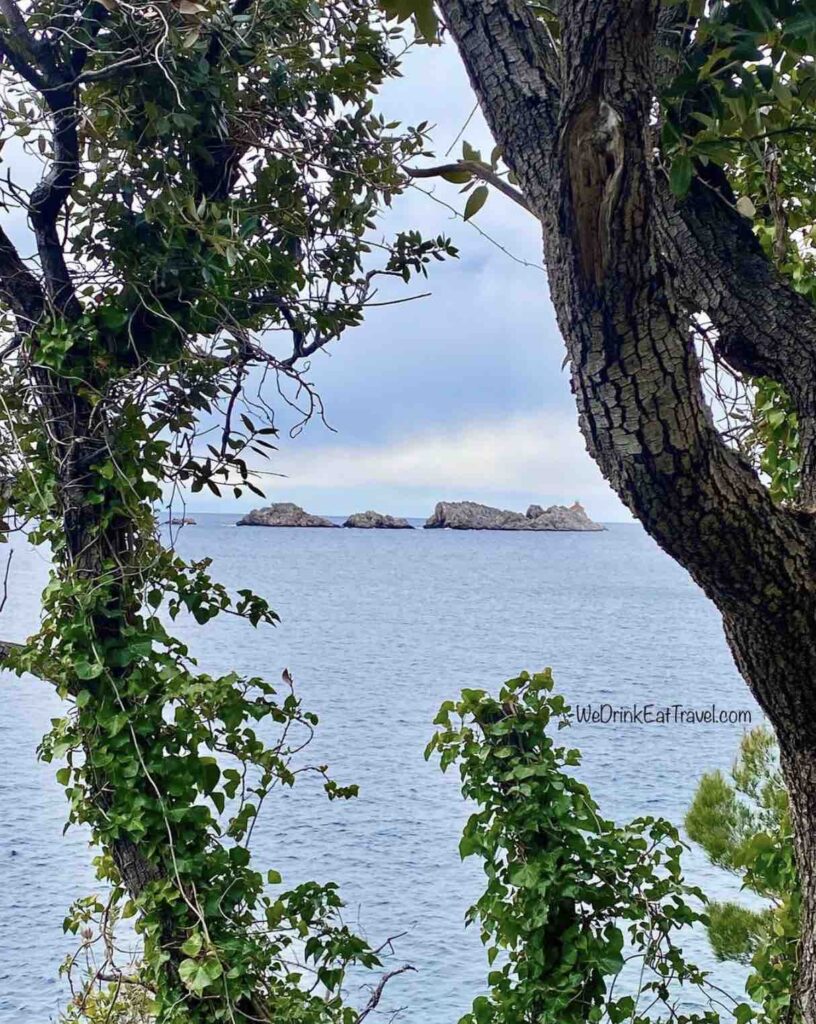 Depending on how many stops you make, the walk may take about 90 minutes. To get to the Lapad area from Duborvnik Old Town, it took us about 25 minutes. Yet, if you have the Dubrovnik Card… you get a free public transport ticket that is valid for 24 hours. So, this is helpful for getting around, as well as saving time and money.
Treat Yourself to Some Delectable Ice Cream
When you go to Dubrovnik… you'll see many ice-cream shops displaying their colorful varieties. And, when having a sneak peek inside at all the different flavors… it's hard to NOT indulge.
From gourmet flavors like Lemon Pie, Tiramisu, Jaffa, Hazelnut… through to the old-time favorites of Vanilla, Chocolate and Strawberry. There's sure to be a flavor for everyone, to tantalise your tastebuds.
A scoop of ice cream in Dubrovnik can cost about 15 Kuna (about 2 Euros USD $2.10). It's by far not the cheapest ice-cream in Europe, yet depending on where you go… the size is much bigger than other places. Definitely worth a try when in Dubrovnik!
For some gourmet experiences in Dubrovnik, CLICK HERE
Learn About Dubrovnik's History and Culture at the Museums
Now, similar to the art galleries… there are many different museums you can check out in Dubrovnik. From historical maritime artefacts, to learning about the history of the wars… through to discovering the cultures and customs of the local people. If you're a museum buff, you'll certainly need a couple of days at least to see them!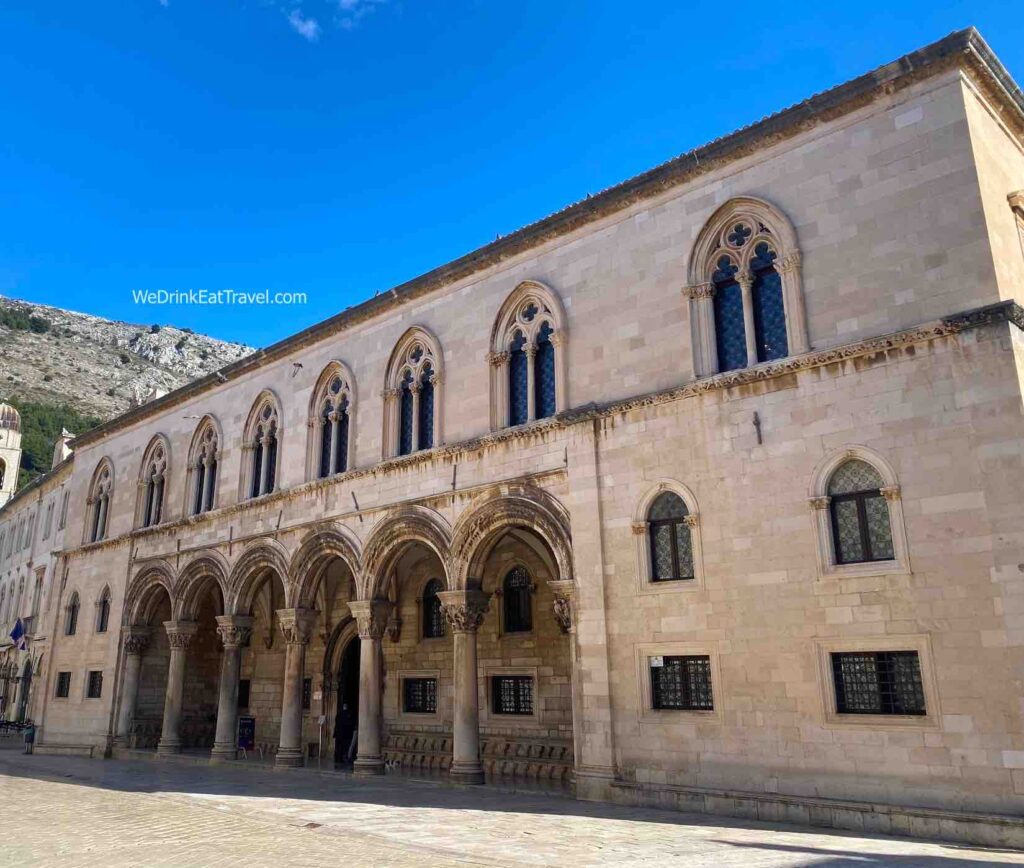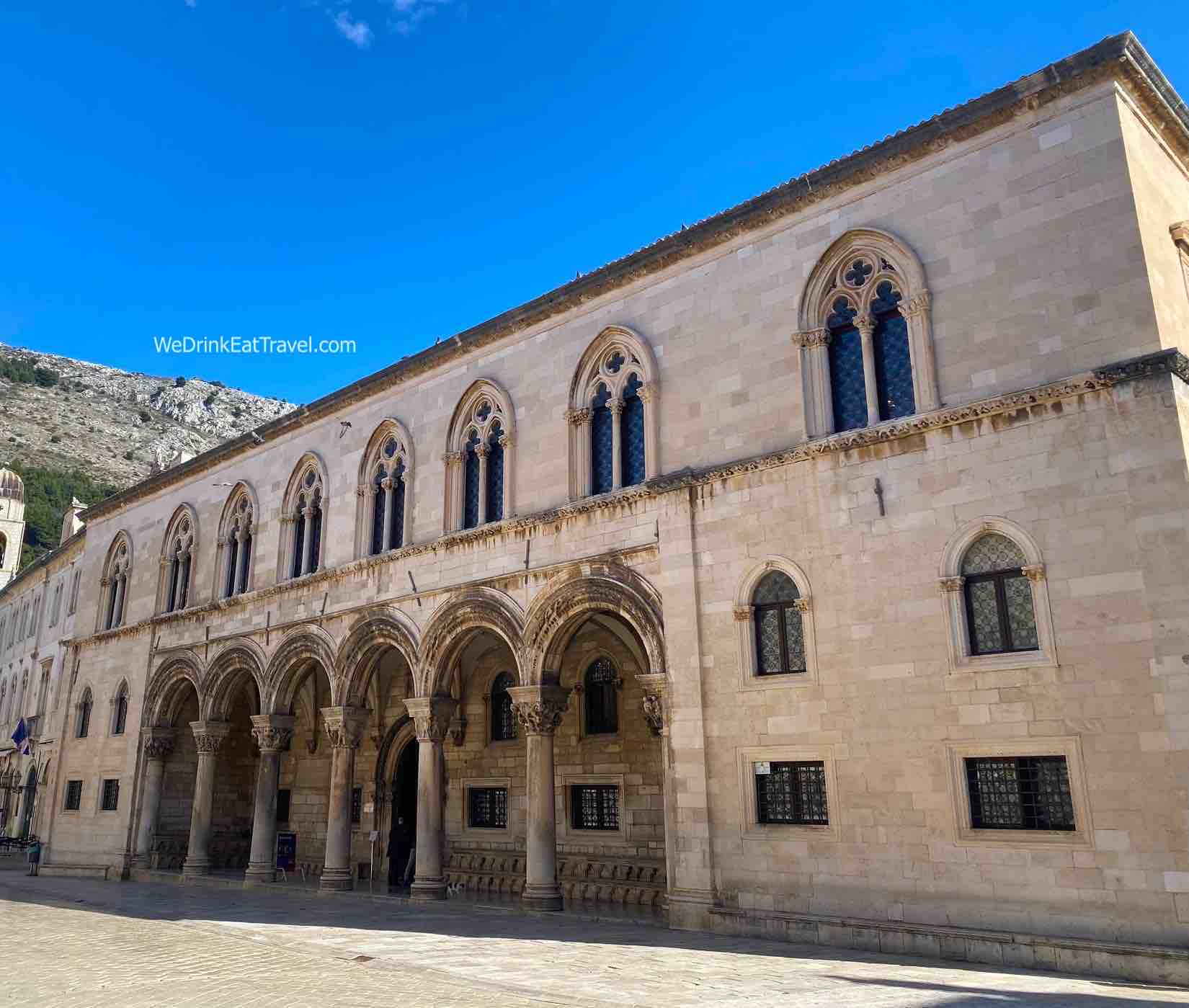 Plus, some of the musuems are part of the Dubronvik Card. So, why not take advantage of it, and see as many of the Dubrovnik attractions for free.
For the last on our list of best things to do in Dubrovnik, it's exciting to share a little secret with you….
The Secret Viewing Point of Dubrovnik
OK, while this may not be in the standard list things to do in Dubrovnik… we had to include it in our travel blog. For us, part of the excitement of traveling is discovering new things that aren't the norm.
So, most tourists will not have heard about it this "Secret Viewing Point"… which makes it exciting! And, to get to this place you'll need to go to a car park.
OK, OK… Before you turn your nose up at having to go to a car park, take note that this. And, this is a place where you can get different, unobstructed views of Fort Lovrijenac… as well as Dubrovnik Old Town, the surrounding islands, and more.
Plus, you can peacefully take a seat, while soaking up the views and sunshine. So, the car park area that you need to go to is at Don Frana Bulića Street. So, once you're there, head towards the trees at the end of this car park.
Once there, you'll discover a little area with a seat that gives you views like this…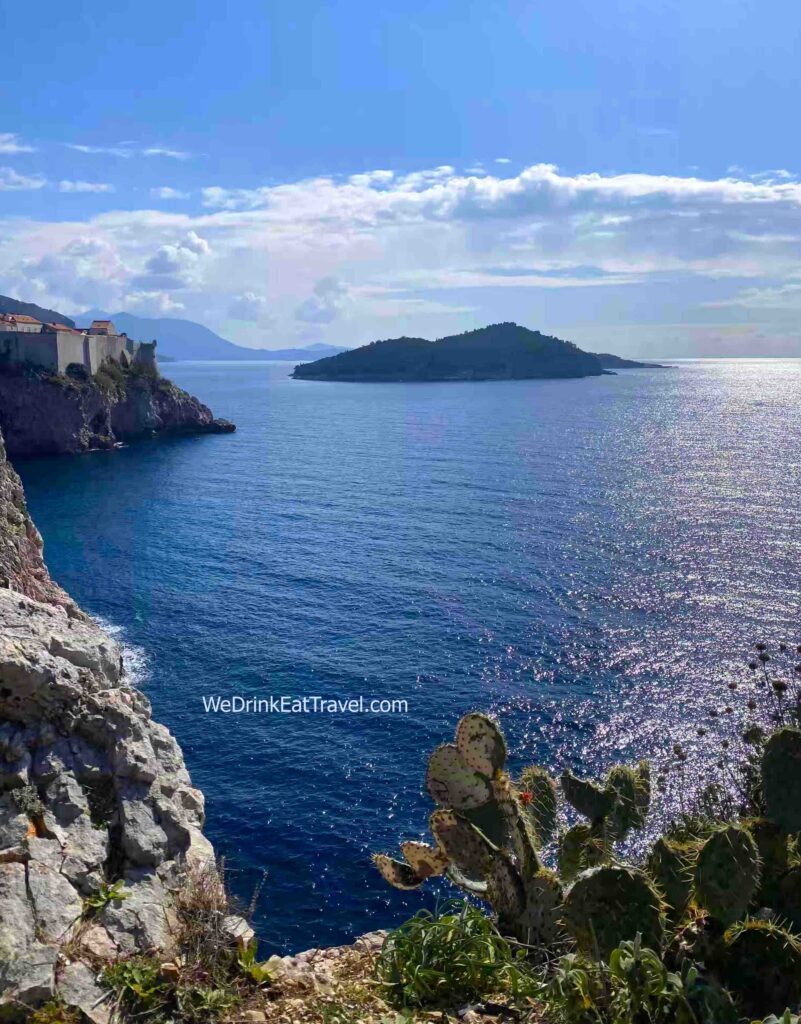 So, there you have it, 18 of the best things to do in Dubrovnik, Croatia. This ancient, UNESCO Heritage Listed Site is such a magical place to visit. We could NEVER get sick of the amazing views here.
From sunrise to sunset, through to night time… Dubrovnik has so much to offer. The Dubrovnik Old Town was one of the most beautiful we've seen to date. And, looking at from high above was even more remarkable.
We also highly recommend you check out the Dubrovnik Card… to get some real savings, and at a reasonable price. There are so many amazing places to see in Dubrovnik. We trust you'll have an amazing time.
ENJOY!
For more amazing and unique things to do in Dubrovnik, CLICK HERE
Like This? Share it and comment on it!
Note: All of our reviews and comments are our opinions and no-one else's. Even if we receive complimentary goods or services we share our opinions honestly.
You Might Be Interested In This Too…
How To Get FREE Accommodation While Travelling
21 Of The Best Free Things To Do In Vienna, Austria
One Of The Little-Known Top Things To Do In Dubrovnik
What You Need To Know About The Dubrovnik Card
25 Of The Best Things To Do In Kotor Montenegro
Where To Eat In Tivat For The Best Fast Food
Ultimate Tivat Hiking Trail For The Most Breathtaking Views
Check Out 16 Things To Do In Tivat Montenegro
25 Awesome Things To Do In Split, Croatia
Amazing Vidova Gora Hike On Beautiful Brac Island Croatia
What You Need To Know: Great Things To Do On Brac Island
Here Are 12 Amazing Things To Do In Mostar
15 Interesting & Surprising Things To Do In Sarajevo Now
13 Interesting Places To See In Podgorica Today
7 Free Things To Do In Bangkok
10 Places To Visit In Gozo Malta For Breathtaking Views
10 Picturesque Churches To See In Vienna Austria
How To Make Your Time In Tirana Albania Fun And Memorable
Here Are 7 Remarkable Things To Do In Berat Albania