On your list of things to do in Dubrovnik should be to go to the top of Mount Srd. Because, if you think Dubrovnik looks amazing when you're walking around on ground level… you'll be in awe when you see it from the mountain top.
Now, Mt Srd forms part of the rugged and picturesque Dinaric Alps… which spans about 645 kilometres (about 400 miles).
And, with Mount Srd being more than 1,350 feet (greater than about 400 metres)… the views of Dubrovnik, Croatia are ones you'll cherish forever.
Plus, when you get to the top of Mt Srd, there are other things you can see and do. For example, there's the Imperial Fortress and Homeland War Museum. Plus, there's a Dubrovnik viewpoint observation deck and massive cross… as well as a restaurant and bar.
So, have a look at these 7 different ways on how to get to Mount Srd Dubrovnik.
Dubrovnik Cable Car
A simple way to get to Mount Srd is via the cable car.
In only takes a few minutes or so from near the Old Town, and you'll be at the summit. So, it's handy if you don't feel like hiking up Mount Srd … or if you have limited time.
Yet, bear in mind that the Dubrovnik cable car price for an adult, round-trip ticket… it costs 200 Kuna (about 26.60 Euros / USD $28). Or, if you want to take the cable car one-way, then an adult ticket will set you back 110 Kuna (about 14.60 Euros / USD $15.50).
Plus, for children aged 4 – 12 years, a round-trip ticket cost 50 Kuna (about 6.70 Euros / USD $7)… and a one-way ticket on the cable car to Mt Srd is 30 Kuna (about 4 Euros / USD $4.20).
Yet, if you're up for something more active then do this…
Take the Mount Srd Hiking Trail
If you want to get in touch with nature and burn some calories… take the Mount Srd Hiking Trail to the top. Now, this was the option that we did prefer.
Make sure you read our other blog post about taking the Mt Srd Hiking Trail… because we also share with you a "secret" path. And, on this path you will witness some amazing views of Dubrovnik… from different vantage points.
This is also the cheapest option. All it'll cost is your time and effort!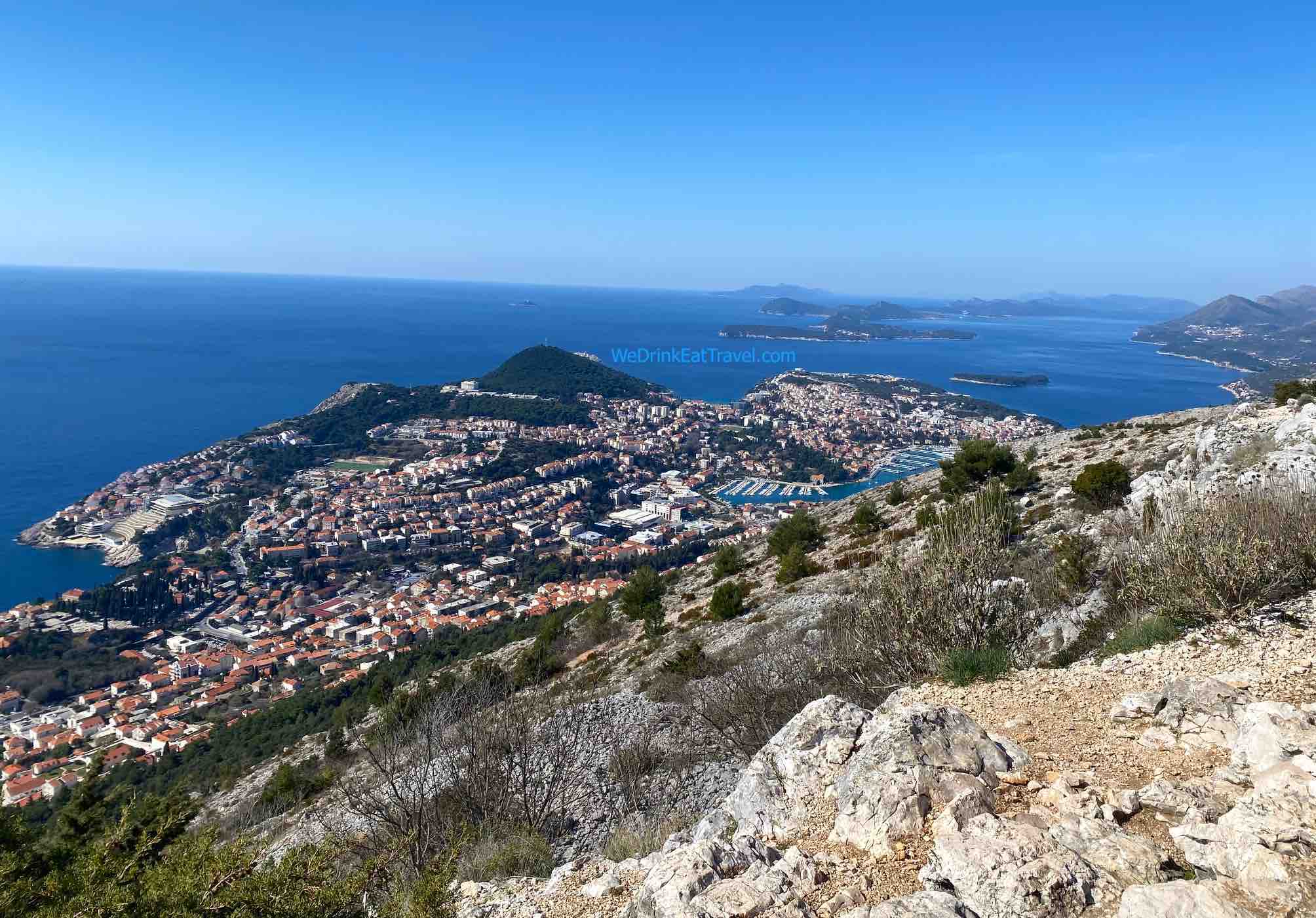 Hire A Car
Now, if you have your own transport from a car hire for example, then from Dubrovnik Old Town… it'll take about 15 minutes or so to the peak of Mount Srd. Of course, this is dependent on traffic conditions at the time you're going.
This is convenient as you can come and go whenever you want. Yet, hiring a car can be expensive. There is a decent amount of parking when you get to Mount Srd. But, be mindful that in peak times finding a parking spot may be more challenging.
Taxi / Uber
Taxi one-way, and then choose one of the other options. Yes, there is Uber in Croatia. And, it is reasonably priced in comparison to taking a taxi most times.
For an Uber, prices will vary depending on what type of Uber vehicle you take, and when. Yet, for a rough estimate, from Dubrovnik Old Town to the top of Mount Srd… it may cost about 85 Kuna one way (about 11.30 Euros / USD $12).
Taxi prices will vary, depending on if you take a car with a meter… or if you take one which will offer a fixed price. Yet, when it comes to taxis, we usually use the Uber fare as a guide.
Take an Organized Tour
If you want the help of someone with local knowledge… there are many tour operators who can get you up to Mount Srd. Plus, if you want to include other activities… find out about the combination package tours that they can offer.
For example, why not combine a tour of Mt Srd, with a Dubrovnik Old Town tour. Plus, some packages allow you to skip the line. So, in peak season this would be a great advantage.
CLICK HERE to check out some of the amazing tours you can do… to make the most of your time in Dubrovnik and Croatia.
Catch the Local Bus
If you want to mingle with the Dubrovnik locals… take bus number 17 to help get you to Mount Srd. The departure point is near Pile Gate of Dubrovnik Old Town… going through the town of Bosanka.
You can buy bus tickets directly from the driver, which will be 15 Kuna using cash only (about 2 Euros / USD $2.15). Or, if you buy it from selected Libertas kiosks the ticket will be 12 Kuna. The ticket lasts for 59 minutes once you validate it on the bus.
Another option is to buy a ticket for 30 Kuna (about 4 Euros / USD $4.20)… which is valid for 24 hours from when you first validate it. This ticket is convenient as you can use it on the Dubrovnik public transport buses as many times as you want… within that 24 hour timeframe.
Now, a word of warning… We've taken local buses around the world, and some with horrible memories. Yet, make sure you allow timing in case the buses are late, early, or not even run… or they may change times without you knowing!
At the time of writing, bus 17 doesn't run on Sundays or public holidays. Plus, on Saturdays there is only one departure time. To check the most current bus information, go here.
Go on a Buggy Safari
Yes, you read that correctly. Last but not least is a very different way to get to the top of Mount Srd… and that's through a buggy safari tour. And, of course being in a buggy, you'll be going up and down some rough terrain. Plus, you'll see different parts of the area that many people won't.
Each buggy can accommodate up to 3 people. The organized buggy safari tours run for about 2 hours… with prices starting from 550 Kuna per person (about 74 Euros / USD $78).
CLICK HERE to organise your buggy safari tour!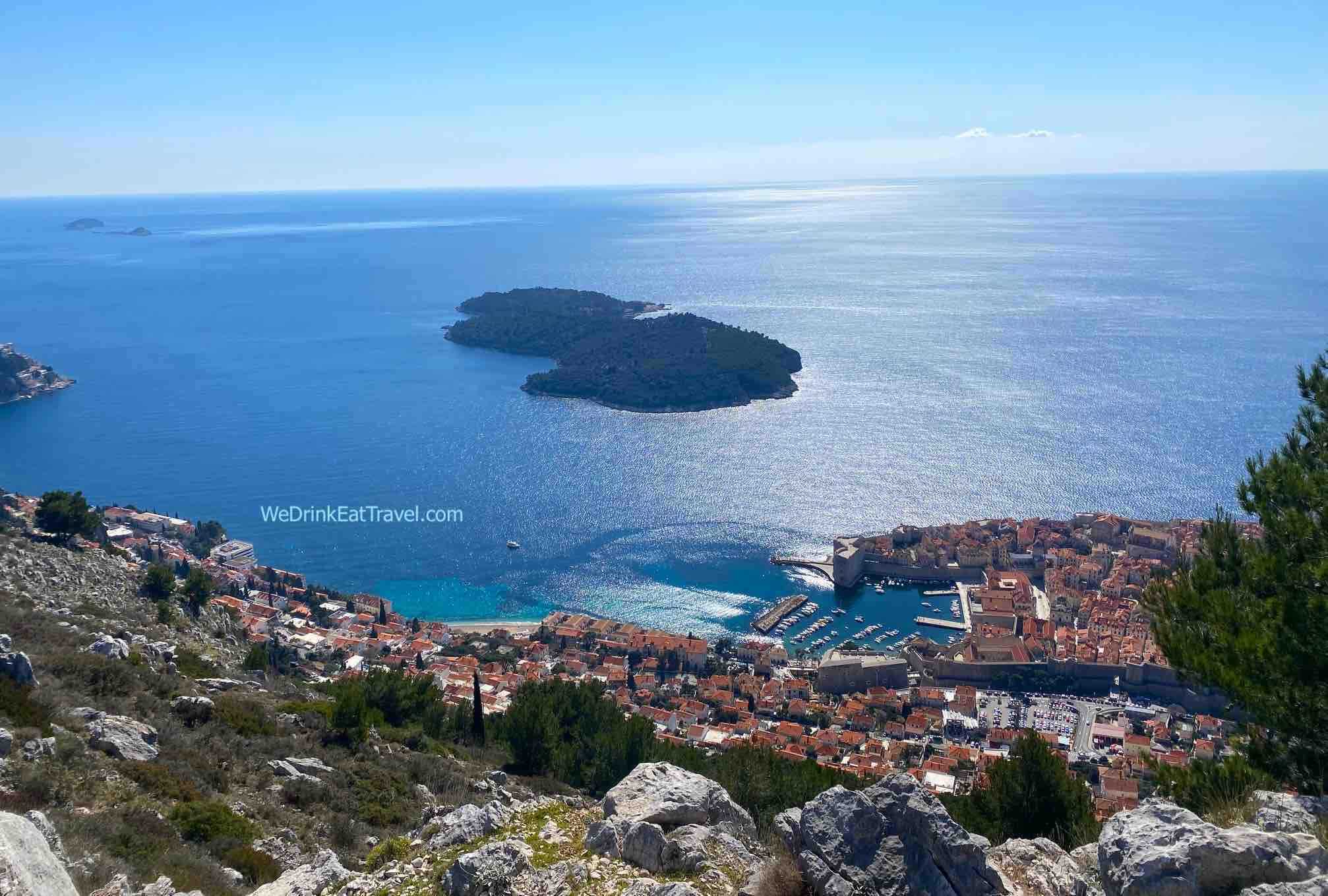 Well, so there you have it, 7 different ways on how to get to Mount Srd Dubrovnik. There are options for everyone, depending on your budget and how much time you have in Dubrovnik.
Remember, you could also do a combination of the different ways to get to Mt Srd. For example, take the Dubrovnik Cable Car on the way up… then take one of the Mount Srd Hiking Trails down.
In addition to visiting Dubrovnik Old Town… we highly recommend you put going up to the top of Mt Srd, on your list of things to do in Dubrovnik. You'll get some of most breathtaking views of this magical UNESCO Heritage Listed Site… which will stay in your memories forever.
So, when you went up and down Mount Srd, how did you do it? Let us know!
Like This? Share it and comment on it!
Note: All of our reviews and comments are our opinions and no-one else's. Even if we receive complimentary goods or services we share our opinions honestly.
You Might Be Interested In This Too…
How To Get FREE Accommodation While Travelling
21 Of The Best Free Things To Do In Vienna, Austria
One Of The Little-Known Top Things To Do In Dubrovnik
What You Need To Know About The Dubrovnik Card Now
Check Out 15 Amazing Things To Do In Budva, Montenegro
Perast, Montenegro – Why You Need To Visit This Town
One Of The Amazing Things To Do In Kotor Montenegro
Hiking Kotor Fortress – Things You Need To Know
25 Of The Best Things To Do In Kotor Montenegro
Where To Eat In Tivat For The Best Fast Food
Ultimate Tivat Hiking Trail For The Most Breathtaking Views
Check Out 16 Things To Do In Tivat Montenegro
13 Interesting Places To See In Podgorica Today
The Ultimate Guide To Vietnamese Coffee
7 Tips For Handling A Vietnam Taxi Scam
Here Are 7 Remarkable Things To Do In Berat Albania
7 Free Things To Do In Bangkok
10 Places To Visit In Gozo Malta For Breathtaking Views
7 Top Reasons Why You Should Visit Bansko Bulgaria
10 Picturesque Churches To See In Vienna Austria
How To Make Your Time In Tirana Albania Fun And Memorable
Shop Until You Drop In Ratchada, Near Thailand Cultural Center MRT